Having a mobility issue shouldn't put a damper on your Disney vacation. Disney is known for going above and beyond for their guests with disabilities. There are plenty of ways to ensure your stay is as magical as you envisioned with a few tips and tricks!
Can't decide where to stay on property? This is a common struggle for many guests planning Walt Disney World vacations and that all becomes a little more complicated when factoring in a mobility concern.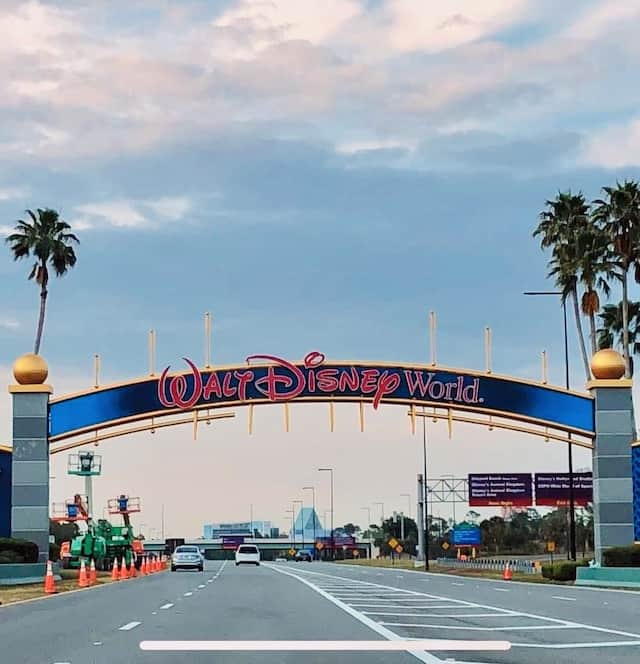 Whenever I (Christina) travel with my parents to Walt Disney World, we rent an off-site scooter for them to share. Disney World is huge and requires a lot of walking. The scooter allows them to take rest breaks and last longer during the day.
ECV and Wheelchair Rentals
There are two ways to rent a scooter (ECV) or a wheelchair for your Disney vacation. My family has experienced both processes, and there are pros and cons to both.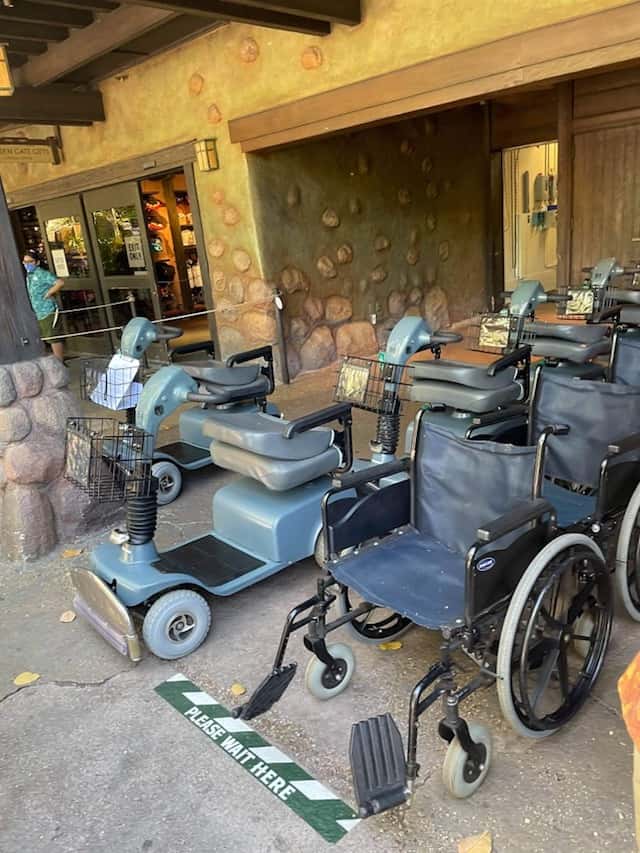 Onsite Rentals
The first way you can rent an ECV or wheelchair is directly through Disney at any of the theme parks, water parks or Disney Springs.
We have had trips where we found it easier to simply rent an ECV for park use only. If your party member only requires accessibility for long days in the park, this might be your best bet.
There are a few major cons worth noting about renting daily through Disney.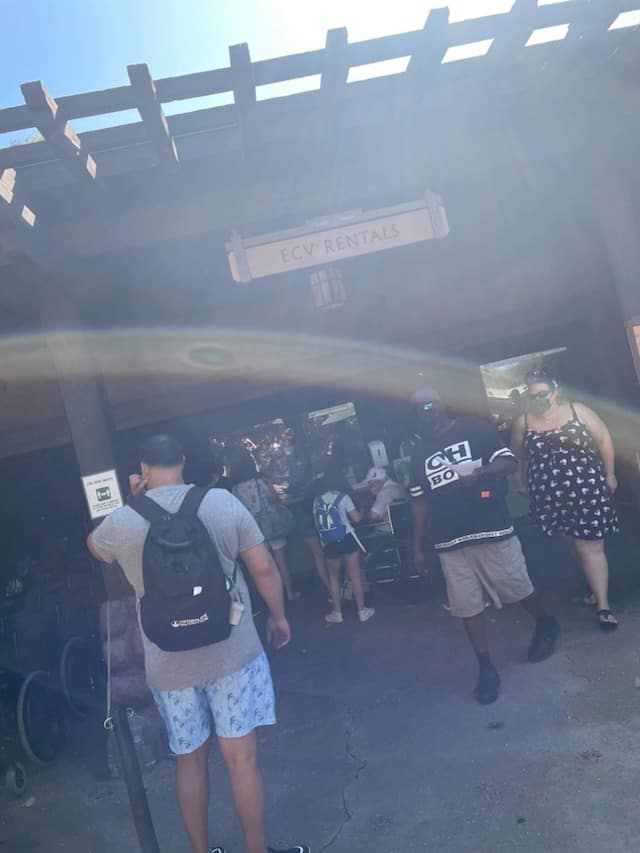 1. You will be paying a lot more money.
The daily rental pricing for ECV scooters are as follows:
Walt Disney World Theme Parks
Daily: $50
A refundable $20 deposit is required
Walt Disney World Water Parks and Disney Springs
Daily: $50
A refundable $100 deposit is required
There are no length of stay rentals for ECVs. You will need to rent your vehicle each day on a first come first served basis. However, vehicles can be held if Guests leave and return to the same park on the same day.
Another thing to note is that Guests must be 18 years or older to operate an ECV scooter, so younger guests requiring mobility assistance will have to rent a wheelchair.
The daily rental pricing for wheelchairs are as follows:
Walt Disney World Theme Parks
Daily: $12
Length of Stay (multi-day): $10 per day
Walt Disney World Water Parks and Disney Springs
Daily: $12
A refundable $100 deposit is required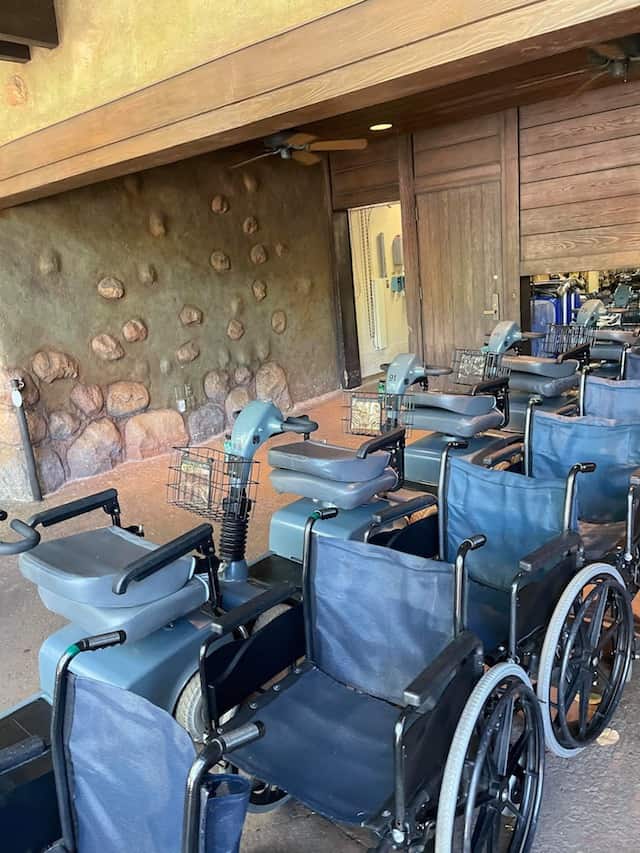 Length of Stay Rentals are transferable between Disney theme parks only. If you'll require a wheelchair for a multi-day visit, you can save time and money by pre-paying for all days at the first theme park you visit.
Please note that Length of Stay rental tickets may not be available during peak periods.
2. Disney rentals are not allowed to be taken out of the parks or Disney Springs.
This means that getting to your transportation and maneuvering around your resort will require walking.
For those that only need an ECV or wheelchair for long days in the parks, this might be a checkmark in the pro column.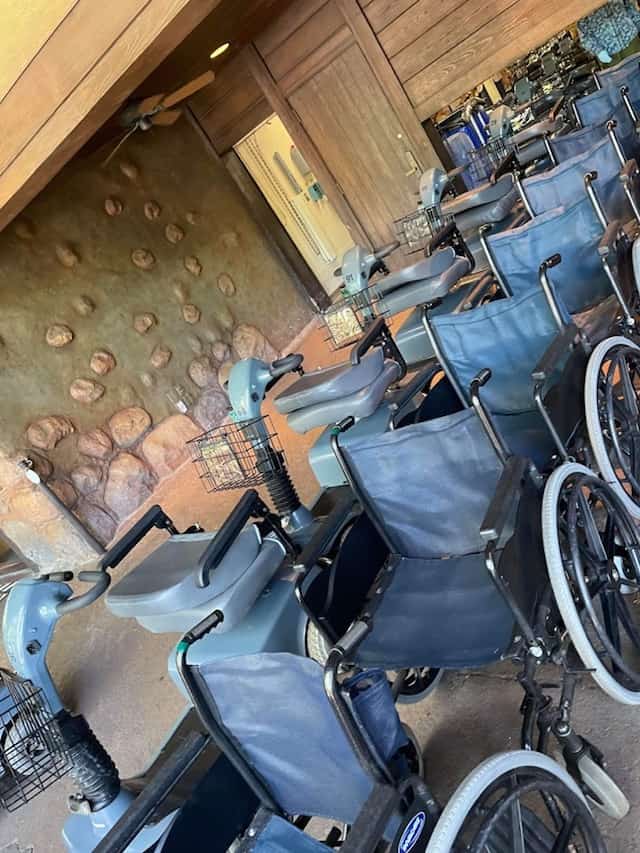 You will not have to worry about getting the scooter or wheelchair onto buses, boats or any other type of transportation. Guests will not have to worry about navigating around your hotel with one, either.
One negative about the Walt Disney World resort ECVs are that they are VERY slow. Disney understandably is concerned with safety and therefore doesn't want their guests accidentally plowing into an innocent bystander because they are driving too fast.
However, I can say from experience with my own family members that the Disney scooters are now almost dangerously slow. We have had a few close calls with either people or other scooters coming at us and having difficulty getting the vehicle out of the way fast enough.
Off-Site Rentals
Our preferred method of rental is via an off-site company. There are many different local companies that will deliver scooter or wheelchair rentals to guests.
For a long time, many of these companies had access to delivering rental products to Walt Disney resorts without guests having to be present.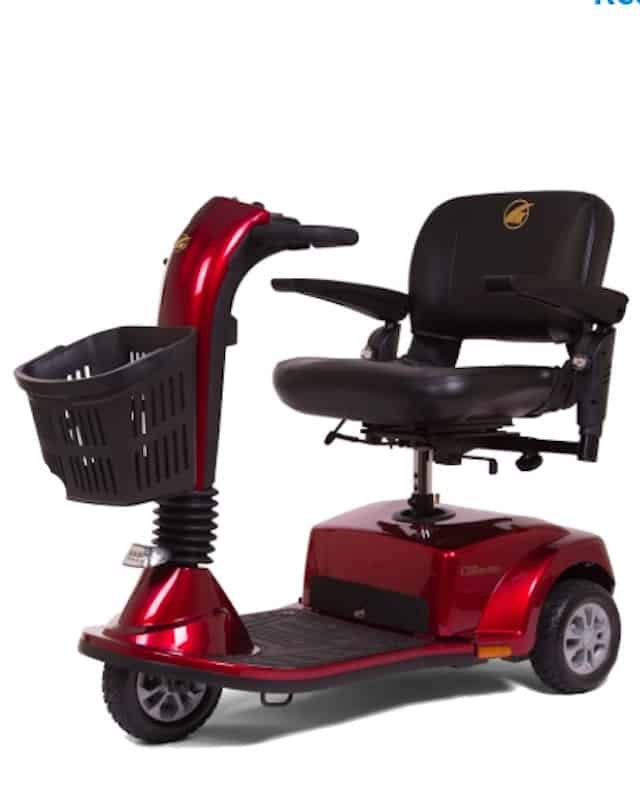 A couple of years ago, Disney changed their policy after making ScooterBug their Featured Provider, and now requires all guests renting from any private mobility company other than ScooterBug to be present to accept their rental.
There are a lot of different companies to choose from and their daily/weekly prices can vary. For the sake of a fair comparison, let's just take a look at Disney's Featured off-site Provider, ScooterBug's, pricing compared to the in-park rentals.
Price
Based on a 7-day rental at ScooterBug, you will pay a total of $161.00. That breaks down to just $23.00/day. Which is a savings of $27.00/day compared to the Disney in-park rentals!
Not only that, but you will have the ability to take your rental anywhere around property.
For my family, this is a no-brainer. The price point alone makes renting off-site a slam dunk choice, but there are a few things that also make off-site rentals better in our eyes, too.
One, they are faster – not by any means crazy fast, but enough to safely get around and bail out of the way of incoming traffic when needed. Two, you have the convenience of having accessibility not just inside the parks but outside and around your resort.
Another thing we found out the hard way is that all Disney ECV rentals use the same keys. One night we came back to our scooter after riding the Many Adventures of Winnie the Pooh, and our scooter had been taken.
Disney services was great at handling the situation and brought us another scooter, but it was a real time waster and inconvenience in our evening plans.
Choosing A Resort
For guests who decide on an off-site rental to have around their resort, I can say from experience that some resorts are better choices to book than others.
Take a look at which resorts I have found to be the best and the worst picks when factoring in a mobility issue – from my family's own personal experiences.
Worst
Value Resorts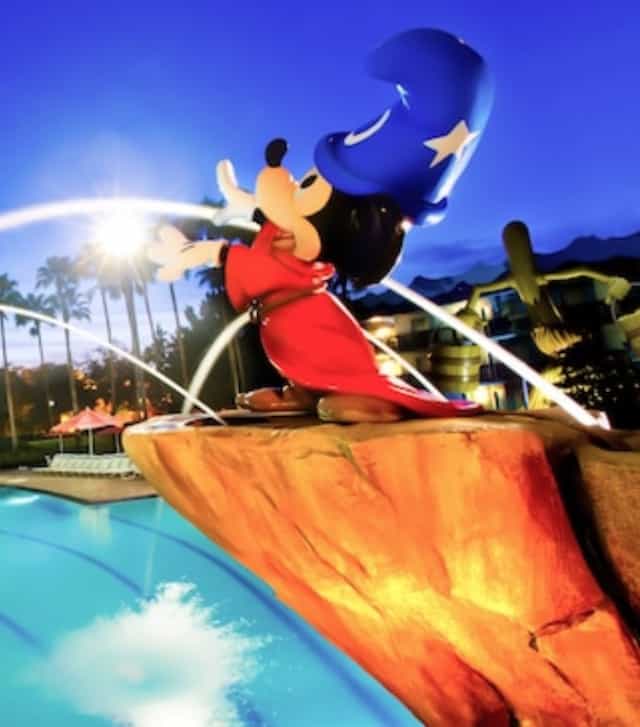 Value resorts are very large. While having an ECV or wheelchair would make getting around them much easier, there are a couple of other things to consider.
1. Smaller rooms
The rooms at value resorts are much smaller than moderate or deluxe resorts (except for Art of Animation suites). Trying to park a large ECV or wheelchair into a tiny room will make things a lot more congested.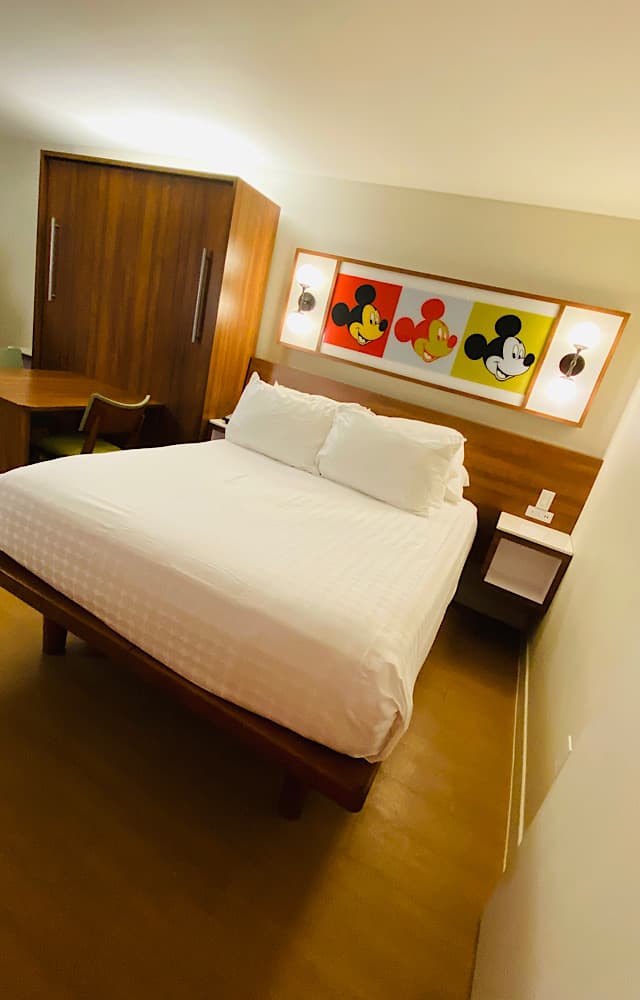 2. Transportation
Transportation is the most crucial thing I consider when choosing a Disney resort, especially when factoring in a scooter. With larger resorts, buses can fill up quickly (especially now that social distancing requirements have reduced capacity).
Each bus typically fits 2 scooters/wheelchairs and if you are at a resort that has a lot of people waiting to get on, you could be waiting for a few buses to come by.
3. Multiple Stops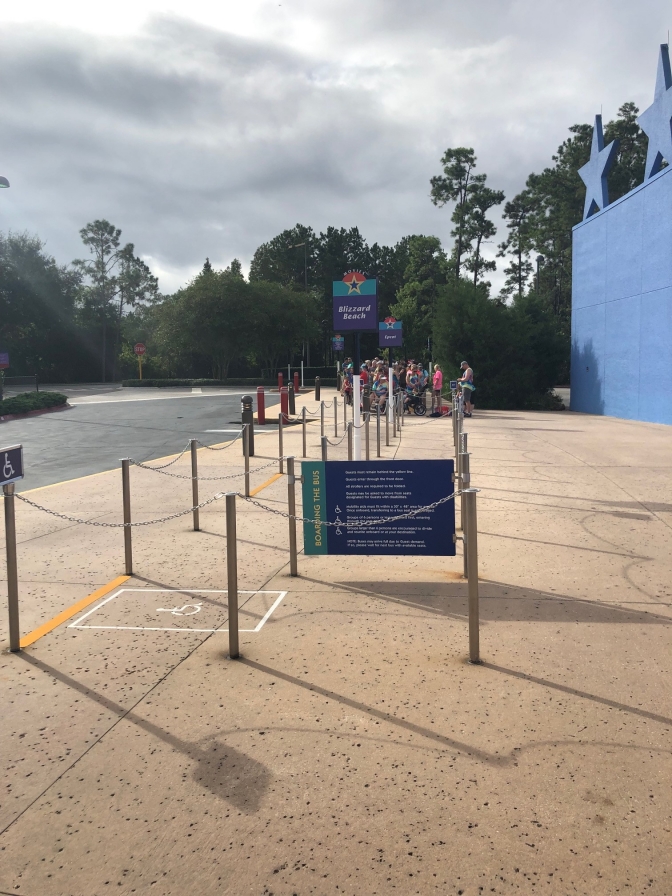 For guests staying at one of the All-Star resorts, they may find themselves sharing transportation with the other All-Star hotels. This means that buses can be busier and getting on and off with a large ECV might be harder than at other locations.
If you do decide on staying at a value resort, consider picking either Art of Animation or Pop Century as you won't run into the possibility of having multiple stops. You will also have the option of using the Skyliner for Epcot and Disney's Hollywood Studios parks.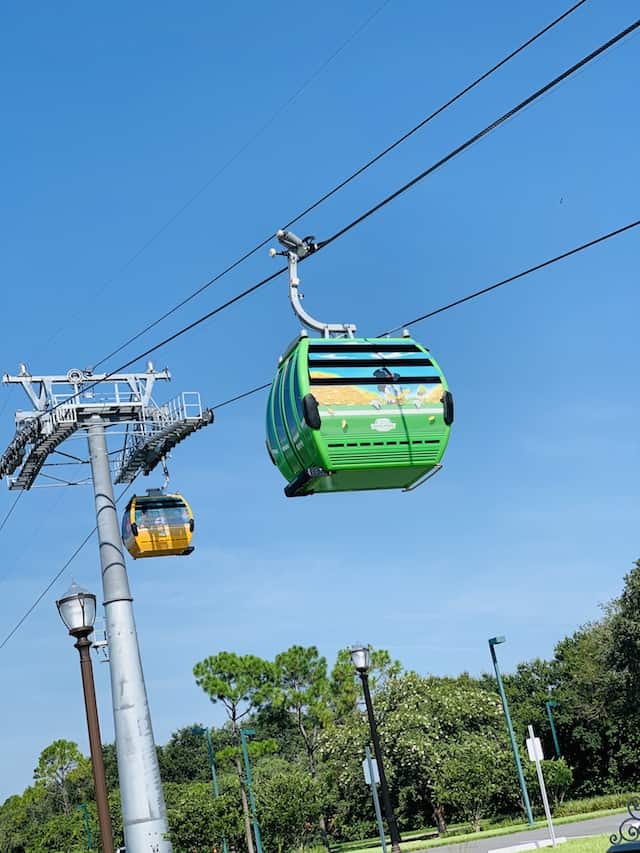 Wilderness Lodge
Wilderness Lodge has been a favorite resort of my family's for many years. When we began considering resorts for mobility access, however, it often fell to the back burner for us.
1. Transportation
There is one main reason that other resorts win out over Wilderness Lodge and that is transportation.
On our last stay at Wilderness Lodge we were located on the side of the building near Roaring Forks Cafe. The room was nice and large, so fitting the ECV inside the room wasn't an issue at all.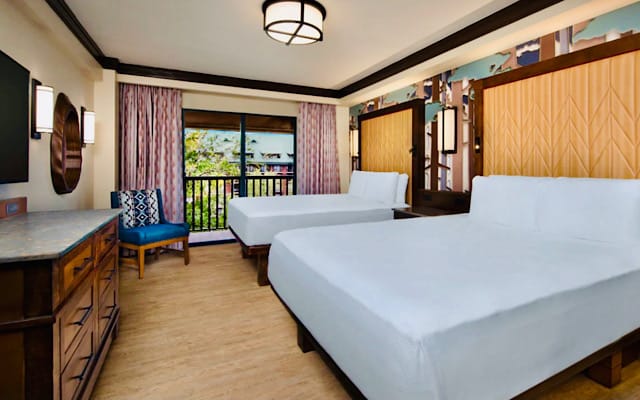 The real issue was with the watercraft transportation. Unlike the Friendship boats used around the Epcot and Hollywood Studios areas, the watercraft that travel to the Magic Kingdom resorts do not have scooter ramps.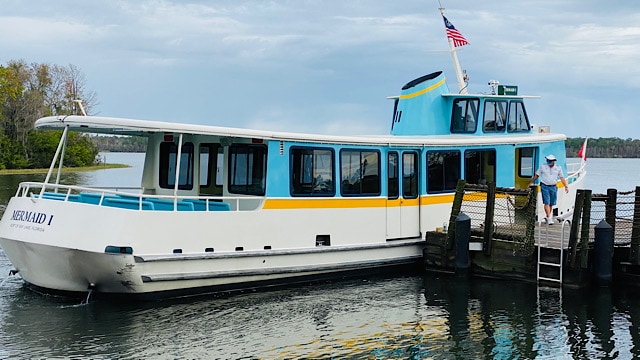 Upon boarding the boat from the Magic Kingdom to Wilderness Lodge, we didn't notice an issue as the boat was fairly even with the dock. When when we arrived at Wilderness Lodge, however, the boat was a solid 1.5" lower than the dock.
We had to physically lift the scooter and carry it onto the dock and that was not easy.
Because of this, we often choose other resorts that are easier to get from place to place and have a wide range of transportation options available. Wilderness Lodge is still a gorgeous resort, however, and we love to visit for the many dining options and beauty of the resort itself.
Be sure to check out Susan's Complete Guide to Wilderness Lodge!
Yacht Club
The Yacht Club isn't the worst option to choose if you need mobility access. The rooms are a good size and there are multiple transportation options such as the Friendship boats and Skyliner. The real issue for us that we noticed came down to the buses again.
1. Transportation
Many times, we noticed that Disney would combine Yacht Club and Beach Club guests onto the same bus at the end of the night or during slow times of the day.
When this happens, the Yacht Club is the first resort picked up and the first resort dropped off. This means that if you had a scooter and were getting off at the Yacht Club, you were often trying to take the scooter off with many guests still aboard the bus going to the Beach Club.
I watched many people almost take out bystanders just trying to unload their scooter off the bus because the small space to maneuver had been cut even smaller by guests standing around them.
While buses aren't nearly as packed as they used to be, this is still something to consider for peace of mind if you are a cautious scooter or wheelchair driver. You may feel more secure staying at a resort where you will be last to unload.
Port Orleans Riverside
I love the Port Orleans resorts, but when traveling with a scooter, I choose French Quarter every time.
1. Transportation
Port Orleans Riverside has too many bus stops. I realized this when traveling with a friend of mine and knew that if I had been with my parents on that trip, it would have been a nightmare getting the ECV on/off the buses.
There are 4 bus depots at Riverside and every morning when we boarded, our bus was already half full. At the end of the night, you had to squeeze your way around a ton of people to get off at your depot.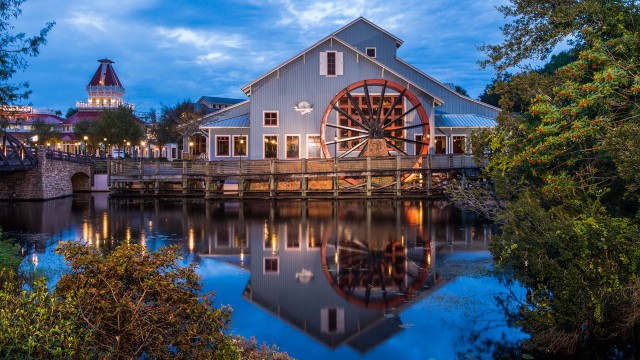 Again, while the buses aren't as packed to the brim as they used to be, for comfort and ease with mobility issues you are better off at other resorts.
2. No Elevators at Certain Buildings
If you are staying at Port Orleans Riverside with a scooter, be sure to request a room in the Magnolia Bend section of the resort. The Alligator Bayou section does not have any elevators, and you will be required to have a ground level room.

Pro Tip: If you are staying at any resort that has an outside facing door, I highly recommend asking for an upper level room.
Ground level rooms are ones I avoid like the plague now for two reasons:
1. Potential noisy upstairs neighbors; and
2. Creepy critters crawling through the door.
On our last trip, we had a nasty millipede infestation when staying on the ground level because they were coming in from the dirt outside.
Disney confirmed this is a regular issue for their ground level rooms at various resorts as the bugs come out of the ground and are attracted to the A/C coming out of the rooms.
While Disney did all they could to help us, the millipedes were an unstoppable force. Each night we spent about an hour killing bugs before going to bed. If that doesn't sound appealing on your vacation, kindly ask for a room on an upper level.
Caribbean Beach
1. Transportation
The same bus issue is true for Caribbean Beach as with Riverside, if not more so. Caribbean Beach is massive and has 8 bus stops located all around the resort.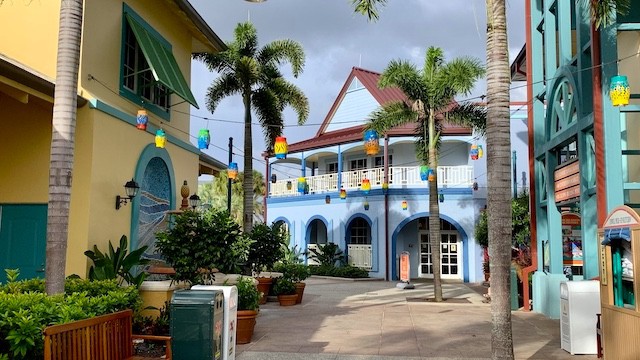 You could be waiting a long time for a bus if there isn't room for your scooter or wheelchair due to capacity issues. Not to mention it can take an extended length of time getting to and from the parks each day with all of the internal stops.
While Skyliner access does help to alleviate the need to exclusively take bus transportation everywhere, the Skyliner can still be quite far away from your resort room depending on what building you are staying in.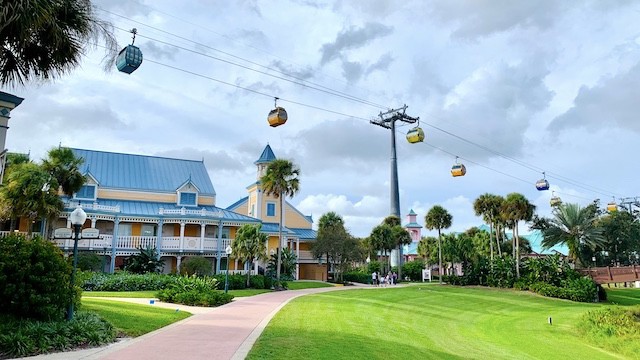 For a Complete Guide to Disney's Caribbean Beach Resort click HERE!
Disney's Old Key West Resort
Disney's Old Key West Resort is a love it or hate resort. My uncle is an avid fan, and it is the only resort he will stay at. Other friends I have spoken with say they will never go back becuase the walls are paper thin and the resort is massive.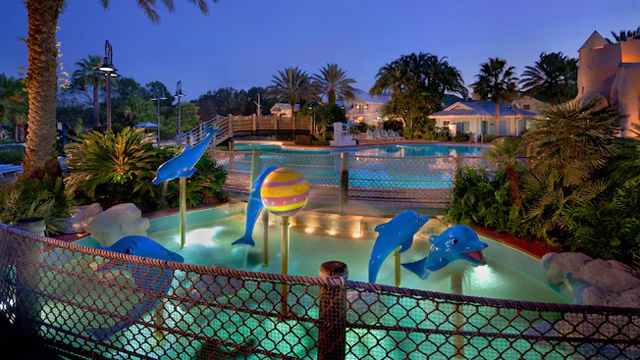 For guests with mobility issues, there are a few things to consider when deciding if a stay at Old Key West is right for you.
1. Resort Size
As previously mentioned, Disney's Old Key West resort is very large and spread out. It's not one that I recommend choosing if you do not have a car with you and if you are renting a scooter, you probably aren't using a car to transport it.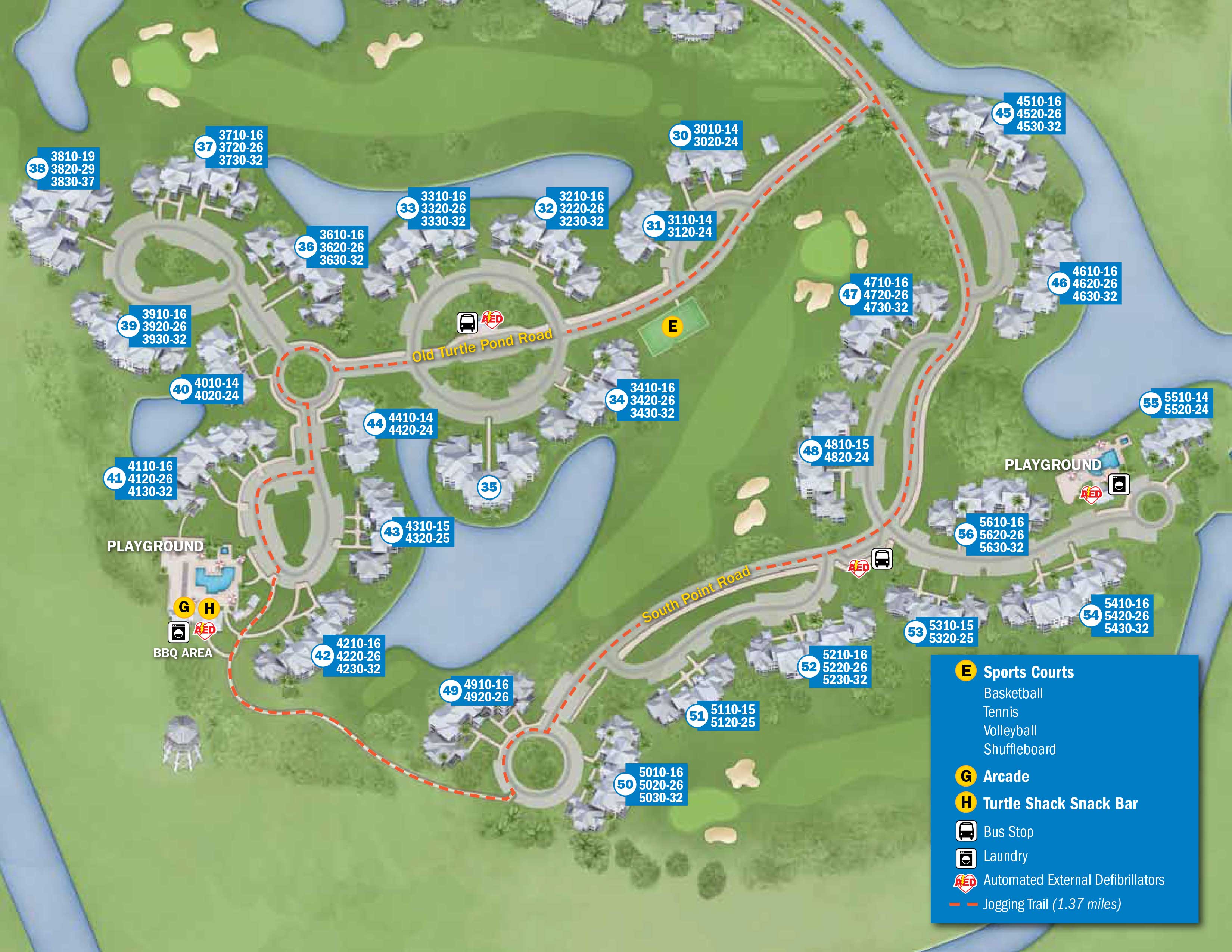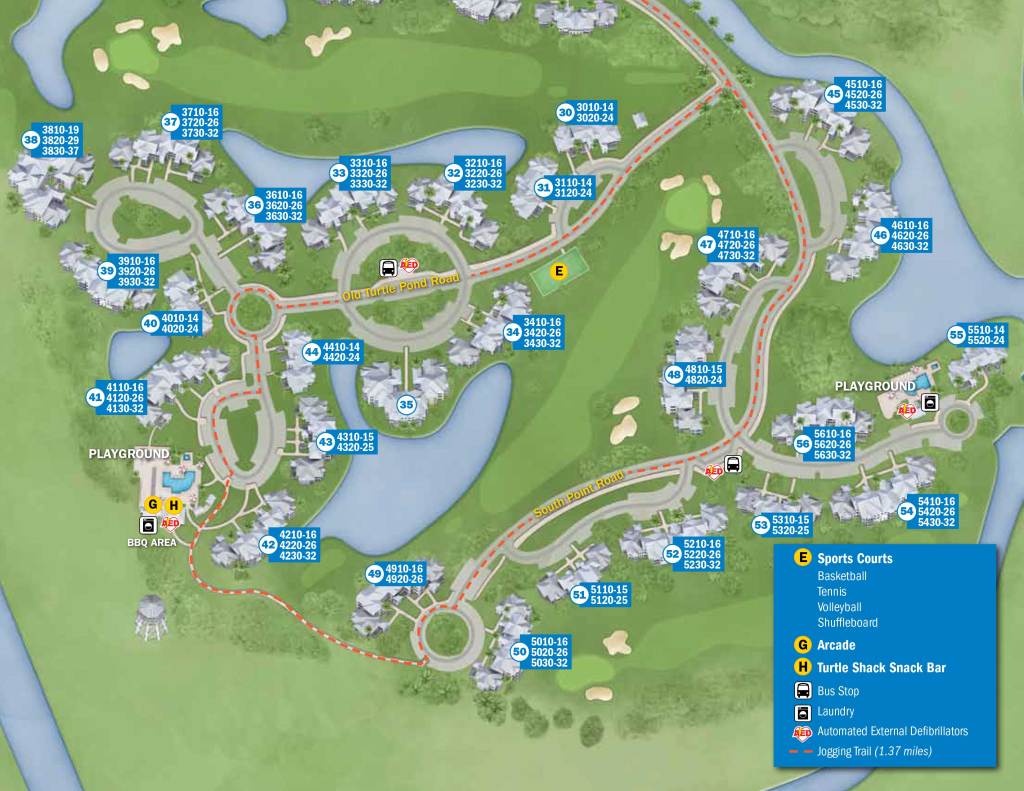 Depending on which building you are staying in, you could end up very far away from the main amenities and relying on internal bus transportation can be a nightmare.
2. Limited Elevator Access
Another reason Old Key West isn't great for mobility concerns is there are only three buildings on property that have elevator access: 62, 63 and 64.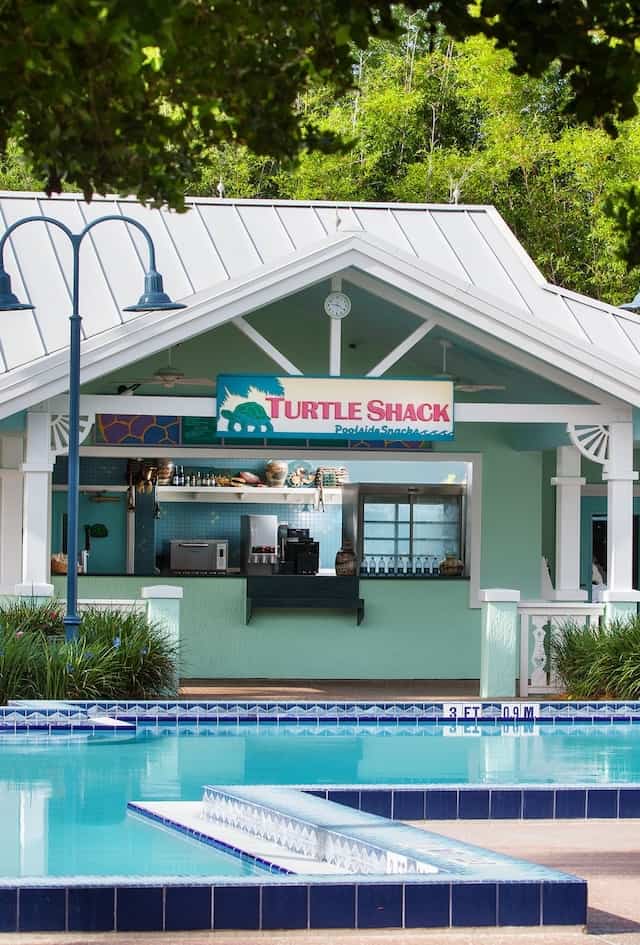 3. Transportation
I'm sure it's no surprise that I'm talking about transportation again. Disney's Old Key West is so large and has the second highest number of internal bus stops in Disney (5 stops).
This will present an issue with loading/unloading your wheelchair or scooter and potentially require longer waits to find a bus with available capacity. Not to mention the added time stopping throughout the resort before you can get to your theme park can be a hassle.
Best
Now that we talked about some places that might be worth avoiding for various reasons, let's talk about some of the places that I've found to be the best in terms of mobility concerns.
Beach Club
The Beach Club is at the top of my list for places to stay no matter what your mobility concerns are. The resort is absolutely gorgeous and we find it very accessible to get around with a scooter.
1. Transportation
The Beach Club has an added benefit of being very close to both Epcot and Hollywood Studios. We often just use the walking path to get to Epcot, but for Hollywood Studios, the Friendship boats are super easy to get a scooter on and off.
With the addition of the Skyliner, there are even more ways to easily access those parks and other resorts, too.
Normally, bus transportation can be an issue when involving wheelchairs and ECV's, but not at the Beach Club. Buses were usually plentiful and even when the Yacht and Beach Club buses were combined at night, we were able to safely unload due to the Beach Club being the last stop.
2. Rooms
The Beach Club has nice sized rooms to easily accommodate an ECV or wheelchair. For an even bigger space, we often request a corner room because they are larger and fit a scooter with plenty of room to spare.
Port Orleans French Quarter
When I'm looking for a more affordable option, Port Orleans French Quarter is next on my list.
1. Resort Size
The resort is fairly small which makes getting around very easy. It's not a super long trip to the lobby from any of the buildings, but we prefer building 4 for easy access to the lobby and bus stop.
2. Transportation
Port Orleans French Quarter has only one bus stop. This makes it a far better choice for wheelchair and ECV users than its sister resort, Port Orleans Riverside.
Having one bus stop ensures that you will be the first to load and last to unload from the bus, making it a lot easier to drive off without people on board.
Getting to Disney Springs was also a breeze because the boats that travel down the Sassagoula River all have accessible ramps to easily get on and off the boats.
Room Size
The rooms at French Quarter are not as big as the deluxe rooms, but we were able to get the scooter into the room fairly easily and still had plenty of room.
Each building at French Quarter has elevators so you are not limited to staying just on the ground floor or one section of the resort.
We can't wait for French Quarter to reopen!
Rivera Resort
Disney's Riviera Resort is another great location to stay at with mobility issues for a few reasons:
1. Room size
Because Riviera is exclusively Disney Vacation Club rooms, you will automatically have access to a bigger room set-up. Even if you stay in a studio, the layout will be slightly larger than a standard room.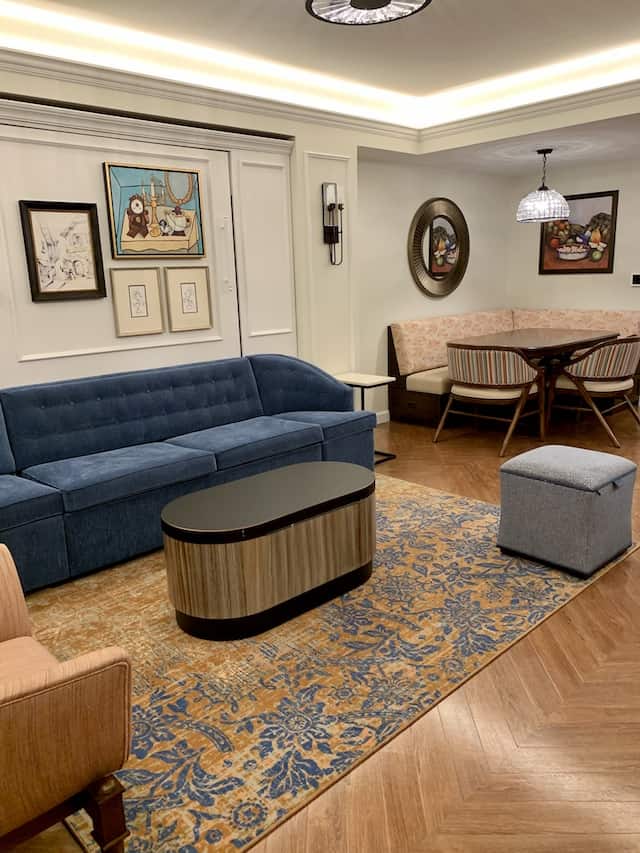 2. Transportation
Disney's Riviera Resort has access to the Skyliner, which is a fast and easily accessible option for mobility issues. The other great thing is there is only one bus stop at Riviera for easy-on, easy-off loading.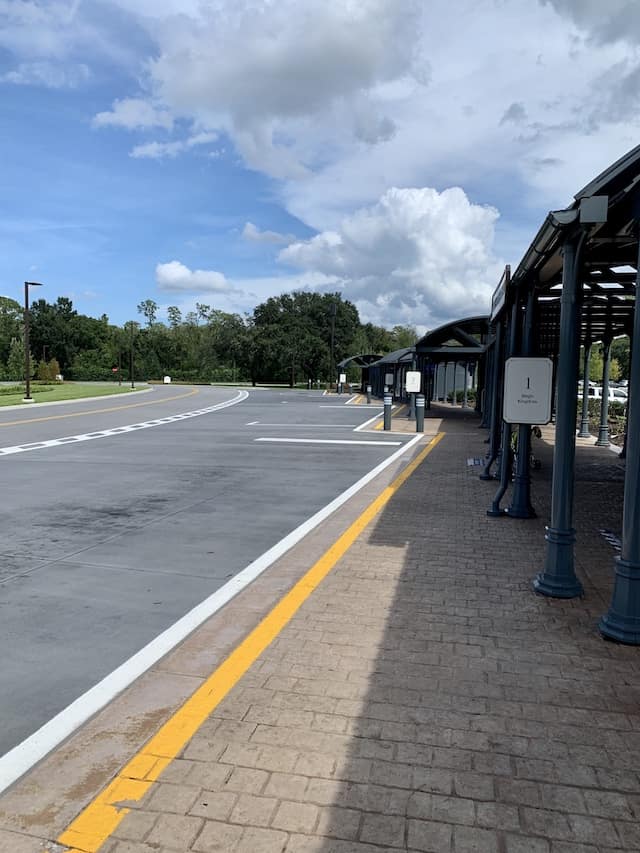 Check out this complete guide to staying at Disney's Riveria Resort!
Grand Floridian
If you have the opportunity to stay at Disney's Grand Floridian Resort & Spa, take it. It's so magical! You can check out my Complete Guide to the resort.
1. Transportation
Bus transportation was easy to deal with, but we also weren't tied down to just using bus transportation. We had monorail access, too!
The boat situation was the same for Grand Floridian as it was for Wilderness Lodge, so we decided to use the monorail and bus exclusively.
Having that extra transportation option of the monorail is what sets Grand Floridian apart from Wilderness Lodge for our party.
Room Size and Location
While our room wasn't located inside the main building, it was fairly easy to get to and from our room at the Sago Cay building every day.
The grounds of the Grand Floridan are deceptively large, so having a scooter here for my party was a must.
Our room was a little more narrow than expected, but that could have been due to the location within our building. We were on the 5th floor on the very end of the hall.
While fitting the scooter inside the room would have been cramped, we had a small alcove that allowed us to park the vehicle outside the room instead, which alleviated that problem entirely.
I have heard that most rooms at the Grand Floridian are rather large (especially if you are staying in the DVC building), so most guests with accessibility issues should have no problem getting their ECV or wheelchair into their room.
Polynesian Village Resort
Disney's Polynesian Village Resort is very similar to the Grand Floridian.
1. Transportation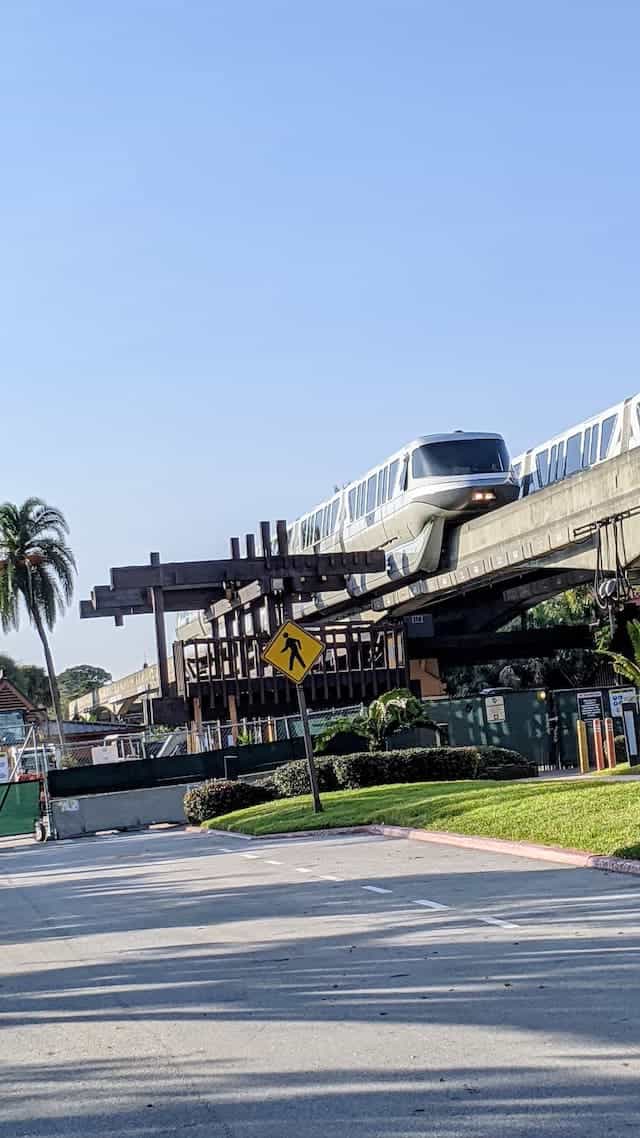 There are more transportation options such as the buses and monorails, and maneuvering around the resort is pretty easy.
Keep in mind when booking that the monorail station at the Polynesian is currently under construction. The resort is expected to fully reopen in Summer of 2021.
Room size
The Polynesian has some of the largest rooms on property. This would be a great place to choose if you are looking for a larger space for your ECV or wheelchair.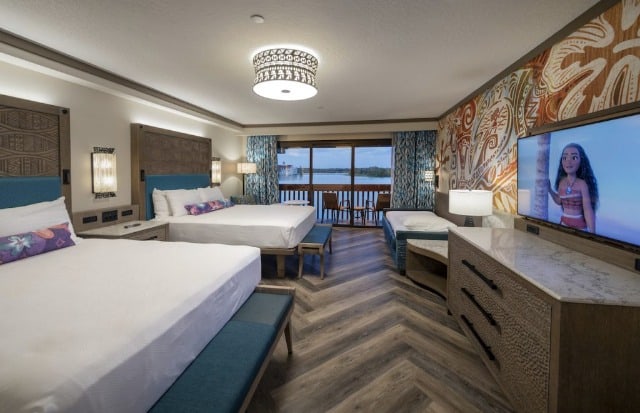 If you are staying at the Polynesian Village Resort and are contemplating if you should rent a scooter to have around your hotel, do it. The resort is rather large and some of the outer buildings are a bit further from the Grand Ceremonial House. You'll be glad to have your ECV!
There you have it! Some of the best and worst hotel options to choose when factoring in a mobility issue. Obviously, everyone has their own opinion and personal preference when it comes to resort stays.
Some things that might be a dealbreaker for one person may not be a problem for another, so take this list as guidance and talk it over with your travel party to find the resort that works best for you!
Which resort is your favorite place to stay when traveling with a party member that requires mobility access? Let us know what you think in the comments or on Facebook!
-Christina