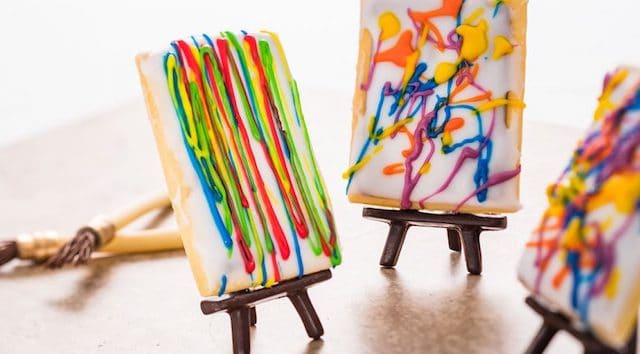 Epcot's Festival of the Arts celebrates the creativity and artistry of music, food, and performance. Whip up these popular dishes from the Festival to help bring that same creativity and artistry into your kitchen!
Festival of the Arts is one of the more recent festivals to make its home at Epcot. You have the chance to immerse yourself in the culinary, performing, and visual arts during this festival, which runs from mid-January to late-February.
Listen to real Broadway performers sing their hearts out at the American Adventure and watch stunning displays of acrobatics, live performance art, and living statues.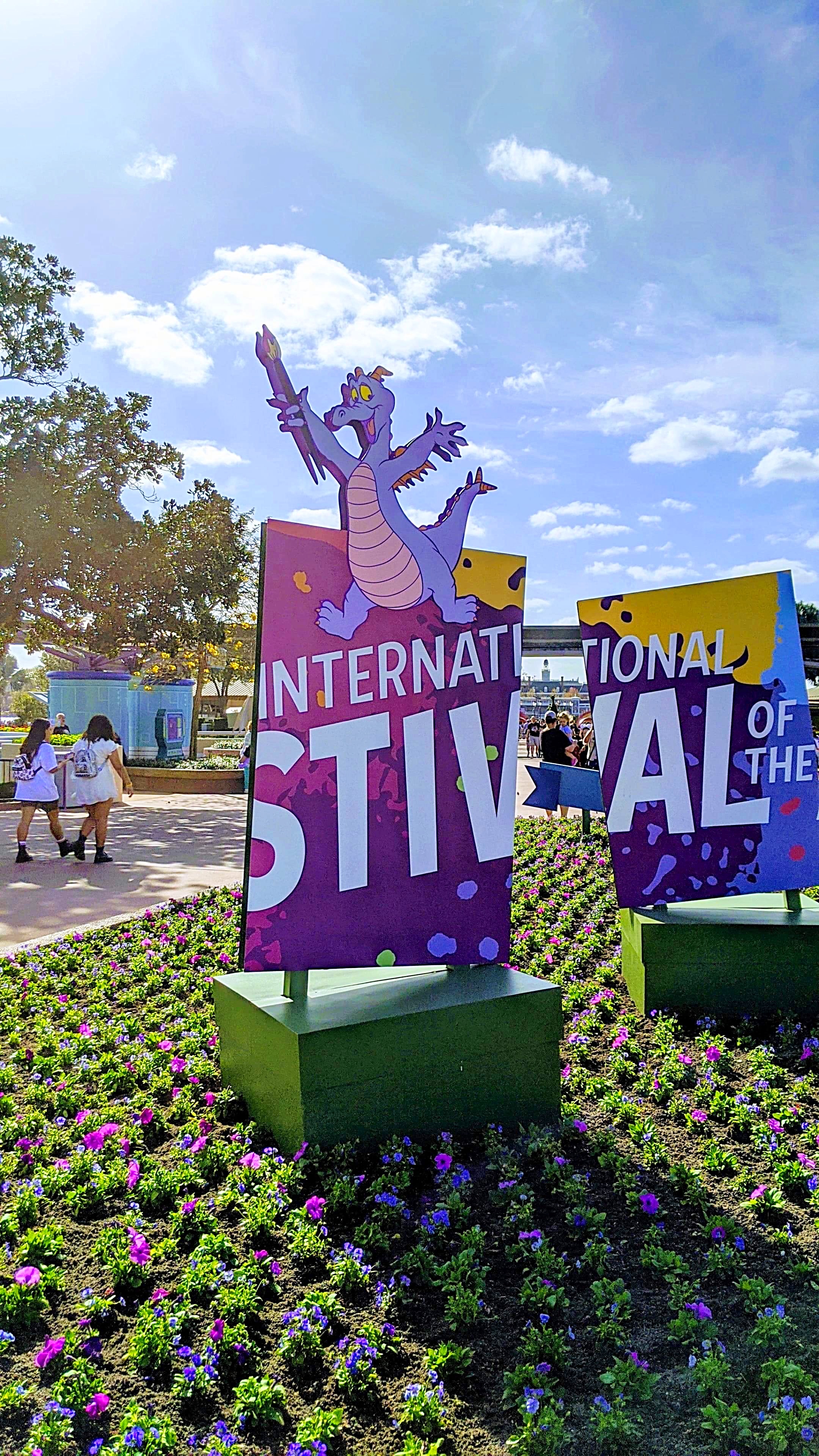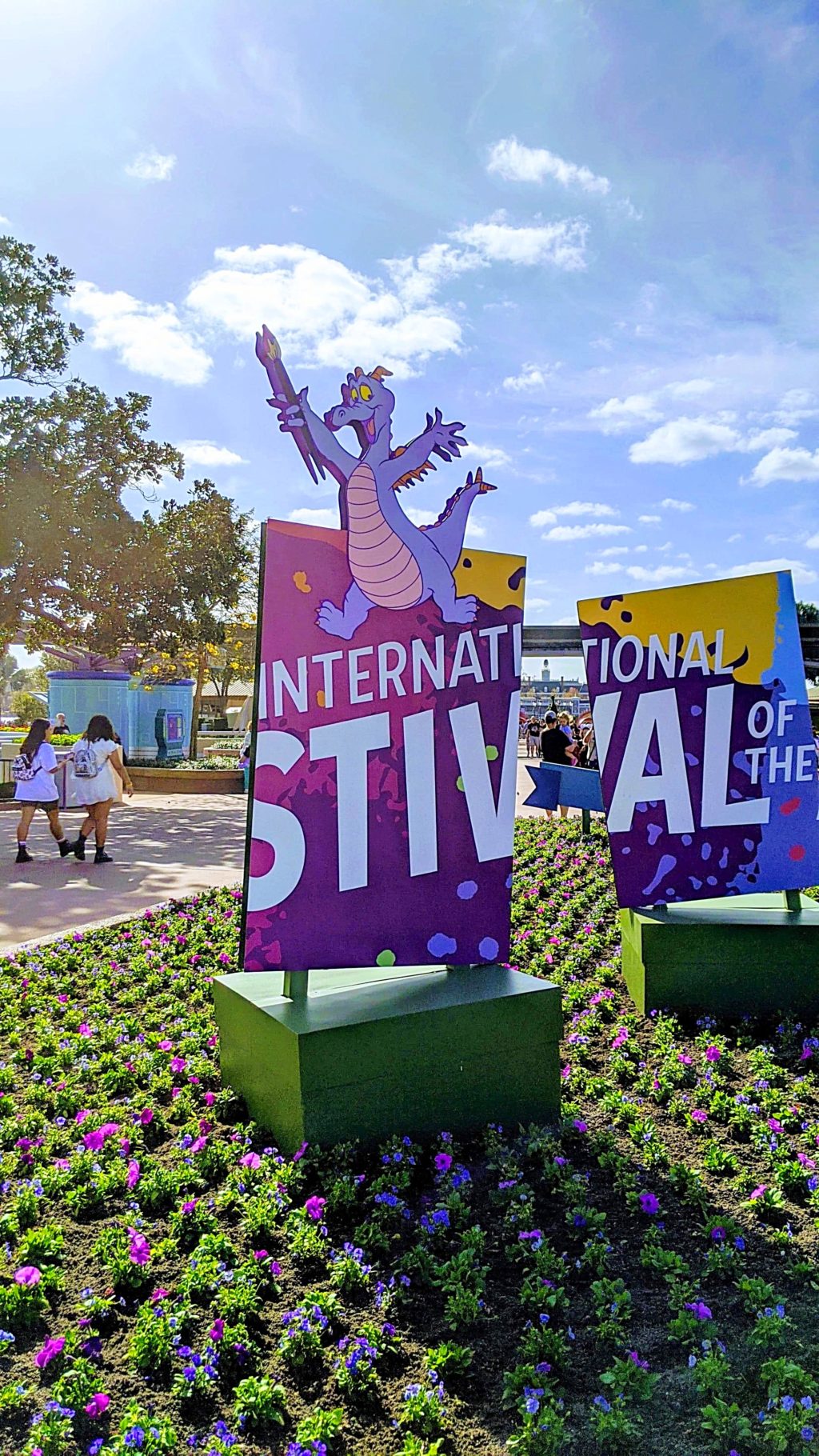 You can also participate in workshops to help take your creative skills to the next level in classes taught by talented Disney artists.
We have written extensively about Festival of the Arts, so be sure to check out our full review and why you should attend!
One of the best parts about attending an Epcot festival is the food. At Festival of the Arts, Guests have the opportunity to discover colorful food that is sure to please the palate. When I attend the festival this past February, my absolute favorite activity was sampling all the food from the booths.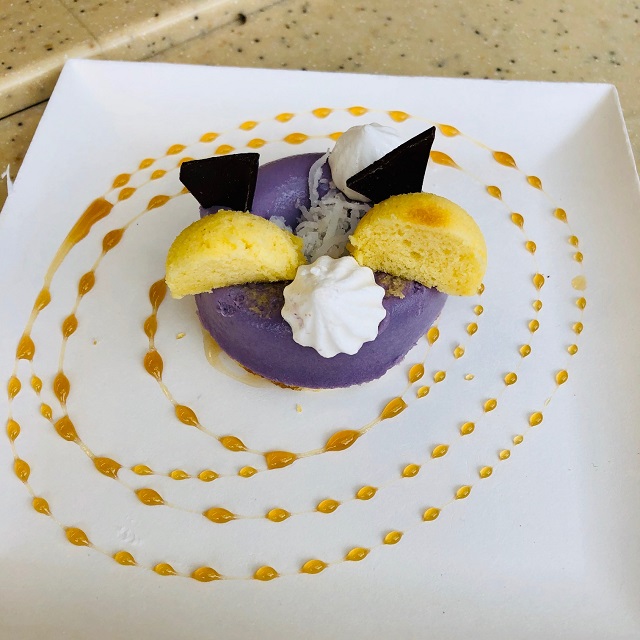 From cookies and sweet treats to sandwiches and specialty drinks, the food available at Epcot during Festival of the Arts is a masterpiece.
Let's bring some of these amazing dishes home with help from D23! They have shared recipes for two great Festival of the Arts culinary delights.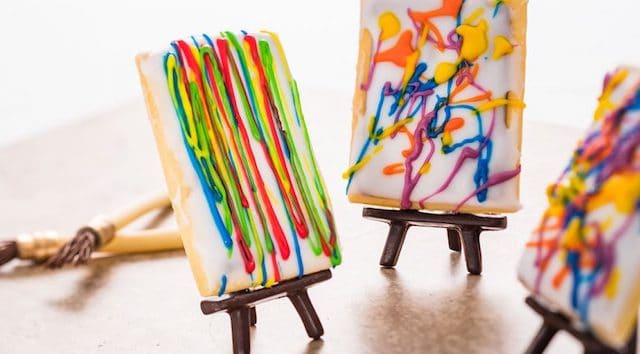 First up is the Pop't Art recipe from the Pop Eats booth, which is located in the Showcase Plaza! This recipe makes 6 cookies.
Pop't Art
Sugar Cookie
1/2 cup sugar
1 cup butter
1 egg white
2 1/2 cups all-purpose flour, sifted
1/8 teaspoon salt
Topping
6 tablespoons chocolate-hazelnut spread
Glaze
1 1/2 cups powdered sugar
3–4 tablespoons milk
2 teaspoons vanilla extract
Food coloring
For Sugar Cookie
Cream the sugar and butter in the bowl of an electric mixer fitted with a paddle attachment until fluffy. Add egg white and beat for 1 minute.
Slowly add sifted flour and salt and beat at medium speed until a soft dough forms.
Cover bowl and chill in refrigerator for 30 minutes.
Preheat oven to 300°F. Line a baking sheet with parchment or silicone baking mat.
Roll dough into a 1/4-inch thick rectangle on a lightly floured surface.
Cut into six, 3×5-inch rectangles.
Place cookies on prepared baking sheet and bake for 15 minutes, until golden brown.
Cool for 30 minutes.
For Topping
Spread 1 tablespoon of chocolate-hazelnut spread on each cookie, leaving a border of about 1/8 inch around the edges of each cookie.
Set aside.
For Glaze:
Whisk powdered sugar, 3 tablespoons of the milk, and the vanilla extract in a pie plate until smooth. Add additional milk if the glaze is too thick.
Set aside 2 tablespoons of glaze in a small bowl.
Dip each cookie, chocolate-hazelnut side down, in the glaze to cover the chocolate.
Set on a wire rack to dry.
Mix remaining glaze with desired color or colors of food coloring. Use a fork to drizzle colored glaze on top of the cookies.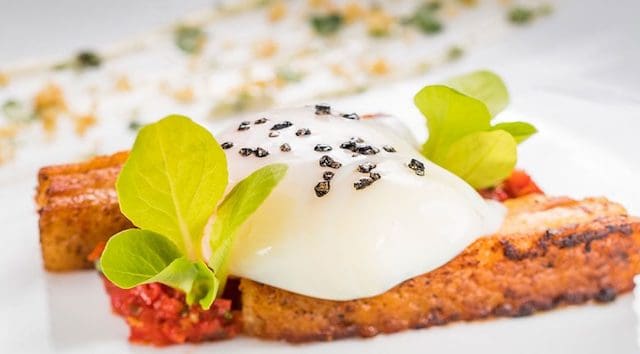 Next, is the Deconstructed BLT from the Deconstructed Dish, which is also located in the Showcase Plaza. This recipe serves 4.
Deconstructed BLT
Pork Belly
1/4 cup salt
1/4 cup sugar
1 tablespoon black pepper
2 pounds pork belly
2 teaspoons olive oil
Tomato Jam
2 teaspoons olive oil
2 tablespoons diced onion
1 clove garlic, minced
1 pound plum tomatoes, diced
2 tablespoons brown sugar
2 teaspoons balsamic vinegar
Coarse salt, freshly ground black pepper, to taste
1 tablespoon chopped fresh basil leaves
Sous Vide Egg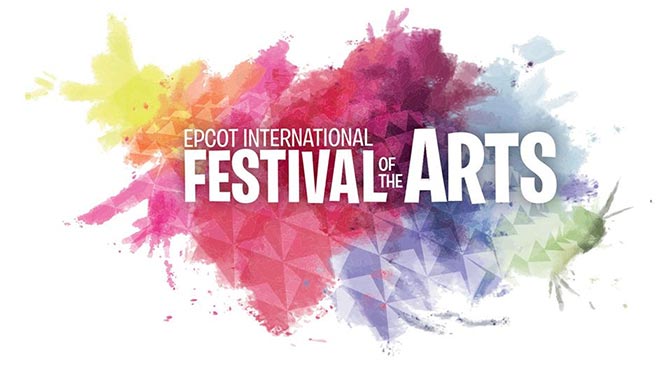 Romaine Purée
1/2 cup frozen spinach leaves, thawed
3/4 cup chopped romaine lettuce
1/4 cup mayonnaise
1/2 cup sour cream
1/4 teaspoon salt
Herb Crumb
1/2 cup panko bread crumbs
1 tablespoon Italian seasoning
Garnish
Dijon mustard
Micro basil, optional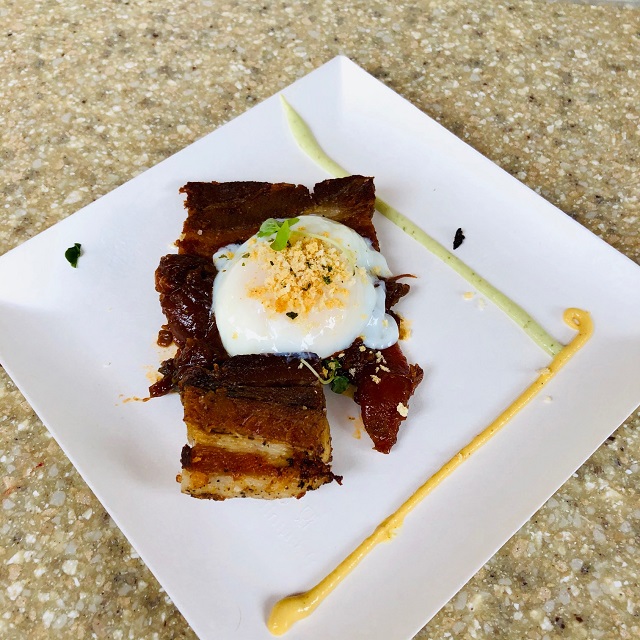 For Pork Belly
Mix salt, sugar, and black pepper together in a small bowl.
Rub all sides of pork belly with salt mix. Wrap tightly with plastic wrap and refrigerate for 24 hours.
Preheat oven to 350°F.
Heat olive oil in large skillet over medium heat for 5 minutes. Place pork belly, skin side down, in hot oil and cook for 2 minutes, or until browned. Turn pork belly and cook other side until browned. Move to a baking pan.
Wrap pork belly in parchment paper and foil. Bake in the pan for 3 hours.
Remove from oven, unwrap and slice pork belly into 8 (2-ounce) slices.
Heat a sauté pan over medium heat for 3 minutes. Cook pork belly slices for 1 to 2 minutes on each side, or until crispy. Keep warm until ready to serve.
For Tomato Jam
Heat oil in medium saucepan over medium heat for 5 minutes. Add onion and cook for 5 minutes, or until translucent.
Add garlic and tomatoes and cook, stirring frequently, for 2 minutes. Stir in balsamic vinegar and brown sugar and stir until brown sugar dissolves. Add salt and pepper.
Cook on medium-low heat for 45 minutes, until thick and reduced by 3/4. Keep warm until ready to serve.
For Sous Vide Egg
Preheat water to 145°F in a sous vide machine (or see poached egg instructions below). Add eggs and cook for 30 minutes.
Transfer to an ice bath for 2 minutes.
Peel eggs and place in a bowl until ready to serve.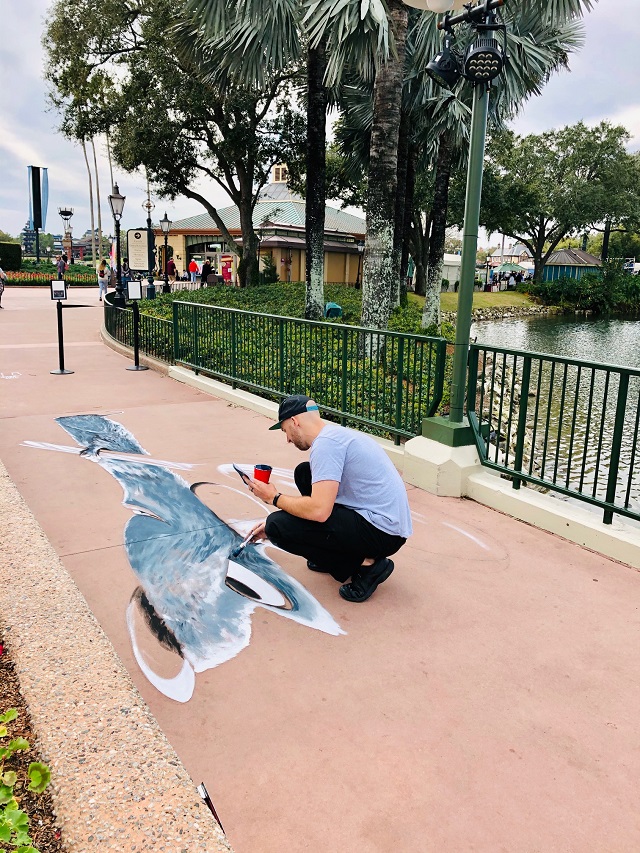 For Romaine Purée
Remove excess liquid from thawed spinach by wrapping in tea towel or paper towels and squeezing.
Place spinach, romaine lettuce, mayonnaise, sour cream, and salt into food processor. Blend until smooth. Refrigerate until ready to serve.
For Herb Crumb
Preheat oven to 350°F. Line a baking sheet with parchment paper.
Place panko bread crumbs on baking sheet. Bake for 8 to 10 minutes, stirring once, until golden brown.
Remove from oven and cool for 15 minutes.
Place toasted bread crumbs and Italian seasoning into food processor and pulse until fine.
To serve
Spoon 2 tablespoons of romaine purée down left side of a serving plate. Sprinkle 1 to 2 tablespoons of herb crumb over purée.
Squeeze a thin line of Dijon mustard from top right side of plate to top left side.
Place 2 pieces of pork belly in center. Spoon 1 tablespoon of tomato jam on each end of pork belly. Place 1 egg on top of pork belly.
Garnish with micro basil, if desired.
Cook's Note: If you don't have a sous vide machine, just soft-boil the eggs on the stovetop. Bring a saucepan of water to a boil, then reduce to a simmer. Using a slotted spoon, carefully lower eggs into water one at a time. Cook 6 minutes (set a timer!). Transfer to an ice bath for 2 minutes to make them easier to peel.
A smooth Cabernet Sauvignon from Washington State is recommended to pair nicely with this dish.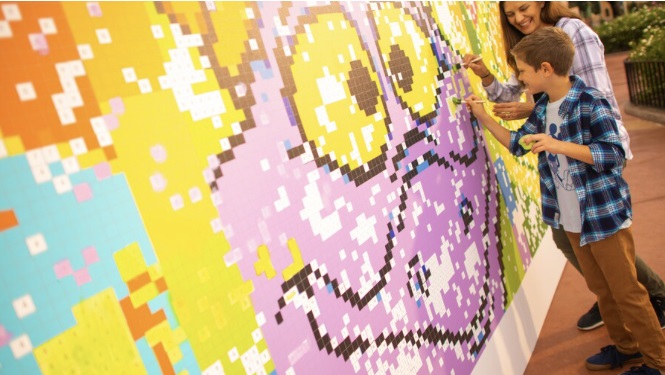 Please note that these recipes are property of Walt Disney World Parks and Resorts U.S. Inc.
Have you ever tried the Pop't Art or Deconstructed BLT at Festival of the Arts? Will you be trying either of these recipes? Share your reviews of the food and any photos with us on Facebook!