Mickey and Minnie, Beauty and the Beast, Rapunzel and Flynn Rider – they all just seem to go together like peanut butter and jelly. Peanut butter and jelly sandwiches are a staple in our home, and today let's add a Disney twist to this lunchtime classic.
Get Creative
I know what you all are thinking, how can you improve on a classic like peanut butter and jelly? Well, we seek our inspiration from the creative chefs at the Lamplight Lounge found in California Adventure.
As Remy says from Ratatouille, "(Humans) don't just survive; they discover, they create. …I mean, just look what they do with food."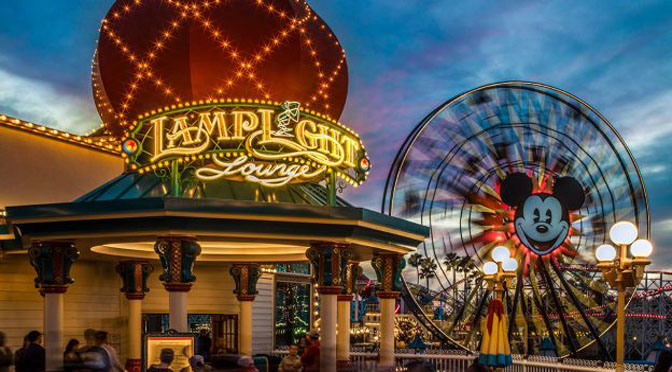 Ingredients
Peanut Butter Rolls
8 slices of wheat bread
3/4 cup creamy peanut butter, divided
Jelly Drizzle
3/4 cup strawberry or grape jelly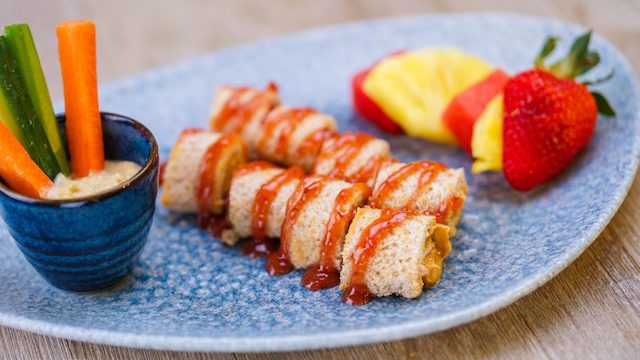 Instructions
For peanut butter rolls:
Cut crusts off bread. Flatten bread with rolling pin until bread can bind after being rolled.
Spread 1 1/2 tablespoons of peanut butter evenly on each slice of flattened bread, leaving a small border on all sides- the peanut butter will spread as you roll.
Starting with the long side of the bread, gently rollup each bread slice into a spiral. Cut each roll into 4 even pieces.
Place 8 pieces of rollups on each plate, seam-side down.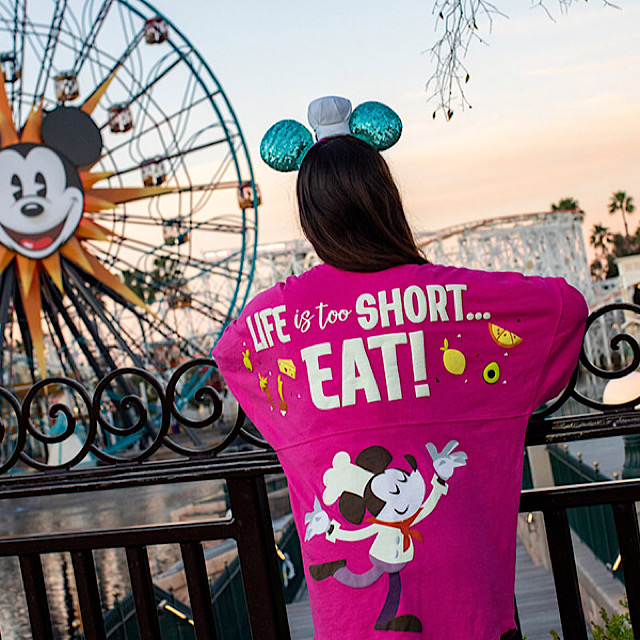 For jelly drizzle:
Place plastic quart-size freezer bag into small cup, folding back the first few inches of the bag over top of the cup. Spoon the jelly into the bag, gently sharing the bag to move the jelly to the bottom of the bag. Tip: if jelly is too thick to drizzle, add a small amount of warm water to jelly in a small bowl and mix to a desired consistency before adding to the bag.
Once filled, lift the bag from the cup and squeeze out the excess air from the bag and seal the bag with a few twists to the top of the bag. Cut the bottom corner of the bag with scissors.
Holding right below the twisted top of the bag with one hand and guiding with your free hand, gently squeeze to drizzle jelly over each peanut butter roll with a zigzag motion.
A super easy option for the jelly drizzle would also be a squeezable bottle of jelly.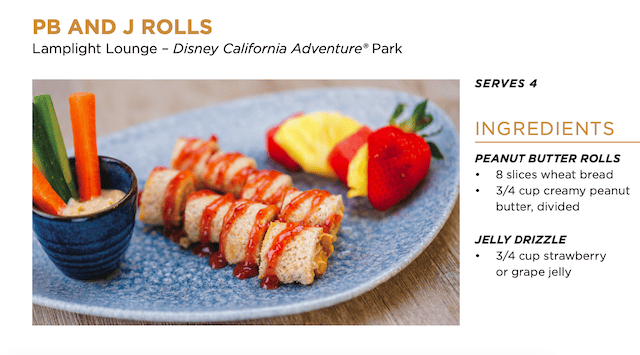 You can also find a printable version of this recipe HERE.
This would be such a fun meal to make with your whole family. Check out this instructional video from Chef Jonathan, and remember, "Anyone can cook, but only the fearless can be great," Chef Auguste Gusteau (Ratatouille).
What a fun way to enjoy time in the kitchen with your young chefs. Afterwards, you can enjoy a nice family meal together. Be sure to check out these other great recipes: peanut butter and jelly milkshake, 3 Grilled Cheese Sandwiches, Mickey shaped pancakes, Dole Whip, kitchen sink sundae, and Woody's Lunchbox totchos.
What Disney inspired food have you created while at home? Share your pictures and recipes with us on our Facebook page.
Are you planning a vacation? Reach out to our trusted travel agency sponsor Authorized Disney Vacation Planner
Mouse Class Travel
!