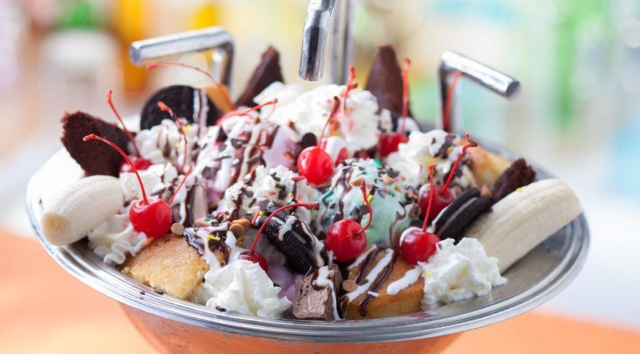 Get out those ice cream scoops and grab your spoons to get ready for the latest Disney recipe from Disney's Beaches & Cream Soda Shop at Disney's Yacht and Beach Club Resort. Bring an appetite because you're going to need one! Disney is sharing the recipe for their famous Kitchen Sink sundae and today they are giving it a patriotic twist just for the holiday.
Beaches & Cream Soda Shop was recently given a whole new look this past December. The popular restaurant returned with guests favorites such as flavored sodas, malted milkshakes, hot-off-the-grill items, and of course, the Kitchen Sink.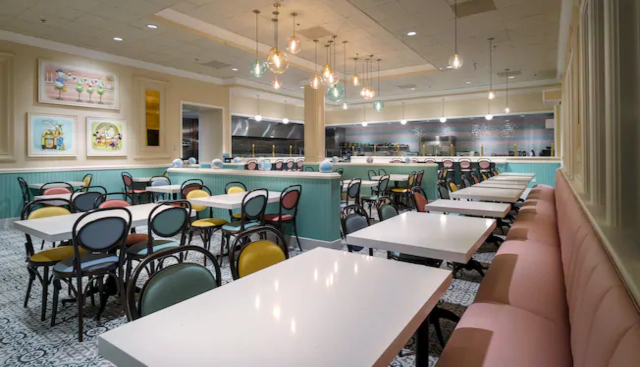 The restaurant reopened with more room and more space to enjoy all of the yummy dishes and was given a fresh new look. I love all of the bright pops of color found throughout the restaurant and the playful beach balls spread throughout.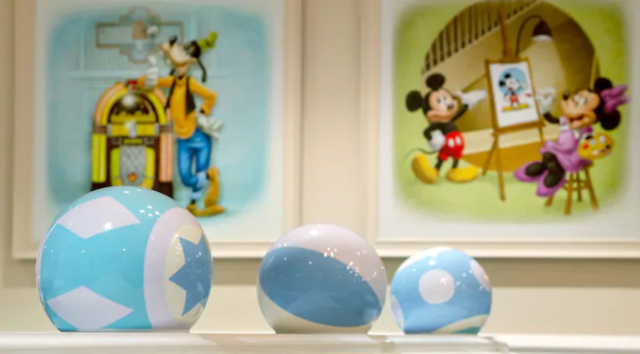 The Kitchen Sink sundae served here is a classic, and as Disney describes it, "be warned, this over-the-top indulgence includes everything and the kitchen sink – enough for the entire family to share!"
So, let's dive right in and see how we can make it right at home!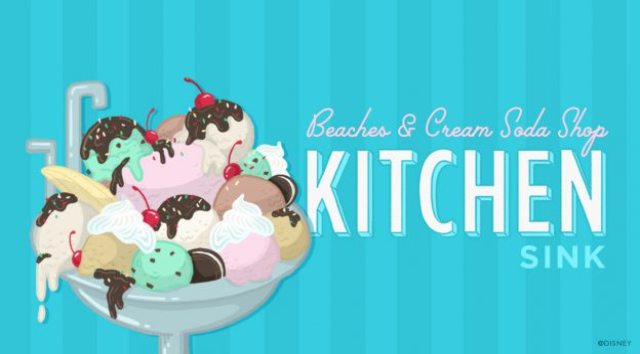 Serves 4 to 6
Ingredients
1/2 cup warm fudge topping
1/2 cup warm butterscotch topping
1/2 cup warm peanut butter topping
1 medium banana, sliced in 1/2-inch slices
1 cinnamon spice cupcake (2 ½ x 1 1/4-inch), quartered
1 angel food cupcake (3 x 1 1/2-inch), quartered
2 generous scoops vanilla ice cream
2 generous scoops chocolate ice cream
2 generous scoops strawberry ice cream
1 generous scoop mint chocolate chip ice cream
1 generous scoop coffee ice cream
3 tablespoons chocolate syrup
1/4 cup marshmallow cream
1/4 cup strawberry topping
1/4 cup pineapple topping
14-ounce can dairy whipped topping
1 large brownie (6-inch x 6-inch), quartered
1 regular-sized candy bar, quartered
4 chocolate cookies with cream filling
1 tablespoon sliced toasted almonds
1 tablespoon dark and white chocolate shavings
1 tablespoon crushed chocolate cookies with cream filling
1 tablespoon chopped jellied orange slices, about 2 large slices
1 tablespoon milk chocolate chip morsels
1 tablespoon peanut butter chip morsels
1 tablespoon chocolate sprinkles
1 tablespoon rainbow sprinkles
1/2 cup drained maraschino cherries
To Serve:
Pour hot fudge, butterscotch, and peanut butter toppings into bottom of large bowl.
Layer banana slices and cupcake pieces over toppings. Top with all ice creams.
As quickly as possible, spoon chocolate syrup, marshmallow cream, strawberry, and pineapple toppings over ice cream.
Cover completely with dairy whipped topping. Tuck brownie pieces, candy bar pieces, and cookies in whipped topping.
Sprinkle with toasted almonds, dark and white chocolate shavings, crushed cookies, jellied orange slices, milk chocolate chip morsels, peanut butter morsels, chocolate sprinkles, and rainbow sprinkles. Top with cherries.
If you would like to give your Kitchen Sink a patriotic spin for the holiday, take a look at the video here that Disney has shared.
A printable version of the recipe can be found here. As a reminder, this recipe has been converted from a larger quantity in the restaurant kitchens. The flavor may vary from the restaurant's version.
For just a few other great recipes that have been shared, check out Woody's Lunch Box Totchos, the Grey Stuff, Tonga Toast, and Disney's Churro Recipe.
Have you tried the Kitchen Sink sundae before? Tell us about it or show us your pictures in the comments below! You can also share them with us on our Facebook page.
Maggie Baltz