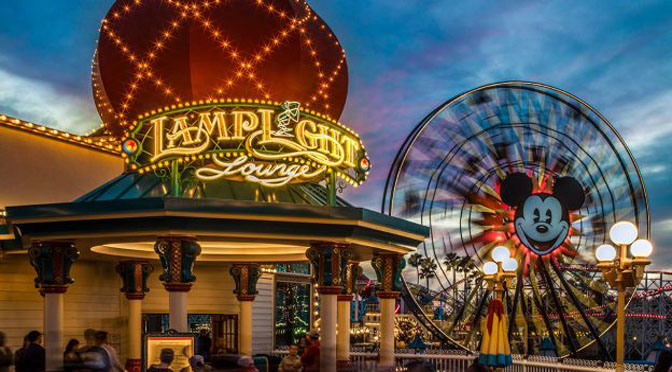 Lamplight Lounge is a bar and restaurant in Pixar Pier at Disney California Adventure. Here are my thoughts on my recent dining experience.
I'm not going to lie when I say that I might have shed a tear when I heard that Ariel's Grotto was closing for good, even though better things were yet to come. I have an abundance of beautiful memories of dining here with my parents and our great friend from Japan and witnessing our daughter's growing older with each visit. Even as I type this, I'm having so many vibrant images in my mind.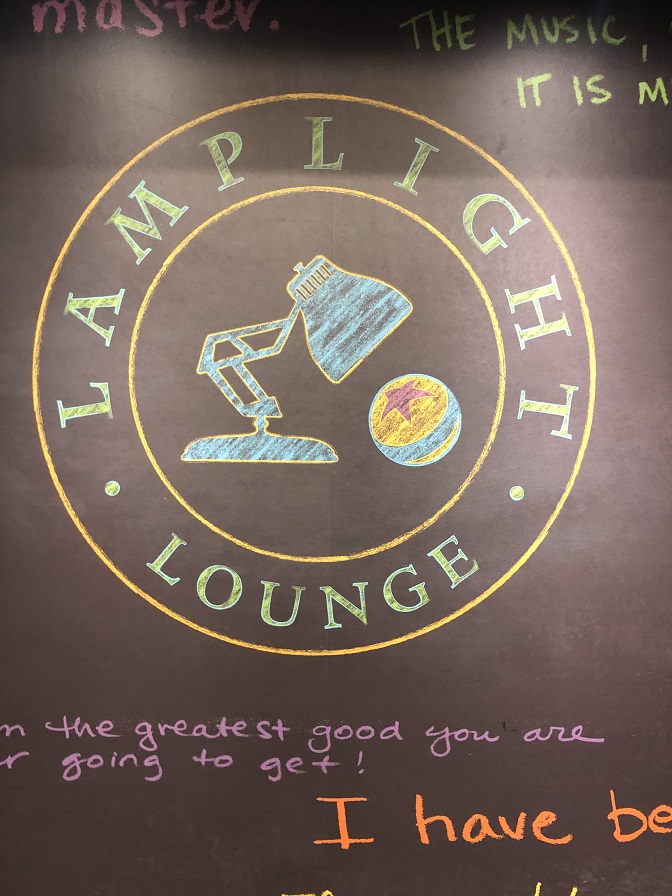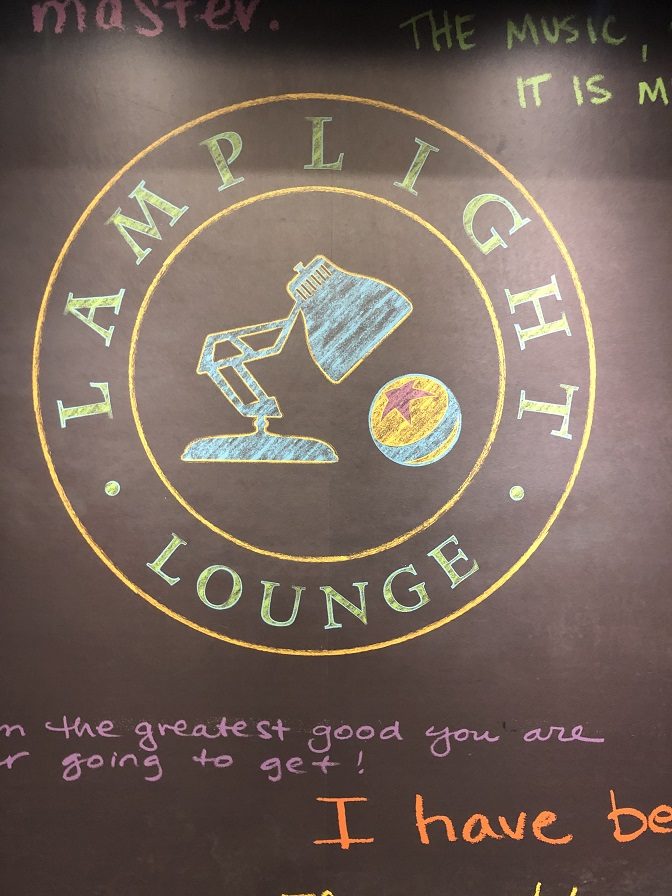 When Disney announced Lamplight Lounge, I did, however, get excited as I'm a huge Pixar fan and I was eagerly anticipating what the space would look like. After a couple of visits back to Disneyland, I was able to find a reservation at 4 pm on a Sunday afternoon in October.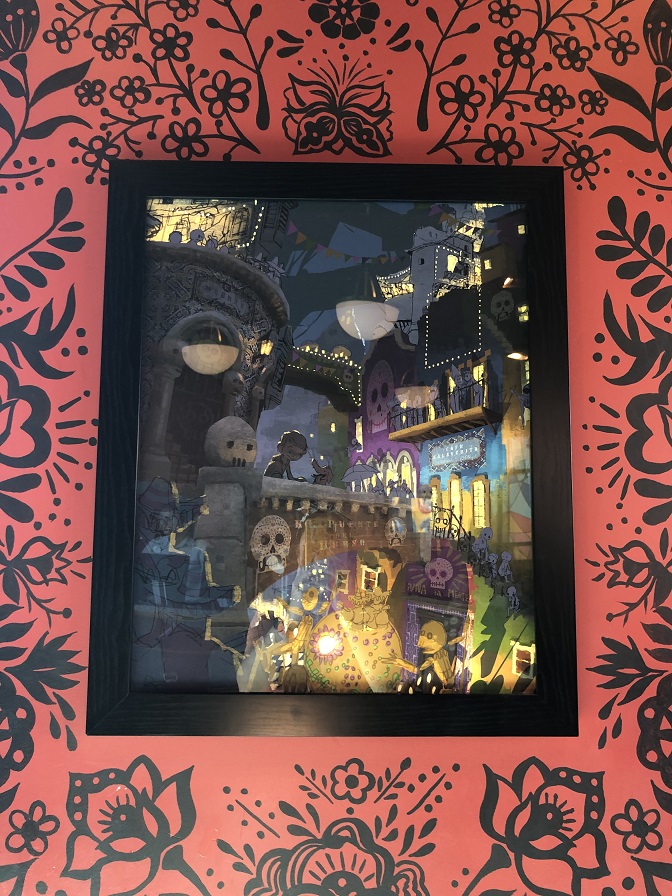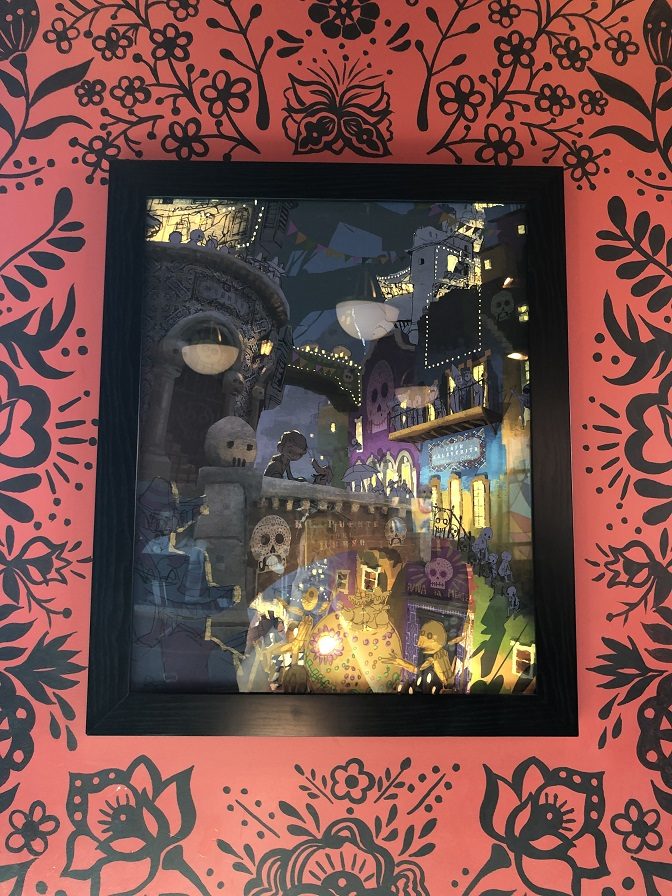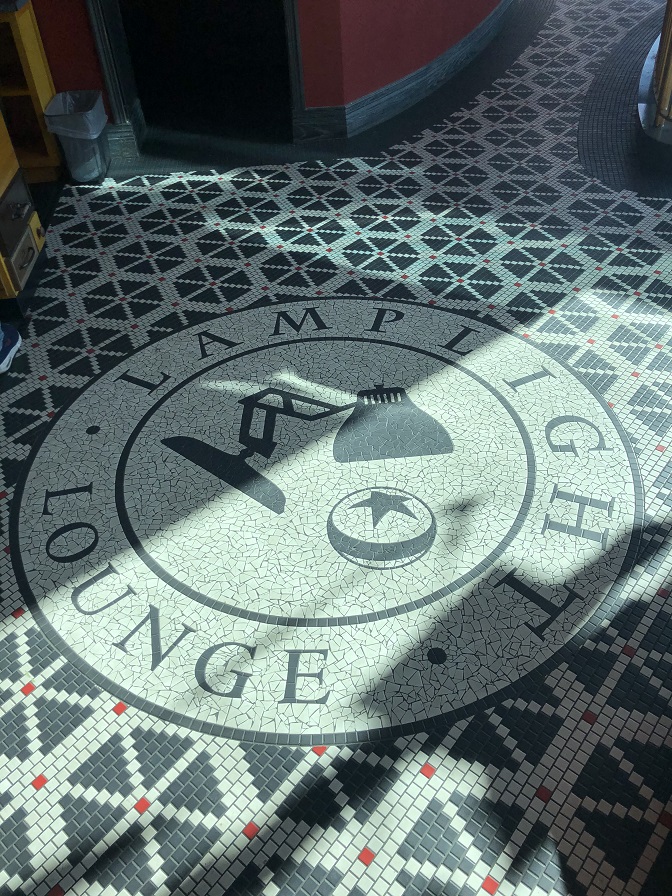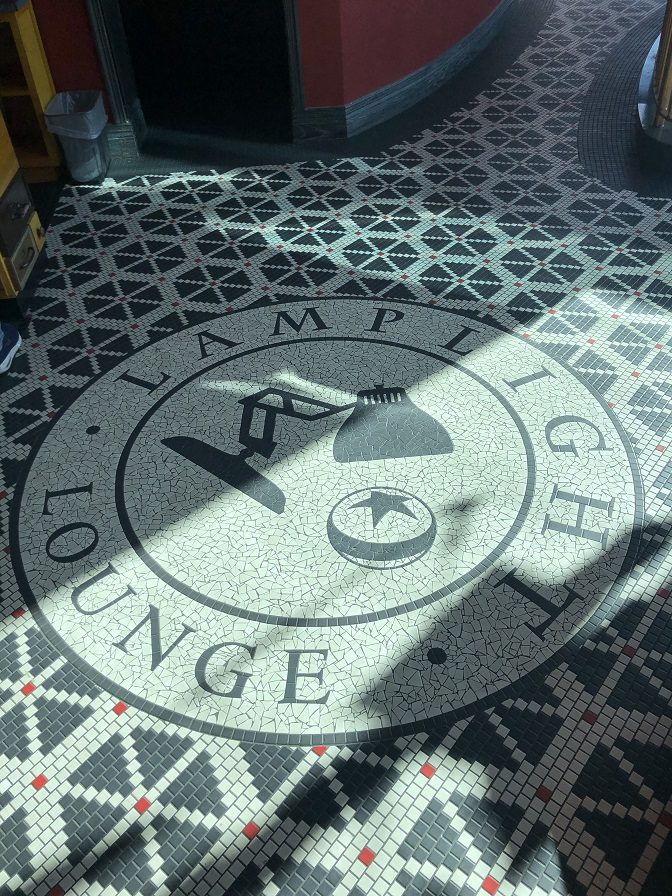 The Atmosphere
I must say that the aesthetics and beauty of the restaurant are breathtaking. I could not stop taking pictures at each and every corner and that was just upstairs in the lobby.
Once we descended down the familiar staircases I was in complete awe of the beauty that the Disney Imagineers created.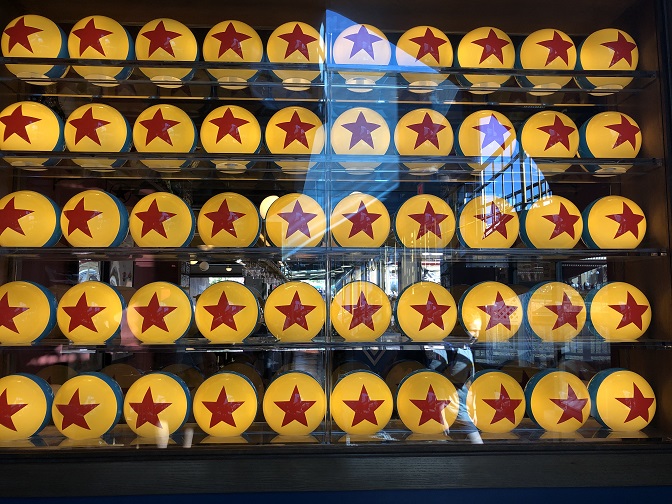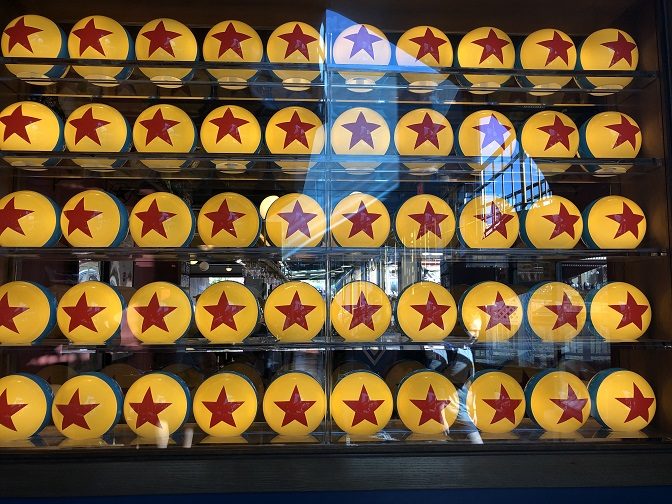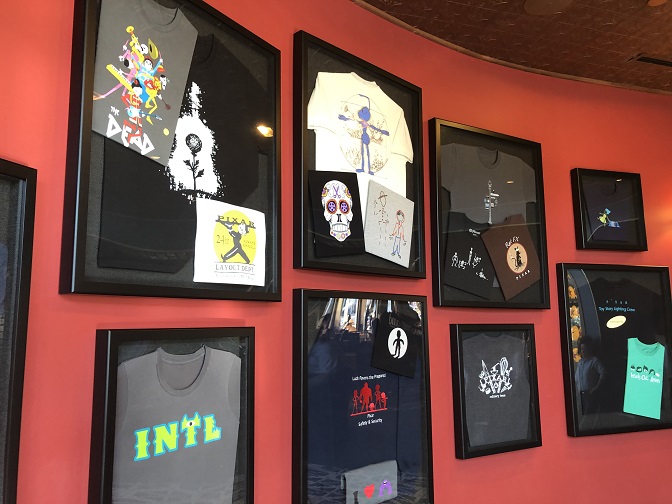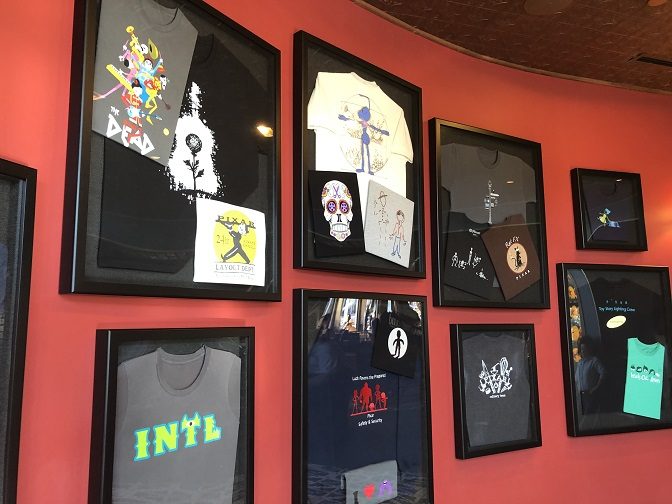 My girls especially loved the attention to detail in all of the signs around the restaurant. We were in love already and we had not even sat down. I mean, who wouldn't want the UP inspired restroom sign in their own home?!?! Not to mention, the clever and witty signs for labeling entrances, exits, and restrooms. It was incredible!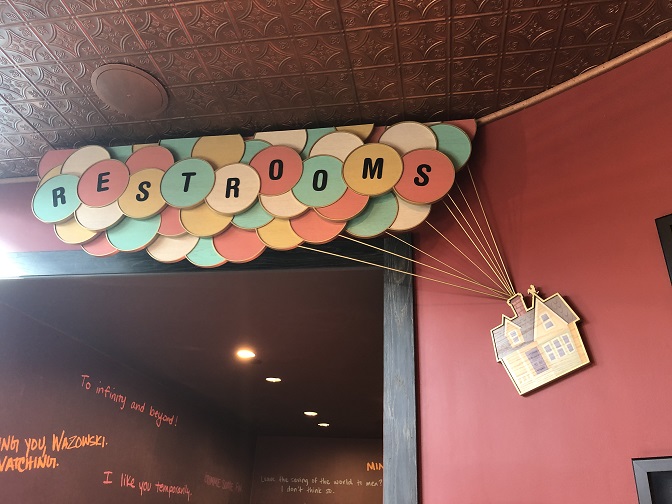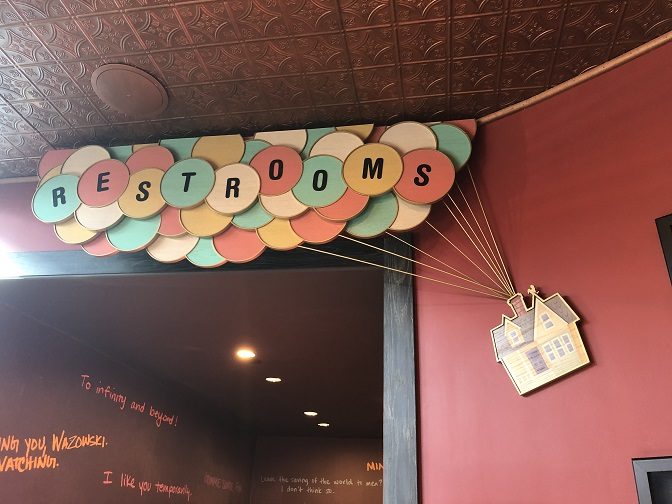 As we were taken to our seats outside on the pier, we passed by a table directed behind the Pixar balls and my youngest ran over to the table that included at least 100 cars within the tabletop itself. Unfortunately, I was not able to snap a picture as a family was enjoying their meal, but were nice enough to let my daughters admire the decorative tabletop.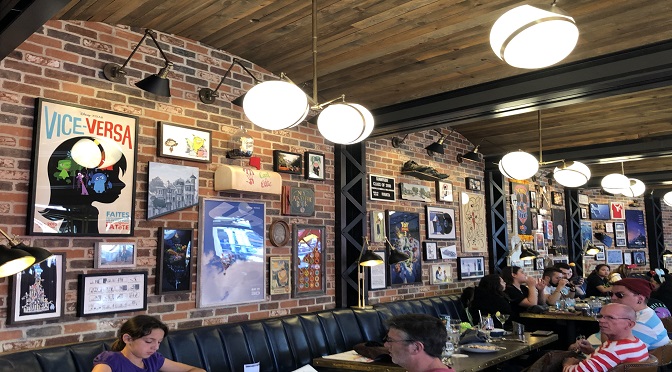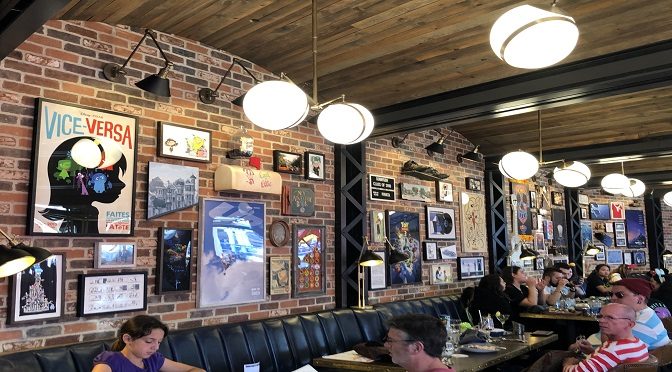 Located inside the restaurant is a secret room, which is hidden in a secret vault! In order to get inside, one has to trigger the door as it is interactive which then allows the vault door to swing open. Once inside, you will enter "The Office," a Disney/Pixar version of an office adorned by Pixar Illustrations. A large wooden table with leather-clad chairs and booth seating make up the dining area.
When we checked into our reservation I asked if we could be seated in the secret room and was informed that a party of 10 was already inside. The capacity in the room is 13. I was also informed that there is no waiting list and that the room is geared for bigger parties who have a better chance of being pixie-dusted to utilize the room.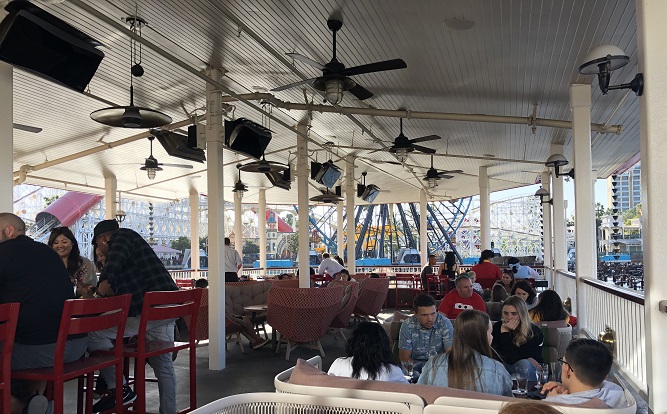 The side of the lounge that we sat at outside definitely resembled a lounge area as we were seated at couches with a communal table in the middle. On the other side of the restaurant was the bar as well as traditional tables and chairs.
The Menu
Here is the menu that was provided: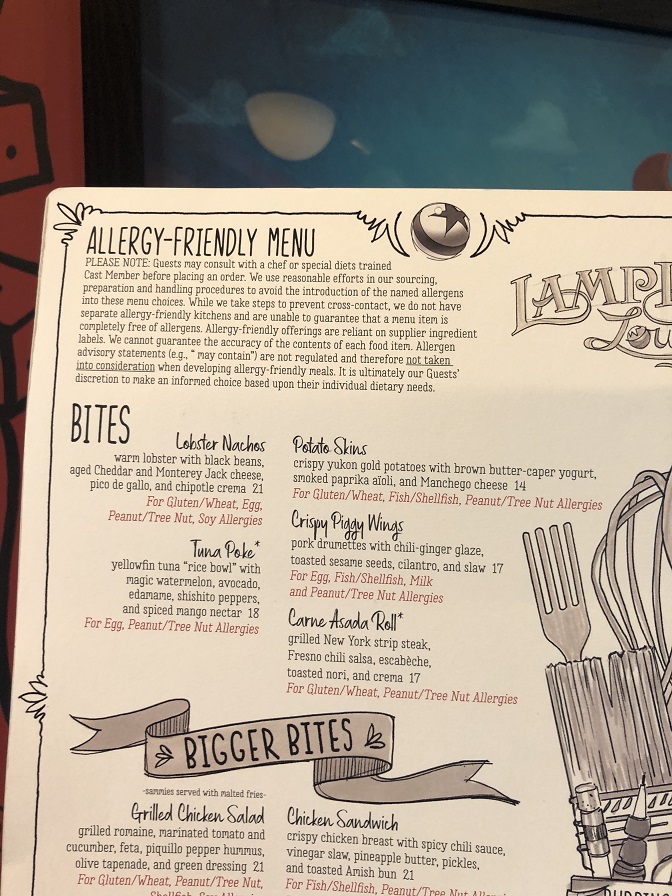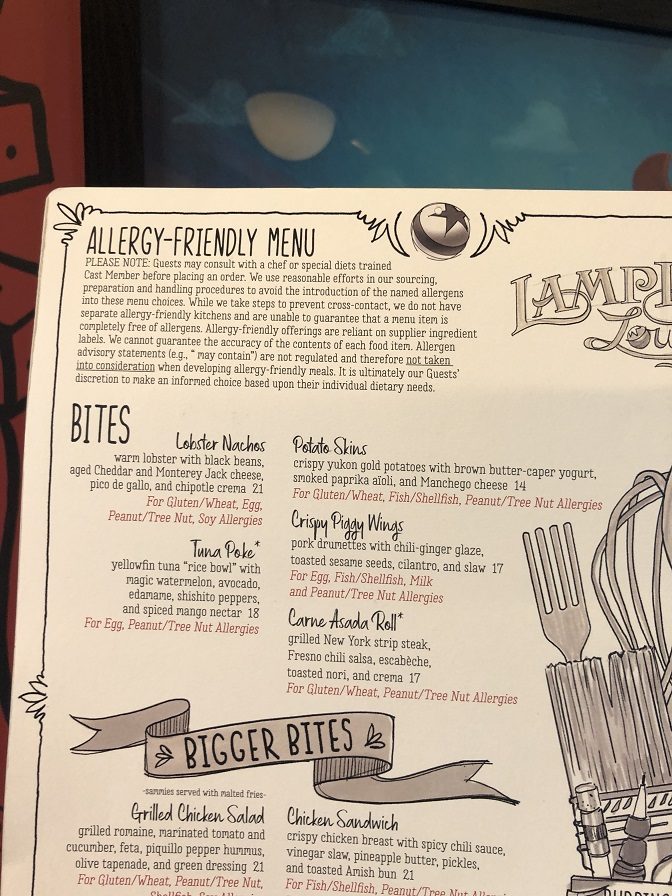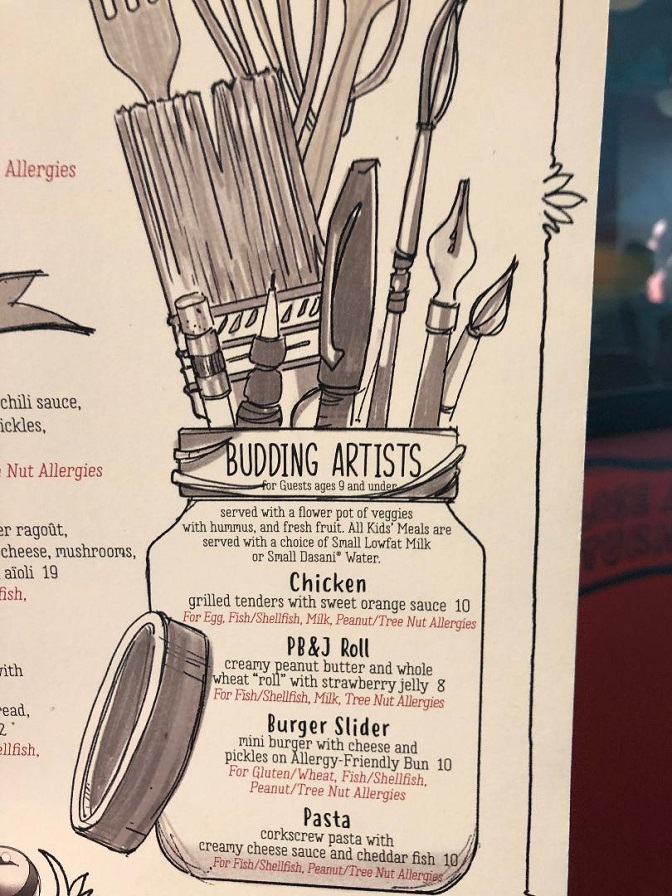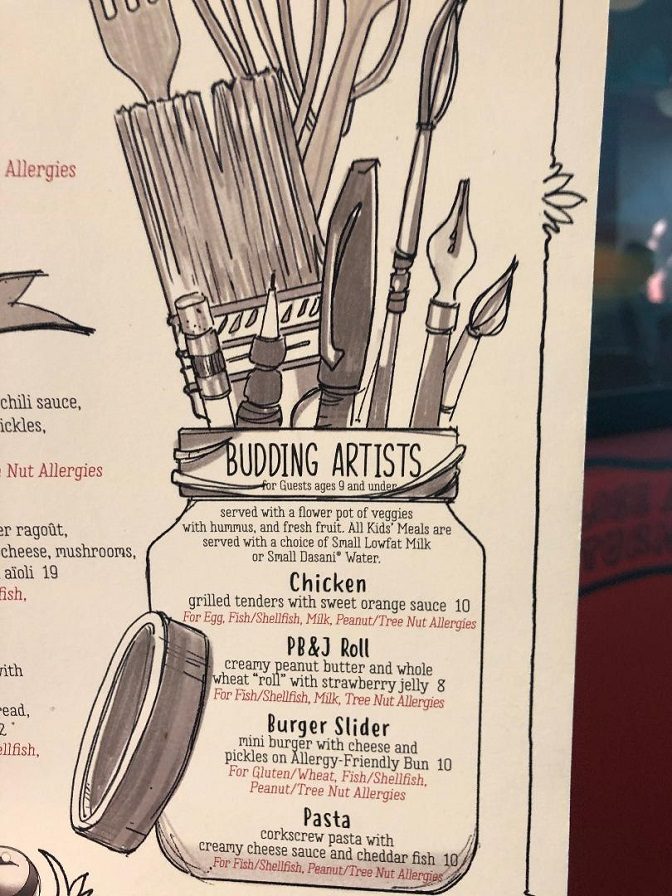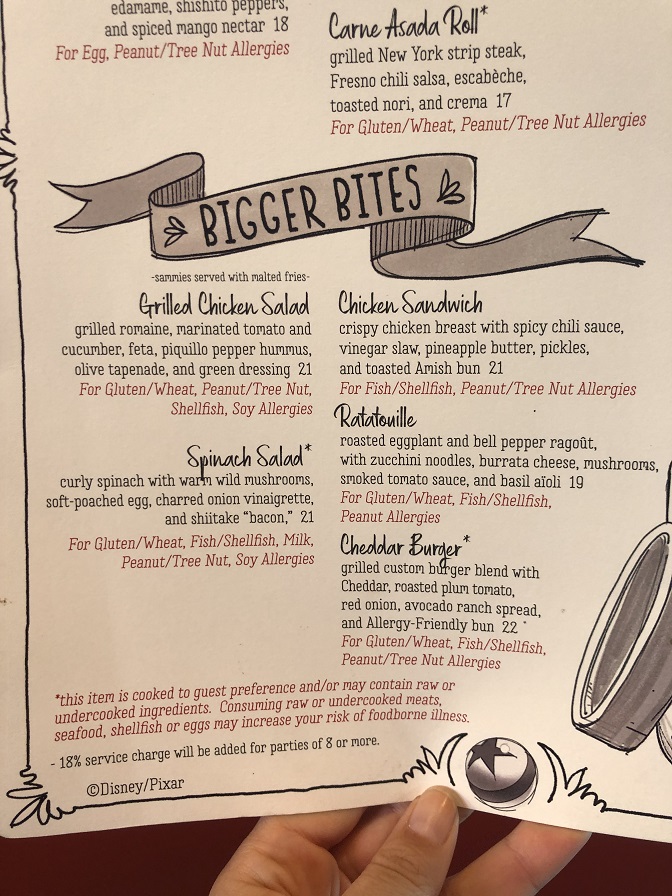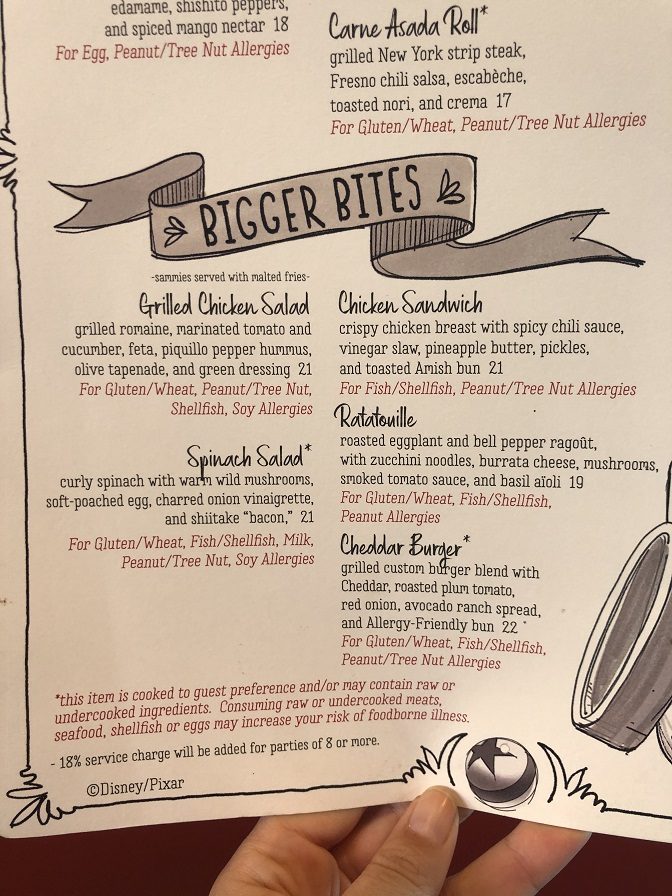 These are the coasters that are provided for your drinks. It hurt my heart to place my drink on them as they are so adorable and great for taking home as a souvenir and placing them in a shadow box or to use at home! Luckily, we were gifted a couple extra to take home!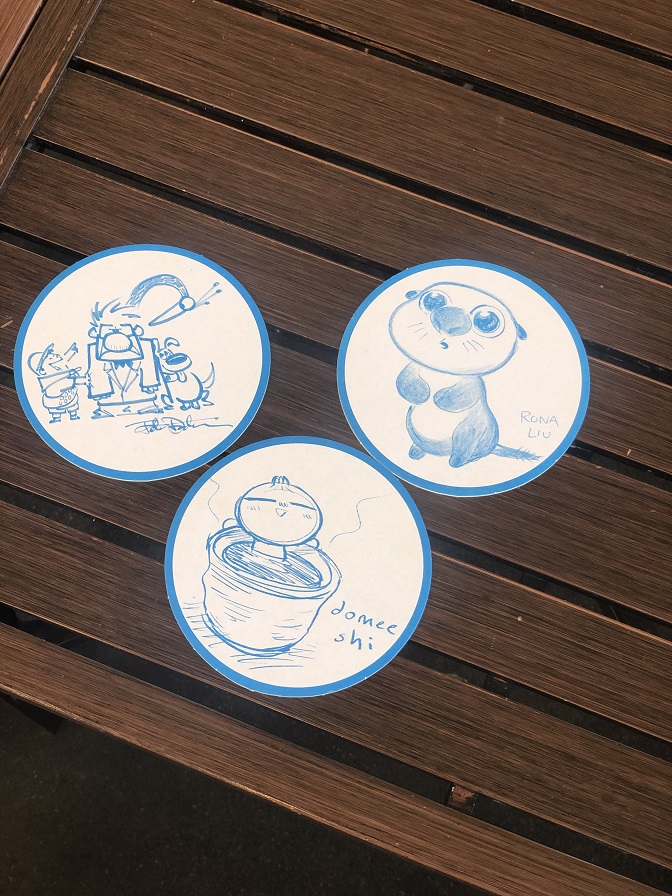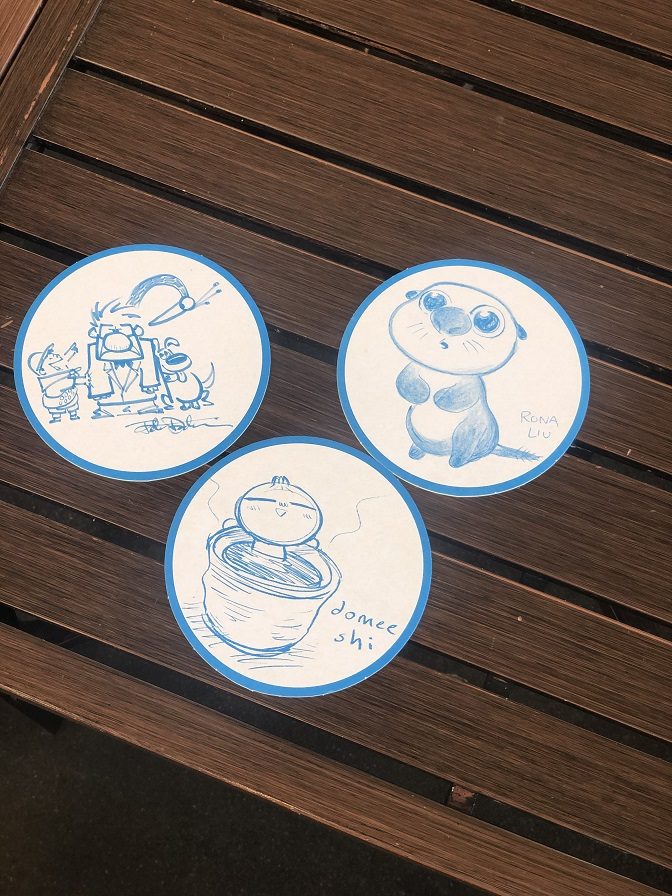 The next few pictures are taken from the drink menu.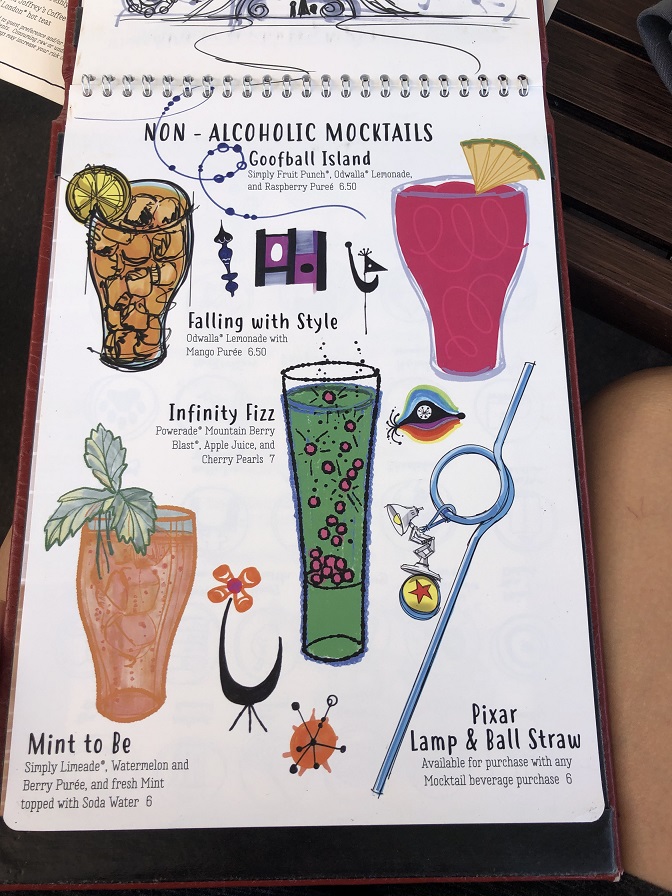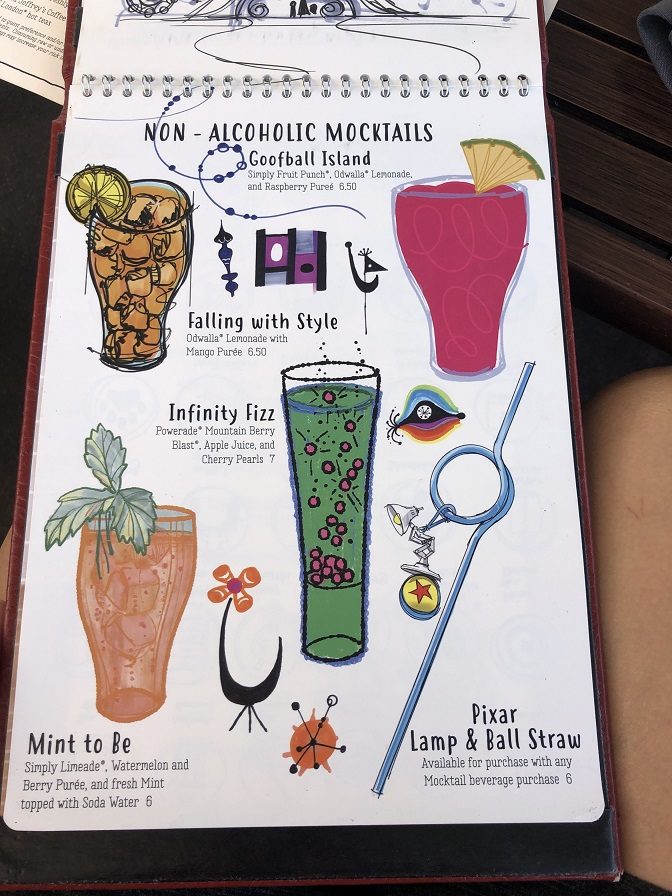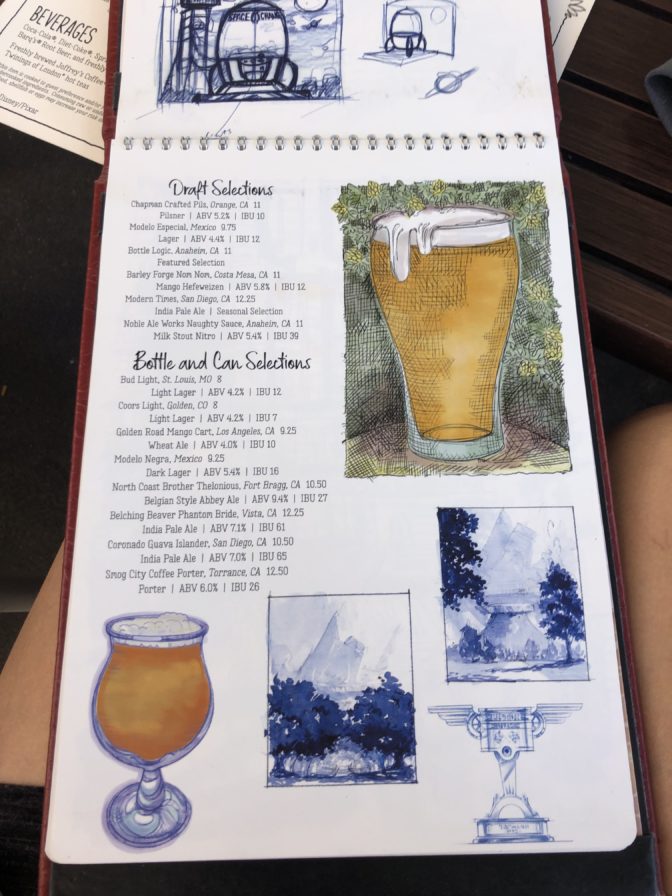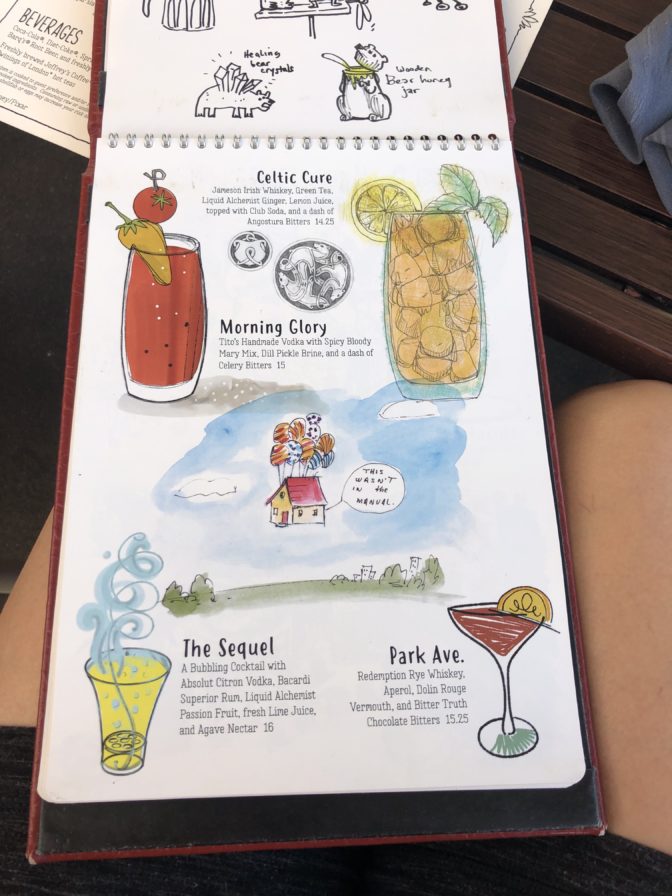 The Food
Although it was a tough decision on what to order, my girls both decided to order the kids grilled chicken tenders with sweet orange sauce. My oldest was hoping that more chicken would have come with her entree and ended up ordering a side of fries as she did not find the entree that she ordered to be filling. Her younger sister, on the other hand, found that she had ordered just enough!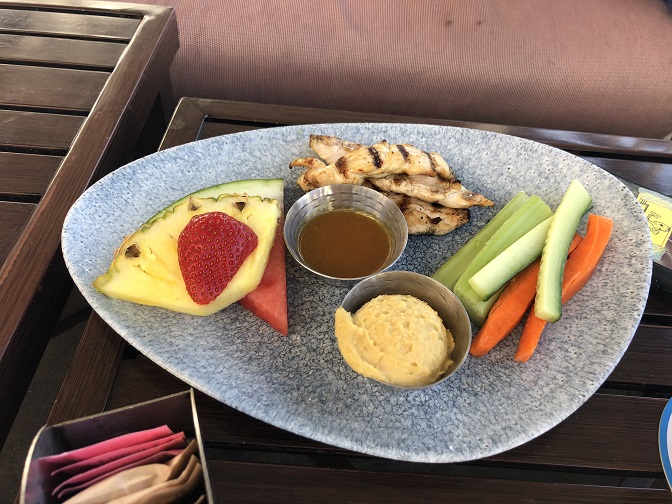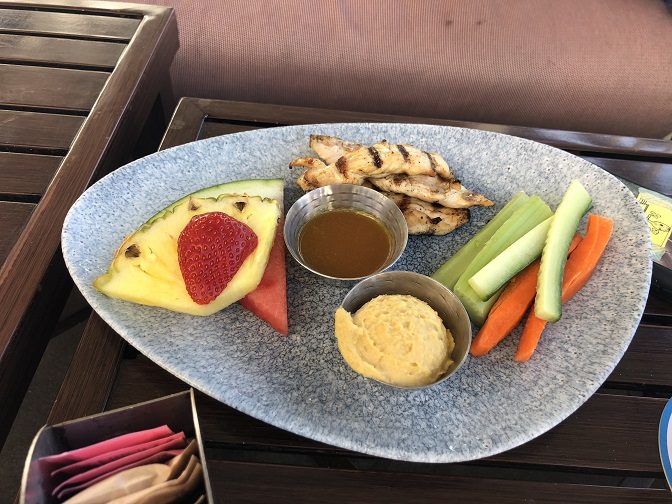 For my entree, I ordered the well known Lobster Nachos that were previously available at the Cove Bar. I was thinking that I would eat half of it and take the rest home for a snack on the ride home. Ha! I was wrong as I literally ate the entire plate. They were delicious!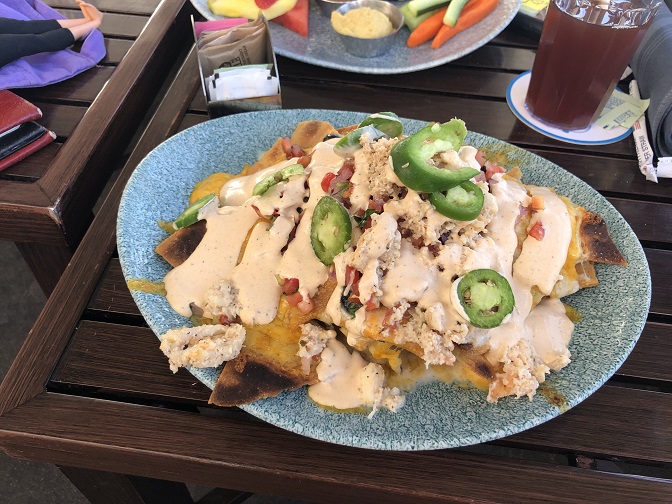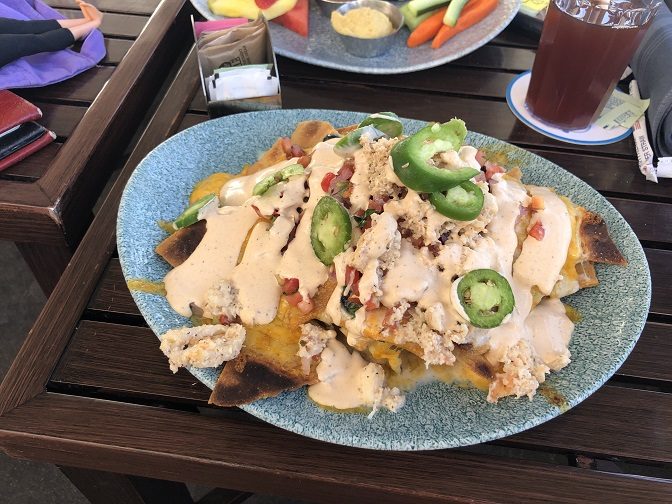 Lastly, how can one enjoy a meal without having dessert?! I felt pretty full after having my meal, but the girls had their eyes on the donuts when looking at the menu. How can you not go wrong with a box full of donuts complete with two dipping sauces? At the moment, this is the only dessert offered on the menu.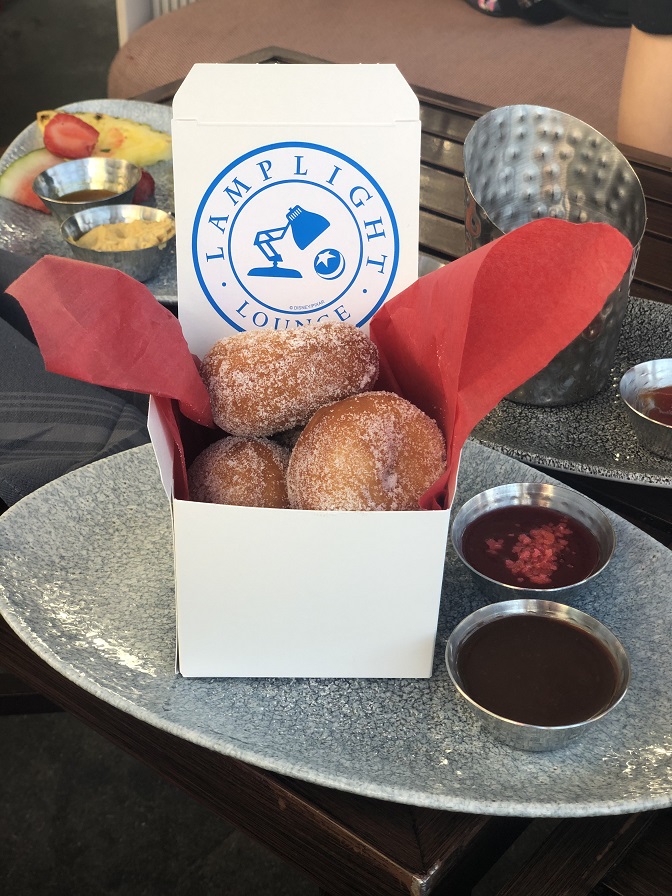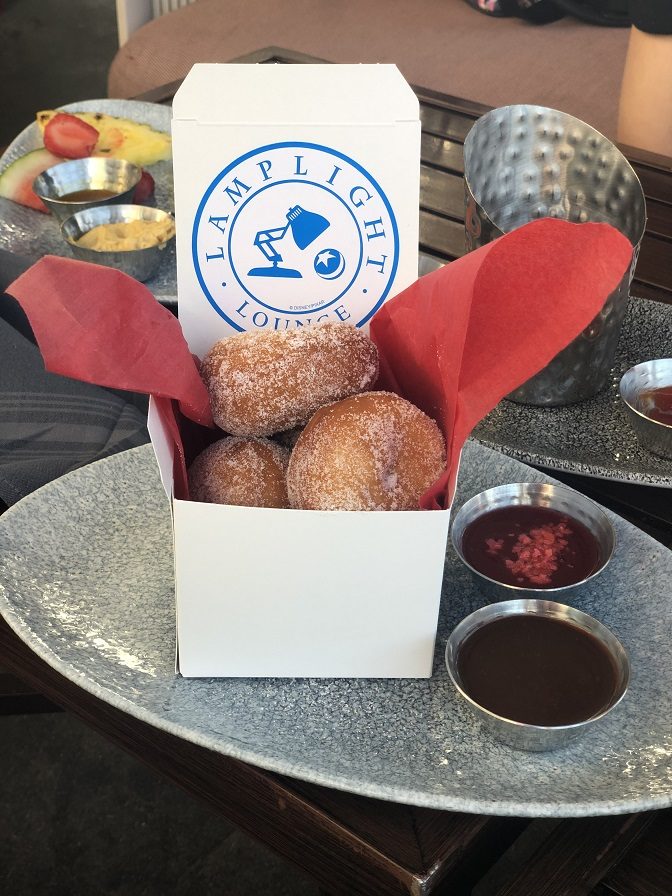 The first dipping sauce is raspberry with a special surprise that will literally explode in your mouth! Poprocks! How fun is that!  The second sauce is a chocolate hazelnut sauce. Our favorite one was the first one of course!
Final Thoughts
Overall, I would have to say that we very much enjoyed our experience at the Lamplight Lounge. When we arrived home, my husband asked me if I would go again, and I said, that I'd at least try it once more with him in tow. I would prefer to sit either inside or outside at the traditional table and chairs because it was very hard on your back crouching down to the small table when eating your food. It made it quite uncomfortable.
I'd also like to venture into trying something new as I have had the Lobster Nachos once before, but it had been so long that I had yearned to eat them again. Next visit, I'll definitely try something new and look forward to trying some of what my husband orders!
All in all, we had a nice time, but especially loved the decor and atmosphere. Simply mesmerizing!
Have you eaten inside Lamplight Lounge? What was your experience?
-Marisol White