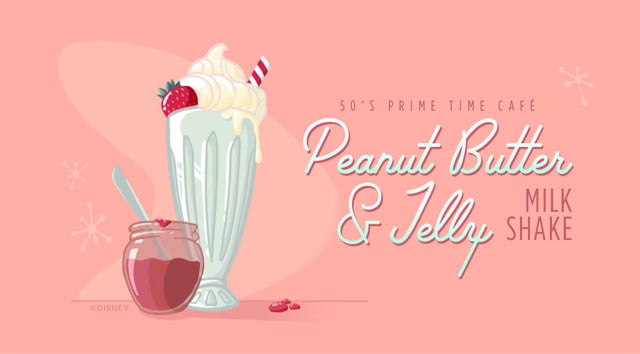 Disney is sharing the recipe for the peanut butter and jelly milk shake from 50's Prime Time Cafe, and it is so easy!
50's Prime Time Cafe is a table-service restaurant at Disney's Hollywood Studios. It features classic American food and a cozy 1950's environment. The atmosphere is vintage with all the nostalgia of Mom's kitchen.
From pot roast and fried chicken to warm apple crisp and brownies, the food will remind you of the good old days. You can find the full menu on Character Locator, along with touring plans, crowd calendars, and menus for every other restaurant at Disney World!
You can even sit at a retro table and watch tv from circa 1955! This restaurant is truly at home at Hollywood Studios.
Today, Disney is sharing the recipe for the peanut butter and jelly milk shake that is on the menu at 50's Prime Time Cafe. It is so easy, and you probably already have the ingredients on hand! Go ahead and make it for dessert tonight.
Ingredients
2 tablespoons peanut butter
2 tablespoons jelly (strawberry or grape, whichever you prefer)
2 cups vanilla ice cream
1/4 cup milk
Directions
Add all ingredients to blender and blend until smooth
Add additional peanut butter and/or jelly to taste
Note: you can also substitute 2 cups of sliced strawberries instead of jelly.
This recipe makes one milkshake.
Check out this video Disney shared for this recipe:
Here's a handy print-out version of the recipe.
Disney has been busy sharing all of their recipes with us! Check out the recipes for the following:
Are you going to try the peanut butter and jelly milk shake soon? Have you tried any other recipes from Disney lately? Share them with us on Facebook!