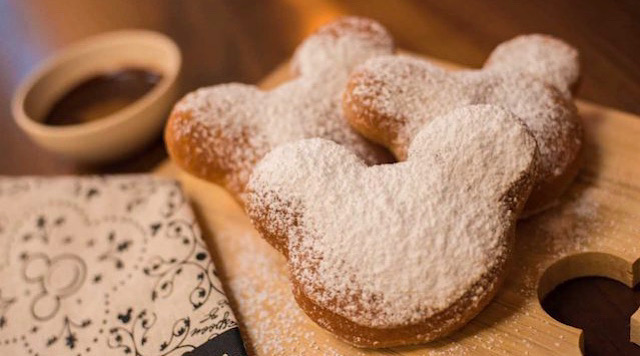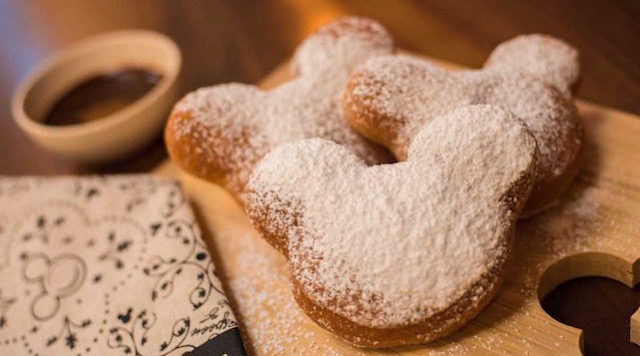 Have you had an opportunity to try the fan-favorite Mickey shaped beignets from Disney's Port Orleans Resort-French Quarter? They are absolutely incredible! Guests at Walt Disney World don't hesitate to make the special trip over to French Quarter for these fluffy, fried favorites! Now, Disney is sharing their recipe so you can recreate them at home. Your family will be begging you to "keep 'em coming 'til I pass out!"
Beignets are a fan-favorite snack at both Walt Disney World and Disneyland. You can try these at Port Orleans Resort-French Quarter in Walt Disney World, or New Orleans Square in Disneyland.
With the temporary closure of the parks, you'll have to settle on making these "man catching beignets" at home for now, with the recipe Disney has shared.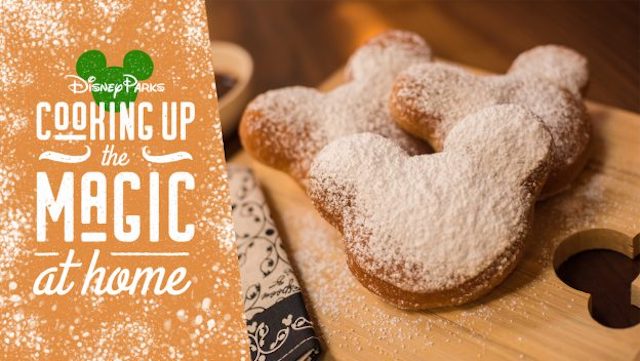 The best news? These beignets are Mickey shaped, and everyone knows all foods are more magical when they are shaped like Mickey!
Why not make a night of it and settle in to watch The Princess and The Frog on Disney+ with your treats?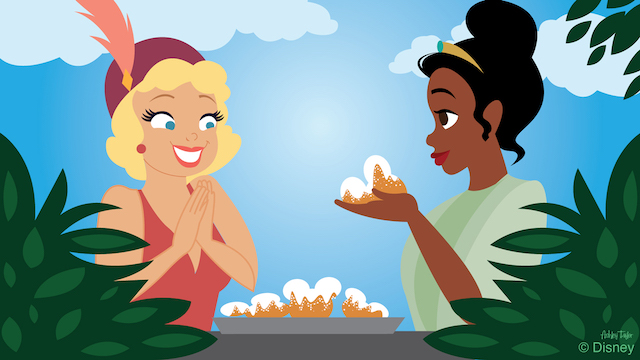 Mickey Shaped Beignets
Makes 10 large Mickey Mouse-shaped beignets or 2 dozen small beignets

Ingredients:
1/2 teaspoon dry yeast
1/4 cup warm water (105°)
1/4 cup sugar
2 tablespoons vegetable shortening
1/2 teaspoon salt
1/2 cup heavy cream
1 egg
4 cups all-purpose flour
1/2 cup boiling water
Vegetable oil for frying
Powdered sugar
Directions: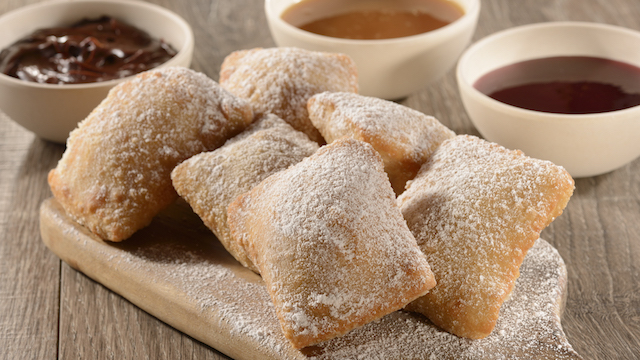 Sprinkle yeast over warm water in a small bowl, stirring to dissolve. Let stand for 5 minutes.
Combine sugar, shortening, salt, heavy cream, egg, flour and boiling water in a large bowl; stir in yeast mixture. With the dough hook attachment of an electric mixer on medium speed, mix the dough just until combined and smooth. Let dough rest for 30 minutes.
Roll to 1/4-inch thickness and cut individual beignets with a Mickey Mouse-shaped cutter or cut into 2 1/2 to 3-inch squares. Cover with a towel and let dough rise until doubled in size in a warm, draft-free area, about 1 to 1 1/2 hours.
Using caution, heat 3 inches of vegetable oil to 350°F in a deep, heavy pot over medium-high heat. Fry beignets until golden brown, about 2 to 3 minutes, turning as soon as they brown on one side. Remove with tongs and place on paper towels to drain. Dust warm beignets with powdered sugar and serve immediately.
Note: This recipe has been converted from a larger quantity in the restaurant kitchens. The flavor profile may vary from the restaurant's version.
Let us know how they turn out on Kenny the Pirate's Facebook Page or join our crew and show us your pictures!
Jamie Fonseca
Are you planning a vacation? Reach out to our trusted travel agency sponsor Authorized Disney Vacation Planner
Mouse Class Travel
!