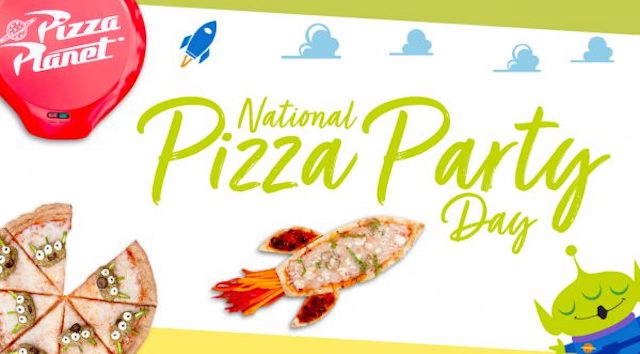 "You've Got a Friend In Me!" It has been almost 25 years since we first sang along to this favorite song between Buzz Lightyear and Woody from Toy Story. In honor of the silver anniversary of this film, we have special recipes straight from Pizza Planet to get us all ready for National Pizza Day.
National Pizza Day
Who knew that Friday, May 15th was National Pizza Day? I must admit that I didn't have it written on my calendar, but I do now. There is no better way to celebrate this yummy day than to bring a bit of Disney magic so you and your family can feel like you are dining right at Pizza Planet.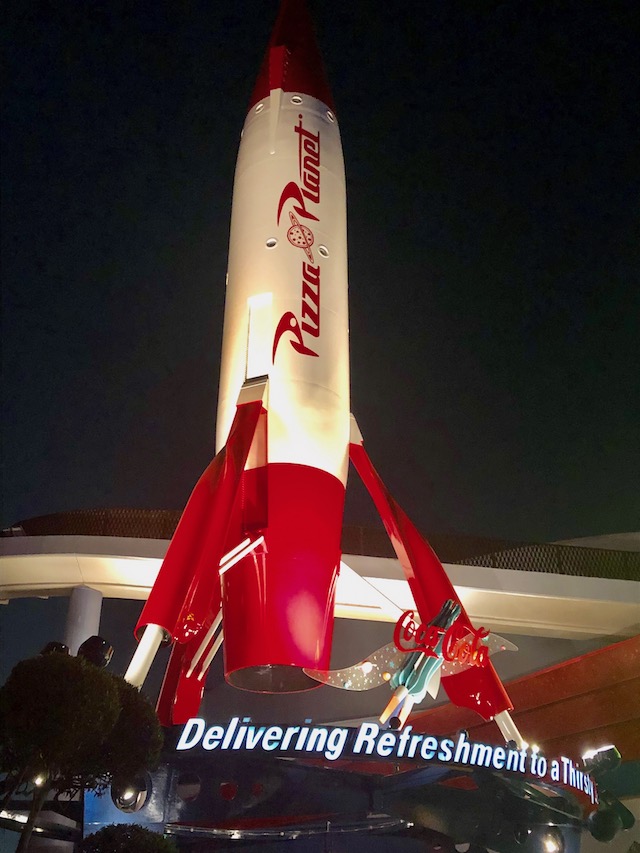 Rocket Ship Pizza
Blast into dinner time with this pizza, which looks as good as it will taste. This pizza will not only make the kids happy, but mom and dad will be happy that it is just as healthy as it is tasty.
Ingredients:
1 large whole wheat naan (8 inch length) or a whole wheat pita crust cut into the shape of a rocket ship
1/2 cup no salt added, no sugar added tomato sauce
1/3 cup shredded part-skim mozzarella cheese
1/2 cup cauliflower florets, roughly chopped
1/2 cup finely chopped sun-dried tomatoes (about 5)
2 mini red sweet peppers. 1 finely chopped (for fins) 1 sliced lengthwise (for fire)
1 mini yellow sweet peppers, sliced lengthwise into strips (for blast off)
1 mini orange sweet pepper, sliced lengthwise into strips (for blast off)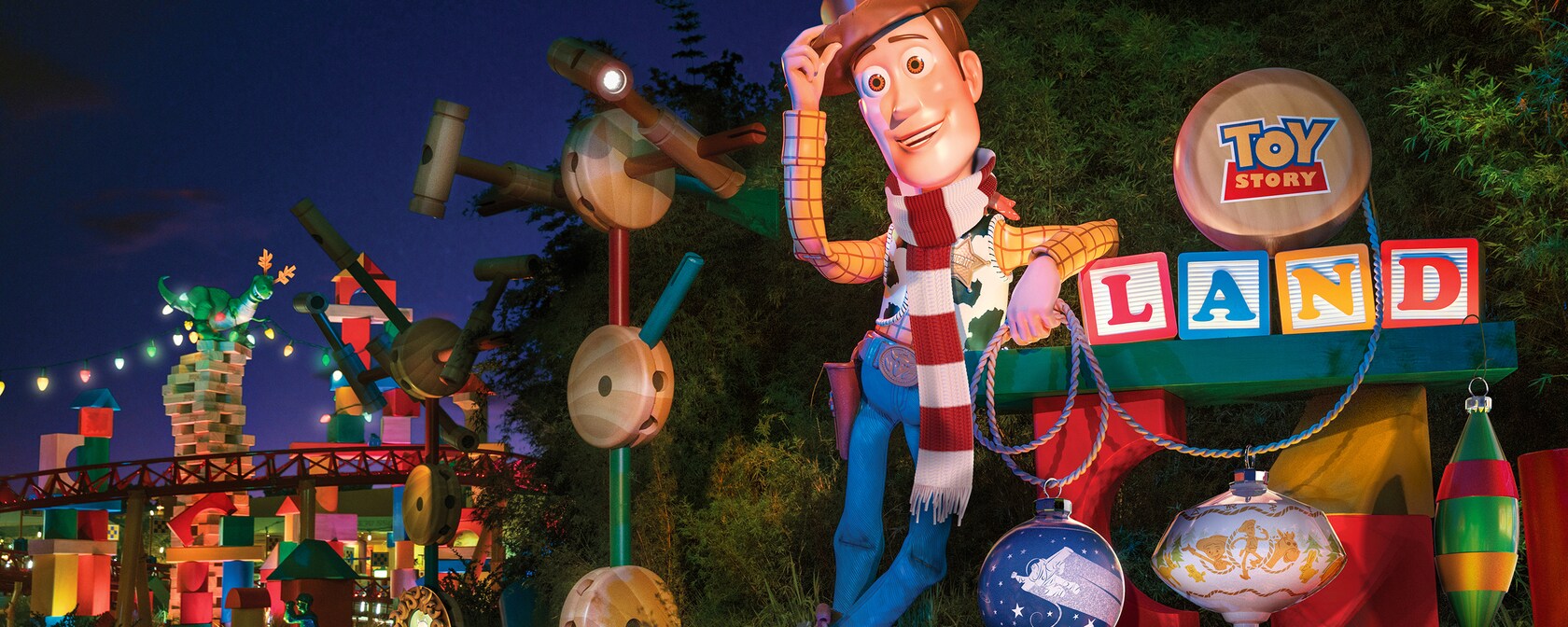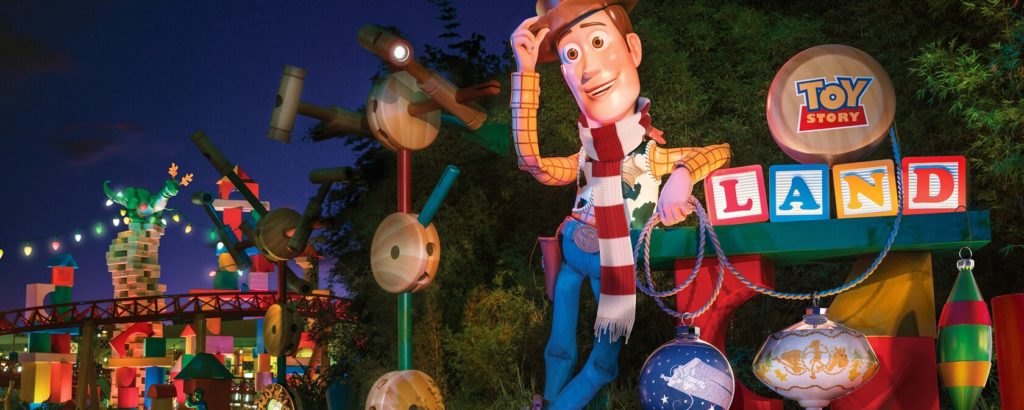 Additional Items Needed:
Knife
Cutting board
Medium bowl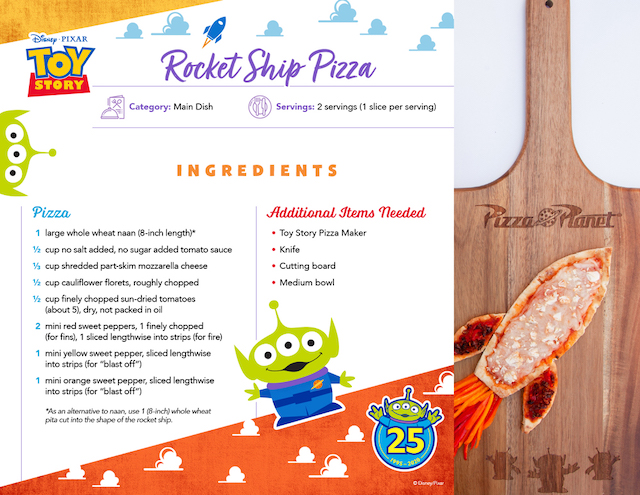 Bake
Bake your pizza according to the package direction on the pizza crust.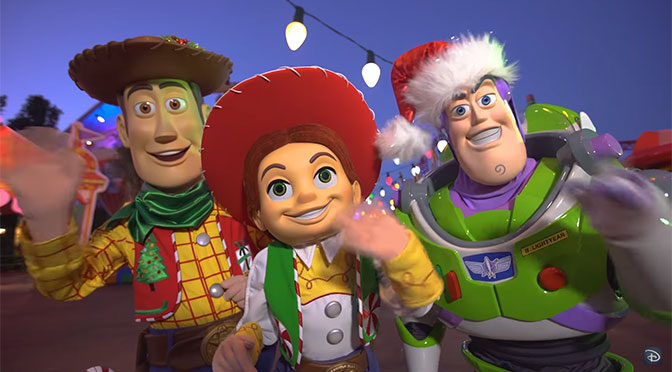 Alien Veggie Meatball Pizza
You have been "chosen" to enjoy this adorable and delicious pizza with your favorite Toy Story Pals. This pizza will have your kids cheering with their favorite green aliens, but it is also packed full of veggies that the whole family will enjoy.
Alien Meatballs
2 cups cauliflower florets
1/4 cup store-bought basil pesto
2 large egg whites
1 cup green peas, cooked
1/2 white beans, canned, rinsed and drained (such as Cannellini or white kidney)
1/2 cup whole wheat flour
1 teaspoon onion powder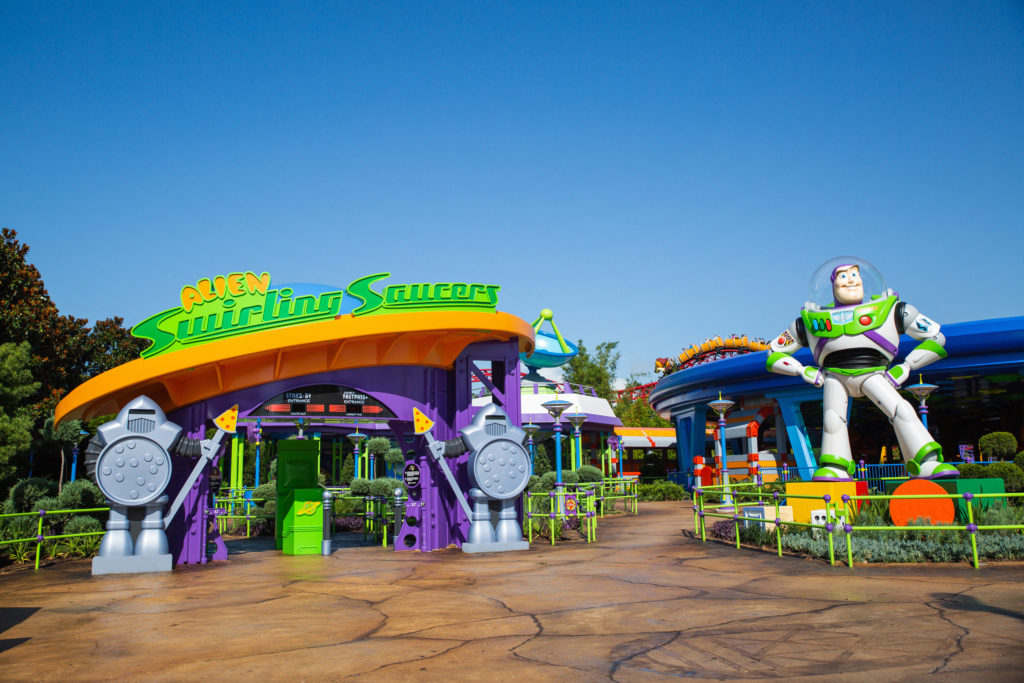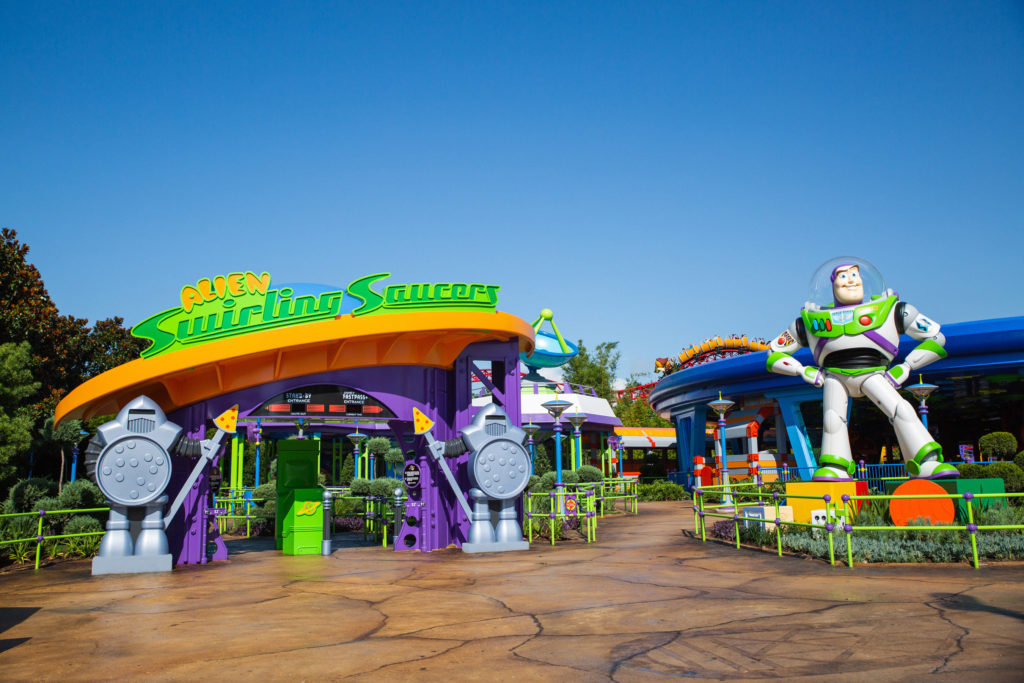 Alien Faces
4-5 medium asparagus spears, cut into 48 1-inch asparagus tips (for ears and antennas)
1 ounce goat cheese (for eyes)
1/4 cup black olives, sliced into thin rounds (for eyes) and shopped into small pieces (for mouths)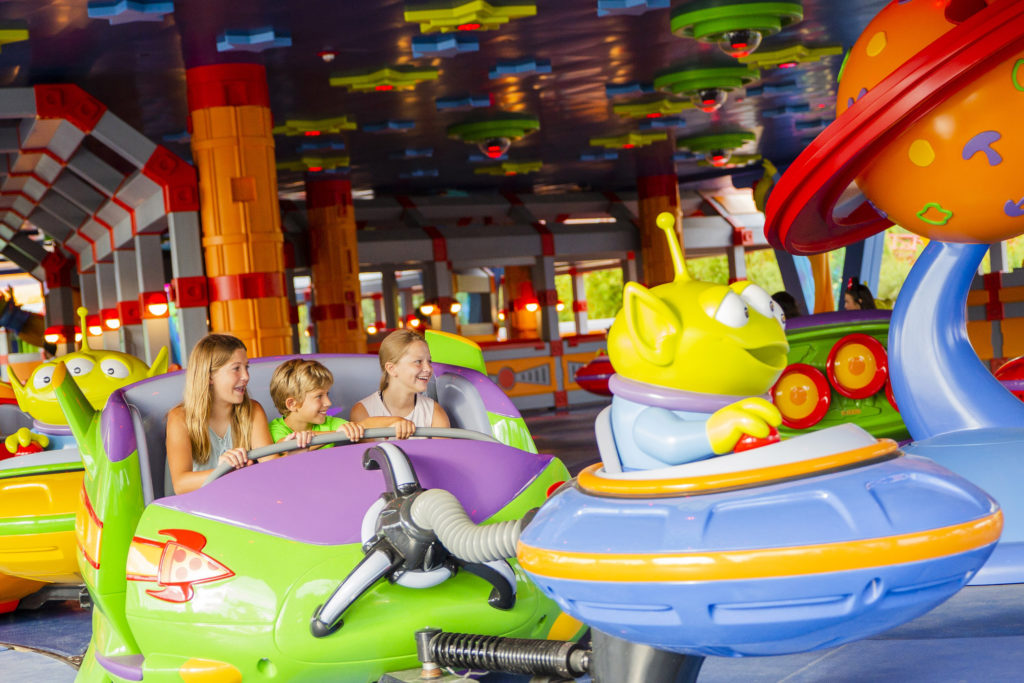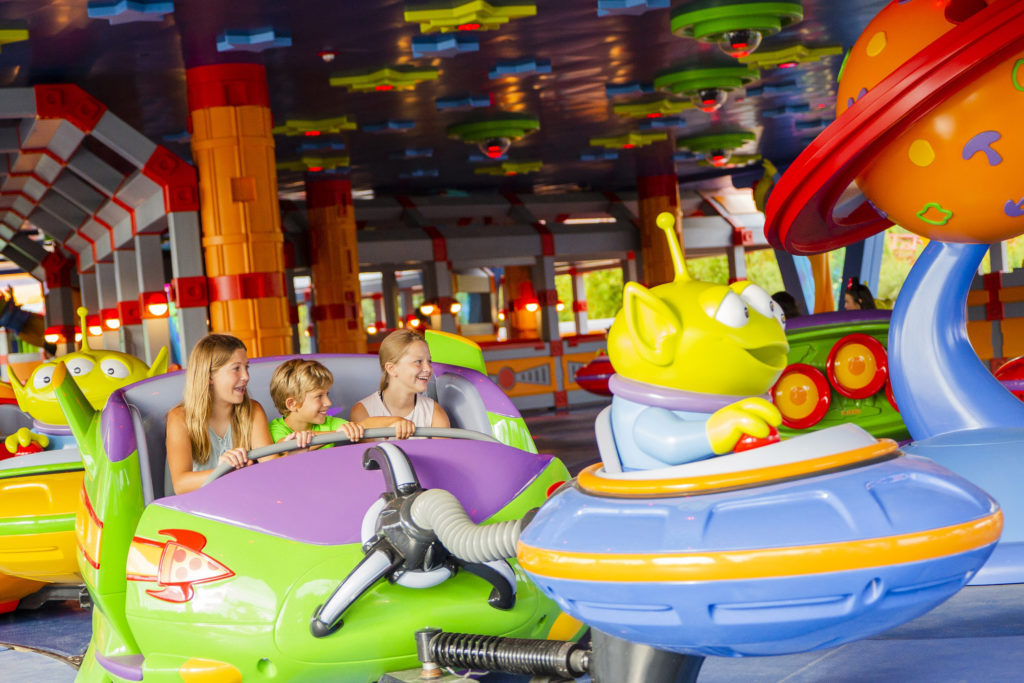 Pizza
1 cup no salt added, no sugar added tomato sauce
1 (16 oz) whole wheat pizza dough crust
1/2 cup shredded part-skim mozzarella cheese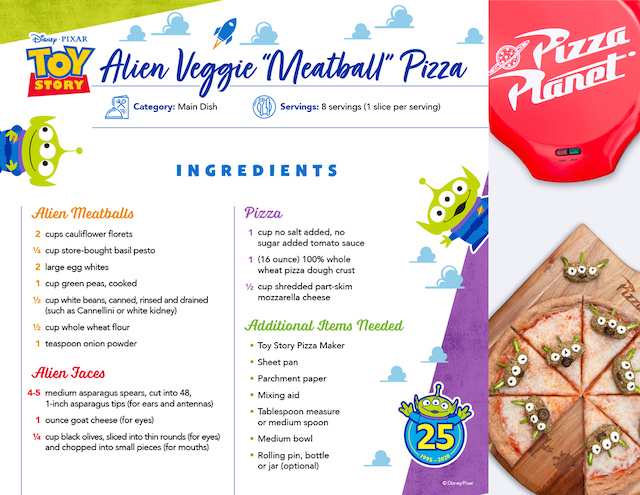 Additional Items Needed:
Toy Story pizza maker (available at ShopDisney)
Sheet pan
Parchment paper
Mixing aid
Knife
Cutting board
Medium bowl
Rolling pin or you could use a bottle or jar to help roll out the pizza dough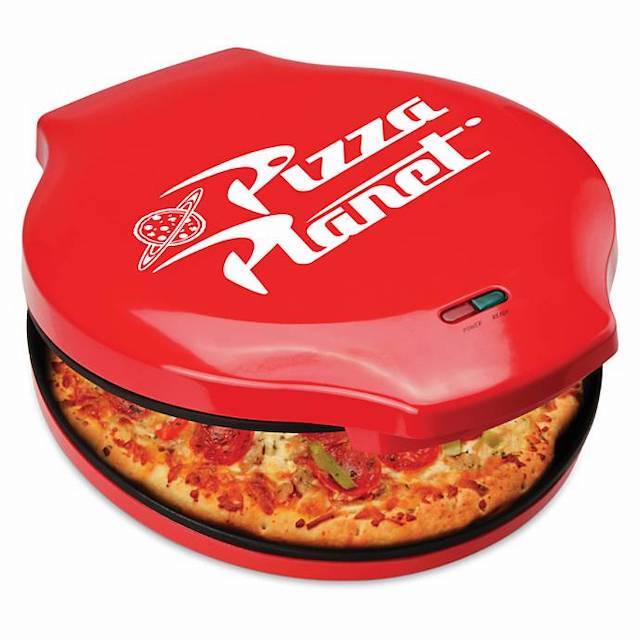 Bake
Bake in your handy Pizza Planet pizza maker, or place on a baking pan in the oven according to the pizza crust's cooking directions.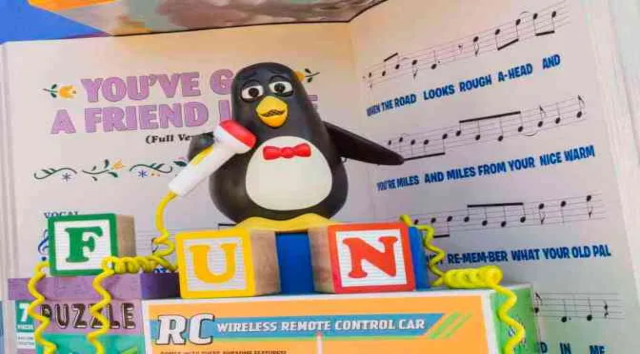 Make It a Movie Night
Check out all of the great ways to make your National Pizza Day complete with a Toy Story Movie Night. You can find more yummy food ideas, games, and Easter Eggs HERE.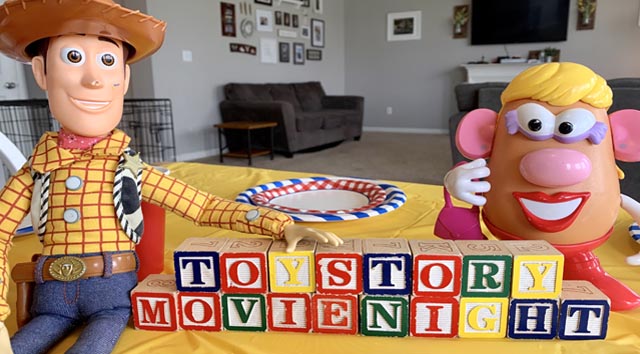 If you would like more great Toy Story cooking recipes be sure to check out the 3 Cheese Grilled Cheese recipe that is served at Woody's Lunch Box in Hollywood Studios.
Share your favorite Toy Story memories in the park, from a Toy Story Movie Night, or even your Pizza Planet creations that you make at home. You can share them with our KtP Planning Group and on our Facebook Page and we will be "eternally grateful."