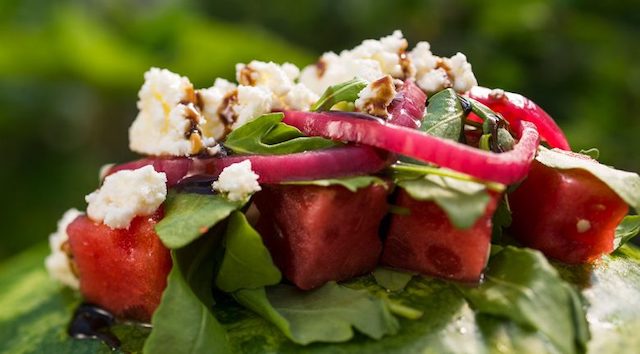 Missing Epcot's Flower and Garden Festival this year? Bring some of it home with this watermelon salad recipe!
Flower and Garden festival is hands-down the most beautiful of Epcot's four festivals. From the colorful topiaries and flower displays to the butterfly garden and food, everything about it is beautiful.
Flower and Garden Festival was only open to guests for the first two weeks it was scheduled to run. With coronavirus shutting down the parks and resorts, many guests were not able to experience the beauty of the festival.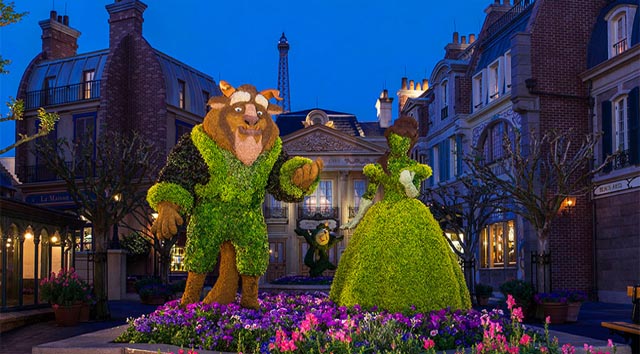 The festival is set to end on June 1, and with Disney canceling reservations into late May, we won't be seeing any more of this beautiful festival this year.
I was really looking forward to strolling through the World Showcase looking at the topiaries, snacking my way through Epcot, and possibly even taking part in a tour!
So while I was recently brainstorming ways to Disney-fy all this extra downtime I have, I decided to look up some recipes. I have already recreated many of the dishes Disney has been sharing with us lately from Le Cellier's cheddar cheese soup to Woody's Lunchbox grilled cheese.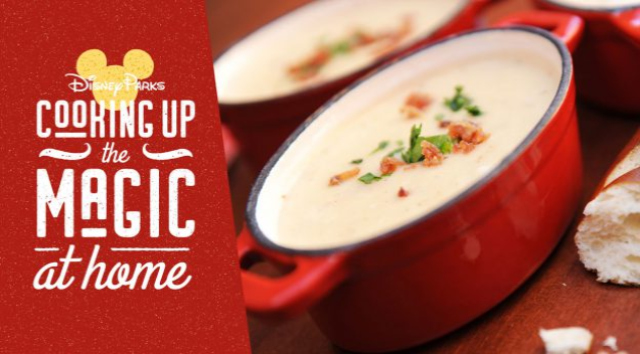 I recreated almost all of them for our recent Disney staycation, but I couldn't find something from Flower and Garden festival. I had seen some copycat recipes, but I really wanted something straight from Disney!
Enter: watermelon salad. I need to be upfront with you all that I did not see watermelon salad on the menu for this year's Flower and Garden festival. However, this recipe did come straight from D23.com meaning it's an authentic Disney recipe! I'll take it!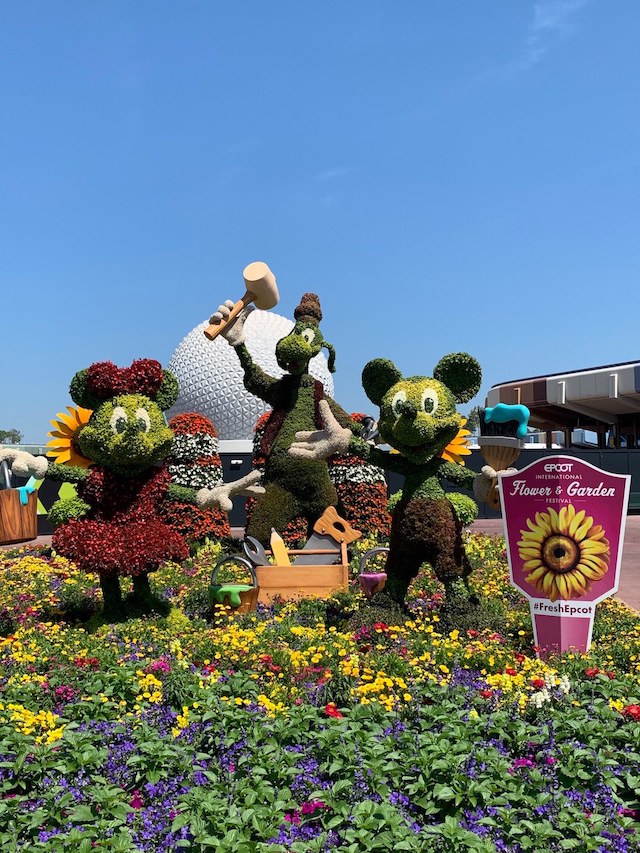 According to the D23.com site, the Epcot International Flower & Garden Festival chefs had chosen some fun dishes to encourage youngsters to try something new as part of Disney's TRYit campaign.
TRYit was part of Disney's Magic of Healthy Living initiative, partnering with parents to inspire kids to try new foods and new activities.
After a brief search on the internet, it looks like this initiative took place in 2013. This dish has most likely since been taken out of the line up for Flower and Garden festival, but it still looks amazing so I decided to share it.
Maybe it will even bring up some nostalgic emotions for you!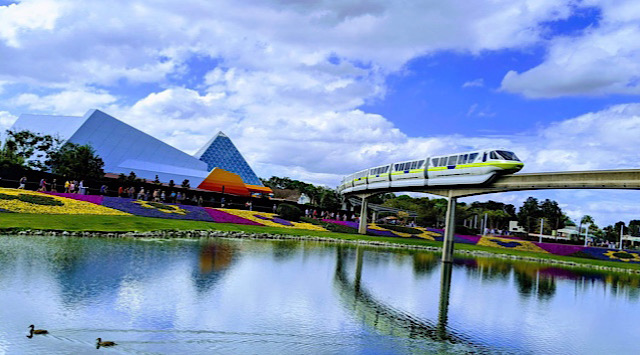 I am really missing Flower and Garden festival, but little pieces of magic like this watermelon salad are helping to remind me of My Happy Place.
Check out this recipe for Epcot's watermelon salad! with watermelon, cheese, and balsamic vinaigrette, I could easily see this dish becoming a mainstay for summer lunches!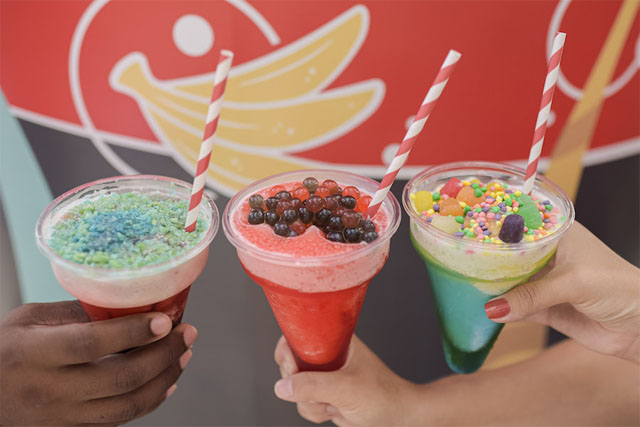 Since it was part of an initiative to get kids to try new things, go ahead and invite your kids (or grandkids or any other young person in your life) to help you recreate this recipe! Not only is it healthy, but you are probably going to create memories in the process.
Ingredients
Balsamic Vinaigrette

1/4 cup white balsamic vinegar
3 tablespoons finely diced shallots
2 tablespoons roasted garlic
2 tablespoons honey
1 tablespoon fresh lemon juice
1 cup extra-virgin olive oil
Coarse salt and freshly ground black pepper, to taste
Pickled Onions

1/2 cup fresh or frozen raspberries
1 1/2 cups water
1/4 cup sugar
2 tablespoons grenadine syrup
1 tablespoon salt
1/4 pound red onions, sliced into 1/4-inch-thick rings
Watermelon Salad

4 cups cubed seedless watermelon
3 cups baby arugula
1/4 cup white balsamic vinaigrette
Coarse salt and freshly ground black pepper, to taste
1/4 cup pickled onion
1/4 cup balsamic glaze
1/2 cup crumbled feta cheese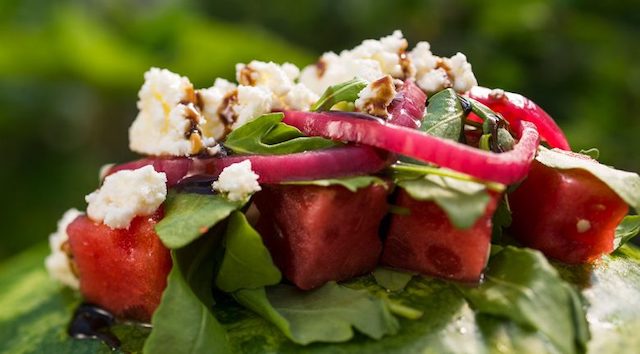 Preparation
Balsamic Vinaigrette
Blend white balsamic vinegar, shallots, garlic, honey, and lemon juice in a blender until well combined. With blender running, slowly drizzle in olive oil. Blend until thickened. Season to taste with salt and pepper.
Pickled Onions
If using frozen raspberries, thaw. Purée raspberries in a food processor. Pour purée through a fine-mesh sieve. Discard seeds; set puree aside. Combine raspberry purée, water, sugar, grenadine, and salt in a medium saucepan over medium-high heat. Simmer 5 minutes, stirring to dissolve salt and sugar. Add onions; stir to coat, then remove from heat. Set aside 20 minutes.
Watermelon Salad
Divide watermelon among plates. Toss arugula with white balsamic vinaigrette in a medium bowl and lightly season with salt and pepper. Top each portion of watermelon with arugula. Top each serving with 2 to 3 pickled onion rings, then sprinkle with feta. Drizzle with balsamic glaze.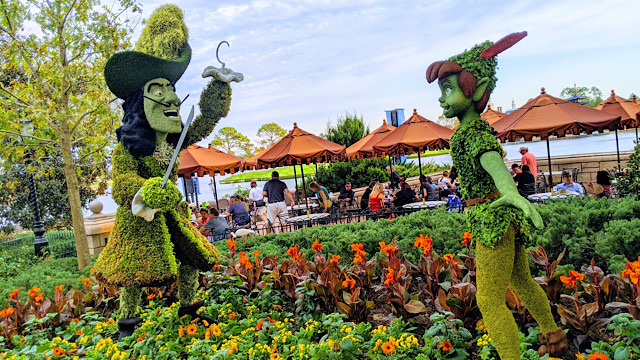 Cook's Note
Balsamic glaze can be found in most supermarkets in the oil and vinegar aisle. To make your own, place 2 cups balsamic vinegar in a small saucepan over medium-high heat and simmer until reduced to 1/4 cup, about 40 minutes.
This recipe has been converted from a larger quantity in the restaurant kitchens. The flavor profile may vary from the restaurant's version.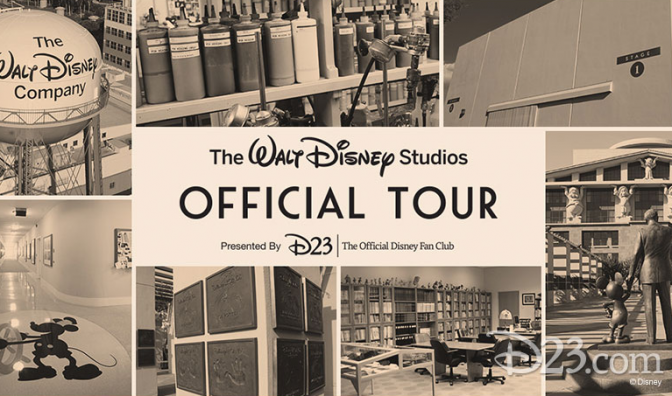 Again, this recipe is the property of Disney World and can be found on D23.com, which has so many more recipes and fun archives.
What do you think of this recipe for watermelon salad? Have you ever had it on a previous trip to Epcot's Flower and Garden Festival? Let us know on Facebook! You can also join our KtP Crew and continue the discussion there!
Are you planning a vacation? Reach out to our trusted travel agency sponsor Authorized Disney Vacation Planner
Mouse Class Travel
!