Are you new to runDisney? Wondering what all the ins and outs of it are? Here is part two of our Complete Guide to runDisney which includes information regarding the Expo and what you can expect on race day.
What is runDisney?
runDisney has FOUR race weekends at Walt Disney World and will soon bring races back to Disneyland. I (Heather) can't wait for these races to return, and I know I am not alone. They sold out in record time! runDisney just announced another race weekend coming to Disneyland, and you can check out those details HERE.
Are you a member of Club runDisney or thinking about becoming one? Read HERE to find out why it may become even more popular to be part of club runDisney.
Check out some of my previous runDisney posts below:
Be sure to also check out my Complete Guide to runDisney: Part 1 (Registration and Planning) HERE.
Expo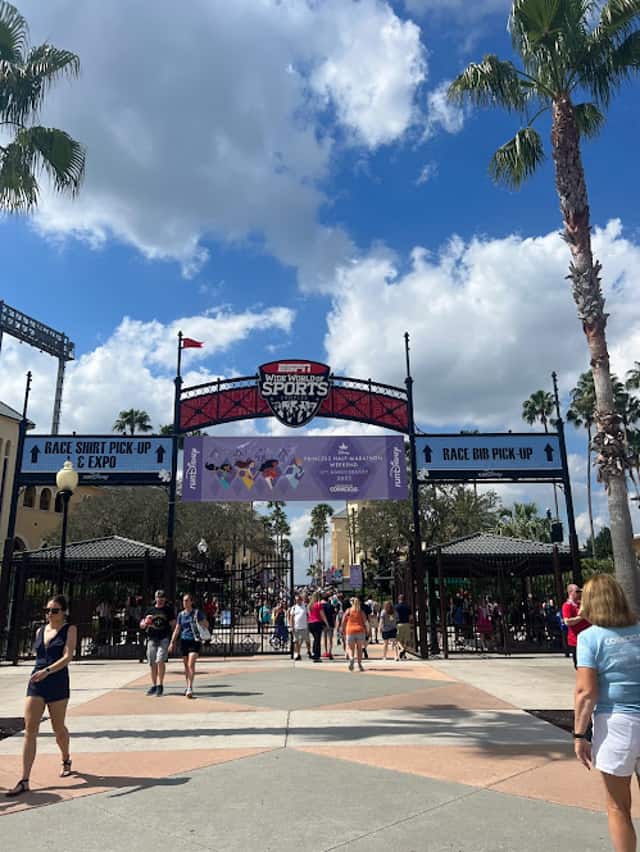 The runDisney Health & Fitness Expo is your MUST do. It is a fun place where runners can purchase exclusive runDisney merchandise, visit vendors, and pick up their race bib and shirt. I say this is a MUST DO not only because it is a neat and exciting experience, but it really is a MUST DO.
Every runner must visit the Expo to pick up their bib. You no longer can pick up a bib for a friend or family member unless the participant is a minor.  Be sure to plan accordingly so that you will have time to get your bib. There is no advertised race day bib pick up. Runners have reported being able to do this in a bind, but do not plan on a race day pickup being a guarantee.
When visiting the Expo you will need to visit both the State Farm Field House to receive your bib and then the Athletic Center to get your shirt. The race shirt is in the same building as the vendors.
Race Merchandise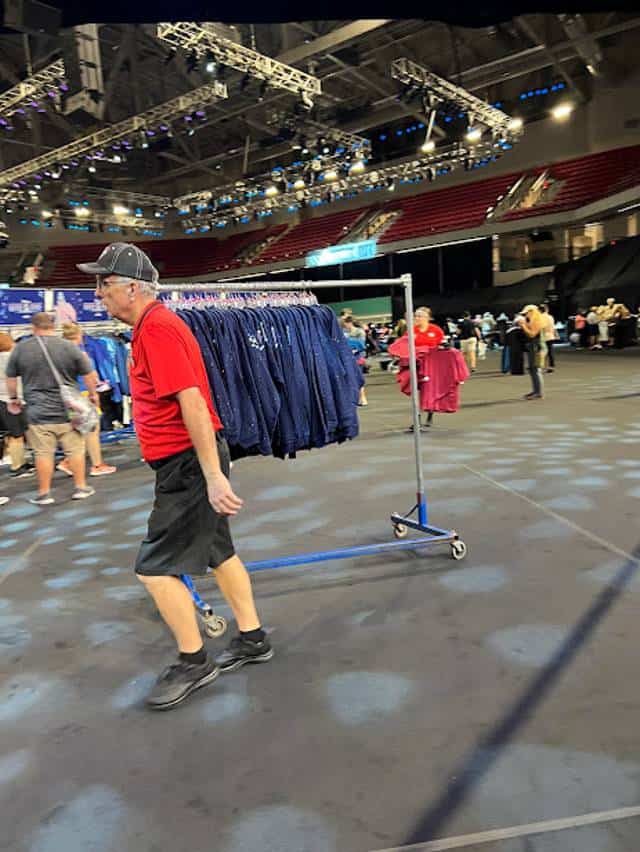 The Expo will be your best opportunity to get exclusive race merchandise. You will find these items at the Merchandise Shop located in the Advent Health Arena. If there are any items left over there will be a small tent at the reunion area at the end of the race. Do not expect to see any popular items here.
If you are one who wants exclusive race merchandise, there are a couple of ways to get first dibs. The best way to make sure you get something is preorder. This isn't the complete selection of items that will be available at the Expo, but it will guarantee you get something.
The preorder items usually include items like weekend shirt and jacket bundles, pins, ornaments and magnets. Many of these items need to be purchased together, so if you are looking for individual items, this may not be the option for you.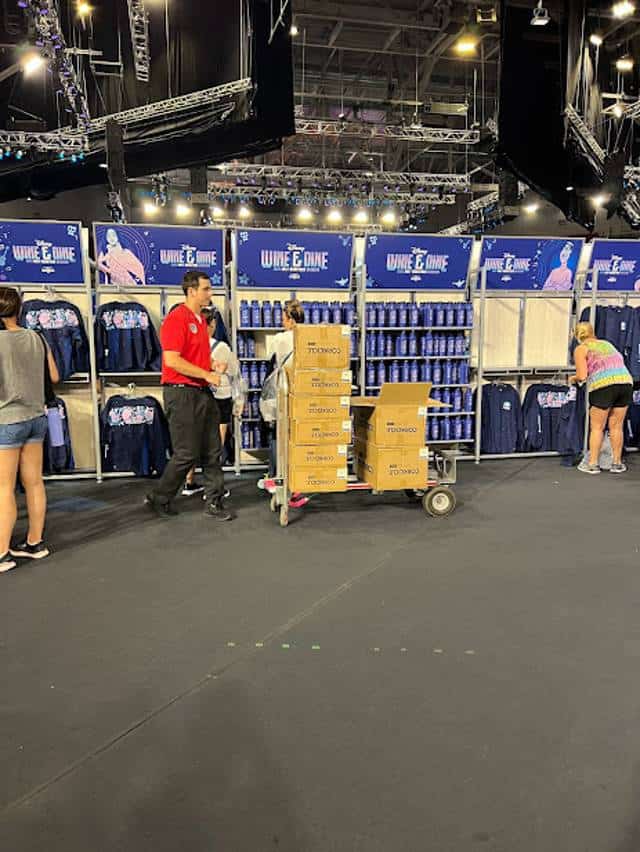 The next best option would be to be part of Club runDisney. This exclusive club is hard to get into and pricey to be a part of. The Gold and Platinum tiered members receive early entry (for themselves only) into the runDisney merchandise shop.
If you are planning on visiting the Merchandise Shop on the first day, you need to enter the Virtual Queue. If you visit later in the day, you may not need one. Read HERE why visiting the Expo later or on a second visit is worth it.
In the Advent Health Arena, you will also find character meet and greets and distance markers for photo opportunities!
Vendors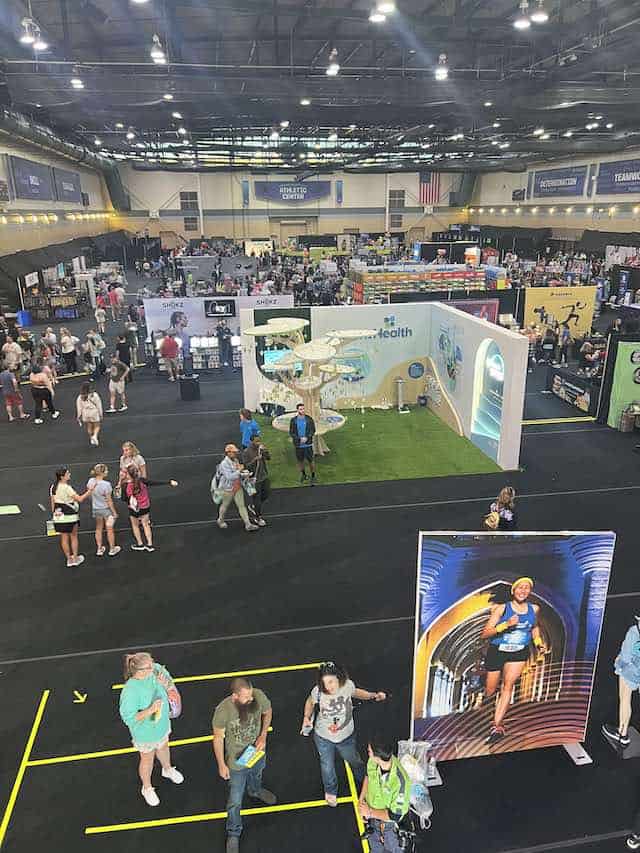 I feel this is one area that sometimes people miss out on – the vendors. There is a whole exhibit floor FULL of vendors! These vendors have all the things a runner may want from clothing, race gear, and even getting to meet Jeff Galloway.
The vendors have so much to offer. They are truly an experience all of their own. I love spending time exploring the different booths. Be sure to walk around and really take in what this area has to offer.
Race Day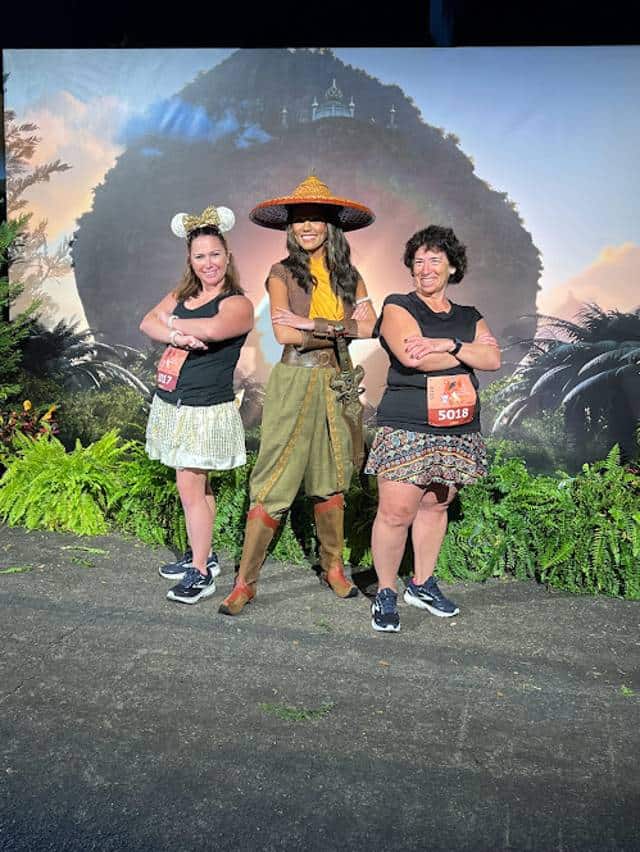 On race day, runDisney recommends taking their provided transportation. I love staying on property during race weekends just for this. It makes getting to and from the races so easy!
I personally aim to be on the first bus that leaves my hotel. Disney races are truly are an experience and I want to take it all in. The energy level is palpable right from the get-go!
Getting there early gives you time to get through security use the restroom and grab pics. The walk from the bus drop off to the actually staging area can be long.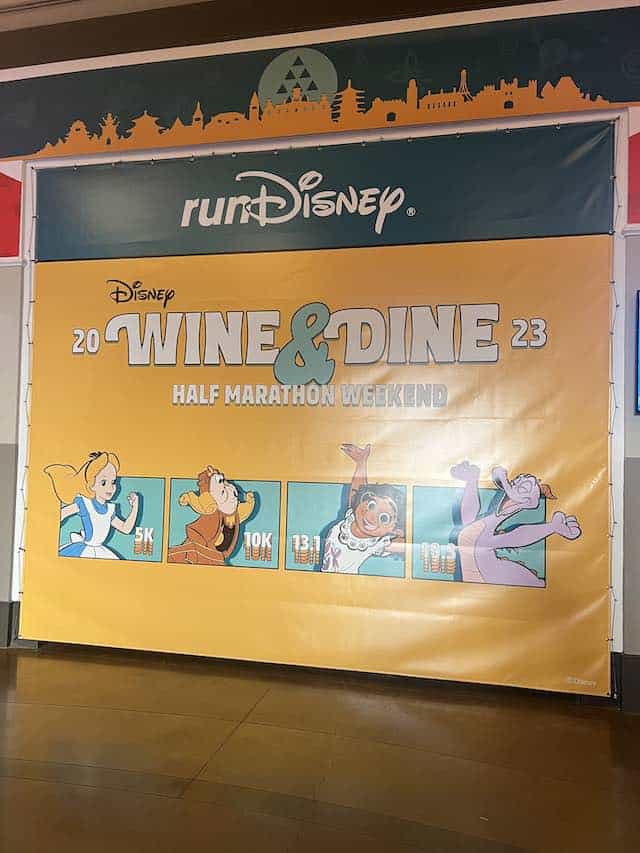 Prior to the race, there are character meets/photo opportunities near the DJ's stage. I love grabbing one or two of these when the lines aren't too long. The characters that are out tend to be the same ones that are out at the finish as well.
Where the DJ and characters are is where the runners gather until the corrals are opened. There is then a walk out, which can vary in length depending on where the starting line is, to the corrals. 
Before entering a corral/starting group, your corral is verified on your bib prior to entering. Runners can move back corrals, but cannot move forward. For example, a runner in B start group can move back to C, but a C placement cannot move forward to B.
Starting Groups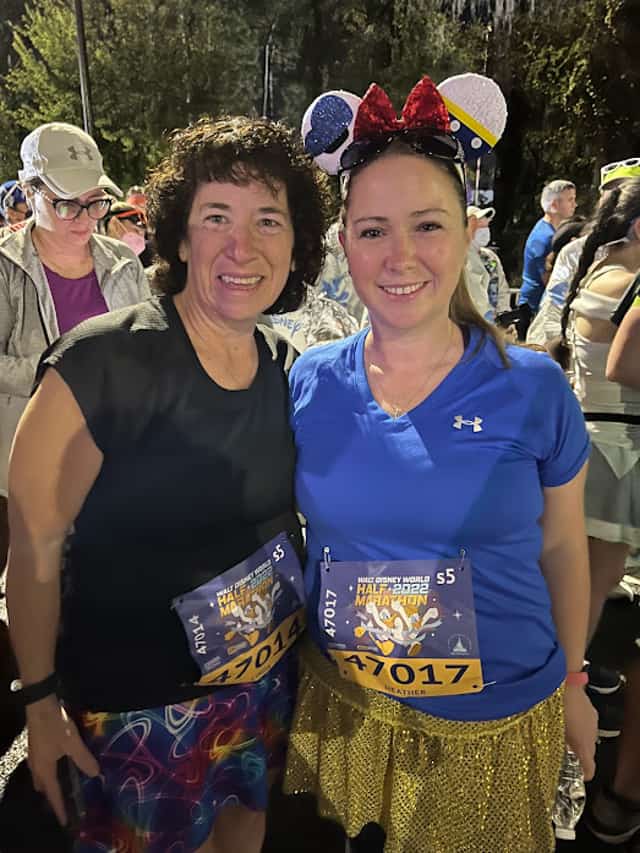 Beginning with this year's Wine and Dine Half Marathon Weekend runDisney has released what time starting groups will open and close. You can read more about that HERE. It is important to give yourself time to get to your start group. The crowds can be heavy and lines can be long for things like bathrooms or characters. 
Corrals/Starting Groups help spread out runners to keep the race safe and more enjoyable. It can take up to an hour to get everyone out on the course.
Once in the starting groups, you could be there for a while. I find that I tend to be there for around an hour prior to when my starting group beings the race. This is a great time to meet other runners! You never know what new runner friends you might find!
Keep in mind that there are waves in each starting group as well. These waves each have their own designated start, so it can take some time getting starting compared to your local races. The last group usually goes off anywhere from 45-60 minutes after the official start of the race.
On the Course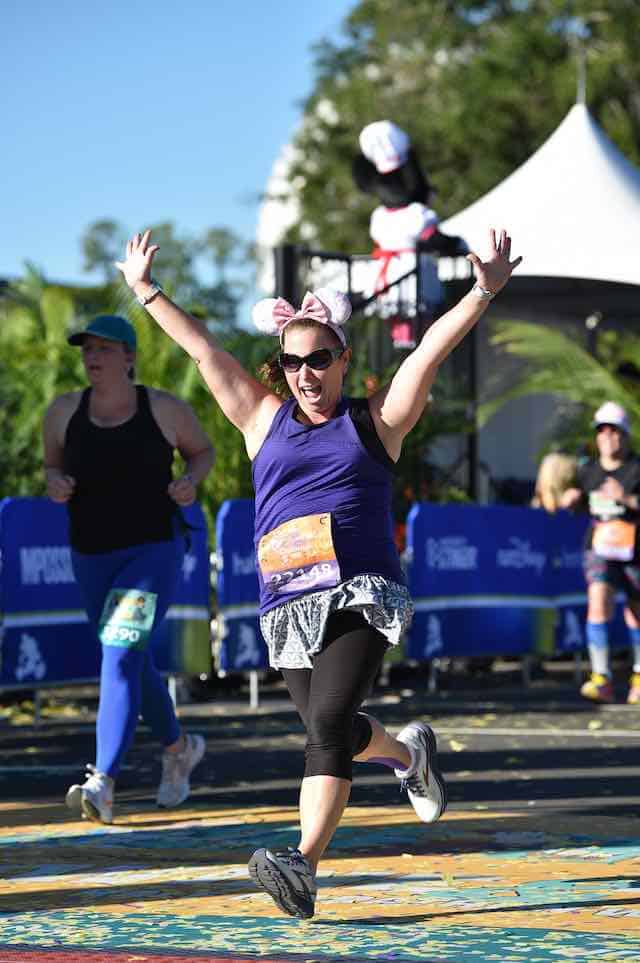 There are some important things to keep in mind when out on the race course. One thing is for sure that is it will be CROWDED for most. This is especially true if you are in the later start groups.
Throughout the race weekend you will be informed of race etiquette. These include not walking or running more than two people across.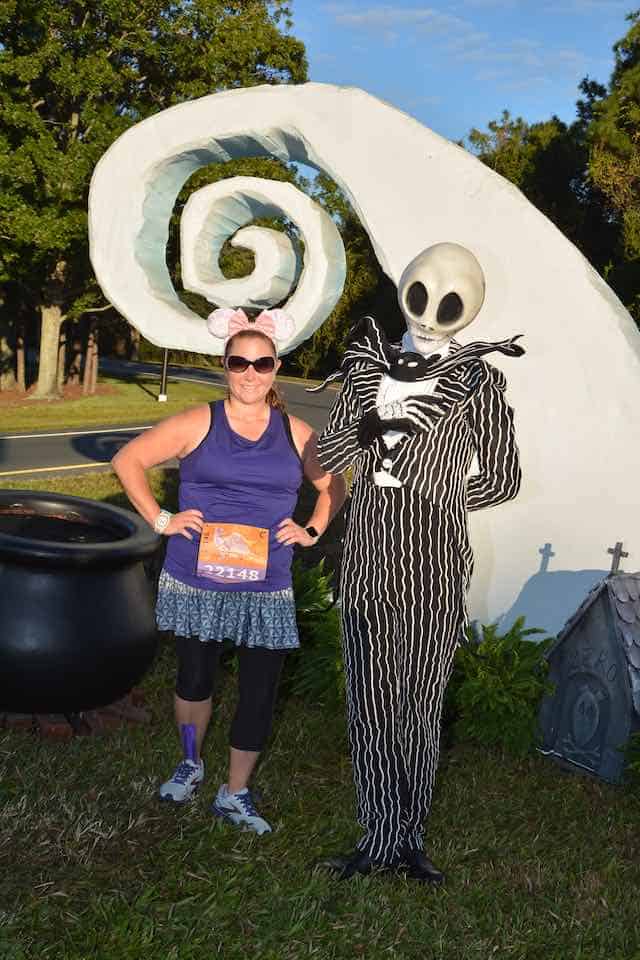 You will also find many runners who use the Jeff Galloway run-walk-run method. These runners will raise their hand and move to the right just before they begin a walk sequence.
One of the best parts of a runDisney race is the entertainment. Even when they have miles of their course on the highway, they place characters and DJs to keep the runners energy levels high.
Balloon Ladies
runDisney also sets a 16 minute per mile pace for the course. Runners must complete the course in this amount of time or they could be pulled from the course.
The Balloon Ladies are a group of women who volunteer to be the "visual" for the 16 minute per mile pace. These ladies are the last ones to start the race and they maintain the 16 minute per mile throughout the entire race.
Check out my exclusive interview with one of the ballon Ladies HERE.
Finish Line/Reunion Area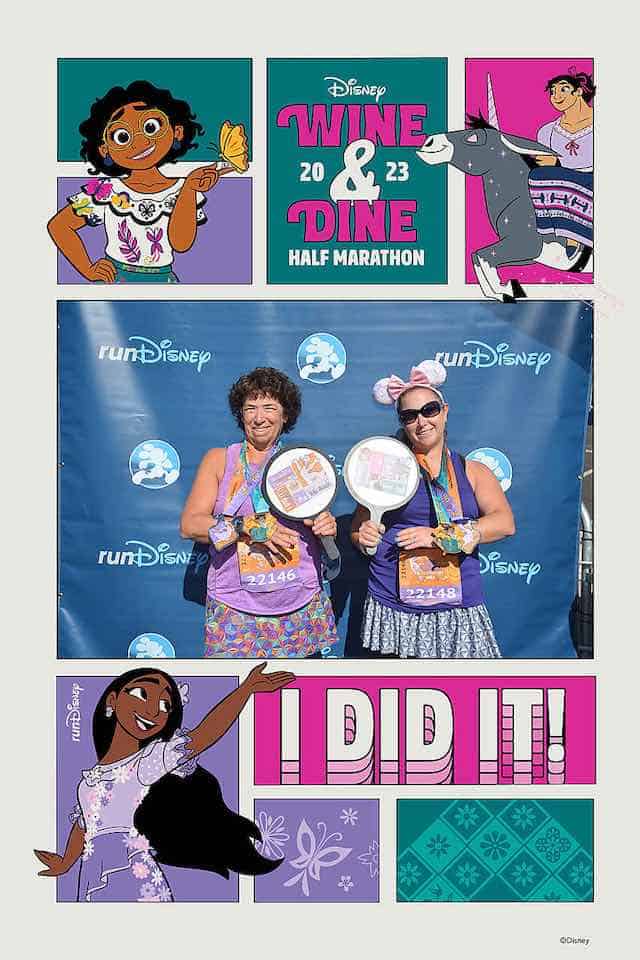 You did it! You made it to the finish! Collect that bling and celebrate.
Each runner receives a snack box, water and gatorade along with their finisher medal! As you finish, runners are encouraged to continue moving through the chute and collect all of these items and then enter the reunion area. If it is the last race of the weekend, challenge participants are directed to the challenge medal tent prior to exiting the chute.
Once in the reunion area, you will find a DJ playing upbeat music along with character/photo opportunities. There are food trucks and a food tent for items to purchase.
One of the photo opportunities that I strongly recommend doing is the one with runDisney backdrop. In the picture above you can see the runDisney backdrop, and they also provide the "I did it" paddles for the photo.
Leaving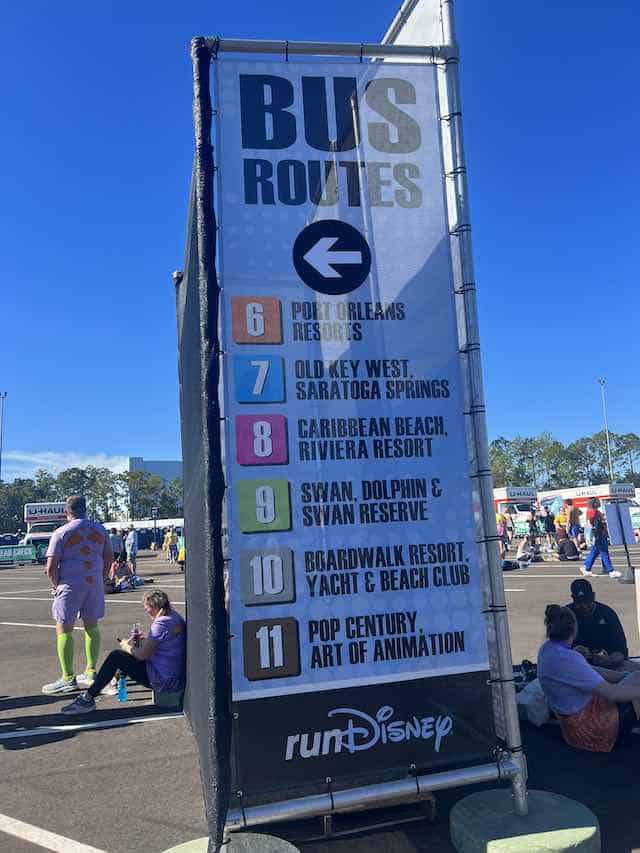 In the reunion area you will find the bus route information as well. The buses are labeled with a number, which are the same numbers they were for Expo transportation. runDisney makes it easy for you to find your way around after the race. They also have an area designated for their Good Neighbor and rides hare pickups.
runDisney races are big and can be intimidating for new runners, but they are a lot of fun! I encourage you to give a shot. You might just find another thing to love about Disney!
Do you love to runDisney? Have you done runDisney races? Do you find this guide helpful? What advice would you give to new runDisney runners? Let us know in the comments below and be sure to share this post with a friend.