Running a runDisney race weekend? Concerned you may not get the exclusive runDisney merchandise? Here are some fun and unique runDisney souvenirs you will want to get that you won't find at the Expo!
runDisney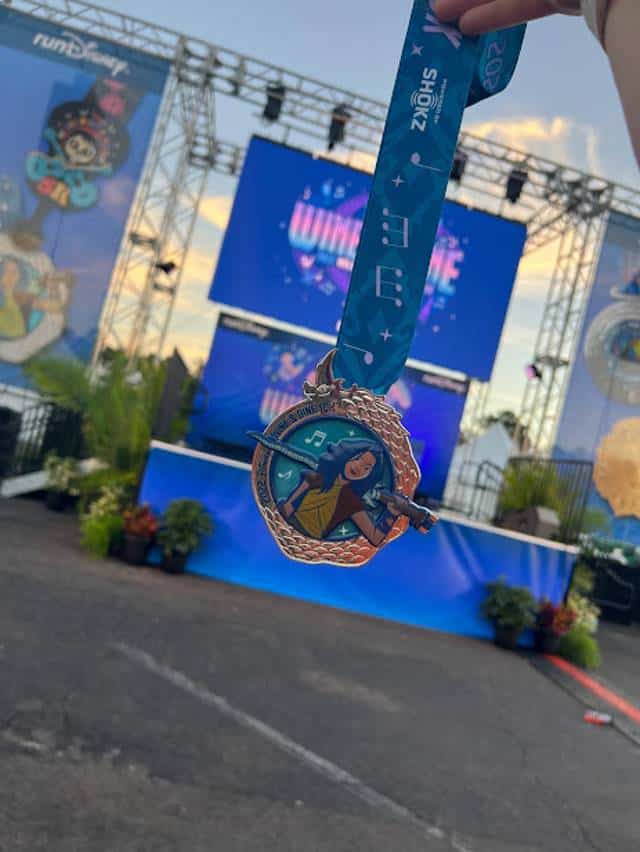 Have you ever heard of runDisney? This is where participants can put their endurance to the test and run or walk through Walt Disney World and (soon) Disneyland! This is a great way to experience Disney in a different way. I (Heather) love to runDisney, and it is probably some of the most fun at races I have had.
What could be more fun than achieving a personal goal while in your favorite place? It definitely is at the top of my list! Over the years, runDisney events have become more and more popular. This makes getting into these events stressful and sometimes down right difficult (we won't even mention the expensive part).
runDisney Merchandise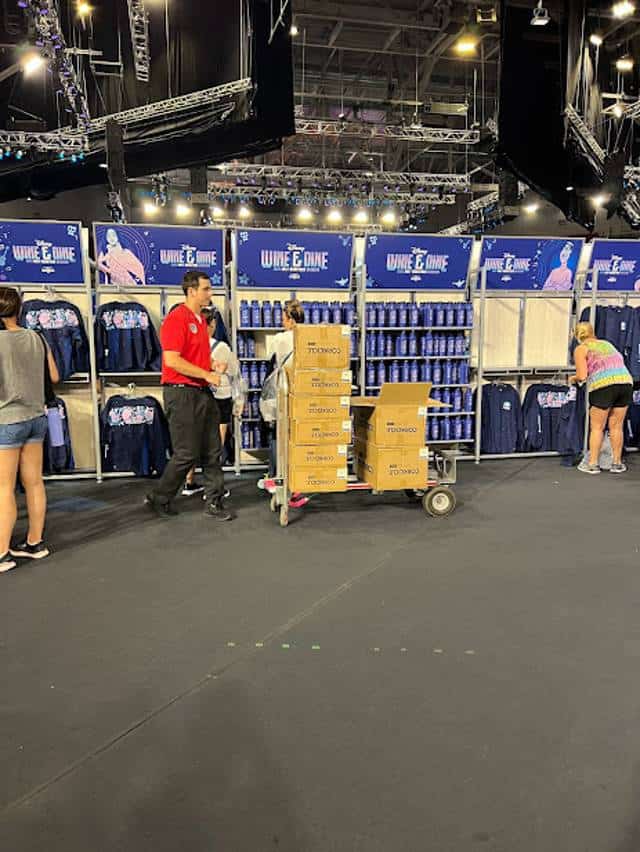 runDisney merchandise is very popular. You usually only find these items at the runDisney Merchandise Shop that is during race weekends. Sometimes you will find some runDisney merchandise throughout the property, but it is never a guarantee. I have probably only seen runDisney merchandise outside of the runDisney Merchandise Shop once or twice.
The runDisney Merchandise Shop has race exclusive and generic runDisney merchandise. People use to wait in line for hours to get their hands on runDisney merchandise. They have now implemented a Virtual Queue for the first day of the Expo.
I personally, love the runDisney merchandise as it means more to me than regular Disney merchandise. For me, it is a way to celebrate my achievement of whichever distance I have accomplished. I would rather save and buy things at the Merchandise Shop than at the theme parks.
Items Selling Out Fast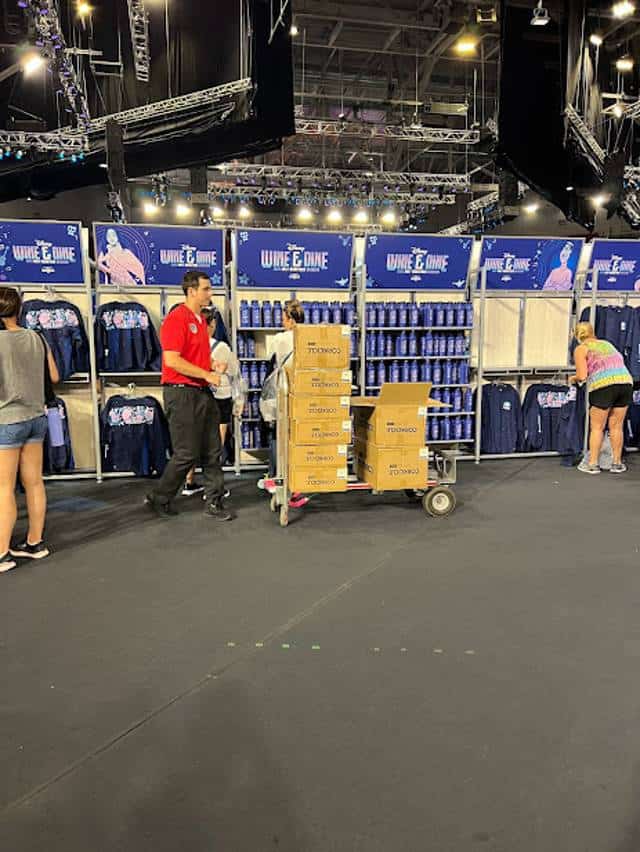 Items tend to sell out pretty quickly. With the return of runDisney races, it seemed like merchandise became even more popular. Within hours of the Expo opening, you would see resellers on varies websites with runDisney merchandise marked way up. Disney did crack down on some, but obviously they can't stop them all.
Could runDisney handle the merchandise situation better? The 2023 Marathon Weekend was the last weekend pre-order for merchandise was not offered. For the remaining races this season, in-person runners were able to pre-order some items for Princess Half Marathon Weekend and Springtime Surprise.
They have implemented a two per sku policy, but for clothing this would be two per size. So you can buy two of every size of the same shirt. To help with this problem of people waiting in long lines for the Merchandise Shop, runDisney implemented the Virtual Queue. We have seen Disney implement this with new ride openings, Santa meet and greets, and even exclusive merchandise like popcorn buckets!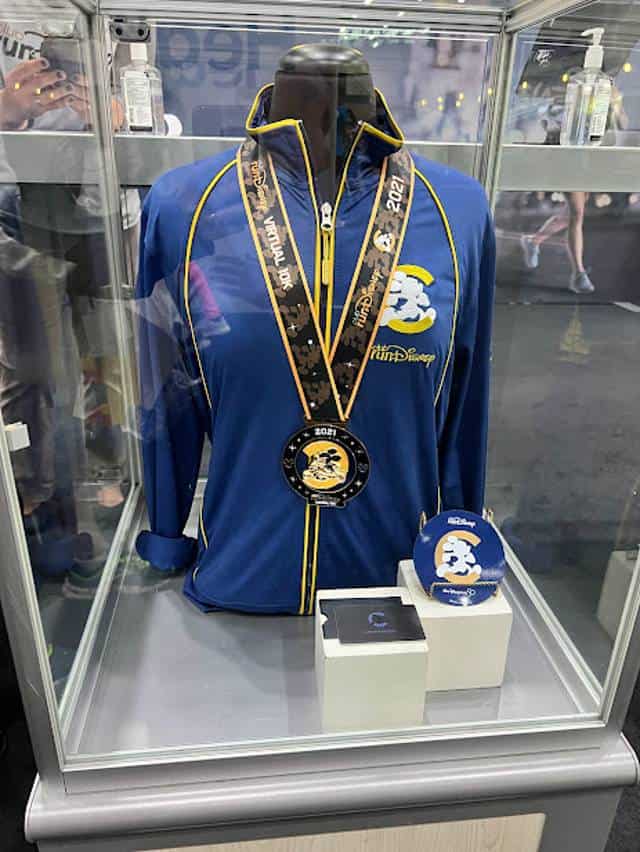 Check out my review HERE of the Virtual Queue for the runDisney Merchandise Shop. A different way to beat the line is to join Club runDisney. Read HERE to see why this option may become even more popular.
Another disappointment with merchandise is that runDisney does not offer any to virtual runners. All over various social media platforms you see virtual runners reaching out to in-person runners to grab them a shirt or pin as a favor because THEY CAN'T GET THEM being virtual. It seems like Disney is missing out on an opportunity to sell more merchandise!
Late To The Expo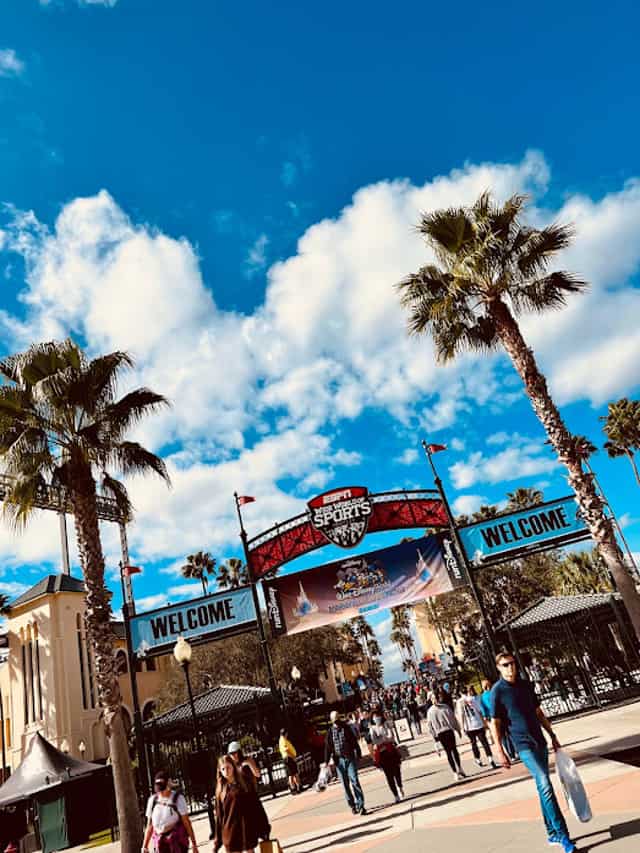 But what if you are coming in later than the first day of the expo? You have to work, flight gets in later, or just a later time with the virtual queue. You FINALLY get into the merchandise shop and the items that you wanted are GONE! What do you do? You have worked so hard to train and get to this point, how will you commemorate this moment?
Well, I have some non Merchandise Shop items that you can get that may be even MORE meaningful than those shirts, pins, and magnets you would have gotten.
1. Ears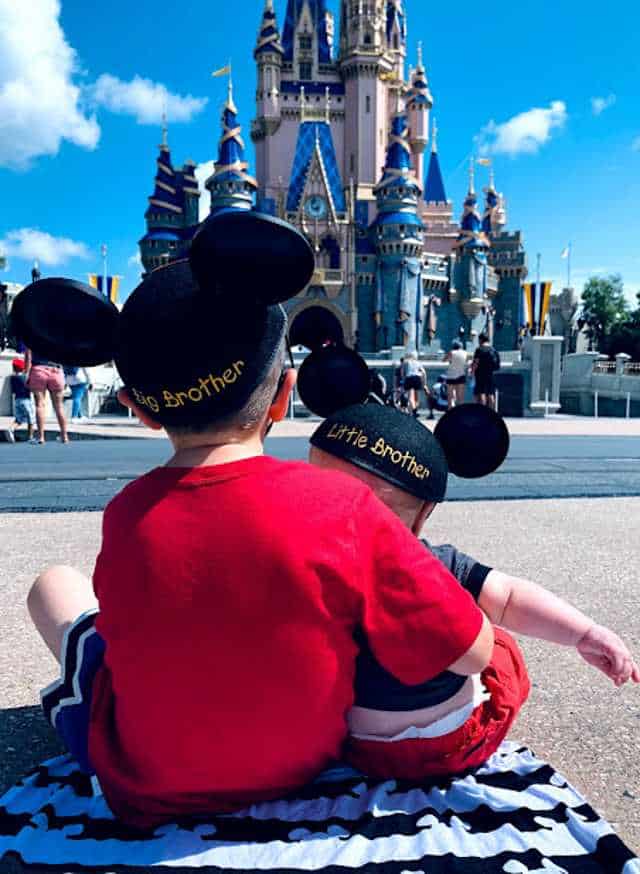 What screams Disney more than ears? I love wearing Minnie ears from the moment I step foot on Disney property until my family pretends not to know me because I'm still wearing them at home.
Check out the ears above. Unique and customizable ears! You can put whatever you want on them. Ask for inspiration or make them completely your own. You can get ones customized like shown below at Disney Days of Christmas in Disney Springs.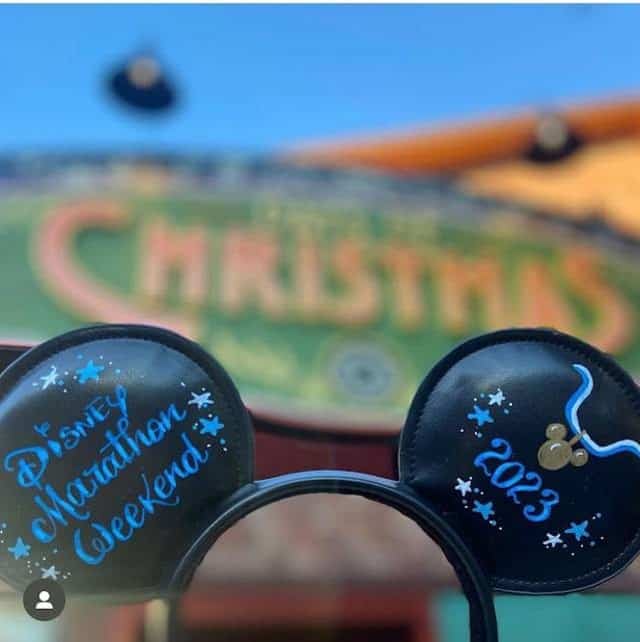 Head to The Chapeau in Magic Kingdom and have something special embroidered on a Mickey Ear hat! Is it a PR or a Finisher? You can choose!
2. Button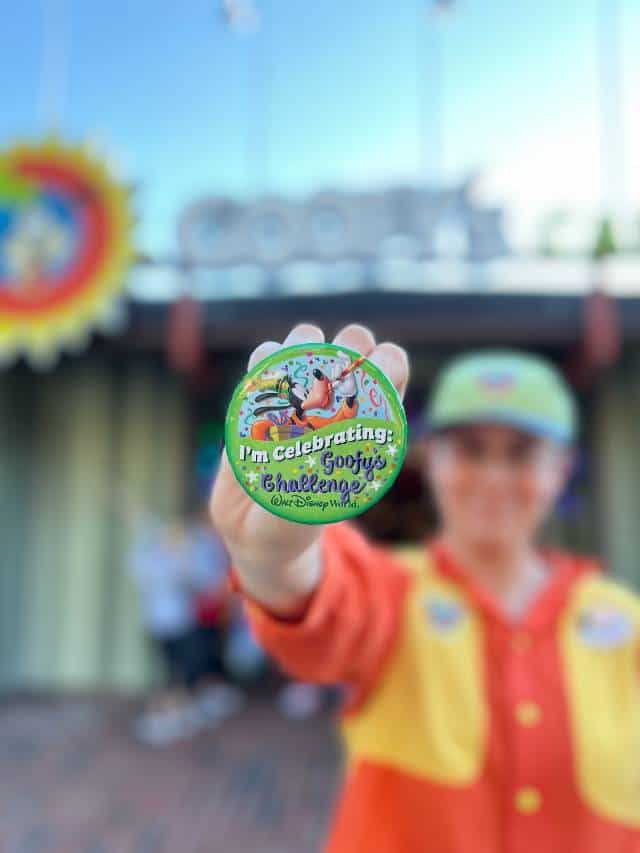 FREE! Yes, there are still free things in Disney! You can get an "I'm celebrating" button and write your amazing accomplishment on it! I love these buttons, so you don't have to tell me twice to pick up another one of these! If you have a Cast Member write on them there or even you could write on them this item will be FREE.
You can also take them over to the Disney Days of Christmas to get it personalized. For Marathon Weekend they had them out to purchase already done up buttons. This item would no longer be free because of the artistic personalizing that is done to it.
3. Art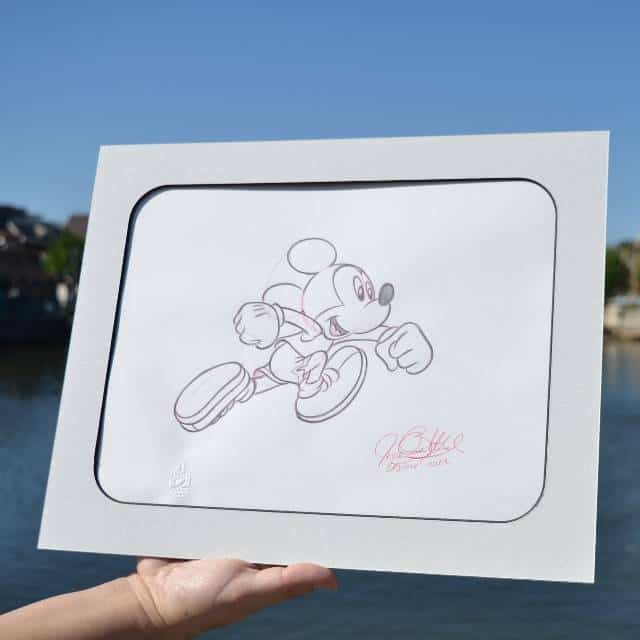 Disney art is beautiful! This will be my MUST DO when I complete the Dopey Challenge or even the Marathon! You can get individual prints or a framed work.
If you opt for a framed piece of art with your medal included, you will need to give them your medal. These pieces of art are beautiful and a great way to show off your accomplishment.
4. Medal Personalization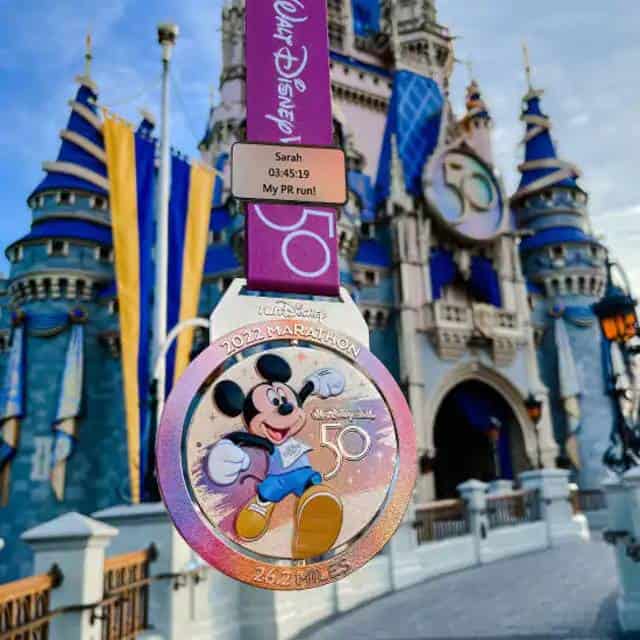 You can add an iTAB Ribbon Hanger to your medal. runDisney has offered deals for these in the past in the Digital Expo Goody Bag. It is not guaranteed that the discount will be available for each race, but it is great way to commemorate your achievement.
5. Ornament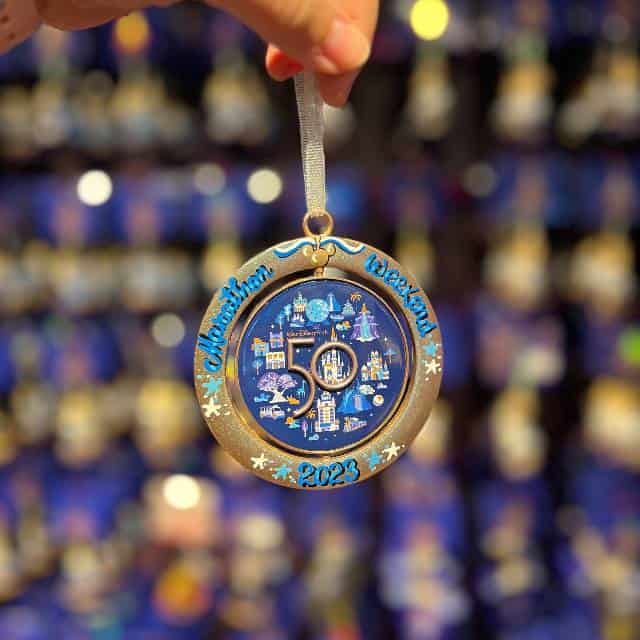 This is my FAVORITE ITEM! I have gotten one of these before and it is one of my favorite Christmas ornaments.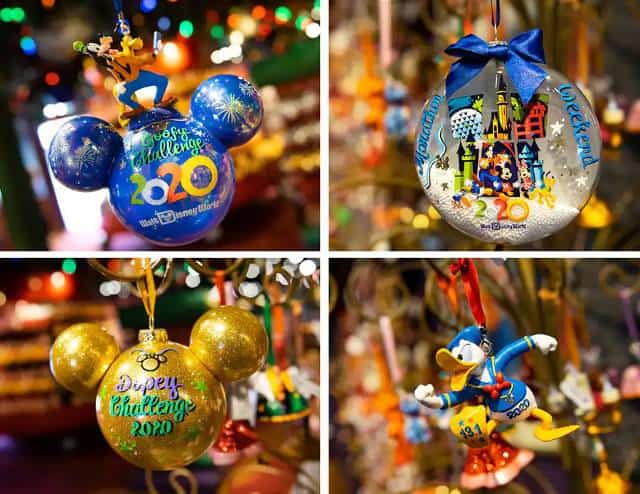 Many times they have several that are already done and you can pick from the selection or customize your own! I love this souvenir because you can get exactly what you want! You can find them in the Ye Old Christmas Shoppe in Magic Kingdom or the Disney Days of Christmas in Disney Springs.
6. Magnet
Weren't able to grab that race specific magnet at the expo? You can get a personalized one at the Co-Op in Disney Springs. They had these advertised at the expo, too!
Personalized race specific magnets were available for purchase at the Co-Op!
7. Phone Case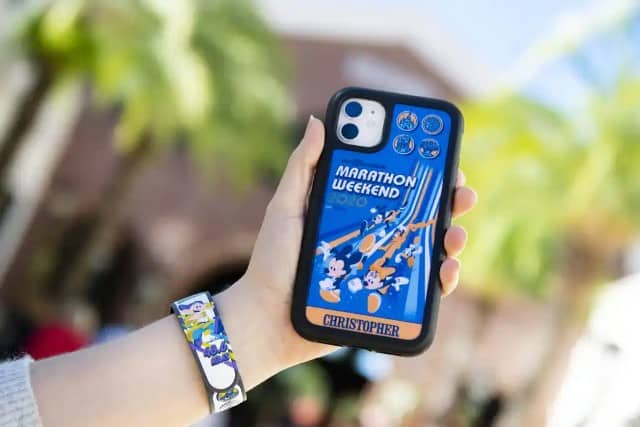 Another item you can pick up at the Co-Op in Disney Springs is a customized phone case! This is a great way to show off your accomplishment wherever you go!
8. Picture Frame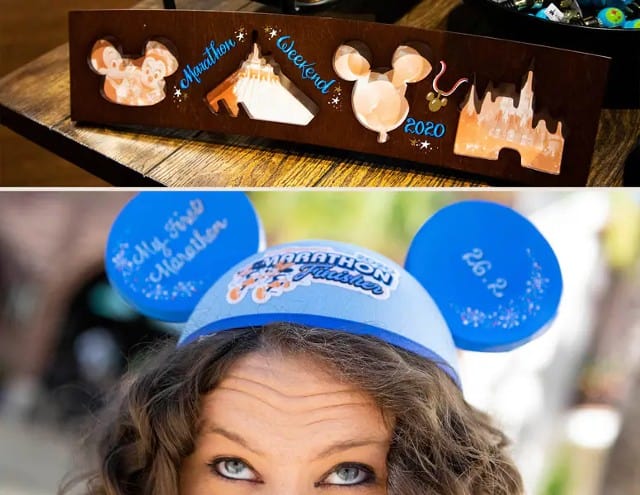 A fun and unique way to show off your race photos is a personalized picture frame. Grab a picture frame and get it customized at the Disney Days of Christmas! The options are endless. If it is a hard surface, they will most likely be able to customize it.
9. Photo Mug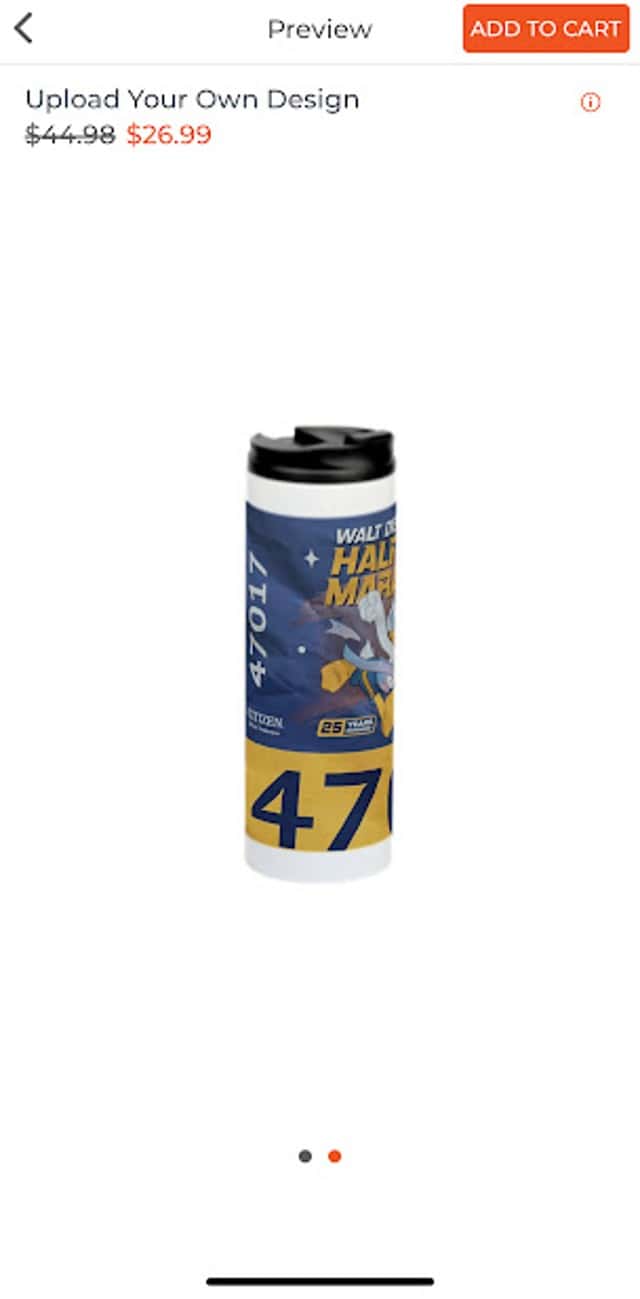 For this souvenir, you will want to take a picture of your bib before you race. You don't want your bib getting destroyed due to weather or any other mishaps and not getting a good picture.
You can then go to any photo website and put your bib on a mug! Now you can show off your Magical Miles wherever you go! The best part is nobody will have this souvenir but YOU!
10. Photo Book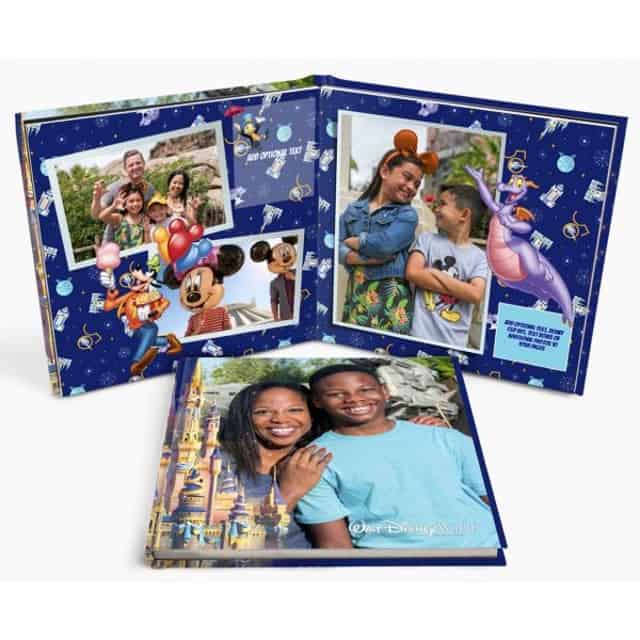 What better way to remember all the moments than a photo book? The one shown above is through the Disney PhotoPass link. If you purchase Disney PhotoPass and stop for characters, you will most likely have many pictures of your race.
Make a photo book of your race weekend and you can relive it over and over! You can even get a Disney themed book!
Final Thoughts
I know that the runDisney merchandise is very fun and exciting and who wouldn't want something to commemorate that magical moment? However, I love having something unique that most may not have! For all of my ideas that require pictures, be sure to check out my post HERE about how to get a good race photo.
These souvenirs are something you can do as a fun an unique keepsake or if all the must haves are now sold out at the runDisney Merchandise Shop. The options are endless!
What do you think of these unique runDisney souvenirs that aren't runDisney? Will you be picking up any at your next runDisney race weekend? Let us known in the comments below and share this post with your best runDisney running friend!