When it comes to character breakfasts, there are so many options! Read on to see how they stack up against one another.
Character Dining at Walt Disney World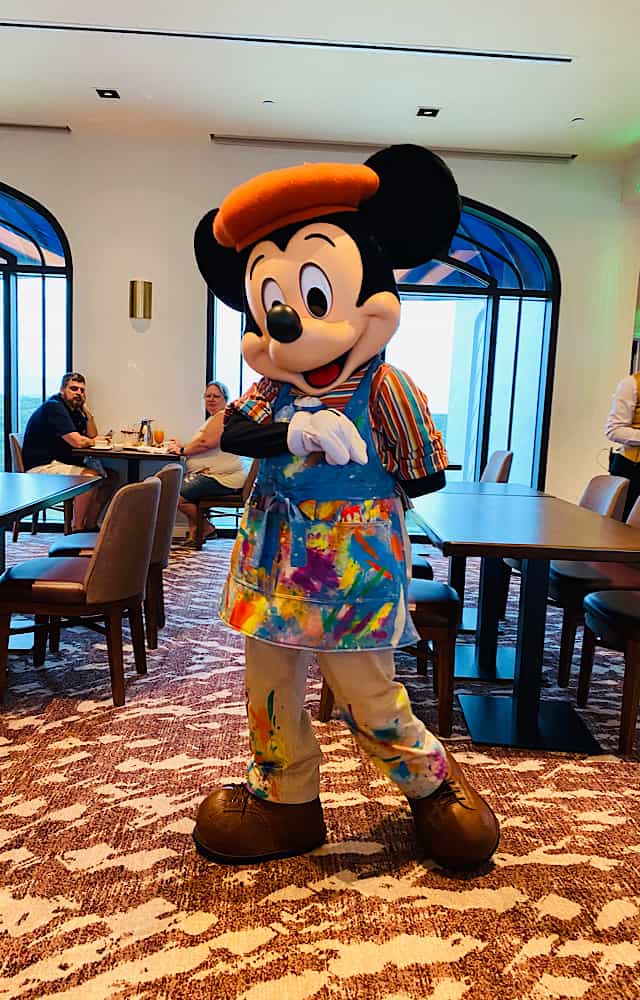 There is just something special about character dining at Walt Disney World! The magic of eating a meal with beloved characters is an experience that just makes a Disney trip extra special. Character dining is excellent because it allows guests to enjoy a great table service meal while also experiencing personalized character interactions without waiting in line or feeling rushed in the parks.
To me (Jaelyn), the most iconic Disney character meal is the character breakfast. How many of us have cherished memories of dining with our small children and starting our day with Mickey Waffles and Mickey hugs before spending a day wrapped up in the magic of the parks?
Now that most character meals have returned to their full glory, there certainly is not a shortage of character breakfast choices for guests to reserve. At the time of publication, there are currently 8 different character breakfasts for guests to experience scattered throughout the parks and resorts. Each of these offerings provides something special (and delicious!) for guests.
Your Guide to This Guide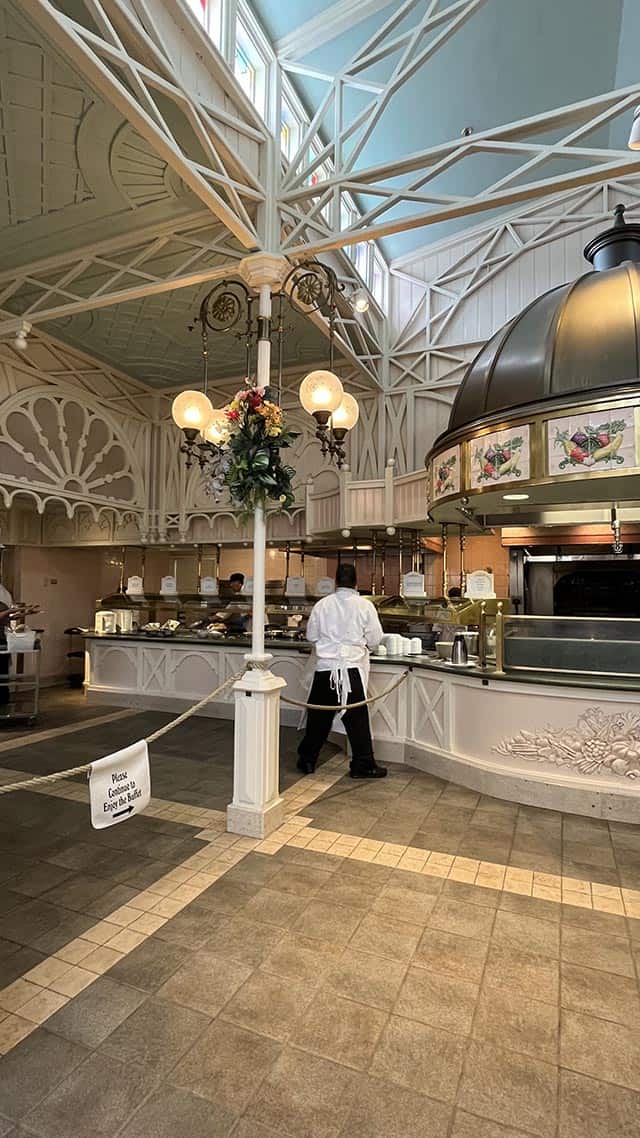 Throughout this post, we will be investigating all of the various character breakfast options at Walt Disney World. We will look at each of the 8 character breakfasts individually through the lenses of convenience, food options, value, and character availability and interactions. Characters listed are those who typically appear, though they are subject to change at any time.
At the conclusion of the post, we will look at all of the options holistically to help you decide which character breakfast is best for your individual needs and wants.
We will begin with restaurants available in Walt Disney World parks themselves and then branch out to the surrounding resort hotel properties.
Cinderella's Royal Table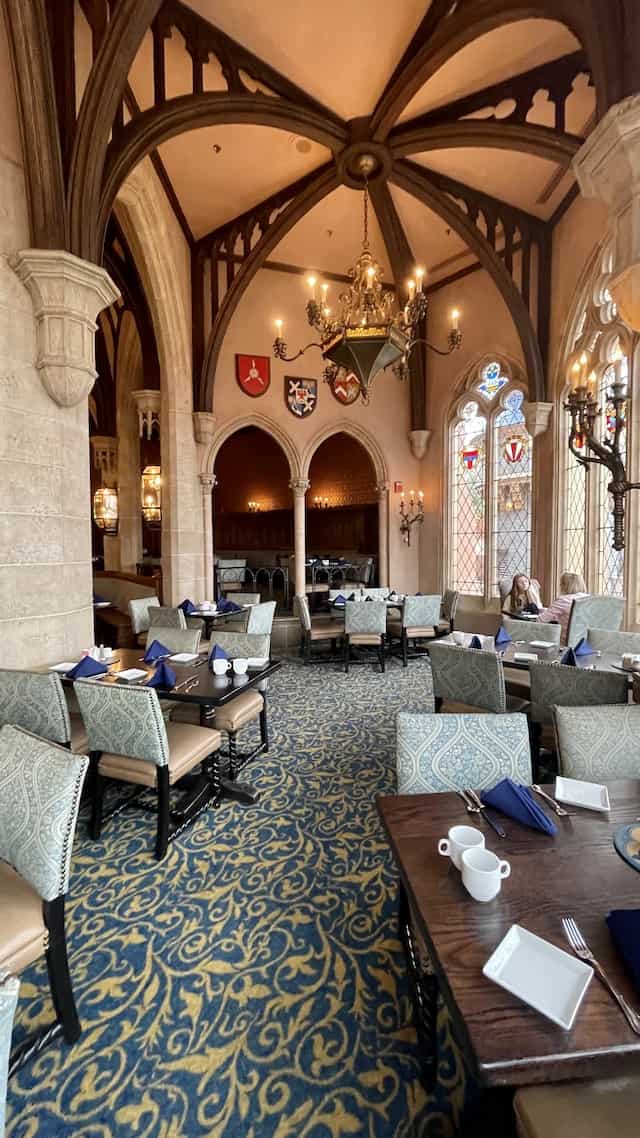 Location: Magic Kingdom
Dining Style: Prix Fixe
Price: $65 per adult, $39 per child ages 3-9
Characters: Currently Cinderella, Jasmine, Aurora, Snow White, and Ariel
Clocking in as the most expensive character breakfast option at Walt Disney World, Cinderella's Royal Table is an iconic dining experience within the grand castle itself. Characters have recently just returned to this breakfast, making an already hot reservation even more difficult to snag. Additionally, pre-payment is required for this restaurant at the time of booking.
Cinderella's Royal Table is a prix fixe offering with dishes including quiche, shrimp and grits, avocado toast, and caramel apple stuffed French Toast. Food options are more elevated than some of the other character breakfast offerings on this list (as is the price tag!)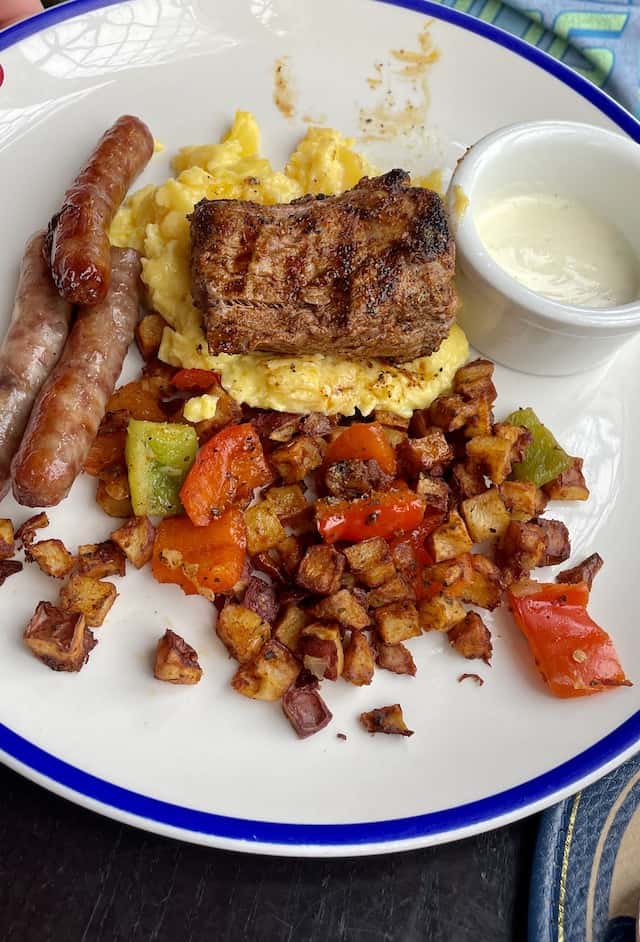 This is obviously an incredibly convenient character breakfast choice for guests visiting the Magic Kingdom. It is currently the only princess themed character breakfast offered and one of the best ways to meet many characters in an absolutely unforgettable setting, further increasing the value of this offering.
Check out Monica's full breakfast review pre-return of characters here!
Crystal Palace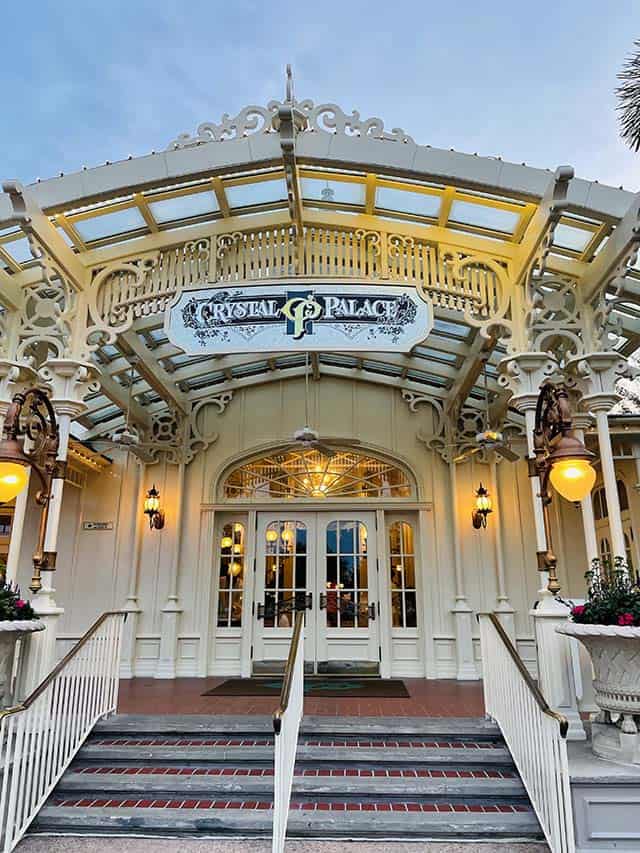 Location: Magic Kingdom
Dining Style: Buffet
Price: $45 per adult, $29 per child ages 3-9
Characters: Winnie the Pooh, Piglet, Eeyore, and Tigger
Located in the heart of the Magic Kingdom, the Crystal Palace is a fan favorite buffet featuring our pals from the Hundred Acre Wood. The restaurant serves traditional breakfast offerings including fruit, bacon, waffles (including churro waffles!), biscuit, yogurt, and cereal selections.
The restaurant's prime location and title as the only location to meet Eeyore and Piglet outside of special events like Mickey's Very Merry Christmas Party make this a popular reservation. I have found, however, that it is often relatively easy to snag a last minute reservation for this spot.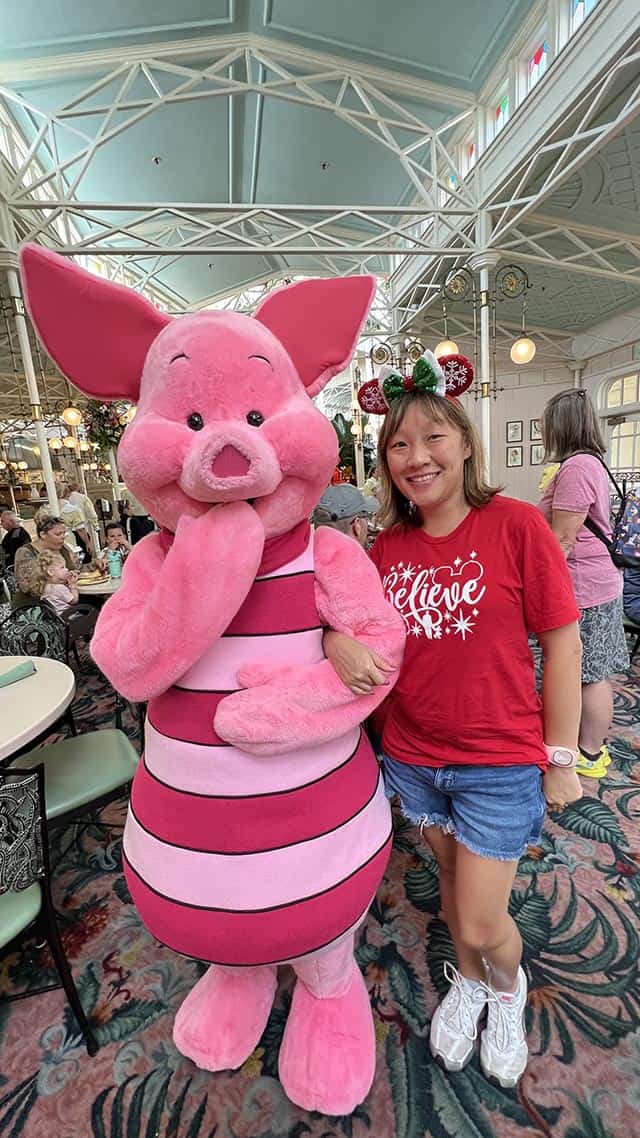 The price point for this character breakfast is very standard, exactly matching that of four other character breakfasts on property. It's a great pick for those looking for a character breakfast in the Magic Kingdom that is cheaper than Cinderella's Royal Table or for those looking for a buffet-style option to really fill up before a big park day.
Check out Maggie's review of the Crystal Palace breakfast here!
Hollywood & Vine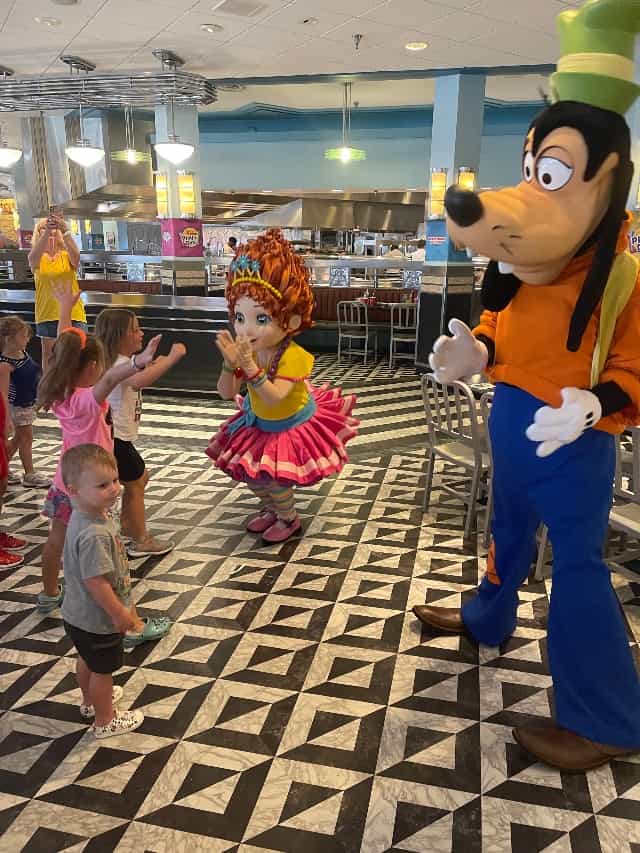 Location: Hollywood Studios
Dining Style: Buffet
Price: $42 per adult, $27 per child ages 3-9
Characters: Disney Jr. Pals Vampirina, Fancy Nancy, Roadster Racers Goofy, and Doc McStuffins
Jumping over to Hollywood Studios next, we have the most affordable character breakfast option at the Disney Junior Plan 'N Dine at Hollywood and Vine. This buffet includes traditional offerings such as pastries, waffles, bananas foster french toast, fried potatoes, sausage, bread pudding, omelets, sticky buns, chicken and waffles, and more, all served up buffet style.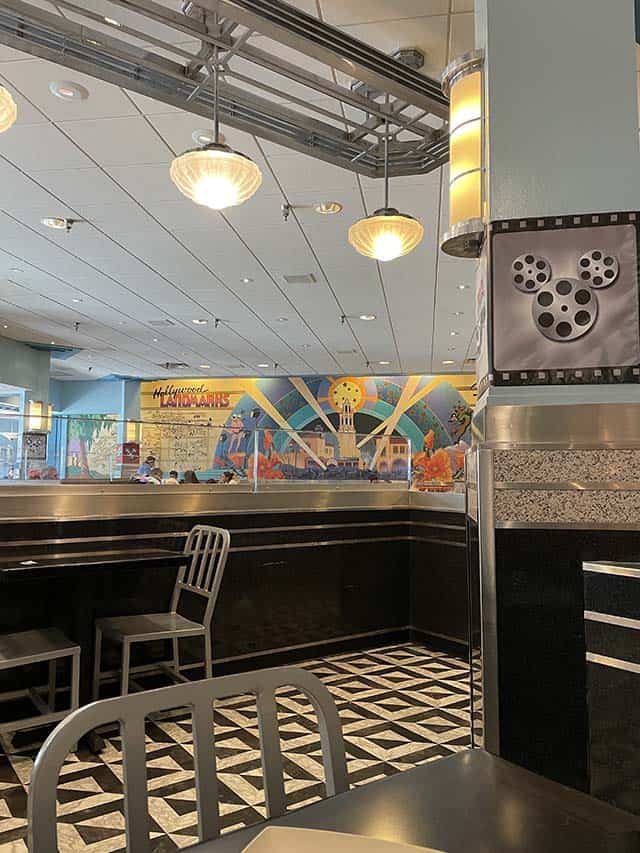 This is the perfect dining experience for families with small children who love Disney Junior characters. My family has visited this restaurant several times, and we've never been disappointed with the food or character interactions.
Check out my review of this restaurant when it was a prix fixe offering before the buffet returned here!
Tusker House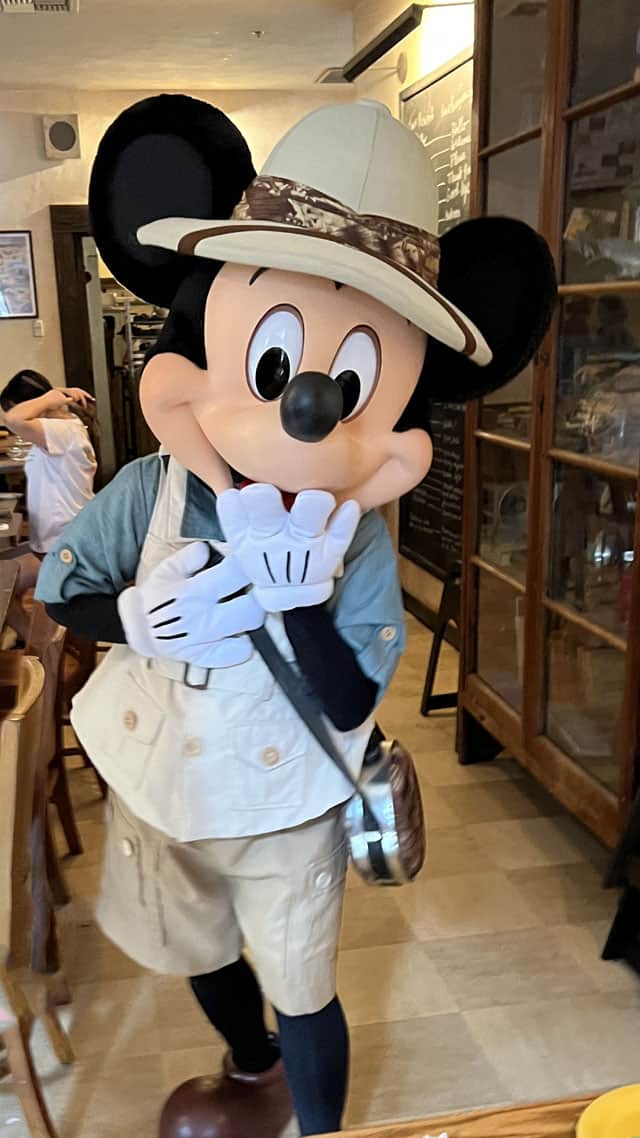 Location: Animal Kingdom
Dining Style: Buffet
Price: $45 per adult, $29 per child ages 3-9
Characters: Safari Mickey, Goofy, Donald, and Daisy
Tusker House is an excellent character breakfast buffet at the Animal Kingdom. Here, guests can meet Mickey and friends dressed in their safari best while enjoying a buffet of pastries, meats, fruits, and waffles. Though mostly all traditional breakfast offerings, occasionally guests can find something a little more African-inspired on the buffet to enjoy.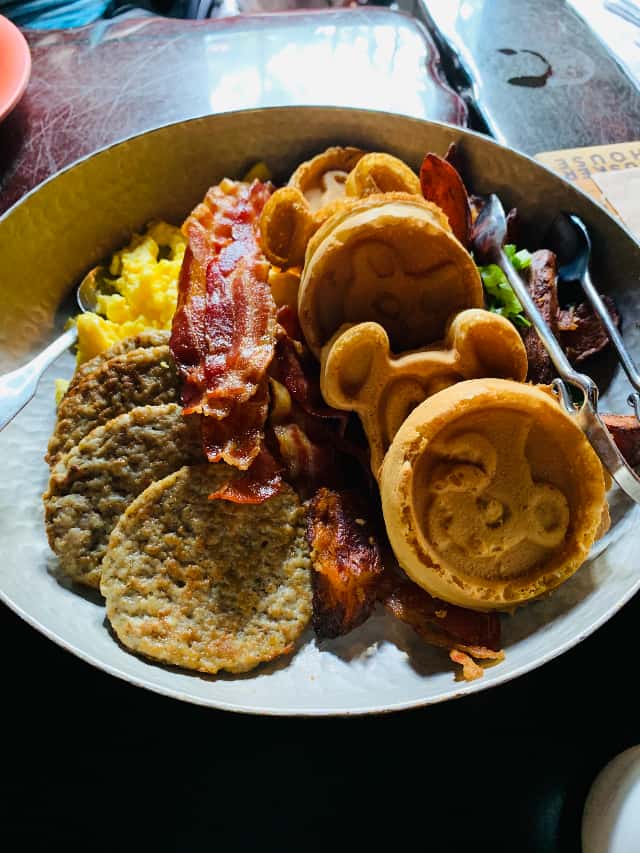 At $45 per adult and $29 per child, this breakfast is priced at the "standard" Disney character breakfast price. It is a favorite for those looking to meet Mickey and friends in the Animal Kingdom without waiting in lines for character meet and greets.
Cape May Cafe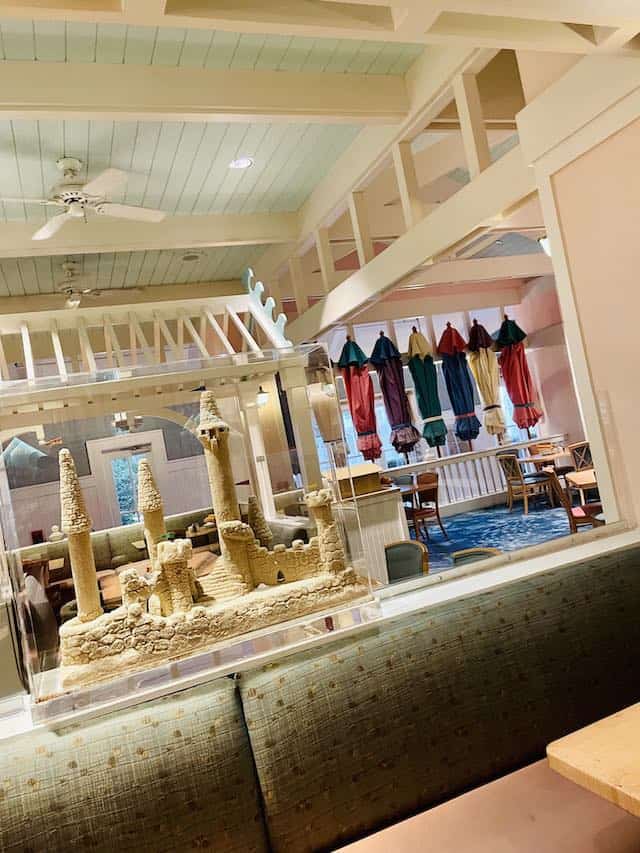 Location: Beach Club Resort
Dining Style: Buffet
Price: $45 per adult, $29 per child ages 3-9
Characters: Beach Bash Minnie, Goofy, Daisy, and Donald
Located just a walking distance away from EPCOT at the Beach Club Resort, Cape May Cafe is the perfect character breakfast if you are looking for laid-back and beachy vibes. This standard-priced buffet includes delicious choices such as salted caramel beach buns, cheddar biscuits and gravy, omelet and carving stations, and more.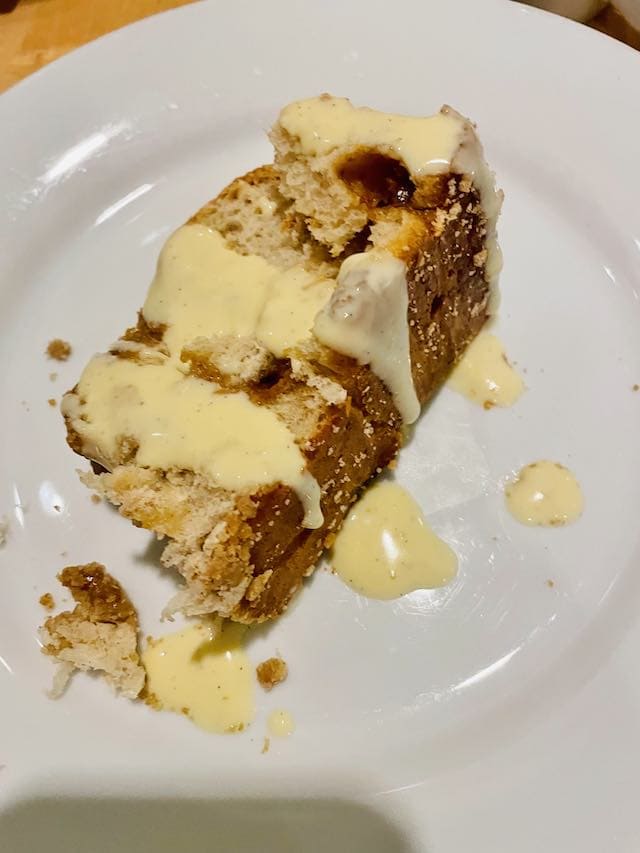 Characters meeting at this restaurant include Minnie, Goofy, Daisy, and Donald in their beach best. Since this option has returned, it has been a great choice for high amounts of character interaction! Visitors should note, however, that Mickey Mouse does not meet at this location. If this is a dealbreaker for your family, you might consider another character dining option.
Read Jamie's review of her experience prior to the return of characters here!
Chef Mickey's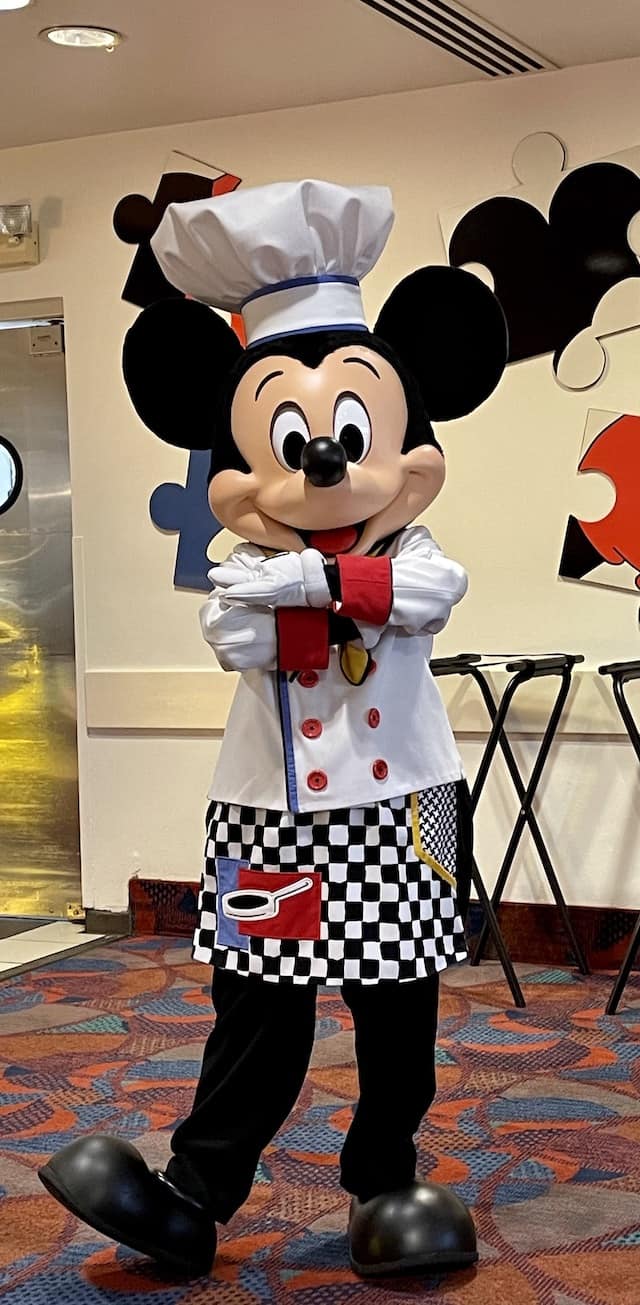 Location: Contemporary Resort
Dining Style: Buffet
Price: $51 per adult, $33 per child ages 3-9
Characters: Chef-style Mickey, Minnie, Goofy, Donald, and Pluto
If you are looking for an iconic dining experience with the Fab 5, Chef Mickey's serves up exactly what you desire! Located in the Contemporary Resort, guests can dine buffet style on biscuits and gravy, charcuterie offerings, fruits, carved ham and brisket, and more while watching the monorail zoom by on the way to the Magic Kingdom.
This character breakfast is the second most expensive option on this list, but does offer significant value when considering the number of characters you can meet while dining. The restaurant itself is open and noisy, so it is a great place for kids and families who don't often stay quiet in table service locations.
As a note, I've eaten at this restaurant several times and seen the most amount of variety in characters available here. During my last visit, for example, I dined with Mickey, Minnie, Donald, and Daisy.
Check out Jamie's review of the breakfast prior to the return of the buffet offering here.
'Ohana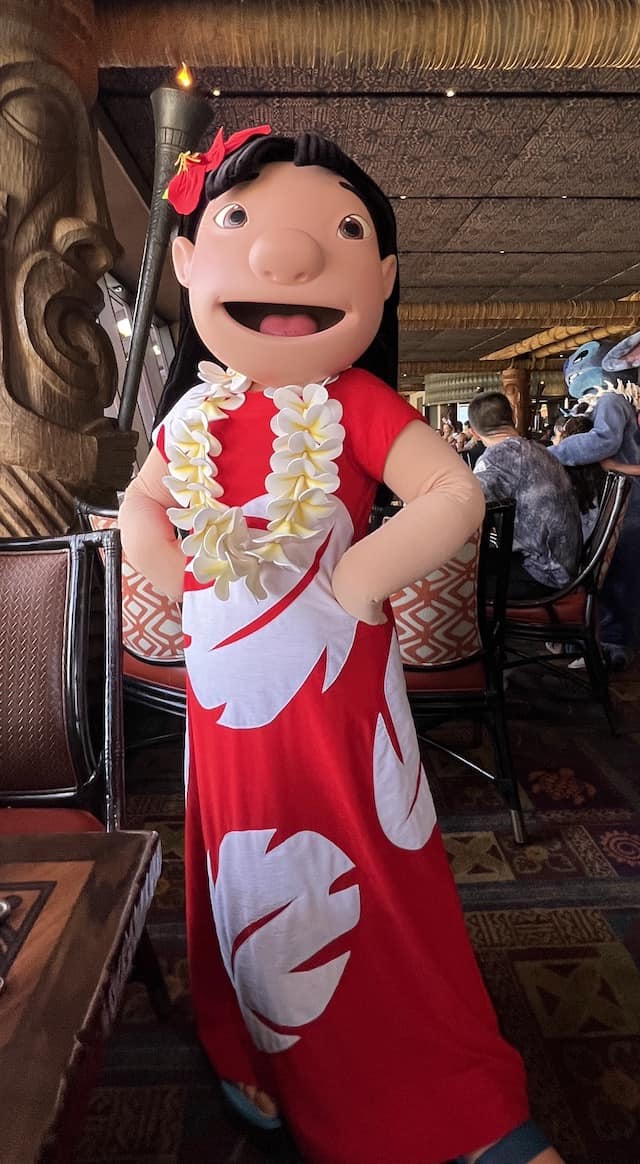 Location: Polynesian Resort
Dining Style: Family Style
Price: $45 per adult, $29 per child ages 3-9
Characters: Lilo, Stitch, and Tropical Mickey and Pluto
Grab your family and head to the Polynesian for this delicious character breakfast featuring Lilo, Stitch, Mickey, and Pluto! This standard-priced option is the only family style character breakfast currently available at Walt Disney World. I personally love character offerings that are prix fixe and family style as you never have to worry about getting up from the table and missing characters while you are at the buffet!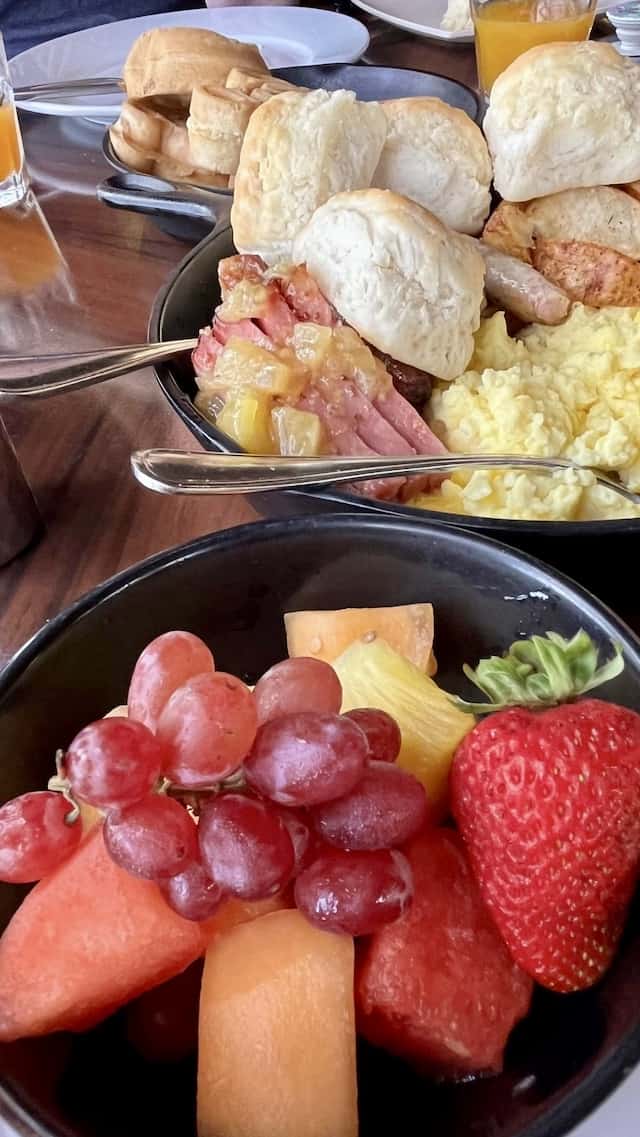 Serving up fruits, pineapple and coconut bread, ham, sausage, waffles, potatoes, and more, this is certainly a feast where you can get your fill prior to a monorail ride over to the Magic Kingdom or EPCOT. Also, it is the only place on property to meet Lilo and Stitch!
Check out Monica's review of her experience here.
Topolino's Terrace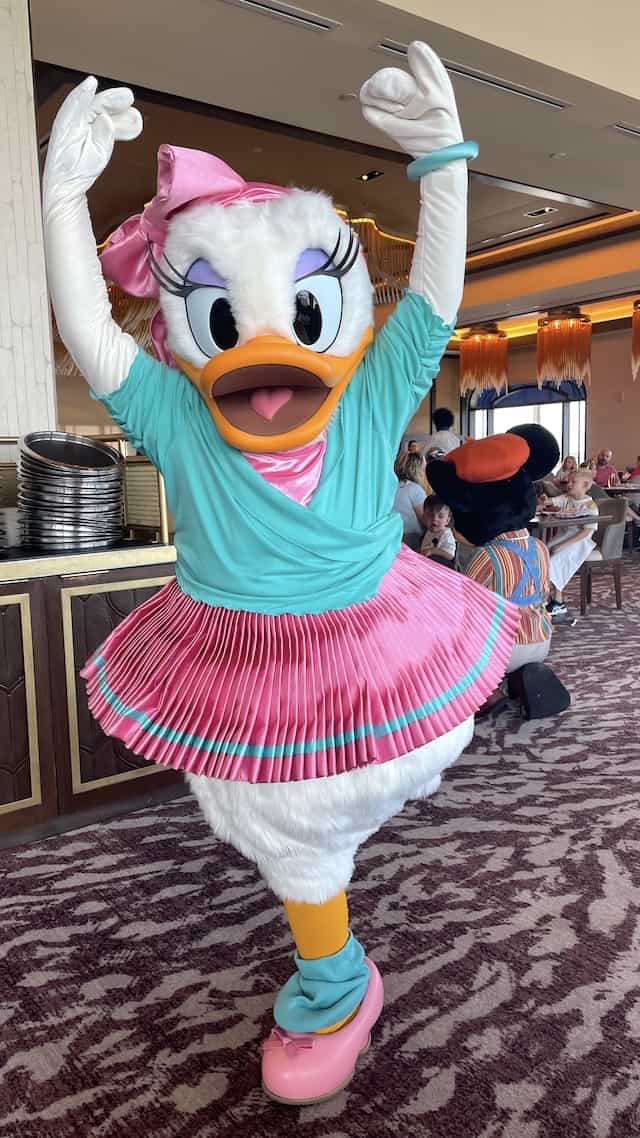 Location: Riviera Resort
Dining Style: Prix Fixe
Price: $45 per adult, $29 per child ages 3-9
Characters: Artisan Mickey, Minnie, Donald, and Daisy
Celebrated as one of the most delicious character breakfasts on property, Topolino's Terrace packs sophistication, delectable eats, and great character interaction into a high quality character dining experience!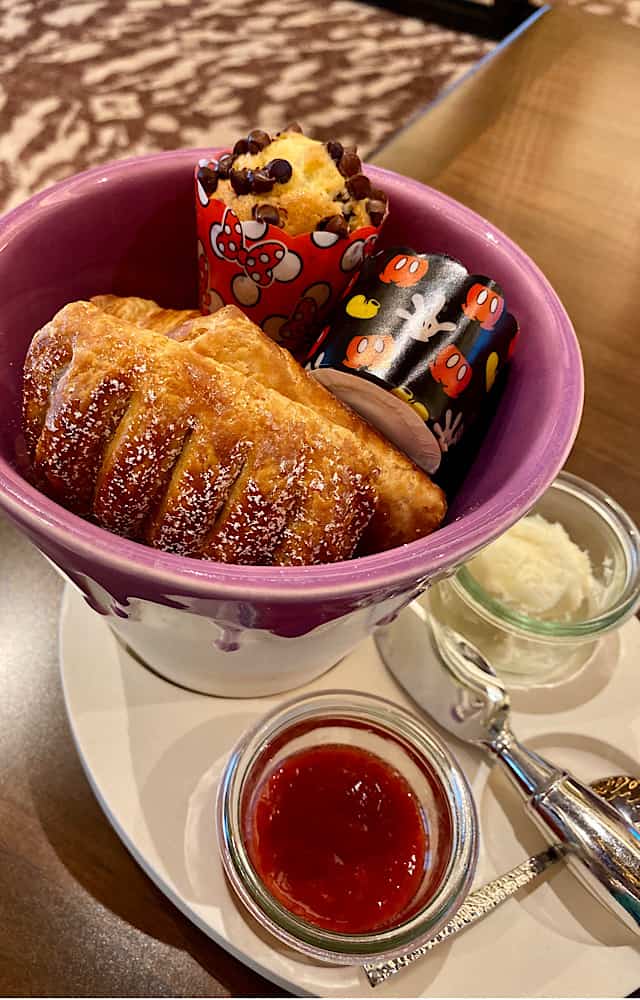 At the standard price of many other character breakfasts on property, guests can enjoy shared pastries at the table along with their selection of entree including options such as quiche, fruit, sour cream waffle, butcher's steak, and more. Mickey, Minnie, Donald, and Daisy greet guests in their outfits inspired by the arts such as painting, writing, and dancing.
After eating, guests can step out onto the deck and take in the amazing rooftop views from the Riviera Resort. Read Susan's review of the experience back when the character interactions were modified here.
Best of the Best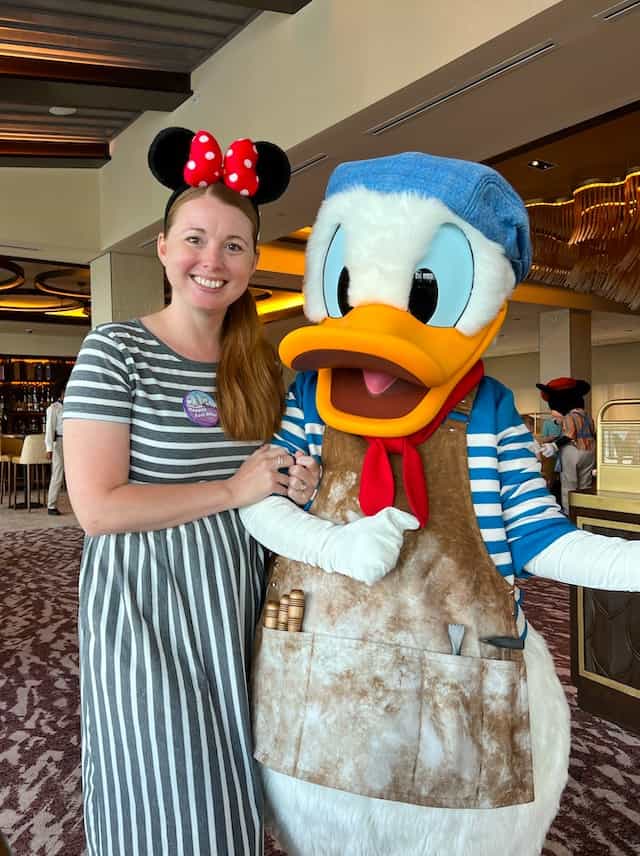 To summarize, there are so many great choices available to guests who are looking for a character breakfast! Based off of my experience and the reviews of fellow writers, here are some recommendations!
If you are looking for the best food, it can be found at Topolino's Terrace. This character breakfast is widely agreed upon as serving the most delicious offerings!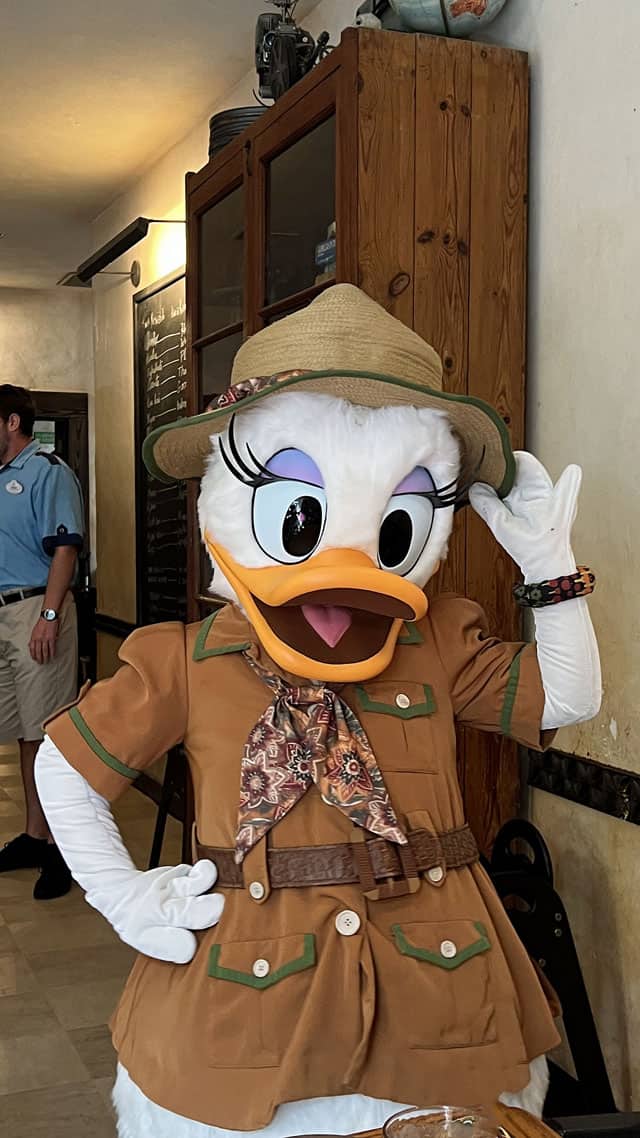 Best value character breakfast goes to Hollywood and Vine. It is the cheapest offering on the list and offers a buffet, allowing guests to truly fill up and "eat their money's worth." A great tip is to book the latest breakfast seating and allow the meal to serve as breakfast and lunch for your party to truly maximize value!
Best characters and character interaction truly depends on what you are looking for and is really guest-specific. If you are a Winnie the Pooh fan, for example, you will likely find that Crystal Palace offers what you are looking for. Holistically, if you are looking for the best place to eat with Mickey and Friends, Chef Mickey's takes the cake.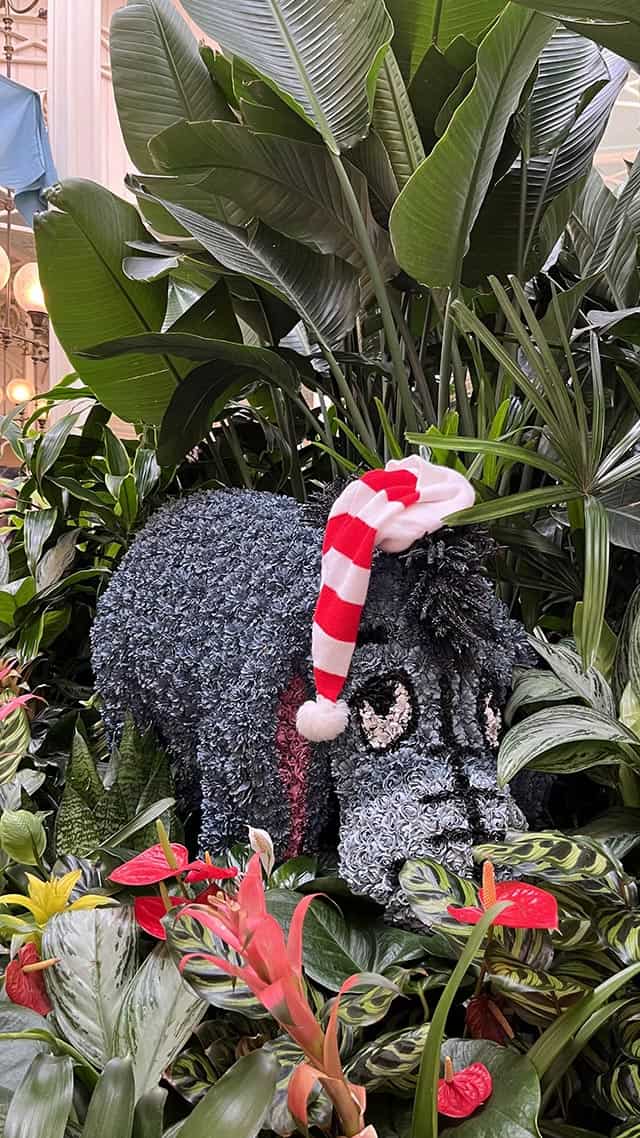 If you are looking to maximize character interaction, Cape May Cafe might offer just what you are looking for!
Best overall atmosphere is also very guest specific. For me, I personally enjoy everything about the Polynesian and love the laid back atmosphere and Magic Kingdom views from 'Ohana.
What is your favorite character breakfast at Walt Disney World? Do you agree with my decisions above, or would you suggest something different? Comment below and be sure to share this post with a friend who loves Mickey waffles just as much as you do!