Epcot festival offer some really delicious dishes and amazing treats. See why I thought the L'Chaim holiday kitchen gets a "thumbs down" review.
Festival of the Holidays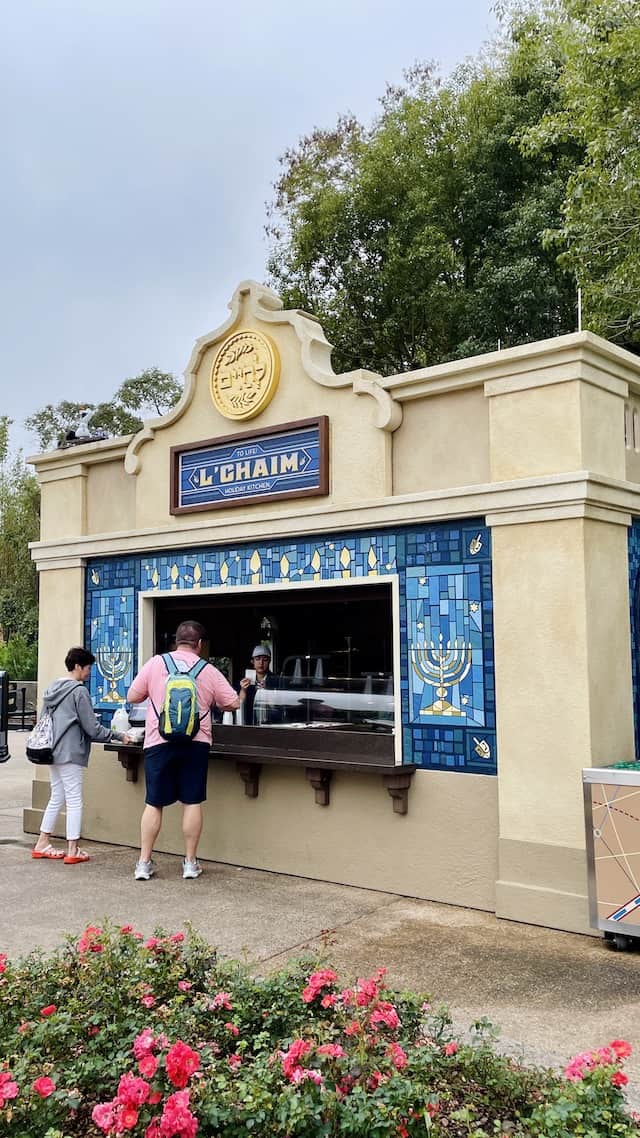 The holiday season is truly magical at EPCOT. Festival of the Holidays is an amazing experience where guests can enjoy the beautiful Candlelight Processional, enjoy delicious holiday food booths, take part in a fun scavenger hunt, cookie stroll, and enjoy great entertainment! There's brand new merchandise that you can check out HERE, along with a new indoor location for Santa Claus.
Guests can ride Guardians of the Galaxy with a new holiday remix! Be sure to grab your boarding group or purchase an Individual Lightning Lane to experience it. Spaceship Earth even has its own light show for the Festival of the Holidays.
L'Chaim Holiday Kitchen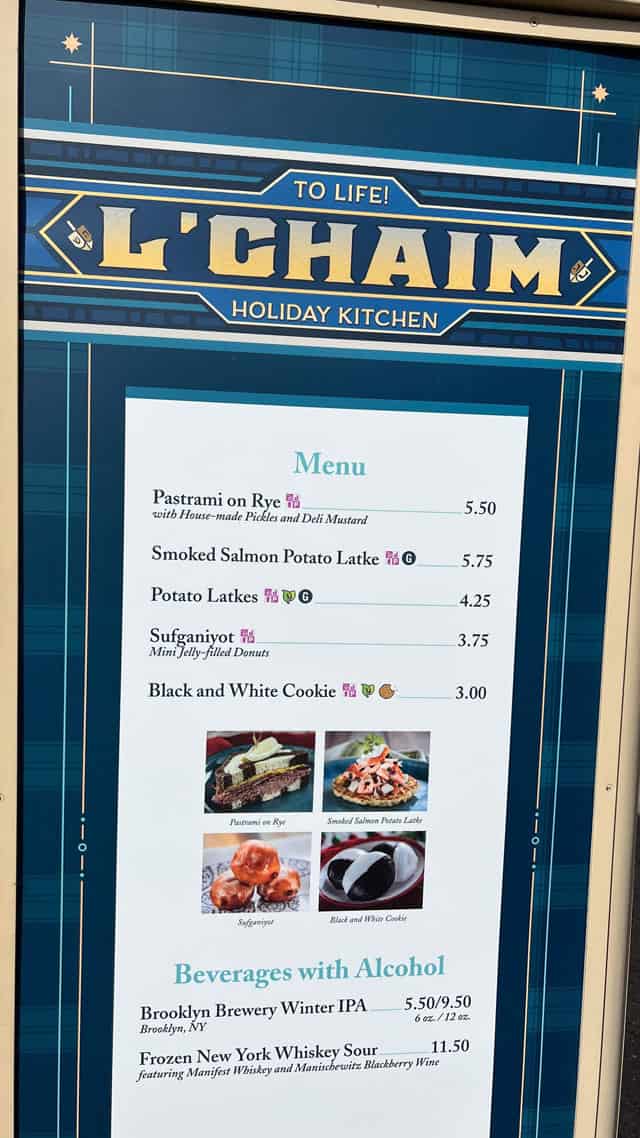 Located between France and Morocco, L'Chaim serves Jewish dishes with a side of New York Flair. When our team checked out menus on the first day of the festival, we found a pastrami sandwich, smoked salmon potato latke, potato latkes, sufganiyot (mini jelly-filled donuts), and a black and white cookie.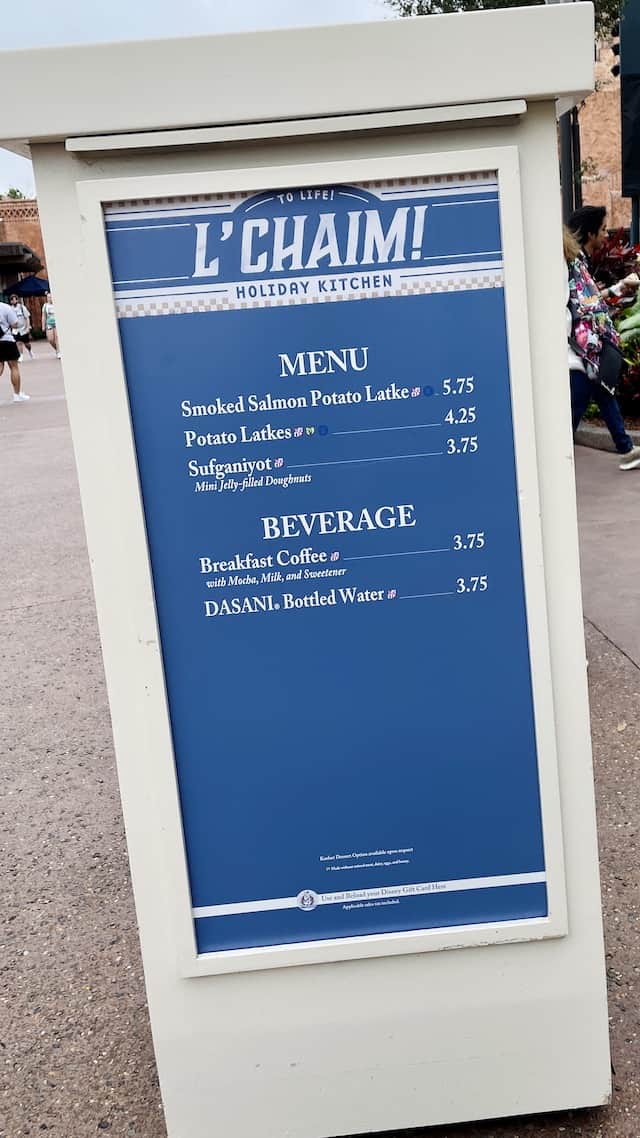 However, on the day I visited, the menu was missing the pastrami and cookie! You can see the changes in the photos above. It's hard to say if I just visited on a day when they were out of these items, but even the menu displays do not show these two items anymore. It's entirely possible these two items will not be offered for the rest of the festival.
So, I set out to try the potato latkes and sufganiyot since those were basically my only options (I am not a fan of seafood in general so the salmon latke was not an option).
Potato Latkes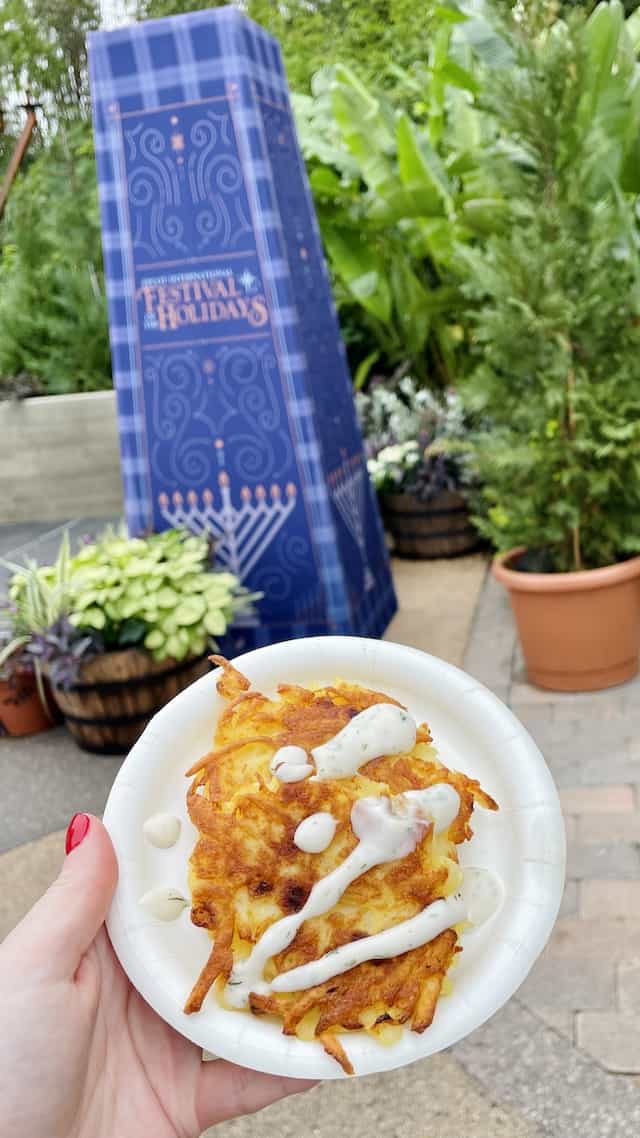 One tradition Jewish families participate in during Hanukah includes making dishes that are cooked in oil. As the tradition goes, oil symbolizes the miracle at the Temple of Jerusalem. The Jews only had a day's worth of oil to light a candle, but it lasted for eight days.
Potato latkes are a traditional Jewish food eaten during Hanukah. There is a salmon potato latke as well, which I did not eat. Two latkes are drizzled in a vegan sour cream sauce.
I thought these were incredibly delicious. It tasted like a potato casserole, and the sour cream sauce had just the right amount of tang and spice to counteract the taste of plain potatoes. The latkes were crispy on top and soft on the inside.
Sufganiyot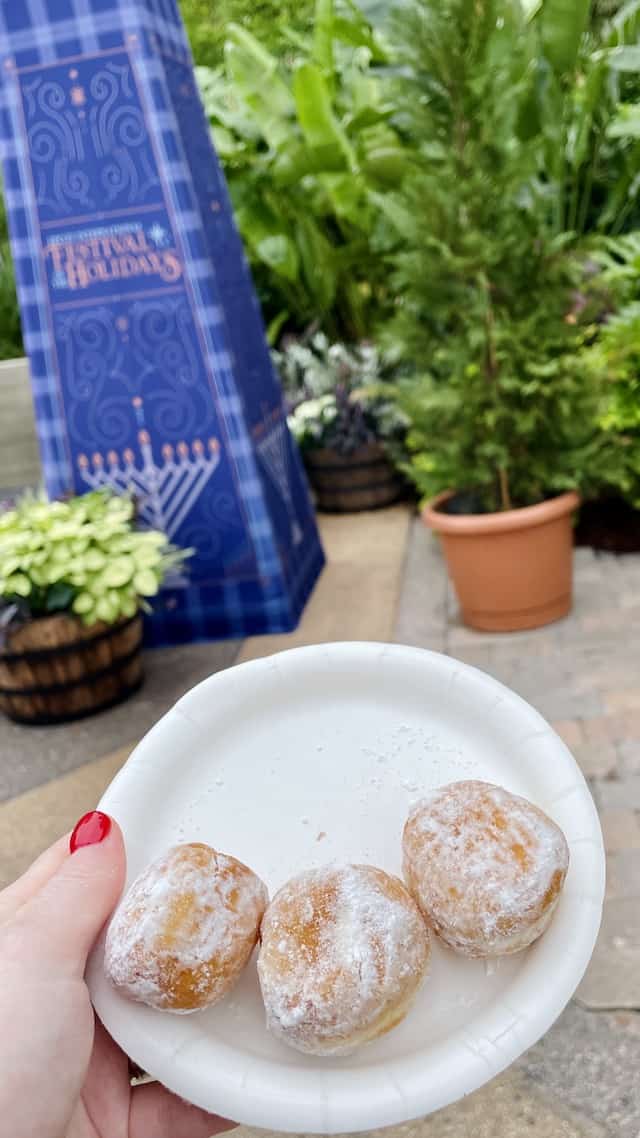 These mini jelly-filled donuts are another dish that require oil for cooking. I already knew going into this that these would be pretty standard jelly donuts. What I was not prepared for was the amount (of lack thereof) of jelly inside the donuts.
There was a tiny little taste! I took two bites of each donut. The first bite had a little taste of jelly, and the second bite in all three donuts had no jelly. There was also powdered sugar instead of icing like Disney advertised.
These are really just plain miniature donuts. I would not recommend you spend your money on them unless you have a picky eater who enjoys plain fried dough.
The lack of offerings along with the bland Sufganiyot are why I did not care for the L'Chaim Holiday Kitchen.
What do you think of the L'Chaim holiday kitchen? Let us know in the comments below and on Facebook.