Did someone say DOLE Whip flights? If you love DOLE Whip, you need Swirls on the Water in your life.
Disney Springs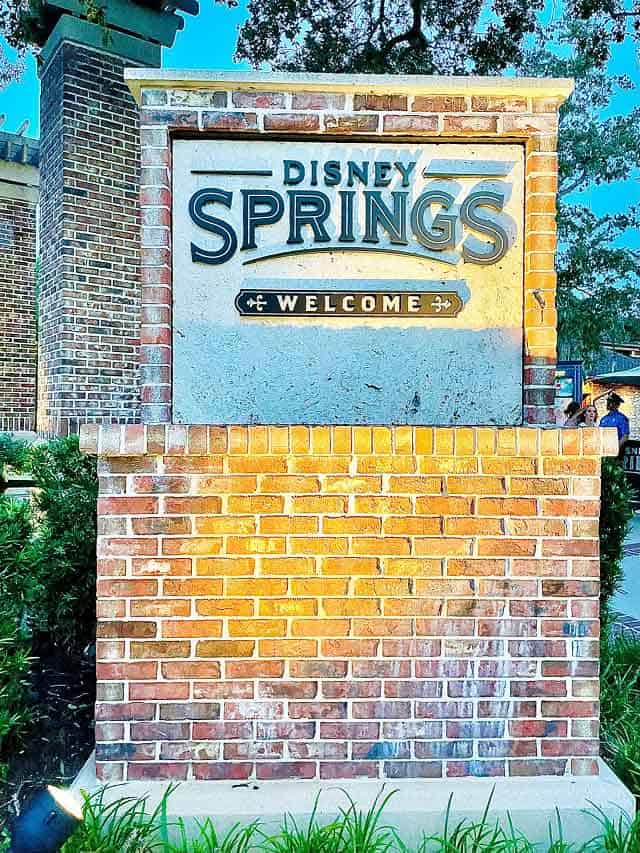 Lately, I (Katie) have been spending more and more time in Disney Springs. While my heart primarily lies in the parks and the Disney Resort Hotels, I have found there is plenty to enjoy in Disney Springs as well, especially for those who love to eat.
While I admit that many of my recent jaunts to Disney Springs were AP magnet motivated, those magnet runs had the unintended positive consequences of some delicious discoveries. As it turns out, there are some great options in Disney Springs awaiting those who want good food. From full table service meals to quick service and grab-n-go options to desserts to drinks, there is something for everyone to enjoy.
Plus, Disney Springs is only a bus ride away from the parks and the resort hotels. It is even more convenient if you are staying at one of the Port Orleans French Quarter and Port Orlean's Riverside Hotels because you can take a boat straight there. Better still, you can boat or walk from Saratoga Springs depending on where you are staying at the resort.
Swirls on the Water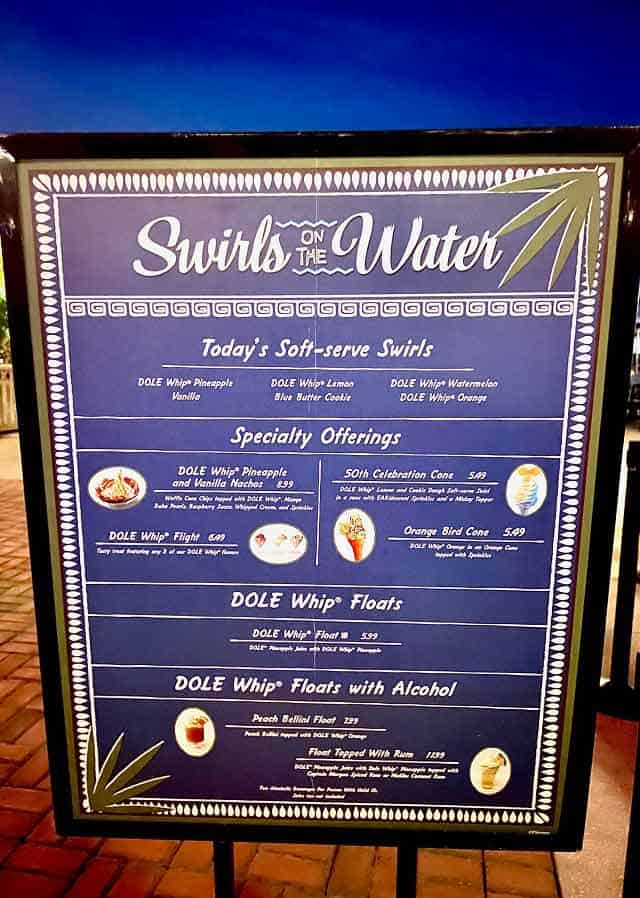 Not too long ago, Walt Disney World made some changes to where it would be selling popular dessert items like Bubble Waffles and DOLE Whip in Disney Springs. One such change was that Swirls on the Water replaced what once was Aristocrepes in Disney Springs.
Don't worry. You can still find the ever-popular Bubble Waffles in their full glory over at Marketplace Snacks. But, you are going to have some tough choices to make in terms of what to have for dessert now that Swirls in the Water has been thrown into the Disney Springs mix. All of them are great alternatives for when the lines are too long at Gideon's Bakehouse.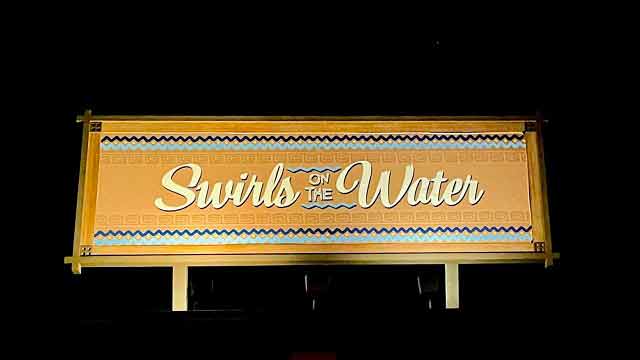 Swirls on the Water is relatively easy to find. It is located right on the water on the boardwalk at Disney Springs Marketplace.
The line looked long when I visited. However, it moved very quickly even with just one register. So, do not let a seemingly long line stop you from stopping.
The Menu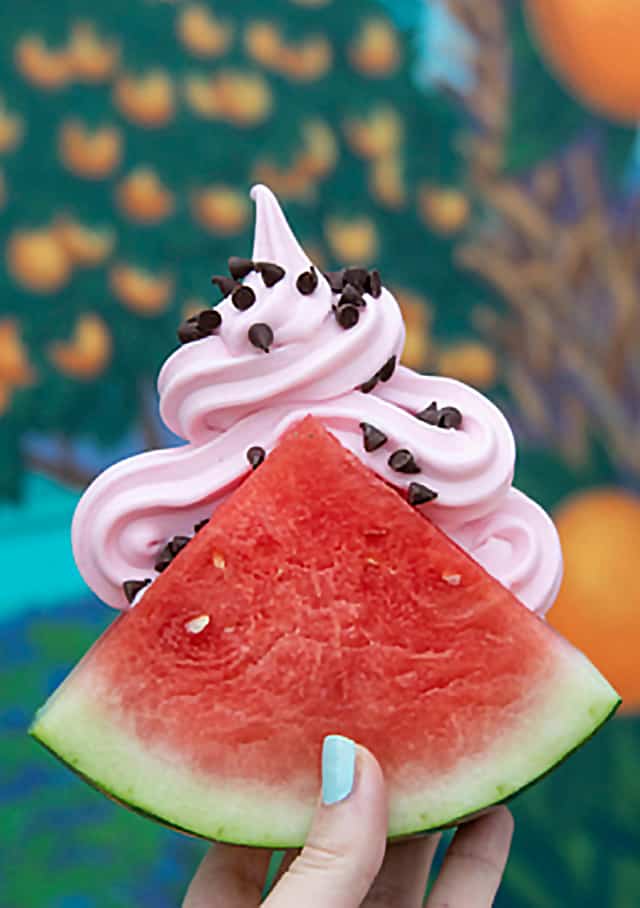 In addition to classic DOLE Whip and DOLE Whip floats, the new location serves up a variety of specialty DOLE Whips. These include unique flavors, DOLE whip nachos, and DOLE Whip flights. It even has a DOLE Whip watermelon taco for a limited time only.
My friends and I tried to sample them all for you so that you will know what to put your hard-earned Disney dollars towards. However, many of the items were sold out on the day we visited. This is typical in the restaurant business lately it seems thanks to supply issues and high demand for deliciousness. As a result, we were unable to sample the DOLE Whip Nachos or the Watermelon Taco for you.
DOLE Whip Flight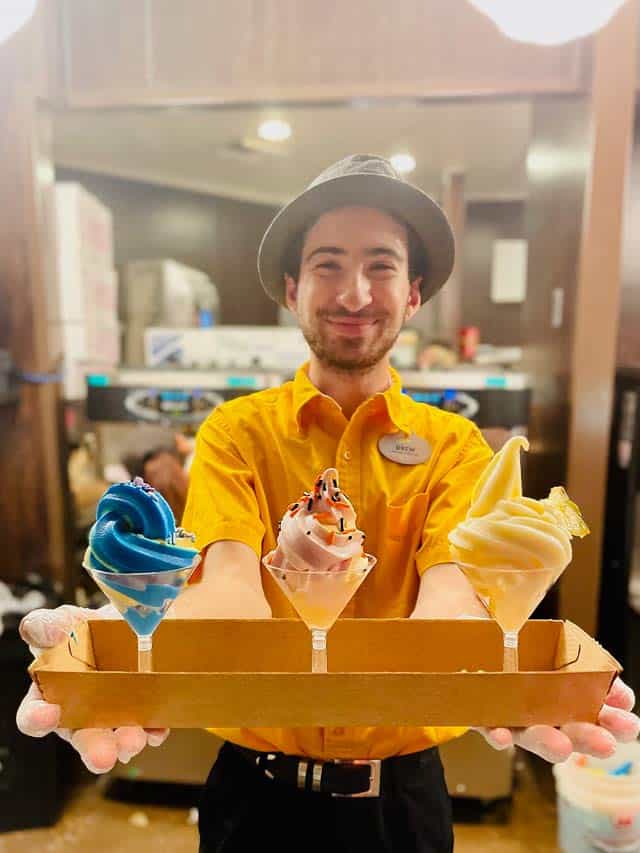 However, the DOLE Whip flights were plentiful that evening. Typically, the DOLE Whip flight includes a dish of each of the three daily swirls specials. The specials do change periodically. On the day of this particular visit, the offerings were: classic DOLE Whip Pineapple and Vanilla Swirl, DOLE Whip Orange and Watermellon Swirl, and DOLE Whip Lemon and Blue Cookie Dough Swirl. They look absolutely lovely in their dishes, don't they?
I was so excited to try the flight that I ordered it as it comes and did not try customizing it to see if I could get just one flavor or another in the dishes, but it never hurts to ask. However, you can order a regular serving of any single flavor or available swirl combination as a stand-alone treat.
How Did it Taste?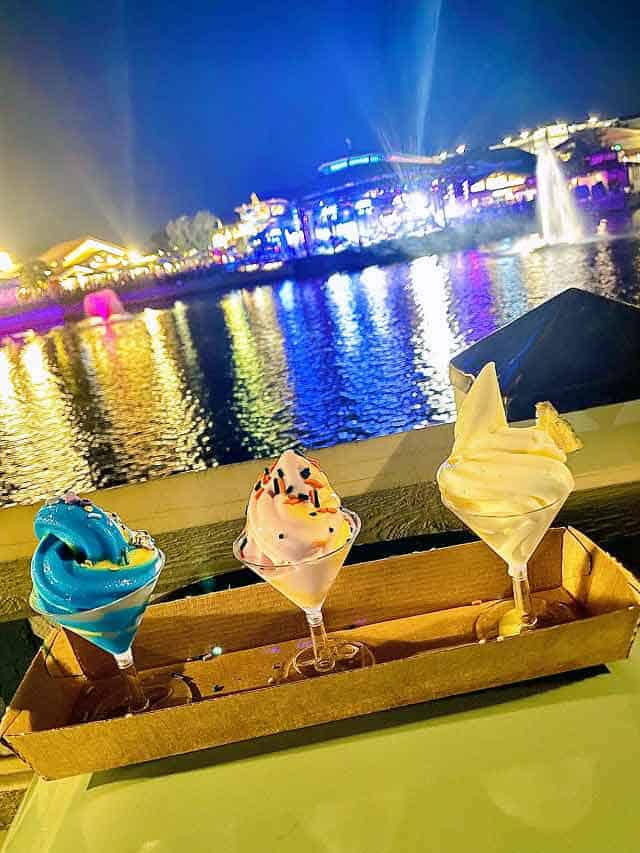 Sure the flight was beautiful. But did it taste as good as it looks? The verdict? I enjoyed the DOLE Whip flight very much. However, I will say that I preferred some flavors to others.
Of course, I loved the Pineapple and Vanilla Swirl. It was delicious as always, and the little slice of pineapple it was served with was a welcomed addition. Overall, the Pineapple and Vanilla Swirl was actually my favorite part of the flight! I guess it is hard to beat a classic.
I also really liked the orange part of the Watermelon and Orange Swirl. However, I was not particularly fond of the watermelon flavor. It did not translate as well into a frozen treat as citrus and raspberry do. Maybe the watermelon machine was having an off day.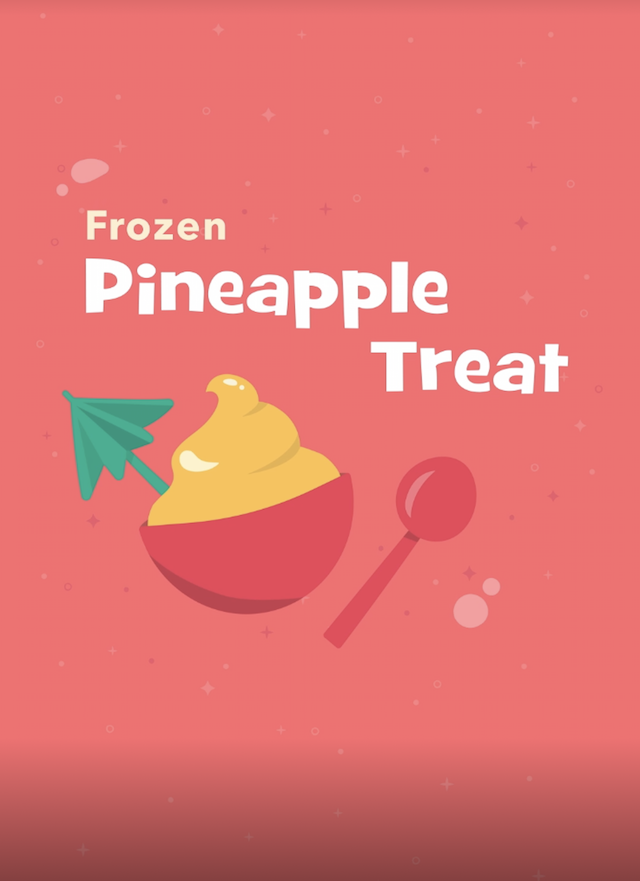 I loved the lemon part of the Lemon and Blue Cookie Dough Swirl. Honestly, I could eat an entire dish of DOLE Whip Lemon and might do so in the future. I was less keen on the Blue Cookie Dough. Honestly, this could be an implicit bias on my part. I have a child who cannot have blue dye, so sometimes I find foods heavy with blue coloring offputting and avoid them as a result.
However, once I could get past the blue-ness of the blue DOLE Whip, I did find that it was very nice in flavor, and I preferred it to the Watermelon. The combination of the lemon and blue cookie dough reminded me of lemon sugar cookies.
The Best Part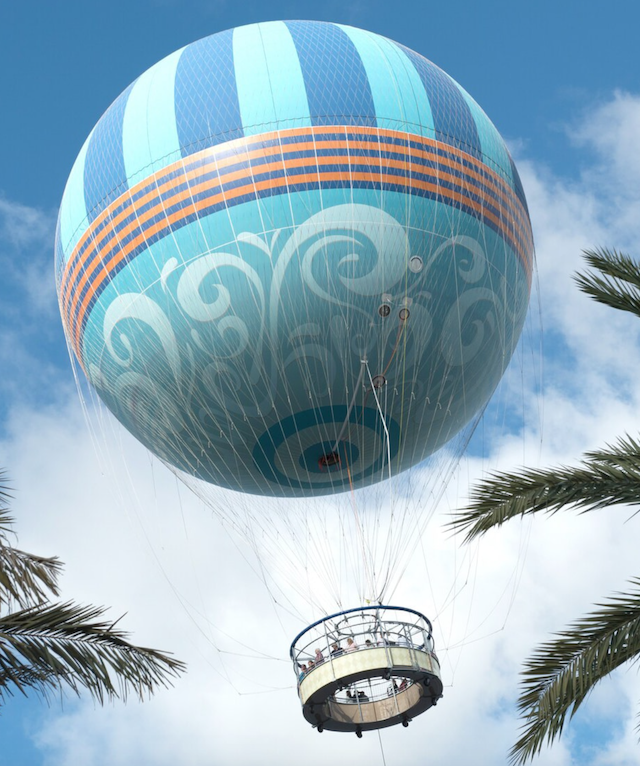 The best part about the DOLE Whip flight is that for just $6.75 I got to try out all 6 flavors in isolation and in combination and learn my favorites. I would highly encourage anyone who is not sure what to order to try the flight. If nothing else, it will help you determine what to get the next time you are confronted with too many DOLE whip choices (ah, what a glorious problem to have).
Have you had a chance to visit Swirls on the Water in Disney Springs and try the DOLE Whip Flight or one of the other treats? Is it on your wish list or in your future plans? Please, let us know in the comments below or on our Facebook page. Or, you can keep the conversation going and share them with us in our crew, too!