Disney Imagineers constantly look for technological advances. Now, see what it takes to bring projection mapping to Disney shows.
Early Days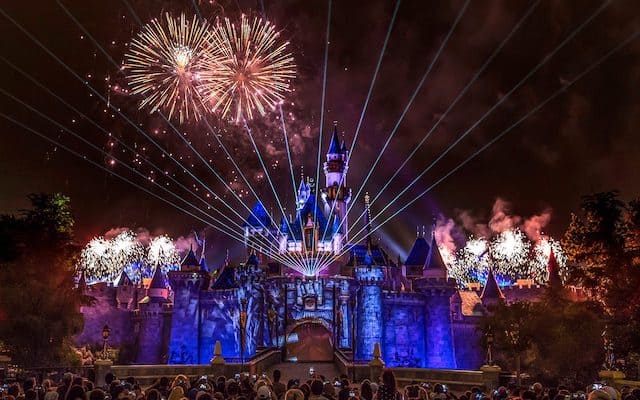 Disney's projections are the result of several years of Disney technology development. In fact, the first Main Street projection was at Disneyland Resort in 2015 as part of Disneyland Forever, the show created for their 60th Diamond Celebration.
Building on those early beginnings, the Walt Disney World Resort team used cutting-edge projection mapping software. Plus, they installed brand-new video servers and large, top-of-the-line laser projectors. 
Using Projection Mapping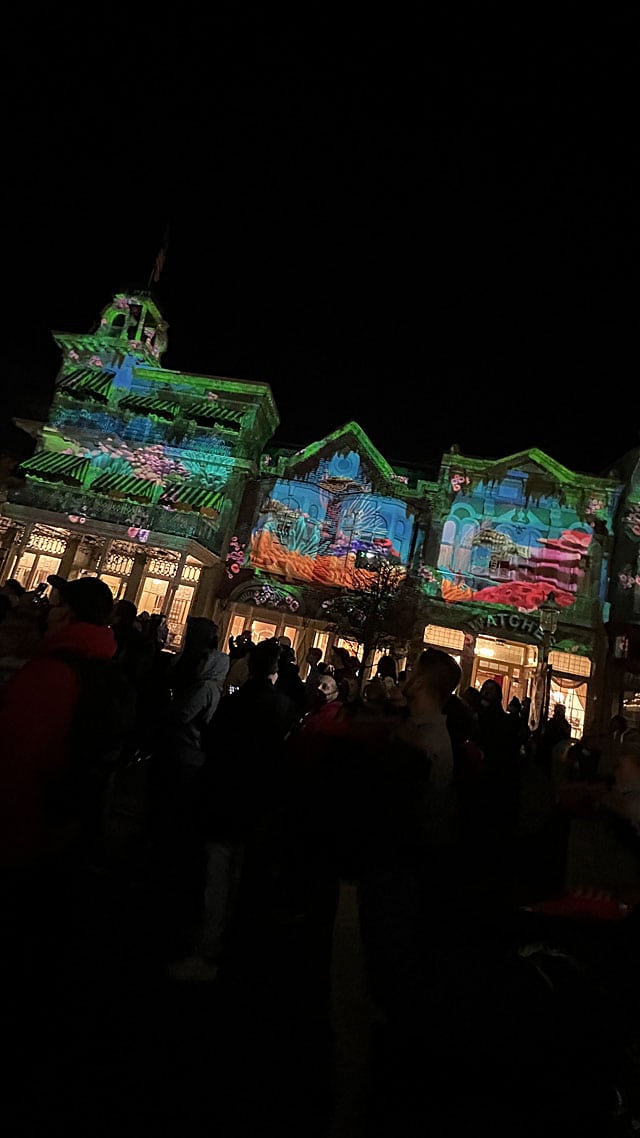 Disney first used projection mapping with the "The Magic, The Memories and You" nighttime show. Released in 2010, this show used guest pictures along with different colors creating a dazzling display on Cinderella Castle inside Disney's Magic Kingdom. Disney continued improving the projection mapping technology. Then, in 2012, Disney developed a new show, "Celebrate the Magic" that utilized this technology too.
Used Around the World
Today, Disney uses projection mapping at its theme parks around the world. At Disney World, seasonally you'll see these projections on the "Jingle Bell: Jingle BAM! show. Previously, also at Disney's Hollywood Studios, these wonderful projections were used with the "Star Wars: A Galactic Spectacular" nighttime show. I (Susan) sure wish they would bring back the Star Wars show! Show Director James Silson shares that projections were part of the amazing storytelling process in "Happily Ever After."
"With projection mapping technology, you can create an immersive environment for guests, taking them inside the films of Disney," he said. "It enables us to flood the palate and give our guests an opportunity to experience many of our characters' worlds in the same show."
New Nighttime Displays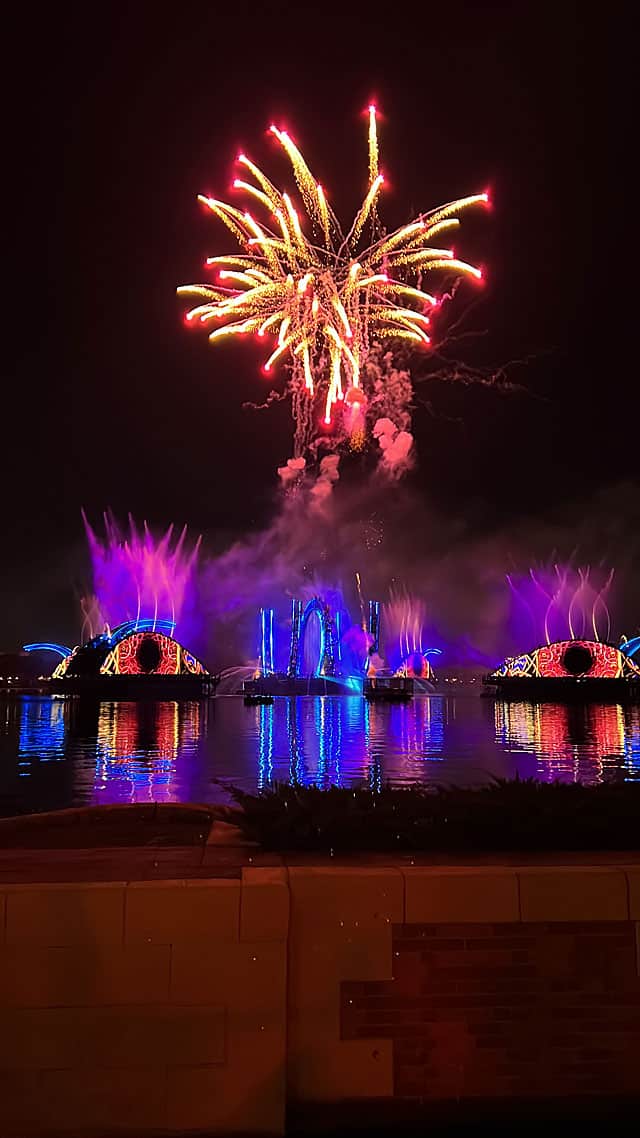 Back in October, Walt Disney World truly set the stage for "The World's Most Magical Celebration." Mickey and Minnie Mouse are now greeting Guests in their new outfits and illuminated displays can be enjoyed in all 4 Theme Park icons including Cinderella Castle, the Tree of Life, Spaceship Earth, and the Hollywood Tower Hotel.
This was also complete with 2 BRAND NEW nighttime displays with Harmonious in EPCOT and Disney's Enchantment in the Magic Kingdom.
Enchantment Show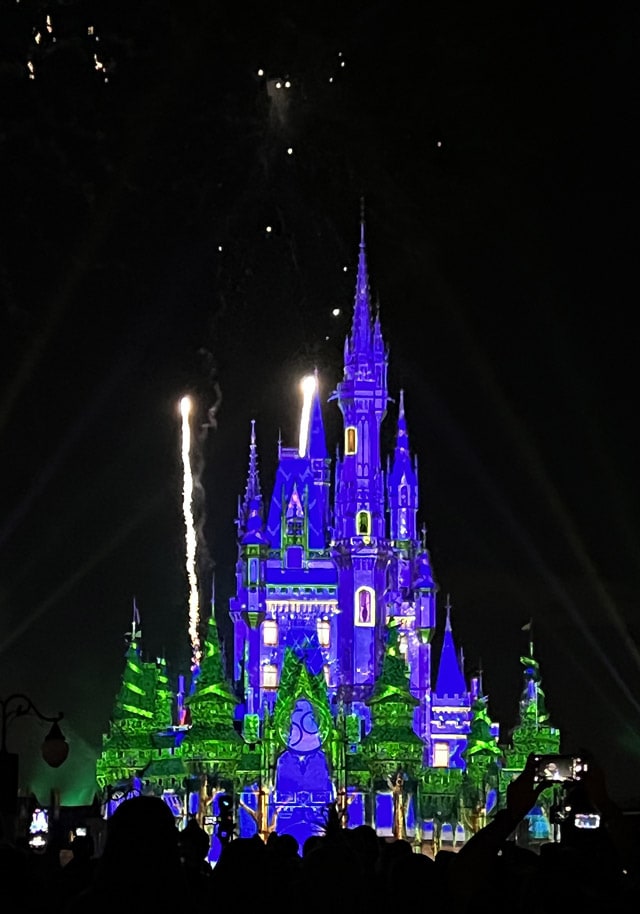 Disney Enchantment nighttime spectacular is a feast for the senses with new fireworks, dazzling new lighting, favorite Characters, and a moving music score that includes a new song by Grammy award-winning songwriter, Philip Lawrence. State-of-the-art technology and projections extend from Cinderella Castle right down Main Street, U.S.A.
Disney Parks Blog shares, "In 'Disney Enchantment', you're inspired to believe in magic, with captivating Disney music, enhanced lighting, and immersive projection effects that extend- for the first time- from Cinderella Castle down Main Street, USA."
Bringing Projection Mapping to Main Street, USA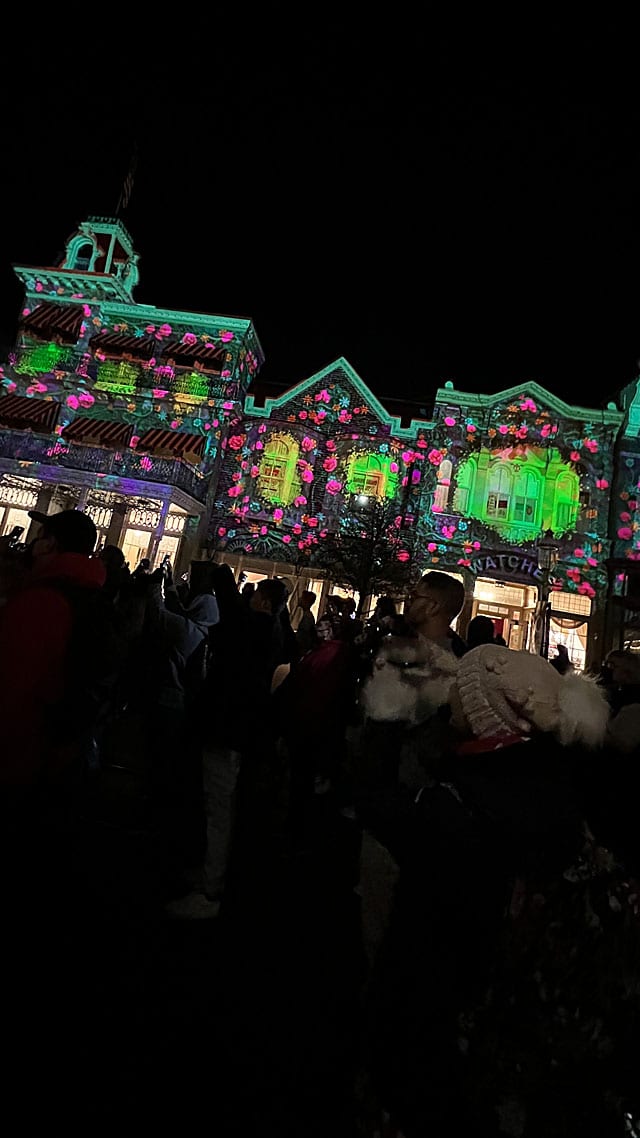 The process to develop the projection mapping of Main Street, U.S.A. was very involved. First, Disney took scans of the buildings. These scans created a cloud data to create a digital model for the entire street. Then, all four blocks of the street were UV-mapped so that flat video content can be wrapped around each three-dimensional structure.
Everything was tested extensively in the field. Disney did this overnight when the Park was empty to ensure it aligned correctly. This immersive Projection Mapping bring all the lights, music, and motion to life as it dances across buildings and right down Main Street, USA.
Why I Love Projection Mapping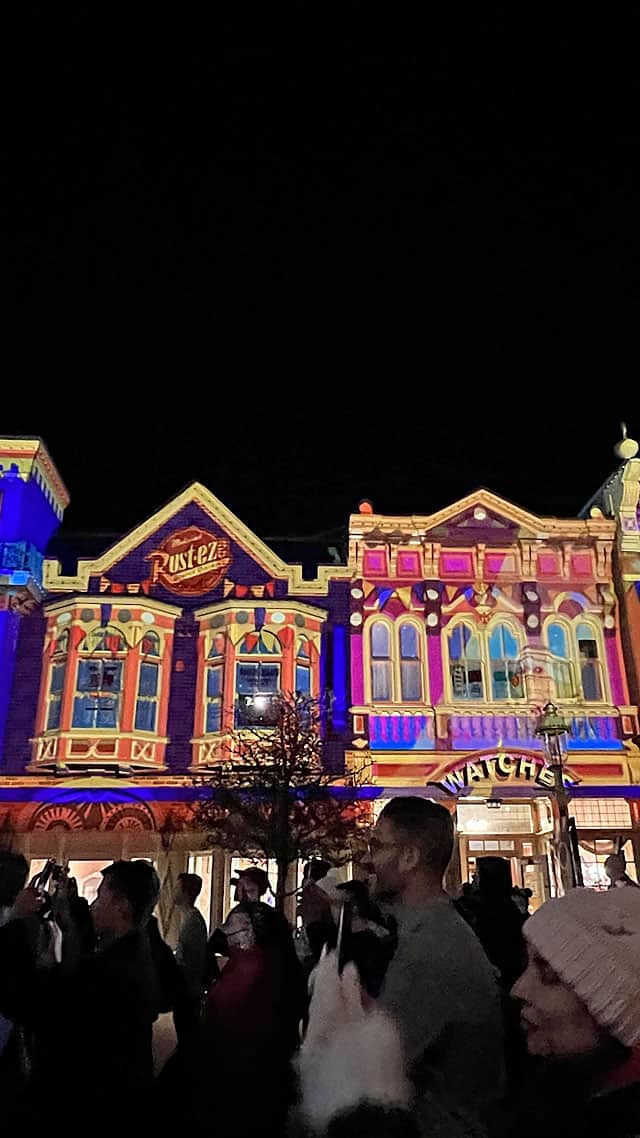 Many Disney Guests are divided on their love of the Magic Kingdom Enchantment firework show, but it appears that this show will be with us for quite some time. Take a look at my favorite part of this display, and why I (Susan) love it so much. The first time I viewed Enchantment, we stood near Casey's Corner to take in the fireworks and Cinderella Castle projections.
Although I enjoyed Enchantment, it left me wanting more, and I had no view of Main Street. However, on my next visit, I watched them from a different vantage point, right in the middle of Main Street. It was then that this show came alive. I was mesmerized by the not only the flowing projection lights but also by the ever changing Disney scenes and characters changing with the show's music.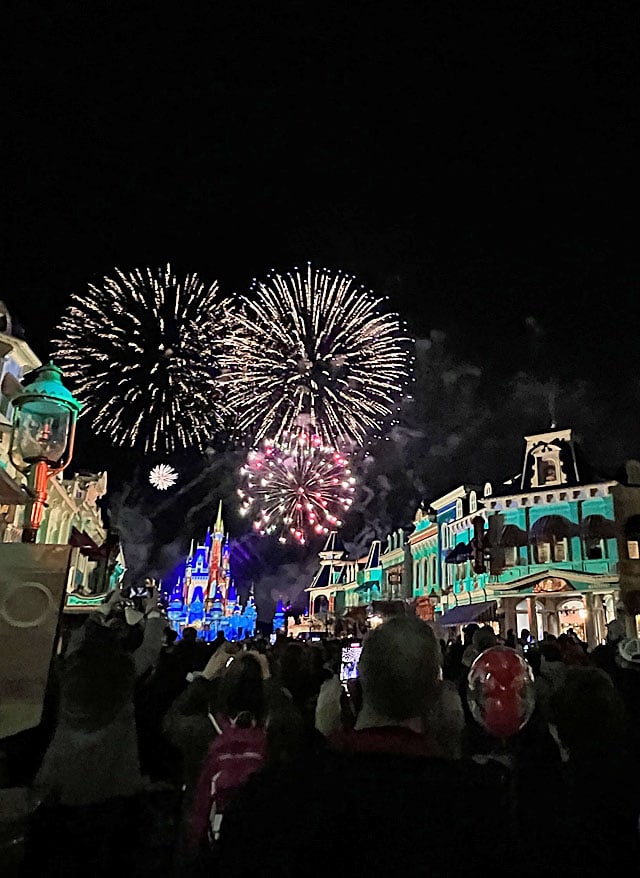 It was such an amazing experience feeling like I was in the middle of everything that was happening during the projection mapping on Main Street USA. Something I didn't expect to happen watching Enchantment farther away is taking in the fabulous perimeter fireworks! Not only that, but I still had a great view of the Cinderella Castle projections. I'm so excited to see how Disney will incorporate it with its ever changing technology!
What's Next?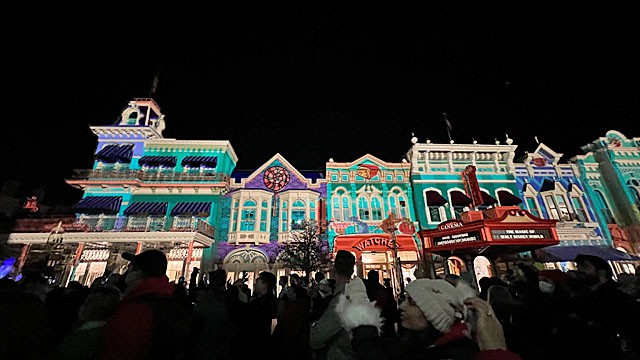 In December 2021, the Walt Disney Company was granted a patent by the U.S. Patent and Trademark Office for a Virtual World Simulator. According to the patent, one or more users can experience this virtual-world simulated by conforming virtual effects to the 3-dimensional real-world venues from the vantage point of each user.
This gives users a significant improvement over the most recent virtual-world simulations. Not only that, but guests can experience this without use of glasses, goggles or digital devices. This sounds so cool! Combining this new Virtual World Simulator adds to the amazing experience of projection mapping sounds so amazing!
Virtual Experiences or Physical Rides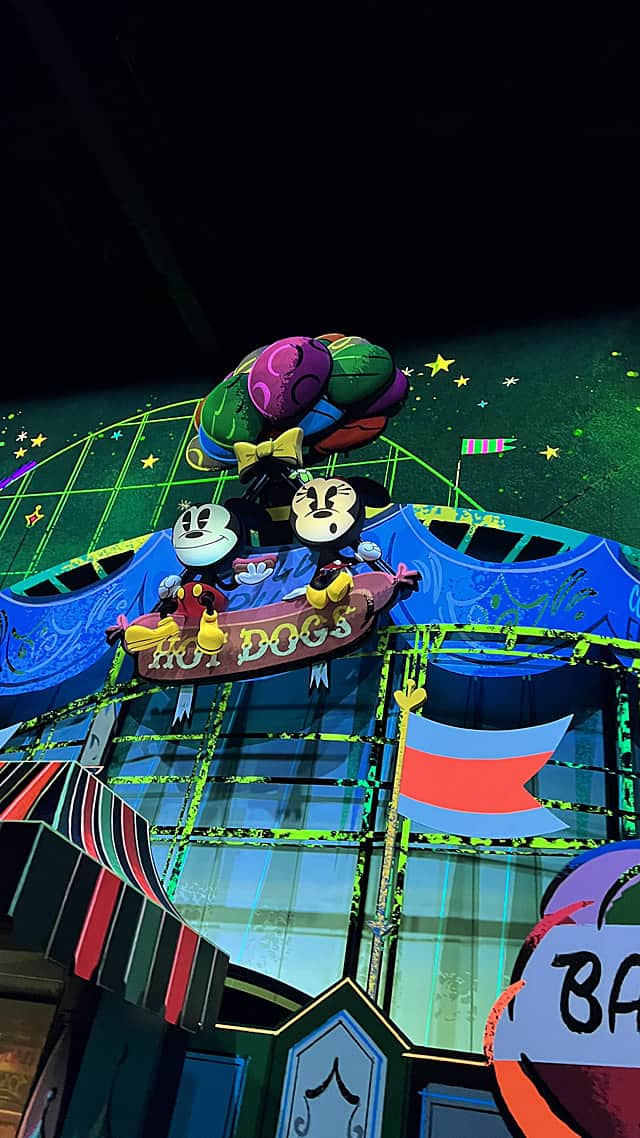 Here's where I struggle to find the balance. While entertainment decreases at Disney theme parks, virtual experiences increase. Just look at Mickey's and Minnie's Runaway Railway. It features a new technology called 2 and 1/2D, which is 3D without the glasses. This special technology will give depth to 2D environments.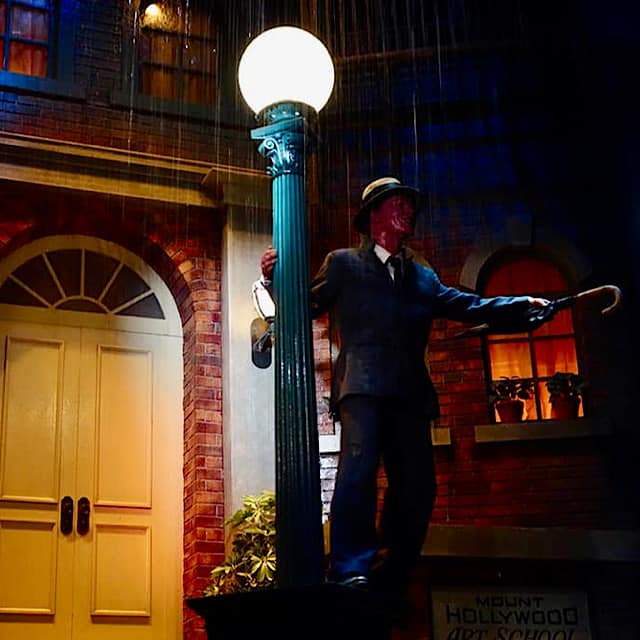 While I love this technology, I also miss the Disney cast members interacting with guests on the Great Movie Ride. Check out Donna's recent post on which is the better attraction HERE. Do you prefer virtual experiences or are do you prefer physical attractions and shows with live entertainers?
What do you think of the Main Street USA projection mapping? Do you like to end an evening in the Magic Kingdom with fireworks? Please share your thoughts with us on our Facebook Page.