If you have kids you may wonder whether a dessert party is worth the steep cost. Here is an honest analysis.
Disney's Enchantment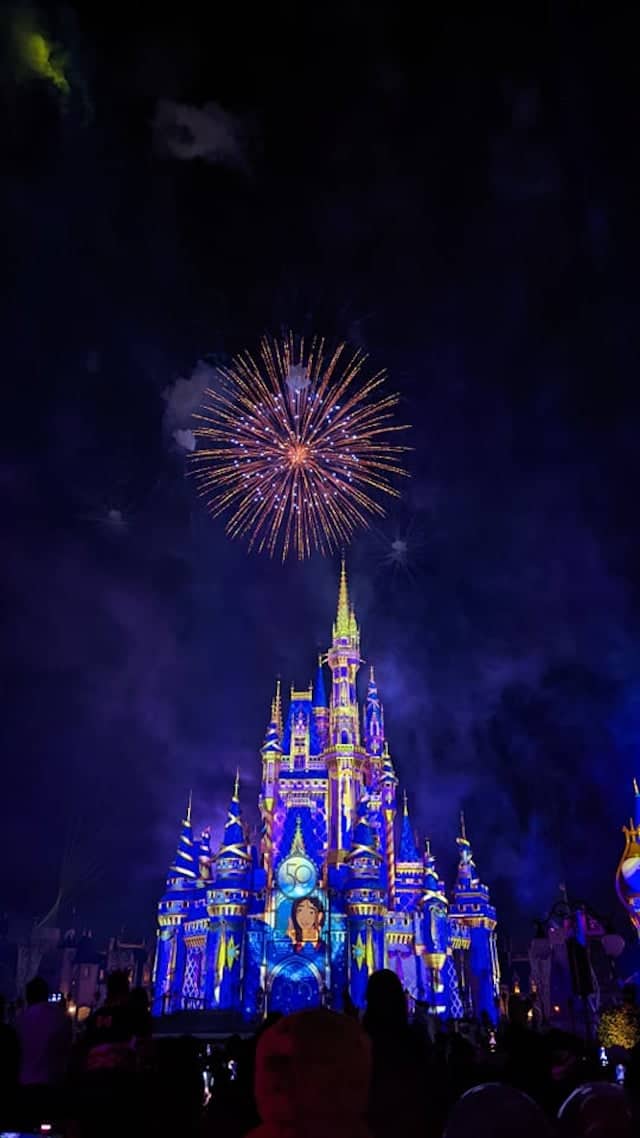 It is the end of an era at Walt Disney World. Disney has retired its nighttime spectacular and fan favorite Happily Ever After. Replacing it is Disney's Enchantment. The new show debuted on October 1, 2021 as the theme park celebrated its 50th Anniversary.
New Show, New Dessert Parties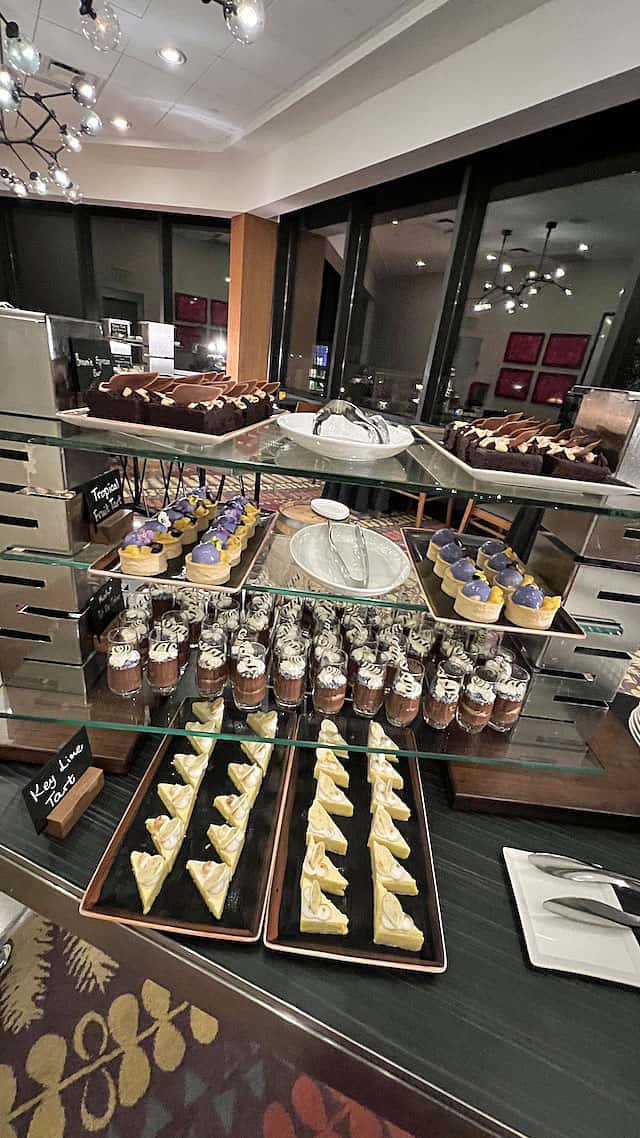 Of course with the introduction of the show came the introduction of new dessert parties. Now, there are several choices. Here is a quick breakdown of the parties so that you can note the differences.
Celebration at the Top: 50th Flavors & Fireworks at Disney's Contemporary Resort is a chance for guests to enjoy the show from a vantage point high up in the Contemporary Resort. It includes a cocktail party with fine food, simmering sips and beautiful music. This party costs $129 per person plus tax and gratuity. For a full review, head over here.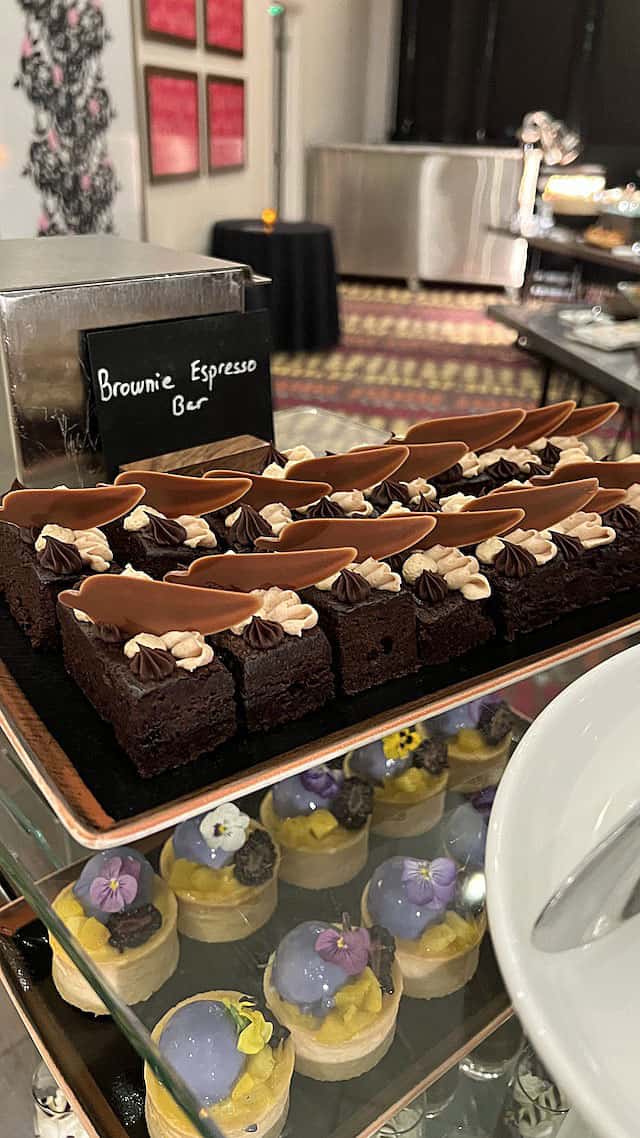 The remaining parties are a series of Tomorrowland Terrace parties. They all offer the same dessert and beverage options. But, there are some subtle differences.
You can enjoy the Disney Enchantment Treats & Seats party. This one takes place at Tomorrowland Terrace, and guests have seating in the Terrace for the duration of the party and the show. It costs $114 per adult and $69 per child.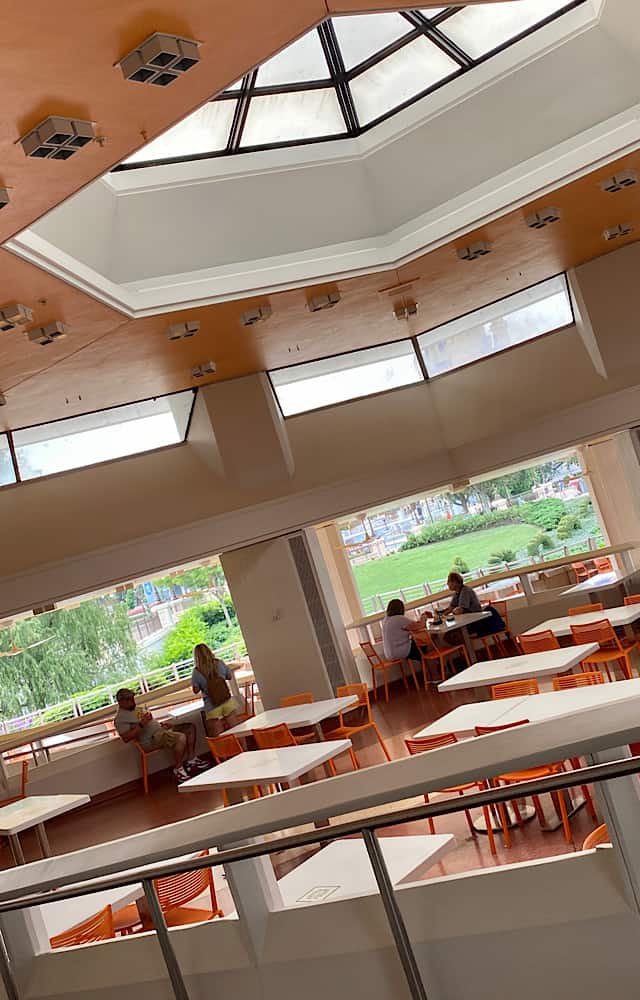 The Disney Enchantment After-Party also takes place in Tomorrowland Terrace. It happens after the fireworks. For this one guests are escorted to a reserved space in the Plaza Garden watch. The space is shared with pre-party guests. It costs $99 per adult and $59 per child. For a full review, see Maggie's post HERE.
The Disney Enchantment Pre-Party takes place in Tomorrowland Terrace as well. It happens prior to the fireworks. However, for this one guests are escorted to a reserved space in the Plaza Garden to watch. The space is shared with After Party guests. It costs $99 per adult and $59 per child. This one is the subject of this review.
Disney Enchantment Pre-Party with Kids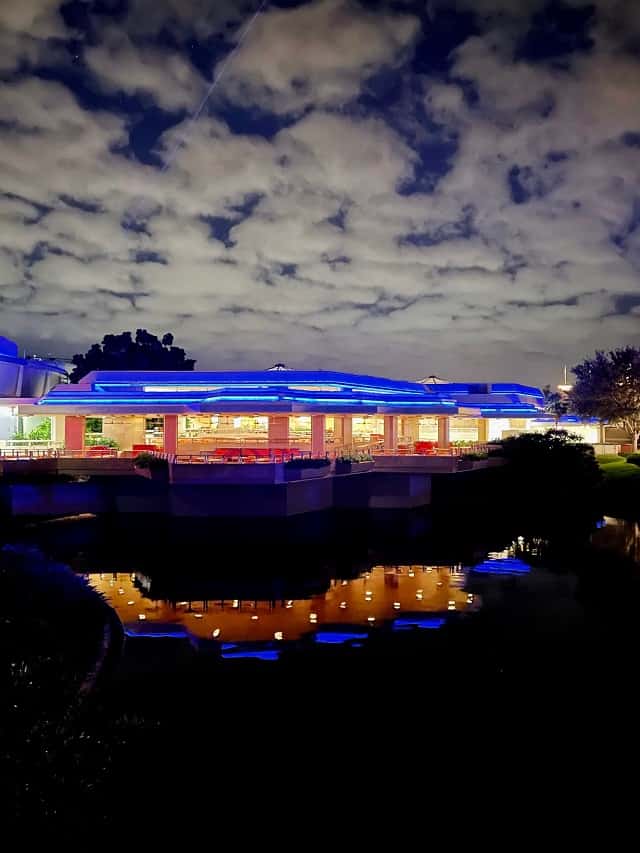 The Pre-Party is a way to experience Disney's new fireworks spectacular from a reserved location. The main appeal of this for me (KatieP) and my family is the idea that we would have a reserved standing area and would not be shoulder to shoulder with other guests.
However, the price tag is steep! For a family of 4 with two adults and two children, the cost was $316 plus tax. For us, that is a lot of money.
However, the trip was a Christmas gift for our children and their first visit since the parks closed for the pandemic. Since a dessert party is an experience I have been wanting to try for a while, and I am a creature of FOMO, we went for the splurge.
Was it worth the splurge? Parts of it were! Parts of it were not.
Selecting a Party: Pre, Post, or Seats?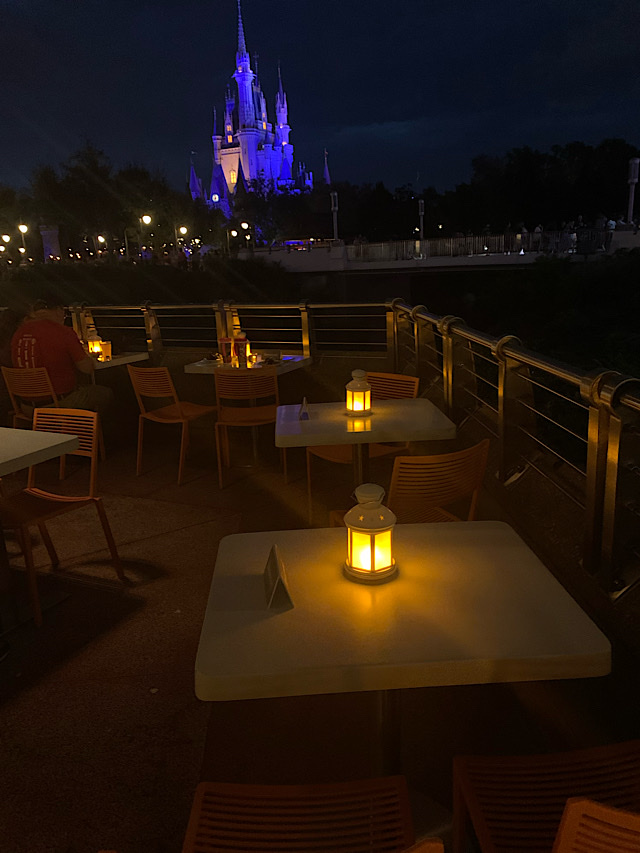 For us, selecting which party to attend was easy! While I have seen Enchantment several times, no one else in my family has seen it. Therefore, we ruled out Seats and Treats since the view is from the side rather than straight on. I would recommend making this same choice if the projections are important to you or if you have any other first-time viewers.
When it came down to deciding between the pre or post party, this was also a relatively easy choice for us. We love experiencing the parks after the fireworks. And, since we were there during peak season, the park was open for several additional hours after the show! We did not want to spend that park time at a dessert buffet.
So, we quickly determined that the pre-party was the way to go for our particular group. It let us enjoy a sweet treat before the show, watch the show, and enjoy several precious hours of park time afterwards with lower crowds since many people headed out after the show.
Check-in Tips!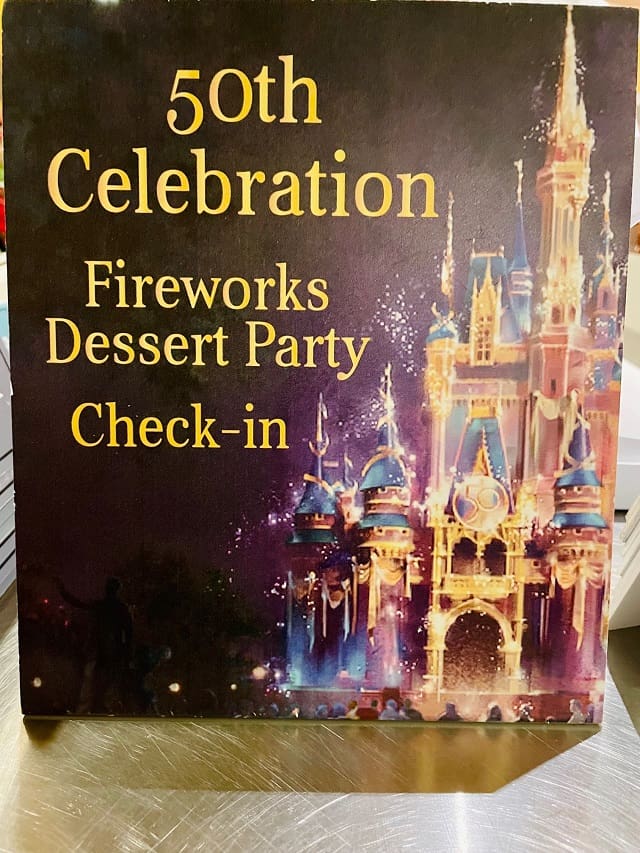 Check in was a breeze. While the party details stated that the party began at 6:30 and check-in at 6:00, we arrived a bit sooner. Cast members greeted us and gave us our paper bracelets for the evening. We noticed there were already several parties seated who had the same idea to arrive early.
The cast members were a delight! They parked our stroller for us so that we could begin the party. Our guide showed us around the party, noting important things like where to get food, drink, and visit the restroom. He then showed us to our table.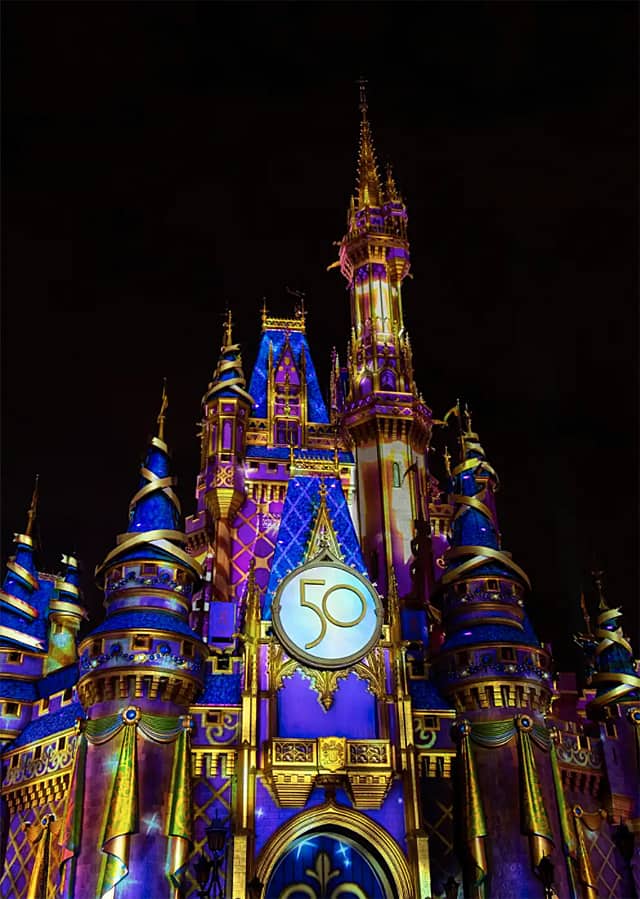 We were lucky because he found us a table where we could see the castle so we could enjoy Beacons of Light. He was so lively and enthusiastic and magical. My kids gave him a special little present as a thank you for the positivity, and we sent a cast compliment.
Checking in early allowed us to enjoy our treats with no lines for food or beverage stations. It also allowed us to walk to the Plaza Garden sooner to have a larger selection of space to watch the show before the after party guests began checking in at 7:00.
Pirate Tip: If you do the Pre-Party, check in early!
You might be happy to know that the venue also has its own set of restrooms. So, be sure to encourage little ones to visit them before you walk down to find your spots.
The Treats!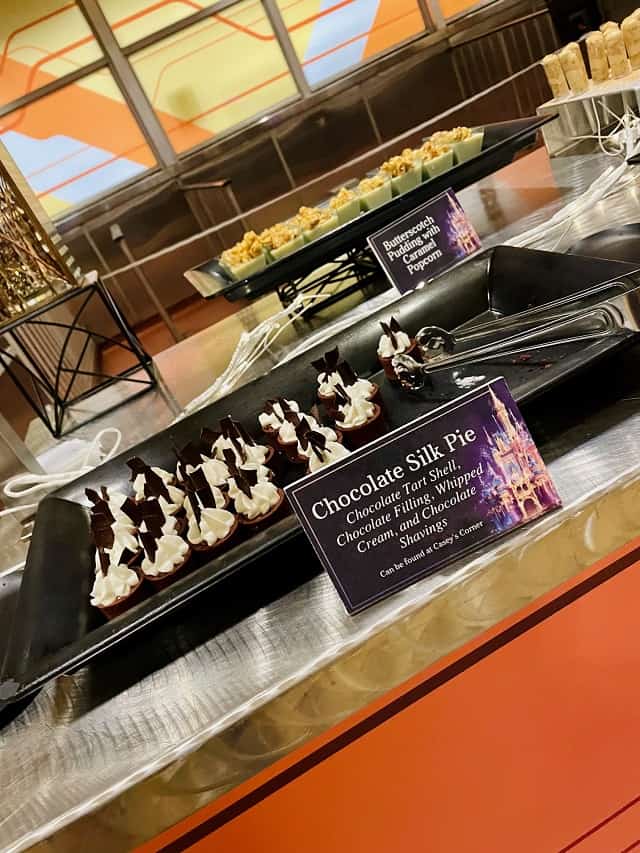 The party included desserts, cheese and crackers, and both alcoholic and non alcoholic drinks. Now, let's get your burning question attended to first: Is there enough to make a meal off of?
My answer: No, definitely not. While there are plenty of treats, most of them are very sugary. There is not really anything substantial enough for a dinner.
We knew this coming in, so we, being the mid day break takers that we are, grabbed an early quick-service dinner from Artist's Palate at our resort: Saratoga Springs. That kept us full but left enough room for dessert.
At our particular party, the snacks included:
50th Anniversary themed Chocolate-Covered Strawberries
Tres Leche (Coconut Cake soaked in Four Milks)
Devil's Chocolate Pudding (Chocolate Filing, Crumble Brownie, Crunchy red balls)
Butterscotch Pudding with Caramel Popcorn
Firehouse Doughnuts (Ricotta Doughnuts rolled in Cinnamon Sugar served with a Strawberry topping)
Chilling Chamber Pop (Vanilla Crumbs, Caramel Buttercream, and Graham Cracker Crumbs)
Chocolate Silk Pie (Chocolate Tart Shell, Chocolate Filling, Whipped Cream, and Chocolate Shavings)
Assorted Cheese & Crackers
Fruit: thinly sliced, primarily watermelon & cantaloupe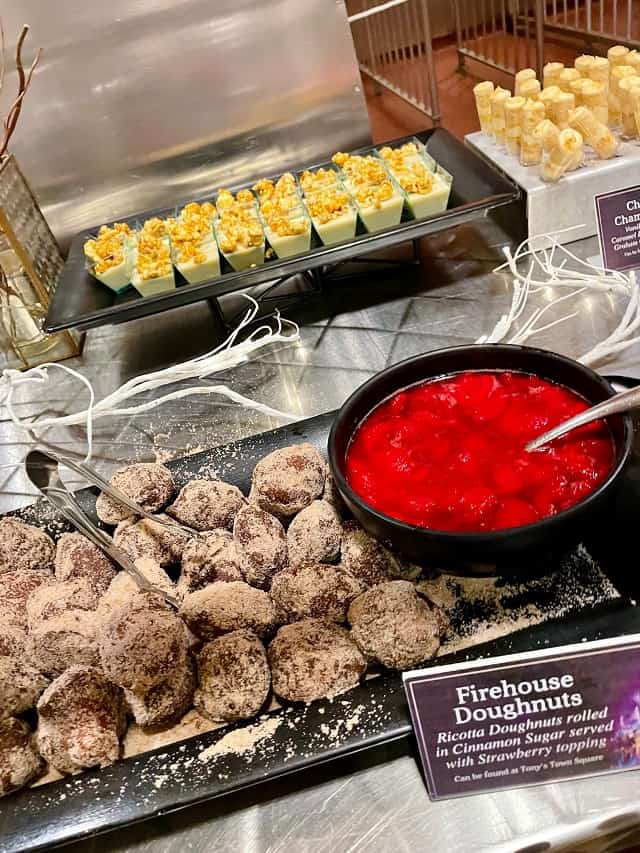 Pirate Tip: Come ready to eat dessert, but do not expect a spread fit for a meal.
Parties earlier in the year also had Oreo cheesecake cups available, but this was not at our party. For reference, ours was late December 2021. Disney's site does explain that selection is subject to change, so it is not unusual to see variance.
The Beverages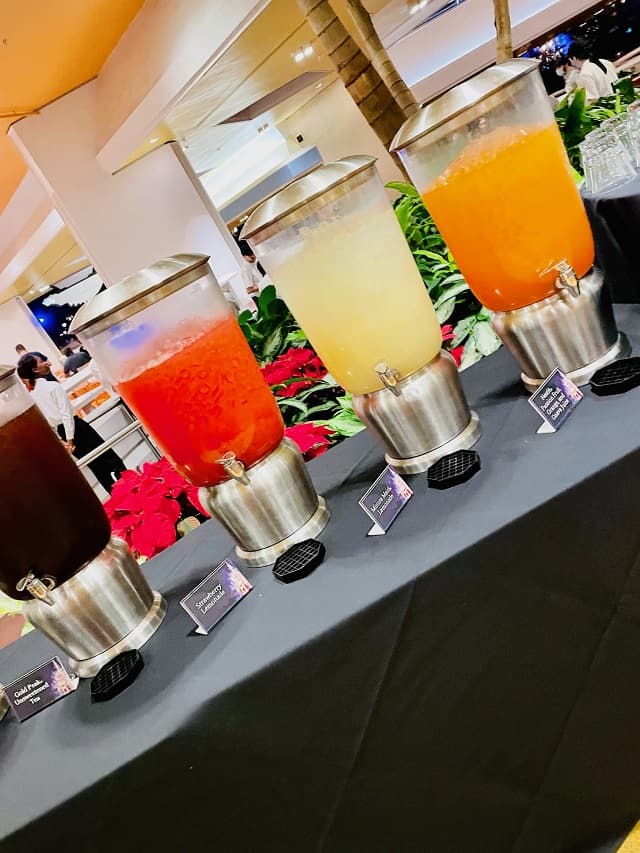 There were plenty of drink choices available. Non-alcoholic drinks included water, lemonade, strawberry lemonade, tea, and POG juice. I was most excited for the POG juice.
Hot beverages included hot chocolate, coffee, and tea. There were also a variety of things such as lemon, cream, and sugar to dress it up.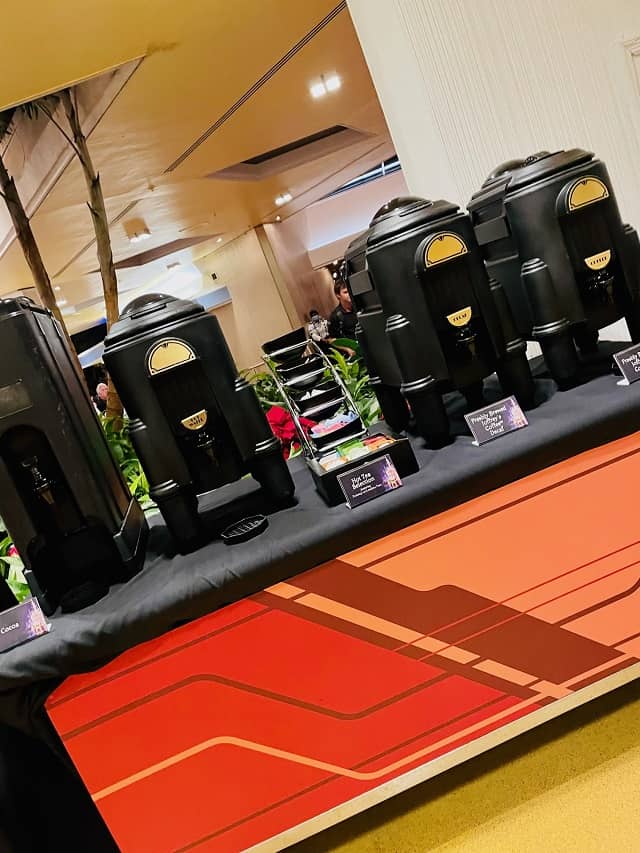 There was also a table full of sparkling apple cider in champagne flutes. This was nonalcoholic and fun for everyone. Additionally, there were several alcoholic beverage options. This included red, white, and sparkling wine options. Beer was also available.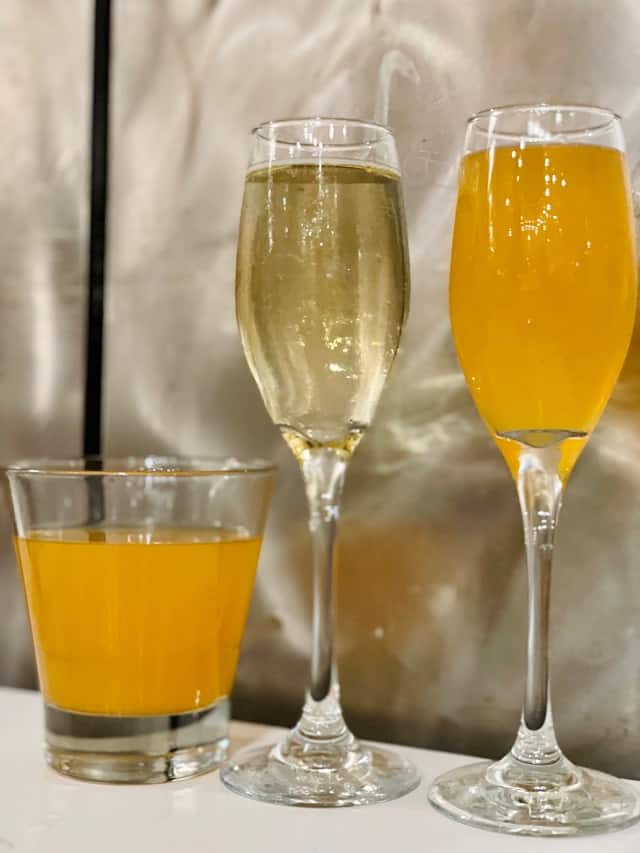 I do not normally order anything alcoholic on Disney vacations. However, I did ask for some bubbly to mix with some POG, and enjoyed the resulting glass of sparkling POG.
Were the Desserts Worth it?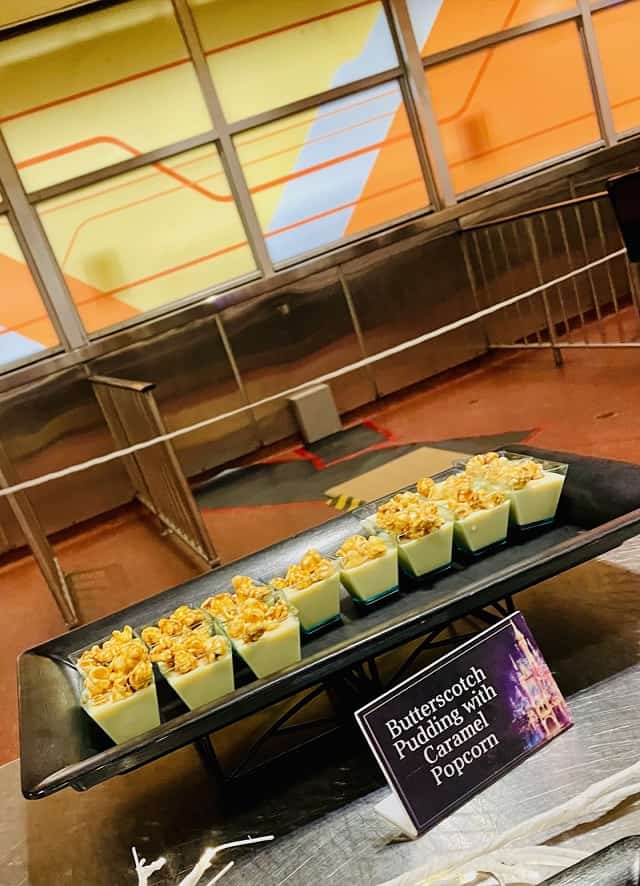 If you are curious whether the food was enough to justify the price point, my verdict is, honestly, no. The desserts were not particularly worth it for us, but you may get more mileage out of them.
My family loved the chocolate covered strawberries the best, and these were our littlest traveler's favorite. My husband and son liked the chocolate pudding. I liked the POG juice.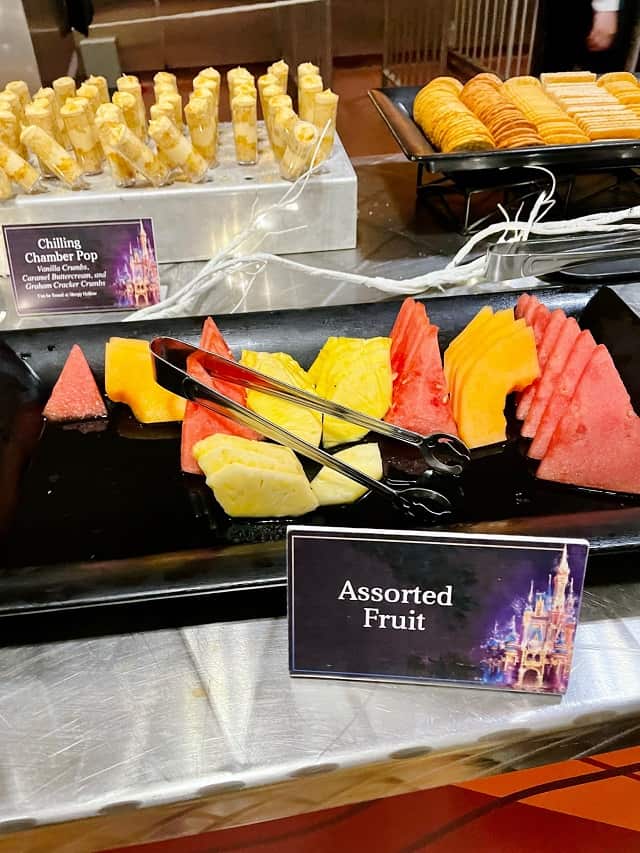 I really found most of the desserts a bit overly sweet and in keeping with something that would be found on a buffet at a pre-pandemic character meal. I also would have liked to see some more savory options like those at the previous Happily Ever After dessert party. Finally, it would have been nice to see some Mickey shaped treats to round out the selection a bit.
I did taste everything, but I only finished the strawberry and the butterscotch pudding. Here is a picture of my plate with one of everything.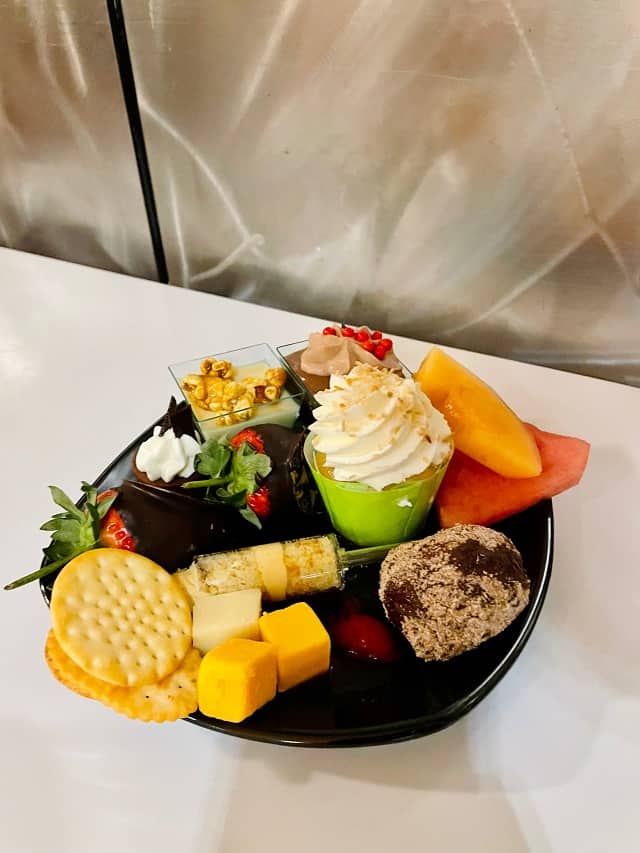 One of my kids ate 2 little cups of pudding, some watermelon, and half of a doughnut hole. The other mostly ate strawberries. They had hot chocolate, but they said it was a little cold and switched to water.
I thought they would want to indulge more since they had unlimited trips to the buffet and rare permission to go all out. However, they both listened to their tummies and declared themselves full.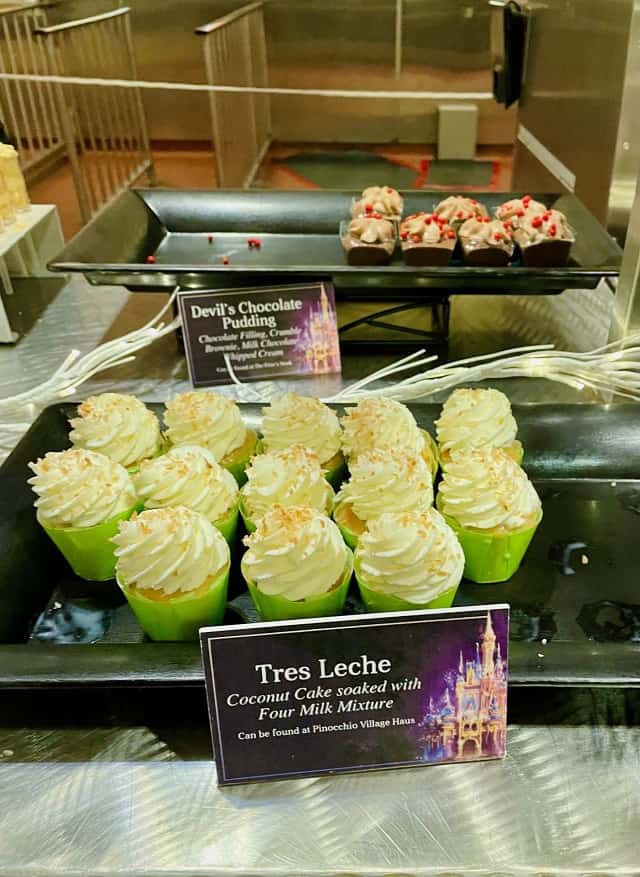 Now, you may have a crowd that loves all of the offerings. If so, you may find it enhances the experience. For us, it was fine, but forgettable, and nothing that compels me to book again.
The Viewing Location
Once we finished our short lived time at the dessert party itself, it was time to go find viewing spots. A cast member showed us to the party in a roped off area in the Plaza Garden. He explained we could come and go as long as we showed our bracelets. There were plenty of spots to choose from when we first walked down. A few of the After Party guests had already staked out spots, but there was plenty of room to spread out and enjoy the garden.
Presently, we noticed there was a large empty space in front of our assigned area. A cast member told us that was the space for guests who use scooters or wheelchairs and their families. However, he also said that when the time came, if the space was not full, he would invite guests from the back section to walk forward.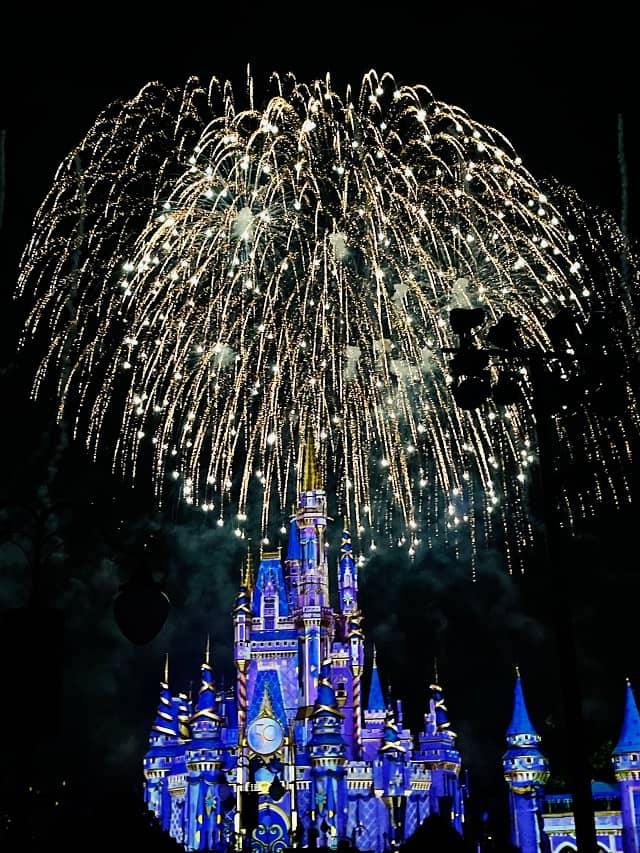 As luck would have it, the space did not fill in much at all. Many of us were able to spread out into the front part of the garden. This worked out nicely as it allowed for even more space between parties, and it did not feel crowded at all. We really enjoyed having our own space with plenty of room.
The Plaza Garden is not a bad place to view the fireworks. In fact, it is a pretty good place. But, from many spots in the garden, there are some obstructions such as light poles and plants. You can see one of the light fixtures in the photo above.
Additionally, you should know that there is a good view of Enchantment and its projections pretty much everywhere on Main Street, especially if the castle is centered straight ahead. You might even prefer the view from a different spot.
The Wait for the Show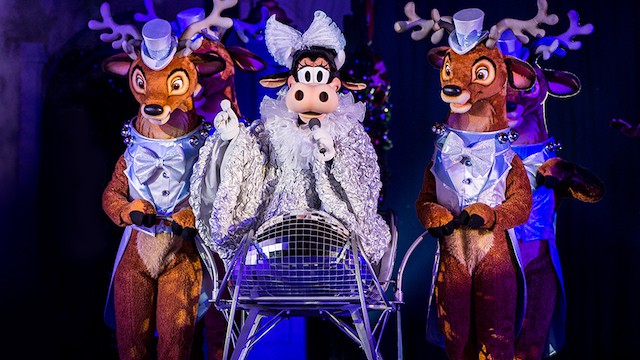 We did get lucky because during Christmas, Disney presented the stage show typically only present during the after hours Christmas event. The kids loved getting to see that just as we were entering the garden. They also enjoyed playing in the grass a bit until the area began to fill up. Additionally, they liked the Holiday Castle Projections.
Pirate tip: if you walk to the Plaza Garden early bring something fun along for the kids while they wait for the show.
However, there was a little more downtime between leaving the dessert portion of our party and Enchantment than they would have preferred considering all there is to do at Disney World. This was the price we paid for making our way down in time to catch the stage show and pick out spots.
If you have little ones and elect to attend the pre-party, this might be a good time for them to play with some toys or to play games like 20 Questions or I Spy. It is best to be prepared just in case they get restless.
The Show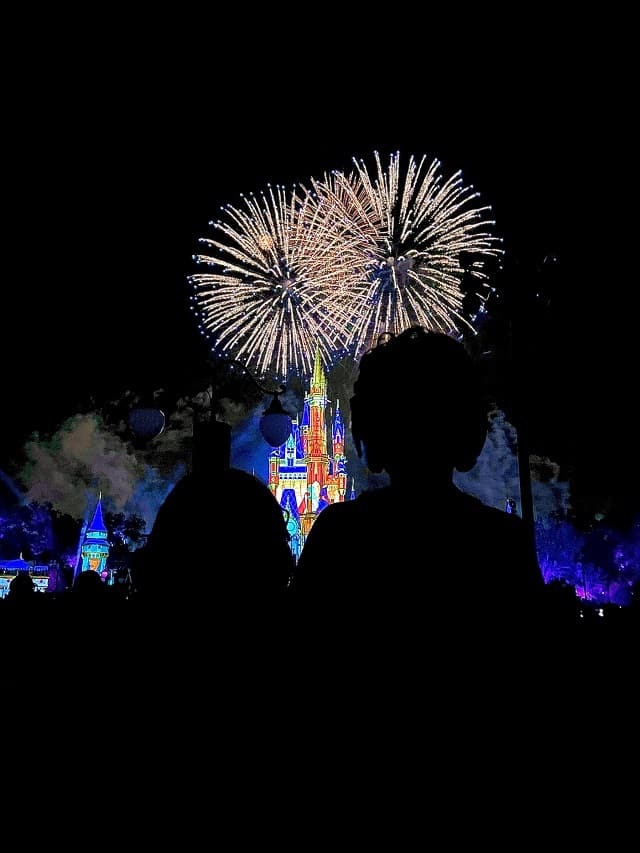 Enchantment is not my favorite firework show. However, it is still a firework show, which is better than no show at all.
The kids really loved the projections, particularly one of Elsa shooting ice that magically turns into sparks of actual pyro. Additionally, being so close let me notice some details I had not noticed before.
Overall, watching it with the kids was like seeing it for the first time, only better. I always see things differently when I am with them, and they were thrilled with it. I still wouldn't complain if HEA or Wishes returned though.
The Exit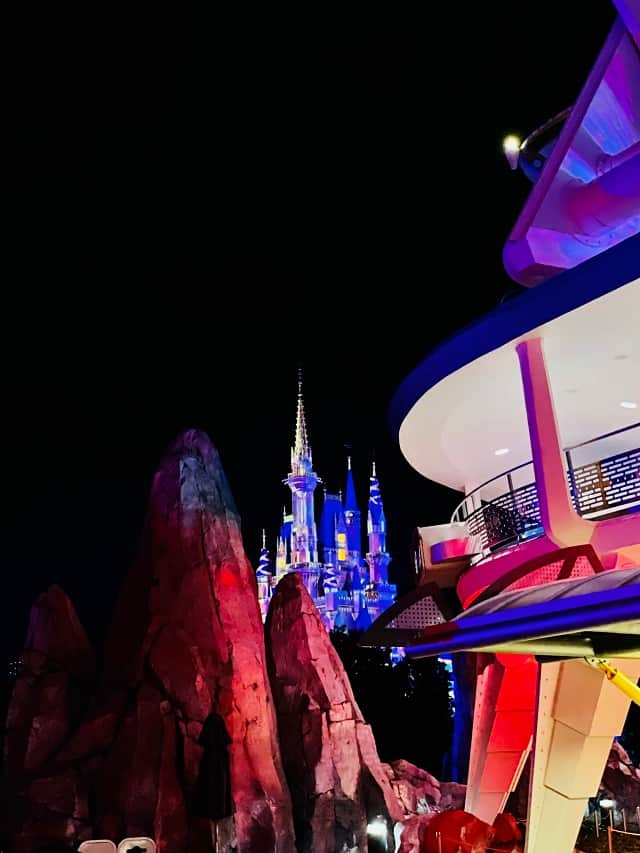 Exiting the show was no different than escaping Main Street from any other location. The cast members who walked us down blended in with those directing traffic. So, be prepared for it to be a crowded exit. If you have nowhere to be fast, you might even enjoy the garden as the masses clear out.
We had to scoot back to Tomorrowland Terrace to grab our stroller. However, that worked out as we were on the way to Tomorrowland anyway to begin our evening ride adventures.
Overall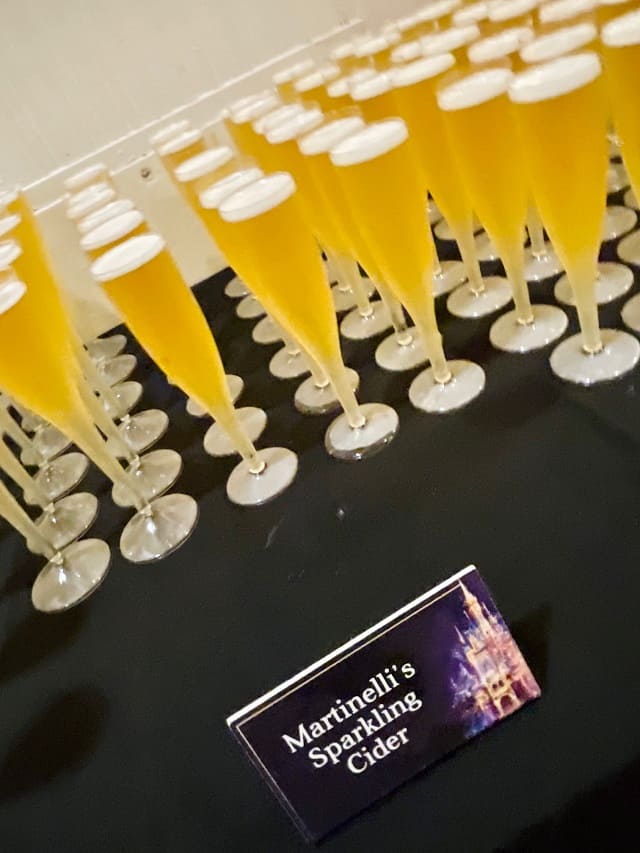 Am I glad we did this experience? Yes. For one thing, if we had not attended, I would have continued to want to try it, so now my curiosity is satisfied! Most importantly, we had a nice evening.
Moreover, it was a nice stretch of time to relax from the typical scooting from point A to point B we do in the parks. Sometimes it is good to slow things down, and this forced us to take a breather. It also gave us lots of space to enjoy the show, and that, in my opinion is the major advantage of the dessert party.
Of course, my children loved the show, but I do think they would have had just as much fun watching it elsewhere. They would not have known such a thing as a dessert party existed, and it would have been just as magical from any ole place. I am sure of this because later that week, we watched Fantasy in the Sky from way down Main Street, and they were amazed.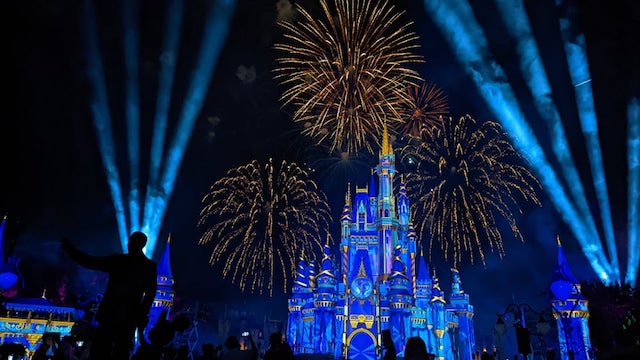 If I were going with a group of friends, and we were each paying our own way, I would say, "Sure, let's go." But for the money for a family of four, I'd honestly rather treat my family to something else rather than book another Enchantment dessert party.
Will you be booking a Fireworks Dessert Party? Have you been to one? What did you think? Let us know in the comments or join the conversation on our facebook page!