I recently attended the Happily Ever After Dessert Party since they began including alcoholic beverages. I have a full review of my experience with photos of the food and beverage offerings!
The Happily Ever After (HEA) Dessert Party is, just that, a party! It takes place at Magic Kingdom during the Happily Ever After nighttime show. Offering yummy food and a great view of Cinderella Castle, I recently attended so I could check out the new beverage options.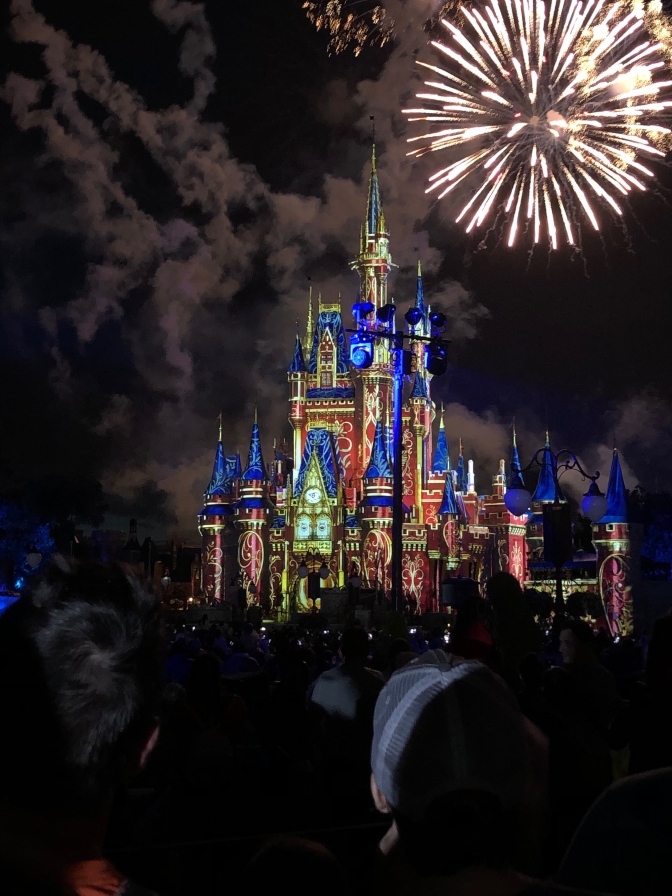 Why you Should Consider the Dessert Party
The Dessert Party may be an excellent choice for you if you:
want a good view of Cinderella Castle during Happily Ever After
don't want to find a spot an hour before the show starts
don't want to stand too close to other guests
love savory and sweet snacks
The main hub and all of Main Street, U.S.A. can be very crowded during the Happily Ever After show. Many times, you have to stake your spot an hour or more in advance depending on the view you want to have. Even then, it is likely you will be really close to other guests. Sometimes the experience can just be unmagical.
Enter: the Dessert Party.
Booking Information
Advanced reservations are highly recommended. We (my mother and I) decided we wanted to go about a week before our trip. Being that it was a yellow park on an orange day, we could not find a reservation.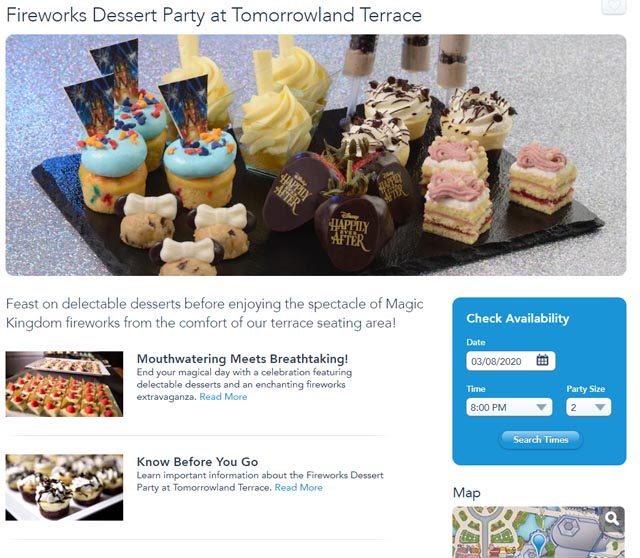 We stalked the Disney website for several days and finally found two openings right before we left for Disney. You can book online or by calling. I recommend booking on the website just so you don't have to wait on hold.
We decided to do the seated option at Tomorrowland Terrace. There are three options:
seated at Tomorrowland Terrace
standing on the Plaza Garden (check out Jaelyn's review HERE)
After-Fireworks Dessert Party
Check In
Our fireworks show started at 8:00 pm, and check in began an hour in advance. In continuing with the theme of arriving insanely early, we arrived at 6:45 pm. We had a little trouble finding which entrance to use. Apparently, you can use either entrance! There is one located by the restrooms near The Plaza Restaurant and one on the other side by the Purple Wall.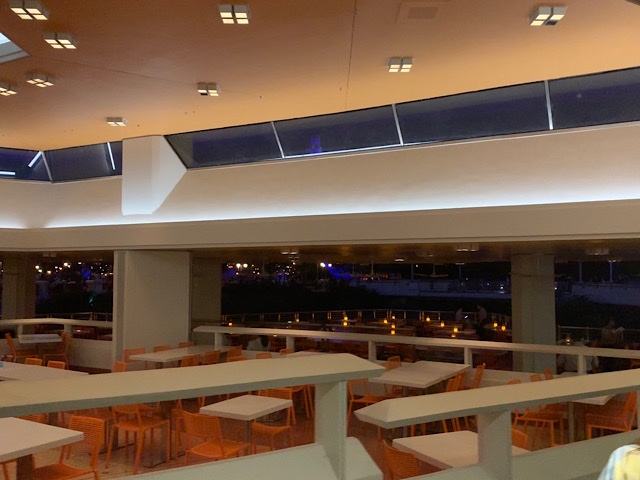 There are two sections in Tomorrowland Terrace. The one for Plaza Garden is on the right (if you are coming from the entrance by The Plaza Restaurant) and the seated option is on the left, which is shown above.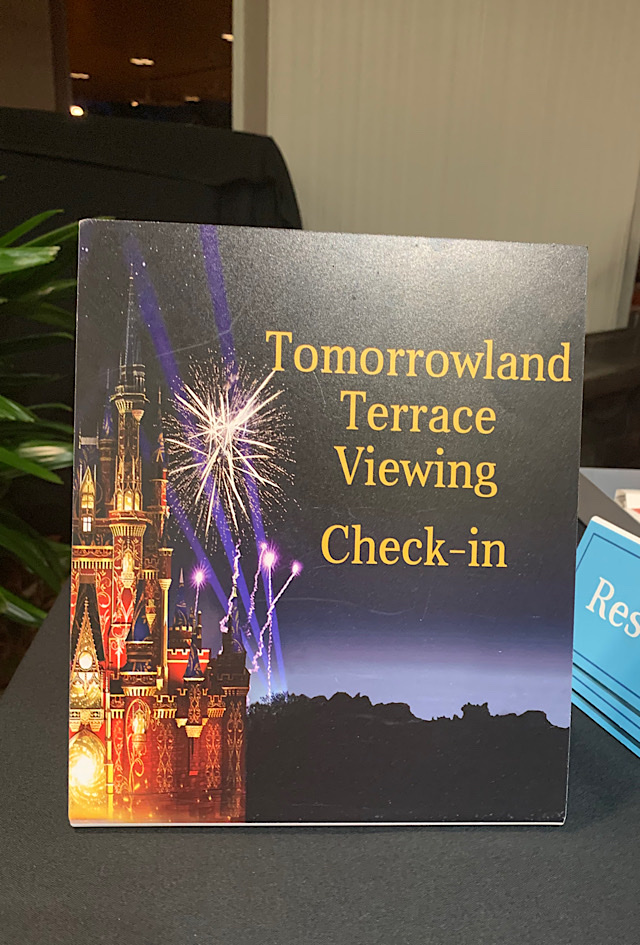 The Cast Member found our name on the sheet and had someone escort us to a table. The first guests who showed up got the tables that were up front and center. Since we were the fourth or fifth party we were still up close but more off to the side.
Honestly, I looked around and don't think there was a bad spot to sit! All had a nice view of the castle. There were not a lot of tables so it felt intimate but still spread out.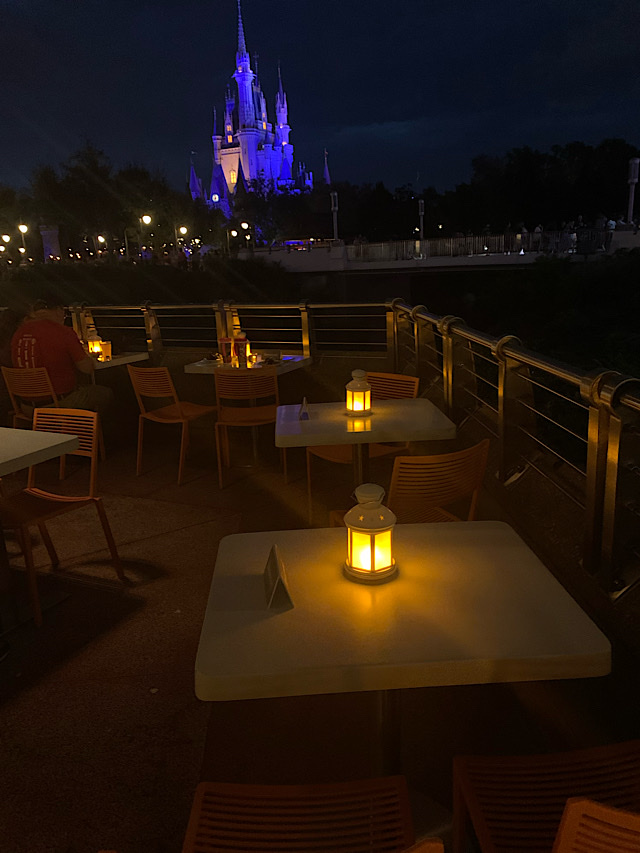 The tables were adorned with a lantern and chairs were pushed around so all were facing the castle. This left our table feeling a bit cluttered with both chairs and all our plates on one side.
The Menu
Like I mentioned above, the Happily Ever After Dessert Party now serves alcoholic beverages. Let's take a look at all the beverages offered.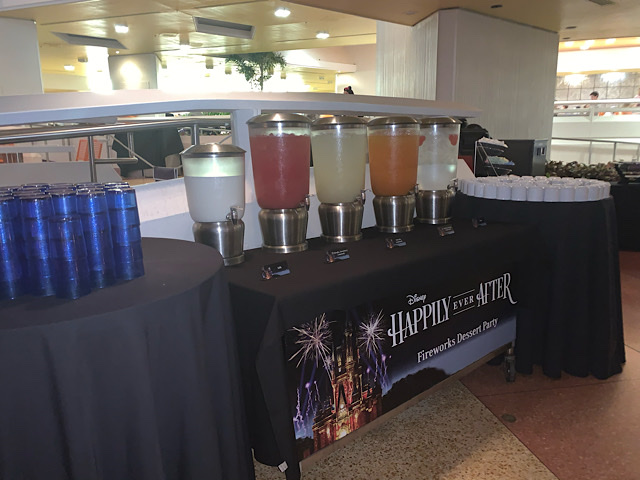 Beverages
Sparkling apple cider, tea, coffee, water, milk, hot chocolate, and several different types of lemonade and juice were among the nonalcoholic beverages offered.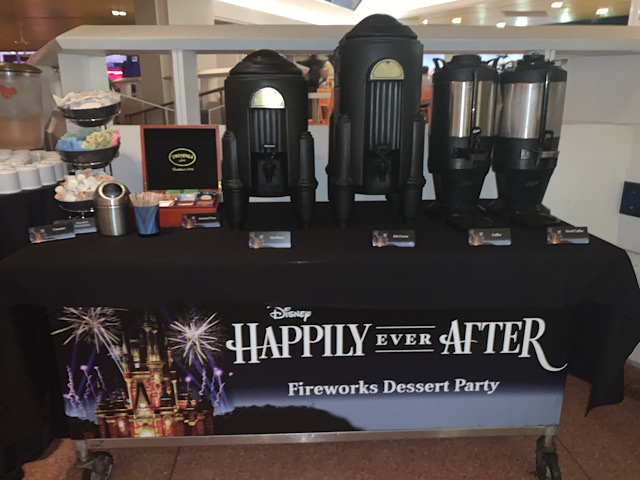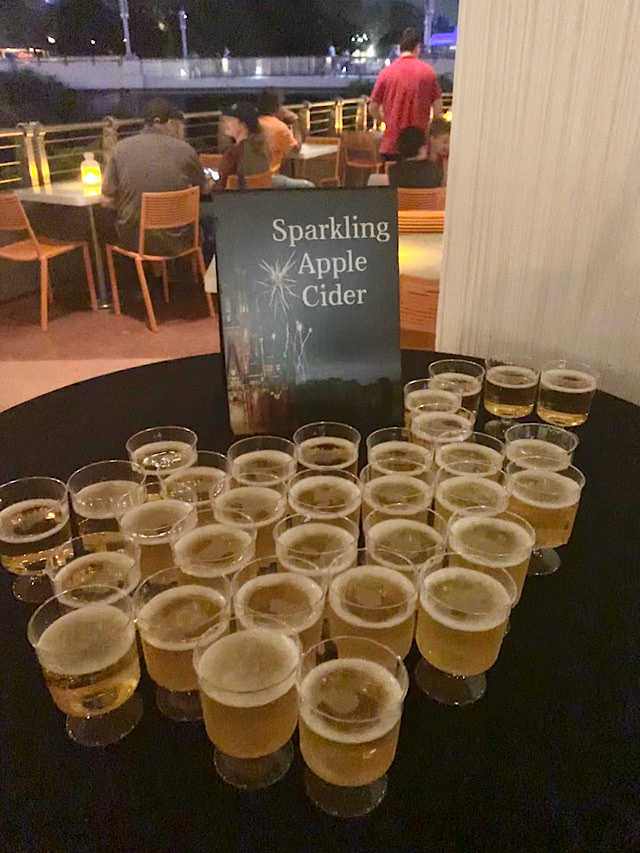 Alcoholic beverages included a variety of beer, wine, and champagne. I am not a wine connoisseur by any stretch but thought all varieties tasted a little cheap. The champagne tasted like rubbing alcohol, and I couldn't even finish it. My mother did like the Moscato.
If you are looking for an in-depth review of the alcohol I am not your person. However, I did take a photo of the listed offerings so you can decide on your own.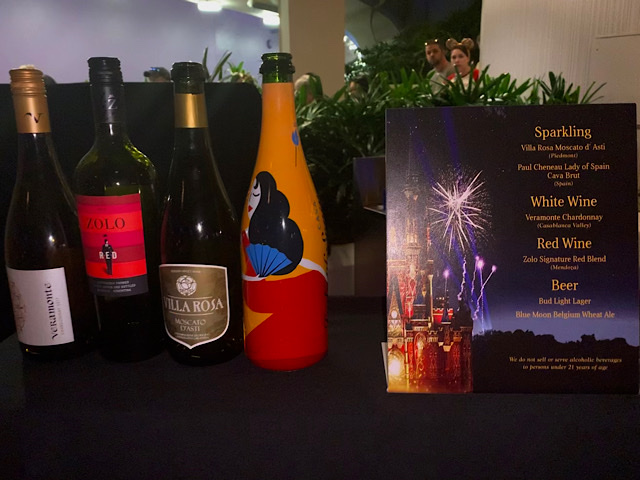 Cast Members were behind the tables checking IDs for anyone who wished to partake. After I tasted the wine and sparkling offerings, I stuck with water and the passion fruit juice.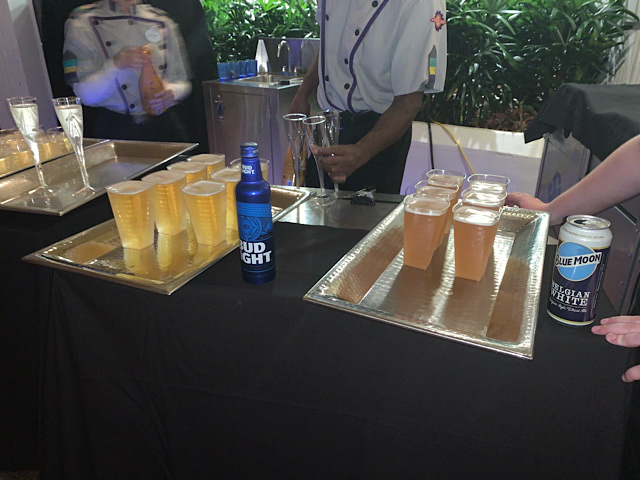 Savory Snacks
I was particularly excited about the savory options that would be available during the Happily Ever After Dessert Party. I had saved my appetite by not eating dinner in hopes that I would really get my money worth.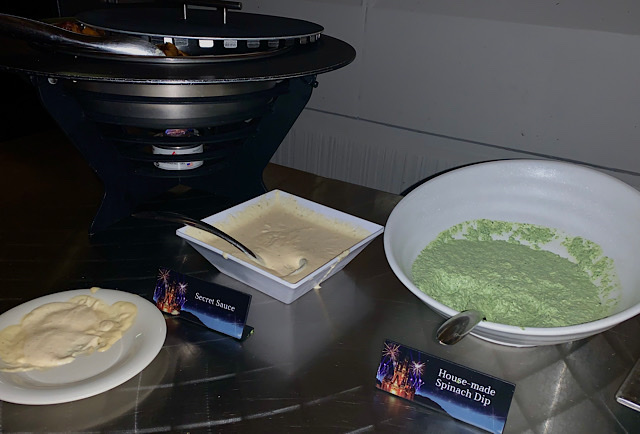 For savory options, there were cheeseburger egg rolls with a secret sauce. The secret sauce was a little too strong for me so I ate my egg rolls plain. They were delicious! I went back for seconds and thirds.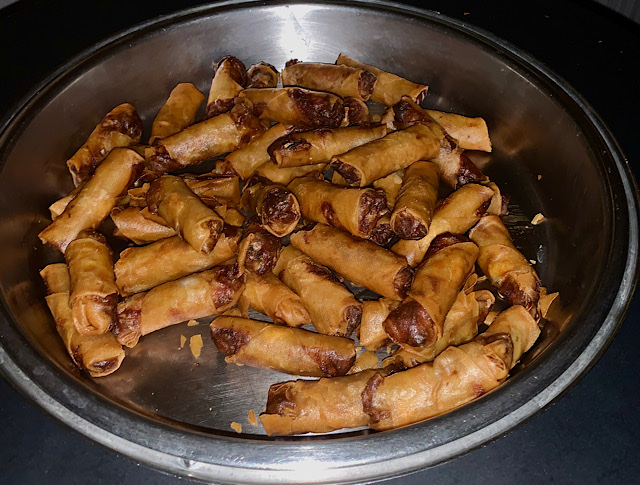 There was also baguette crostini bread to eat with spinach dip. I do not care for spinach dip, but my mom said it tasted like a standard restaurant-style spinach dip.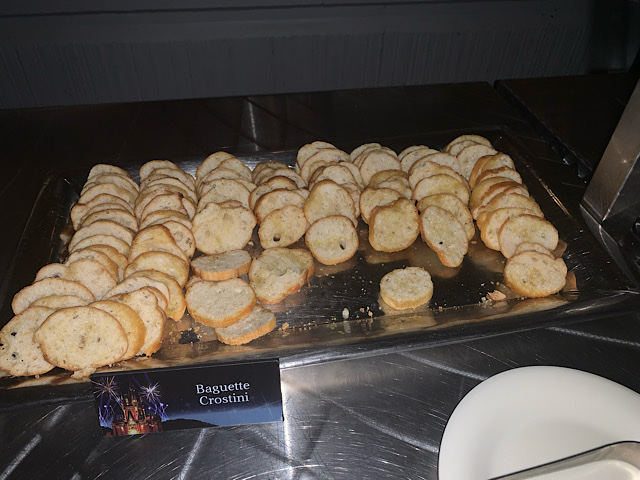 There were also a variety of fresh fruit and cheeses to nibble on. I wish there had been more savory options because there were so many sweets (I'm getting to that part!), but I did eat my fair share of cheeseburger egg rolls, bread, cheeses, and fruit.
Sweet Snacks
Any type of dessert you could think of was offered at the Dessert Party! From cheesecake, pineapple, brownies, mousse, and cookie dough there was something for every palate.
I have a weak spot for berry-anything so I loved this berry layer cake.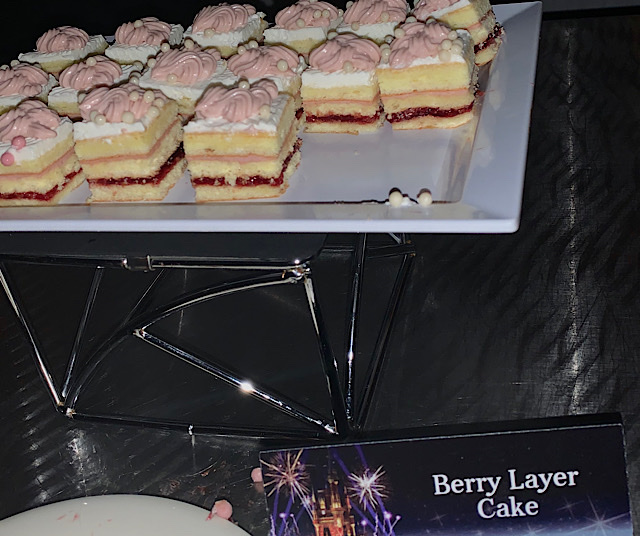 The cheesecake brownie bites came in at a close second. I love brownies.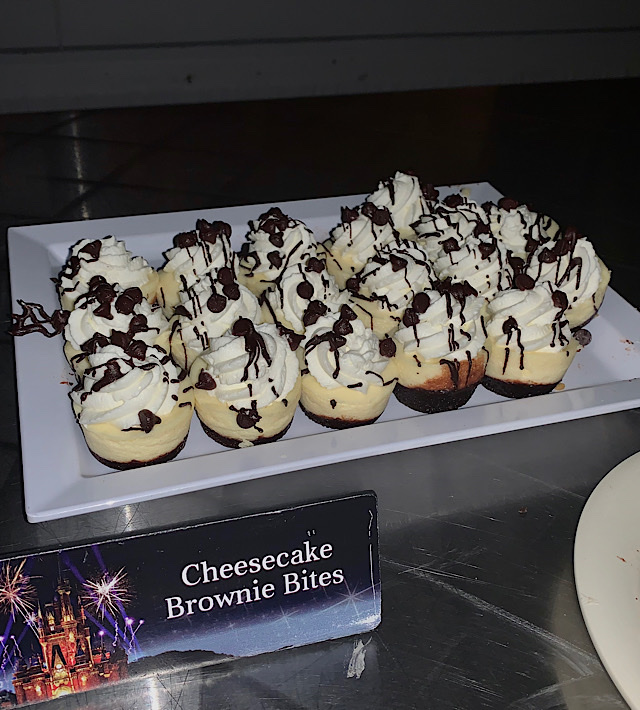 Some of the desserts were just too rich for me, one of them being the edible cookie dough bites. Minnie did look cute though.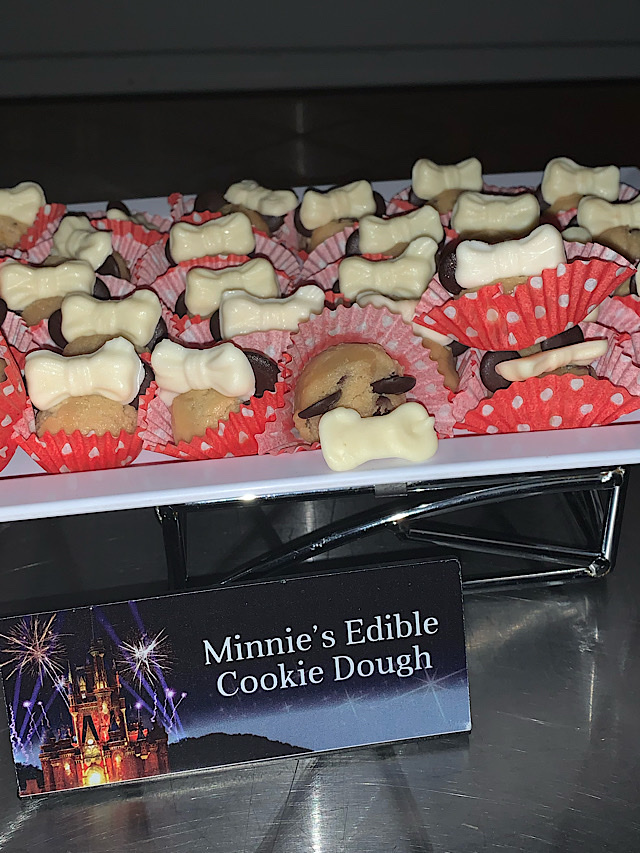 If you like pineapple, the pineapple delight may be just the thing for you. I was expecting these to have some type of sponge cake in them, but it was just pineapple and then a pineapple whipped topping.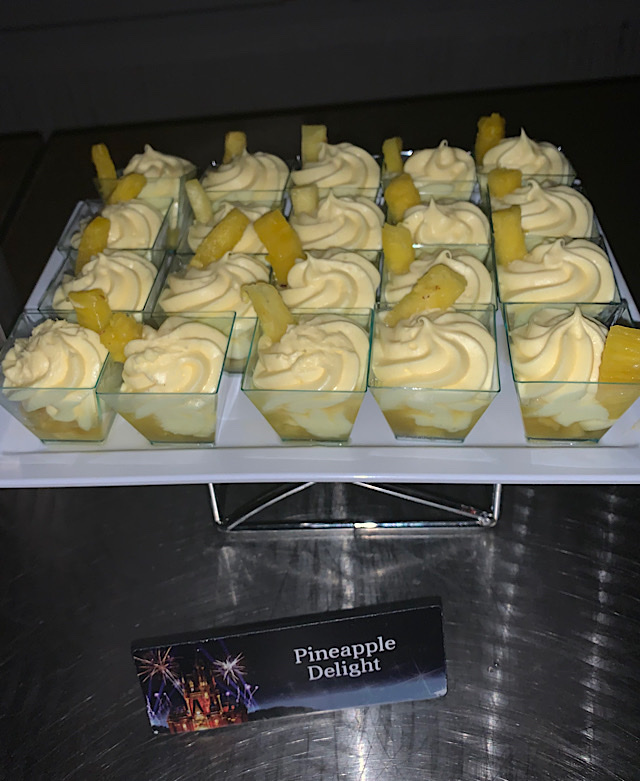 There was also a dessert decorating station! Chocolate chip and sugar cookies, brownies, and yellow and chocolate cupcakes were spread out. Then you could use icing and several toppings like cherries, sprinkles, and whipped cream to create your own masterpiece.
I did not decorate any, but I thought it was neat they had something for the kids to do.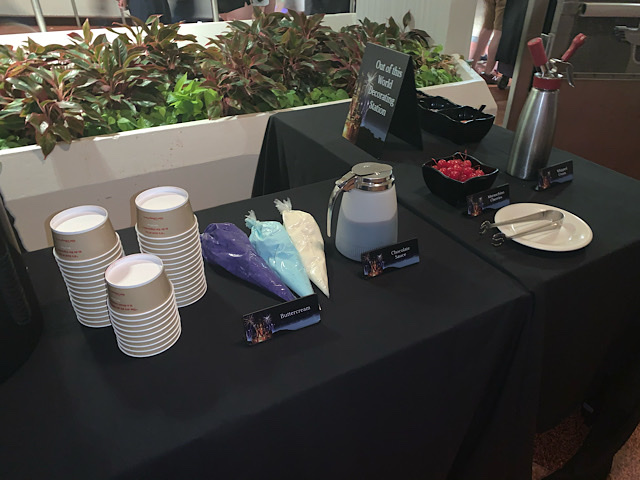 Other desserts like toffee cake, mousse push pops, chocolate-covered strawberries, and mini sprinkle cupcakes rounded out the sweets. I told you there was something for everyone! I love chocolate but do wish they had more berry offerings.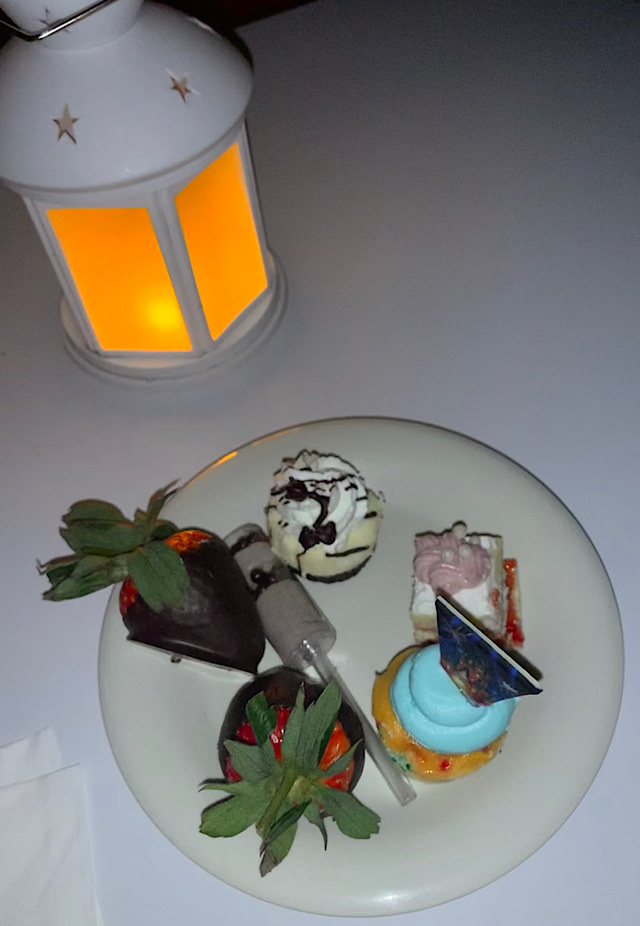 The food was waiting as soon as we were seated, and we were able to get as many helpings as we wanted. We spent the entire hour before the Happily Ever After show eating and enjoying ourselves.
It did begin to rain a little, which made me even more glad we booked the party. I also enjoyed the fact that we were not standing on Main Street trying to keep our spots secured. The hour we would have spent just standing around was used instead to enjoy an all-you-care-to-enjoy buffet and a beautiful view of Cinderella Castle.
Happily Ever After Show
Right at 8:00 pm, the show began. It's important to note that your view from Tomorrowland Terrace is not centered and it's not up close like if you were standing in the hub.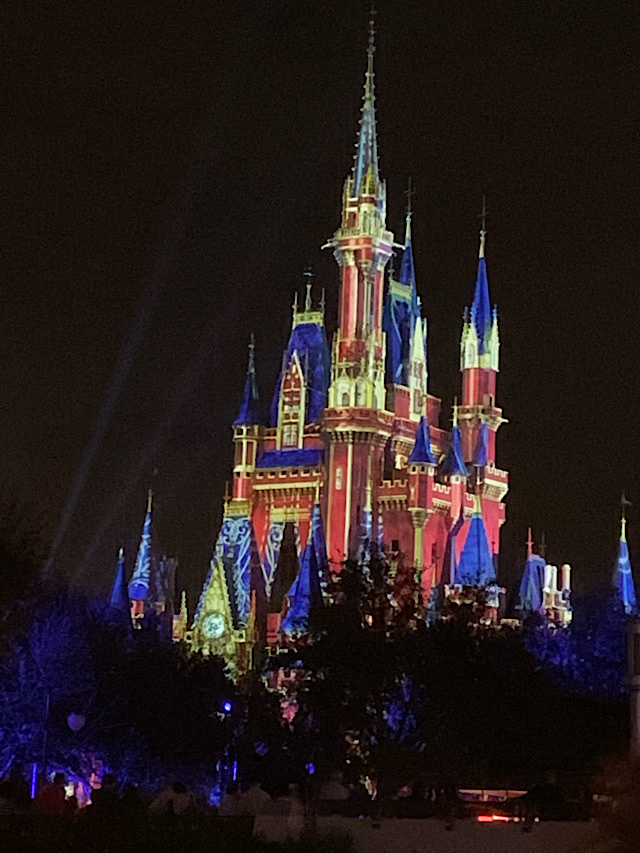 We could not see the projections very well on the castle so if that is important to you, the dessert party may not the best option for you. That said, we had a fantastic view of the fireworks and the music could be heard just fine.
Here is a short clip of the show from where we were seated.
There was also a PhotoPass photographer walking around and grabbing photos of guests holding a Happily Ever After sign with Cinderella Castle as the backdrop. It was a neat idea, but you could not even see the castle in the background of our photo.
Here is Happily Ever After Fireworks finale. I choke up every time I watch!
After Happily Ever After
We decided not to stick around after the show because we had a couple of attractions we wanted to try to squeeze in before the park closed at 9:00 pm. We were able to make it from Tomorrowland Terrace, across Main Street and the hub, and over to Liberty Square in about ten minutes.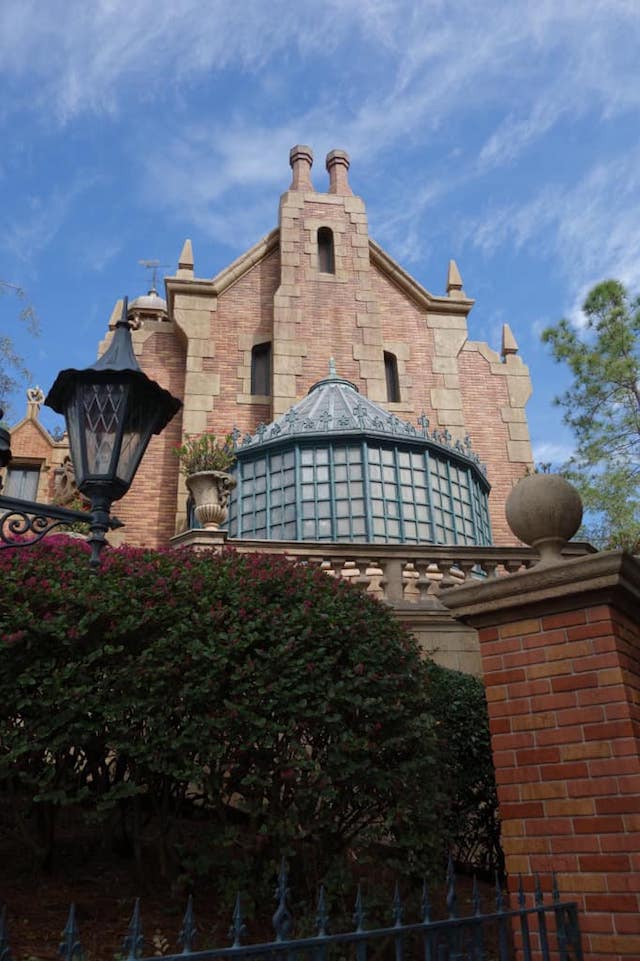 Cast Members were directing guests towards the front of the park, presumably to leave. However, we knew we still had an hour to enjoy the attractions! We rode Haunted Mansion with no wait and got in line for Peter Pan's Flight right before the park closed.
Final Thoughts
I really enjoyed the Happily Ever After Dessert Paty. For $99 a person, it is a bit steep for many families. With six people in my family, that would add $600 to an already expensive day.
I would rather spend the same amount of money and do something like After Hours or Mickey's Not So Scary Halloween Party. Those are roughly the same price and last much longer, giving you more bang for your buck.
However, since I only had to purchase one ticket, I consider the Dessert Party to be worth the price for the food offerings and the lovely view of Happily Ever After!
Have you ever attended a Happily Ever After Dessert Party or plan to on a future trip? Let me know your thoughts over on the facebook page!
-Monica