If you are looking for a great way to view fireworks at the Magic Kingdom, a dessert party is an excellent way of doing so. While the location might be great, is the entire experience worth the price?
Dessert Parties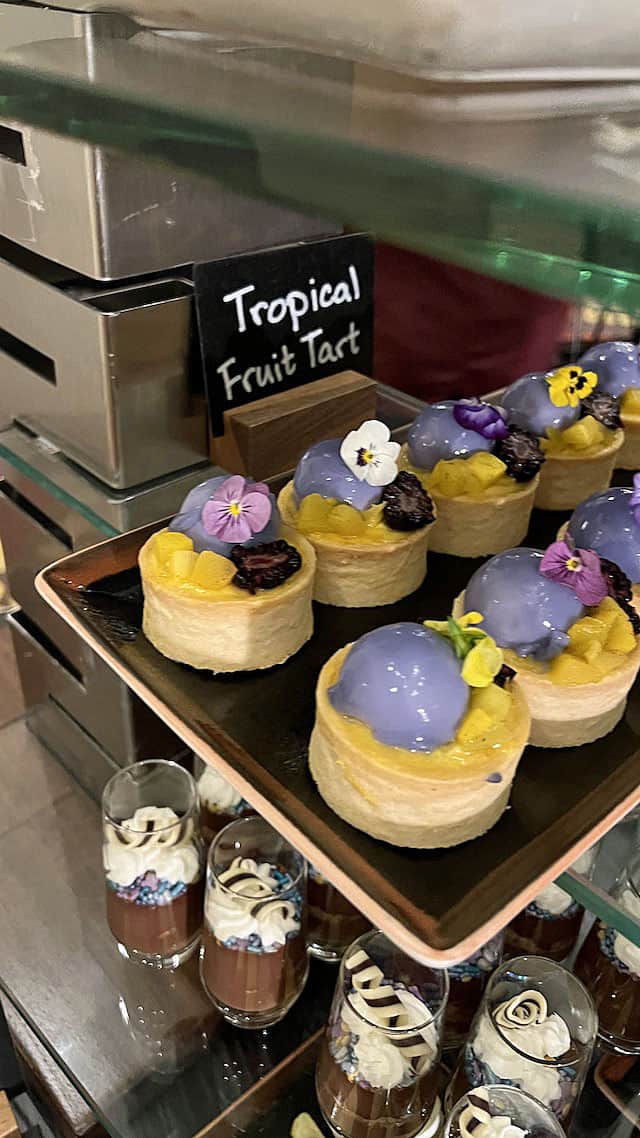 After the parks closed, guests lost out on so many experiences. However, we are finally seeing many of those experiences return! Among the experiences that have made a comeback are dessert parties. Dessert parties are a great way to enjoy fireworks from great locations and dine on some yummy food and/or treats.
Unfortunately, right now there are only a handful of dessert parties that have made a comeback. If you want to view Disney's Enchantment at the Magic Kingdom, guests have the following parties to choose from:
Disney Enchantment Treats & Seats
Disney Enchantment After-Party
Disney Enchantment Pre-Party
Celebration at the Top: 50th Flavors and Fireworks at Disney's Contemporary Resort
For details and prices of each party listed above, check out this post HERE.
Disney Enchantment After-Party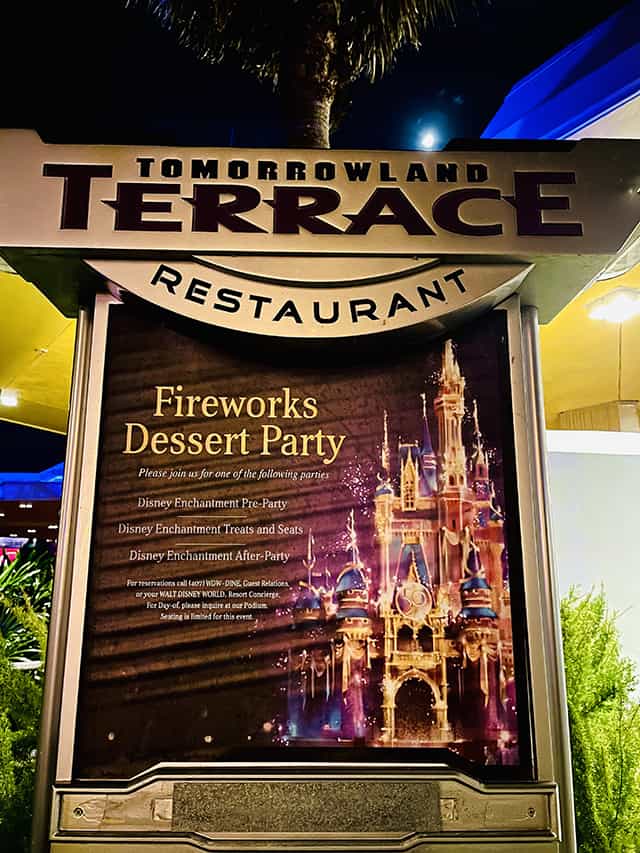 For a recent trip, I (Maggie) decided to book the Disney Enchantment After-Party. While I had seen Disney Enchantment before, my family had not. So, I wanted them to have a great experience!
Traveling with family is an entirely different experience than traveling alone or with your friends. There are a lot of things to consider, such as how long will children want to or be able to wait for fireworks? How long will your spouse stand waiting for a show he probably does not even care about? Is it all worth it?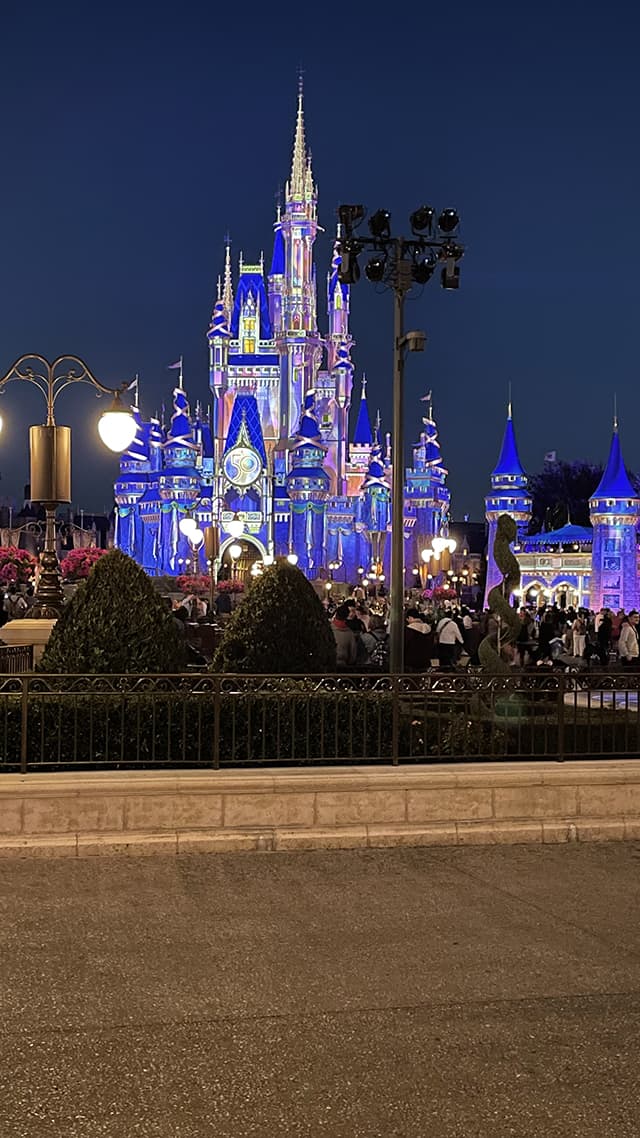 Before our trip, I knew I did not want to stake out a fireworks spot hours before the show with two young boys. It is hard enough having them wait in line for only a few minutes sometimes!
Back in 2020 prior to when the parks closed, my family attended the Star Wars Galactic Spectacular, which was a dessert party at Disney's Hollywood Studios. We all had a fantastic time at this party! So, I took a chance and spent nearly $400.00 for the four of us to attend hoping that our experience would be just as enjoyable.
Disney Enchantment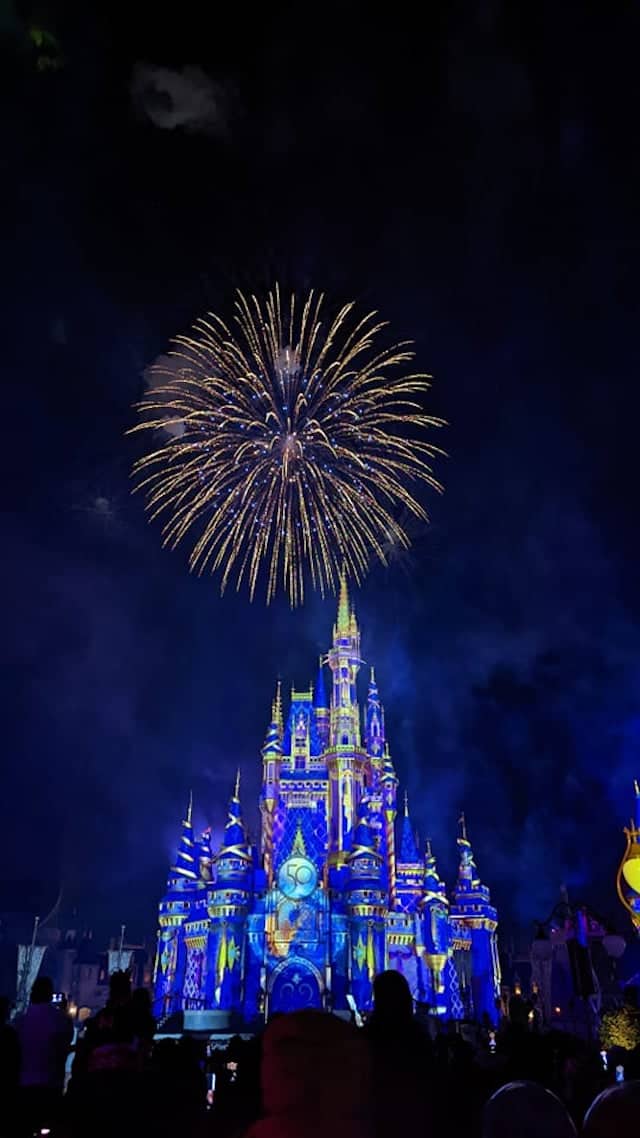 Here is how Disney describes the Disney Enchantment After-Party:
End your magical day on a sweet note, celebrating the 50th anniversary of Walt Disney World Resort. First, check in at Tomorrowland Terrace Restaurant starting 60 minutes prior to Disney Enchantment—a brand-new fireworks spectacular at Magic Kingdom park.
As showtime nears, Cast Members will escort you to a prime location in the Plaza Garden for priority fireworks viewing. Watch in awe as innovative projection effects bring Cinderella Castle to life and—for the for the first time ever—extend down Main Street, U.S.A.! Delight in an immersive experience, brought to life with breathtaking effects as classic and reimagined Disney songs sweep you up into the adventure of a lifetime. Disney Enchantment features an original new song by seven-time Grammy award-winning songwriter Philip Lawrence.
After the fireworks, you'll be escorted back to Tomorrowland Terrace Restaurant, where you will discover a host of 50th Anniversary-themed desserts prepared by our pastry chef, including chocolate-dipped strawberries, butterscotch pudding and a variety of cheese. Drink selections will also be available, including an assortment of beer and wine for Guests ages 21 and over.
Checking in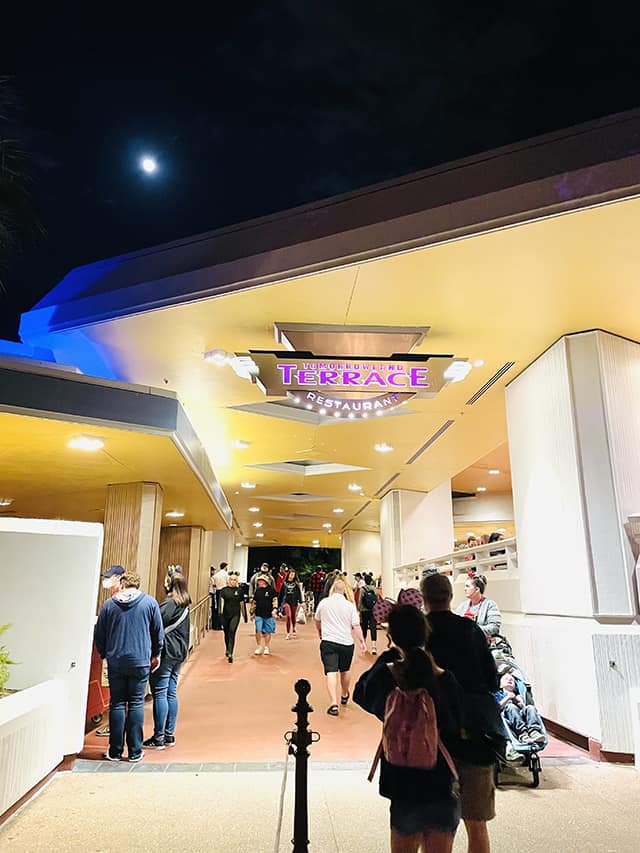 Our check in time was 7:00 p.m., but in order to find a great spot, I decided to check in well before then around 6:15 p.m. Guests checked in at the entrance to Tomorrowland Terrace Restaurant.
We each received wristbands indicating we were guests of a dessert party. Guests over 21 years of age also received wristbands for drinks.
After checking in, we were told we could head over to the reserved viewing area.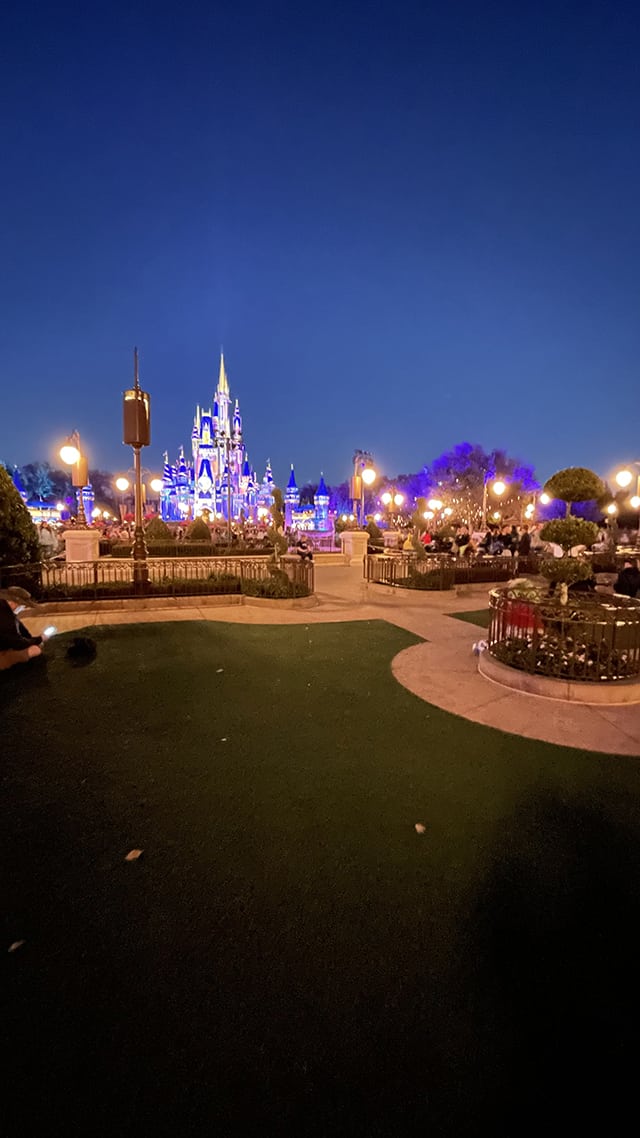 Since we were so early, we were the only ones here at the time! I have always wanted to watch fireworks from here, so this was really exciting to me. The view is outstanding.
Checking in early has its advantages like this. However, it is still a good two hours before the actual show begins, so do keep that in mind. While it is probably fine for adults, if you have small children, be sure to bring something to entertain them.
You can leave the reserved area and come back as much as you want before it begins.
If you do leave, you may want to leave at least one person in the area to save your spot for fireworks.
Fireworks begin!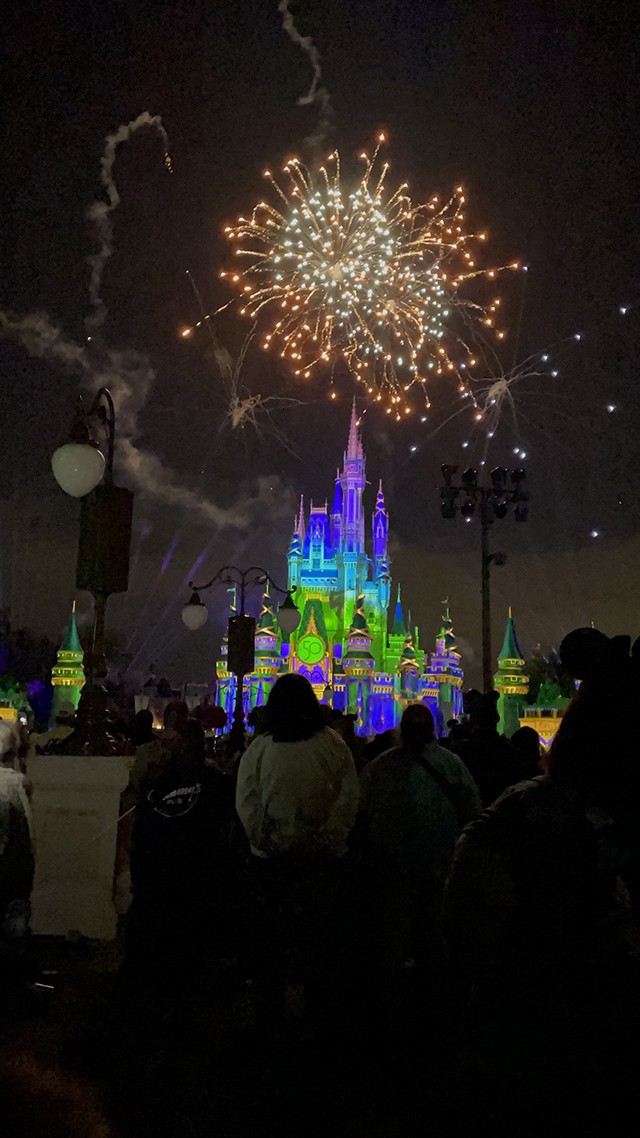 Fireworks began promptly at 8:00 p.m. The reserved area did fill in for the show, so showing up early is definitely to your advantage.
Disney Enchantment in my opinion does not compare to Happily Ever After and many guests probably agree. For a great comparison between the two shows, take a look at Jamie's post HERE and decide for yourself.
This was the best part of the dessert party to me. It is a great location, but if you want to see the projections along Main Street, this is not ideal. You will not be able to see any of them as they are all behind you, so keep that in mind.
To see the spot Kenny recommends, be sure to check Character Locator!
After Party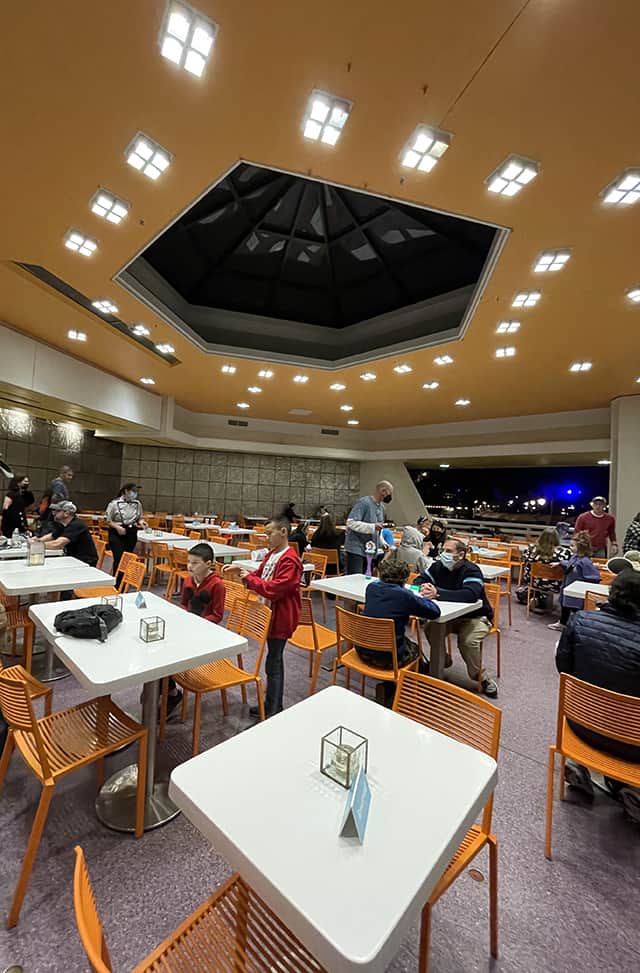 If you remember, Disney said after the fireworks, guests "would be escorted back to Tomorrowland Terrace Restaurant" to enjoy dessert. I am only emphasizing this because compared to our Star Wars experience, there was definitely no escorting of guests anywhere.
This could be because we were so far back closer to the castle. Maybe once fireworks ended, Cast Members escorted guests to the restaurant and we simply missed it? By the time we reached the area to exit, it was just as if we were with every other guest exiting fireworks. It was a bit chaotic and we definitely had to make sure our children were close.
Once we reached Tomorrowland Terrace, we were given a reserved sign to place on our table. Cast Members told us to feel free to get in line for dessert and drinks.
Desserts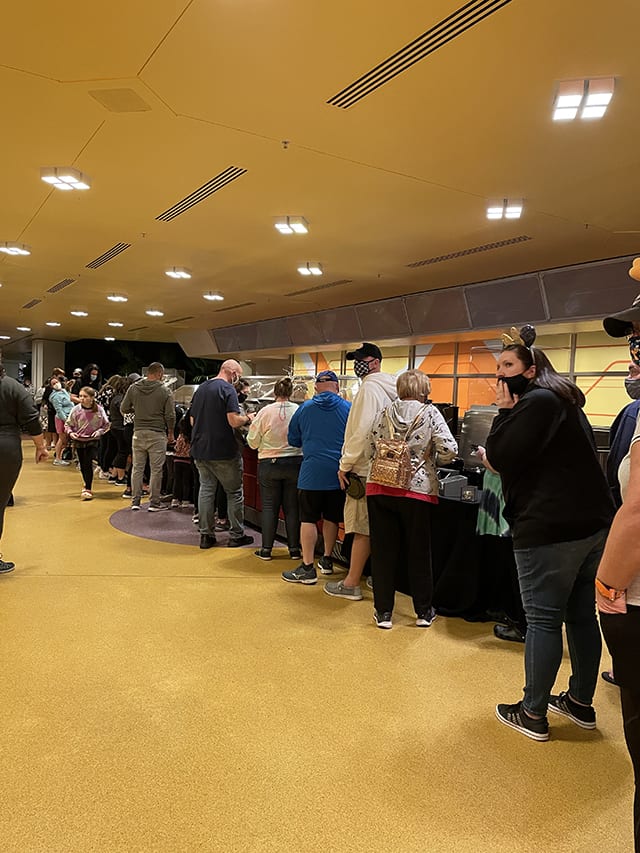 There were two main lines for dessert, but each line had the same items. If you remember from above, dessert included with this party is "a host of 50th Anniversary-themed desserts prepared by our pastry chef, including chocolate-dipped strawberries, butterscotch pudding and a variety of cheese".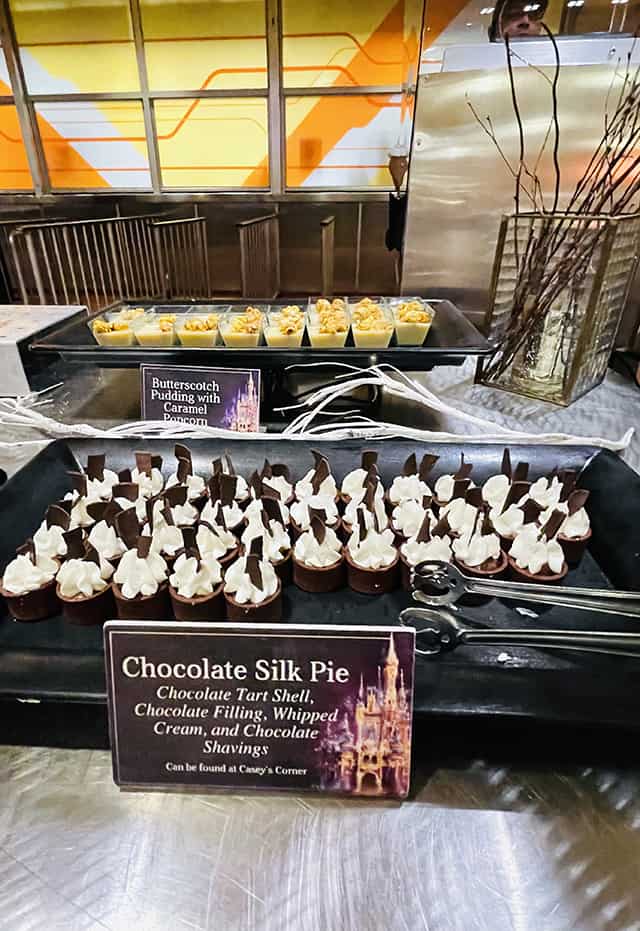 Dessert included the following treats and items:
Butterscotch Pudding with Caramel Popcorn
Chocolate Silk Pie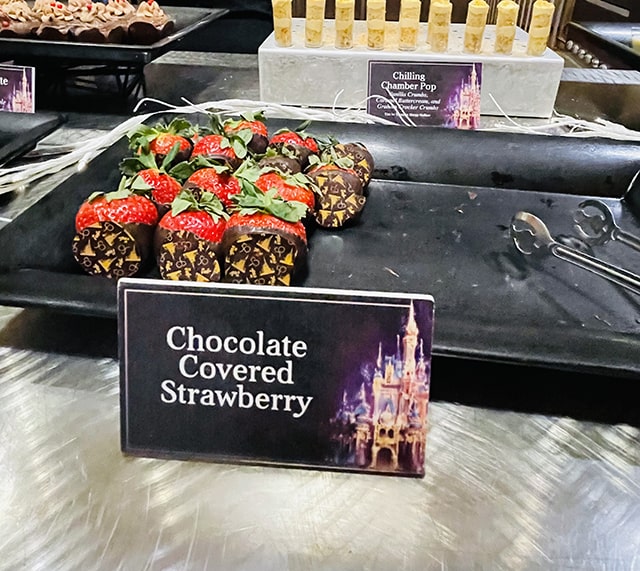 Chocolate Covered Strawberries
Chilling Chamber Pop
Tres Leche
Devils Chocolate Pudding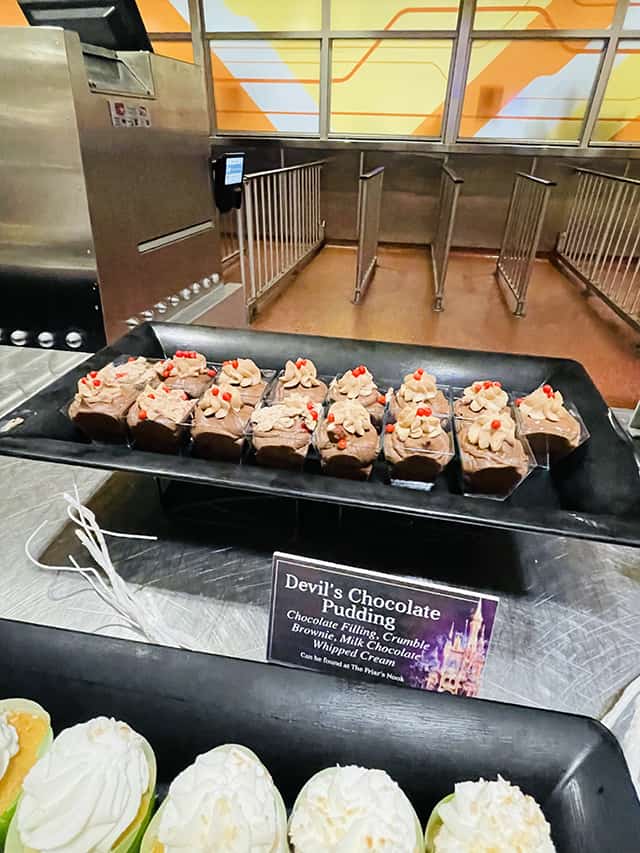 Assorted fruit, cheese and crackers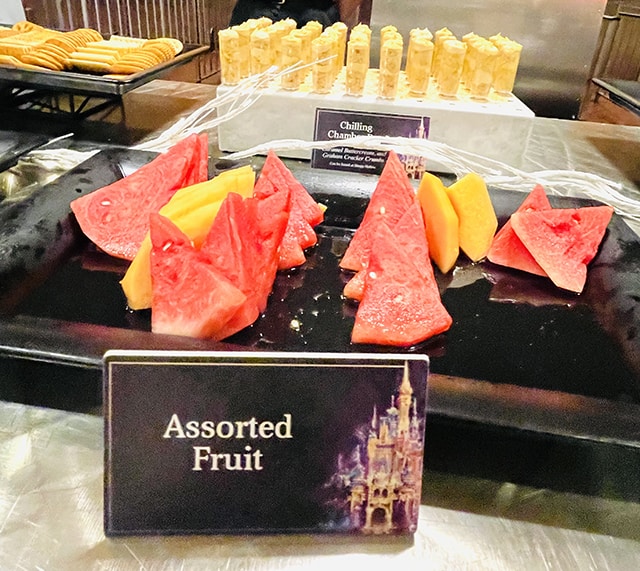 I am not sure why I expected there to be a little more than there was, but I did. Compared to other dessert parties that I have attended, I felt like this one was lacking. My youngest son only ate a couple pieces of fruit while my oldest had nothing at all.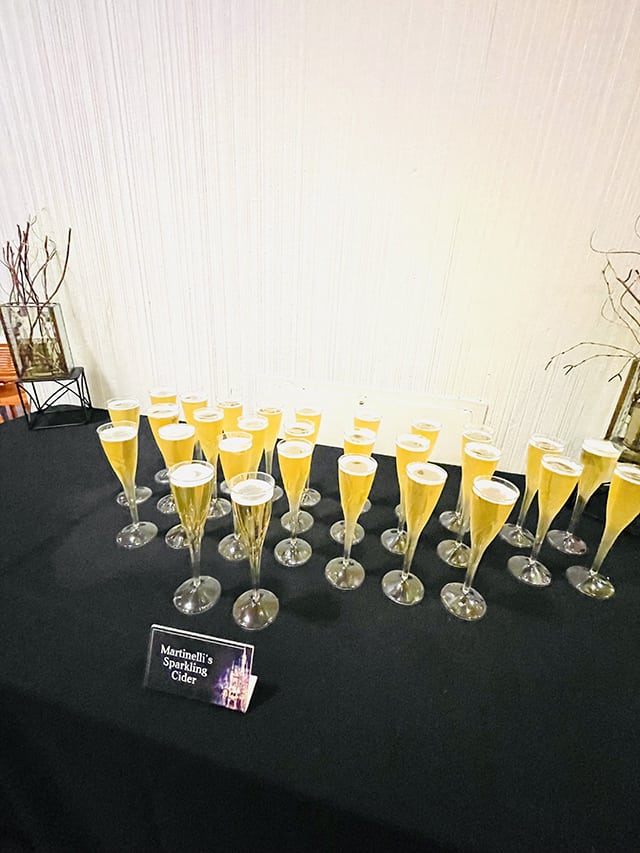 There are also a variety of beers and wines and other beverages like the sparkling cider (non-alcoholic) pictured above.
After the party was over, he said to me, "What is a dessert party without a cupcake?" I will admit that these desserts are typical desserts that you do see at many dessert parties, but they are not exactly kid friendly.
During our Star Wars dessert party, there were definitely some kid friendly items that included cookies and cupcakes. Having cool Storm Troopers walk around and say hello was also a huge plus, but that's for another review if this party ever makes a return!
Final Thoughts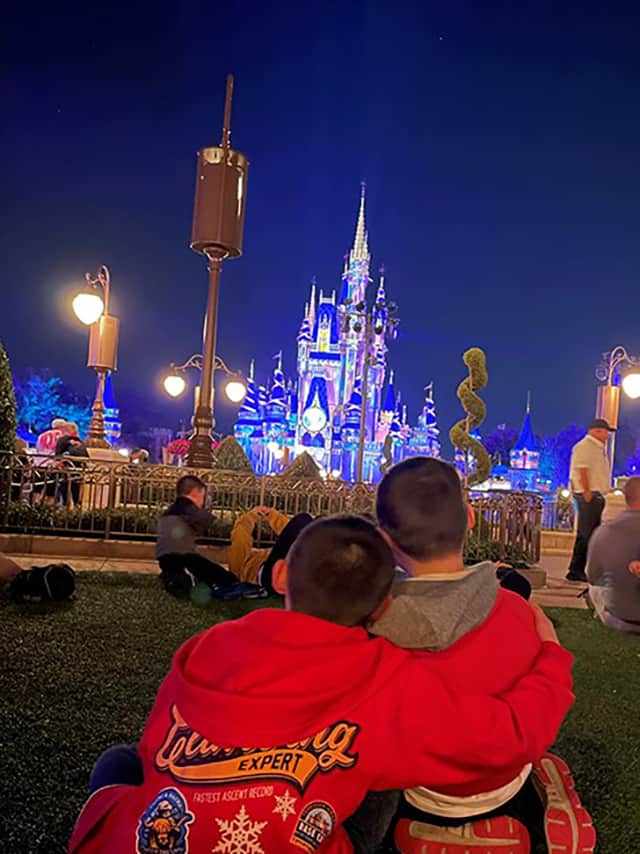 In my opinion, the very best part of this party is the picture shown above, which was my two boys, sitting in the hub grass hugging each other as they look out towards Cinderella Castle. As a Mom, it's everything you hope for when planning your Disney vacation. It's this moment right here.
However, the actual dessert party portion of the party left us wanting something more and I'm not sure if the party was worth the cost. If someone were to ask me if I would pay $400 to experience this again, I would probably say no. I can have the same picture above watching fireworks from the beach at the Polynesian, for example. That experience is also FREE! Of course it's not at Magic Kingdom, but it's the same show, same fireworks and you can still hear the same music.
Remember this is my opinion alone and yours might be completely different. However, I hope by sharing my experience and the available food and drinks it can help you make an informed decision.
Have you attended any of the dessert parties for Disney's Enchantment? We would love to hear about your experience! Tell us what you thought in the comments below or on our Facebook page. Share pictures or keep the conversation going in our crew, too!