LATEST VIDEOS
Subscribe to my Youtube!
Just Mousing Around - LIVE
LIVE - Just Mousing Around
LIVE - Just Mousing Around Tonight!
Enjoy a peek at the new Moana rooms at Disney's Polynesian Village Resort. It will make you feel as if you have gone just beyond the reef!
Disney's Polynesian Village Resort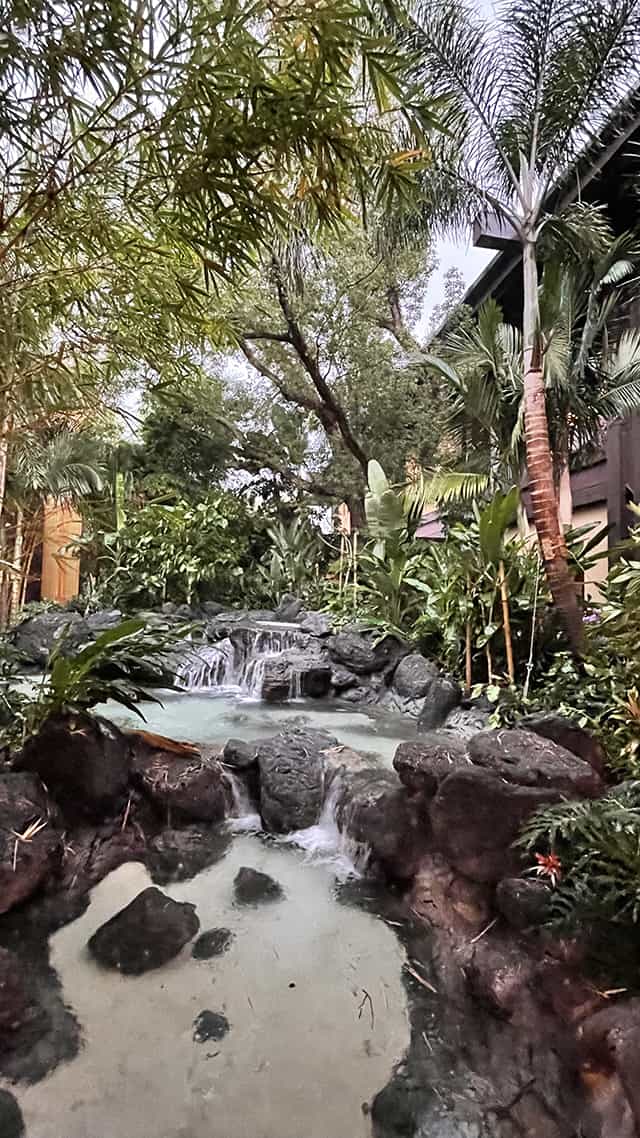 For what seemed like forever, Disney's Polynesian Village Resort finally reopened after a very lengthy refurbishment.
The resort's refurbishment not only closed rooms but also part of Disney's monorail line. We shared several updates leading to the completion of the refurbishment. You can read about those HERE and HERE.
Disney's Polynesian finally reopened in late July 2021. Was the long refurbishment and all of the closures and inconvenience in transportation worth it? I (Maggie) am going to say without a doubt, YES!
Newly refurbished Moana rooms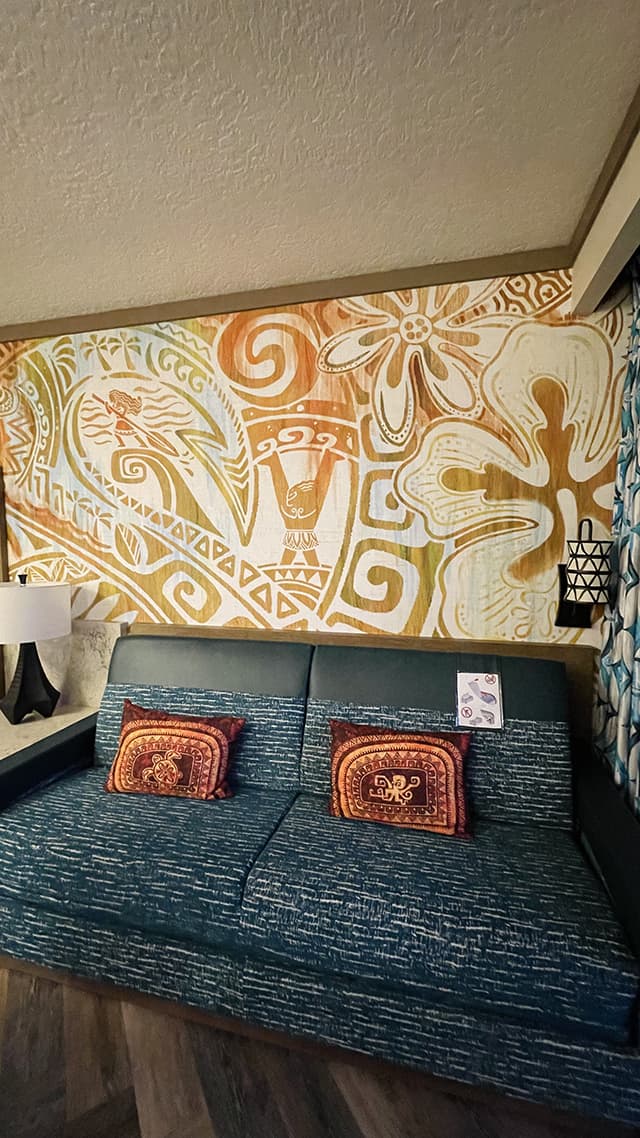 My family recently stayed in one of the newly refurbished Theme Park View rooms. We had never stayed at this resort before, so I was not only excited to finally stay at the resort but very excited to see the rooms with a fresh new look.
You might remember reading about Monica's not so magical experience in the DVC portion of the resort. I have to admit that the rooms pictured here are really dark, too orange, and not very inviting. Luckily, the DVC rooms are also receiving a new look and more updates.
KtP writer Joe recently stayed at this resort and his family had a great stay! For his review of 'Ohana, one of the restaurants located on property, take a look at this post HERE. My family and I also enjoyed breakfast here and had a great breakfast.
Theme Park View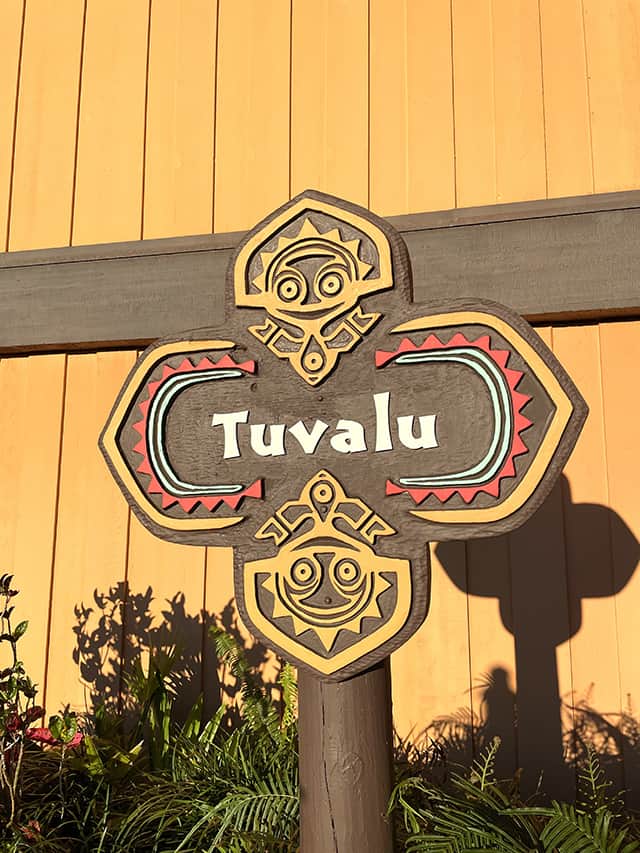 Our room was in the Tuvalu building which is by the Fiji building. It was a short walk from the Great Ceremonial House and very close to the Boat Launch to the Magic Kingdom. Another plus for staying at this resort is easy access to the monorail and boat transportation.
Easy access to the monorail and boats make the Polynesian a great choice!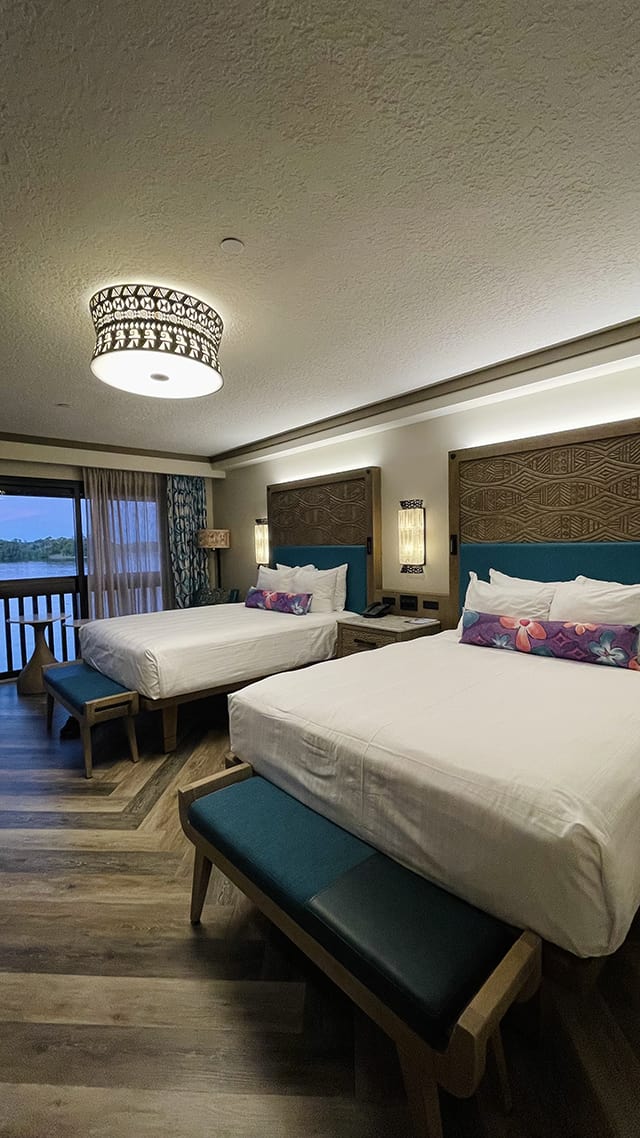 One of the common complaints from the old rooms was the fact that they were so dark and had a lot of dark accents and a lot of dark wood. As you can see in the picture shown above, it is now brighter and the colors are softer and more welcoming. The wood is no longer the dark wood that they had but much lighter and more modern. They also completely got rid of the dark carpeting.
You will notice touches of Moana throughout the entire room. Of course there are the obvious pictures, characters and details from the movie that you will recognize, but one of the things that stood out to me the most was the floor.
For the longest time, I thought my boys were bringing in sand from outside. Then I realized that was not the fact at all. The floors actually had a slight sandy texture to them to give the illusion of being on the beach! Details like this are what sets Disney apart from anywhere else.
Check out this view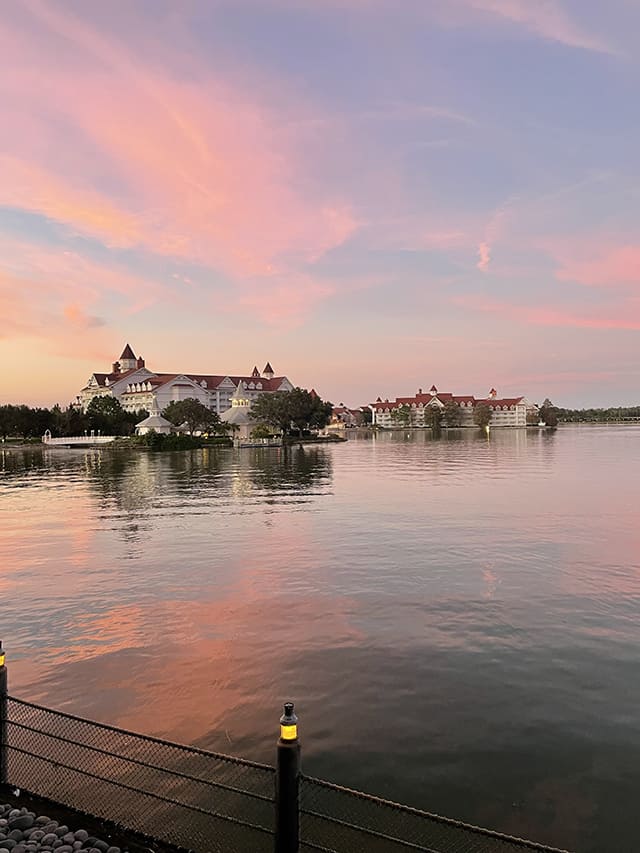 The view outside of our room was simply stunning! We had a great view of the Grand Floridian to the left of us and a view of Cinderella Castle and Space Mountain to the right.
Our balcony was not much of a balcony since it immediately dropped down to the water's edge. There was just barely enough room to step outside and look out to the amazing view.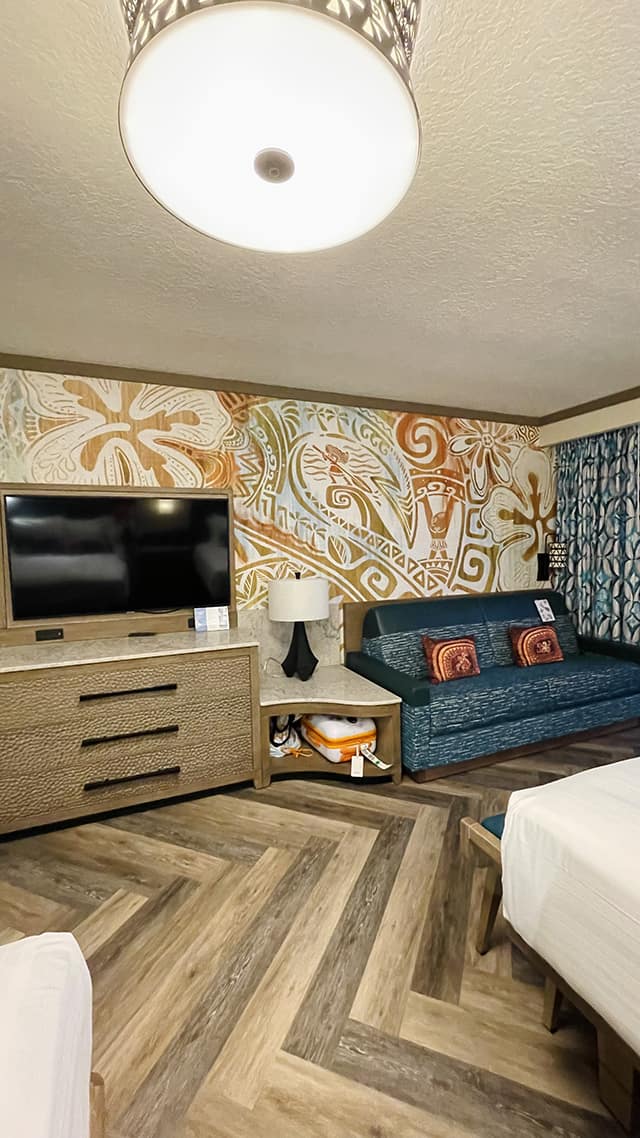 I loved seeing the Maui inspired designs that decorated the walls and we had a couch that turned into a day bed. Up to five adults can sleep comfortably in this room.
Other room amenities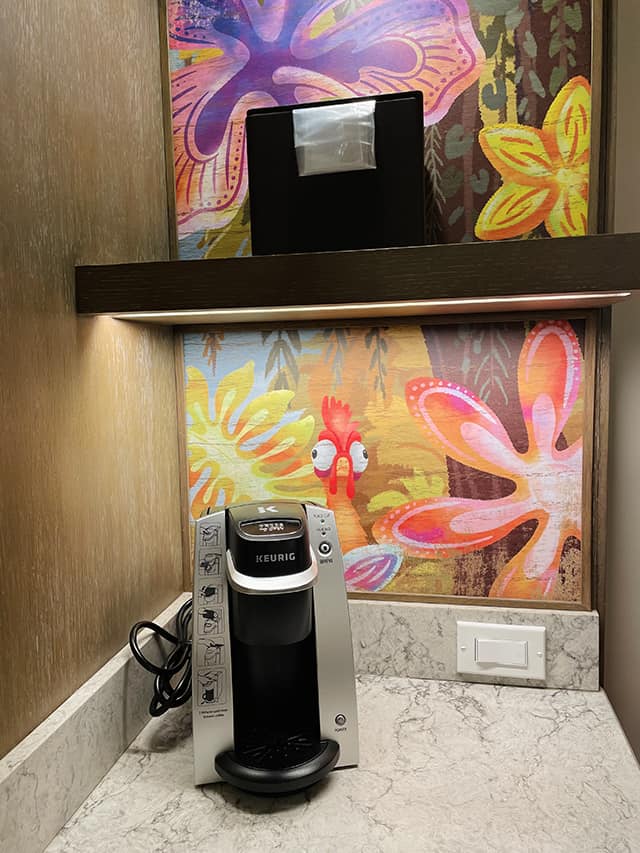 Our room included a small counter that had a Keurig coffee maker. Various coffee and tea items were available and more are available upon request. My favorite part is seeing Hei Hei in the background.
One of the things I appreciated was there is plenty of space for everyone. We had large dresser drawers and plenty of closet space.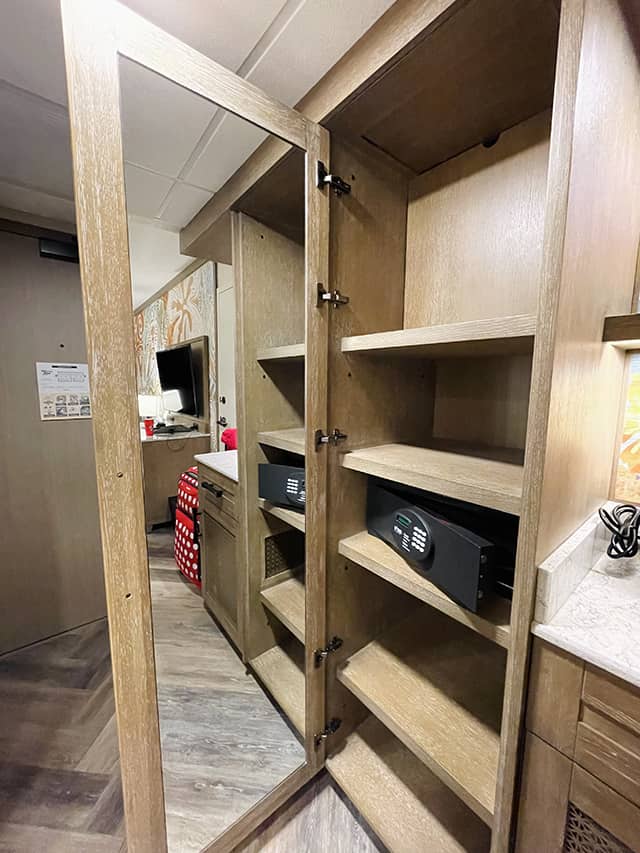 There are several shelves for everyone to use if needed and another place to hang clothes. It also had room to store luggage and additional drawers inside. We were only staying here for two nights, so we did not even need any of this space, but it was certainly nice to have.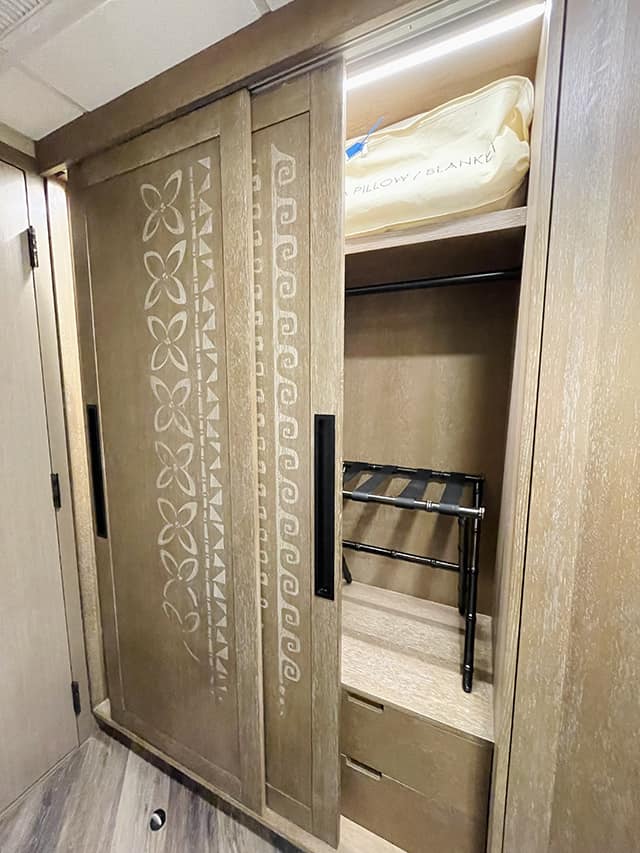 Bathroom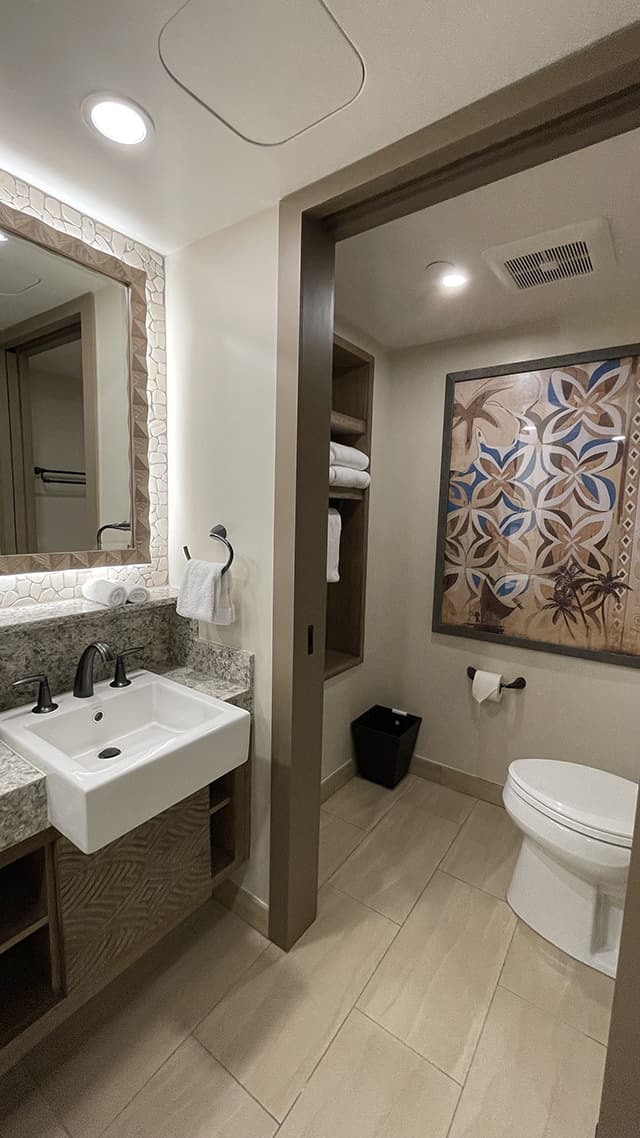 The bathroom was plenty large enough for the four of us. It was clean and more Moana details can be seen throughout the bathroom area. Brightly colored art on the wall and the sandy floor texture carried over from the room to the bathroom.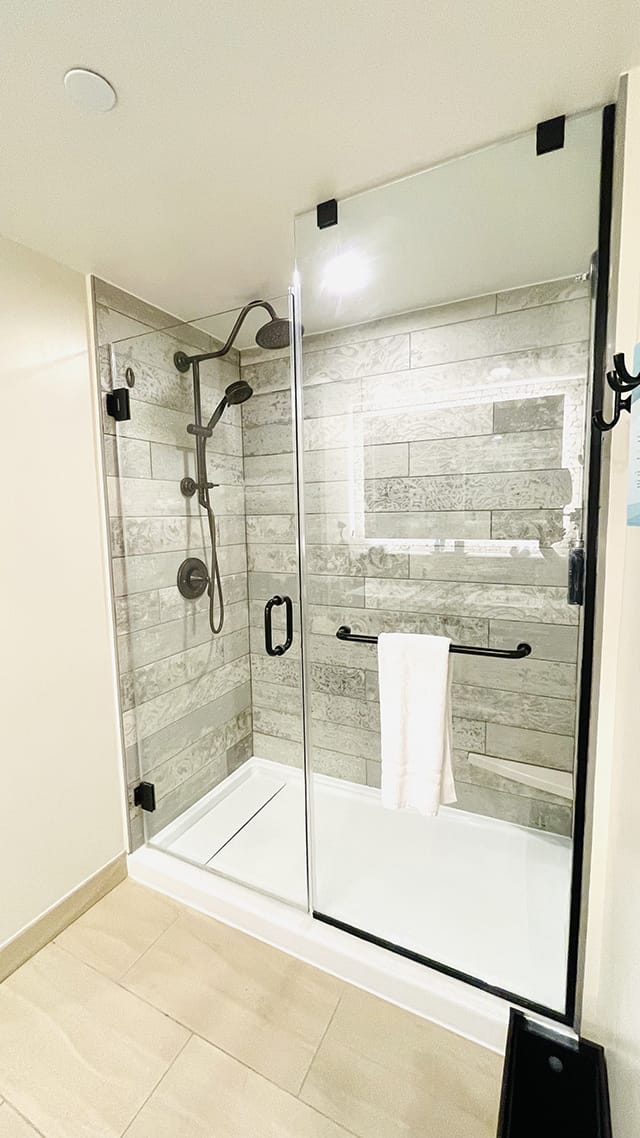 We had a large walk in shower. If you look really close at the walls, you will notice Moana styled designs on the walls. I love these subtle details!
Other updates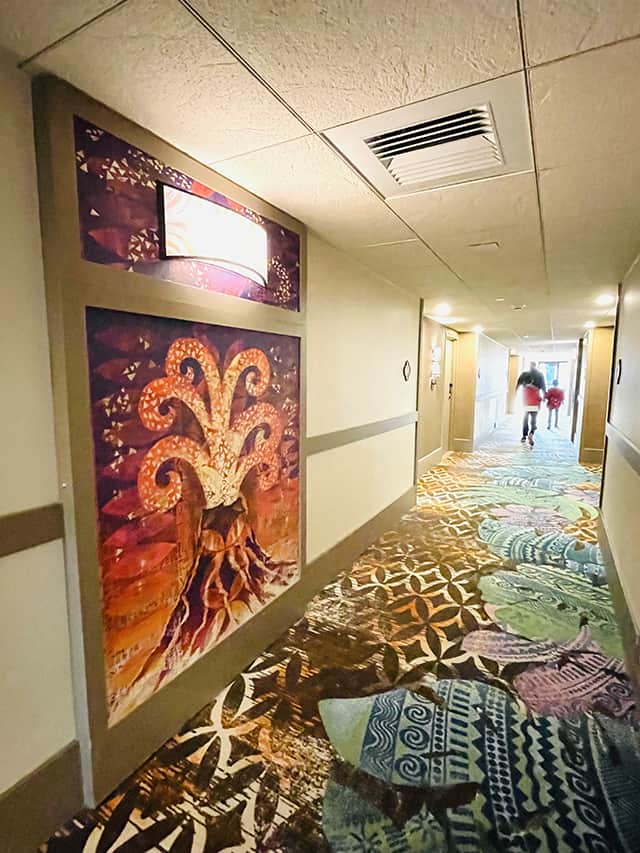 The Moana theming is prevalent throughout the resort and you can definitely see this in the hallways pictured above. From the carpeting to the art on the walls, there is no doubt where you are. I think this update definitely gives it a brighter, more welcoming look than what it was before. Moana is also perfect for the Polynesian!
Final Thoughts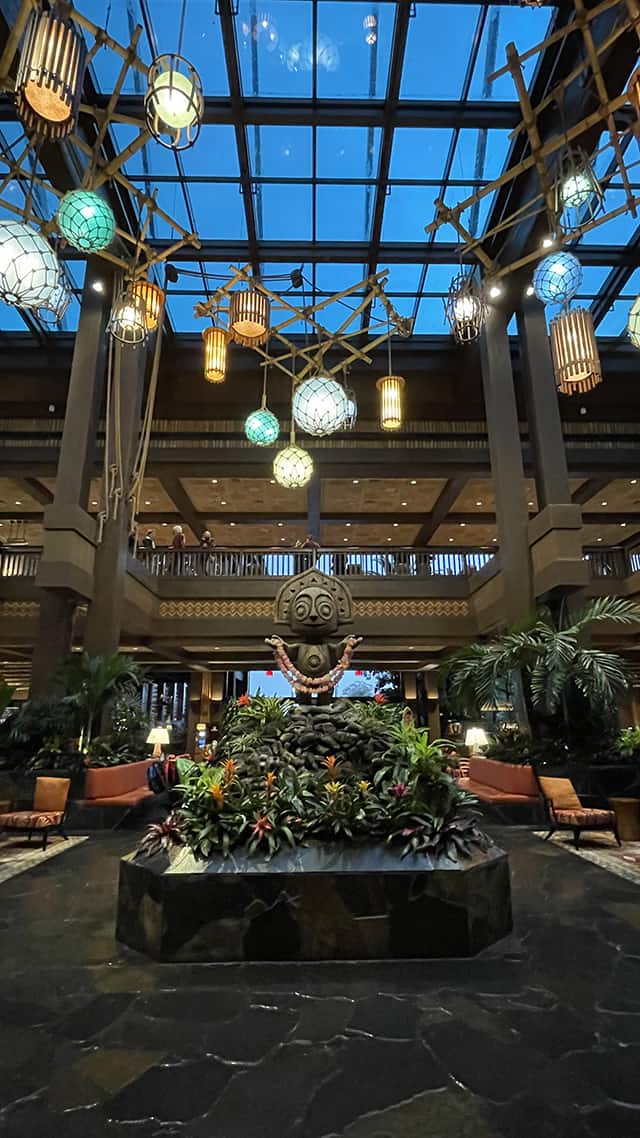 Overall, I absolutely loved the Polynesian. My only regret is that we did not stay longer, so I am hoping we can stay again and enjoy the resort more next time.
I thought the recent room refurbishment was definitely a welcome change from what was there before. Everything is brand new, bright and clean. If you are looking for a resort with easy access to the Magic Kingdom and love the feeling of being in a tropical setting, Disney's Polynesian resort is a great choice!
Have you stayed at Disney's Polynesian resort since the refurbishment? Did you enjoy your stay? What do you think of the newly refurbished rooms? Tell us about it in the comments below or on our Facebook page.

Are you planning a vacation? Reach out to our trusted travel agency sponsor Authorized Disney Vacation Planner
Mouse Class Travel
!