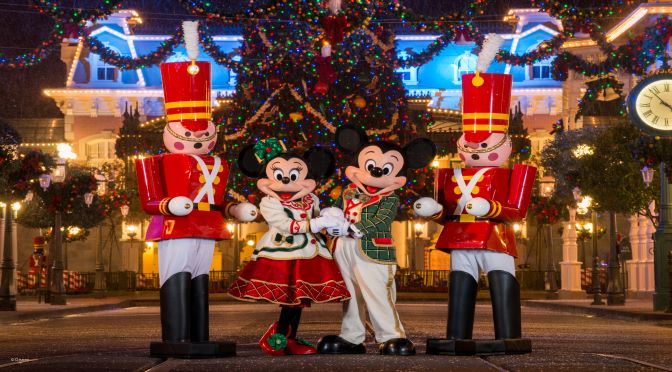 One of the most often asked questions by guests with Disney World trips near the holidays is "When do the holiday decorations go up?" So let's walk through this winter wonderland together and even take a peek at some behind the scenes magic!
The holiday season at Disney World is truly magical. The decor really sets the stage for the festivities, food, and shows! It's one of many reasons why so many guests visit the parks and resorts!
[the_ad id='41456′]
Animal Kingdom
Throughout the whole park, new and exciting holiday lights and decor will debut this season (November 8, 2019-January 1, 2020). Delight in the Tree of Life Awakenings  (wintry tales set to music), Chip and Dale's Holiday Hoopla  Dance Party, Christmas at Pongu Pongu in Pandora and Diwali, the festival of lights, and so much more! Reports show photo proof of Diwali Decorations starting to go up as early as October 28, 2019!
Hollywood Studios
Since HS really doesn't do much decorating for the Fall/Halloween season their holiday decor starts going up fairly early. We've actually seen several reports of the stars for Sunset Season's Greetings spotted on Sunset Blvd as of mid-October this year! All of their decor is set to be in full swing for the first Jingle Bell, Jingle Bam! Holiday Fireworks Show premiering November 8, 2019 and running through January 5, 2020. Details for a super fun dessert party offering can be found here!
Join the stars of ABC's Prep and Landing as they search for Santa in the Jingle Bell, Jingle Bam! Fireworks Show (fireworks, projections, music)!
Guests strolling down Sunset Blvd will be treated to holiday music, falling snow, laser projections and Holiday scenes for Sunset Season's Greetings. This show begins on November 8th.
Epcot
Festivals at Epcot seem to be year-round these days but one must stop before another can begin, and that statement is also true for the decor! Currently, Epcot is hosting Food & Wine Festival that will run through November 23, 2019. Then, the Festival of Holidays will begin November 29, 2019, just in time for the Thanksgiving holiday and runs through December 30, 2019. Reports from 2018 indicated decor starting to go up around the last week of Food & Wine but not reaching full grandeur until the start date in which the eleven World Showcase Nations get decked out with their unique Holiday traditions and decor.
For Festival of the Holiday's new kitchen offerings and Cookie Stroll info click here!
Disney Springs
The magic gets fully done up here in alignment with the first Mickey's Very Merry Christmas Party start date (November 8, 2019). The holiday decorations and atmosphere here are a favorite for families looking to relax, grab some hot cocoa, and casually stroll about. Even the carousel plays festive music! The Tree Trail is also not to be missed with various trees decorated in the themes of your favorite characters and movies! You can even meet Santa or have a jolly breakfast meet and greet! Festivities run through January 5, 2020!
Resorts
Unfortunately, the resorts do not seem to be on a schedule for decorations. It is believed the rule is to switch from Fall decor to Holiday decor soon after the last Mickey's Not So Scary Halloween Party at the Magic Kingdom and to be finished in time for the Thanksgiving holiday. The KtP team will be testing these theories for you this season and reporting our findings!
The most sought after resort Holiday display is at the Grand Floridian with its famous life-size Gingerbread House and 40ft tall Grand tree. Last year (2018) the Gingerbread House was spotted as early as November 10th! The tree, however, was reported at a much later time (November 21st of 2018).
The gingerbread display at the Contemporary Resort was seen on display on October 29. This seems much earlier than in years past!
Magic Kingdom
Arguably the most sought after place in Disney World in regards to decor is the Magic Kingdom!  The timeline here is simple and remains the same year after year. There are two major events that tend to occur mid-November that determine the timeline for holiday decor: Mickey's Very Merry Christmas Party and the taping of Disney Parks Magical Christmas Day Parade (taping begins November 7th).  With the last day for Mickey's Not So Scary Halloween Party being November 1, 2019 Cast Members will get to work that very night after the last guest leaves and work overnight to take down all Halloween and begin with Christmas. Not all the holiday decor will be up that next day but a good amount will be done, as well as complete removal of all Halloween/Fall so as not to have the look of Mickey's Not So Scary Christmas Party. That would be awkward! (Or could it be a new party idea?!)
Mickey's Very Merry Christmas Party begins November 8, 2019.
For party details click here and  here!
Watch this amazing clip from Freeform's "Decorating Disney: Holiday Magic " and get a behind-the-scenes look at how the magic is made!
Full video always streaming Here or check your local TV listings for future airings (typically mid December).
The KtP team will be busy elves this season hard at work in the parks and resorts providing you as much insider info as we can to make planning your next holiday trip a ginger snap!!
Happy Holidays!
Amanda Wesche
12 Reasons You Need to Visit Disney During the "Most Wonderful Time of the Year"