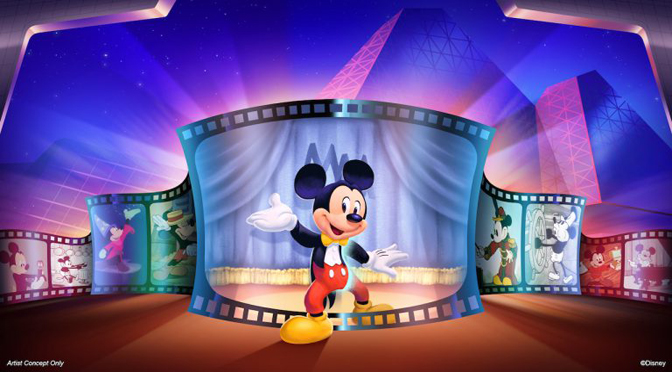 With the transformation of Epcot underway, we will have new attractions and experiences to look forward to.  One of those includes a new location for Mickey Mouse to meet park guests!
Mickey will soon be making appearances in a NEW location at the Imagination! pavilion as part of the Disney & Pixar Short Film Festival.
[the_ad id='41484′]
You can check out the short films now, but Mickey won't be meeting in the new location until early 2020! His interactions will also be a bit different than what is currently offered as he will be greeting his fans and celebrating his on-screen stardom just inside the theater. The theater is located at Imagination! pavilion in the Future World. It is right next to the Canada pavilion in the World Showcase.
The Disney & Pixar Short Film Festival is a 3D 18-minute presentation of 3 short films! Grab your 3D glasses and be amazed at the in-theater effects. Before entering the main theater, you can also check out the exhibit that showcases the creative process behind the stories and characters.
What do you think of this new Mickey meet and greet?
-Monica S.