With so many places to eat at Disney's Animal Kingdom, it's difficult to decide where to grab the next snack. Check out some favorites here.
Animal Kingdom Eats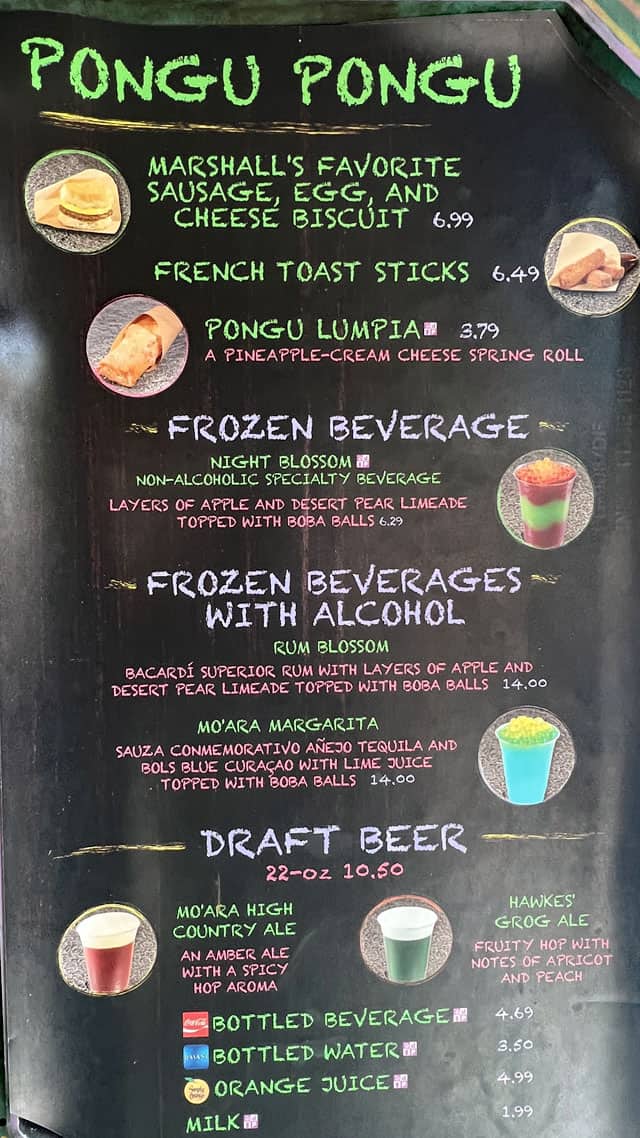 Disney's Animal Kingdom serves some of the most delicious and wide variety of food options at any Disney Park. Whether you have a craving for something more exotic, standard fare or delicious pastries, Animal Kingdom has you covered.
Take a snack journey of amazing snacks to try on your next visit.
Night Blossom – Pongu Pongu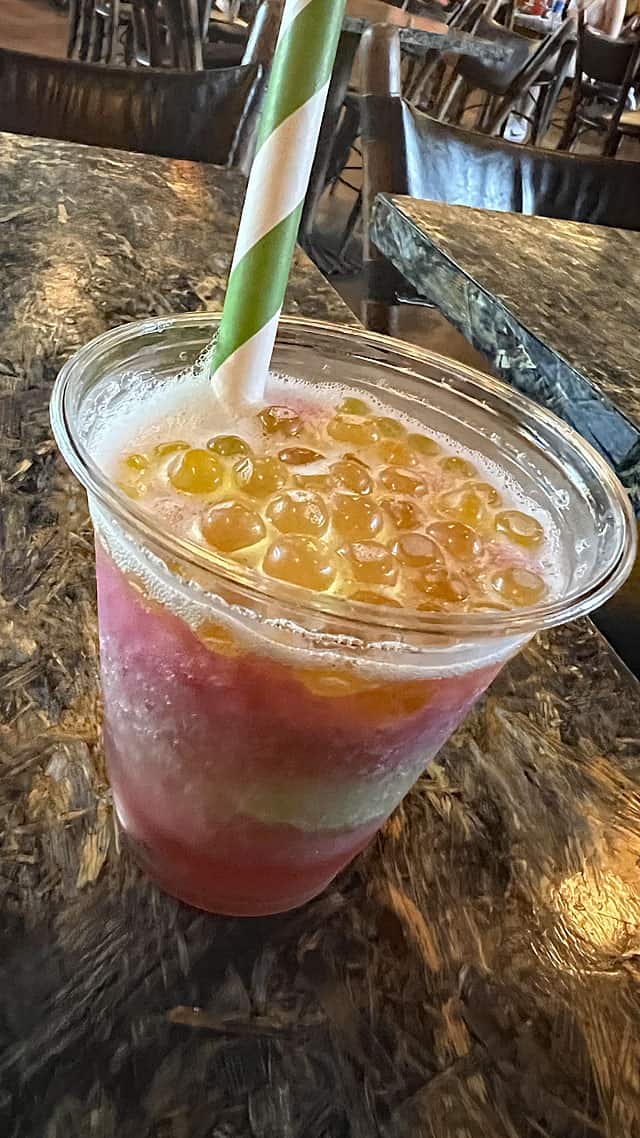 Quench your thirst in Pandora at this otherworldly pit-stop offering Na'vi-inspired refreshments. Meaning "Party Party" in the language of the Na'vi, Pongu Pongu welcomes weary travelers to try sweet snack you won't find elsewhere!
Our first Animal Kingdom snack is the Night Blossom frozen drink with layers of Apple and Desert Pear Limeade topped with Boba Balls, with or without alcohol. It's a layered fruity drink that's refreshing for hot Florida days. While the Boba Balls make the drink look interesting, they don't add a ton of flavor.
Pongu Lumpia – Pongu Pongu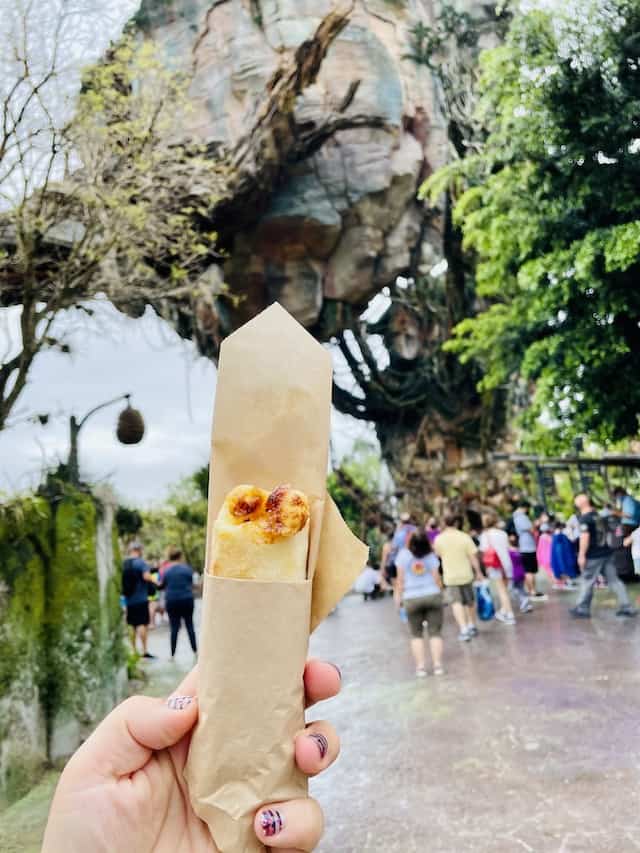 The next delicious snack is also found at Pongu Pongu. Pongu Lumpia is one of my favorite snacks at Disney World. I'm (Susan) a huge fan of spring rolls in general, but these dessert spring rolls filled with pineapple cream cheese are delicious.
The crispy outer layers go with the flavorful creamy center so well. I found them slightly sweet, but not nearly as sweet as other. If you're looking for savory spring roll, check out the cart at Magic Kingdom HERE.
French Fries – Mr. Kamal's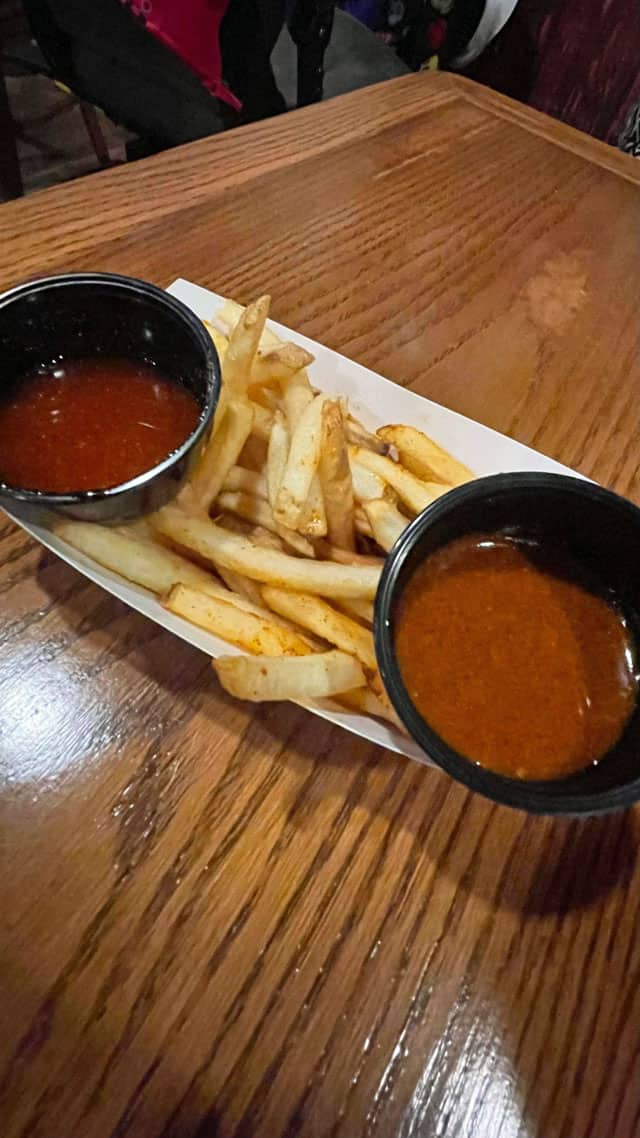 Head to the walkway between Asia and Africa to locate this next snack. Mr. Kamal's fries are freshly made and served so crispy with just the right amount of seasoning.

However, the sauces (Korean chili ketchup and curried honey mustard) make these french fries stand out giving them an extra pop of flavor. Once you try them, you'll find yourself coming back for more!
Churros – Nomad Lounge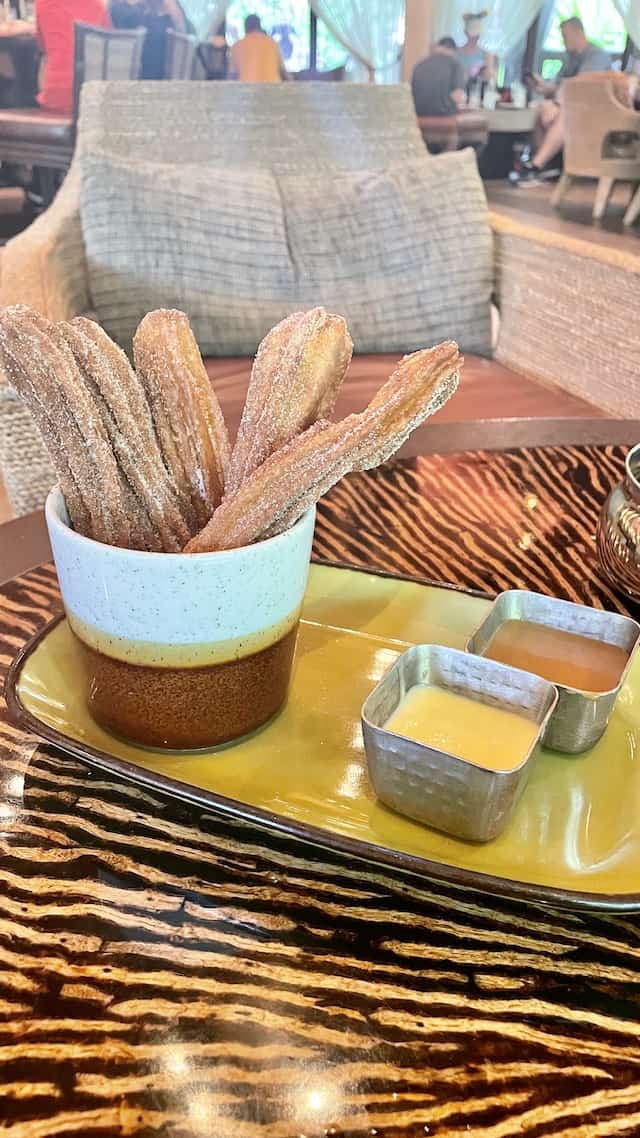 Have you bitten into a Disney World churro only to be disappointed that it wasn't fresh or crispy? Most churros are sold throughout the theme parks at carts. Understandably, none of the food is made here which makes for less than ideal churros.
Looking for the perfect churro? Then, head to the Nomad Lounge at Disney's Animal Kingdom. They even have a gluten free version! When my friend Monica and I (Susan) bit into this churro for the first time, we couldn't believe how delicious they were. They're made fresh and are fried with a perfect crispy outside and softness on the inside.
After cooking, they're lightly dusted with cinnamon sugar. To make these even more amazing, Nomad Lounge includes 2 dipping sauces: vanilla crema and coffee crème anglaise.
Both of these sauces are made in-house and are wonderful! The coffee crèma anglaise is a custard sauce that adds coffee. It tasted more like a buttery toffee sauce and was my favorite. From now on, Nomad Lounge is the only place I will eat churros!
Nomad Lounge makes the perfect churros.
Chicken Street Tacos – Smiling Crocodile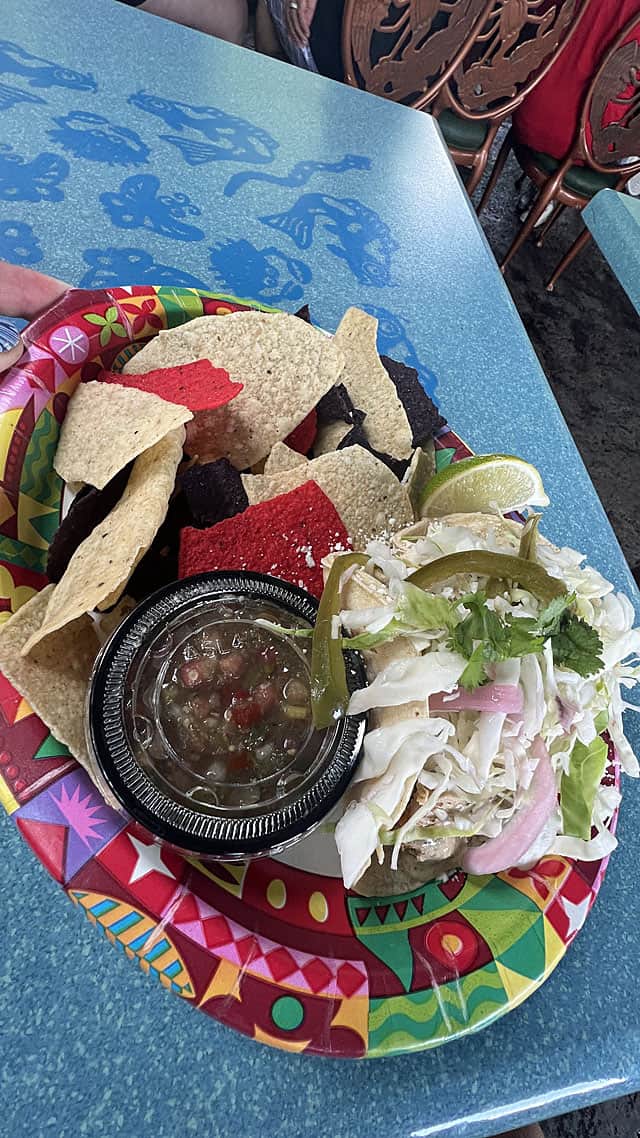 Located at Discover Island, you'll find this tasty treat at the Smiling Crocodile walk-up window. Here, enjoy a lip-smacking menu, including chicken, pulled pork, and bean/corn (vegetarian) street tacos.
The chicken street tacos make a great snack or small meal. With them, you get two roasted chicken tacos tossed in a house-made sauce with lime crema, cotija cheese, cabbage, and pickled onion served with a side of chips and salsa.
As a huge fan of street tacos, my expectations were low. However, all of the ingredients were so fresh and flavorful! The cabbage gave a wonderful crunch and the chicken and sauce were seasoned well. It wasn't too spicy, and I would definitely order these again! These street tacos were a lighter food option that would be great on a hot summer day.
The chicken street tacos were so fresh and flavorful!
Tiger Tail Chocolate Twist – Isle of Java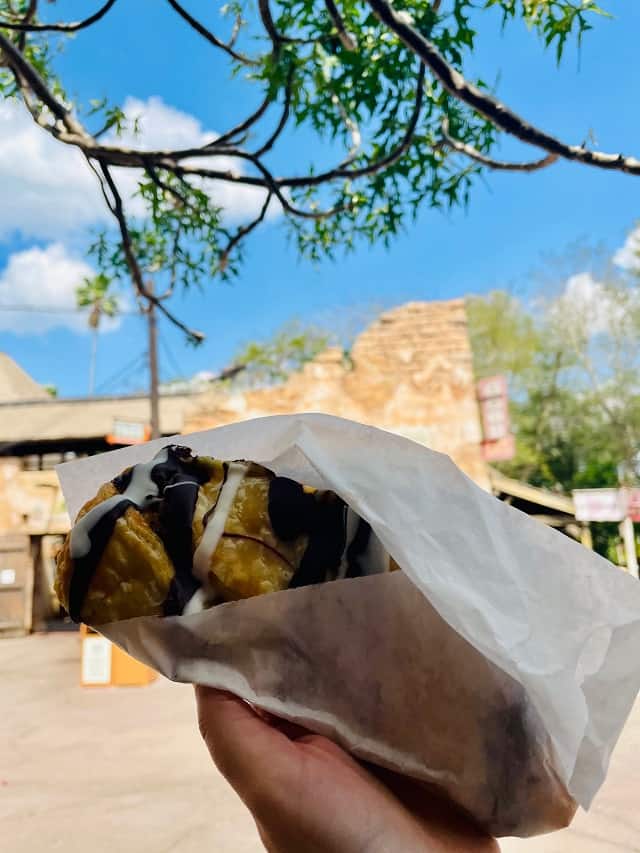 The Tiger Tail Chocolate Twist is served all day at Animal Kingdom's Isle of Java and makes a yummy breakfast treat! Located at Discovery Island, this chocolate twist is similar to the Cheshire Cat Tail sold at Magic Kingdom. However, this version's light and flaky pastry layers with chocolate goodness twisted throughout the snack is even better!
If you're wanting a chocolate pastry on your next trip to Animal Kingdom, give this one a try!
Mr. Kamal's Fried Chicken Dumplings
Also sold at Mr. Kamal's are the fried chicken dumplings shown above. The crispy dumplings are a satisfying snack served with ponzu sauce, a citrus-based Japanese condiment with a tart and tangy flavor.
These were tasty, but we preferred Mr. Kamal's french fries over the dumplings. In addition, the portion size on this snack is smaller too.
Buffalo Chicken Nachos – Trilo Bites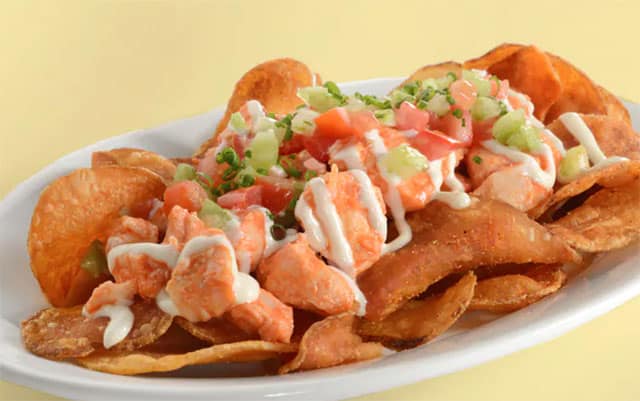 Head to Dinoland to try the next delicious snack. Look for Trilo-Bites to sink your teeth into zesty buffalo chicken chips. These house-made chips are served with buffalo chicken and blue cheese dressing, then topped with a tomato and celery relish.
If you're looking for a freshly made snack with a kick, this is it!
More Delicious Food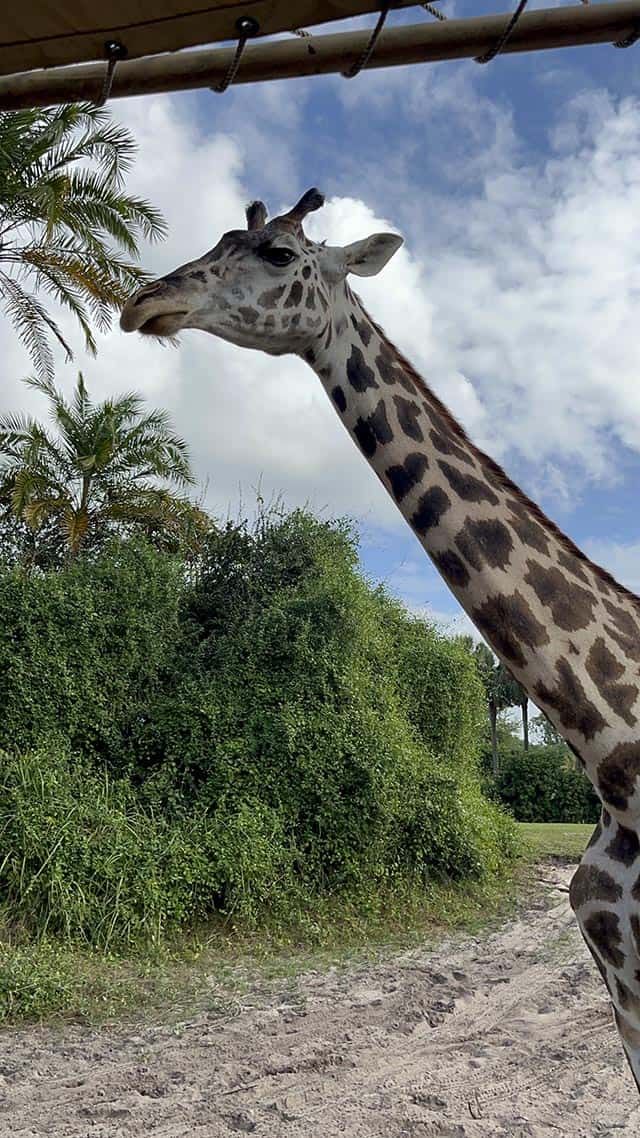 Disney's Animal Kingdom offers such a variety of snacks this list could keep going. One of my favorite snacks in all of Disney are the zebra domes served at Disney's Animal Kingdom Lodge. Take a look HERE to see a poll of favorite Animal Kingdom snacks.
And don't forget the amazing restaurants at Animal Kingdom like Yak & Yeti and Tiffins. To mix in our favorite Disney characters with an amazing buffet, check out Tusker House too. Do you prefer to snack while at Disney or sit down for a full meal?
One of the hardest things is narrowing down what to eat while visiting Disney's Animal Kingdom!

What are your favorite Animal Kingdom snacks? Which ones would you like to try on your next visit? Please let us know your thoughts in the comments below and share this post with a friend.