When many Guests plan their visit to Disney's Animal Kingdom, they often overlook this best kept secret. It is one of my favorite spots for some amazing food and drinks!
Animal Kingdom dining options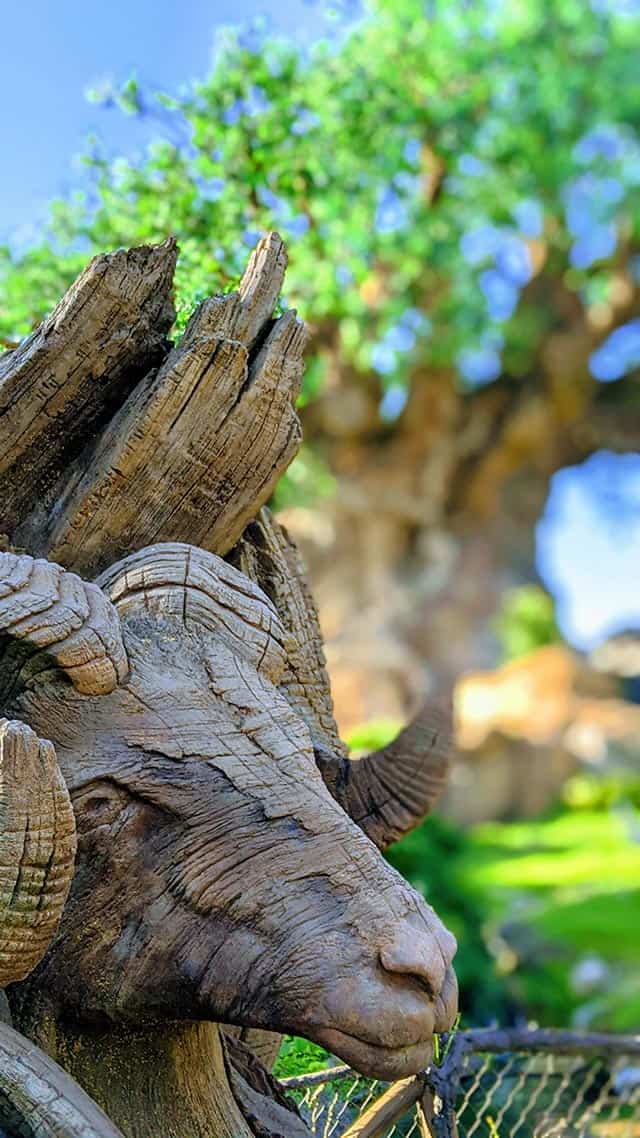 Disney's Animal Kingdom is home to some really great dining options. The park is known for adventurous food that can be found all over the world! Everything from snack carts to signature dining can be found here which means you will never leave hungry. Table service restaurants include:
Rainforest Cafe
Tiffins
Tusker House
Yak and Yeti
Quick service restaurants include: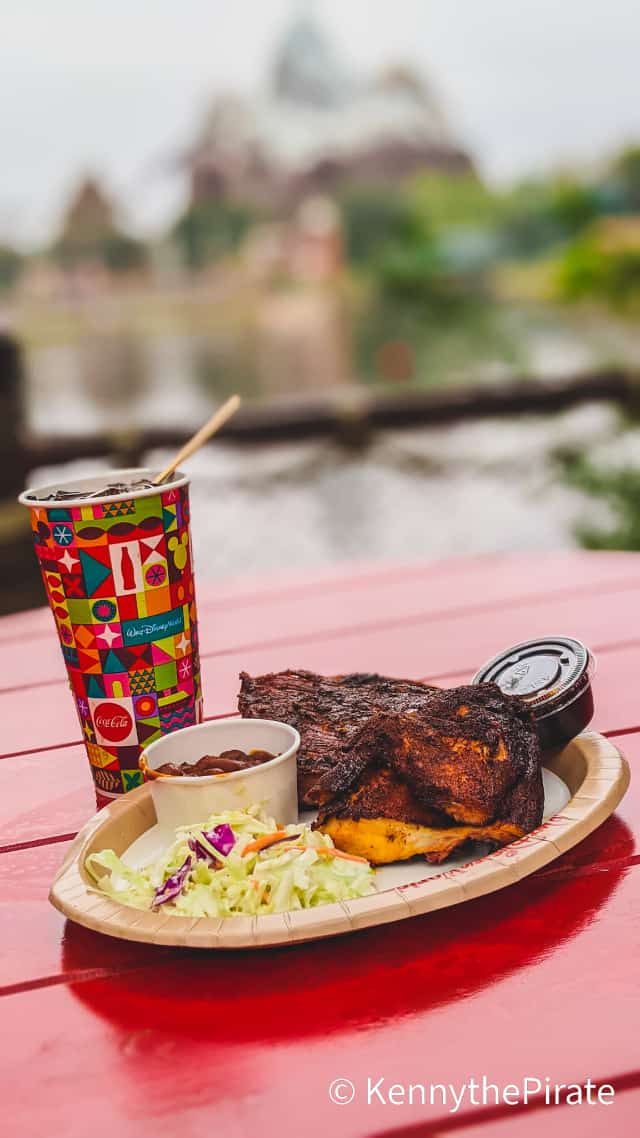 Flame Tree Barbecue
Harambe Market
Nomad Lounge
Pizzafari
Restaurantosaurus
Satuli Canteen
Tamu Tamu Refreshments
Yak and Yeti Local Foods Cafe
Many people will head straight to Flame Tree or Satuli Canteen, and rightfully so! They offer some really great entrees. Some will go to Yak and Yeti or Tusker House to get a nice break from park touring. However, after dining at Nomad Lounge recently I am not sure I will visit anywhere else ever again!
Nomad Lounge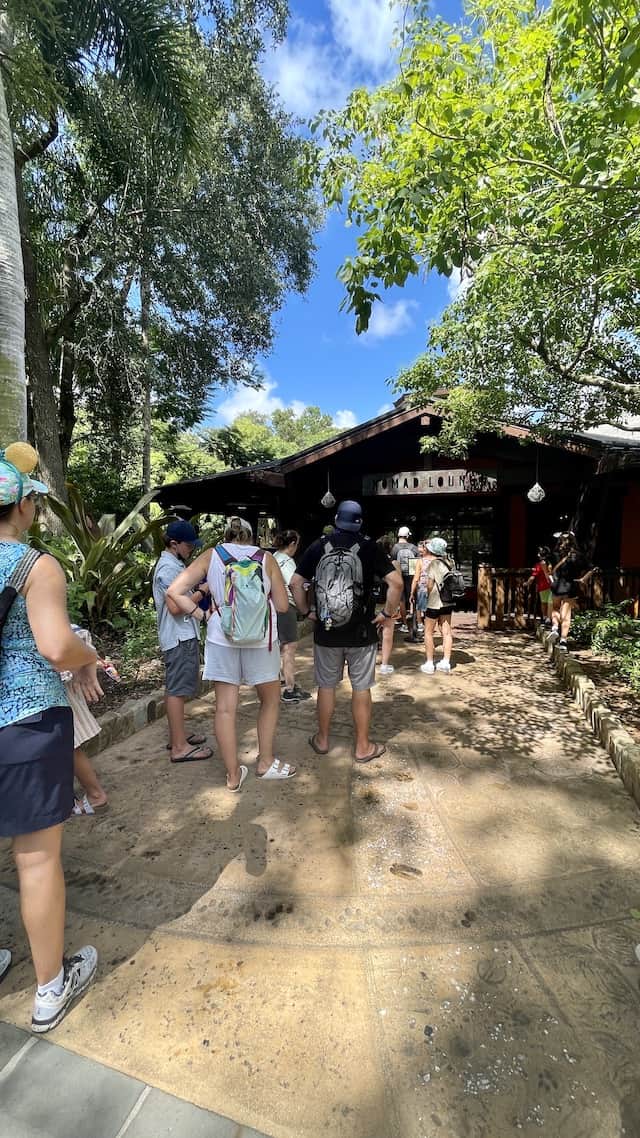 Located in Discovery Island as you head towards Pandora – The Land of Avatar, you may miss Nomad Lounge if do not slow down to take in your surroundings. This lounge sits right next to Tiffins and overlooks the river and invites all to stake a claim in their own wanderlust over mouth-watering small plates and a large selection of beer, wine and mixed drinks.
You may not think a lounge will be enough to satisfy hungry bellies, but if you are like me you prefer to nimble on a little bit of everything Disney has to offer. I have been known to snack and share meals with family and friends in order to keep enough room in my stomach for more food! Nomad Lounge surely offers enough for a fantastic lunch or a mid-afternoon snack.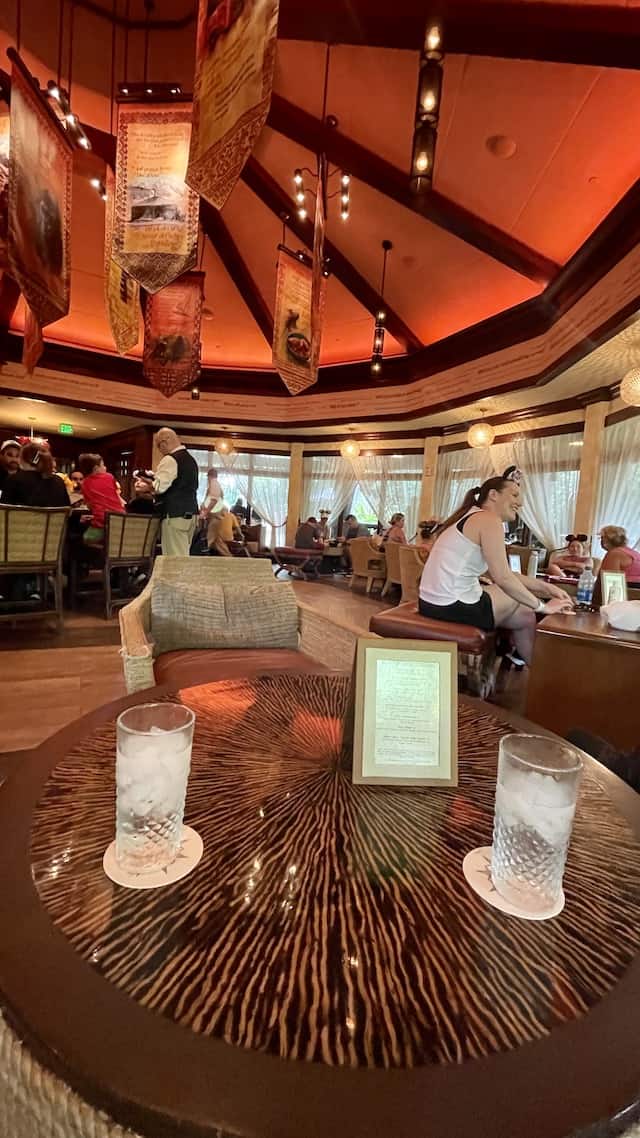 The tricky part is actually getting into Nomad Lounge. They do not offer advanced reservations, so you must join the walk-up wait list on the My Disney Experience app once you are close to the restaurant. If you are visiting on a busy day, you could be waiting quite a while, or you may not even be able to join the list!
Pirate tip: Be sure to join the wait list as soon as it opens (usually 11 am or a few minutes before) or line up early.
Alternatively, you could line up outside the restaurant before it opens to secure a table. On the day fellow KtP Writer Susan and I visited, we lined up shortly before 11 am, and when we entered there were already people sitting and enjoying their food and drinks.
Menu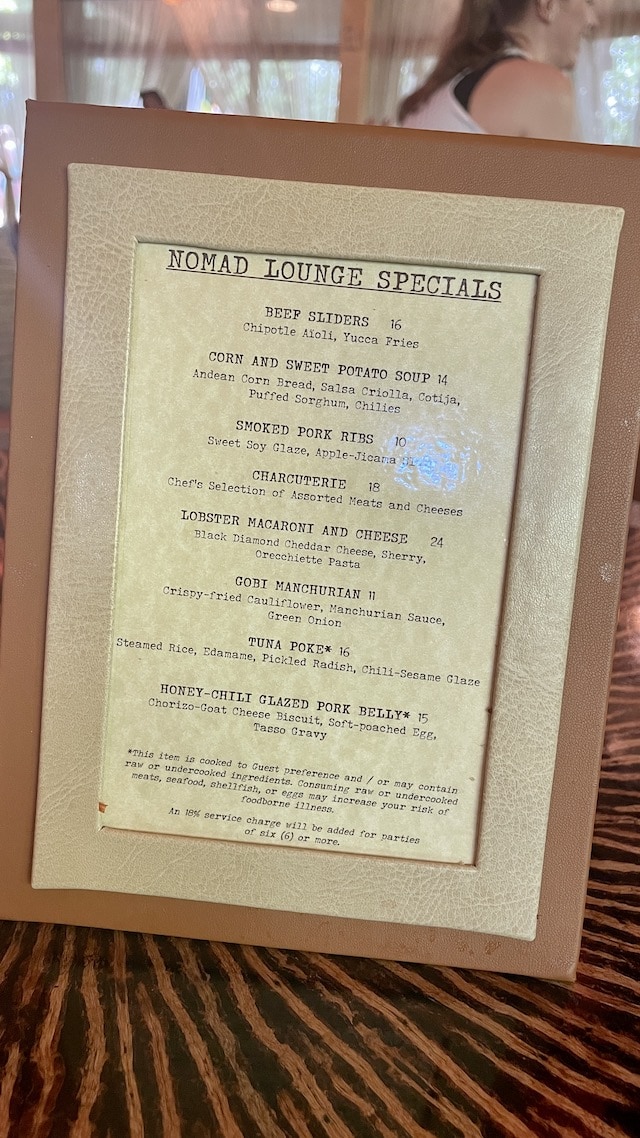 Since Nomad Lounge is located next to Tiffins, you will find that both locations share a few menu items! Toast to a good journey with a refreshing beverage served alongside a scrumptious snack which draw inspiration from distant locations around the world.
African, Asian, and Latin items include:
Tuna Poke Bowl
Impossible Sliders (on the day we visited we also had the option to order Beef Sliders)
Honey-Chili Glazed Pork Belly
Chicken Manchurian Nomad Bowl
Tiffins Bread Service
Churros
Kids can also select from a special menu which includes: Shredded Beef Tacos, Grilled Shrimp with Ginger-Tamari Glaze, Grilled Chicken Breast, and Impossible Bunny Chow.
A large selection of specialty cocktails, wines, beer, and non-alcoholic beverages are available to sip from.
Our review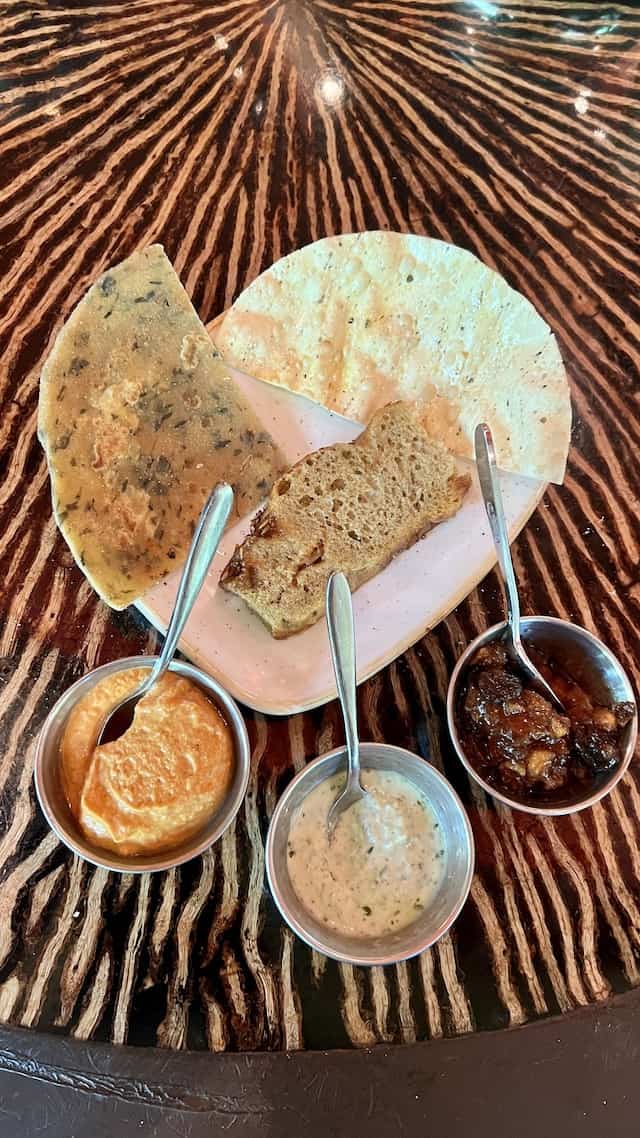 Susan and I started with the bread service from Tiffins. Having had bread service from Sanaa, we were both familiar with what we had ordered as well as excited to experience it again! Bread service can sometimes come in the form of crusty rolls at Disney World restaurants, but bread service from Tiffins and Sanaa is always a treat.
Our server presented us with various types of bread and spreads, which we both thoroughly enjoyed. I cannot handle much spice, but even I could not stop eating it! However, we both definitely prefer the bread service at Sanaa. Try both and let us know which you prefer!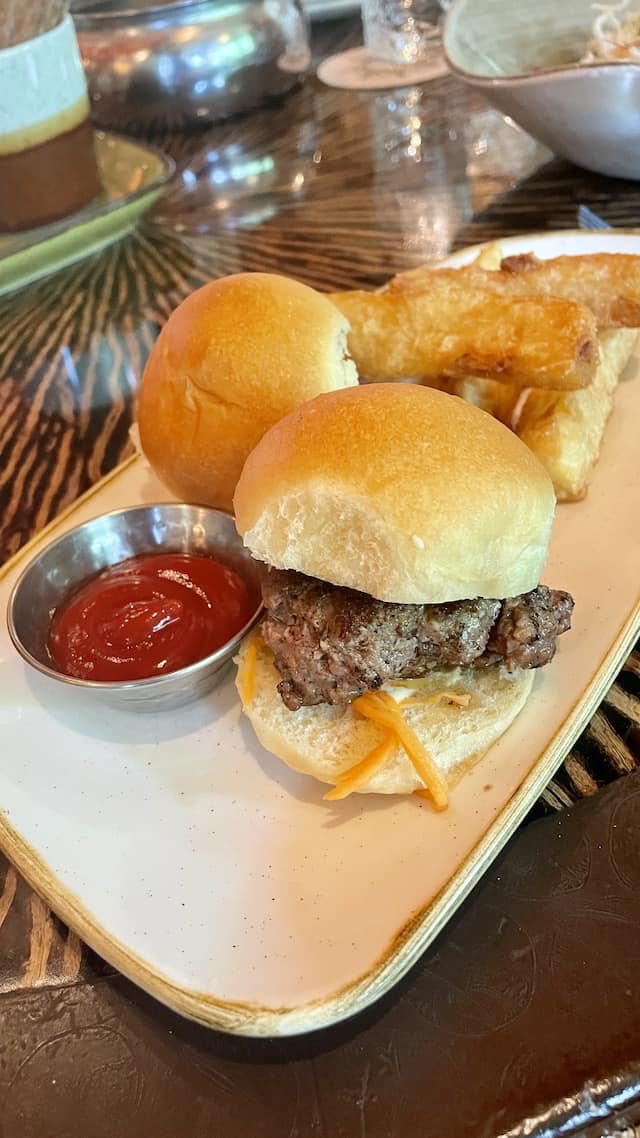 I ordered the beef sliders with yucca fries, and oh my goodness. While they do not compare with the rib sliders at Space 220, these sliders are a close second. They come pretty plain, so they are a great choice for plain eaters. The yucca fries were so crispy, and at first I forgot these were not even potato fries. They have a very mild flavor!
Susan, on the other hand, did not care for the sliders. They were pretty forgettable, in her opinion. I suppose that would be true for people who have more adventurous palates. However, this next dish we opted to try blew both of our minds.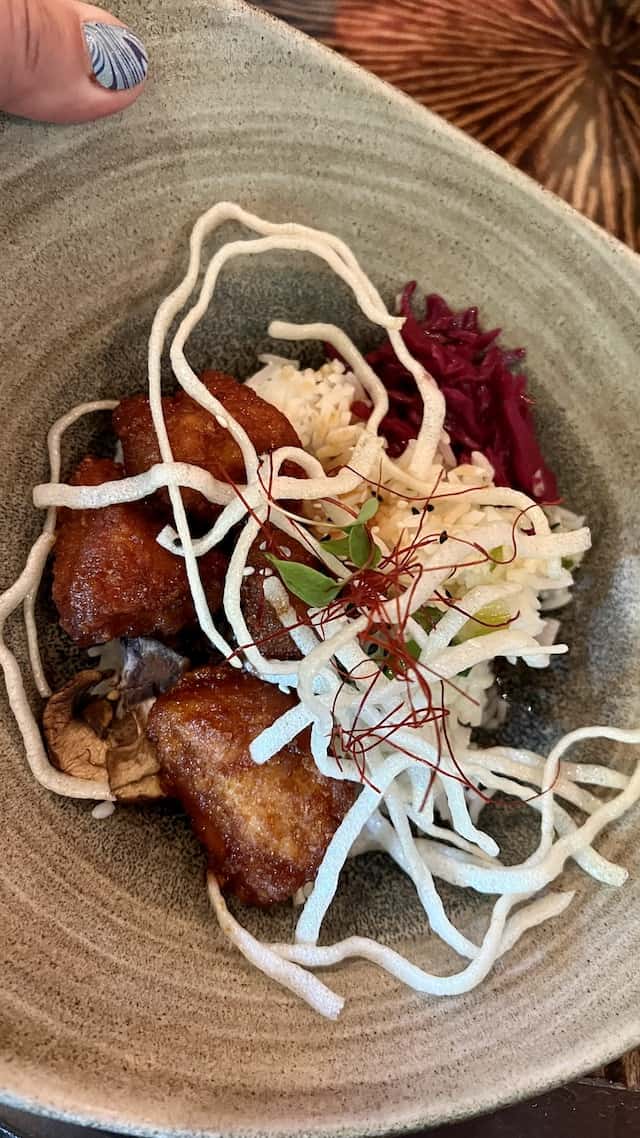 The Chicken Manchurin Nomad Bowl was so.so.so good. Chicken manchurian is a popular Indonesian Chinese dish made of fried chicken in manchurian sauce. The chicken bites had just the right amount of herbs and spices in the sauce without overpowering it. Susan and I still talk about how amazing this dish was! Easily some of the best chicken we have ever had.
Lastly, we sampled the churros with dipping sauces. Disney World churros have a bad reputation, and rightfully so. They are usually hard and bland. However, the churros at Nomad Lounge is the exact opposite. These churros were so light and fluffy inside with a nice crunch on the outside. The vanilla and coffee creme sauces tasted incredible with them. They even have a gluten free version! Nomad Lounge is the only place I will eat churros from now on.
Atmosphere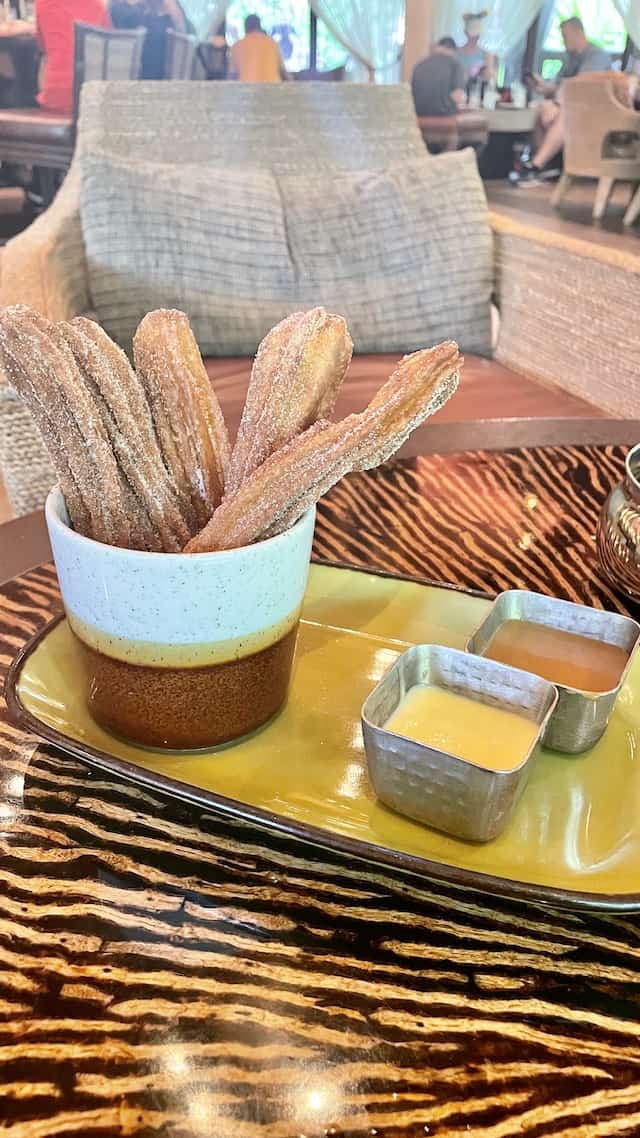 You have the option to either dine inside or outside. If the weather is cool enough, I would definitely recommend sitting outside on the water. This would provide some great relaxation as you take in your surroundings. However, for most of the year Florida is pretty hot. I am always looking for a break in the air conditioning if possible, and I really enjoyed our indoor dining.
Not only will you find the atmosphere is relaxing, but the furniture is as well. The soft, reclined cushions felt like a more personable experience instead of metal tables and chairs at nearby restaurants. I would not hesitate to stop at Nomad Lounge, even if it's only for a quick break and refreshing beverage.
Have you ever dined at Nomad Lounge? What did you think of the food and atmosphere? Did you have difficulty getting into the restaurant? Let us know in the comments below and on Facebook.
Are you planning a vacation? Reach out to our trusted travel agency sponsor Authorized Disney Vacation Planner
Mouse Class Travel
!