Are you thinking about booking a lounge reservation for one of EPCOT's hottest new restaurants, Space 220? If you are struggling with this decision, here is why you will definitely want to go ahead and just book it.
Space 220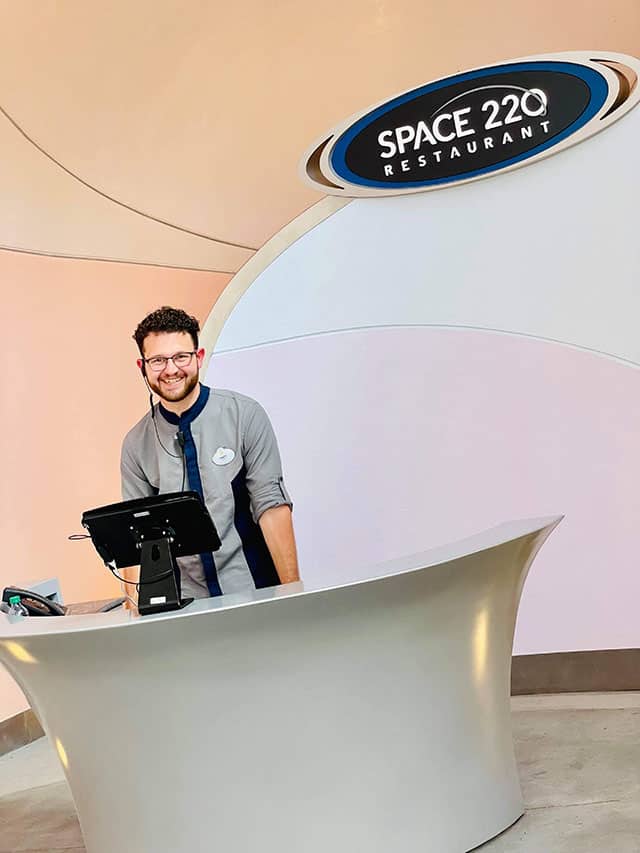 After a lot of anticipation, Space 220 finally opened its doors to guests on September 20, 2021. Located next to Mission: SPACE, guests shoot up 220 miles above Earth and experience daytime and nighttime views of the Earth. Guests feel as if they are docked next to the Centauri Space Station, which is suspended just beyond the orbit of Mission: SPACE.
In my (Maggie) opinion, the dining experience does not compare to any other dining experience in Walt Disney World. After all, how many other restaurants on property take you on a ride before your meal even begins? Once you step off the Space Elevator, it truly feels like you have entered an out of this world experience.
Take a look at my review of the whole experience HERE.
The Lounge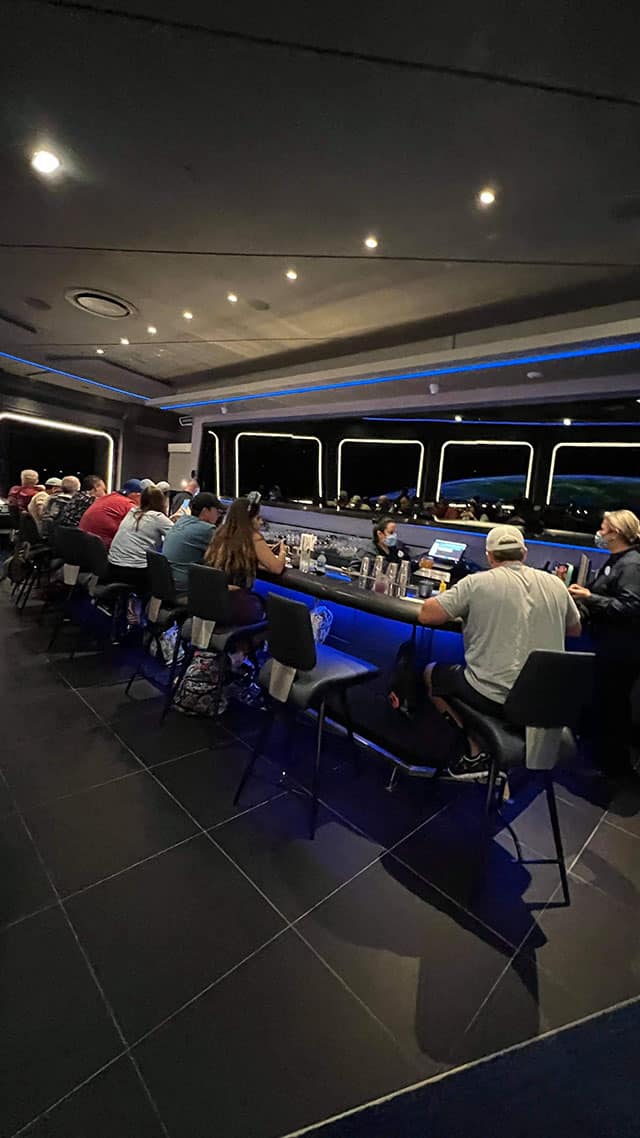 When Space 220 first opened, you might remember that the lounge was walk up only. Not too long after the restaurant opened this changed. The lounge began offering advanced dining reservations. This was fantastic news!
Advance dining reservations are highly recommended for Space 220 and the Space 220 lounge!
While this hopefully gives more guests a chance to dine at this sought after location, reservations do fill quickly, so be sure to put this on top of your priority list if this is one of your dining choices.
Lounge Menu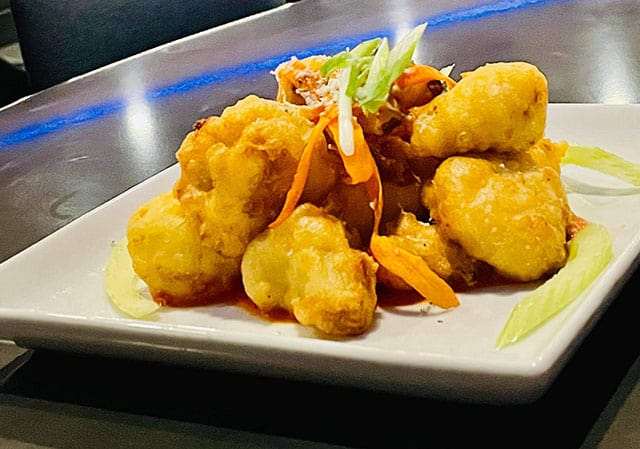 The lounge menu does slightly vary from the regular menu. Let's take a look at the offerings.
Astro Deviled Eggs $12.00
Free-Range Eggs, Maple Glazed Bacon, Scallion, Pickled Shallots, Micro Cilantro
Blue Moon Cauliflower $17.00
Tempura Fried Cauliflower, Housemade Hot Sauce, Blue Cheese Dust
Short Rib Sliders $18.00
White Cheddar Cheese, Sriracha Aioli, Lettuce, Tomato, Butter Pickles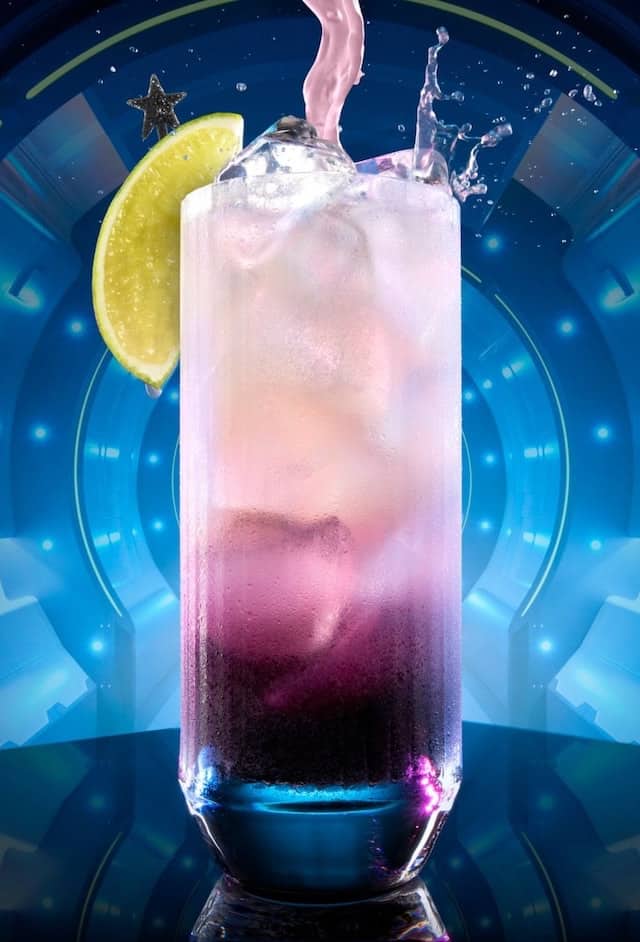 Starry Calamari $19.00
Fried Calamari, Italian Cherry Peppers, Spicy Marinara, Roasted Pepper Citrus Aioli
Chicken on Waffle $18.00
Fried Chicken, Smoked Bacon and Roasted Corn Waffle, Spiced Coleslaw, Bourbon Maple Glaze
Shrimp Cocktail $24.00
U 10 Shrimp, Classic Horseradish Cocktail Sauce
Difference in Cost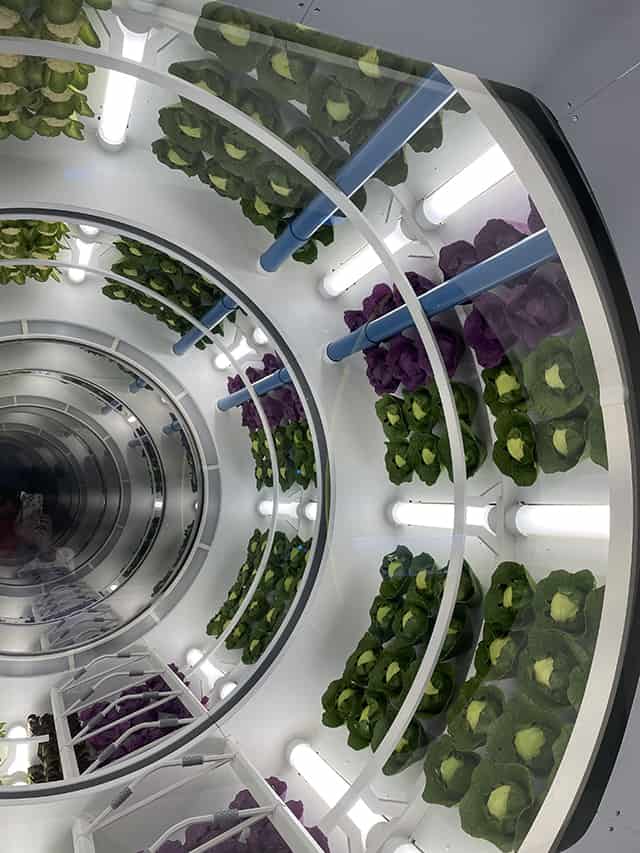 One of the more obvious differences between the lounge and regular restaurant menu is of course the price! The restaurant menu features a two-course prix fixe menu for lunch and a three-course prix fixe menu for dinner. If you are heading to the restaurant for lunch, expect to pay $55/person while dinner will set you back $79/person.
When I went to Space 220 for lunch, I was shocked to see that lunch for just myself was nearly $80! If the price of the regular restaurant is keeping you away from dining at this location, you should definitely try out the lounge for this reason alone.
You get the same experience for a much lower price!
My experience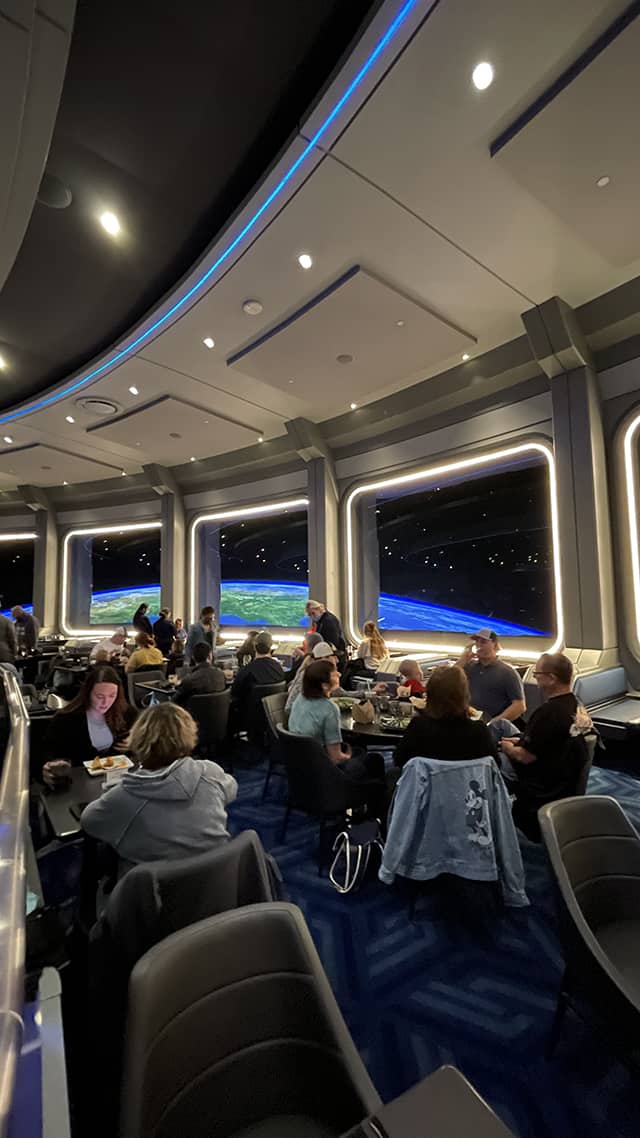 A few months ago, I decided to try out the lounge option for my family rather than spending a ton of money for all four of us for the regular restaurant. This way I was able to show my children and husband the complete experience and it was much more affordable.
If you are wondering about taking children to Space 220, read Jaelyn's review HERE. Next, if you are wondering whether children are welcome in the lounge, they are!
During my experience, we were not seated in the lounge area even though our reservation was specifically for the lounge. We sat in the main dining area up close and had a great view. Before we sat down, I made sure that our server knew we had a lounge reservation. I definitely did not want any surprises once the bill arrived.
Our server informed us that we could order off either the lounge or regular restaurant menu.
Food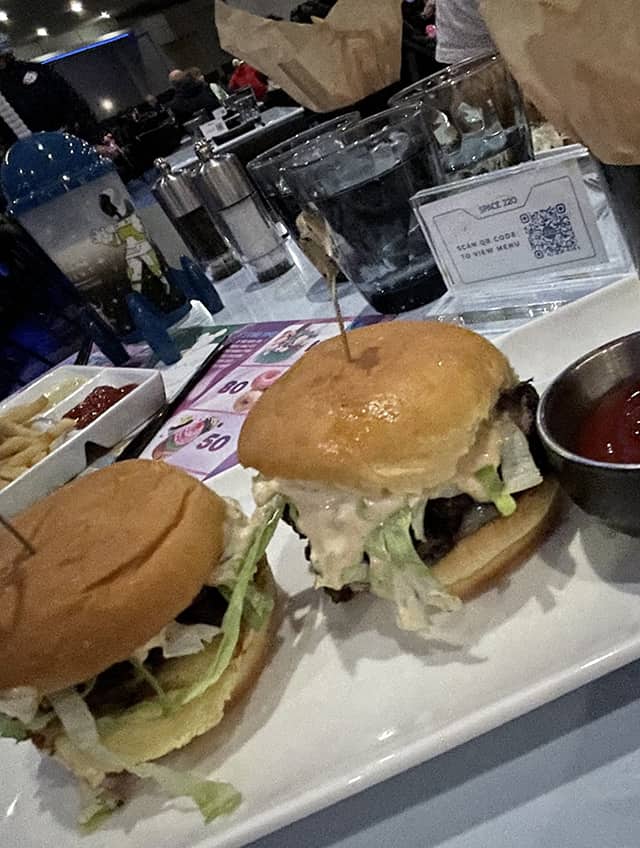 My husband ordered the Short Rib Sliders. The bread was soft and sweet and the aioli sauce was a nice addition. Overall, they were not the best sliders ever but also not the worst.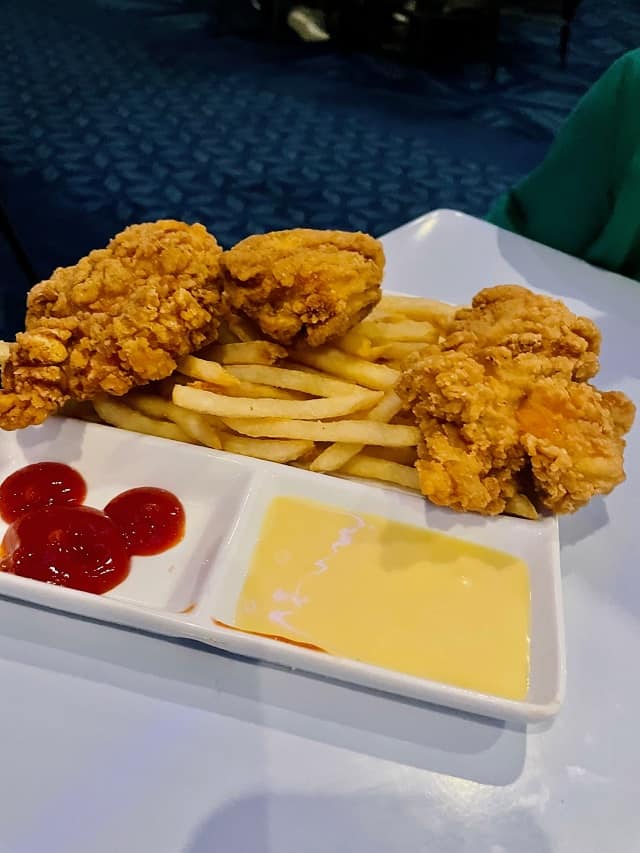 Both of my boys had the Cosmic Chicken off the Kid's menu. I do have to admit that I tried both the chicken and the french fries and both were really, really tasty. The chicken was tender and had just the right amount of crisp, and the french fries were fresh and hot. Were they the best chicken tenders ever? I do not think so, but I would definitely have them again.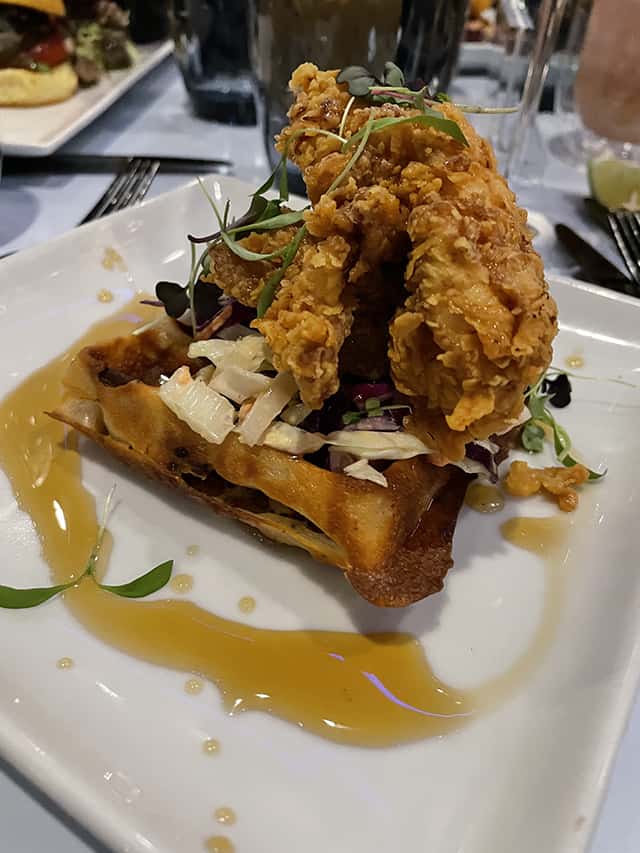 I had the Chicken on Waffle. It was amazing! At first, I was not too sure about the combination of chicken and waffle. Personally, the combination does not sound all that appealing to me, and I like to think of having chicken for lunch or dinner rather than breakfast.
However, I know this combination is not something entirely new as I have seen it on other menus before. So, I thought I would give it a try. I am so glad I did because it was simply delightful! The chicken was hot, crispy and tender. The waffles were warm and fresh and the syrup added just the right amount of sweetness to the dish.
Lounge vs Restaurant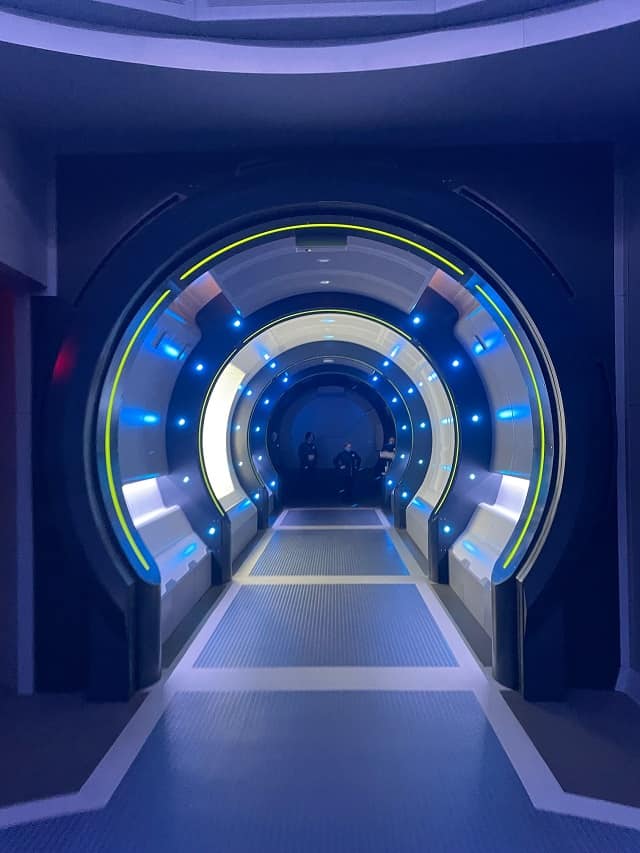 Still trying to decide which is best for you? Take a look at KatieP's post HERE to help you decide. My overall impression was that I enjoyed the lounge experience much more than the regular restaurant experience. The lounge experience is pretty much identical to what you would have in the regular restaurant but at a much lower price.
If you are seated in the lounge area and want to sit in the regular restaurant area, I would suggest asking the Hostess if they can seat you there. The worst thing they can say is no, so it never hurts to ask.
You also get to try items from the regular restaurant menu and lounge menu. Overall, it's a win win!
Have you been to the Space 220 Lounge? Do you like the lounge or the regular restaurant better? Do you see any real differences in the experience? Tell us about it in the comments below or on our Facebook page.