Are you looking for an off-property hotel that has some of Disney's best perks? The New Drury Plaza may be just the place for you!
A New Disney Official Hotel!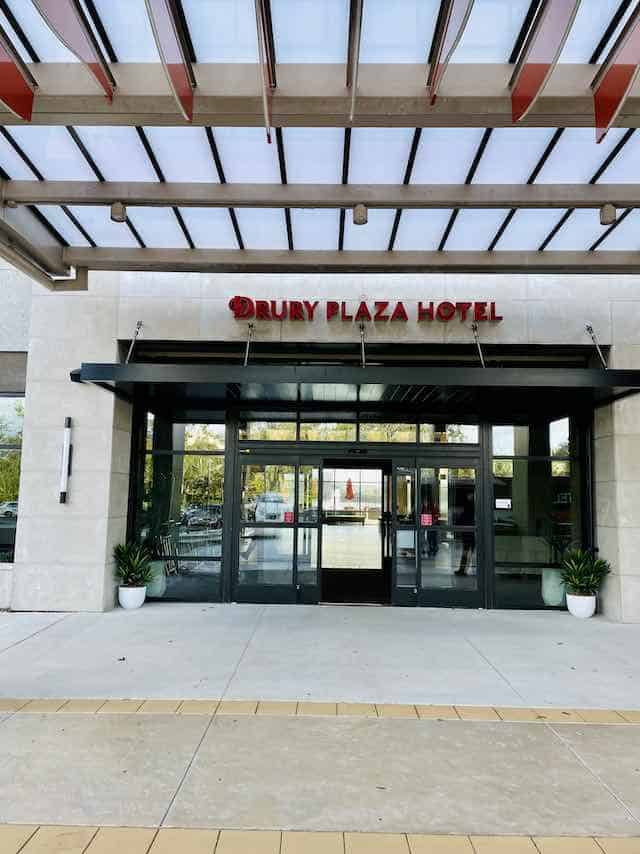 One big determination when you begin planning your Walt Disney World Trip is whether to stay off-property or to splurge on a stay in a hotel from the Disney Resorts Collection. But, did you know you can have a combination of both worlds? There are several official Walt Disney World Hotels that are not owned and managed by Disney but are included in the perks.
These properties include fan favorites like Walt Disney World's Swan and Dolphin. This also includes a number of Disney Springs Area Hotels. And now, a new hotel has joined these ranks.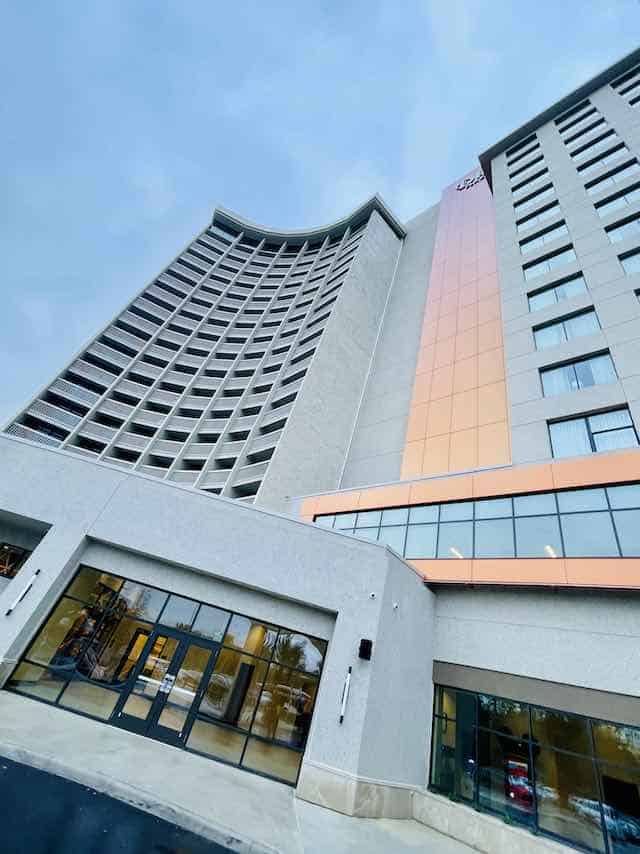 The new Drury Plaza Hotel just opened up in the Disney Springs Area in December, and it is already welcoming happy Guests. This hotel is from the Drury chain, popular for the many amenities it offers those who stay there.
I (Katie) had a chance to spend 4 nights there in January with my family. We truly enjoyed our stay and think it might just be one of the best places to book outside of the Disney resorts.
Disney Springs Advantage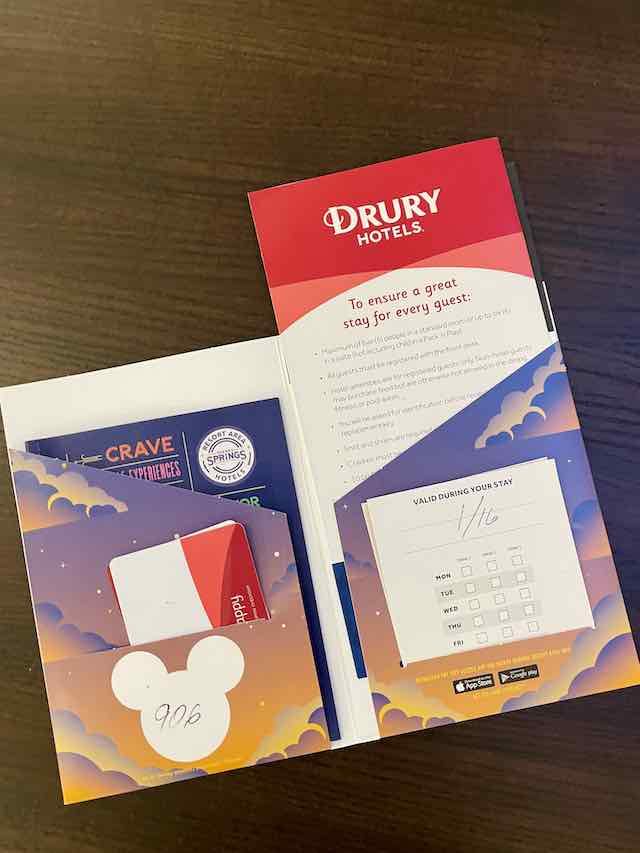 The Official Disney Springs area hotels all come with the Disney Springs Advantage. This set of perks makes staying at these hotels feel a little more magical.
The perks include shuttle service to and from the Walt Disney World Theme Parks, a Passport to Savings Coupon booklet for Disney Springs, and Early Entry to the theme parks. You can also purchase Disney tickets and book gold tee times at Disney Golf Courses.
The Drury Plaza is close to Disney Springs. We could see Disney Springs easily from the hotel, and we found it was easy to walk there in under 15 minutes. We could also see EPCOT and Hollywood Studios from our room. In fact, many rooms have views of EPCOT fireworks.
Check-In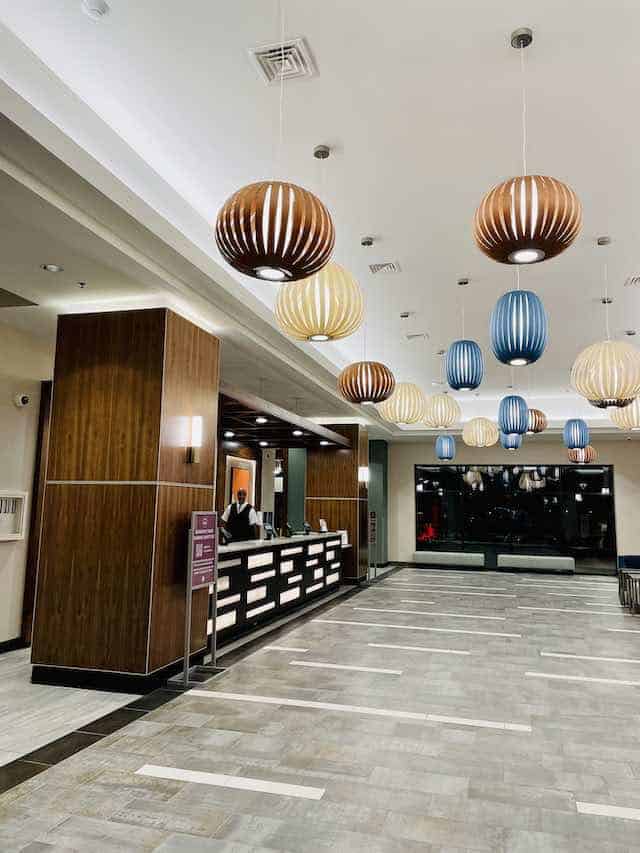 The front desk was open for us even with a late arrival. The lobby was bright and clean, and the staff members were welcoming and friendly. They gave us a preview of what was in store during our stay as well as our welcome packet and coupon booklet.
The Drury is currently offering full housekeeping. You need to request this service at check-in.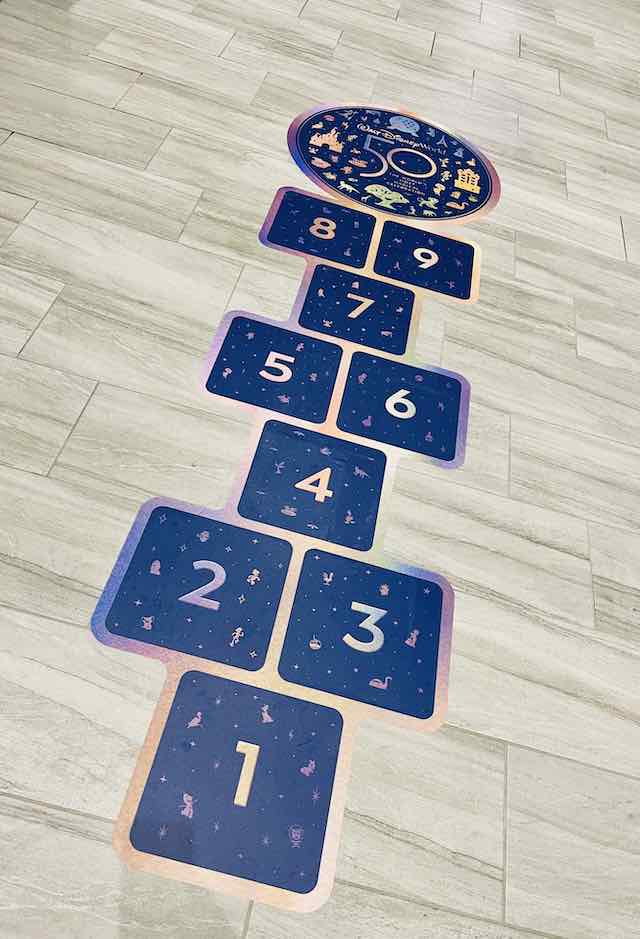 Right now there is a little bit of 5oth Anniversary theming as well. My children enjoyed the hopscotch board on the ground near the desk while we checked in.
The whole area was open and had plenty of seating. In addition to the front desk, there is also an alcove with a desk dedicated for the sale of park tickets.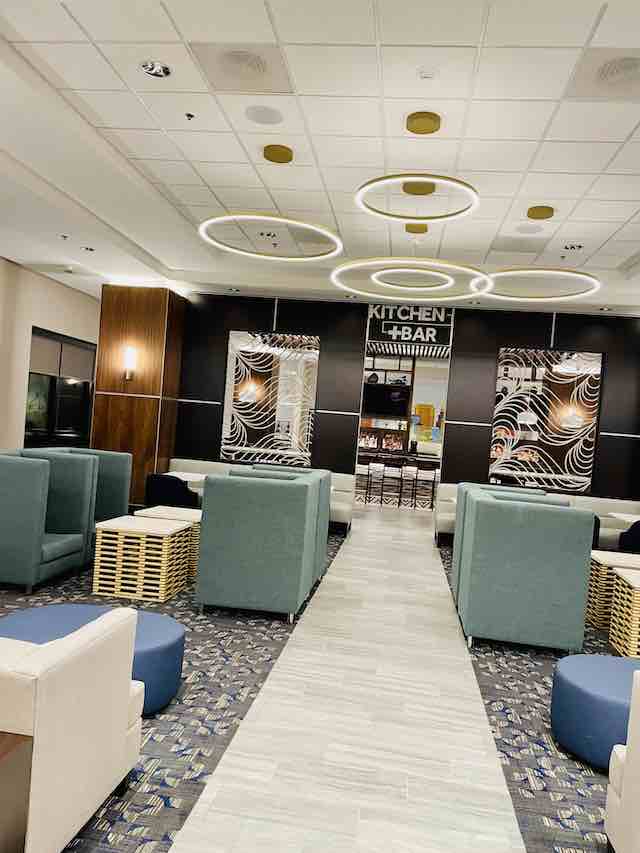 There were plenty of small carts available for us to load our luggage and take it up the elevator. This made getting to the room easy. The four elevators were more than enough to support the volume of Guests using them each day. I hope this remains the case once the next phase is complete.
Amenities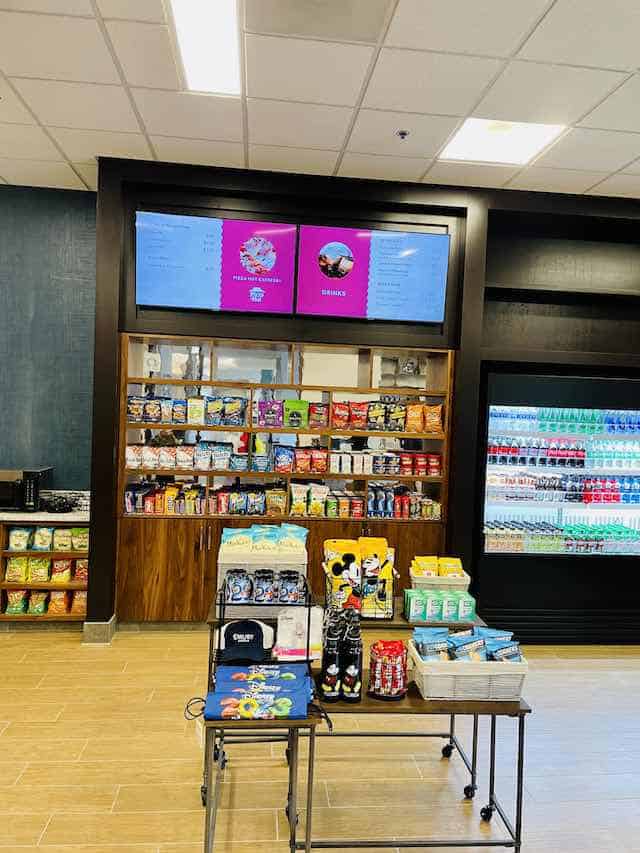 The Drury Plaza offers a bar area with food service. There is also a marketplace that sells self-serve Starbucks Coffee as well as snacks, frozen foods, Pizza Hut Pizza, and souvenirs.
There is also a complimentary coffee bar available. It serves Kelso Bro's coffee daily.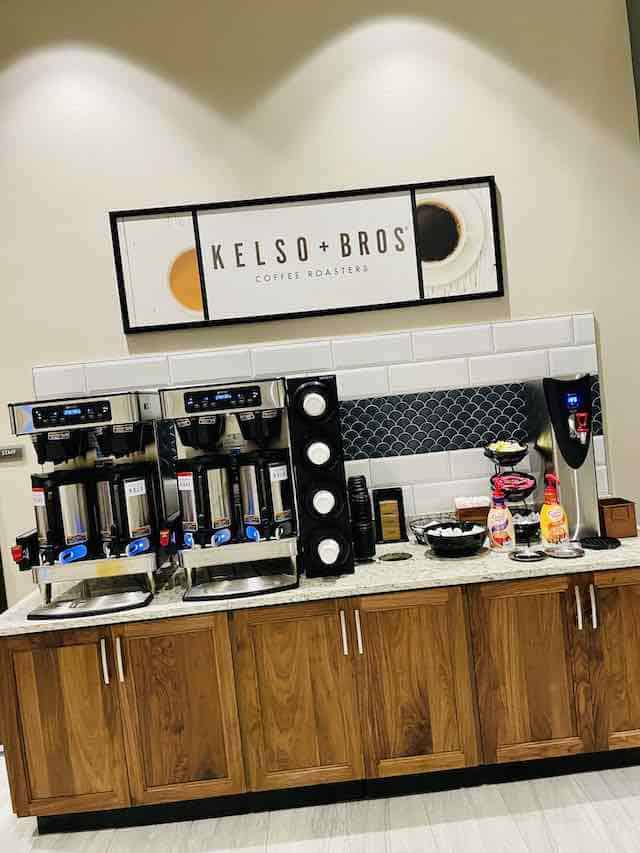 The Drury has a nice pool area. However, we did not visit the pool since temperatures ranged from 34-60 degrees during our stay.
You will also find an arcade on the first floor. And, on the second floor, you can visit the dining area where breakfast, Kickbacks, and snacks are served.
Free Food and Drinks!
One of the best money savers is Drury's free food offerings. All guests receive daily breakfast from 6:00-9:00 am and an evening "Kickback," which is enough to make a meal of.
The hot breakfast has enough variety to enjoy more than once. During our visit, the Drury served a hotline with pancakes, sausage, eggs, and an oatmeal station. There were also fresh fruits such as melon and bananas as well as toast, muffins, cereals, and yogurts. You could even make PB&J sandwiches if you wanted to.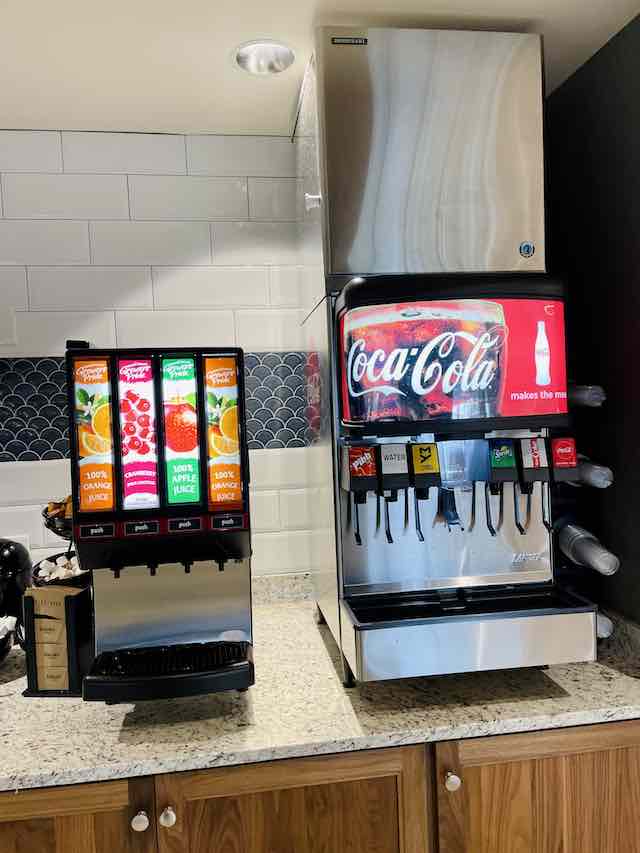 There is a refillable drink station with coffee, tea, hot chocolate, juices, Coca-Cola Products, and water. We found this was accessible for 4:00 snacks as well. During the snack period, the Drury Plaza also served freshly popped popcorn. This was a welcome treat, and we stopped to grab it if we took a midday break from the parks.
I wanted to try the Kick-Back dinner snacks from 5:30-7:30; however, we had park plans each night and did not have a chance. Service rotates daily and includes foods like hotdogs, soup, salads, nachos, pasta, and baked potatoes. Adults 21 and over also receive 3 complimentary drink tickets to redeem during the kickback hours. Perhaps we will time it better next time and enjoy these offerings.
Room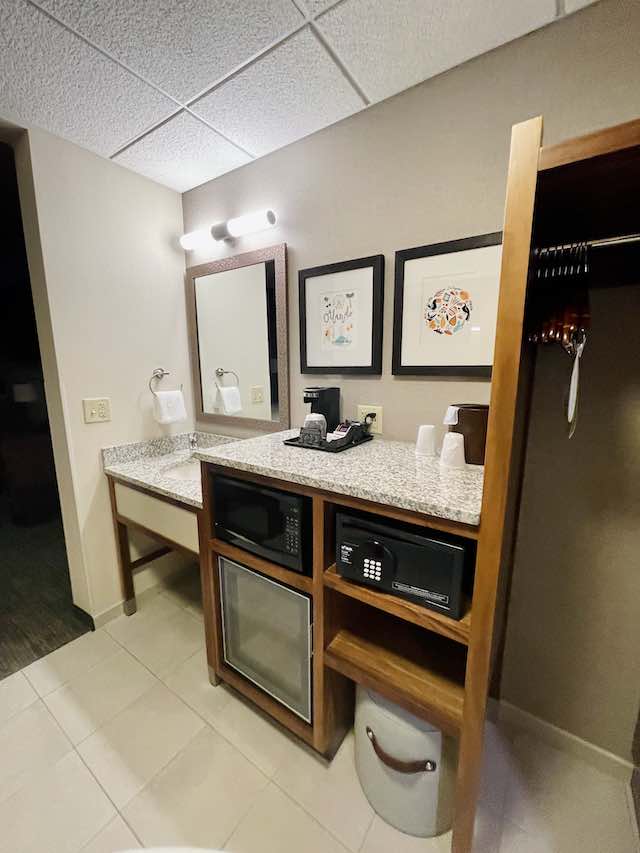 Our particular room was located on the 9th floor and was designated as a "Firework View" room. We did not have a chance to check out the shows from the room as we were only there for a short time and were in the parks each night during showtimes. However, this would be a fun perk for a rest day on a future visit.
We were pleased to find that we did have a partial view of Spaceship Earth. The light show glittered well into the night, and we could see it easily from the widow.
The rooms are new and very clean. I have never stayed in such a new hotel and really loved the experience. There was no damage or wear and tear that you typically find in hotels. It is a great time to book if you want to check it out while it is pristine.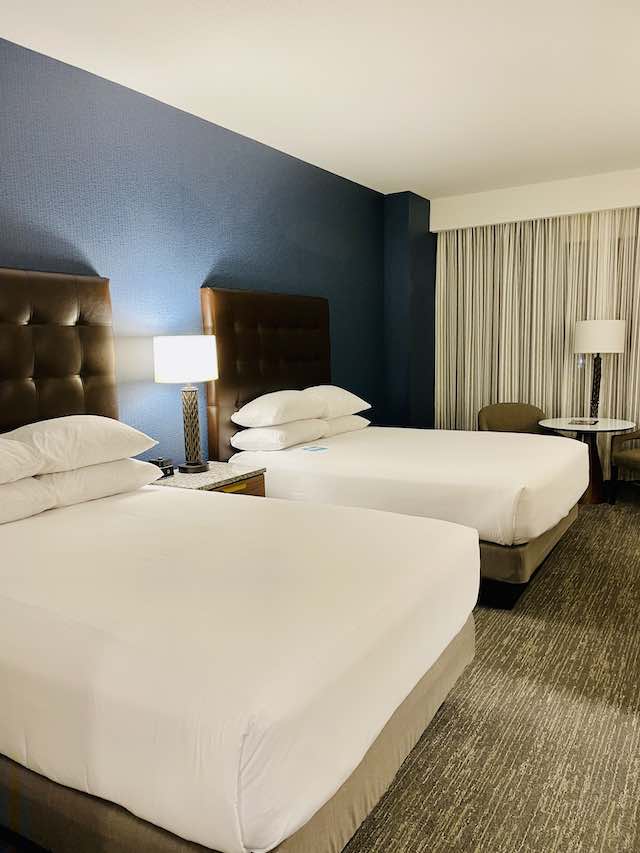 When we entered, we found an area with a drink cooler-style mini fridge, coffee maker, microwave, safe, and sink. It also had an open closet for hanging clothes.
Our room had 2 queen beds, which is nice for a family of four. Many hotels offer full beds, and we appreciated the space. We had a nice desk area with 3 drawers for storage and a bedside table with two additional drawers.
The room also had a sitting area with two chairs. Finally, it featured a flatscreen television. Interestingly, Disney Chanel was not available in our room, but we were in the room so little that we did not have much of a chance to use it anyway.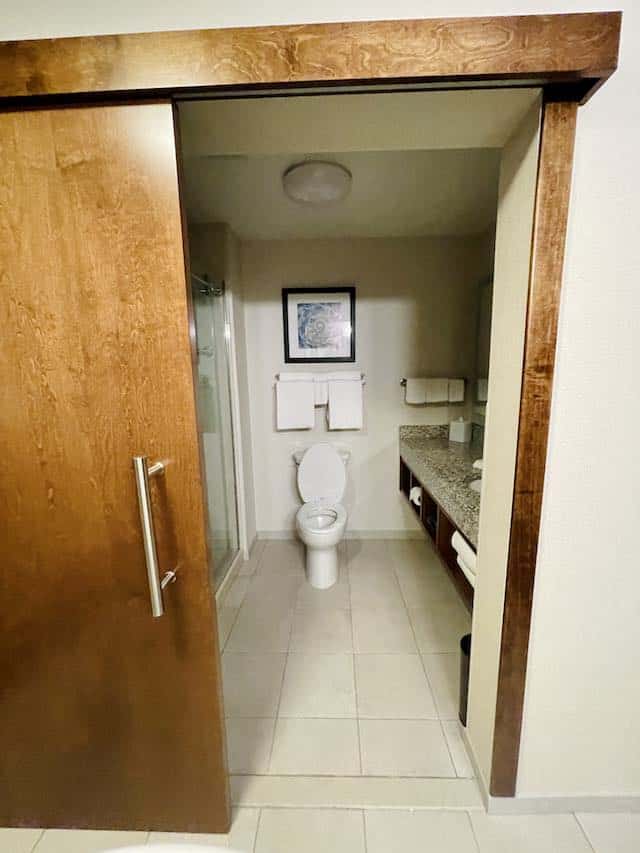 The bathroom had a shower with no tub, sink, and toilet behind a sliding wooden door. There were bath products in dispensers inside the shower. I am not sure whether any of the rooms do have tubs. However, that is something that families with small children may want to inquire about.
There was not an overabundance of plugs, which might be a problem if you have multiple phones or devices, smartwatches, and the new MagicBand+. You may want to bring some provisions if you are an electronic-heavy party.
The Bus Service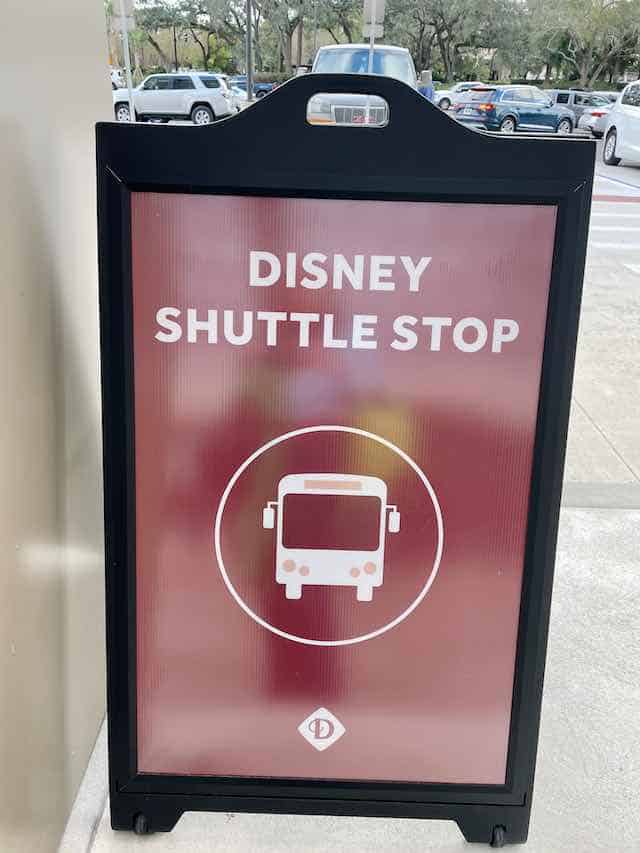 One of our readers commented that shuttle service is a significant factor when selecting an off-property hotel for a Walt Disney World Vacation, so I wanted to be sure to highlight the service. The Drury offers daily bus service to all four Walt Disney World Theme Parks as well as Disney Springs. And, the service is close to perfect. It is the best off-property shuttle I have experienced.
Florida Charter Bus Service provides the buses. They are wheelchair and ECV-accessible just like Disney buses.
The Drury Plaza highly recommends that Guests book the service at least 2 hours in advance through the designated website . I booked it every single time we used it. However, I was only asked to provide proof of booking once. This is good since I never received an email confirmation and relied on screenshots of the confirmation page.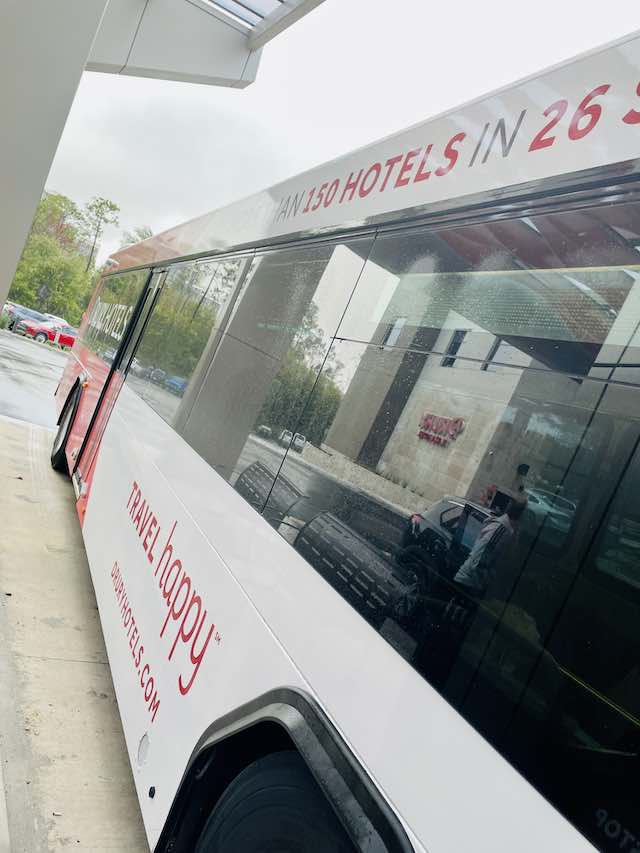 We used the service at least 10 times during our visit to get to and from the parks. In most ways, I like it better than the Walt Disney World bus service.
The Bus service runs on a very specific schedule. Exact bus arrival times are published for the week and given to Guests upon check-in at the Drury Plaza.
The Bus Schedule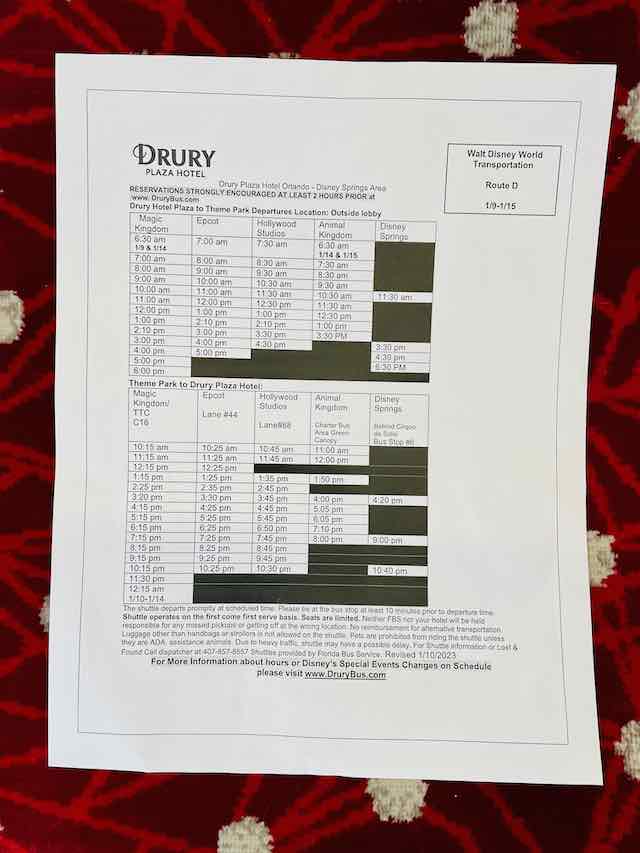 The bus schedule changes periodically. Buses run approximately every hour. They currently begin running approximately an hour before early entry and ends approximately 60-90 minutes after each park closes.
The bus typically arrives and leaves very close to the published times. In fact, it is recommended you arrive 10 minutes prior to departure. Do not be late for the bus because it will depart quickly. A benefit to this is it makes timing your trips to and from the parks relatively simple compared to the Disney bus system that arrives "approximately every 20 minutes." With Disney buses, you never know when a bus may really be coming.
Sometimes buses go directly to and from the scheduled park, and sometimes, if there are fewer people riding, the bus makes multiple stops. The direct routes are very quick. However, trips that involve multiple pickups and drop-offs can be a bit longer.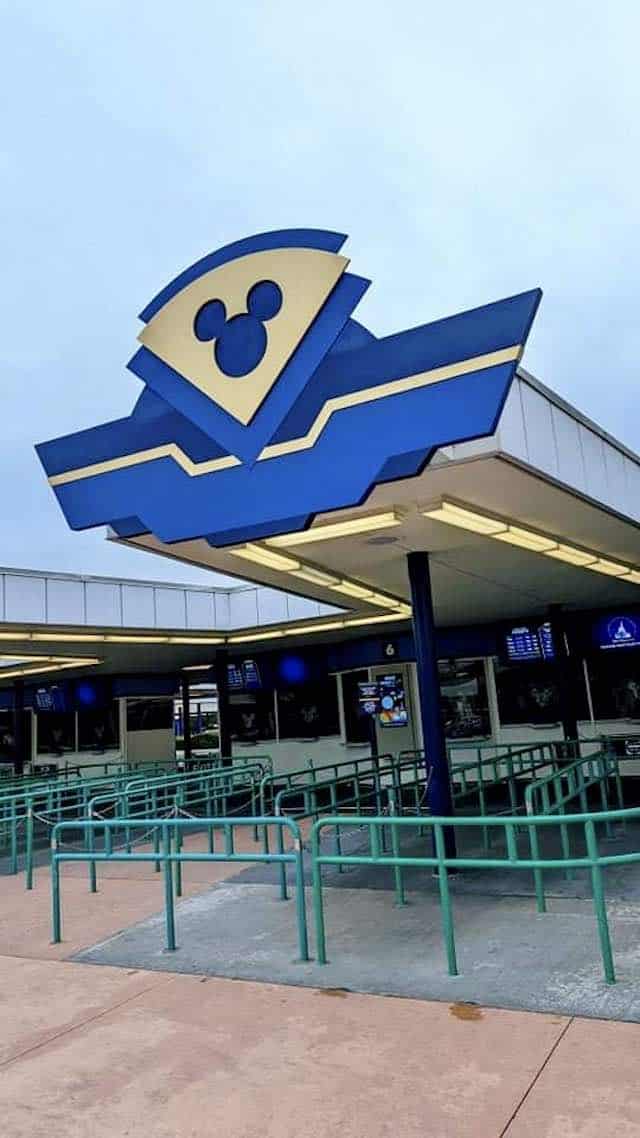 The bus heads directly to the typical park bus stops except in the case of the Magic Kingdom. Drop-off is at Transportation and Ticket Center where you can transfer via the ferryboat or the Monorail.
This also means that you must build in time when you want to catch the bus back to the hotel from the Magic Kingdom since you will have to take to the Monorail or Boat to get back to the TTC. We typically gave ourselves a 25-minute cushion to do this.
The main drawback to the current schedule is that if you take midday breaks, the bus does not always run from the hotel to the parks as late in the afternoons as you would like. We wanted to enjoy the 5:30 Kick-Back at the Drury and then head to Hollywood Studios for the evening. However, this was impossible because the last bus to HS ran at 4:30.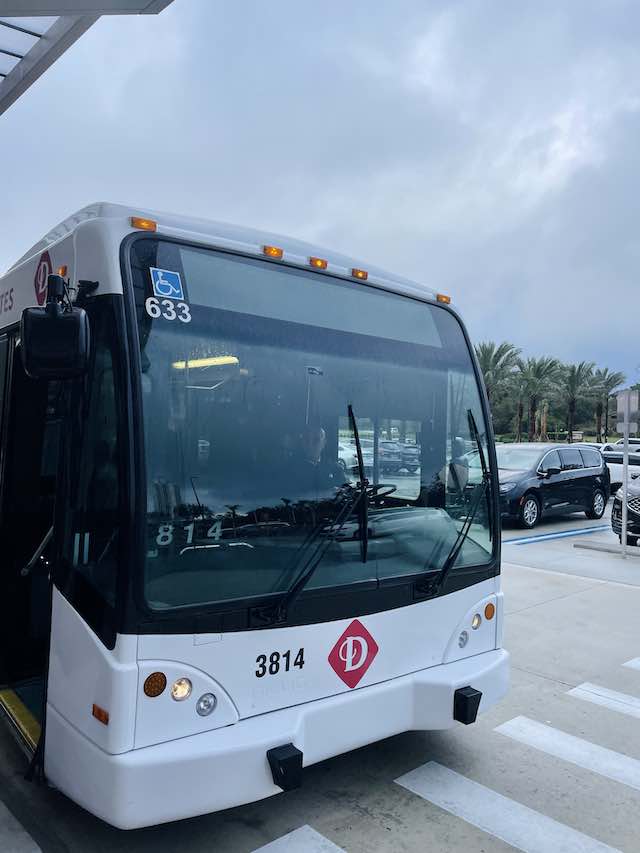 However, rideshare was not terribly expensive if we decided we wanted to set our own schedule. We utilized it one time and caught prices as low as $9 for a family of 4 in a standard Lyft to EPCOT.
It will be interesting to see if the shuttle service remains as pleasant once the hotel completes its expansion. Hopefully, the service will expand as Guest populations grow.
Drawback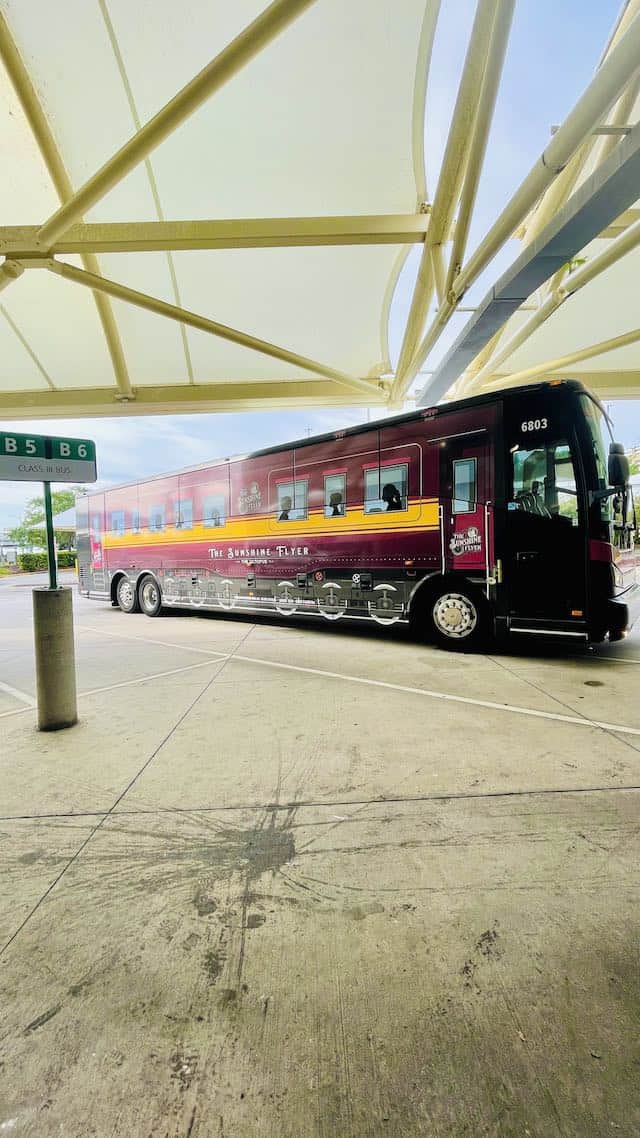 One of the drawbacks that you might consider is that the Drury Plaza is currently not one of the stops included by either Mears or Sunshine Flyer. So, if you are looking to transfer from the airport, you will need to explore other options. We drove, so this was not a problem for us.
Overall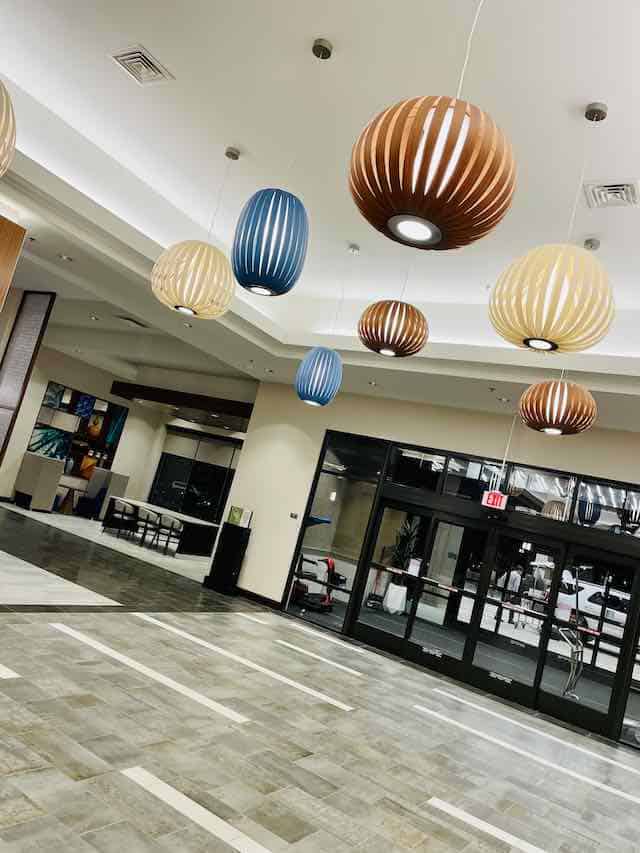 Overall, I would certainly stay at the Drury Plaza again, especially if I were looking to save money on a quick trip to the Magic and planned to eat before visiting the parks. It is a clean, comfortable hotel with notes of Disney that offers easy access to the parks.
I hope this hotel continues to remain an excellent option for travelers even as it ages and expands. For now, it is my favorite way to save money with an off-site location.
Do you know someone who wants to visit Walt Disney World on a budget? Be sure to share this review so that they know the Drury Plaza is a choice. And, feel free to join the conversation on Facebook, too.