Be sure to read this before booking your shuttle transportation!
Shuttle Service to and from Disney World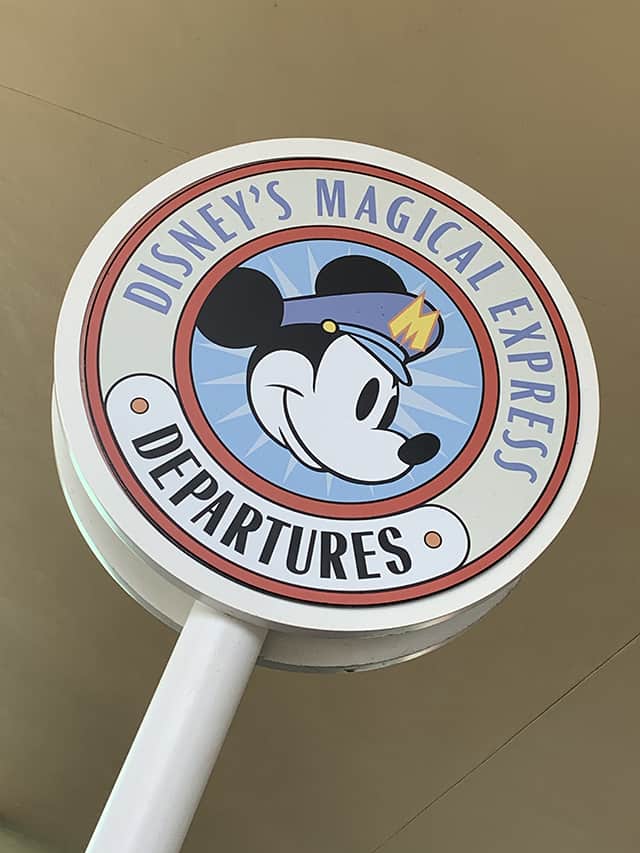 The past few years have brought so many changes at Walt Disney World. One major change has been the end of the free shuttle service, Disney's Magical Express, that brought guests to and from MCO and Walt Disney World. While we still mourn the classic experience of hopping onto a Mickey bus and feeling like your Disney vacation started the second you stepped aboard, there are now new options to consider when looking for a shuttle service.
While rideshare options and services exist and might be a good choice for some guests, shuttle bus services will always be a popular option for travel to and from the airport and Walt Disney World. Guests traveling with small children might prefer a shuttle bus because this option does not require a car seat for transportation. Additionally, a pre-scheduled shuttle allows for a predictable way of travel to Disney from the airport with a set fee. Uber and Lyft options often include surge pricing at particularly busy times or limited numbers of drivers, especially if looking for a vehicle with a carseat.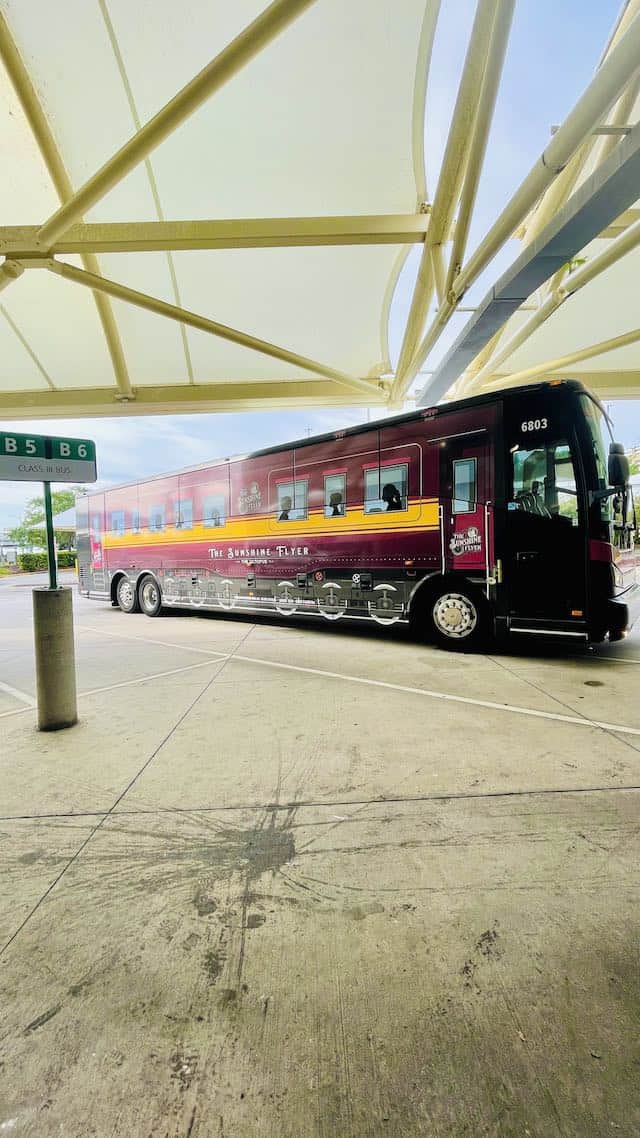 When it comes to shuttle bus transportation, two companies have risen to the challenge of replacing Disney's Magical Express: Mears and Sunshine Flyer. Mears, the company that previous supplied service for the Magical Express, operates out of the old Magical Express location. Sunshine Flyer, a relatively new company, operates on the opposite end of the same area of MCO airport.
I have recently been able to use both services for roundtrip travel to and from the airport during Disney trips in June 2022 and August 2022. Sunshine Flyer was, by far, the better experience and company for my family. Read on to find out why, and also why I'd choose Sunshine Flyer over Mears each and every time I have the chance!
Reason #1: Efficiency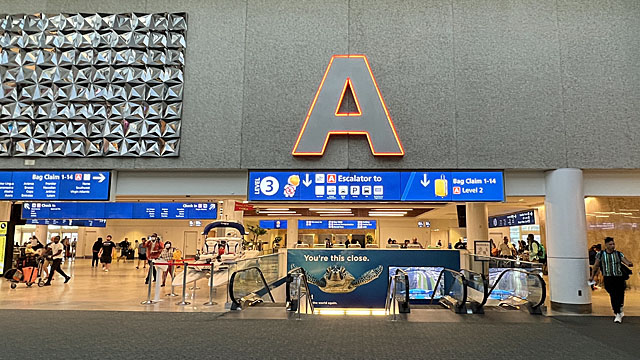 Whether it was just good timing, luck, or by design, Sunshine Flyer was much more efficient than Mears Connect. Our travel day leading up to our Sunshine Flyer transport did not go smoothly. We had several flight delays and, because of a significant thunderstorm in the Orlando area, had to re-reroute our plane to refuel and wait on the runway for several hours to deplane. Even with a 6+ hour delay in getting to our bus, Sunshine Flyer had us on a bus quickly and headed toward the Boardwalk Inn and Villas. What's more, our resort was the second stop for our bus, which only went to the Beach Club before coming to our resort. This made for a quick and easy trip!
Our Mears Connect flight was scheduled to arrive late in the night. We arrived at the check-in desk around 10:30 p.m. and were seated on the bus by 11 p.m. Our bus visited five resorts before stopping at the Wilderness Lodge to drop us off, the final resort drop off. We didn't reach our room until almost 1 a.m.!
Now, it may just be luck that we had an earlier drop-off with Sunshine Flyer. However, the Sunshine Flyer website does state that they design routes so their last stop will be no longer than a 65 minute ride. For this reason and my own experience, Sunshine Flyer takes the cake when it comes to efficiency!
Reason #2: Theming and Entertainment Value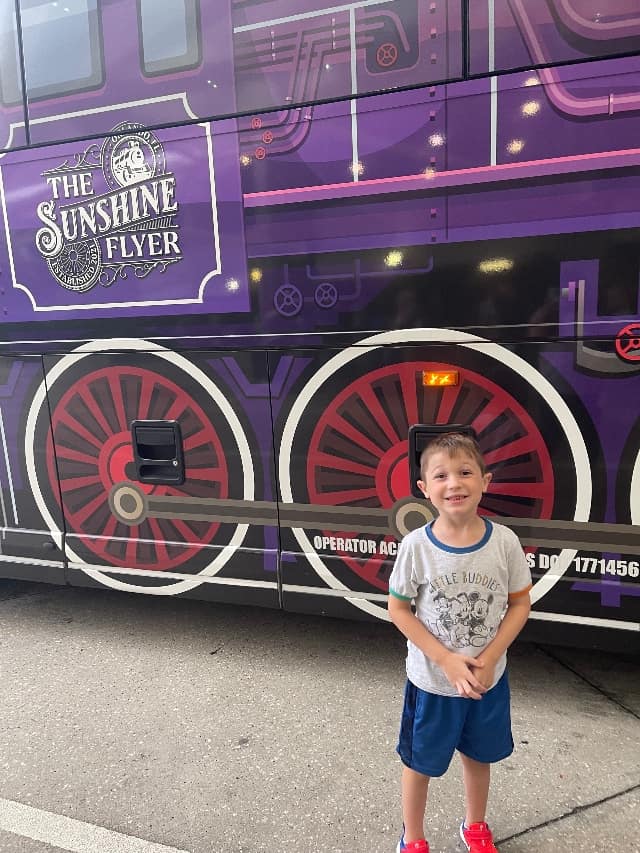 Sunshine Flyer transportation is themed to 1920s rail travel. Our experience included conductors in costume (whistle and all!) and conductor hats for my children. After being stuck in our airplane on the runway for hours, this positive and fun experience with the "conductor" of our bus really changed the tone of our trip in a very positive way!
Once seated, screens through the bus were showing Home Alone 2. My kids loved this touch and had a great time watching the movie on the way to our resort!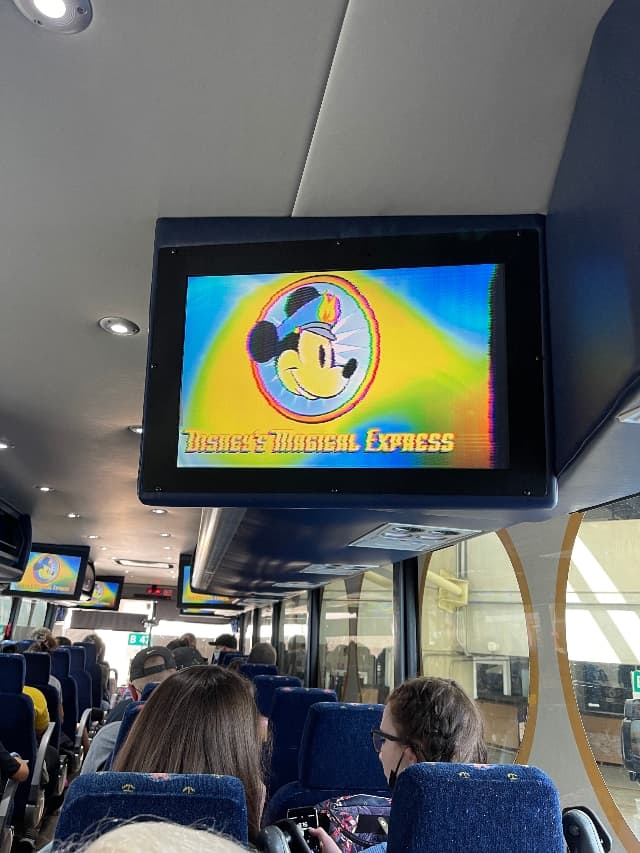 Mears Connect buses are themed after animals native to Florida, such as turtles and manatees. The on-screen entertainment was looped video footage of various locations in central Florida such as Icon Park, Walt Disney World Resort, and Universal Studios. There were also segments about the animals from their bus themes. While this video footage was fine, it was not necessarily entertaining for my kids.
While neither on-screen option really compares to that of the Magical Express experience, overall we enjoyed the Home Alone 2 movie more than the reel produced by Mears Connect.
Reason #3: Customer Service and Flexibility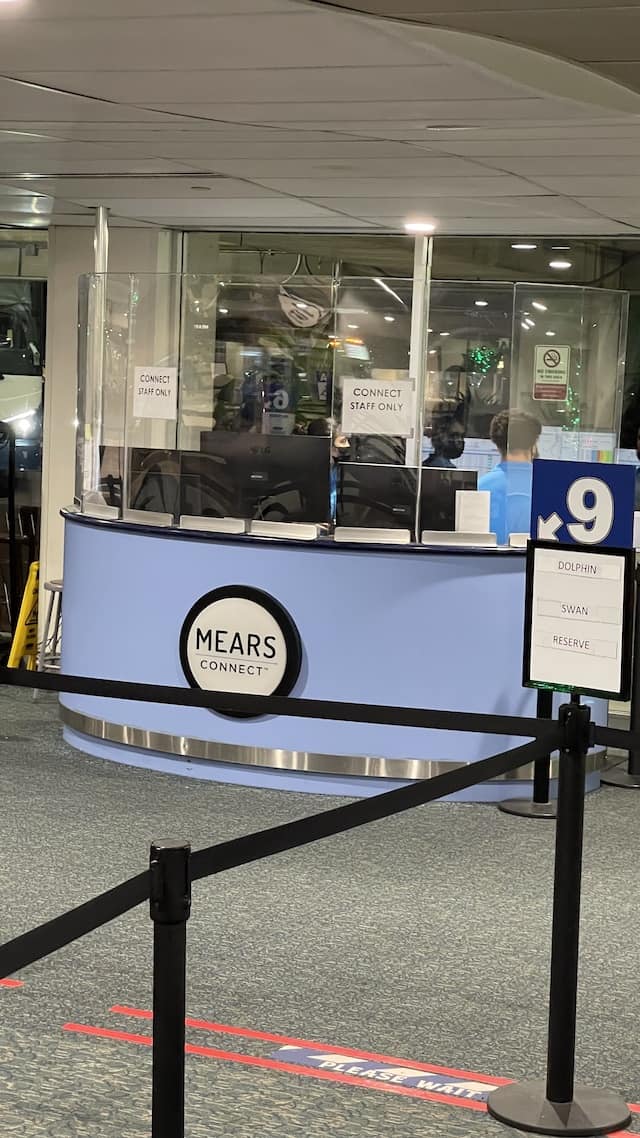 There was a massive difference between Sunshine Flyer and Mears Connect when it came to customer service! When we arrived to the Sunshine Flyer desk over 6 hours late due to flight and baggage issues, the staff of the Sunshine Flyer company was so welcoming and helpful. They immediately engaged with my children, provided them with fun entertainment, and got us on the first available bus out of the airport. The staff was so helpful and kind and truly set the tone for a great vacation.
When we arrived at the check-in location for Mears Connect, it was clear that it was the end of a long night for the employees. Two employees at the desk right by the bus loading location were disagreeing about whether or not we should be put on the current bus or if we should wait for an upcoming bus.
No one was particularly rude, yet no one was particularly friendly in the same way we experienced from the Sunshine Flyer staff. For these reasons, customer service was superior when interacting with the Sunshine Flyer staff.
Reason #4: Pricing and Special Offers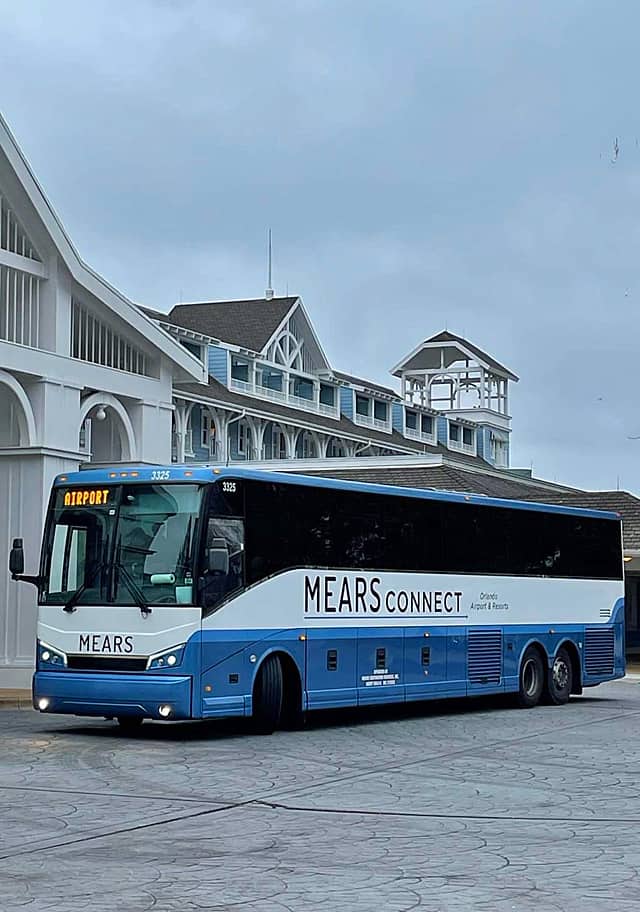 Sunshine Flyer costs $16 per adult or $10 per child for a one-way ticket. Roundtrip tickets cost $32 per adult or $20 per child. Sunshine Flyer also runs promotions and special offers such as a Kids Ride FREE promotion that ran for a limited time for bookings made prior to September 5, 2022. They also provide a 10% discount to Shades of Green every single day as a way to thank those who served or are currently serving.
Mears Connect costs $16 per adult and $13.50 per child for a one-way ticket or $32 per adult or $27 per child for a roundtrip ticket. Express service is offered for $250 for up to 4 passengers. This service guarantees limited to no wait and direct service to the hotel and airport.
Caveat to Booking Sunshine Flyer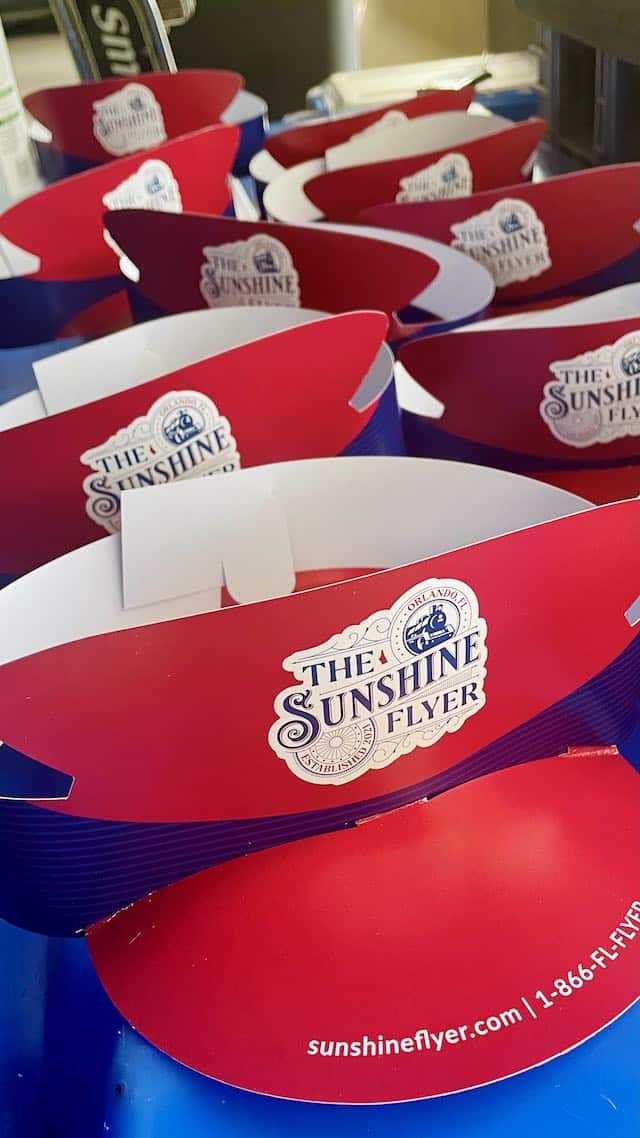 There are two cons, however, when it comes to booking Sunshine Flyer.
First, and most importantly, is that the last Sunshine Flyer bus to leave MCO is at 11 p.m. If you have a late flight, Sunshine Flyer is not available for your use. I, for example, have an upcoming trip with a flight that does not land until close to 11. I cannot book Sunshine Flyer because I wouldn't be able to make it to the bus prior to the last bus departure for the evening. This means I will need to book Mears Connect or use a rideshare service and attempt to find a carseat option for my small children.
Additionally, Mears Connect provides a better tracking system for return buses back to the airport. With Mears Connect, we were provided a link and could track our bus "real time" as it made its way to the Grand Floridian to pick us up. With Sunshine Flyer, we had a pickup time, but the bus was actually early and we got a phone call from our bus driver asking if we were still riding as we were not yet to the front of the resort.
Overall, I'd choose to book Sunshine Flyer every chance possible over Mears Connect due to my personal experiences. I do wish, however, that the services were extended to allow for those with late flights to use the company's services. Additionally, a better tracking system for return buses might be beneficial for guests to enhance the experience.
What are your thoughts on Sunshine Flyer versus Mears Connect? Have you had better experiences using one company's services over the other? Comment below or continue the conversation on our Facebook page!

Are you planning a vacation? Reach out to our trusted travel agency sponsor Authorized Disney Vacation Planner
Mouse Class Travel
!