After speaking with the Vice President of Sunshine Flyer, I was able to test out their airport transportation service for myself! Here's how it went.
Sunshine Flyer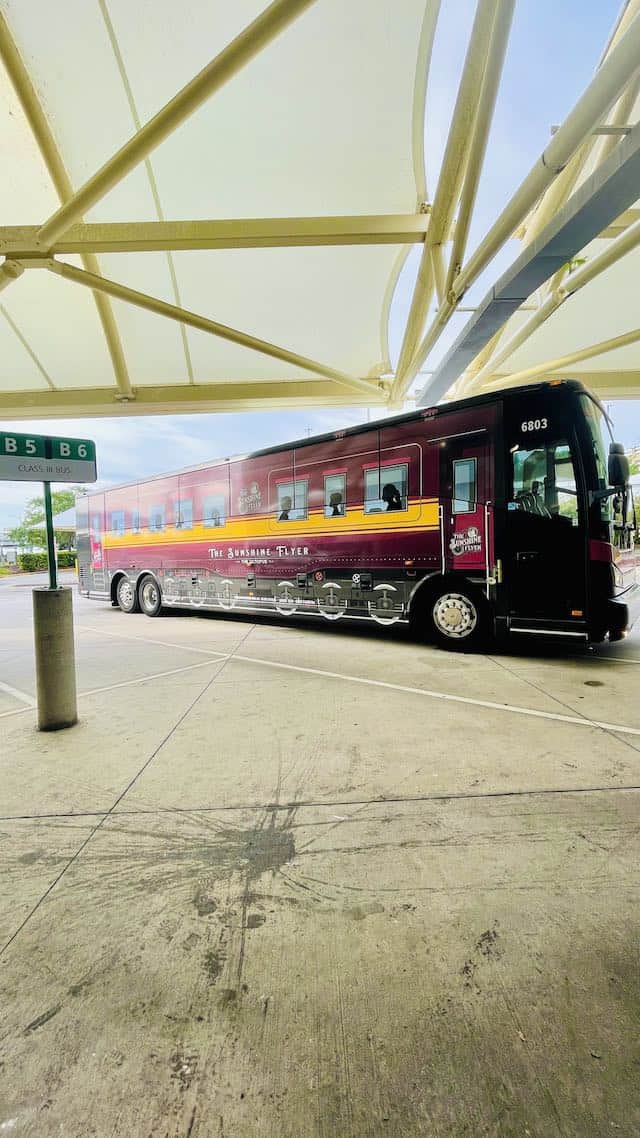 Disney's announcement that they were discontinuing free Magical Express transportation to and from the Orlando International Airport left many Guests stressed about how to get to and from their Disney Resort. Many companies rose to the challenge, but Sunshine Flyer goes above and beyond those other companies.
With an incredible 1920's locomotive theme on its buses, Sunshine Flyer creates a magical experience for Guests. Just as Disney World considers even the tiniest details, Sunshine Flyer does the same.
I (Monica) recently had the chance to chat with Mr. Tony Glibkowski, the Vice President of Sunshine Flyer. We had a great conversation about their plans to expand to meet the demand and the incredible ways they are supporting various groups. You can read about that interview HERE.
After some not-so-magical reviews, I was actually excited to see for myself how the company adapted to the enormous growth they experienced in the first few months of operation. My trip took place in mid-April, which was approximately 2.5 months after they began offering services to and from the Orlando International Airport.
Before my trip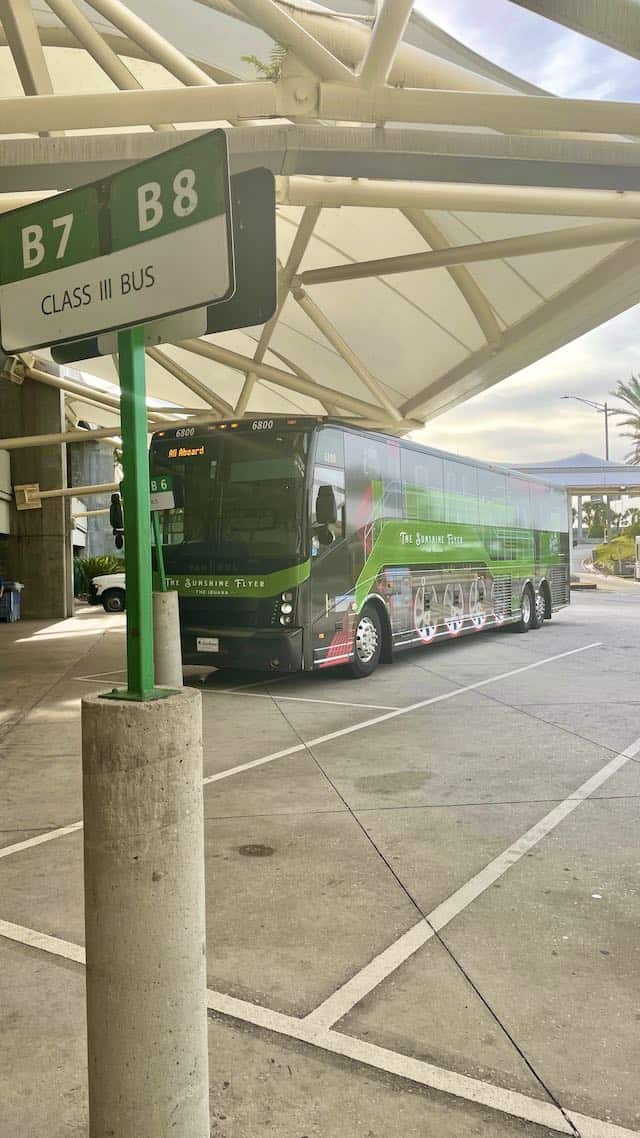 I received a confirmation email after booking my trip to and from my Disney Resort. In that email, Sunshine Flyer gave specific instructions on when to expect reminders, what to do once I arrive at the airport, and my itinerary.
4 days before my arrival, they sent another email confirming my details and sent out the same information about how to find them at the airport. Since my trip was so short, I received another email the night before my arrival notifying me of my departure information. The email listed my flight information and resort pick up location and time.
Communication before my trip was excellent. I had no questions about where to go and when. It appears that they have been better organized in recent weeks compared to their initial launch this past winter.
Arrival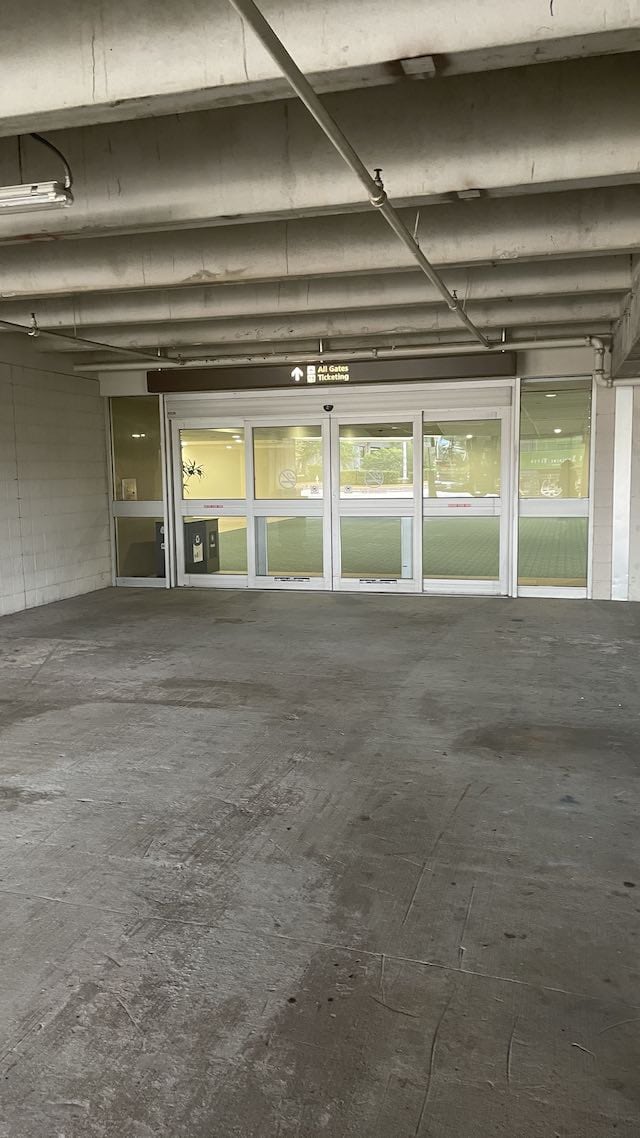 I arrived at Orlando International Airport at 8:30 am and headed down to the terminal to be picked up. The emails I received prior to arriving stated that I had to get to Terminal B on Level 1 and head outside to bus bays B5 through B9. This is where all of the third-party transportation companies must load and unload.
I had no trouble following the airport signs to Terminal B, but I'm sure it will be even easier when they can get some Sunshine Flyer (or even general Disney pick up) signs installed throughout the airport.
Once I got down to Level 1, there was a Sunshine Flyer representative holding a sign to direct people where to go. I approached her and she instructed me to walk outside to check in. Even after reading the email and talking with the employee, I somehow missed that information so it took a few minutes to find where to check in.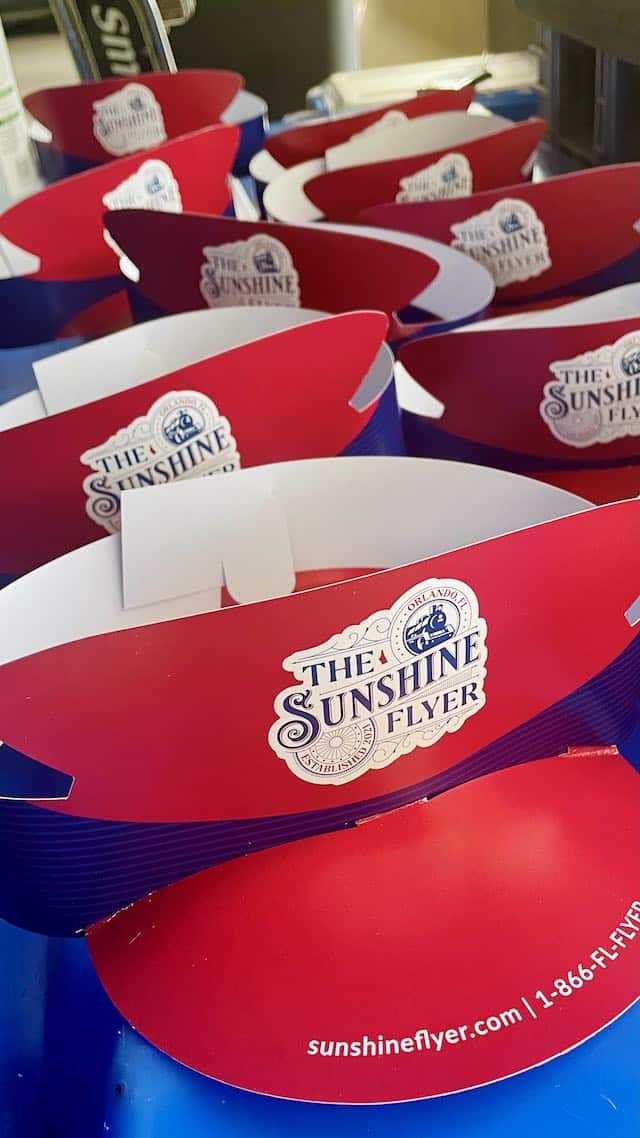 Check in for Sunshine Flyer is located OUTSIDE in Terminal B on Level 1.
There is a small podium as well as a table with Sunshine Flyer conductor hats. I checked in with the attendant and waited about 20 minutes for my bus to arrive. You may notice that other buses are coming and going, but you will have to wait for your specific bus.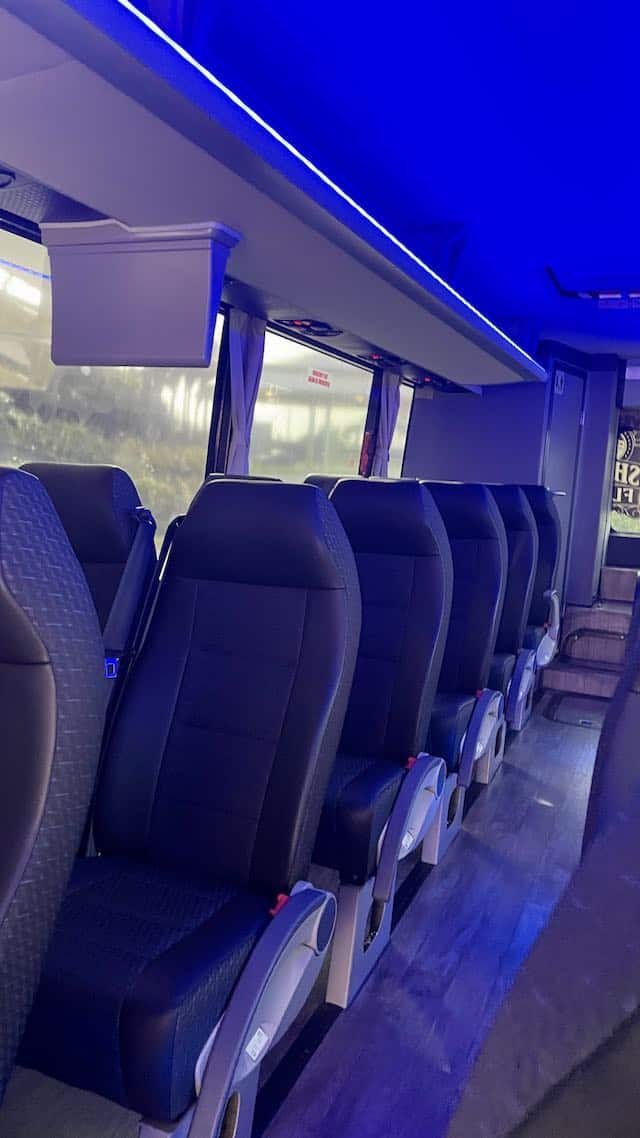 The bus itself was very clean and comfortable. I love the theming of the outside of the bus with the different designs, but the inside is a standard motor coach. There were small televisions (but they were turned off) and curtains on the window to block any sun. It appears the windows were tinted as well, so there was no need for me to utilize the curtains.
Only a few other families joined me, and I was one of the first stops at Saratoga Springs. Sunshine Flyer dropped me off at the designated drop off spot at the hotel. It was a smooth and seamless arrival!
Departure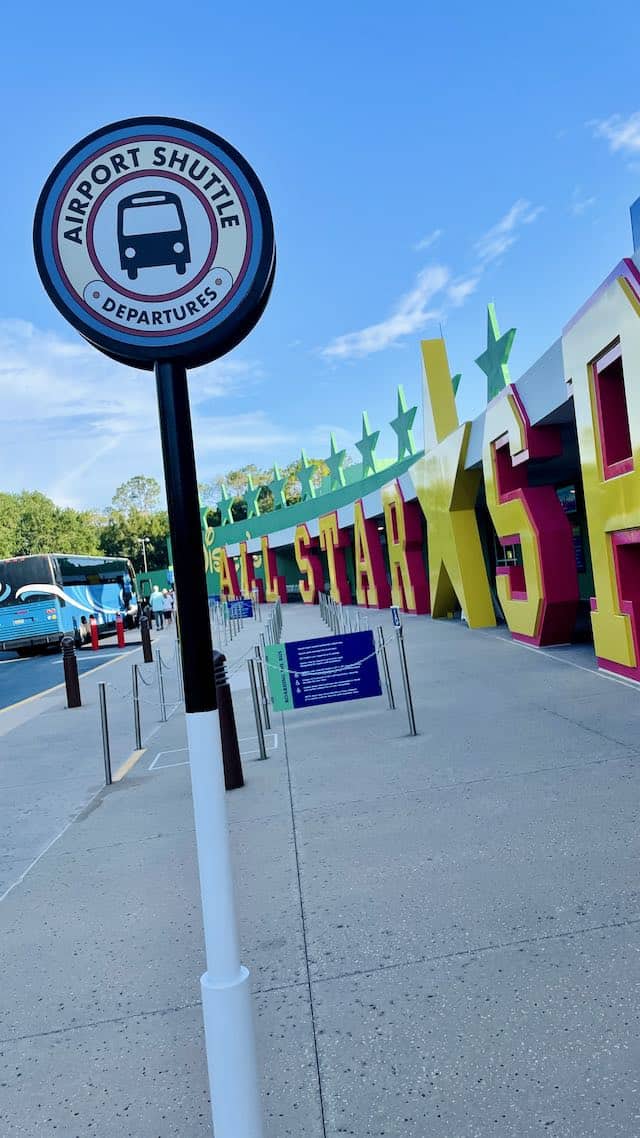 Departing Orlando was a bit different. I went to the airport shuttle location at my resort and waited for a themed motor coach to pick me up. However, I got a call a few minutes before my designated pick up time that they were already waiting for me. The driver mentioned he was in a black van near bell services.
Imagine my surprise when I saw I was not going to be in a themed motor coach for my return to the airport! Having talked with the Vice President just a month before, I knew not all the buses were decorated yet, but I was not familiar with the fact that Sunshine Flyer utilized 12 passenger vans as well. There was a Sunshine Flyer sign in the front dashboard, but as a women traveling alone I was a bit skeptical.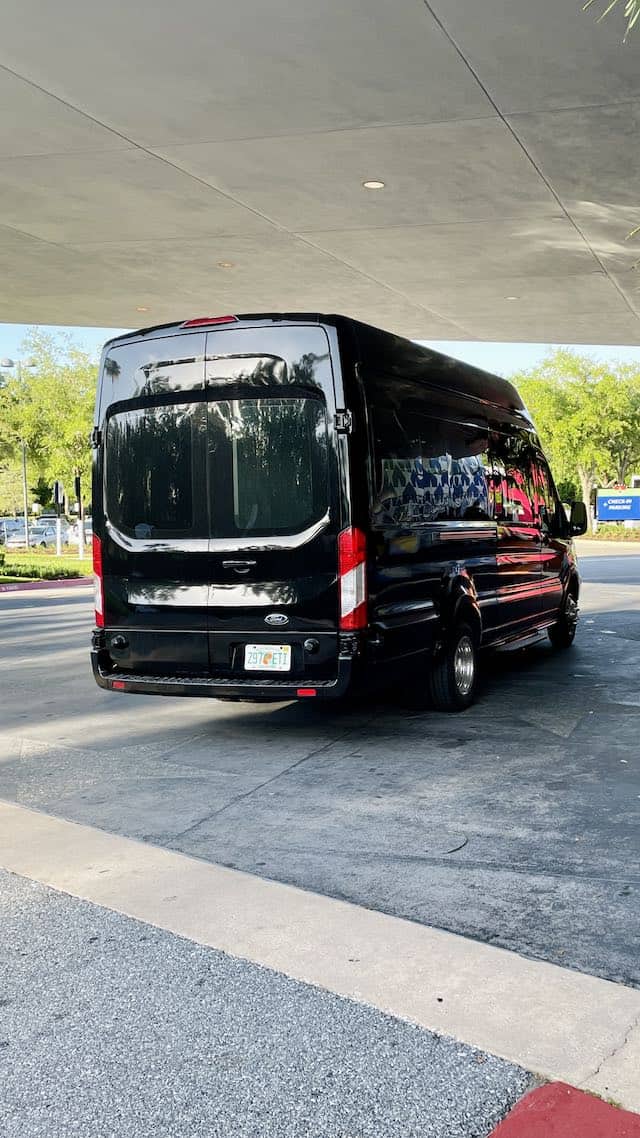 I boarded with another family and we headed to one more hotel to pick up another family. It was a pretty tight squeeze so I ended up sitting in the front seat. I was a bit thankful for this because it was a bit hot in the back even with the A/C vents on, so I welcomed the cool air.
Once we arrived at the airport, there was a little traffic jam as we waited for other hotel and transportation buses to leave so we could park in a spot. There is nothing you need to do once you arrive at the airport for your departure from Orlando. Just make sure you tip your driver anytime they handle your luggage!
Final Thoughts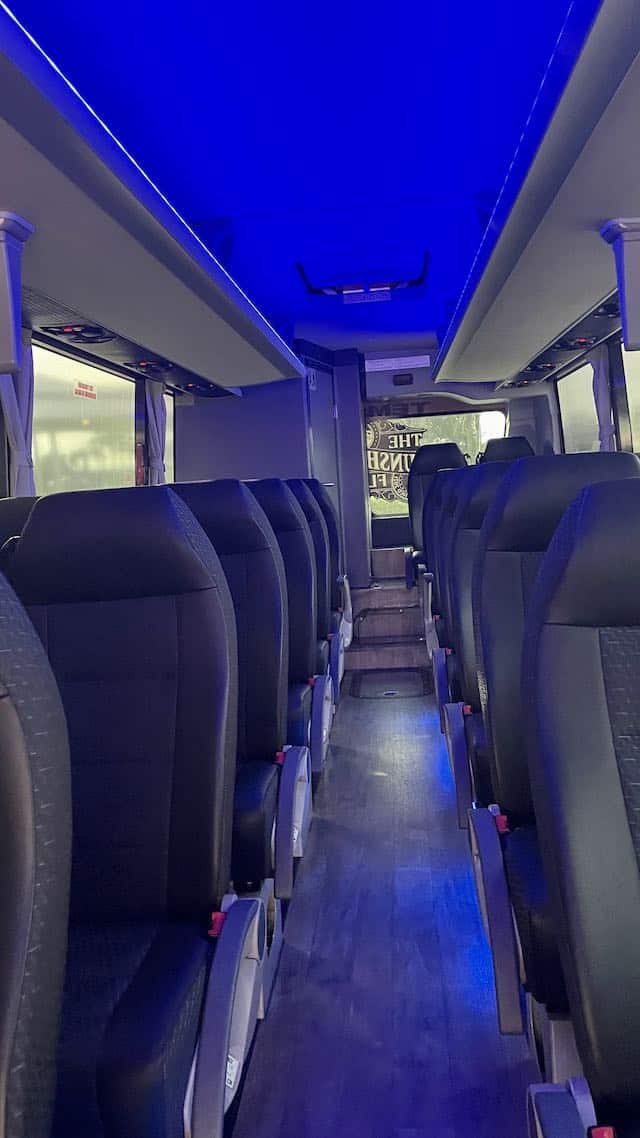 My arrival to Orlando was just as I expected minus me wandering around for a few minutes trying to find the check in location. I think some signage will definitely help alleviate that problem, and I appreciated the fact that someone was located inside to help you get to the right place.
I expected the same service I had received at the beginning of my trip, but the trip back to the airport was a little disappointing. This is something to keep in mind if you have family members looking forward to traveling in the locomotive themed buses. You may not be riding in one.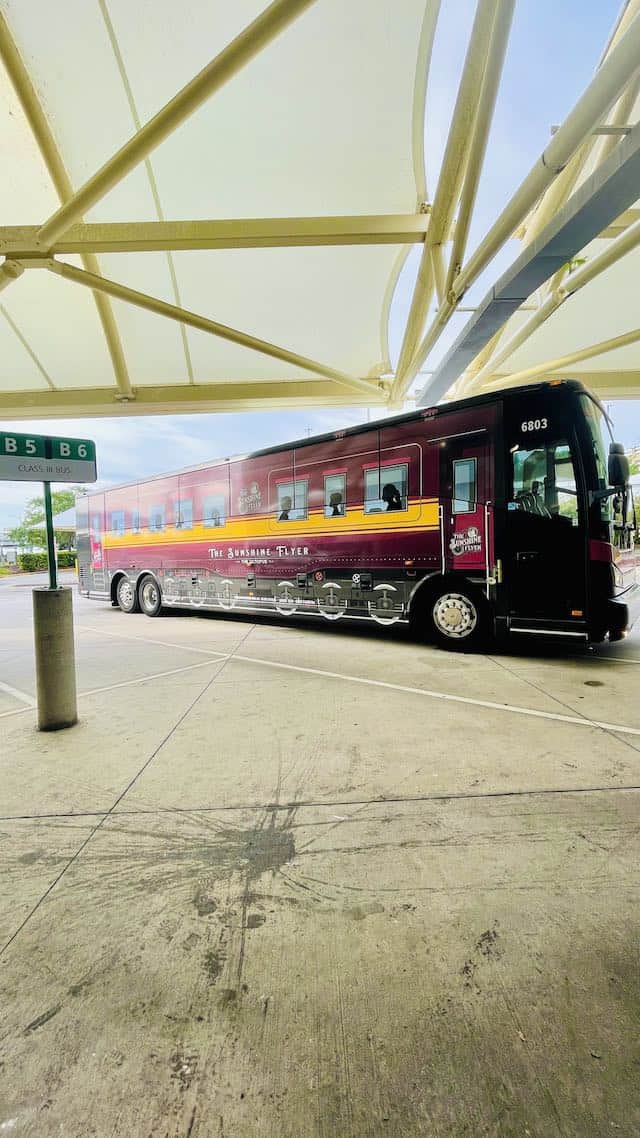 Unless you take advantage of the Shades of Green military offer, you will pay $35/adult and $25/child round trip. Most ride share services cost that much just going one way, so there is great value in using Sunshine Flyer. If you are ok waiting a few minutes for a bus and don't care if you have a themed bus or not, Sunshine Flyer is an excellent option for airport transportation.
*Please note that my trip on the Sunshine Flyer was discounted, but all thoughts and opinions in this review are honest and 100% mine.
Have you been on Sunshine Flyer yet? What did you think of your experience? Let us know in the comments below and on Facebook.