Epcot is home to so many wonderful holiday festival food offerings. If you are looking for a Christmas dinner, the American Holiday Table serves a pretty great one!
Festival of the Holidays
The holiday season is truly magical at EPCOT. Festival of the Holidays is an amazing experience where guests can enjoy the beautiful Candlelight Processional, enjoy delicious holiday food booths, take part in a fun scavenger hunt, cookie stroll, and enjoy great entertainment! There's brand new merchandise that you can check out HERE, along with a new indoor location for Santa Claus.
Guests can ride Guardians of the Galaxy with a new holiday remix! Be sure to grab your boarding group or purchase an Individual Lightning Lane to experience it. Spaceship Earth even has its own light show for the Festival of the Holidays.
American Holiday Table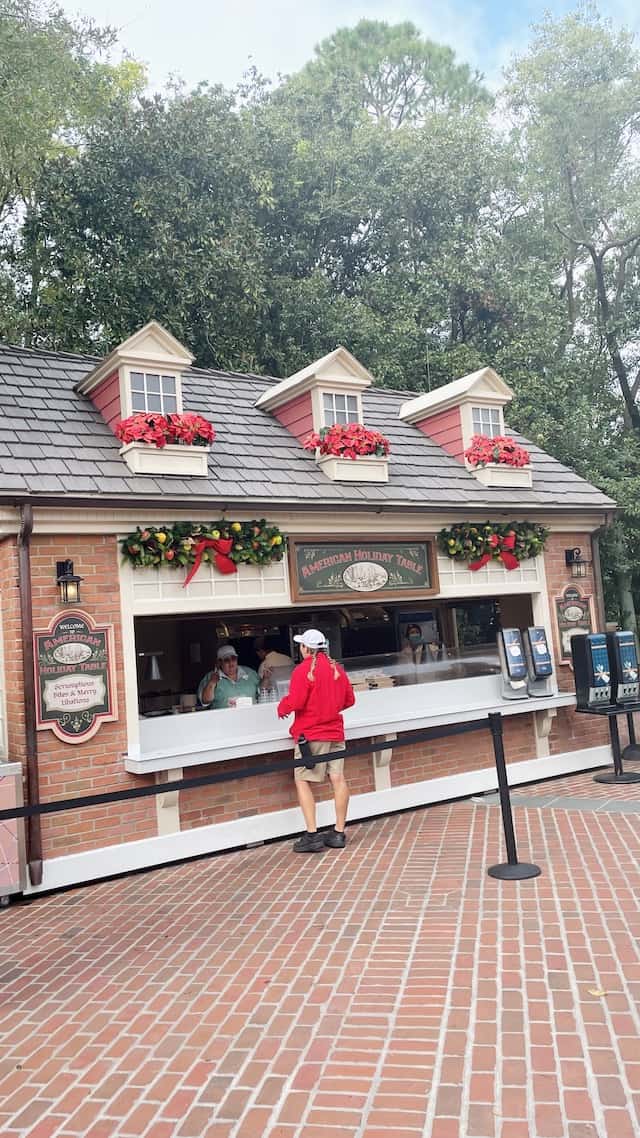 Enjoy seasonal traditional dishes reminiscent of grandma's cooking at the American Adventure Pavilion.
Food Items:
Slow-roasted Turkey with BEN'S ORIGINAL Stuffing, mashed potatoes, green beans, and cranberry sauce  $6.00
Blackened Catfish with Hoppin' John and comeback sauce (New) (Gluten/ Wheat Friendly)  $6.50
Chocolate Crinkle Cookie (Cookie Stroll) $3.00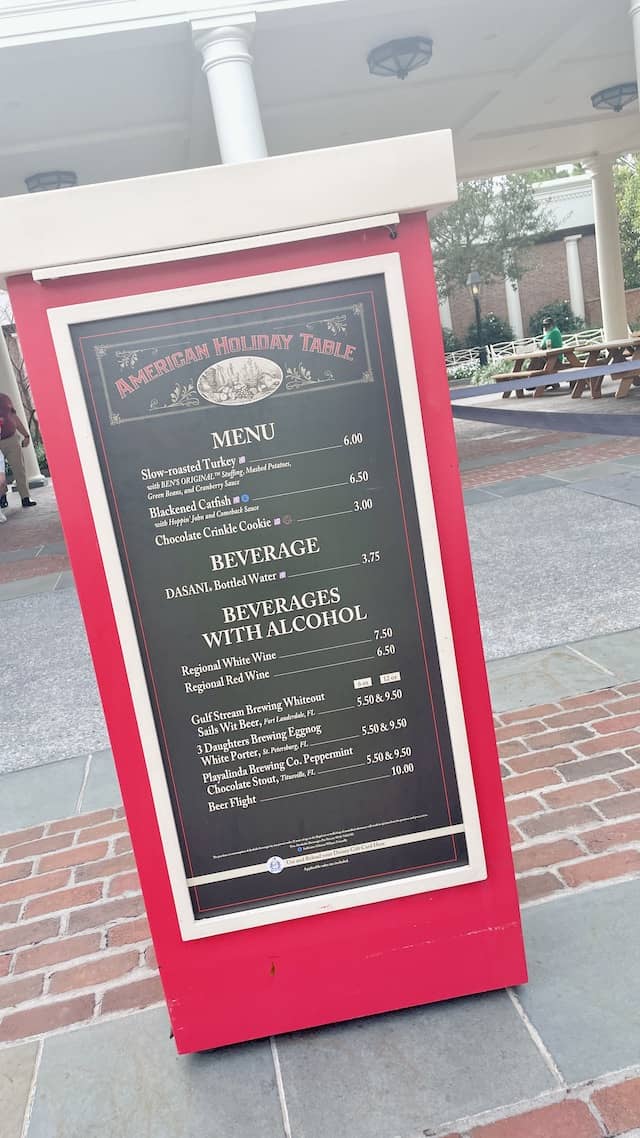 Beverages:
Gulf Stream Brewing Whiteout Sails Wit Beer $5.50/$9.00
3 Daughters Brewing Eggnog White Porter $5.50/$9.00
Playalinda Brewing Co. Peppermint Chocolate Stout $5.50/$9.00
Beer Flight $10.00
Turkey Dinner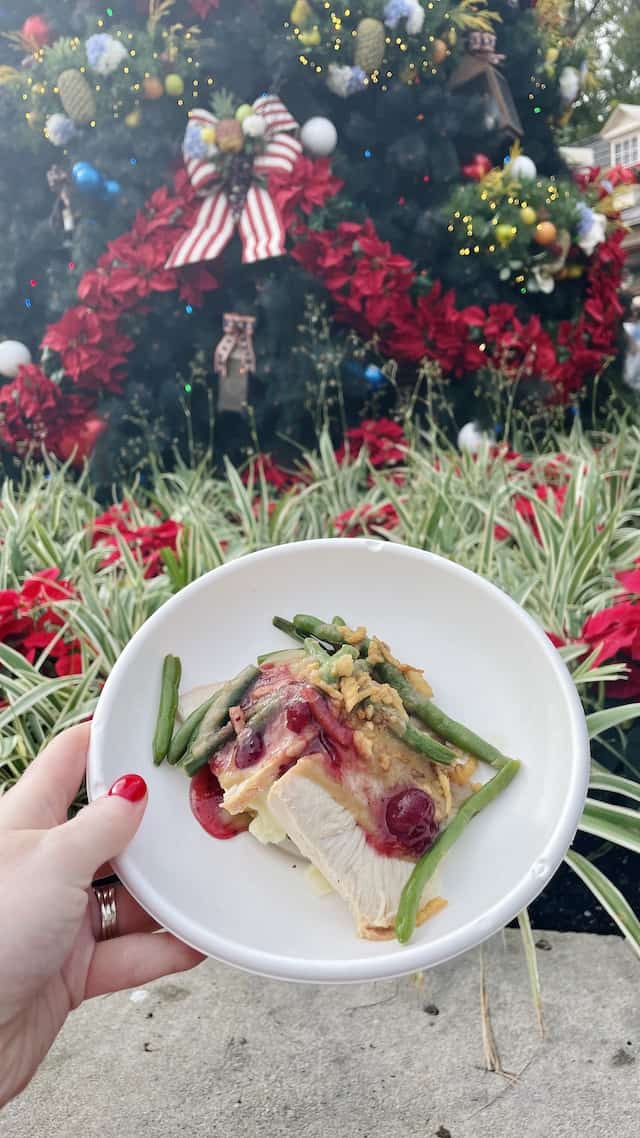 On a recent visit to Epcot, I (Monica) was looking for something hearty to counteract the sweets I was consuming. The slow-roasted Turkey with stuffing, mashed potatoes, green beans, and cranberry sauce was calling my name!
Priced at $6.00 this is a great value. No, it was not a massive plate of food, but it was just enough to get me some protein and still leave room for other dishes around the World Showcase.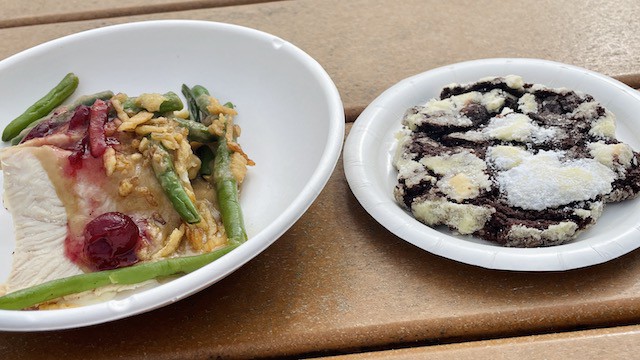 I really enjoyed the meal. It came with two small slices of turkey on top of a bed of mashed potatoes and stuffing. The green beans had the crunchy strings you usually find in green bean casserole. Even though I do not care for cranberry sauce this dish had actual cranberries which I thought kicked it up a notch.
Overall, I give this turkey dinner an 8/10. If you cannot grab Garden Grill reservations or just want a smaller portion so you can eat around the World, this smaller version will do the trick!
Chocolate Crinkle Cookie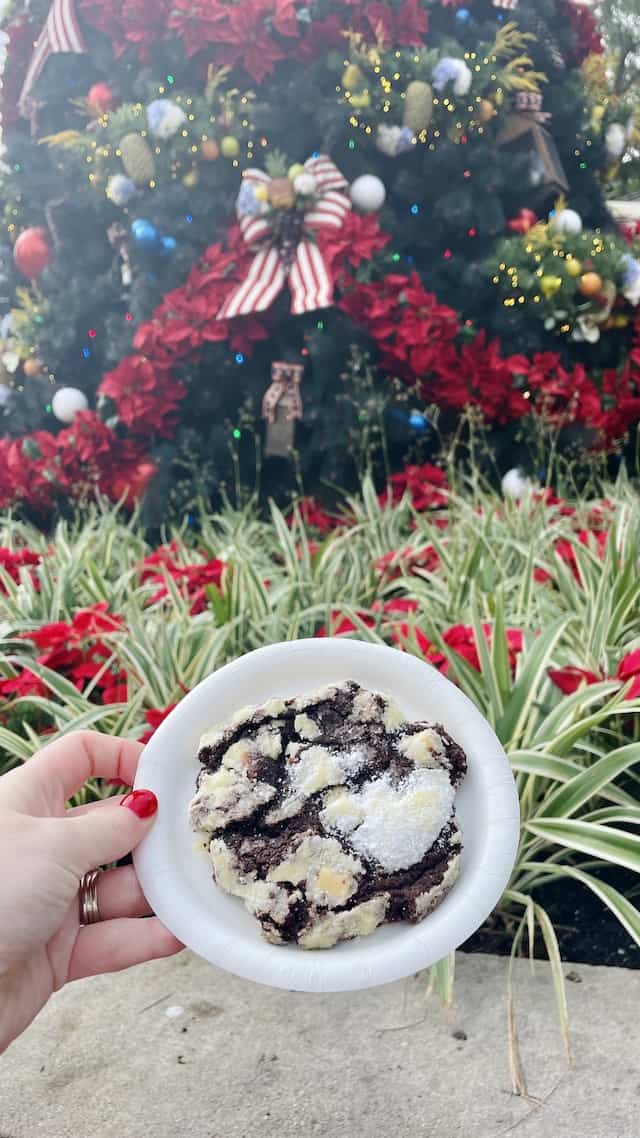 I know I said earlier I needed a hearty dish to counteract the sweets, but I also got the cookie! When in Epcot, am I right? The chocolate crinkle cookie is only $3.00 and pretty big for the price!
As a lover of fudge-y chocolate, this cookie was incredible. It was chewy and soft, not crunchy or hard at all. It is also part of the Cookie Stroll if you are participating in that. I did not – I just enjoy a nice chocolate cookie.
I give this cookie a 9/10. It was much better than other cookies I tried in Epcot that day. Be on the lookout for more reviews soon!
Overall, the American Holiday Table was a hit! Share your thoughts with us in the comments below and on Facebook.