Check out Disney's Contemporary Resort Easter Egg pictures and details here. Then, let us know which of these is your favorite!
Easter at Disney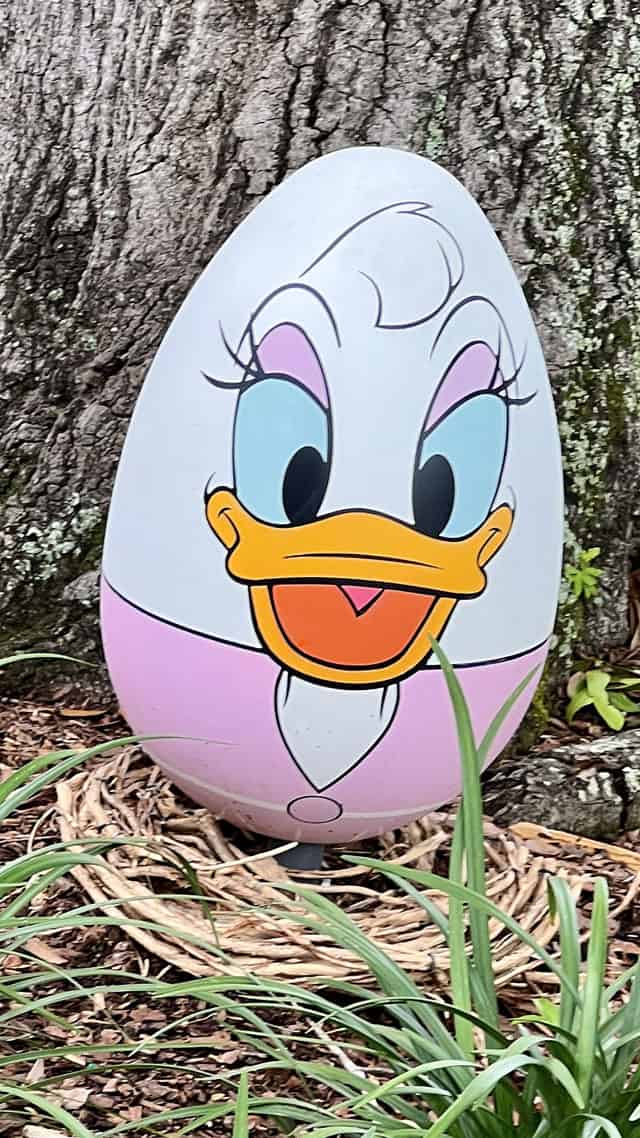 Spring is a symbol of rebirth. And, Disney celebrates this along with Easter in so many awesome ways! Be sure to hop over to Epcot to see everything the Food and Garden Festival offers! The resorts are packed full of fun, too!
Contemporary Egg Display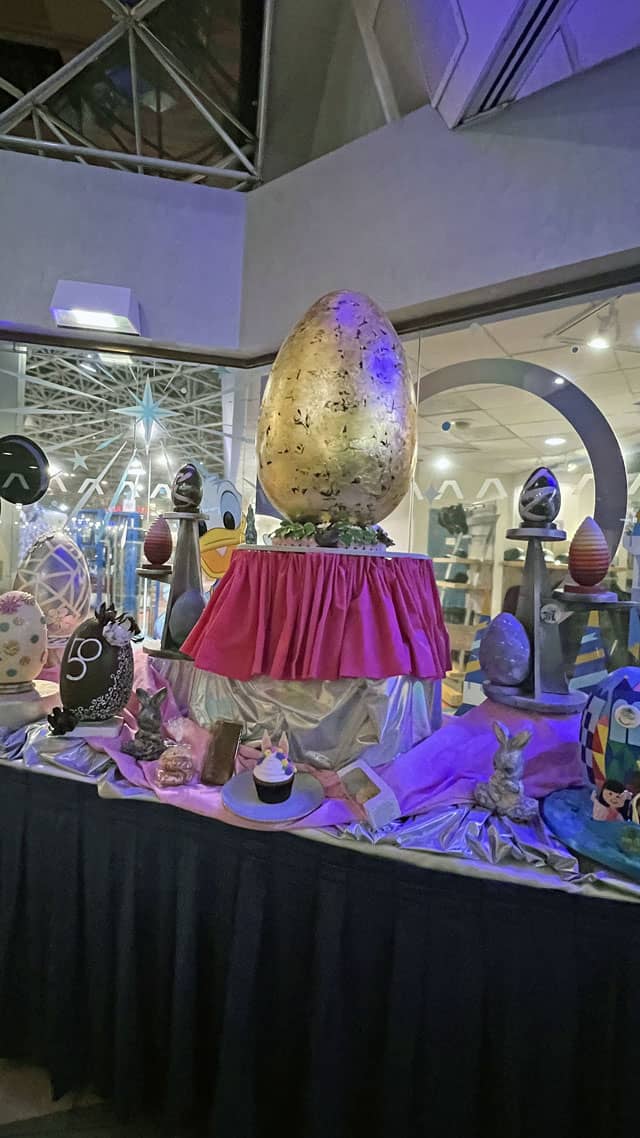 This year's annual Easter Egg display features tributes to Mary Blair and Disney World's 50th Anniversary Celebration. Led by Pastry Chef Jeff Barnes, the chefs took over 3 weeks to create these beautiful works.
Each egg is hand decorated with edible ingredients such as modeling chocolate, fondant, sugar floral, royal icing, colored cocoa butter and sculptured sugar pieces. This display contains over 250 pounds of chocolate! Yum!
When visiting here, look for the 5 five-legged goats hidden in the display.
Easter Treats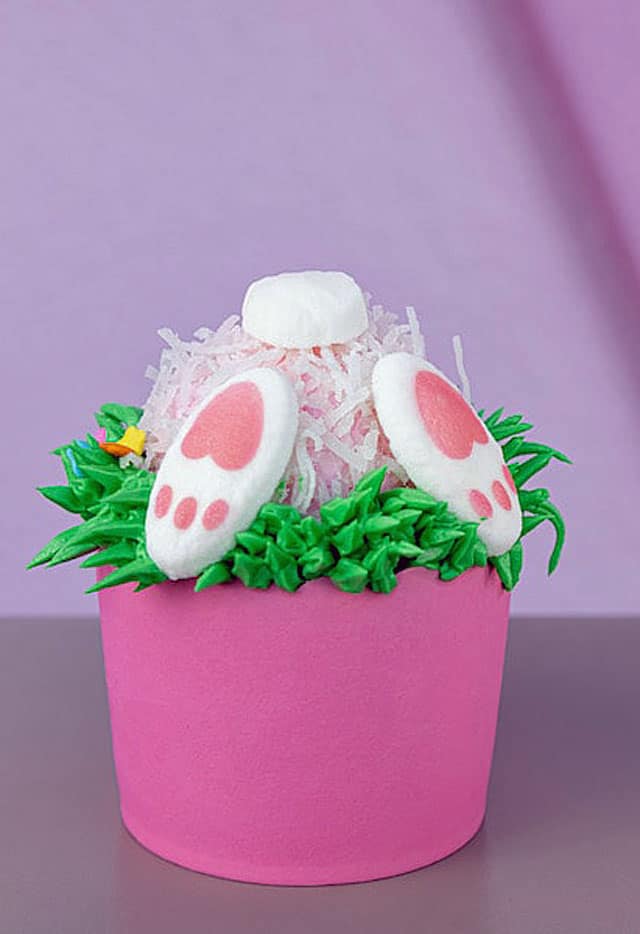 In addition, Contemporary Cast Members also created tasty treats available for sale at the Contempo Cafe. Look for an assortment of Easter macarons, sugar cookie sandwiches, and a cute Easter cupcake. Check out our Easter Foodie Guide HERE.
Celebrating the 50th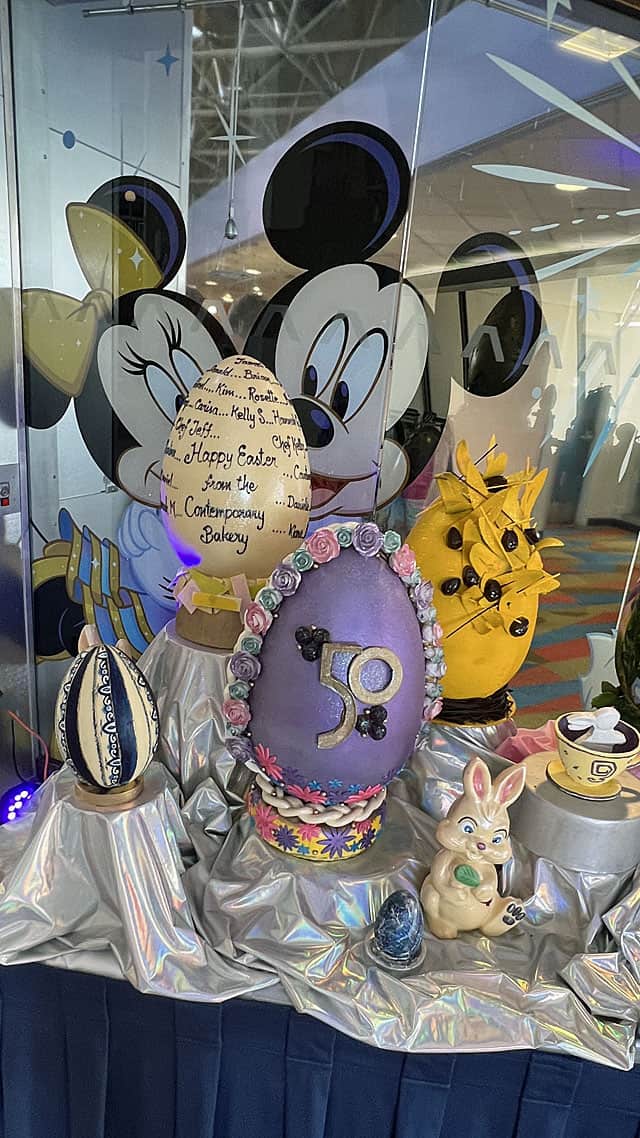 Since Disney World's 50th Anniversary festivities started on October 1, 2021, there have been so many unique and wonderful celebrations here! Check out the 50th Easter egg above along with Disney's Contemporary chefs wishing guests a Happy Easter.
The celebrations began on October 1, 2021 and will run 18 months. That means the special events and entertainment will be over sometime in the spring of 2023 – likely the end of March!
Alice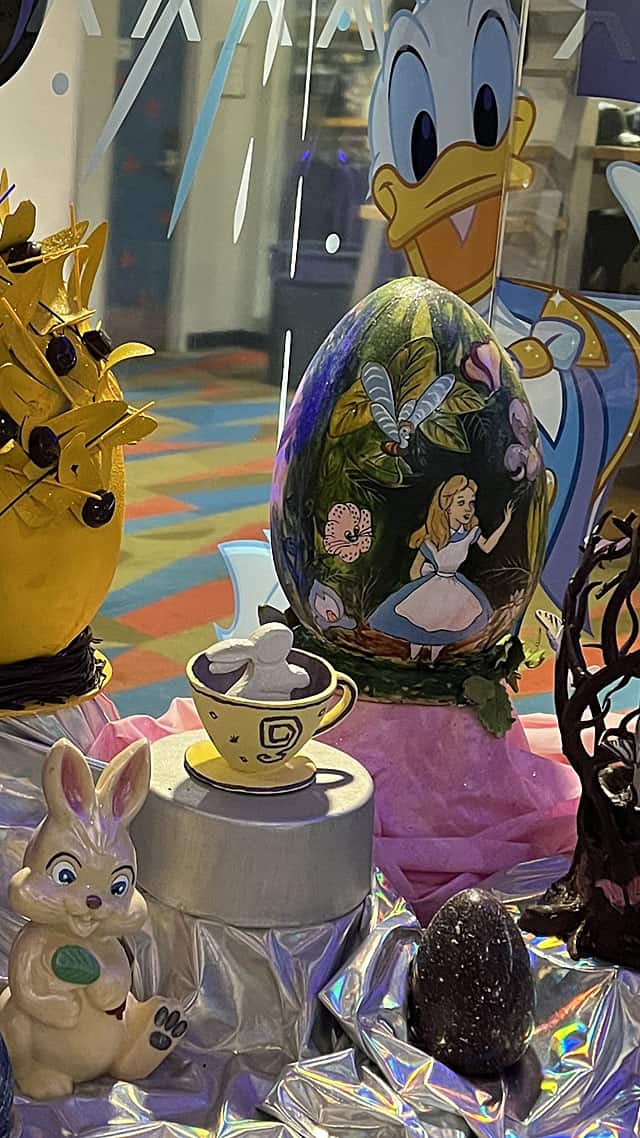 All of these eggs are so whimsical. It's only fitting that Alice in Wonderland is included in the tribute to Mary Blair. And, the teacup reminds me of the chocolate cups on Willy Wonka. Sure would be fun to try it!
Golden Egg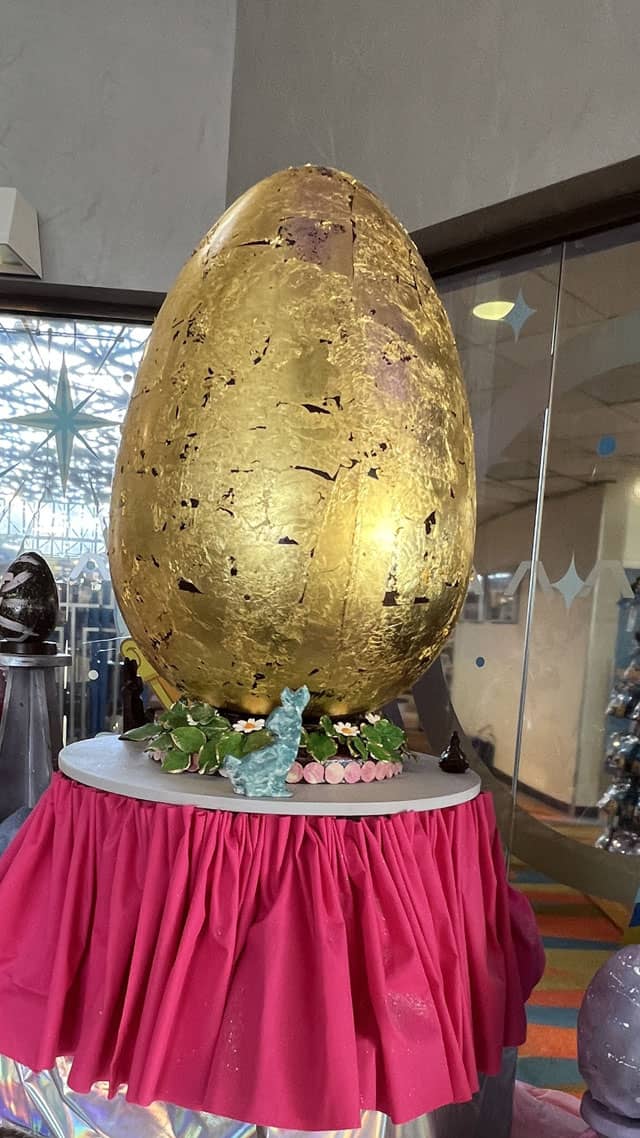 Next, this egg covered in edible gold leafing is huge! It sits in the center of the display and immediately draws guest's attention toward it.
it's a small world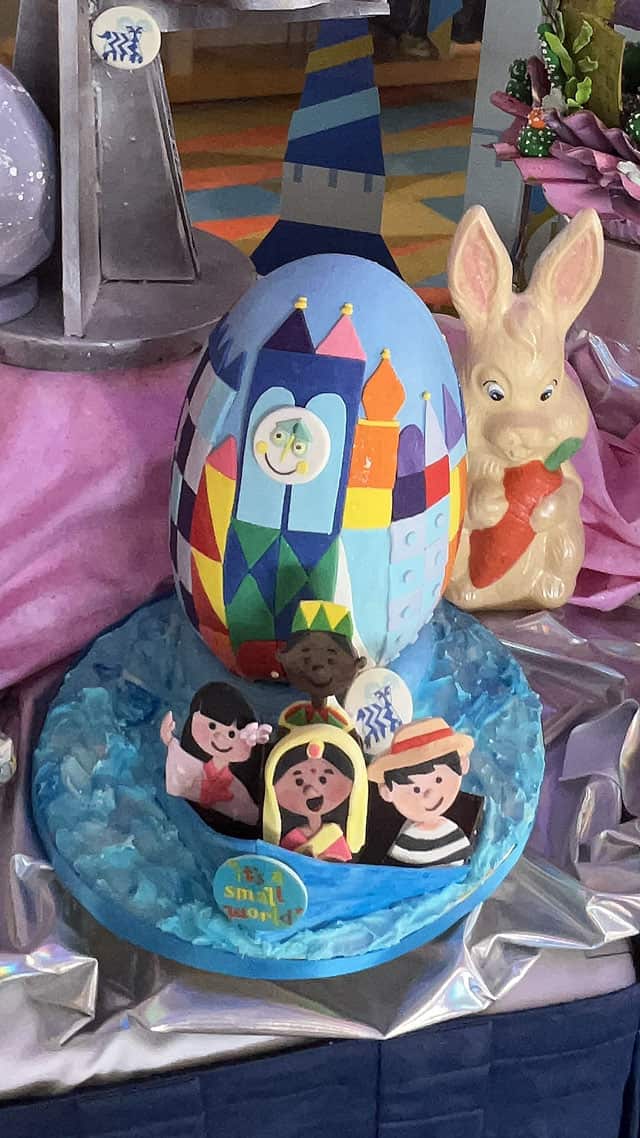 The attention to detail on the "it's a small world" Easter egg makes me smile. Here, you'll find another nod to Mary Blair with the playful colors and design.
Spring
Nothing reminds us more of spring than flowers. Take a look at these unique floral eggs above. I (Susan) especially like the flowering cactus.
Nod to Lead Pastry Chef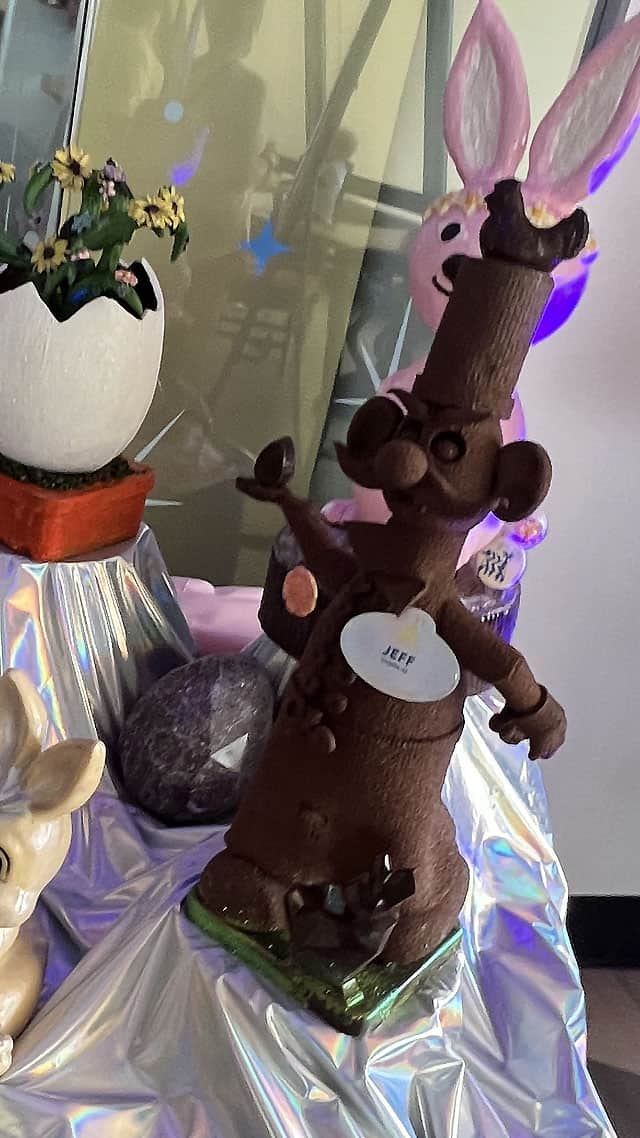 The pastry team thanks the lead Pastry Chef, Jeff, by including an adorable chocolate chef – complete with a name tag.
My Favorite Egg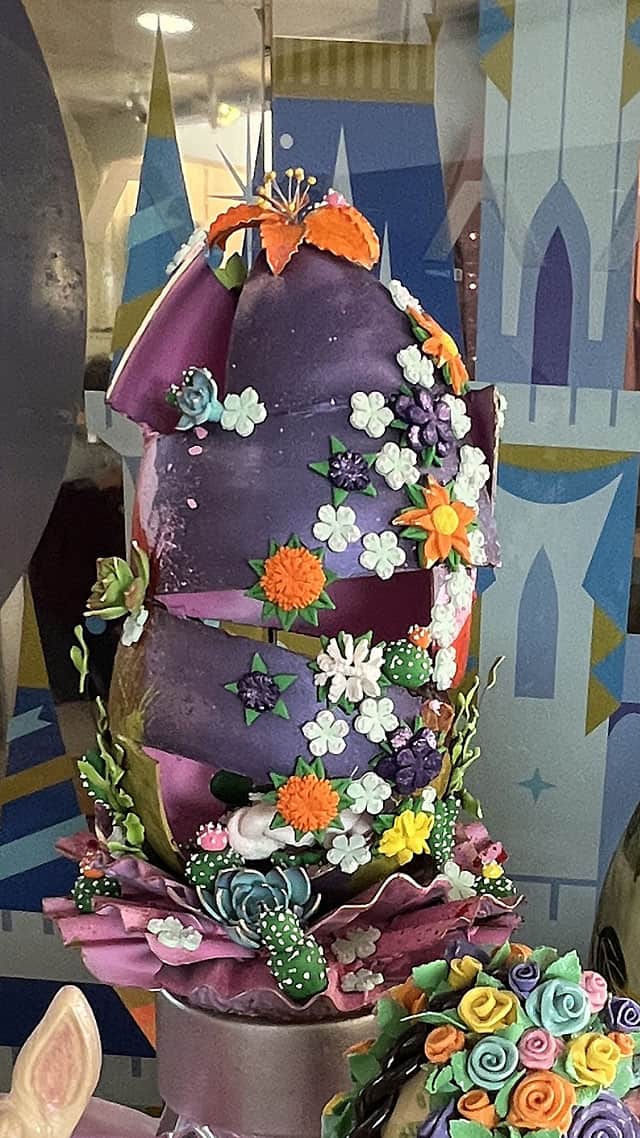 Finally, my favorite egg is the purple ribbon and floral egg shown above. I absolutely love the contrasting color and large variety of florals here.
Other Displays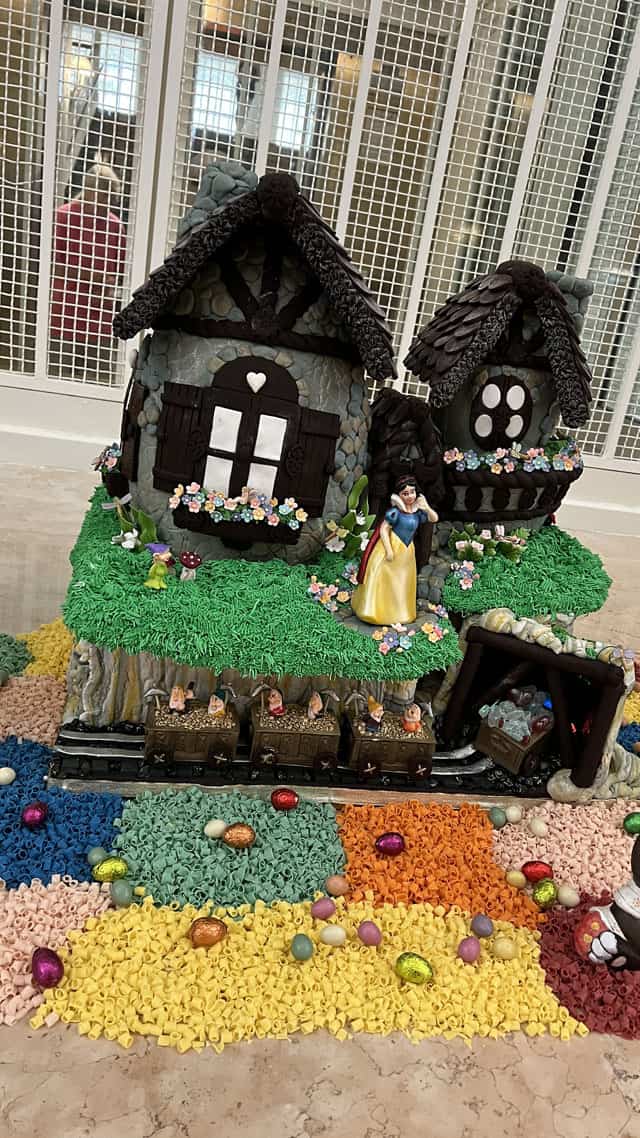 In addition to Disney's Contemporary Resort, be sure to take a quick monorail ride over to Disney's Grand Floridian Resort and Spa. Take a look at all the eggs in our recent post HERE. Not only that, but Disney's Grand Floridian debuts new treats in the Grand Cottage.
Do you plan to visit Disney's Contemporary Resort to see these eggs? Which of these delightful eggs is your favorite? Please share your thoughts below in the comments below or on our Facebook page!