LATEST VIDEOS
Subscribe to my Youtube!
Just Mousing Around - LIVE
LIVE - Just Mousing Around
LIVE - Just Mousing Around Tonight!
Do you wonder just what you get on the Star Wars: Galactic Starcruiser? Check out the immersive experiences here and let us know what you think.
Halycon Starcruiser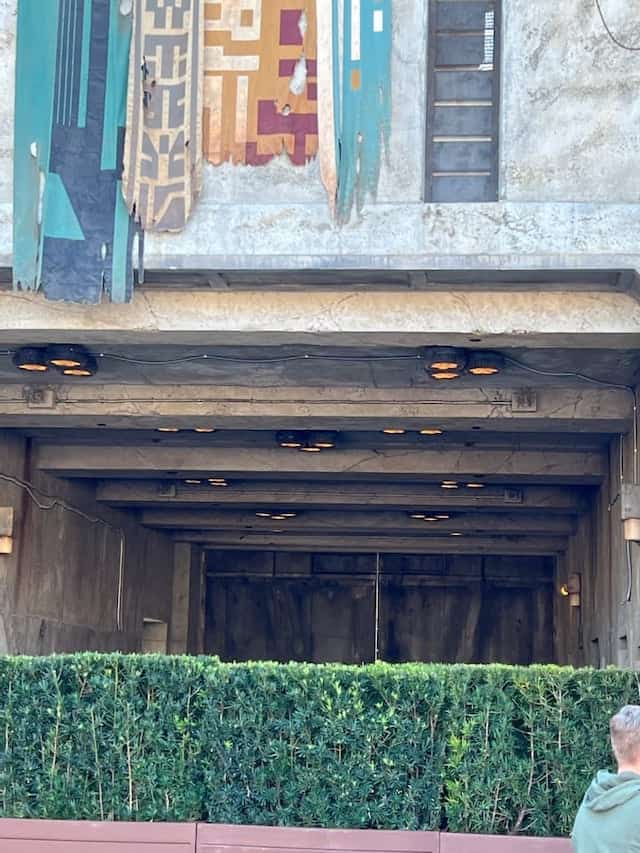 Every experience onboard the Halcyon starcruiser is designed to create an unique story where guests choose their own adventure role playing. Choices guests make affect their experiences with characters, crew, and other passengers. For example, guests may be asked to deliver a secret message, take part in a high-stakes heist, or hide an ally. These decisions impact how the story unfolds with other passengers and Star Wars characters.
We have traditional Star Wars storylines with the Resistance and the First Order, but then we've also introduced some other storylines, like a romance storyline that everyone can interact with.

Marc Rothschild, Producer, Disney Live Entertainment
What are your thoughts so far? To read more about what Imagineers who created this experience share about the new immersive experiences, read HERE.
Integrated Tech Details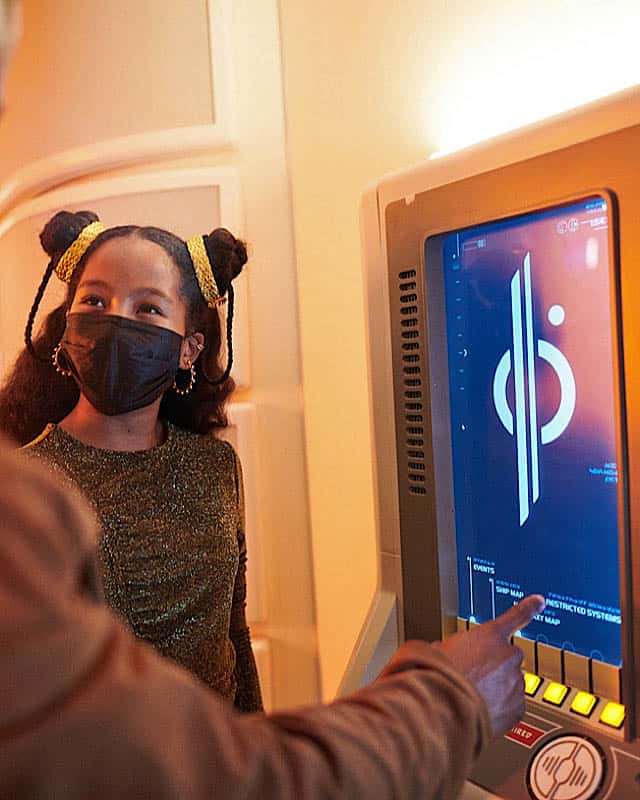 The screen above shows how Starcruiser guests check-in throughout their voyage.
To make sure everything onboard feels "authentically Star Wars," Disney Imagineers created a "design language," Dan Brookwell, Production Designer, Walt Disney Imagineering, tells D23. "We did the same thing when we designed Star Wars: Galaxy's Edge, where we created a new place guests hadn't seen before. The Imagineers worked closely with Lucasfilm Ltd. to answer those questions.
"Using them as sort of a north star was especially helpful in beginning stages." he says.
Guest Cabins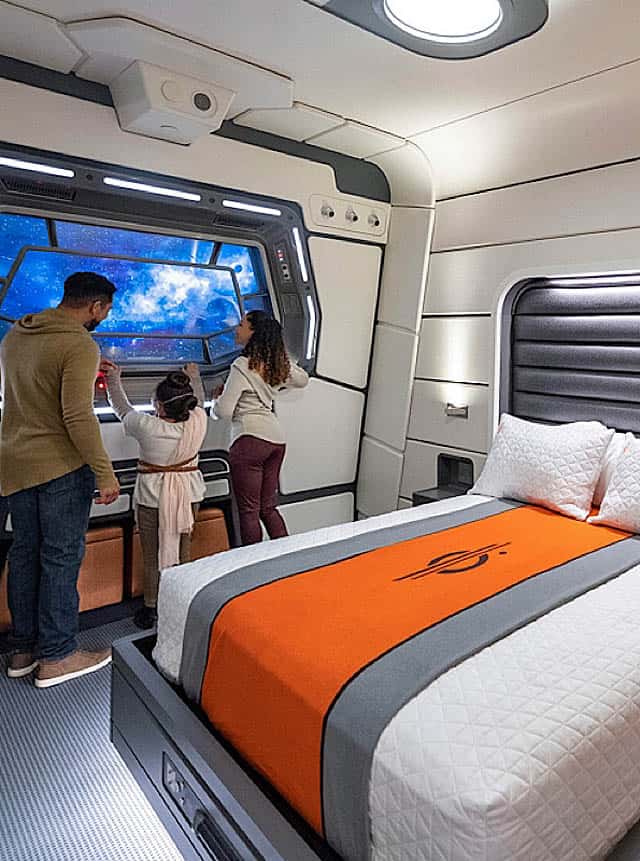 As you might expect, the accommodations onboard the Halcyon starcruiser are unlike anything you'll find on Earth. Passenger cabins feature a viewport into space that continuously changes during your journey. You'll see planets, ships, stars, and other breathtaking galactic sights float by on the majestic canvas of the cosmos. The starcruiser features 100 cabins and suites, which create an atmosphere of comfort, exclusivity, and style.
Each Standard Cabin includes a pullout table and a TV with entertainment from your home planet. One-bedroom Galaxy Class Suites include a living space with an integrated seating area and all the comforts of Standard Cabins, plus a double-vanity bathroom, bar area, and two windows with views into space.
Two-bedroom Grand Captain's Suites come with all the comforts of Standard Cabins, plus an integrated seating area, a main suite with a double-vanity bathroom, a second bathroom with a single vanity, a bar area, and three windows with views into space.
Character Interactions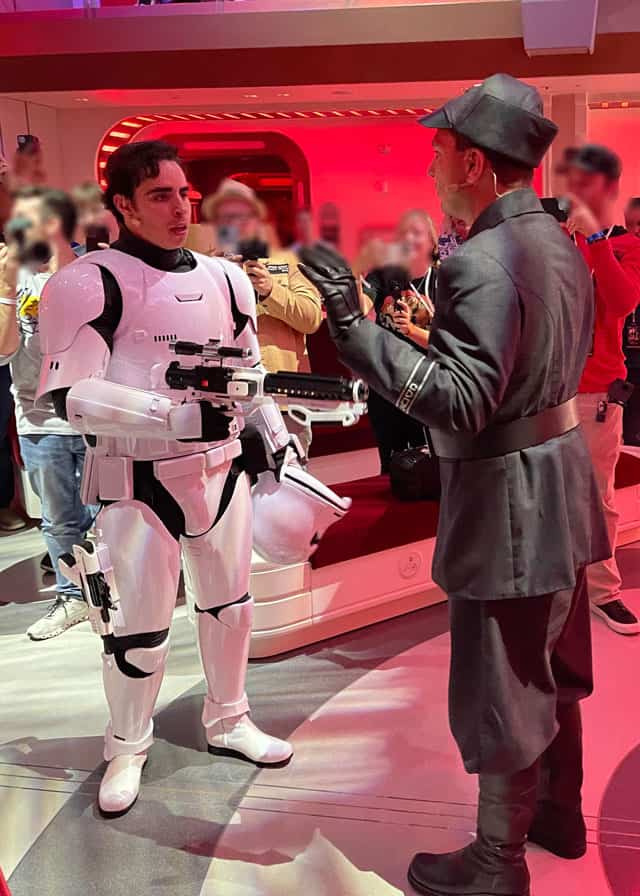 When you embark on your stay onboard the Halcyon starcruiser, will you join the Resistance or will you pledge your allegiance to the First Order? Check out sample itineraries HERE. There will be Star Wars characters from both sides to entertain guests here. Look for classic characters, such as Chewbacca, R2-D2, C-3PO, and Rey, and the First Order's Kylo Ren. Then, guests encounter a whole new group of characters, created for this experience.
So far, there is little to no social distancing whatsoever with the Star Wars characters onboard. Disney may be putting their best foot forward to allow media and other select groups. We'll find out soon if this changes once it opens to the general public.
Each crew member is able to impact the guest experience based off their knowledge.

Cory Rouse, Starcruiser Director
Pictures Not Included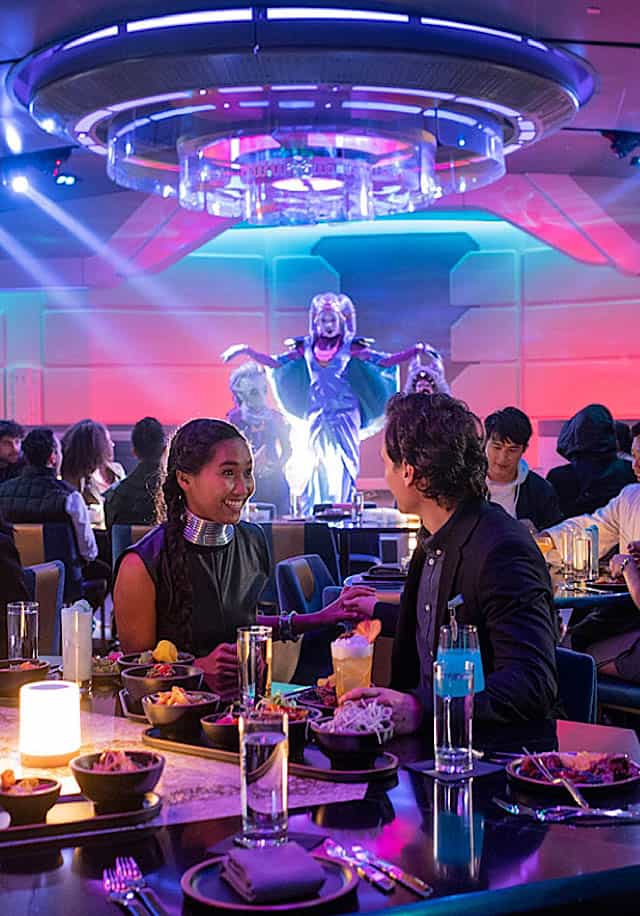 Since it's so expensive, you'd think PhotoPass downloads would be included. However, that's not the case. Guests will still need to purchase Memory Maker to download their photos from this unique experience. 
Note that Annual Passholders who paid for the PhotoPass add-on to their Annual Pass will have access to their photos. What in the word? I'm (Susan) wanting pictures if I stay here and not at an additional cost.
Datapad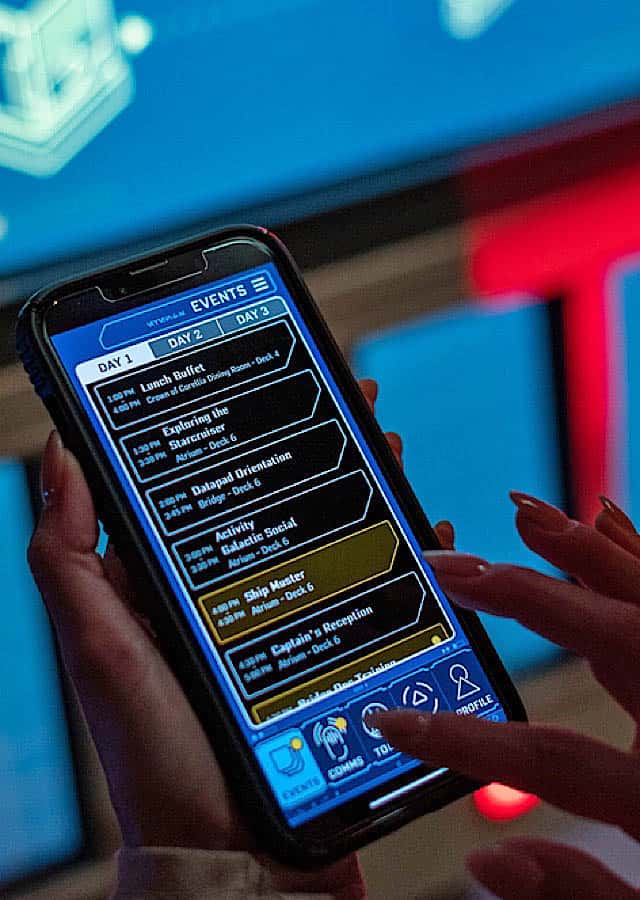 Deepen your engagement with characters and storylines using the Play Disney Parks mobile app on your smart phone. Through the Star Wars: Datapad found inside the app, you can access many functions that will help guide your experience.
"The Star Wars: Datapad has existed in Play Disney Parks since the opening of Star Wars: Galaxy's Edge as a way to deepen that experience," Anisha Deshmane, Creative Producer, Walt Disney Imagineering, says. "We've expanded it for Star Wars: Galactic Starcruiser, creating custom tools to help our passengers better navigate their journey."
The Events function updates your itinerary continuously throughout your two-night stay, evolving with new invitations and secret meetings as you interact with different characters and complete various missions. It is connected to the things you see physically in the environment around you where you can see the change being enacted in real time.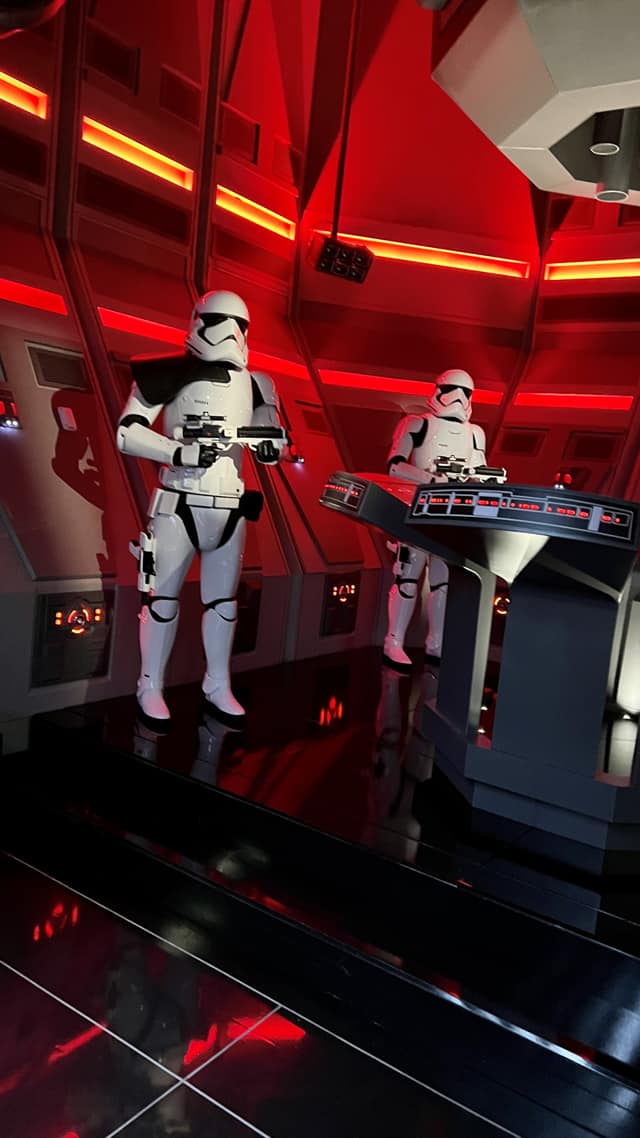 On the second day of your voyage, the Star Wars: Datapad will guide guests visiting the Black Spire Outpost on Batuu. Also, it will unlock new levels of engagement and interactivity across Star Wars: Galaxy's Edge. There, adventures that began on the Starcruiser the previous day continue to play out as part of the immersive storytelling.
Are you like me, wishing those not going on the Starcruiser could have more Star Wars adventures while visiting Galaxy's Edge?
Creative Food Offerings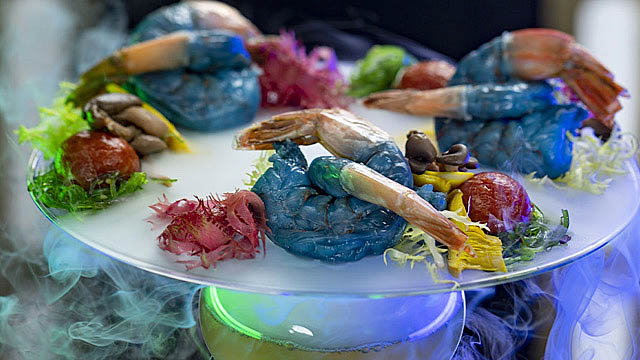 If you enjoy Docking Bay 7 Food and Cargo or the unique cocktails at Oga's Cantina, then you'll love the food and beverage offerings available onboard the Halcyon starcruiser! Enjoy menus full of familiar tastes but unexpected colors and textures, deepening the immersion in your galactic voyage.
However, if you're like me and find this menus a little strange, you may tire of the choices here. The shrimp shown above does not look appetizing.
First Night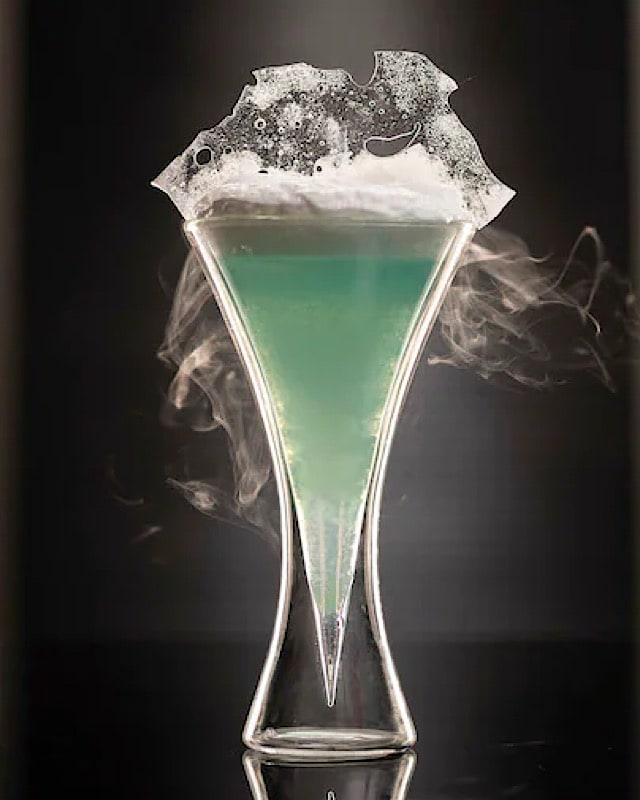 The Sublight Lounge offers amazing cocktails after a one-of-a-kind dinner. Guests choose from creative cocktail options like the Hoth Ice Breaker pictured above. These drinks hit multiple senses with exotic flavors and out-of-this-world looks. To check out how the menu engages all of the senses read HERE.
Second Night
The second night offers the "Taste Around the Galaxy" dinner experience, with each course inspired by a different planet. "It was important to us and important for the story to serve each course family-style, because that allows us to serve everyone quickly so they get the same experience as they're watching the show."
Walt Disney Imagineering had this great idea to take every course and design it around a planet, incorporating lighting and music, to really transport you to that planet, incorporating lighting and music, to really transport you to that planet."

Piasecki, Disney World Culinary Director
Dress the Part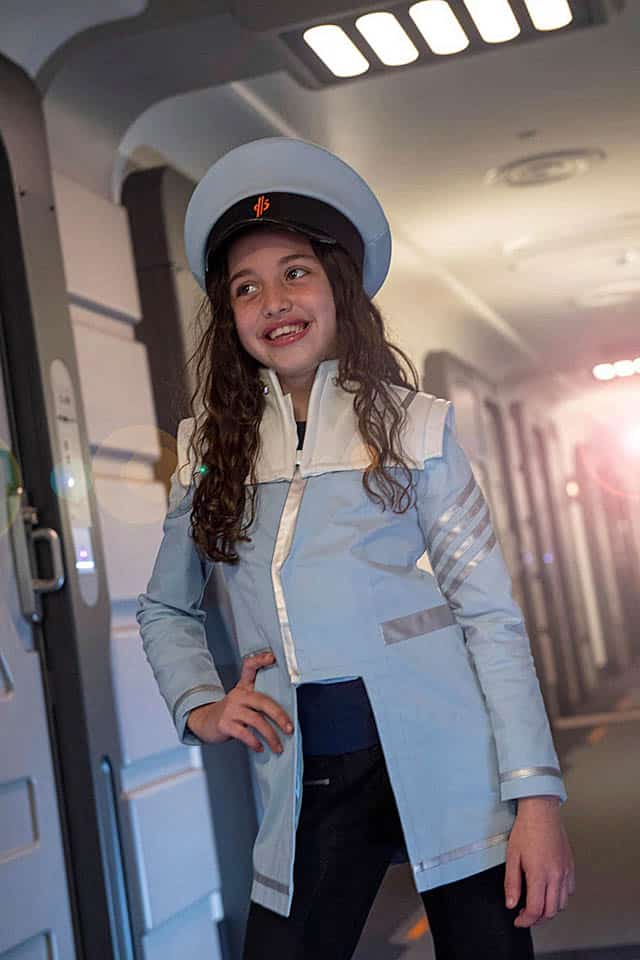 An extensive merchandise collection for Star Wars: Galactic Starcruiser enhances the role-play vacation experience, inviting you to further immerse yourself in a galaxy far, far away.
The stunning Chandrila Collection boutique offers a wide assortment of apparel and accessories that guests can purchase and wear throughout their voyage.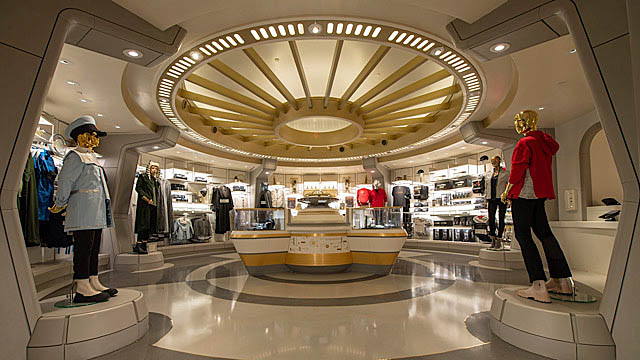 Star Wars: Galactic Starcruiser guests are eligible to purchase select merchandise on shopDisney.com up to 60 days prior to their reservation check-in date and up to 30 days after their check-out date. In order to purchase, the email address used to sign into shopDisney must also be linked to your Star Wars: Galactic Starcruiser reservation. There's an exclusive Magic Band available for Starcruiser guests. Do you think these should be extra or included in the price?
This exclusive merchandise is already popping up on eBay. Would you pay extra for these souvenirs? Read more details on this story HERE.
Are you excited about the Star Wars: Starcruiser? Is the price worth it? Or do you wish there were more Star Wars experiences for Hollywood Studios guests? Please join in on the conversation in the comments below and on Facebook.
Source: D23.com

Are you planning a vacation? Reach out to our trusted travel agency sponsor Authorized Disney Vacation Planner
Mouse Class Travel
!