There have been a LOT of changes at Disney since the parks reopened last year. The pandemic provided Disney with the perfect opportunity to restructure many aspects of its daily operations. This has left some guests frustrated by the loss of perks and magical extras.  One of the biggest changes was the disappearance of Fastpass+ in exchange for the paid service Genie+. While Disney may believe this is the way of the future, we want to know what YOU think! Take our polls and let us know your feelings about the new system.
When Disney revealed the new Genie systems and Lightning Lanes, the poorly planned rollout left many guests very confused and upset. There are still a lot of kinks to fix, but Disney continues to make adjustments since the initial launch.
Understanding All Things Genie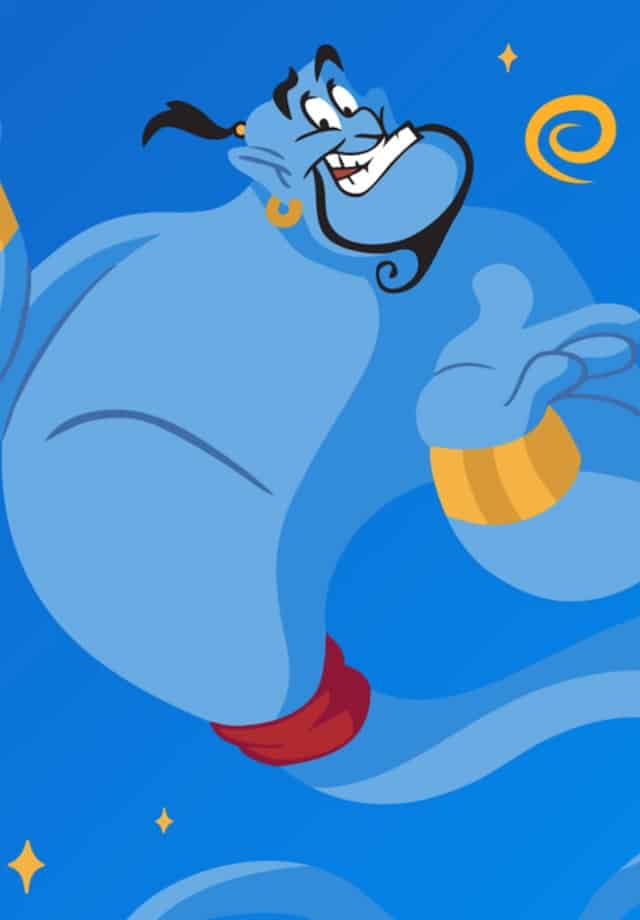 We here at KennythePirate understand that this new system is incredibly confusing. That's why we have created tons on content for our readers to help them better understand how to utilize Genie the best way possible. You can check out all our articles reading the new Genie and Lightning Lane systems HERE. Also, be sure to check out our Master Guide to Genie+ and Lightning Lane HERE!
Genie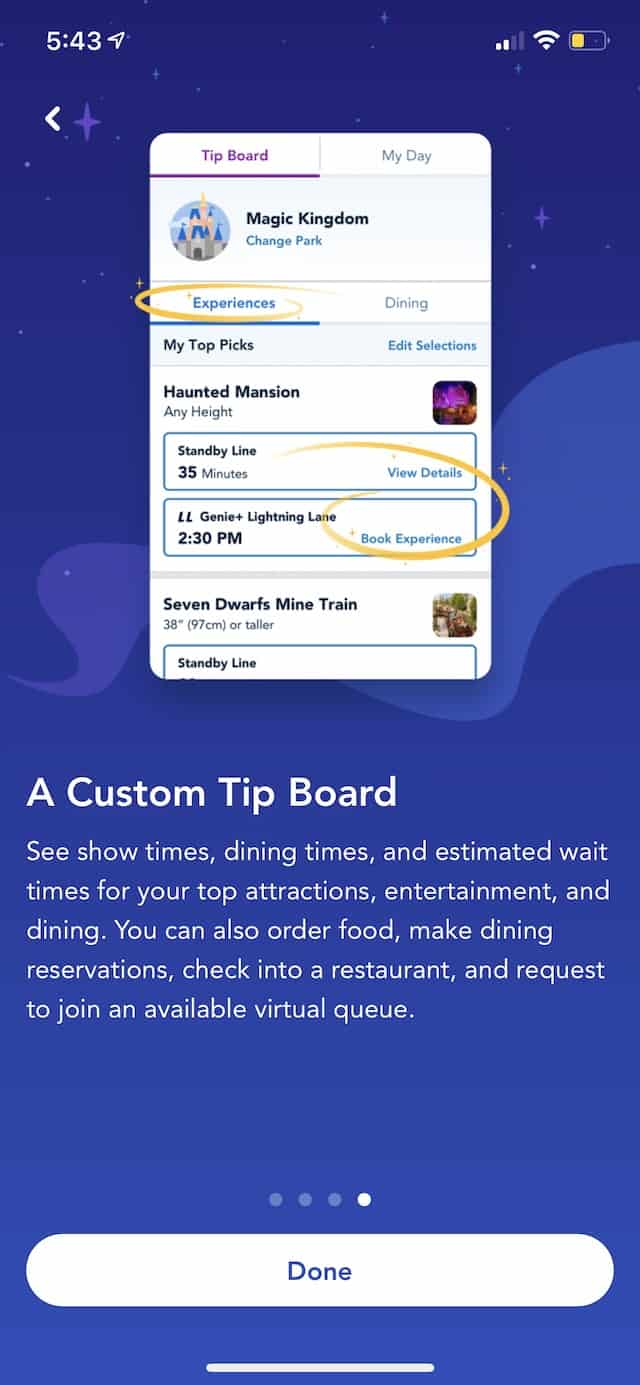 Because Disney decided to name everything so similarly, it can be a bit confusing to compartmentalize each separate feature. The Free Genie app is Disney's new tool that is supposed to help guests plan their perfect day at Disney. Part of this app features wait times, suggested itineraries, dining reservations, virtual queues and tip boards to help you see everything in one app.
As expected, the free genie app is not as revolutionary as Disney boasted it would be. The app was supposed to be a smart planning tool to guide guests and help them avoid high wait times and maximize their fun. In actuality, however, the Genie app is designed more to benefit Disney rather than park guests. It manipulates guests to go where Disney wants them to go at a specific time to help with crowd control.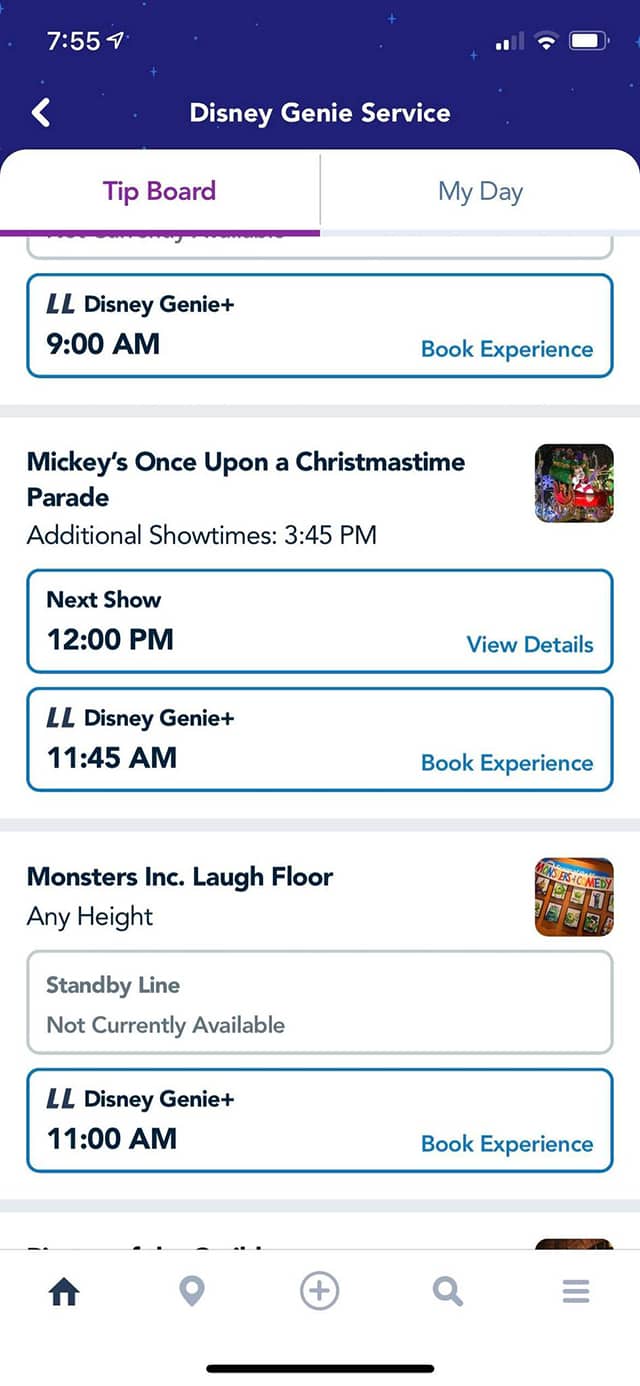 If that really worked as planned, it wouldn't be so bad for park guests, either. Unfortunately, this free planning tool will often push guests towards filler attractions such as the Swiss Family Treehouse or the Enchanted Tiki Room in order to keep them away from the big ticket attraction lines.
Another "glitch" in the free Genie app is that it sometimes suggests attractions that have higher wait times instead of other ones that might be lower. For guests who aren't seasoned visitors, they can easily get played by the system.
Genie+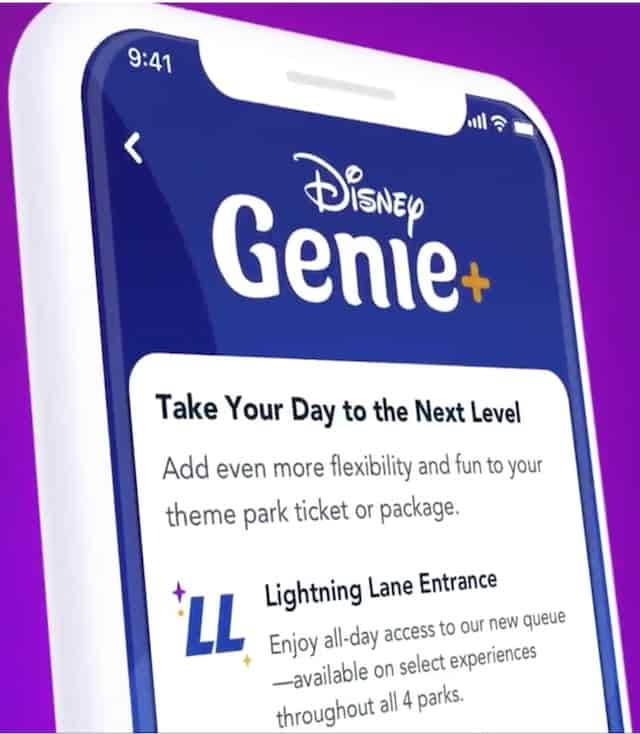 Genie+ is the new paid service that essentially takes the place of the free Fastpass+ system. Guests can choose to pay $15 per person per day at Disney World and $20 per person per day at Disneyland to skip the standby lines at many popular attractions.
If you find yourself confused by Genie+ and Lightning Lane terminology, think of it this way: Genie+ is the tool you pay for in your My Disney Experience app in order book Lightning Lane passes. Lightning Lane is essentially the new name for "Fastpass". A few things that make the new Lightning Lane passes inferior to the old Fastpass System: Unlike Fastpass+ guests cannot modify their ride selection.
Modifying was a great way to finagle earlier Fastpass return windows by continuously refreshing the page. Now, in order to try to get a different return window, guests will have to cancel their current ride selection and hope they can get find an earlier one.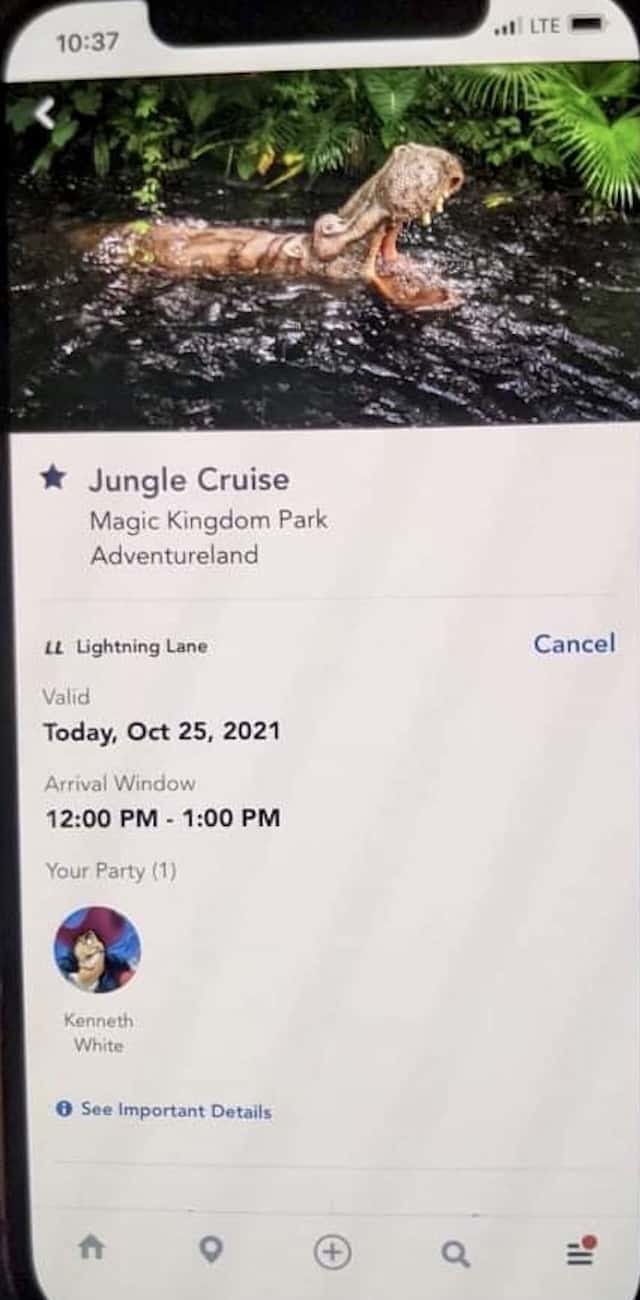 Another negative feature with the new Genie+ app is that guests can only choose the next available time window to return to an attraction rather than choosing from a list of available time slots. We have a few tips on how to get the return time you want HERE. It is also important to be aware of a very common glitch in the system.
You may find a return time pop up that suits your party's schedule, click on it and confirm only to find out that your time has been changed hours into the future. This is a common problem that happens because guests are all pulling from the same pool. You might just have your time snatched right out from under you and not realize it.
Individual Lightning Lane Selections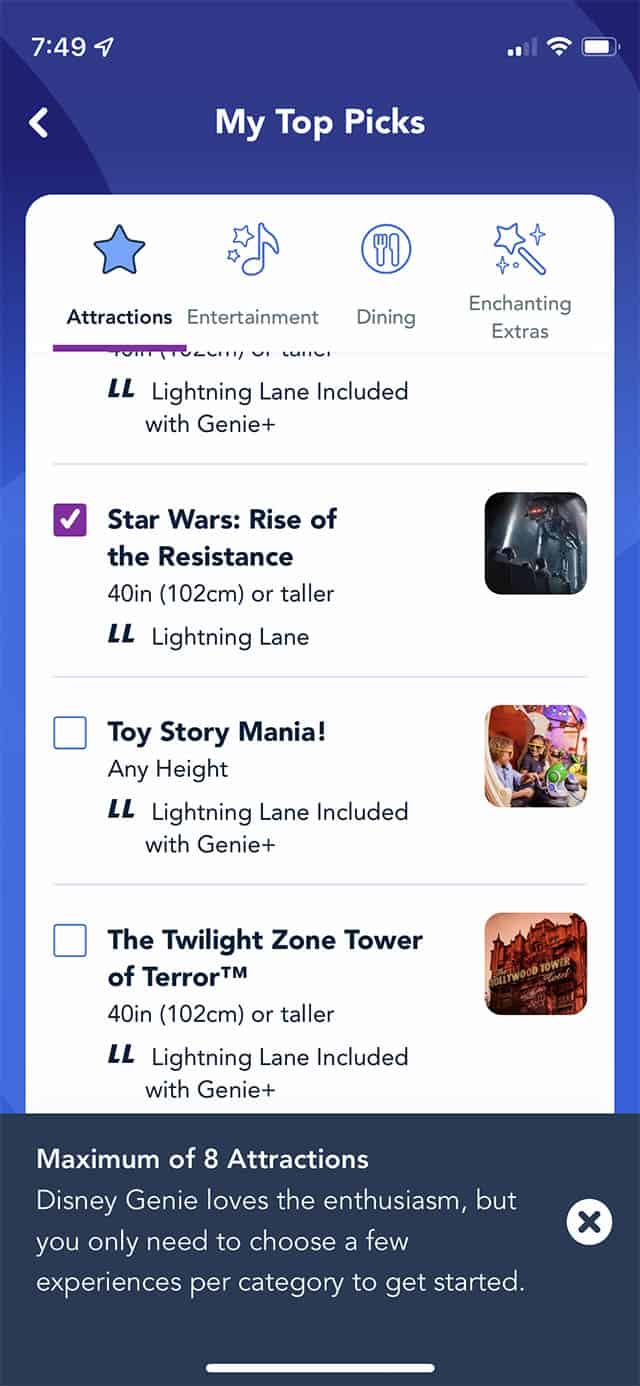 If that all wasn't confusing enough, there is yet another category of ride passes called Individual Lightning Lane Selections. In each park there are 2 attractions that will NOT be eligible to be booked via the Genie+ paid subscription.
Instead, guests will be required to pay an additional fee between $7-$15 per person to skip the lines at these Individual Lightning Lane attractions (or wait in the stand-by line):
Magic Kingdom:
Space Mountain: $7
Seven Dwarfs Mine Train: $10
EPCOT:
Remy's Ratatouille Adventure: $8
Frozen Ever After: $9
Disney's Animal Kingdom
Flight of Passage: $11
Expedition Everest: $7
Disney's Hollywood Studios:
Rise of the Resistance: $15
Mickey and Minnie's Runaway Railway $8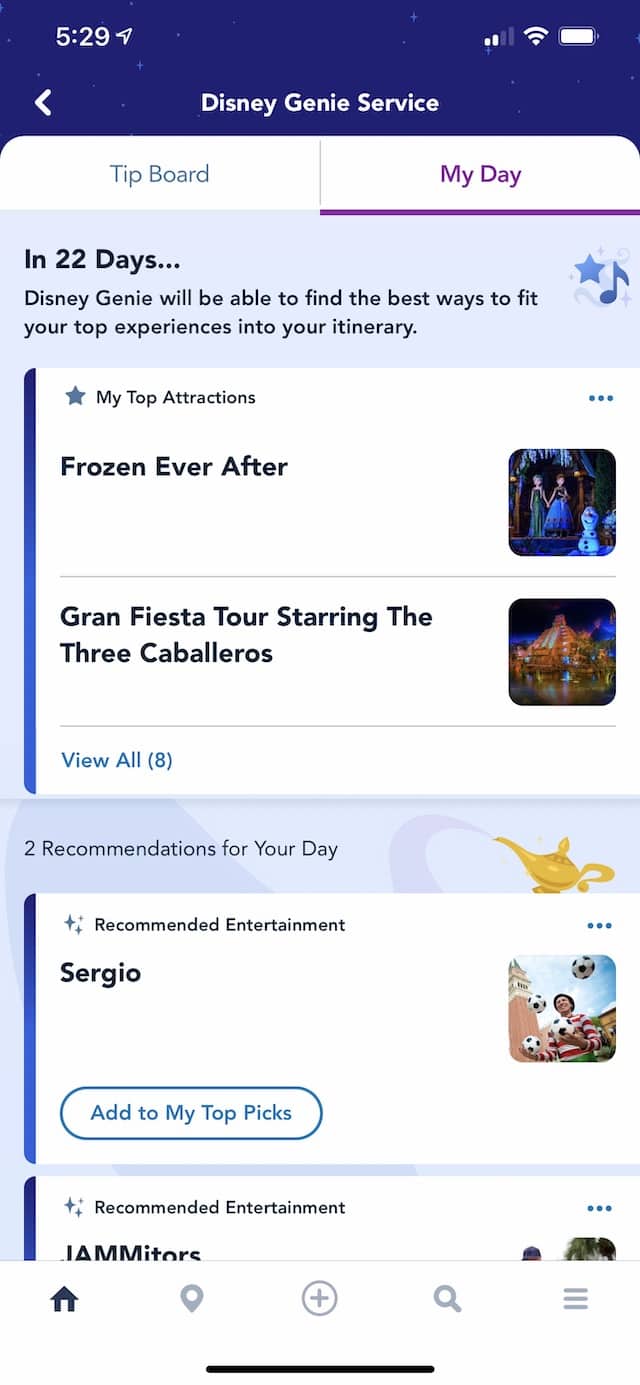 A perk for resort guests is that they can book these Individual Lightning Lane rides beginning at 7am. Guests who are staying off-site will have to wait until the park officially opens to book an Individual Lightning Lane pass. All guests will be limited to purchasing only 2 Individual Lightning Lane rides per day, but they do not have to be in the same park.
You do not have to buy Genie+ in order to buy an Individual Lightning Lane Selection nor do you have to physically be in the park to book your selected attraction.
Keep in mind Individual Lightning Lane attractions are NOT refundable and once you book your time window, you are LOCKED into that time – no modifications or cancellations. (think of it like booking a ticket to a specific movie time).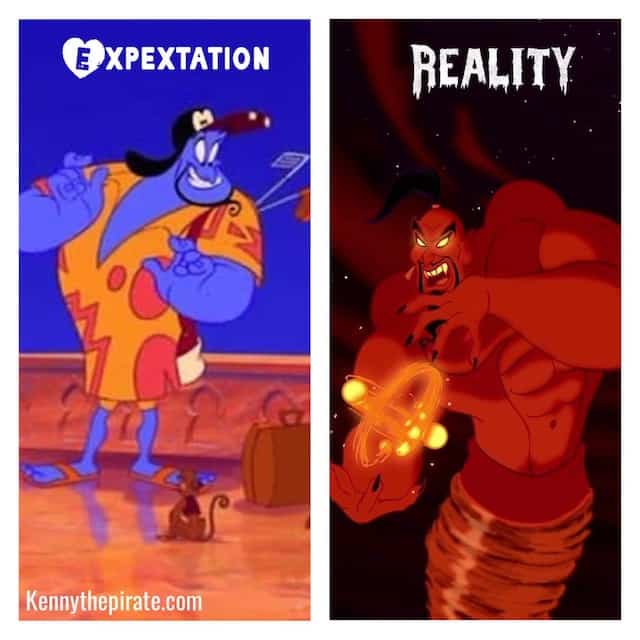 All of this is 1000 times more confusing than the previous Fastpass+ system. It seems to be more of a benefit for Disney than its guests, but we want to hear from YOU. What do you think about the new Genie systems and Lightning Lanes? Answer our polls below to tell us what you've experienced!
Have you or would you find the FREE Genie app useful in planning your day?
Have you or would you Purchase the Genie+ upgrade on any day of your stay?
In what park are you most likely to purchase the Genie+ feature?
Have you or would you ever purchase an Individual Lightning Lane pass?
What attraction have you or would you purchase an Individual Lightning Lane pass for?
Having purchased an Individual Light Lane pass (at any of the parks), would you consider doing it again or recommending it to a friend/family?
Which system would you prefer?
Be sure to stay tuned for the results of these polls! We thank you for taking the time to let us know your honest opinions!
What do you think of the new Genie+ and Lightning Lane systems? Let us know in the comments below and on Facebook why you voted the way you did!
-Christina