President's Day Weekend is a popular time to visit Walt Disney World. Will the weather cooperate with your holiday plans?
Weather Forecast Discussion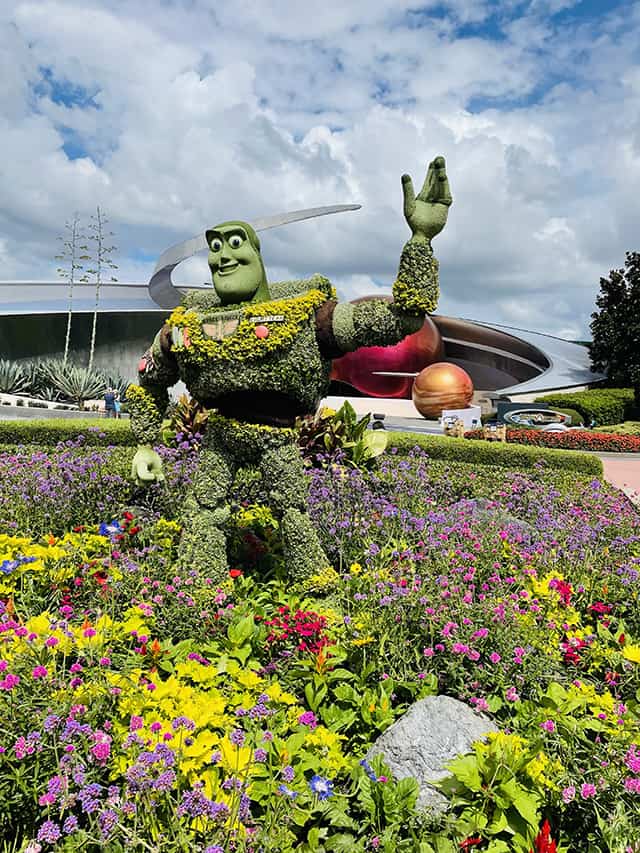 The forecast for this weekend begins with a cold front approaching Central Florida as our major storm system moves off the Eastern U.S. coastline.  While Friday still features highs in the 80's, we'll be cooling down some for the start of the weekend behind the front.  A few showers and thunderstorms are possible Friday with just a slight chance of a lingering shower possible Saturday.  
The front will stall along the Florida coast for Sunday and Monday.  Right now it looks like it will stay far enough off the coast that any impacts will not affect the Orlando area.  Temperatures will rebound quickly to the 80's for Sunday and Monday.  
Official KtP Weather Forecast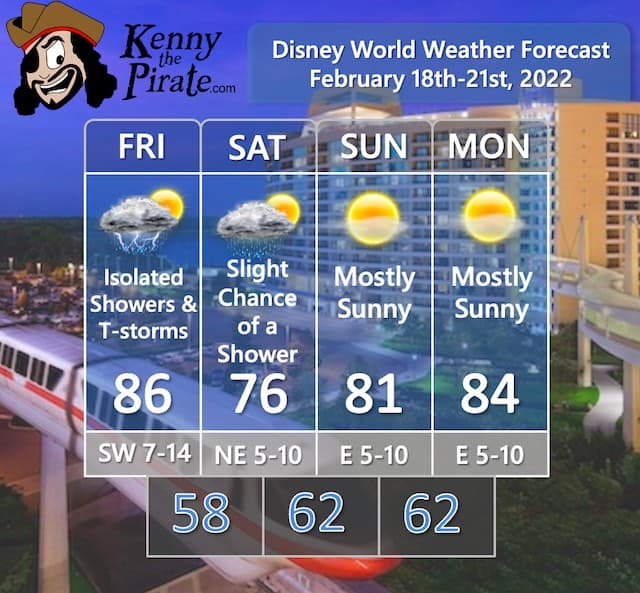 Severe Weather Chances For Florida
While the major storm produced widespread severe weather across the Southeastern United States, it does not appear that Florida will see any widespread severe weather. While any thunderstorm can produce gusty winds, frequent lightning, and heavy downpours, the isolated thunderstorms that would develop Friday are expected to remain below severe criteria.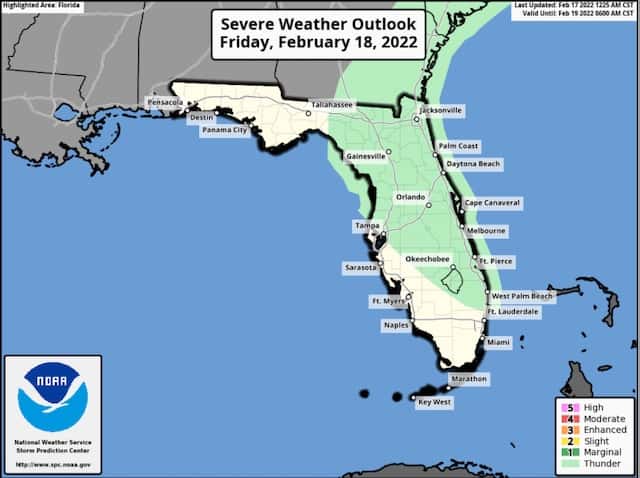 The image above from the Storms Prediction Center supports my thinking of just general thunderstorms across Florida and not severe weather.
Flight Impacts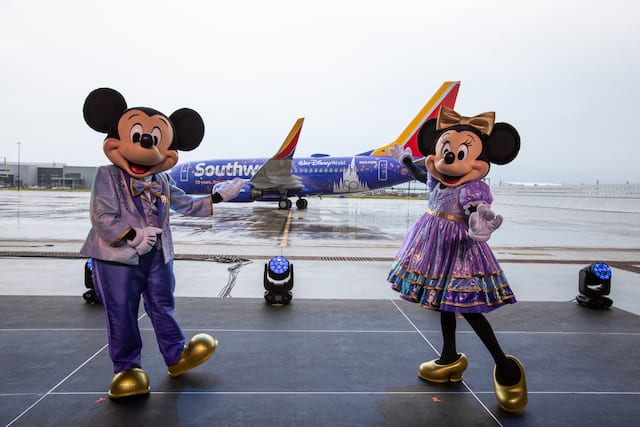 I added this category recently to point out any large-scale impacts on flights getting to and from Orlando. The struggles and impacts on the airline industry in the wake of the pandemic that led to flight cancellations have been well-documented. I'm focusing on the weather impacts.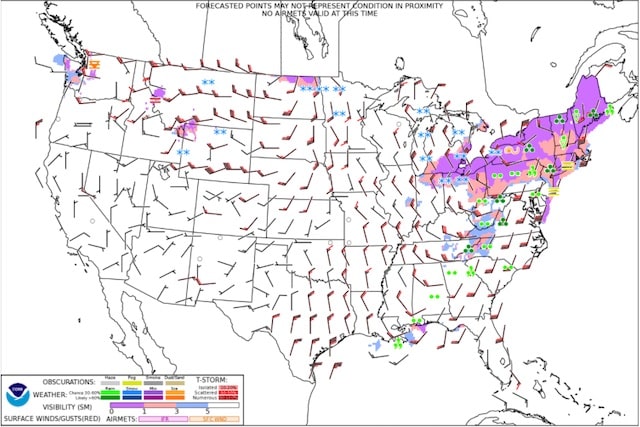 Our major storm system will exit the East Coast on Friday. Rain, snow, and wind will impact flight across the Northeast and Mid Atlantic states as shown on the NOAA/FAA map above. On a positive note, the isolated showers should not impact flights in the Orlando area. The rest of the weekend looks quiet in terms of flight impacts which is great news.
A Look Ahead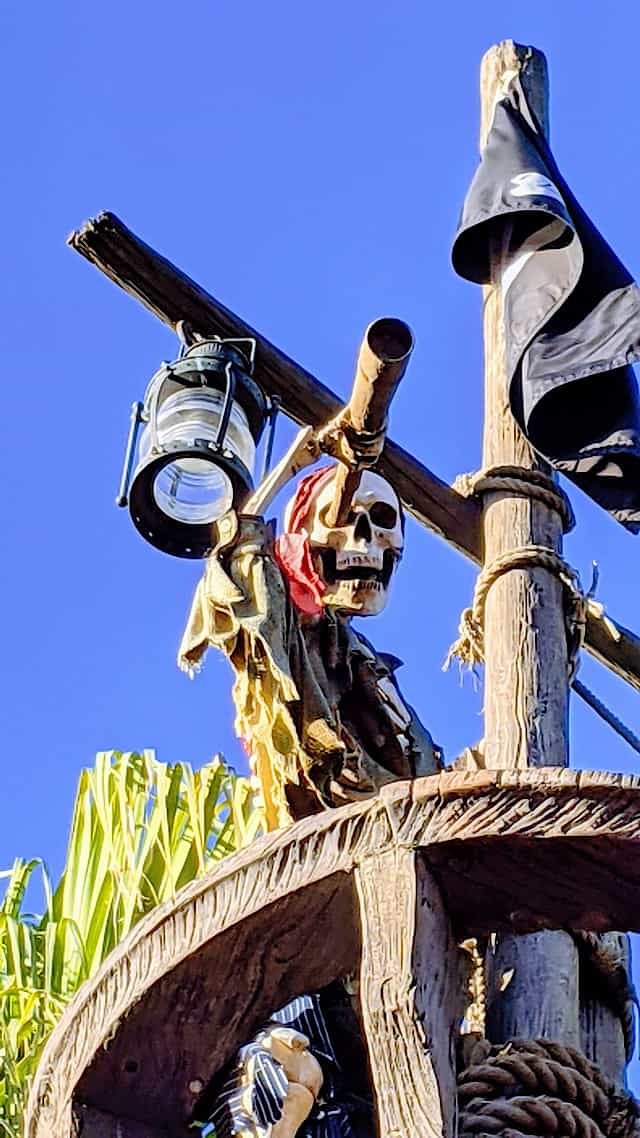 An early look at next week shows the warm up continuing as highs for the middle of next week should reach the upper 80's across Central Florida. Another storm system will follow a similar track as this past week's system and drive warm weather ahead of it across much of the Eastern United States.
I (Joe) will be updating these forecasts twice a week. During any severe weather I will pass along any warnings for the Orlando area on my Twitter feed here.
Are you headed to Disney World this weekend? Let us know in the comments below or on Facebook!