LATEST VIDEOS
Subscribe to my Youtube!
LIVE - Just Mousing Around
LIVE - Just Mousing Around Tonight!
Do you love trying new foods and beverages at Epcot's festivals? If so, check out our review of the Gourmet Landscapes studio.
Festival of the Arts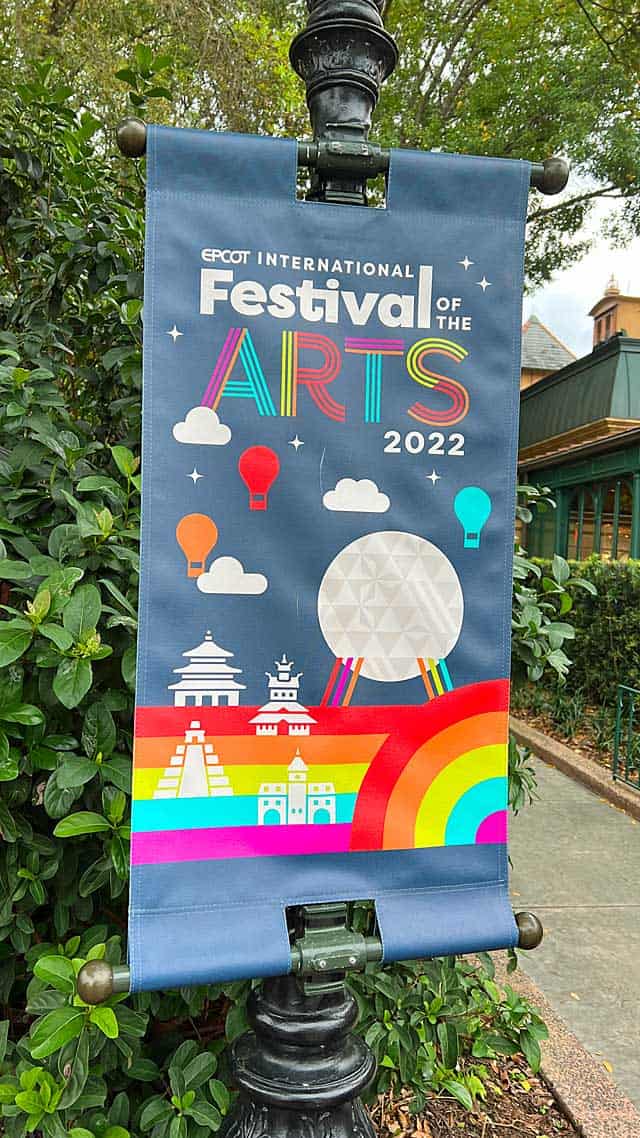 The International Festival of the Arts at EPCOT begins January 14, 2022 and runs through February 21, 2022. This festival has just a little bit of everything, including, art, food menus and entertainment.
Guests will also want to be sure to check out other colorful cuisine offered, and you don't want to miss the return of the Disney on Broadway Concert Series! For a full lineup of the artists performing, check out this post HERE.
Gourmet Landscapes Studio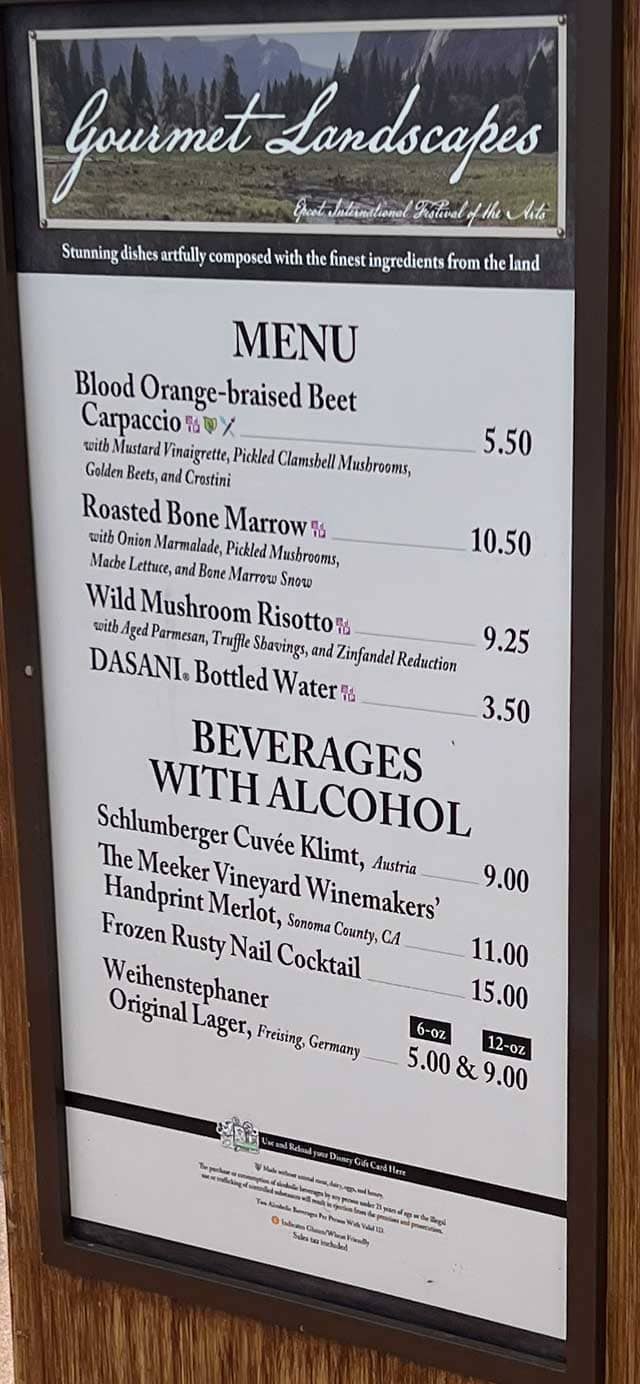 Festival of the Arts celebrates everything creative! It's an explosion of color, sound, taste, and movement everywhere you turn! I (Susan) enjoy "eating around the world!" This is so fun tasting studios/booths during the various Epcot festivals. Check out Gourmet Landscapes below, including two brand new items:
Food
Blood Orange-braised Beet Carpaccio with mustard vinaigrette, pickled clamshell mushrooms, golden beets, and crostini (Wonderful Walk of Colorful Cuisine – Red) (Planted-based) (New)
Roasted Bone Marrow with onion marmalade, pickled mushrooms, mache lettuce, and bone marrow snow (New)
Wild Mushroom Risotto, Aged Parmesan, Truffle Shavings, and Zinfandel Reduction
Beverages
German Lager
Cuvée Sparkling Wine
Merlot
Frozen Rusty Nail Cocktail
You'll find the Gourmet Landscapes studio near Canada in Epcot's World Showcase.
Items for all festival studios, including Gourmet Landscapes, offer smaller portions with reasonable prices. Here, each dish varies between $5.50-$10.50. Lines here vary based on the time of day. Expect longer lines in the evenings and weekends when locals join in the fun. You'll find the Gourmet Landscapes studio near Canada in Epcot's World Showcase.
Blood Orange-braised Beet Carpaccio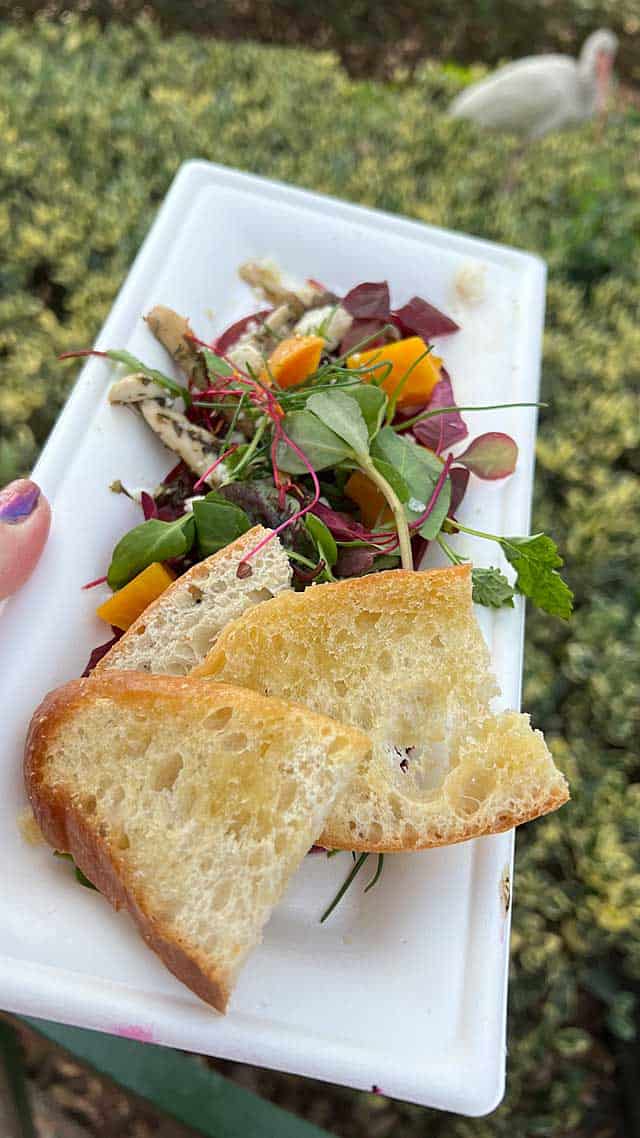 Of the 3 dishes here, this one is, hands down, my (Susan) favorite! Not only that, but it was one of my favorite I tried all weekend at the Festival of the Arts studios. The Blood Orange-braised Beet Carpaccio is a multi-layered plant based salad. At the bottom, you'll find thinly sliced stacked purple beets. On top of the purple beets chefs layer an amazing salad consisting of topped with Pickled Clamshell Mushrooms, Golden Beets, and plant-based bleu cheese tossed in a Mustard Vinaigrette dressing. The Crostini was nicely toasted with just the right crunch.
The culinary team did a wonderful job pairing everything in this dish. Everything from the sweetness of the beets to the bitter blue cheese and acidity of the pickled mushrooms balanced each other perfectly. The dressing was the perfect finishing touch. This dish was amazingly fresh and bursting with so many flavors. Also, if I hadn't read the menu, I wouldn't have known the blue cheese was plant based. Just tasted like blue cheese. It's a dish included in the Wonderful Walk of Colorful Cuisine, too.
Roasted Bone Marrow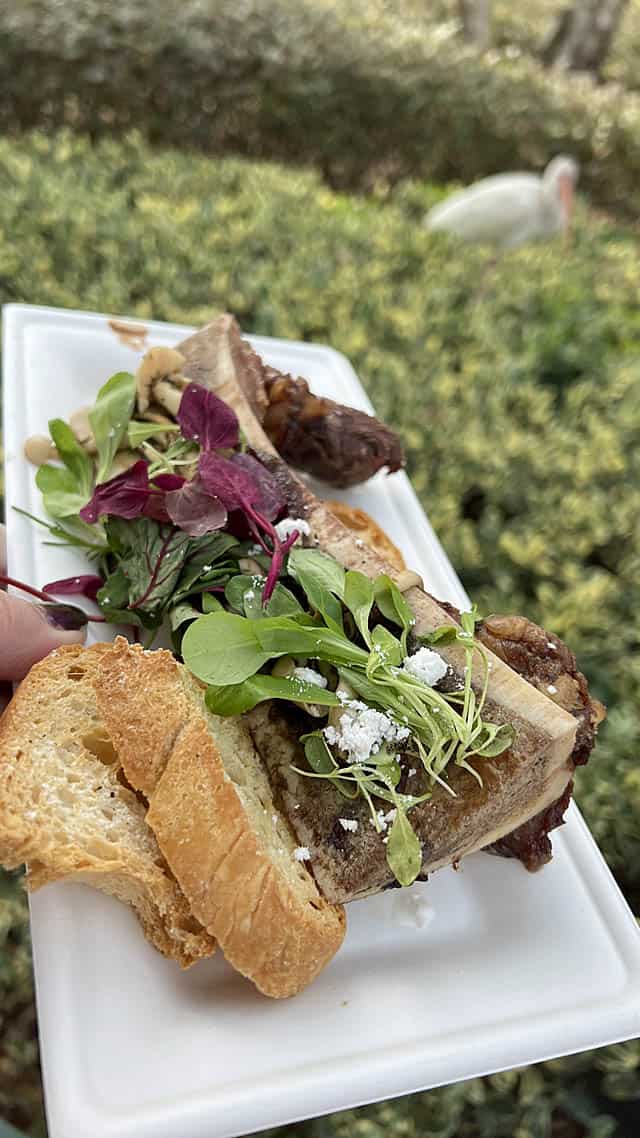 Before trying this dish, I researched why people eat bone marrow. After all, it's not something most people include in their diet. I learned that it's full of vitamins, minerals, and collagen. It's considered a culinary delicacy. My friend and co-writer, Donna, and I set off to try this unique dish.
First, I'll share Donna's thoughts on this dish. She really liked the soft marrow center, but felt there should be not only more marrow but also more salad. She felt like the salad was more like a garnish.
Next, let's look at my thoughts. When we first brought the Roasted Bone Marrow to our table, we had no idea how to eat it. Did we pick it up? Seemed unlikely. Or perhaps eat the fatty looking portion attached to the bone? Finally, Donna figured out there it was soft on the center of the bone. While the center was soft, the outside of the cross-cut bone was beyond hard. No way we were getting that apart from the bone. So, for $10.50, I got 3 tiny bites of bone marrow.
I've always been curious what bone marrow tastes like. Unfortunately, I'm still left wondering. While the pickled clamshell mushrooms worked wonderfully in the salad, it was not the case here. The mushrooms were so strongly marinated in vinegar it was literally the only thing I tasted. Unless you're a fan of bone marrow and don't mind the tiny portion, I recommend skipping this dish. I was really disappointed in this item.
Wild Mushroom Risotto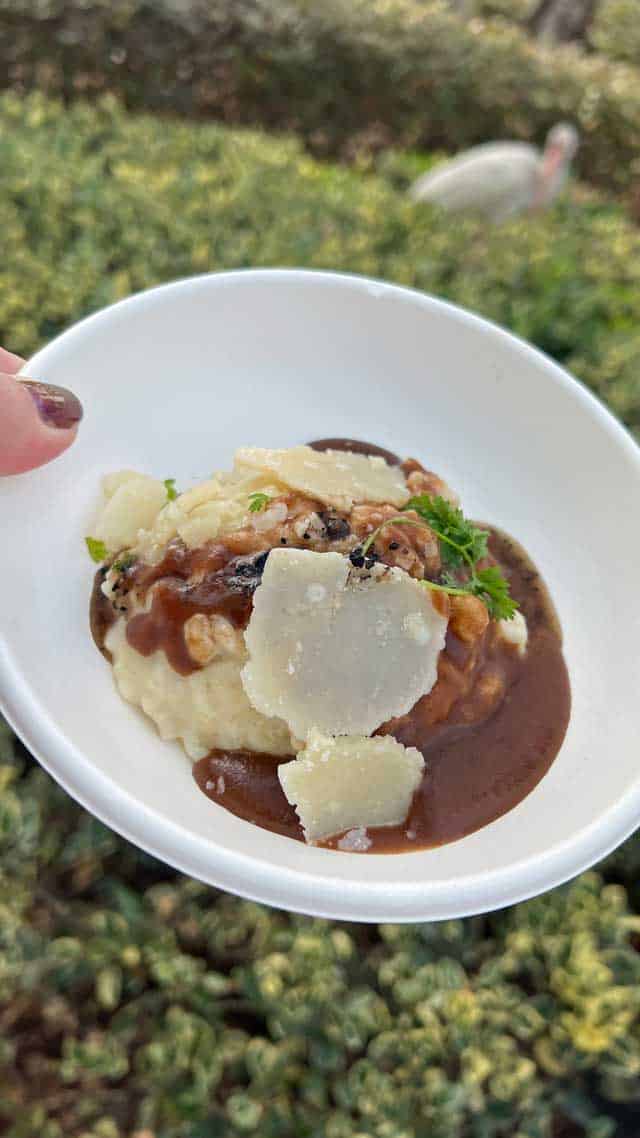 In addition to this studio, Disney serves risotto at its signature Canadian restaurant, Le Cellier. Here, Disney chefs combine aged Parmesan and truffle shavings to create a fabulously creamy dish. Then, they add a Zinfandel Reduction to perfectly finish the risotto. However, if you're not a mushroom fan, skip this dish. In fact, just skip the entire booth since all of the dishes include mushrooms. Donna and I both enjoyed the Wild Mushroom Risotto and would order it again.
Final Thoughts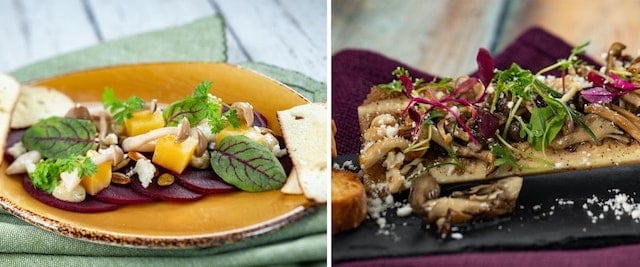 I hope you'll get to try something from this booth on your next visit. If these items don't interest you, check out our other reviews of the new Encanto studio, Italy studio, The Donut Box, Pop Eats, or see the full list of menus HERE. The Food and Wine Festival booth at Canada booth gets mixed review HERE.
Which of these items would your try? Or, if you've tried them, which is your favorite? Please share your thoughts in the comments below, on Facebook, or in with our KtP crew on Facebook.

Are you planning a vacation? Reach out to our trusted travel agency sponsor Authorized Disney Vacation Planner
Mouse Class Travel
!