Are you visiting Disney World in 2022? The celebrations continue, and Disney World is teasing us with more 50th anniversary fun to come.
Disney World's 50th anniversary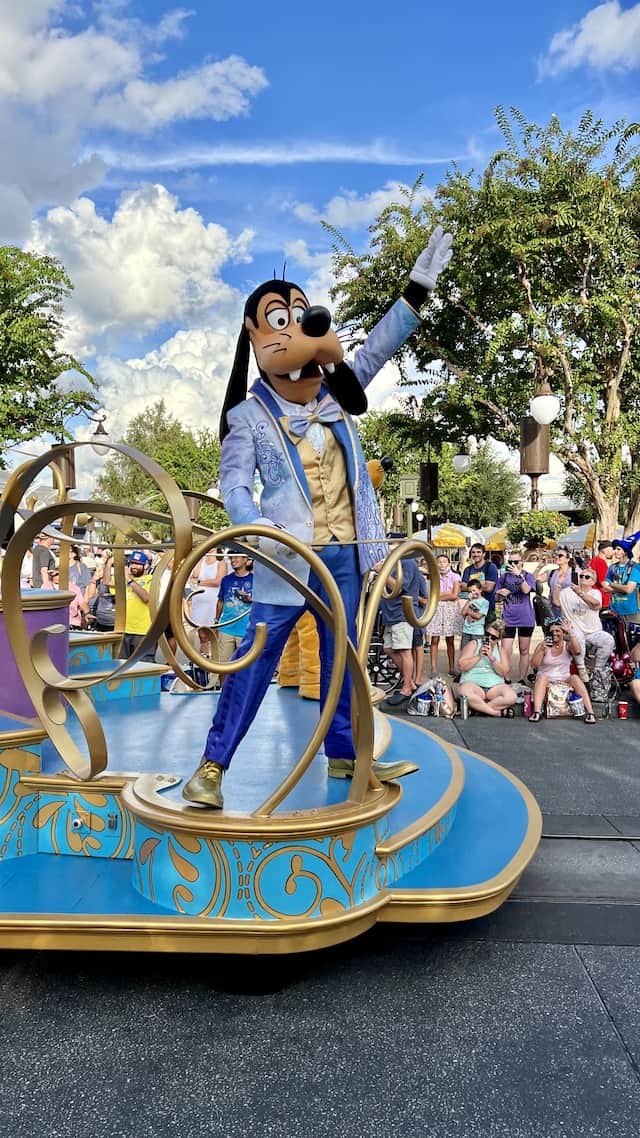 The big 50! Disney World is half a century year old! It has been a great 50 years of making fun memories and experiencing the magic only Disney can pull off.
Disney is celebrating in a big way! From statues and food to new parties and cavalcades, this 18 month celebration is just getting started. I highly encourage you to visit before it ends in the spring of 2023. It is such a huge milestone for Disney World, and how fun is it to say you visited during their 50th anniversary?
More fun headed our way
Disney has already shared that Fantasmic! is returning along with a new Finding Nemo show at Animal Kingdom. Over at Magic Kingdom, the Festival of Fantasy parade will also delight Guests again, and we have the biggest cavalcade to date that will debut soon!
But, that's not all. To kick off the new year, Disney is teasing us with some amazing food offerings that will make their way into Disney World (and our bellies) soon enough!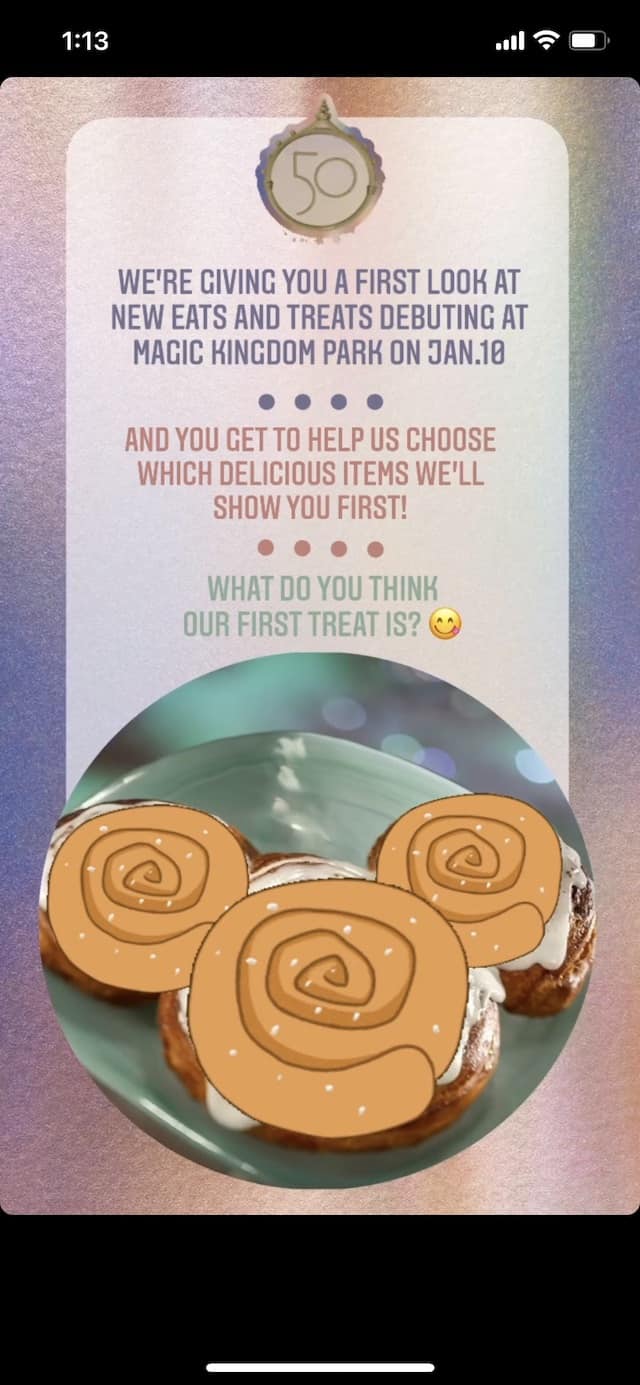 They share on Instagram, "We're giving you a first look at new eats and treats debuting at Magic Kingdom park on January 10. And you get to help us choose which delicious items we'll show you first! What do you think this first treat is?"
The anniversary cinnamon roll will be available at Main Street Bakery! It looks so delicious, but I'm not sure how I feel about a chocolate medallion with my cinnamon roll. What about you?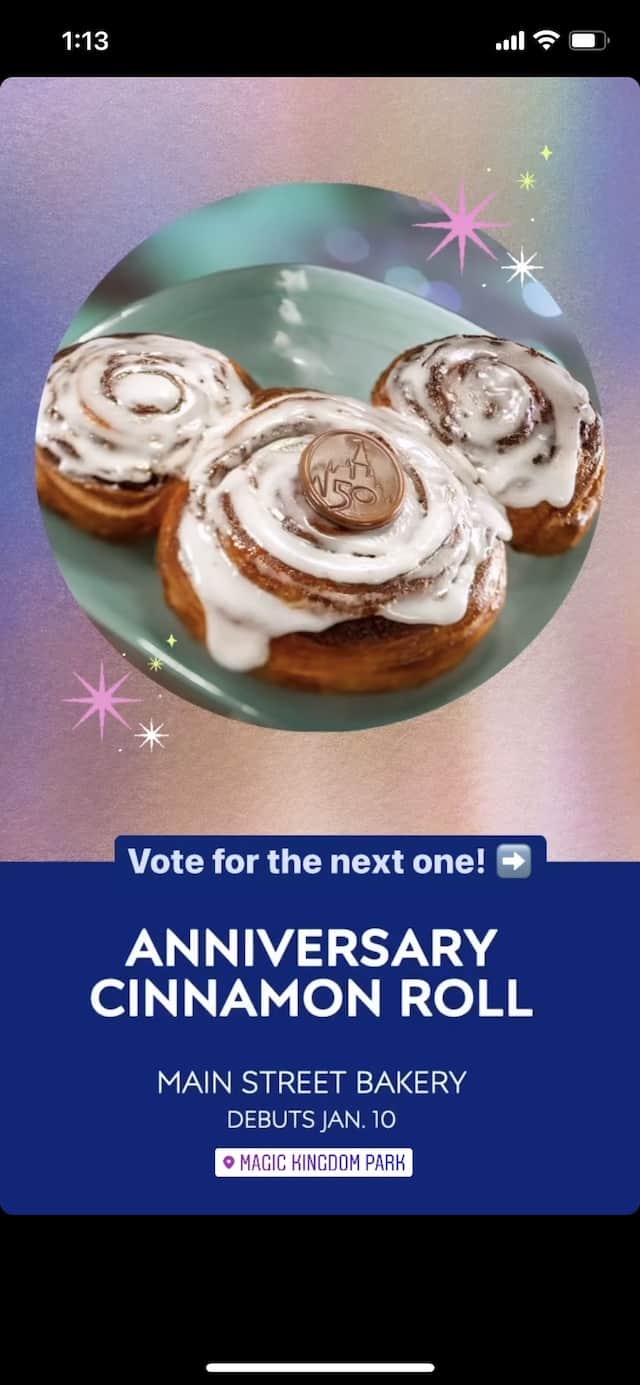 The anniversary cinnamon roll will debut at Main Street Bakery on January 10.
What's next?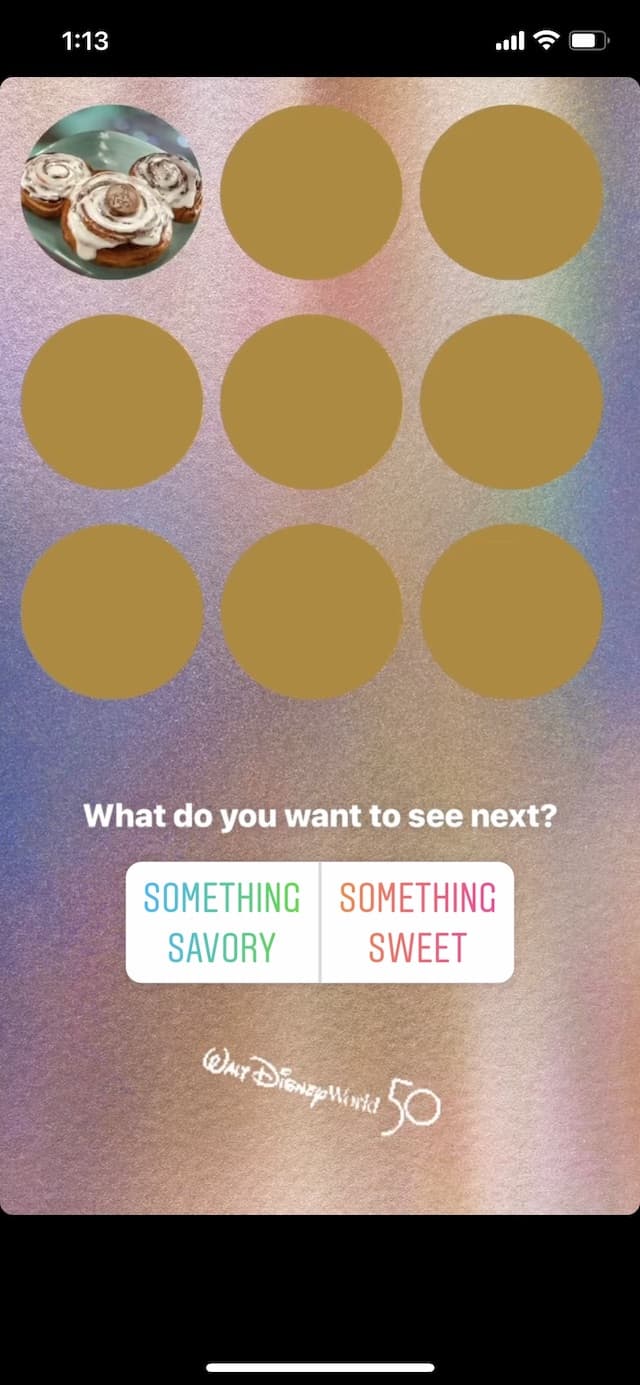 Disney is giving YOU the chance to decide what they reveal next! Head over to the official Disney World Instagram account and check out their stories to vote. Do you prefer savory or sweet?
Judging by the number of circles, it looks like 9 new treats are headed our way. We will get one reveal per day, and then they will all be available the next day. Perfect timing!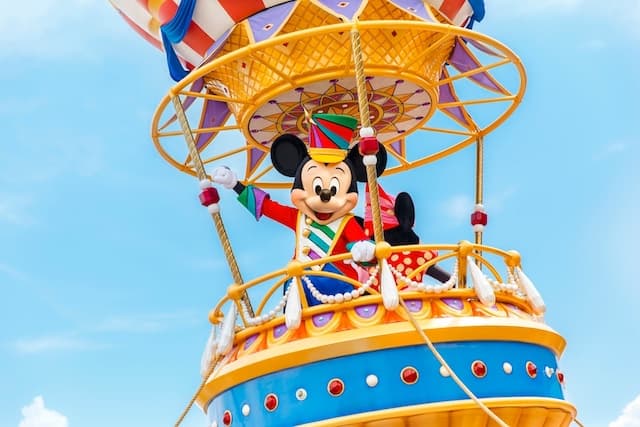 We are hopeful more announcements will come soon regarding more 50th fun. We will be sure to update this blog as news breaks!
Do you prefer savory or sweet items? What do you think of the cinnamon roll? Any guesses for what we will see over the next few days? Join the conversation in the comments below and on Facebook.