There are so many delicious food items to celebrate Disney's 50th anniversary. Should you try the treats at Restaurantosaurus? Read here for all the details.
50th Anniversary Treats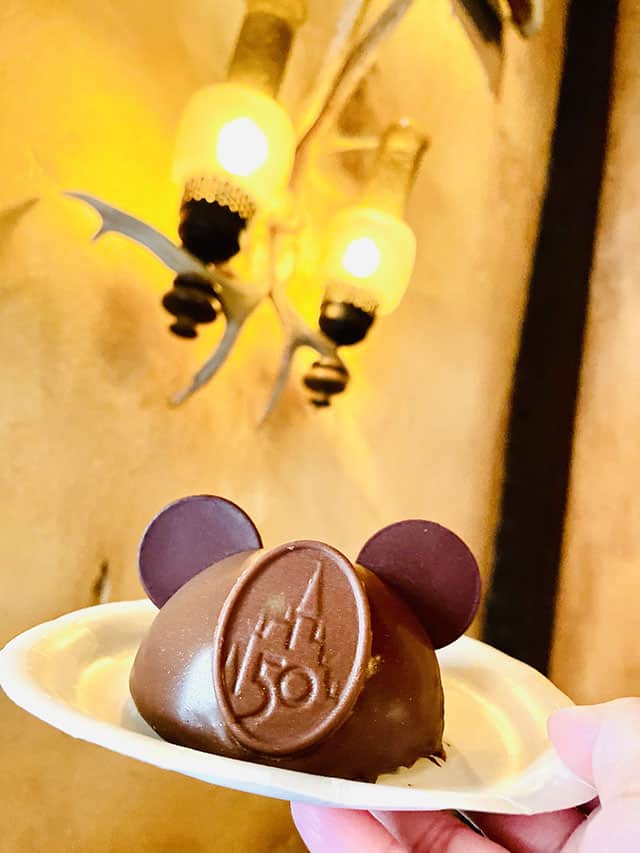 Foodies join in the celebration to Disney World's Resort 50th Anniversary. Throughout Disney World's four theme parks and beyond, Disney chefs and mixologists have created more than 150 drinks and treats. 
Guests will be amazed at the whimsy and EARidescent touches of these delicious treats. Be sure to keep your eyes open since Disney will release more food treats throughout the 18-month celebration. Check out more on the delicious dessert shown above here.
Restaurantosaurus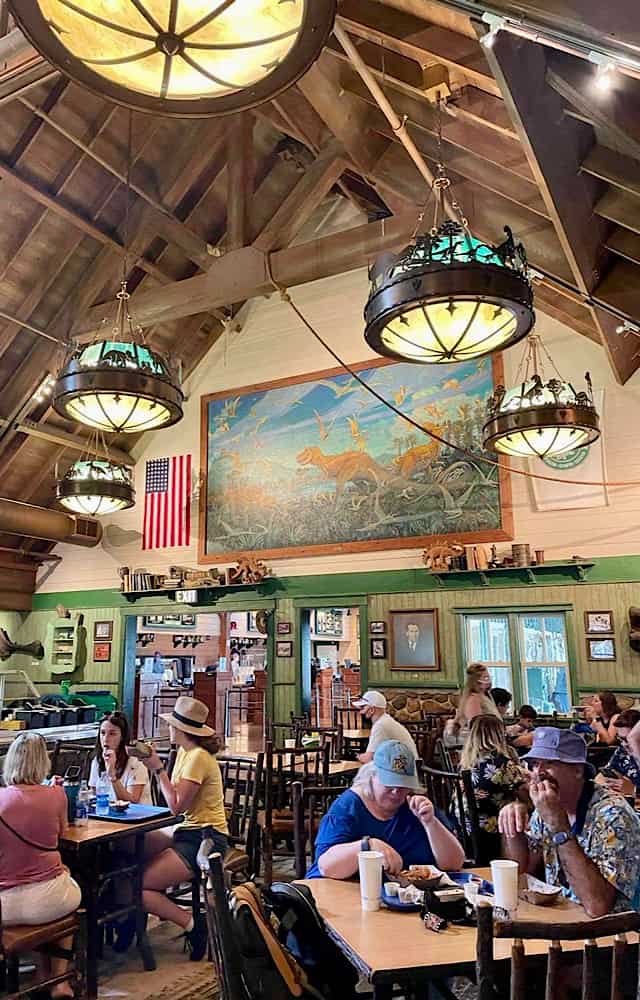 Formerly used as a relaxation station in Disney's Animal Kingdom, now Restaurantosaurus has reopened as a quick-service location with lots of dinosaur theming.
The menu consists of basic entrees such as burgers, chicken nuggets, and fried shrimp. If you're looking for a lighter option, go for the Cobb Salad served with Green Goddess dressing.
Walt's the Inspiration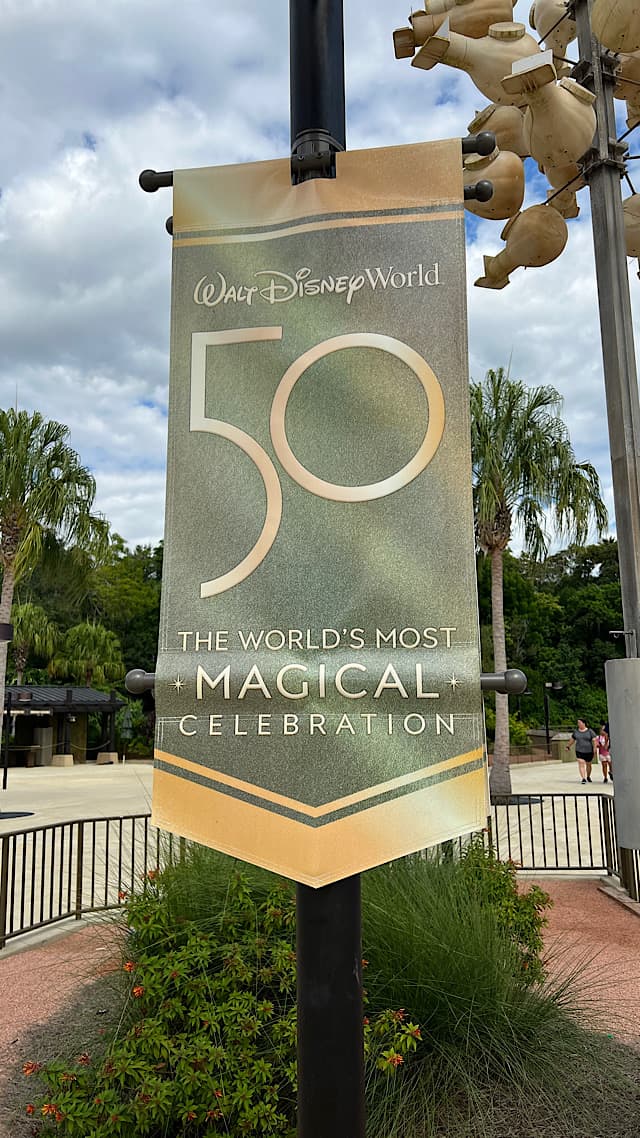 Walt's palate was relatively simple. He was a meat and potatoes guy! Roast lamb, roast beef hash topped with a fried egg, chili, and fried chicken were his favorites.
He also enjoyed lemon, apple, chocolate, and bread pudding desserts. Disney chefs looked to Walt's recipes while planning for the 50th anniversary celebration. Walt also loved chili, I was on a quest to try it during my (Susan) visit.
Foot Long Hot Dog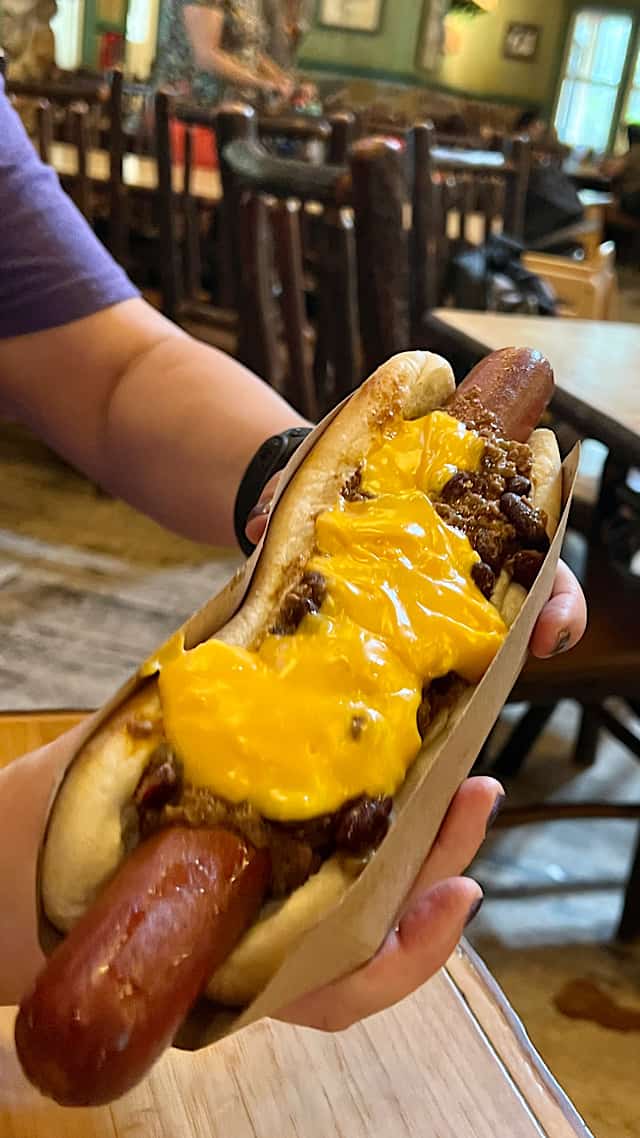 I'm not the biggest hot dog fan, so my expectations were low for this. However, I was happily surprised by not only the hot dog itself but also the toppings. Knowing there is no way I could possibly eat it all, I opted to just sample the bun which was soft and fresh.
After trying the bun, I ate half the hot dog and toppings. The hot dog was warm and tasted like a typical hot dog. Pretty good, but didn't wow me. It was served with Disney's typical cheese and Walt's famous chili.
The combination was a winner and easily shareable. While I would have preferred to try a Casey's hot dog, this was an amazing second choice.
Cheese Fries with Walt's Chili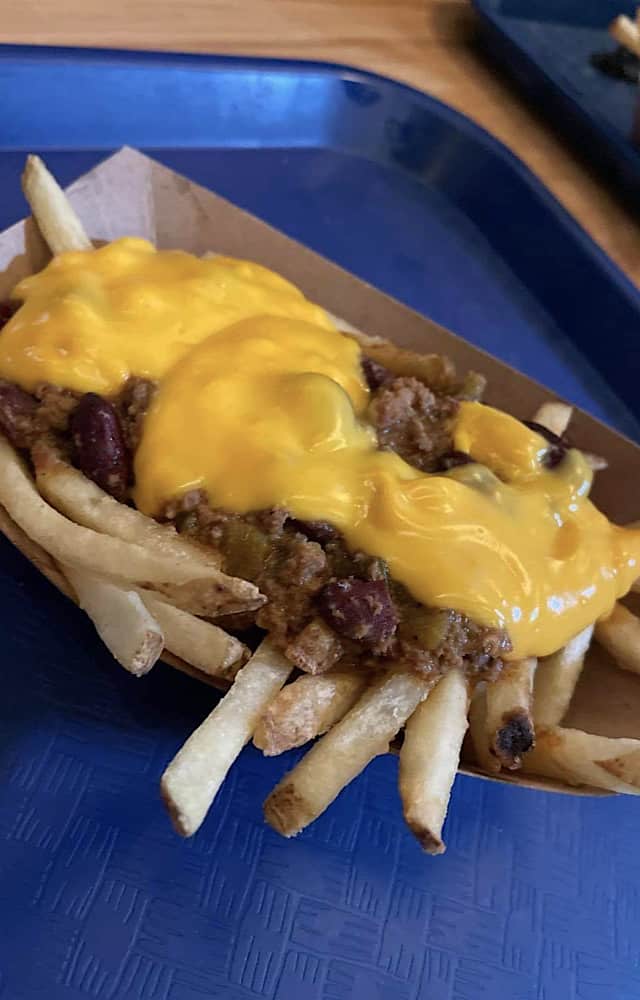 My friend and fellow KtP Writer Maggie ordered the chili cheese fries. She said the french fries were not fresh or crispy and didn't care for them. However, she enjoyed Walt's chili by itself and would order that as a side next time.
If you'd like to make Walt's child, check out the recipe here. I agree that the chili was the best thing about the hot dog, too!
Walt's chili is a winner!
Chicken Sandwich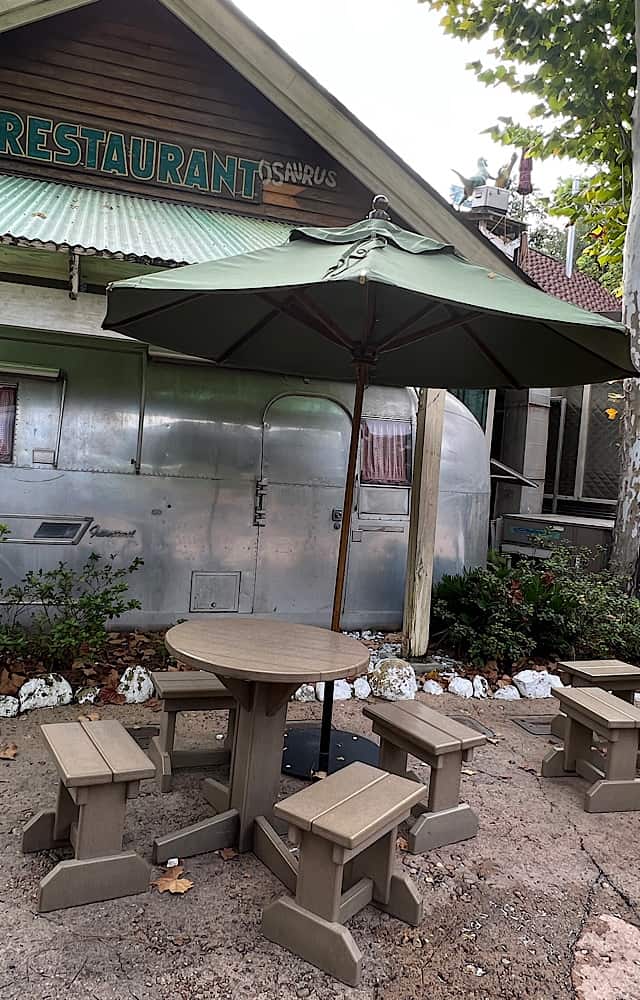 Another Walt inspired dish, Walt's Main Street Crispy Fried Chicken Breast, is served on a warm brioche bun. It comes with pickles, lettuce, tomato, and roasted garlic aïoli and is served with fries.
50th Celebration Cupcake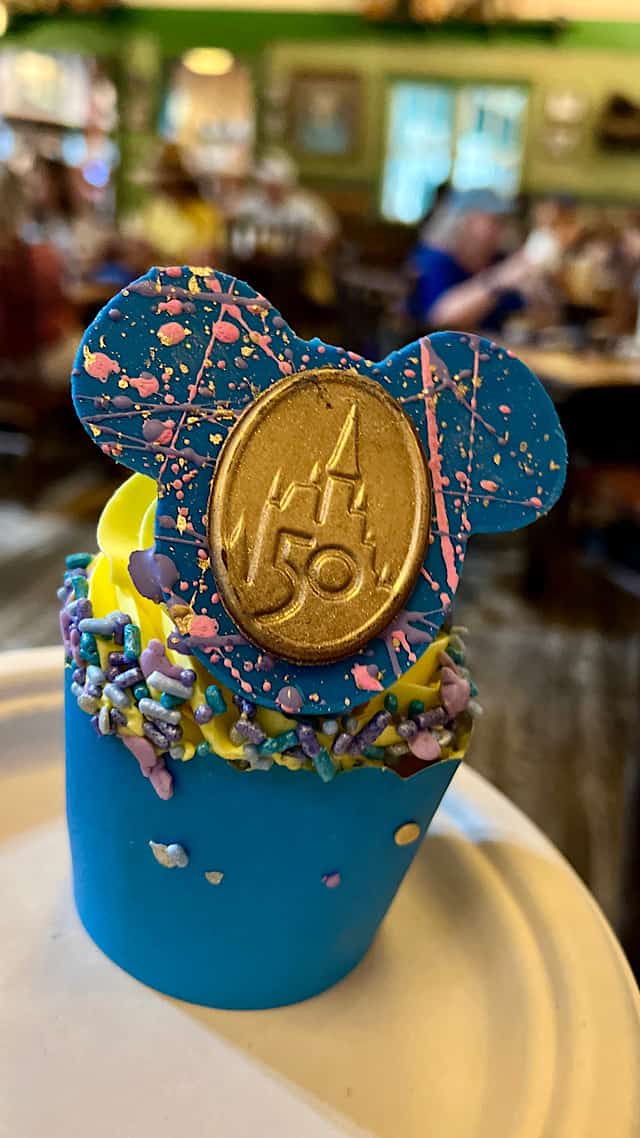 Another item we sampled was the Lemon Cake. It had lemon chiffon filling and vanilla frosting. Decorated with celebration sprinkles, splatter-coated chocolate Mickey, and a gold-dusted 50th Anniversary medallion made for an eye-pleasing dessert.
However, the taste didn't live up to its outer beauty.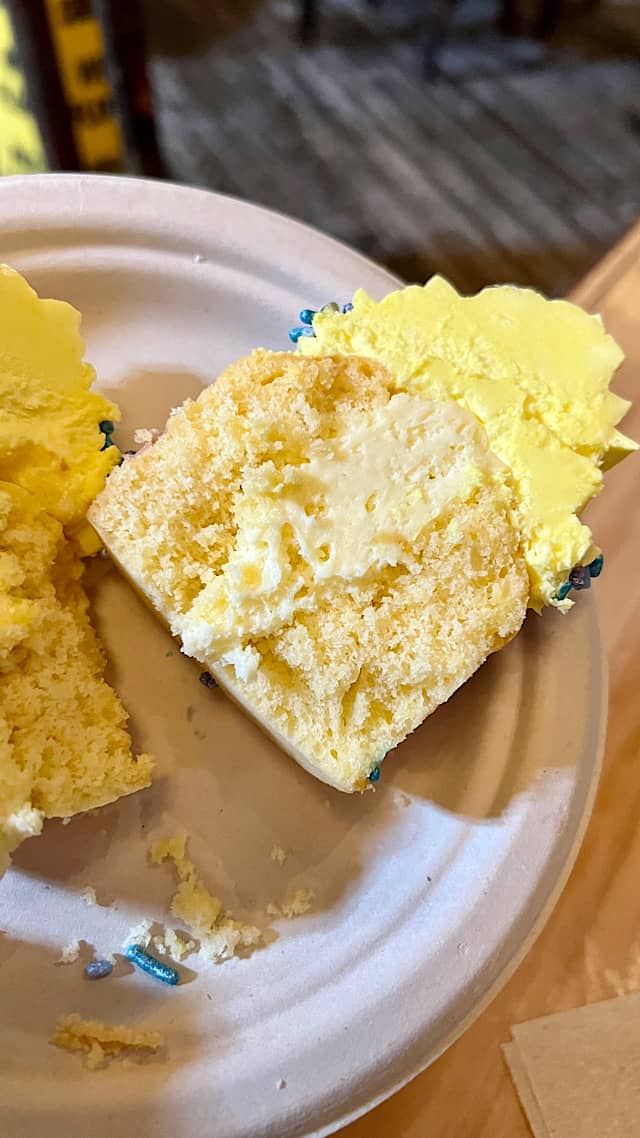 The cake was just okay, nothing fresh or special about it. While the lemon chiffon filling was a nice accent, it was totally overpowered by the heavy and bland vanilla frosting.
I couldn't eat the frosting and didn't finish the cupcake. Skip this one unless you prefer very dense frosting.
Final Thoughts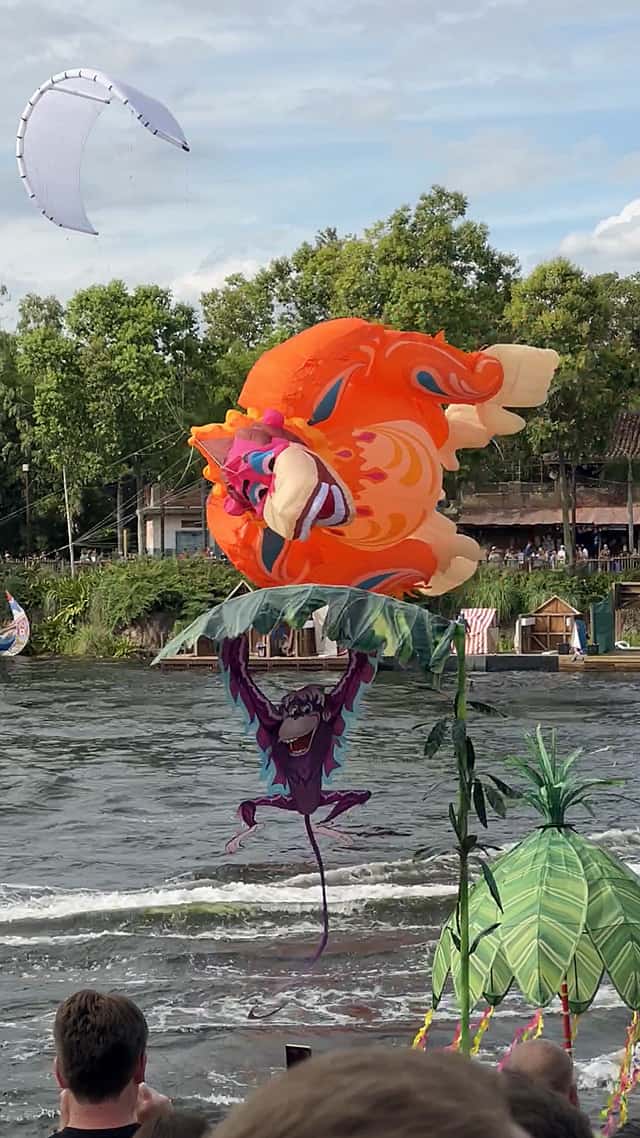 Overall, Restaurantosaurus worked for us that afternoon. Maggie and I (Susan) were rushing to see KiteTails and had limited time to eat. While it mostly satisfied our appetites, we agreed that neither of us would seek out this restaurant or treats if it was out of our way.
With so many 50th Anniversary food choices, will you be trying Restaurantosaurus? If so, which items? Please let us know your thoughts on our Facebook page or share comments below.