Did you know that Walt Disney World's Swan and Dolphin Resort holds its own Food & Wine Classic? We have all the delicious menu details for you right here!
Disney's Swan and Dolphin Resort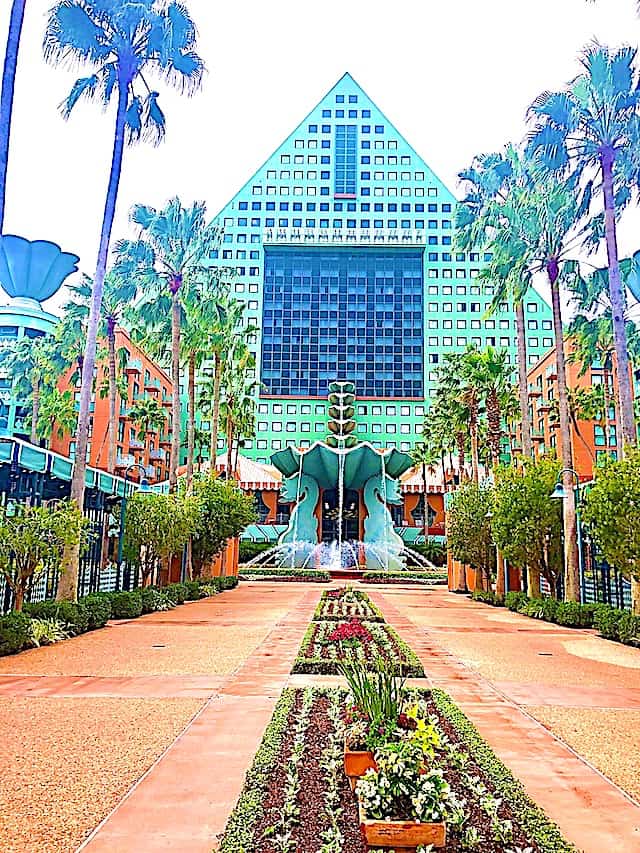 Have you ever noticed the big triangular shaped building just outside of Epcot or perhaps you have also seen the large sculptural swans and fish nearby? If you have, then you have located Disney's Swan and Dolphin Resort.
While it is Marriot owned, you can still enjoy a lot of Disney magic from these hotels. And soon you will also be able to stay in the new Swan Reserve hotel as well.
Swan and Dolphin Food & Wine Classic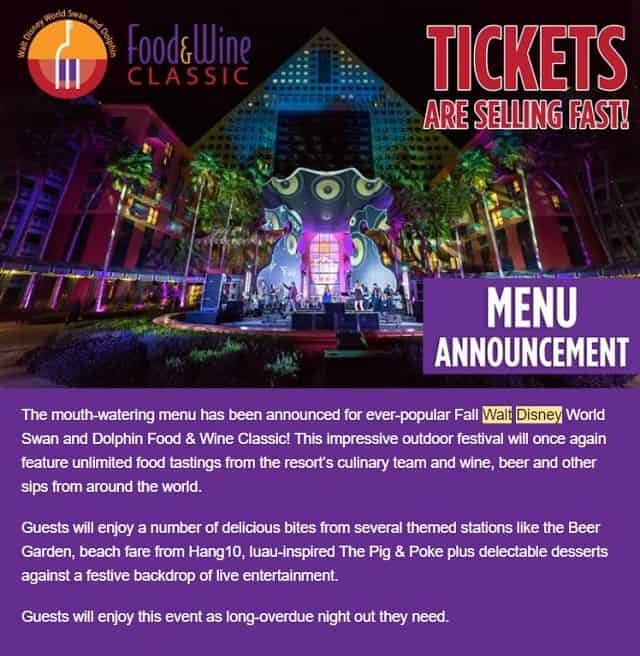 You have, no doubt, heard of the Epcot International Food & Wine Festival. You may have even also had time to sample some of the foods from around Future World and the World Showcase.
But, many people do not realize that the Swan and Dolphin resort, just a short walk from Epcot, also hosts its own Food & Wine Classic. During a visit, event guests can enjoy over 20 food stations and 100 beverage selections as they sample the fare from the resort's various eateries. It also includes live entertainment and outdoor seating (weather permitting).
If you have not dined at Swan and Dolphin, you are missing what is arguably some of the best food in and around Disney. For instance, the resort hotels are home to crowd pleasers such as Il Mulino, Kimonos, and Todd English's Blue Zoo among other restaurants.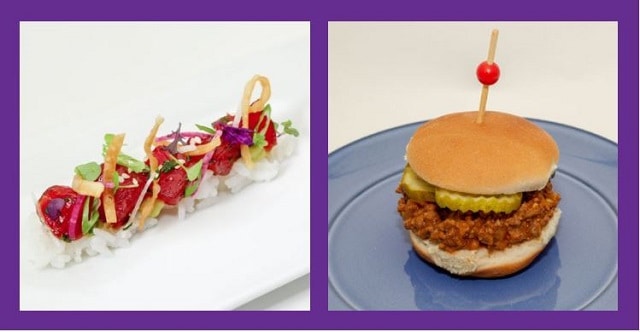 I know that Kenny himself let me know that I (KatieP) missed the mark by not including the resort's famed steakhouse Shula's as one of Disney's 5 best places to get steak. I plan to see for myself whether I agree with him on my next trip.
This year, the Swan and Dolphin Food & Wine Classic will feature 2 days of menus on Friday October 29 and Saturday October 30th. The daily menus will include different offerings, so guests who want to try everything will need tickets to both evenings.
The Fall 2021 Menu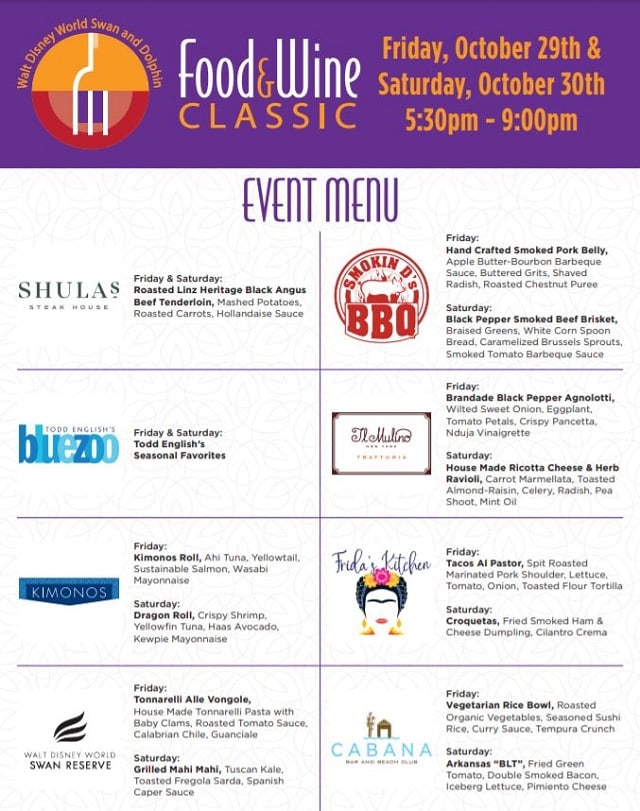 Recently, The Swan and Dolphin released the menus, and they surely are tempting. This year, the items are as follows:
Shula's

Friday & Saturday: Roasted Linz Heritage Black Angus Beef Tenderloin served with Mashed Potatoes, Roasted Carrots, and Hollandaise Sauce.

Il Mulino

Friday: Brandade Black Pepper Agnolotti with Wilted Sweet Onion, Eggplant, Tomato Petals, Crispy Pancetta, and Nduja Vinaigrette.
Saturday: House Made Ricotta Cheese & Herb Ravioli with Carrot Marmellata, Toasted Almond-Raisin, Celery, Radish, Pea Shoot, and Mint Oil.

Kimonos

Friday: Kimonos Roll, Ahi Tuna, Yellowtail, Sustainable Salmon, Wasabi Mayonnaise
Saturday: Dragon Roll, Crispy Shrimp, Yellowfin Tuna, Haas Avocado, Kewpie Mayonnaise

Todd English's BlueZoo

Friday & Saturday: Todd English's Seasonal Favorites

Smokin' D's BBQ

Friday: Hand Crafted Smoked Pork Belly, Apple Butter-Bourbon Barbeque Sauce, Buttered Grits, Shaved Radish, Roasted Chestnut Puree
Saturday: Black Pepper Smoked Beef Brisket, Braised Greens, White Corn Spoon, Bread, Caramelized Brussels Sprouts, Smoked Tomato Barbeque Sauce

Frida's Kitchen

Friday: Tacos Al Pastor, Spit Roasted, Marinated Pork Shoulder, Lettuce, Tomato, Onion, Toasted Flour Tortilla
Saturday: Croquetas, Fried Smoked Ham & Cheese Dumpling, Cilantro Crema

Swan Reserve

Friday: Tonnarelli Alle Vongole, House Made Tonnarelli Pasta with Baby Clams, Roasted Tomato Sauce, Calabrian Chile, Guanciale
Saturday: Grilled Mahi Mahi, Tuscan Kale, Toasted Fregola Sarda, Spanish, Caper Sauce

Cabana

Friday: Vegetarian Rice Bowl, Roasted Organic Vegetables, Seasoned Sushi Rice, Curry Sauce, Tempura Crunch
Saturday: Arkansas "BLT", Fried Green Tomato, Double Smoked Bacon, Iceberg Lettuce, Pimiento Cheese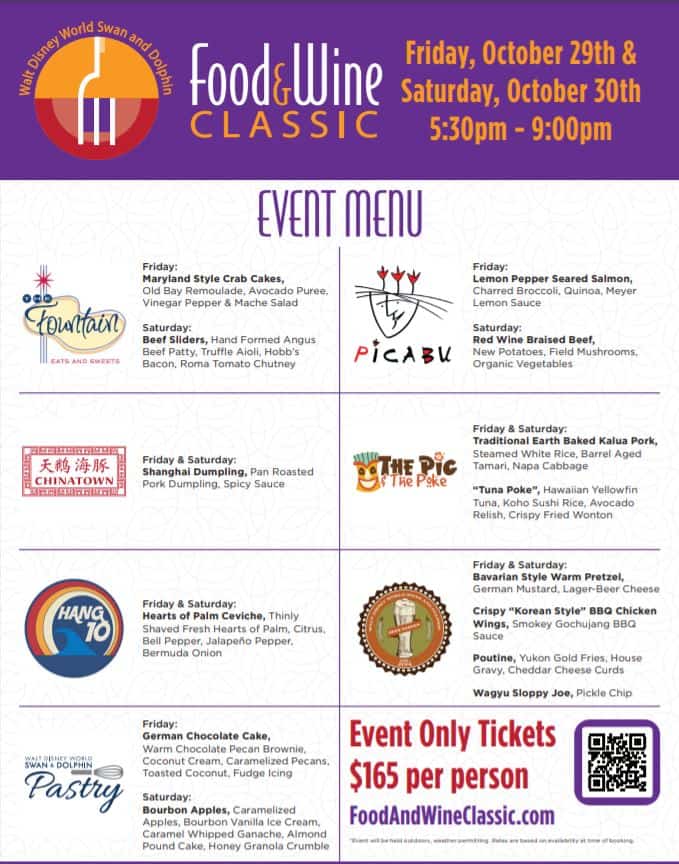 Fountain

Friday: Maryland Style Crab Cakes, Old Bay Remoulade, Avocado Puree, Vinegar Pepper & Mache Salad
Saturday: Beef Sliders, Hand Formed Angus Beef Patty, Truffle Aioli, Hobb's Bacon, Roma Tomato Chutney

Picabu

Friday: Lemon Pepper Seared Salmon, Charred Broccoli, Quinoa, Meyer Lemon Sauce
Saturday: Red Wine Braised Beef, New Potatoes, Field Mushrooms, Organic Vegetables

Chinatown

Friday & Saturday: Shanghai Dumpling: Pan Roasted Pork Dumpling, Spicy Sauce

The Pig and the Poke

Friday & Saturday: Traditional Earth Baked Kalua Pork, Steamed White Rice, Barrel Aged Tamari, Napa Cabbage

Also Friday & Saturday: "Tuna Poke", Hawaiian Yellowfin Tuna, Koho Sushi Rice, Avocado Relish, Crispy Fried Wonton

Hang 10

Friday & Saturday: Hearts of Palm Ceviche: Thinly Shaved Fresh Hearts of Palm, Citrus Bell Pepper, Jalapeño Pepper, Bermuda Onion

Walt Disney World Swan and Dolphin Beer Garden

Friday & Saturday Bavarian Style Warm Pretzel, German Mustard, Lager-Beer Cheese
Both Friday & Saturday Crispy "Korean Style" BBQ Chicken Wings, Smokey Gochujang BBQ Sauce
Friday & Saturday Poutine: Yukon Gold Fries, House Gravy, Cheddar Cheese Curds
Also Friday & Saturday Wagyu Sloppy Joe, Pickle Chip

Walt Disney World Swan and Dolphin Pastry

Friday: German Chocolate Cake: Warm Chocolate Pecan Brownie, Coconut Cream, Caramelized Pecans, Toasted Coconut, Fudge Icing
Saturday: Bourbon Apples: Caramelized Apples, Bourbon Vanilla Ice Cream, Caramel Whipped Ganache, Almond Pound Cake, Honey Granola Crumble
Event Tickets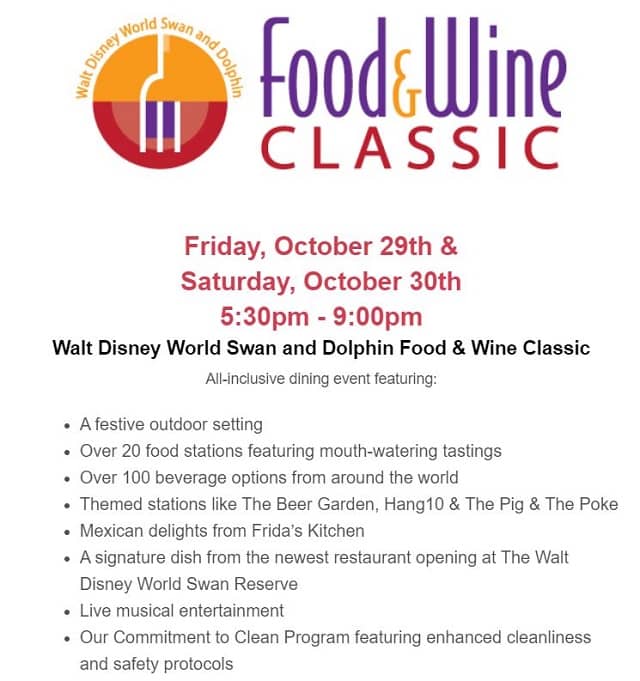 Event tickets are $165 plus applicable taxes and fees. Also, the cost reflects admission for one ticket per person per day. If you are interested in purchasing them, they can be found here.
Additionally, guests can book one or two nights of tickets. They can also book a resort package that includes tickets for two starting at $580.
A Perfect Stay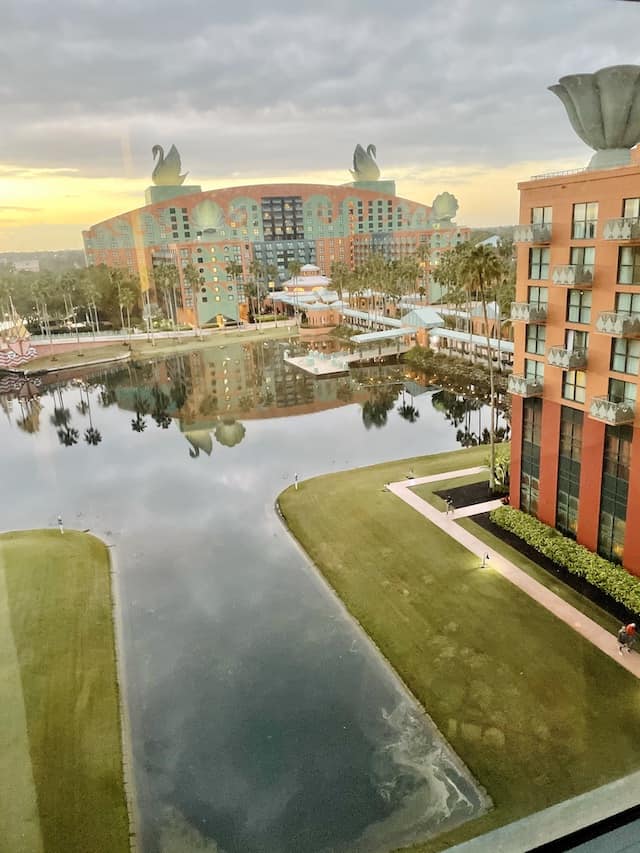 Although the event is pricey, I'd love to go to the Food & Wine Classic someday. Plus, I have to wonder, is it really that much more than a what festival lovers spend on average across their visits to Epcot's Food & Wine?
Even for the sake of comparison, I really don't want to know my grand total from my last all-out festival visit. However, I do think that purchasing an event ticket that includes unlimited food and drink would keep me from getting carried away and losing track of my spending at various booths. To that end, if you love to go big at a festival, you might not find the price of the Swan and Dolphin Classic to be such a bad deal.
Furthermore, if I went to the event, I think I'd book a room package at either resort (I enjoy both the Swan and the Dolphin), indulge in the Food Classic and then walk it off over in Epcot and check out Harmonious. Call me a Disnerd, but I love wandering the World Showcase. I will also never turn down Soarin'.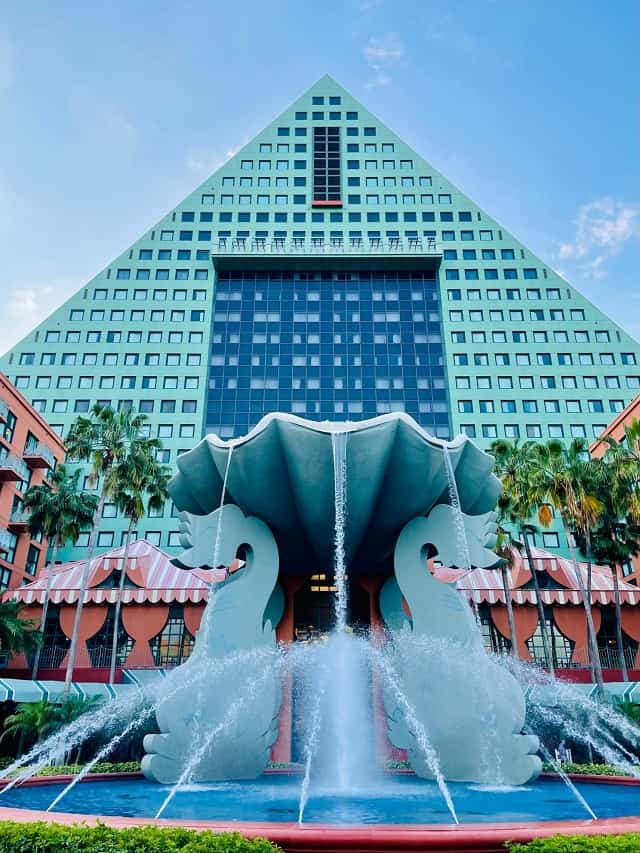 Since I'm dreaming, I'd also want to take an evening to hit up Boo Bash over in Disney's Magic Kingdom since the dates coincide with Halloween. While Halloween is sold out, you never know when tickets may pop up unexpectedly.
Is the Swan & Dolphin's Food and Wine Classic worth it? Have you been, and, if so, did you love it? Let us know your thoughts in the comments below, or you could also start a conversation on our Facebook page. Or, you can also keep the conversation going and share them with us in our crew, too!