Join me as I take you through the newly-opened Magic Key Lounge located inside the Starcade at Disneyland. What do you think of this new space?
Magic Key Passes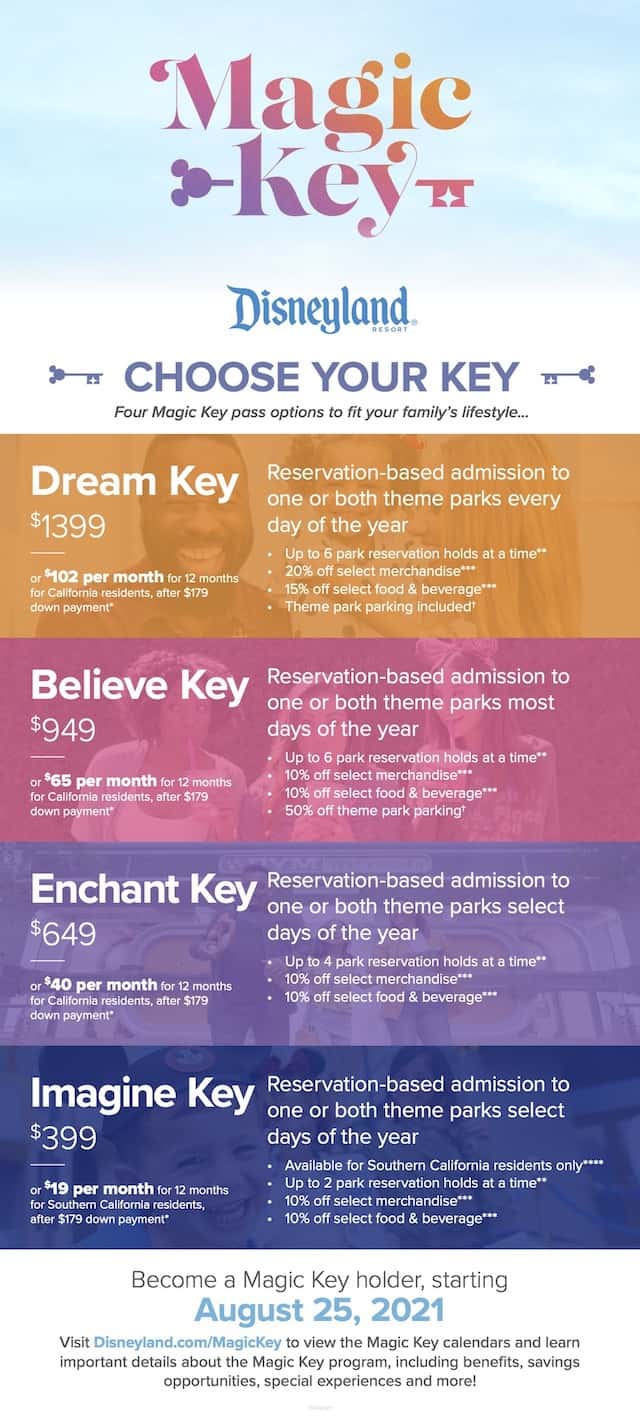 The Disneyland Resort recently launched their new passholder program. In fact, it has only been a week since it replaced the previous one. The Magic Key is a tiered passholder program.
This new Magic Key program provides reservation-based admission to one or both Disneyland Resort theme parks where you'll make memories visit after visit. There are 4 Magic Key types featuring a variety of admission days, pricing options, experiences, and savings on food & beverages and merchandise. You can select the Magic Key pass that's of most value to you.
The Magic Key Holder program is comprised of four different levels: Dream Key, Believe Key, Enchant Key and Imagine (which is available to only Southern California residents).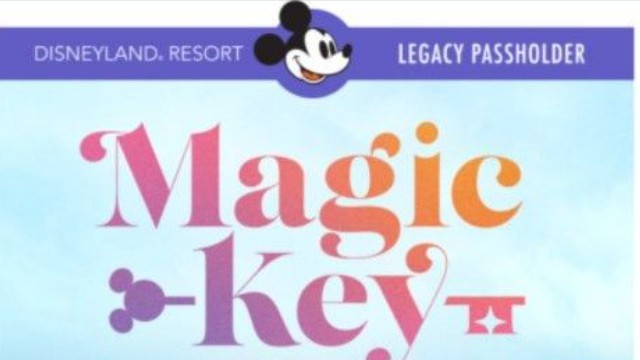 Another perk of becoming a passholder is that Disney revealed that they would be giving away a sort of welcome package for those that purchased Magic Keys within the first 66 days of the Keys being released.
66 symbolizes that the Disneyland Resort celebrated its 66th anniversary on July 17, 2021.
Magic Key Holder Benefits
Being part of the passholder program comes with its many perks to be enjoyed throughout the year.
These include access to:
Access the Magic Key portal in the Disneyland app, where you'll find relevant news, an overview of benefits, custom content, special offers and more.
Magic Key Terrace: a re-imagined lounge just for Magic Key holders and their guests
Magic Key Holder Month: a month-long celebration of Magic Key holders
Special Experiences & Collectibles: access exciting, unique experiences and collectible keepsakes designed with you in mind—including special offerings during festivals!
First Access Opportunities: be among the first to have the opportunity to access exciting new offerings at the Disneyland Resort throughout the year, including select new merchandise collections
Downtown Disney District: discounts at participating locations
Magic Key Merchandise, Novelties, Menu Items and More: Show your Magic Key pride! Opportunity to purchase Magic Key holder-themed popcorn buckets, sippers and menu items throughout the year.
Magic Key Disney PhotoPass Opportunities: enjoy special photo spots and other opportunities sprinkled in throughout the year.
Magic Key embroidery: special options available for Magic Key holders at select locations in the parks
As you can see they are including Magic Key passholders as a big part of the theme park experience. Next week I will be dining at the Magic Key Terrace Lounge so expect a review very soon!
Process to Get Into Lounge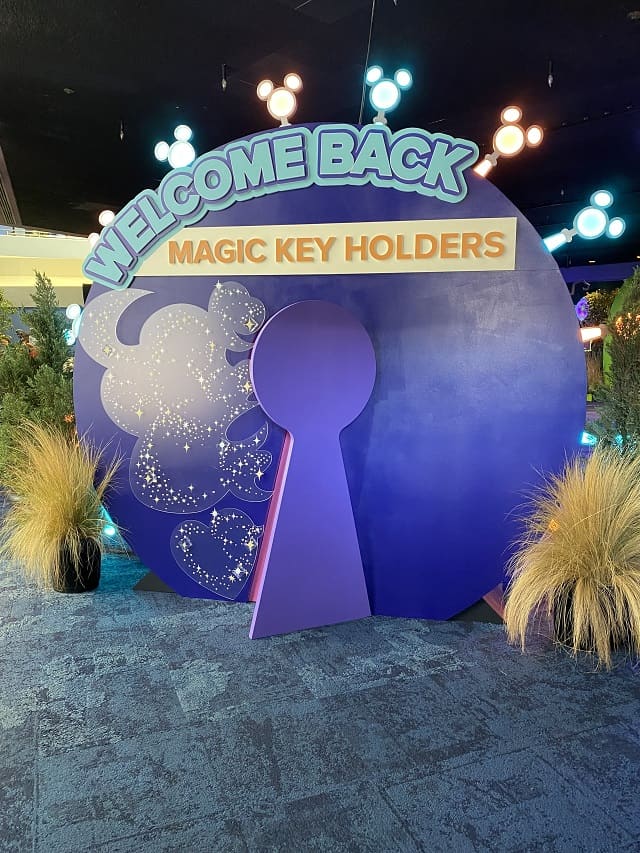 One of the benefits for Magic Key holders is that passholders have access to the Magic Key Lounge located inside Disneyland.
During our first visit to Disneyland over the weekend as a May Key holder, I noticed that a couple of Cast Members under umbrellas were holding up a QR scan paper.
I immediately knew what it was for. It was for the brand new lounge that had opened up a couple days prior.
I was told to scan the QR and I would receive a first text message indicating that we were in a virtual queue. We would receive a second text message when it was time for us to return.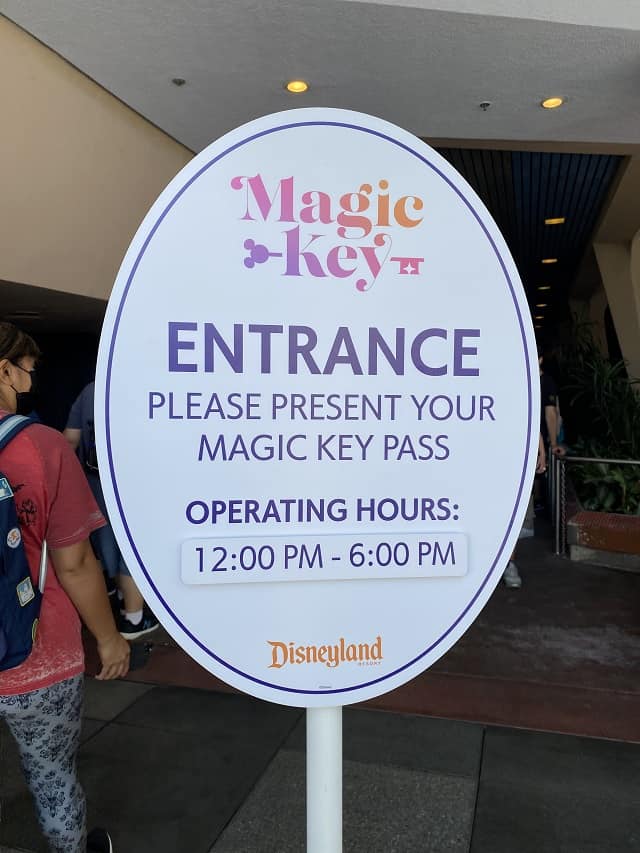 The return time was anywhere between 2-3 hours.
I placed us in the virtual queue but that was a long time to wait. I figured if we were around and close enough, we would enjoy. If not, no worries I could visit during another park visit.
As my daughter and I had a mobile order at Alien Pizza Planet we picked up our lunch, ate it, and we were quite surprised when I received our second text message. That truly was not a two hour wait!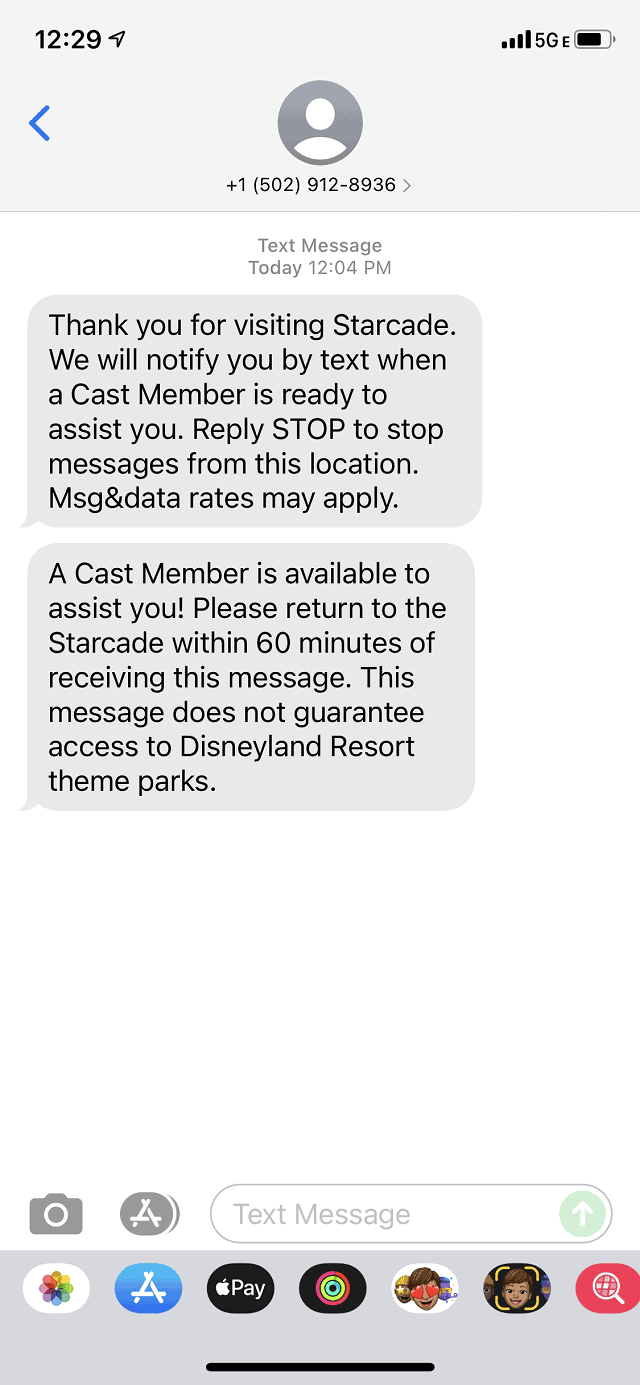 We returned back to the Cast Members and showed them our return text and were placed in a line. After a couple minutes of waiting in line we were told to have our phones opened up to our tickets so that the Cast Member at the door could scan us in.
Keep in mind that only those that are key holders are allowed inside the lounge. No visitors are allowed even if you are a passholder yourself.
Inside the Lounge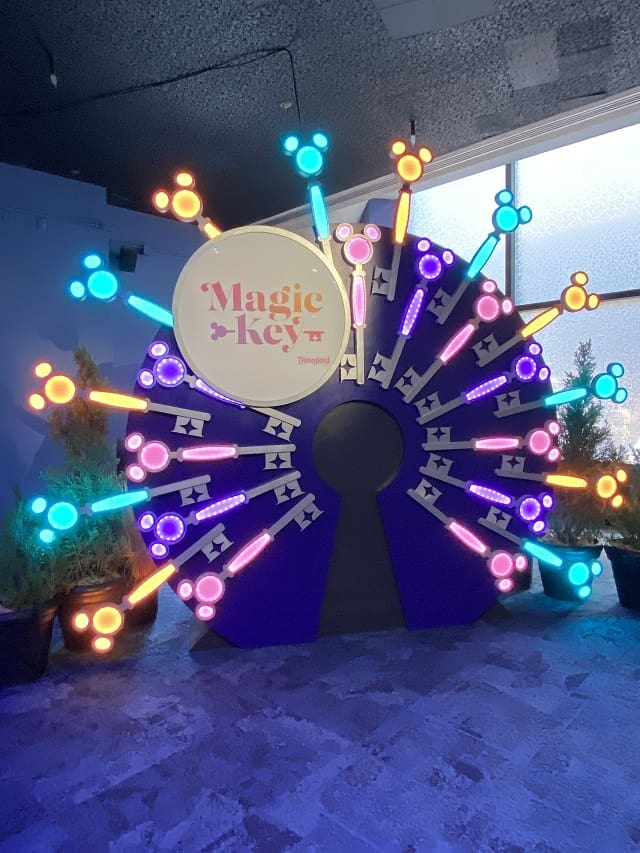 Once inside there are plenty of different photo ops and even an opportunity for Mickey and Minnie Mouse to appear on one of the stages.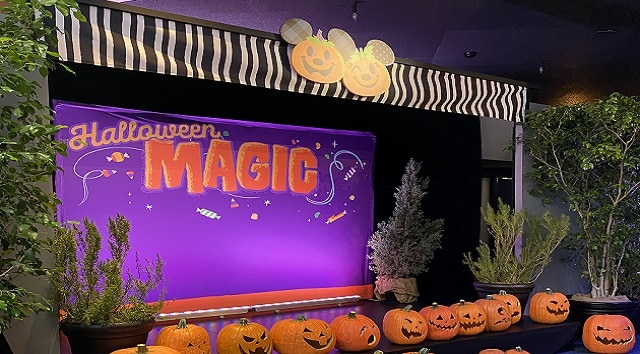 Unfortunately, during our visit we were told that they would most likely not be making an appearance that day and to check back on another day.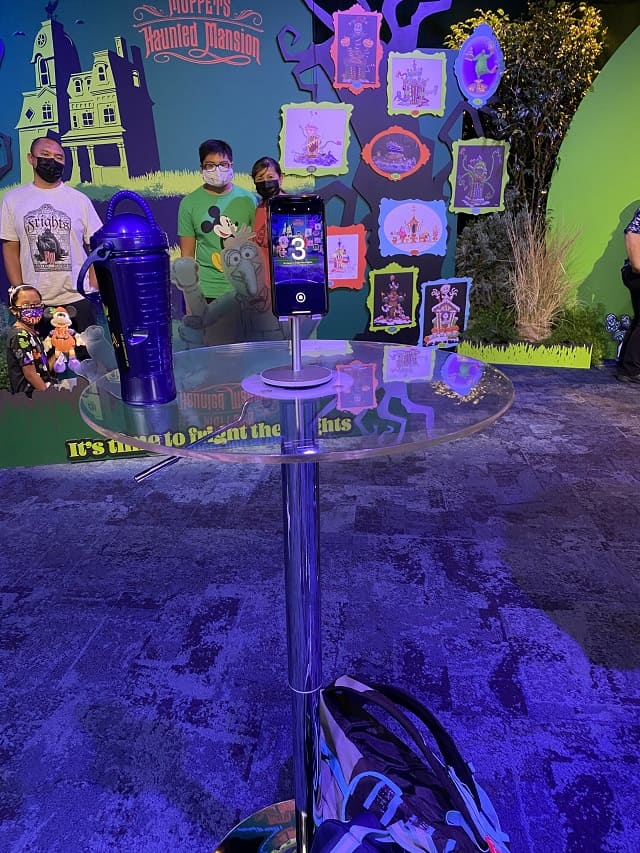 I really appreciated the fact that each table in front of each photo op has a selfie stand where you are able to place your phone on timer and then run into place to get your picture taken!
Great feature!
There was also a snack cart in case you are hungry and want to relax in the lounge that has ample sofa seating.
Another perk is the lounge has these awesome phone chargers! While you are enjoying the ambience, guests can charge their phones!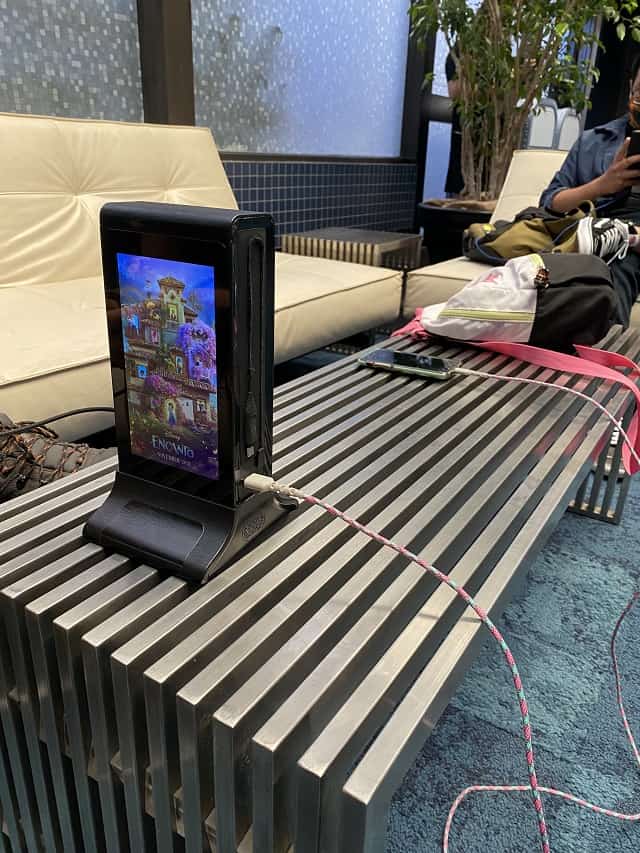 One of the photo ops is promoting the 20th anniversary of the Haunted Mansion Holiday attraction!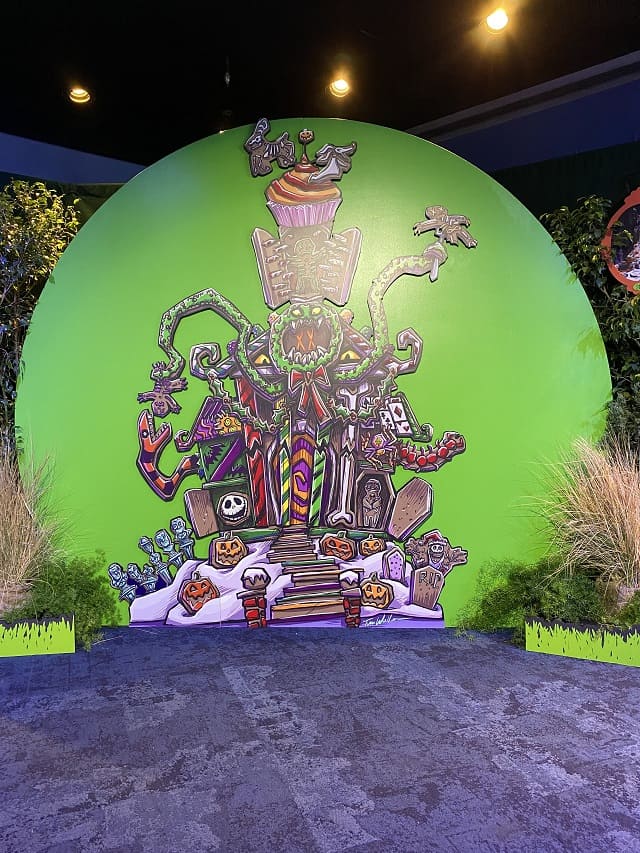 Another photo op is of the Muppets Haunted Mansion, which will premiere on Disney+ in October.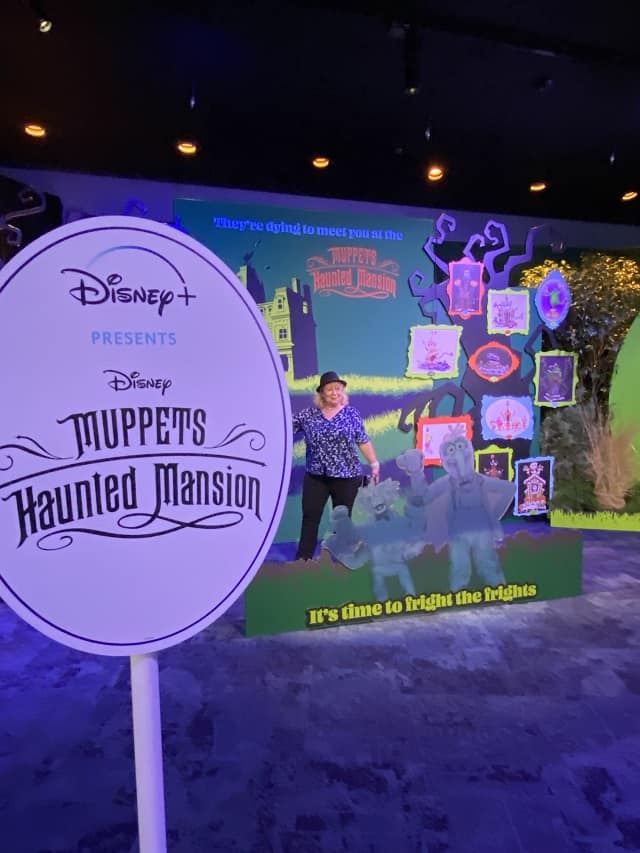 Lastly, there was a display of exclusive Magic Key holder merchandise that will soon be coming to the parks, such as this popcorn bucket pictured below!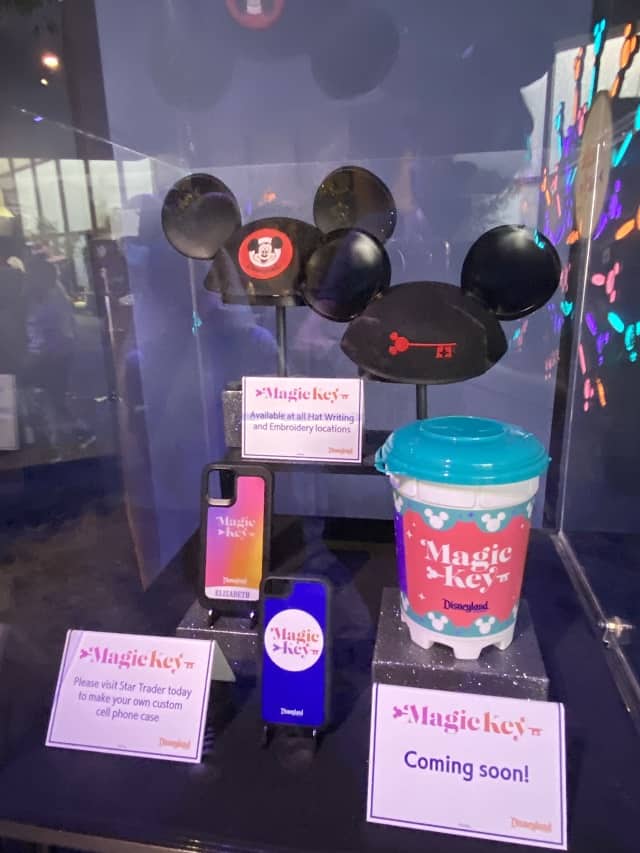 At the moment, the Magic Key Starcade Experience is open from 12pm-6pm and will close on October 30, 2021.
The lounge is available to any Magic Key holder regardless of the passholder level.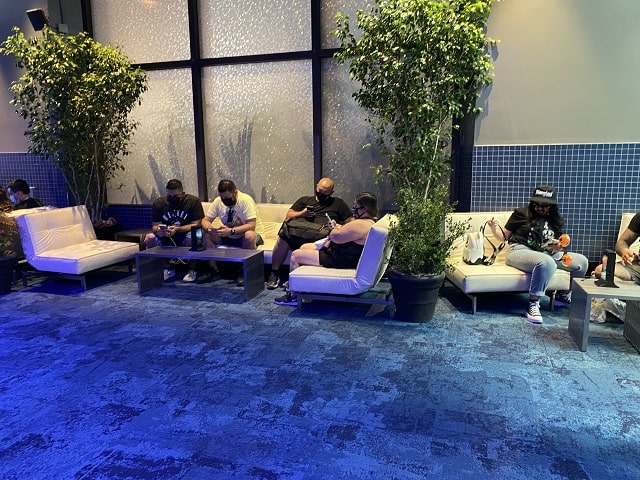 We enjoyed our visit to the lounge. I would not mind going in again if the time to enter was short like it happened to us! What are your thoughts regarding the lounge at Disneyland for Magic Key holders? Let us know in the comments on Facebook and in our Facebook group.