Most of July has been completely booked for Disney World park reservations. But that's changed for certain guests! Check out details here.
Summer 2020 wasn't the busiest season at Disney World. However, now with pent-up demand, that's changed. People are ready to get back into the world, and Disney World is ready to accept more guests.
Why Increase Park Reservations?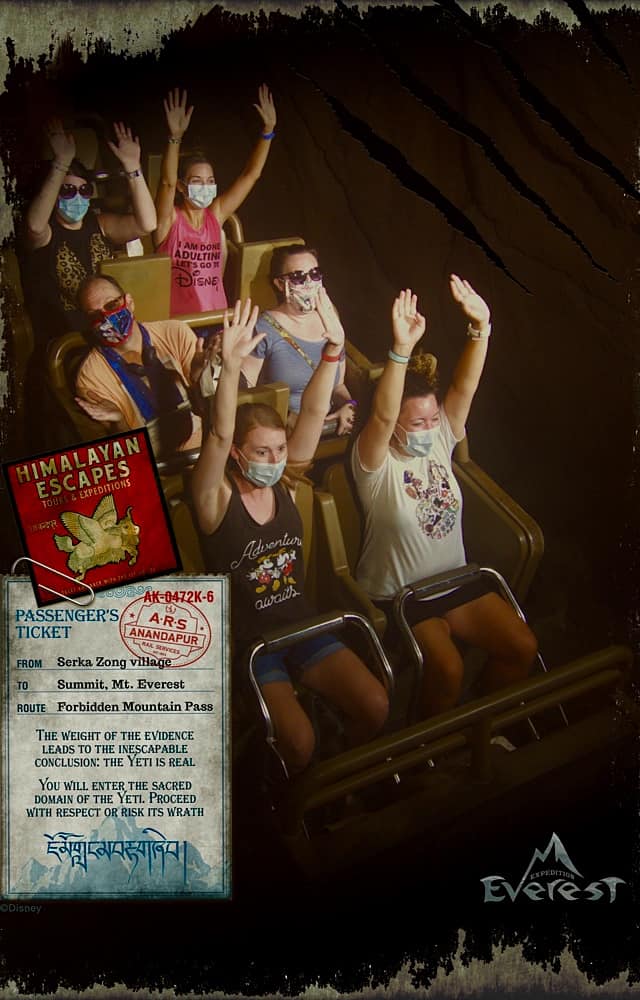 If you wanted a last minute Disney World trip, you've probably been discouraged like me (Susan). We really wanted to go a few days this month, but there were slim to zero park reservations available so we scrapped it.
It is evident that tourism has exploded since people are tired of being cooped up over the past year or so. With pent-up demand, Disney wants to capitalize on increased revenue by adding additional park passes.
Increased Capacity Brings Changes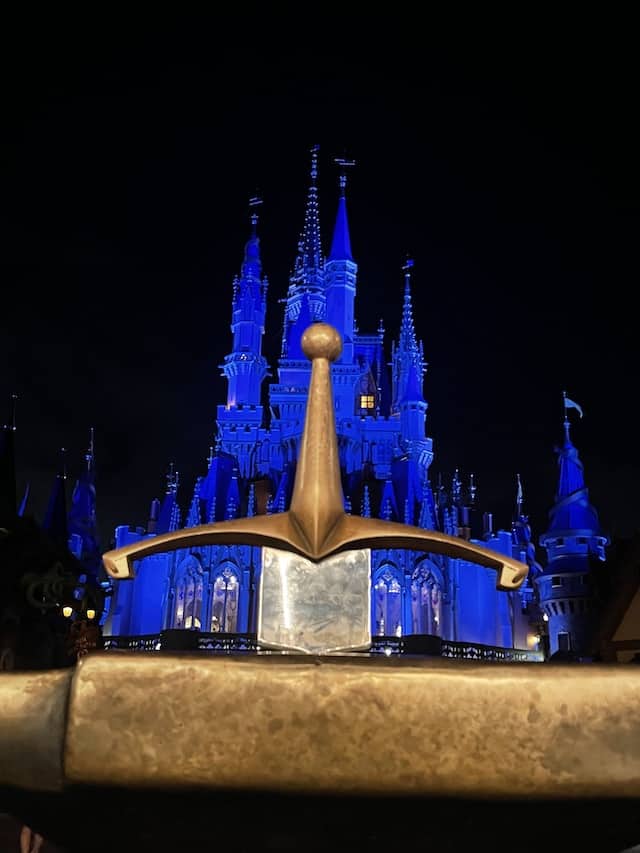 Recently, Disney World responded to Orange County lifting masks mandates. In preparation for increased crowds, Disney relaxed social distancing requirements. Disney also released new park hours for the entire summer. We love that Disney continues to return to normal. Finally, Disney announced loading more attractions to capacity.
Now, after yesterday's official fireworks announcement, Disney is ready to welcome more Guests to view nighttime entertainment again!
July Calendar for Theme Park Tickets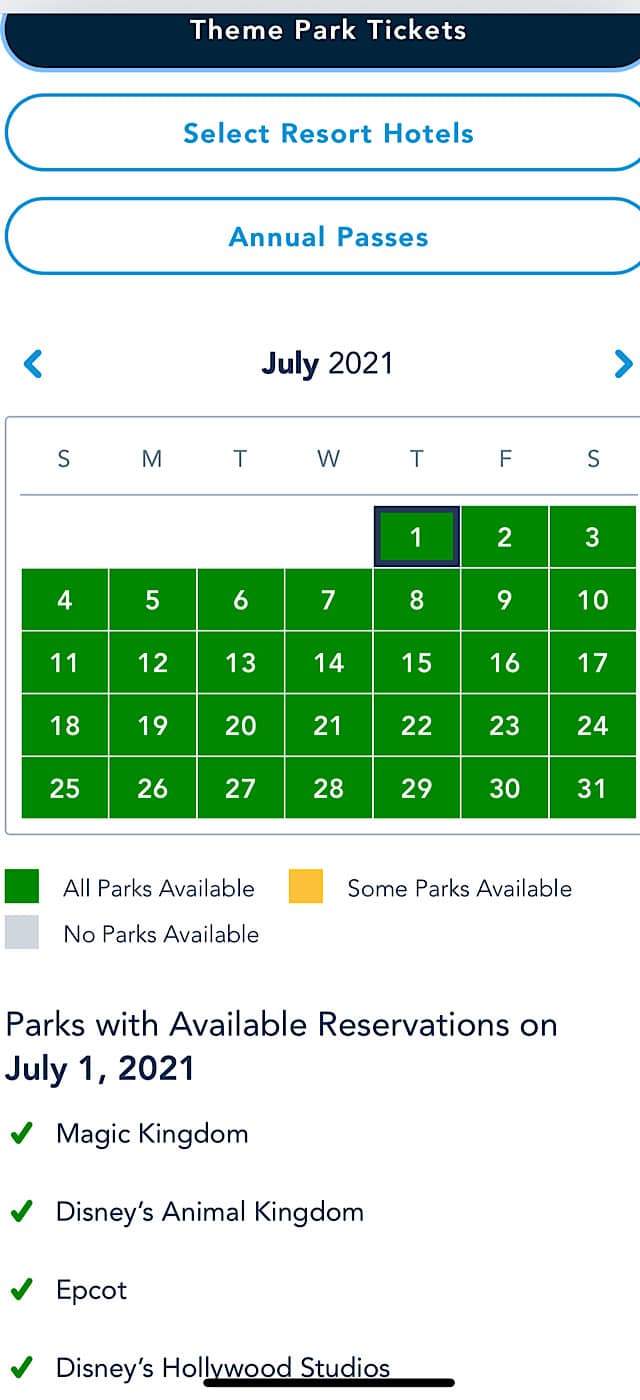 We shared on June 5 that Park Passes were newly available for summer. Well, those were booked as Guests made plans, but now Disney has just released more passes. Theme Park ticket guests can now visit any park every day in July. This includes the July 4th holiday! If you're thinking about going next month, jump on it now!
Passes are available now for July 4th!
July Calendar for Select Resort Guests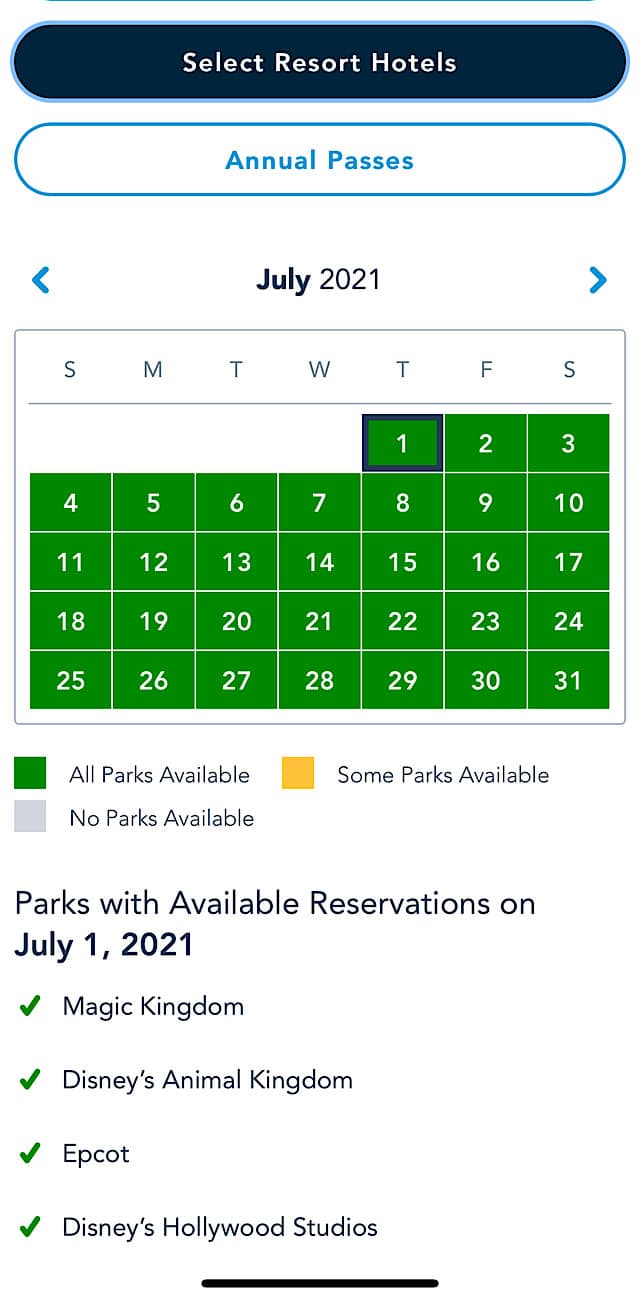 If you're wanting an impromptu trip, reservations are available for guests staying at Disney's Select Resorts. However, booking a Disney Resort may prove to be difficult at the last minute.
However, we're encouraged by the announcement that Disney Resorts, including Animal Kingdom Lodge are re-opening this summer. BoardWalk Inn reopens on July 2, and Polynesian later this July.
July Calendar for Annual Passholders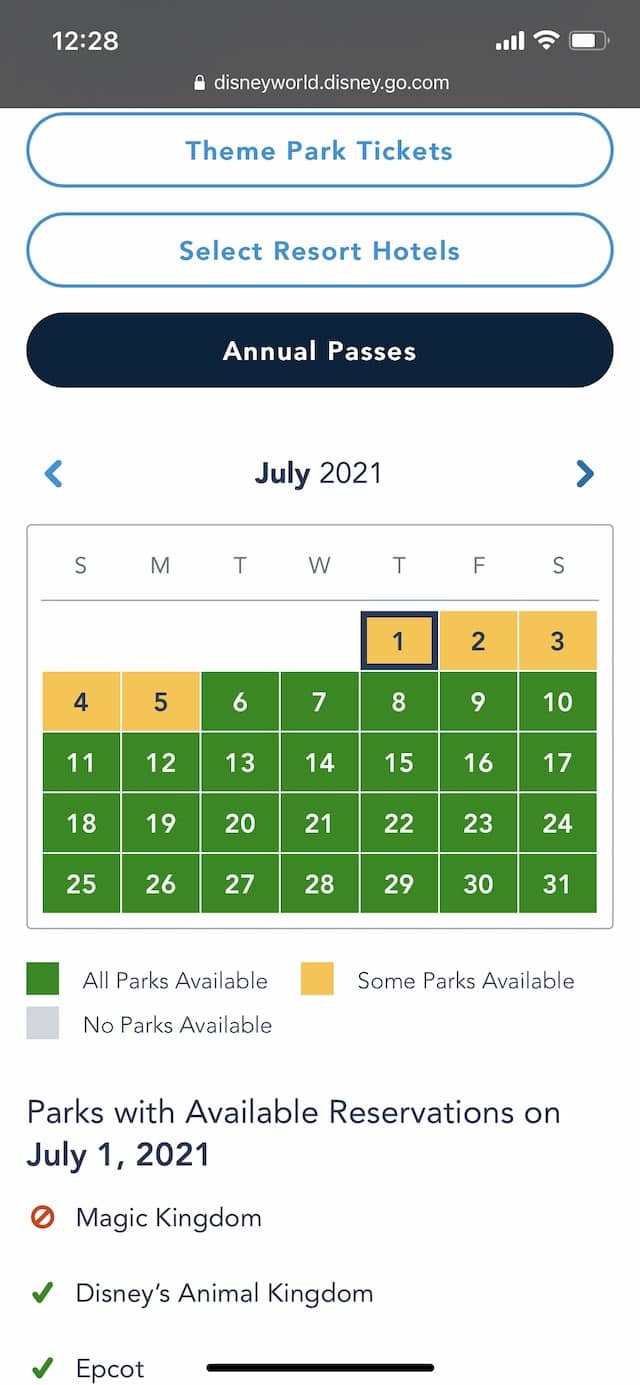 As you can see from the screenshot above, Magic Kingdom still shows no availability for the week of July 4. We'll let you know if this changes.
Are you planning additional trips now that park passes have become available? If not, are you waiting for more things to re-open before returning? Let us know on Facebook!