Park passes for the 50th anniversary are already beginning to fill up, but did you know one park is already sold out during the week of Thanksgiving?
Park Passes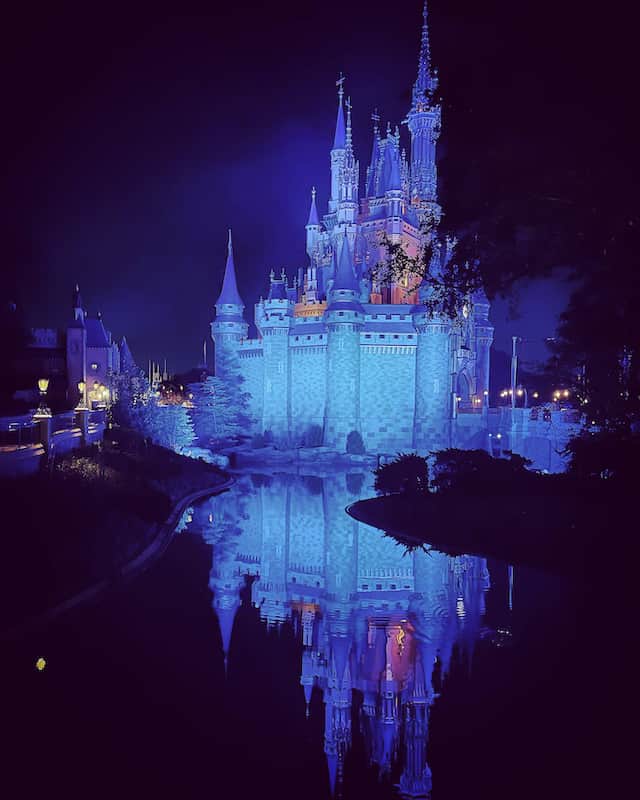 Many Disney Guests are already aware that a park pass is required to enter all 4 theme parks at Walt Disney World. This allows Disney to maintain a 35% capacity to ensure social distancing and health and safety guidelines are followed.
This summer is shaping up to be a busy one at Disney World as park passes for May, June, and July are already sold out for many categories and dates. Disney has even go so far as to remind Guests that there will be limited availability and to book those park passes if needed.
Another step Disney is taking to free up unused park passes is canceling park pass reservations that are not connected to a valid ticket. You can read more about that process HERE.
Fall Availability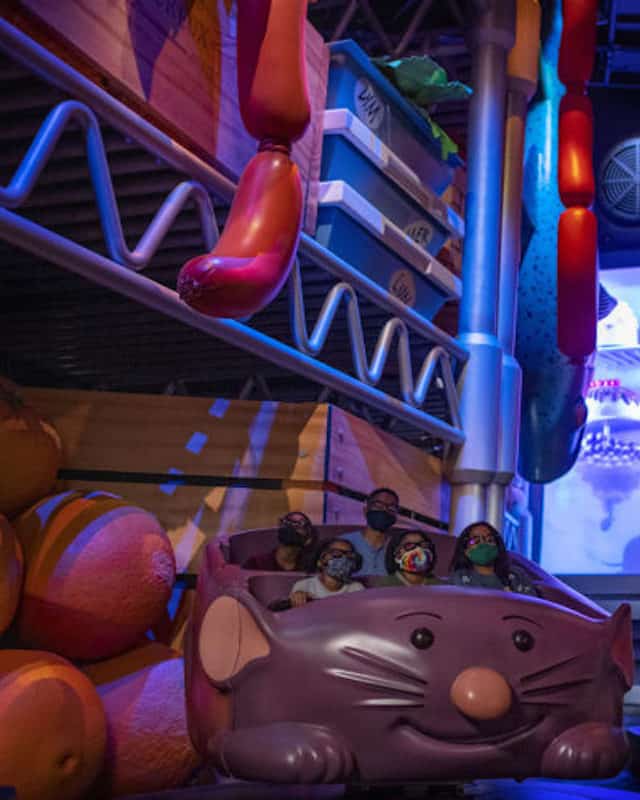 With the summer months filling up, it's only a matter of time before the fall begins to book up as well. Back in January, October 1 had already sold out for Magic Kingdom in all three ticket categories. Shortly after Disney announced when Remy's Ratatouille Adventure would open in Epcot (also October 1), reservations for that park also began to book up.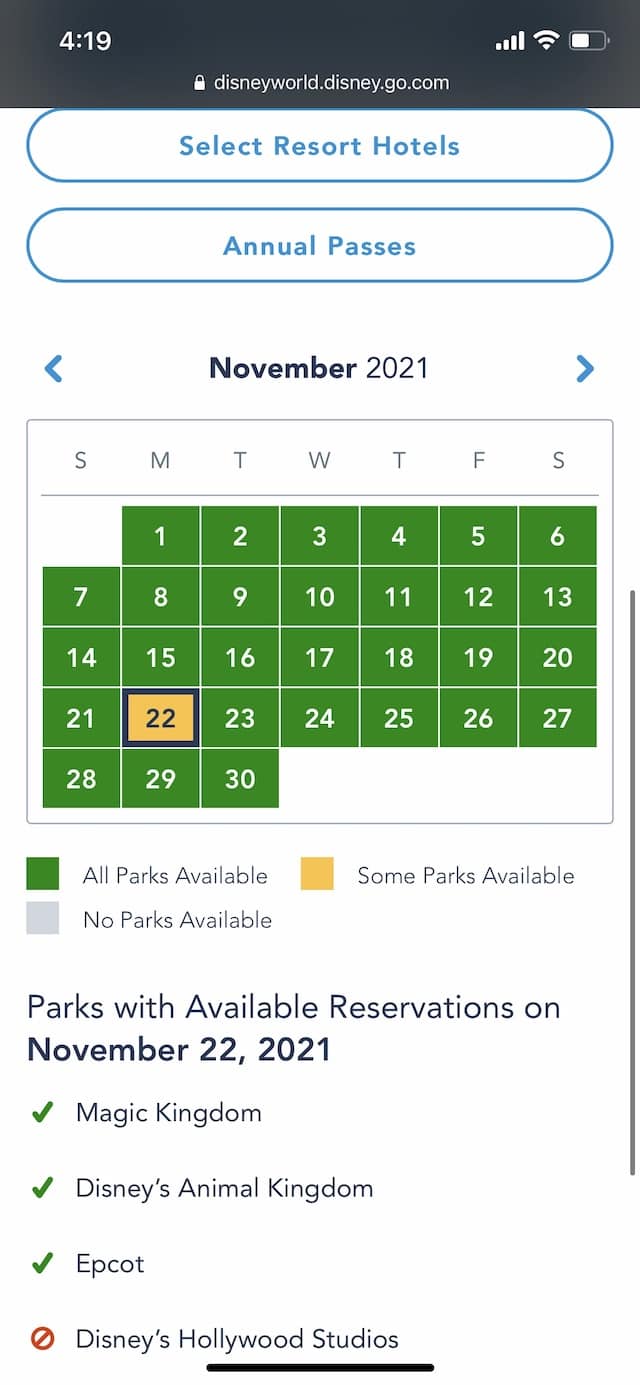 For November 22, Hollywood Studios is already sold out for theme park ticket guests and select resort hotel guests. Annual Passholders wishing to visit Hollywood Studios on this day are still able to book passes.
If you are wondering why this random Monday in November is already booked up it's because this is the week of Thanksgiving. Many Guests will be arriving over the weekend and looking to start visiting the parks that Monday. Since Hollywood Studios consistently sells out, this is not surprising at all.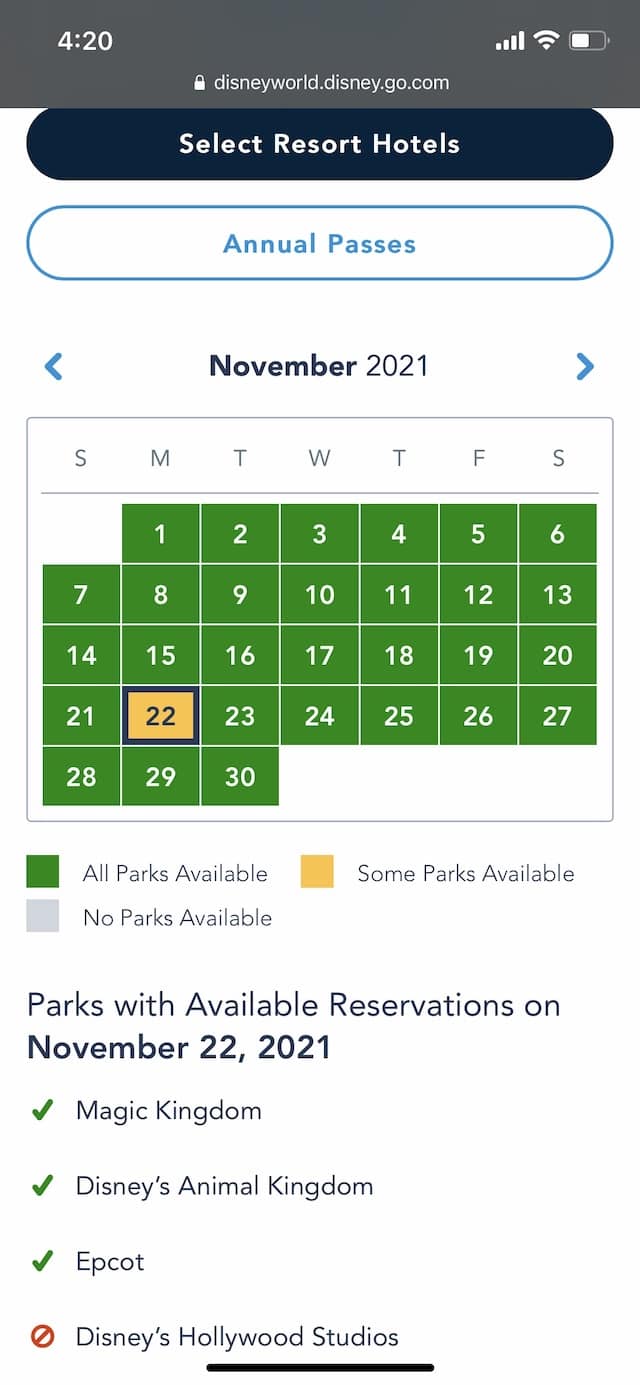 I imagine we will see other dates for the week of Thanksgiving book up. Then, Disney will shift around passes between the categories and more will magically appear before selling out again.
So, if you are planning to visit Disney World for the Thanksgiving holiday, I suggest you book your park passes soon!