We finally received an opening date for Remy's Ratatouille Adventure at EPCOT! Now, we are seeing more sold out park days for Disney World's 50th anniversary following that announcement. Get all the details below.
Remy's Ratatouille Adventure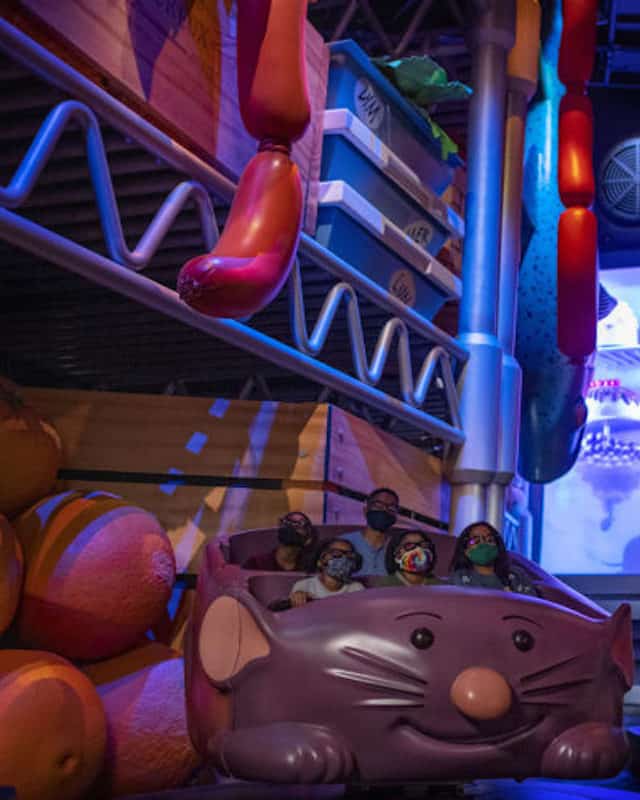 Remy's Ratatouille Adventure is part of the France Pavilion expansion taking place at EPCOT. Remy fans have been eagerly awaiting the opening of Disney's newest attraction, Remy's Ratatouille Adventure.
Originally set to open in 2020, Remy's Ratatouille Adventure's timeline has seen some significant delays. The closing and phased reopening of Walt Disney World in 2020 pushed back the timeline on completion of this highly anticipated attraction.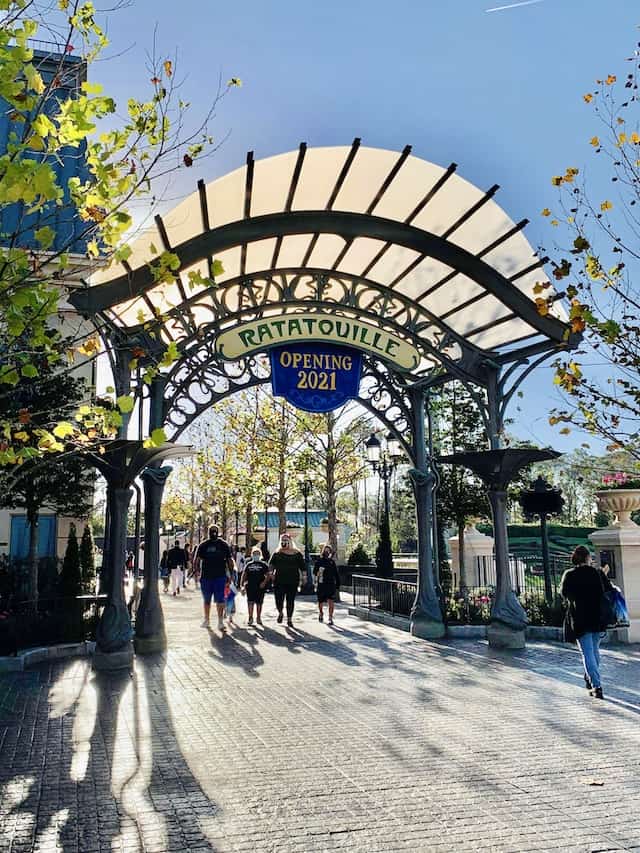 Disney opened up most of the newly expanded area within the pavilion. Guests can enjoy the benches, restrooms, and design elements until the new restaurant and attraction open. You can see all the photos HERE.
And now, we have an opening date for the ride! It is set to open on October 1, 2021. That is the 50th anniversary of Magic Kingdom and 39th anniversary of EPCOT!
Park Passes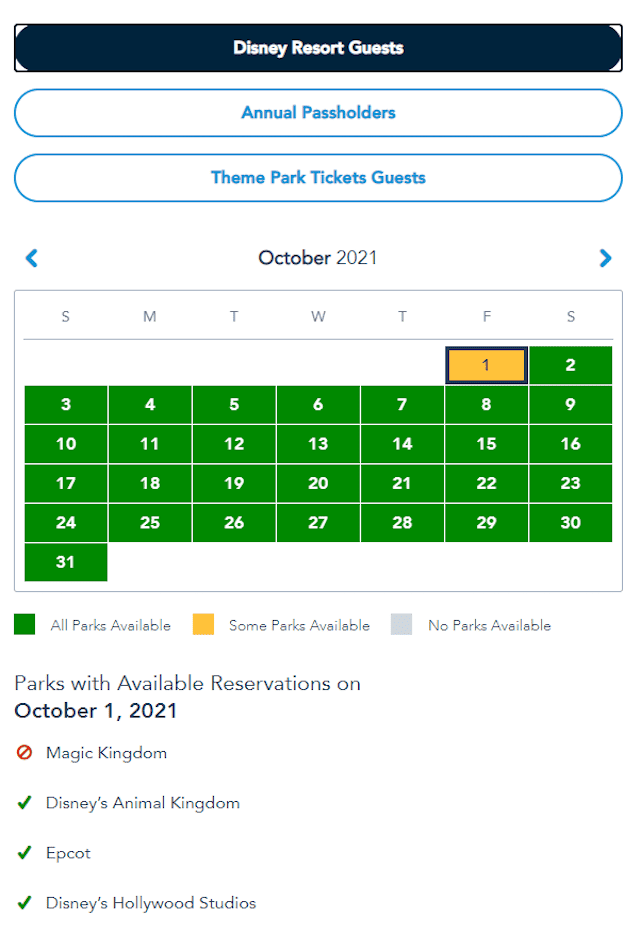 Park passes are Disney's way of maintaining capacity limits in the theme parks. Guests must have a valid ticket in order to create a park pass, which is basically your reservation for one of the theme parks on any given day.
Park passes for October 1 at Magic Kingdom sold out pretty quickly after reservations opened up for September 26 and beyond. With so much to look forward to during this amazing milestone, it's no wonder so many people want to be where the magic is on its golden anniversary!
However, they did briefly reappear for Annual Passholders yesterday while Theme Park Ticket Guests and Disney Resort Guests remained unavailable.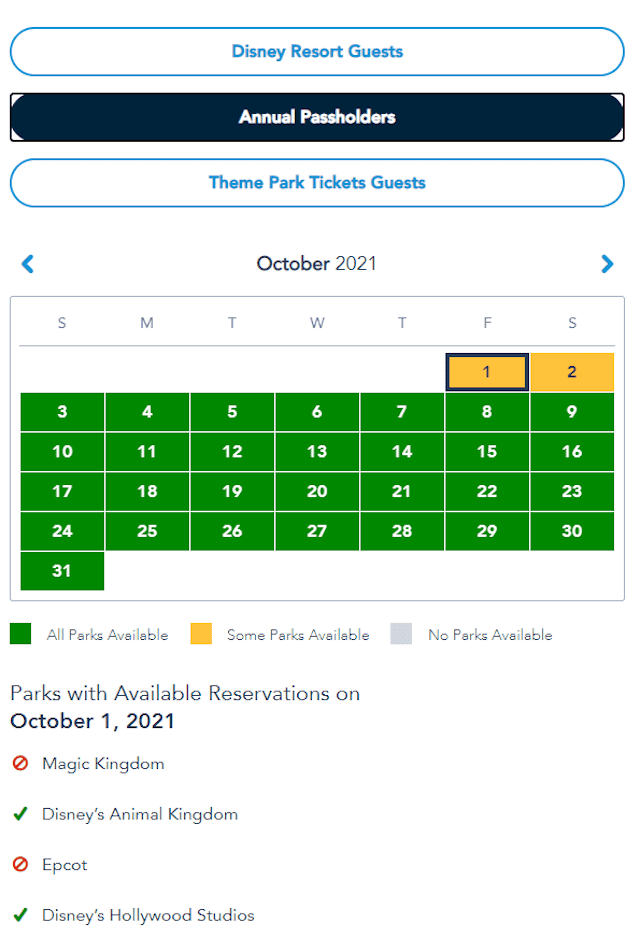 Now, with the announcement of Remy's Ratatouille Adventure, park passes for EPCOT are now unavailable for October 1 for Annual Passholders. Passholder park passes are also sold out on October 2 for Magic Kingdom.
EPCOT park passes are unavailable on October 1 for Passholders. Magic Kingdom park passes are unavailable on October 1 and October 2 for Passholders.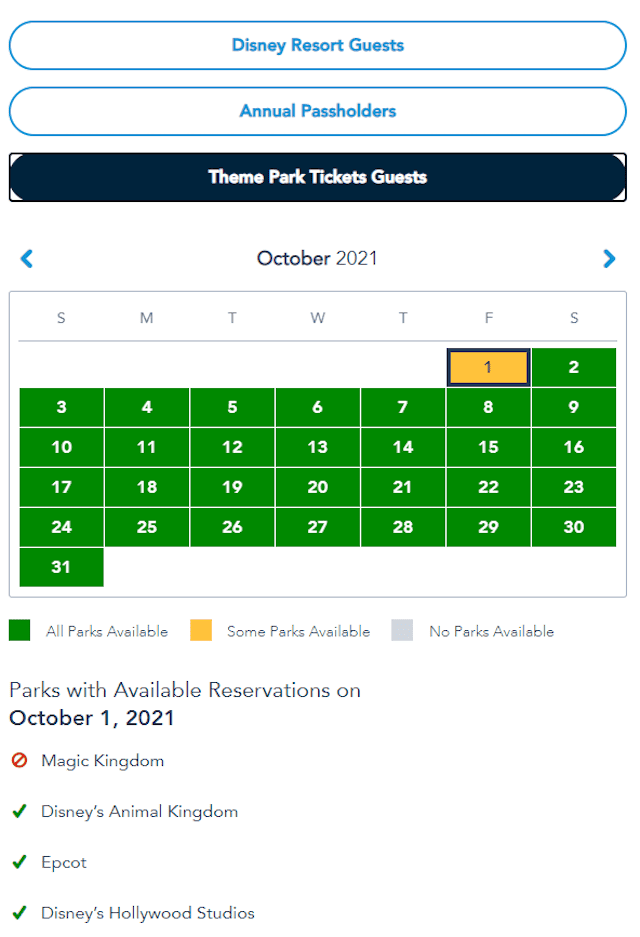 As you can see in the above screenshots, both Disney Resort Guests and Theme Park Ticket Guests still have park passes available at the time of writing.
It seems as if Disney's plan to spread out the crowds on October 1 worked a little bit. Now Magic Kingdom and EPCOT are competing for attendance on this milestone day.
We do expect Disney to open up more October 1 park passes for Annual Passholders.
Will you be at Disney World on October 1? Are you going to Magic Kingdom or EPCOT? Let us know on Facebook!