Get out your butterfly clips and crimpers, millennials! There is a brand new ColourPop collection coming soon that will blast you into past! Check out all the details here!
As a young preteen, I would come home from school, flip on the Disney Channel and watch my favorite Disney Channel series such as 'Even Stevens', 'That's So Raven' and 'Kim Possible', but far and above my favorite show of all time was 'Lizzie McGuire'.
Lizzie McGuire Series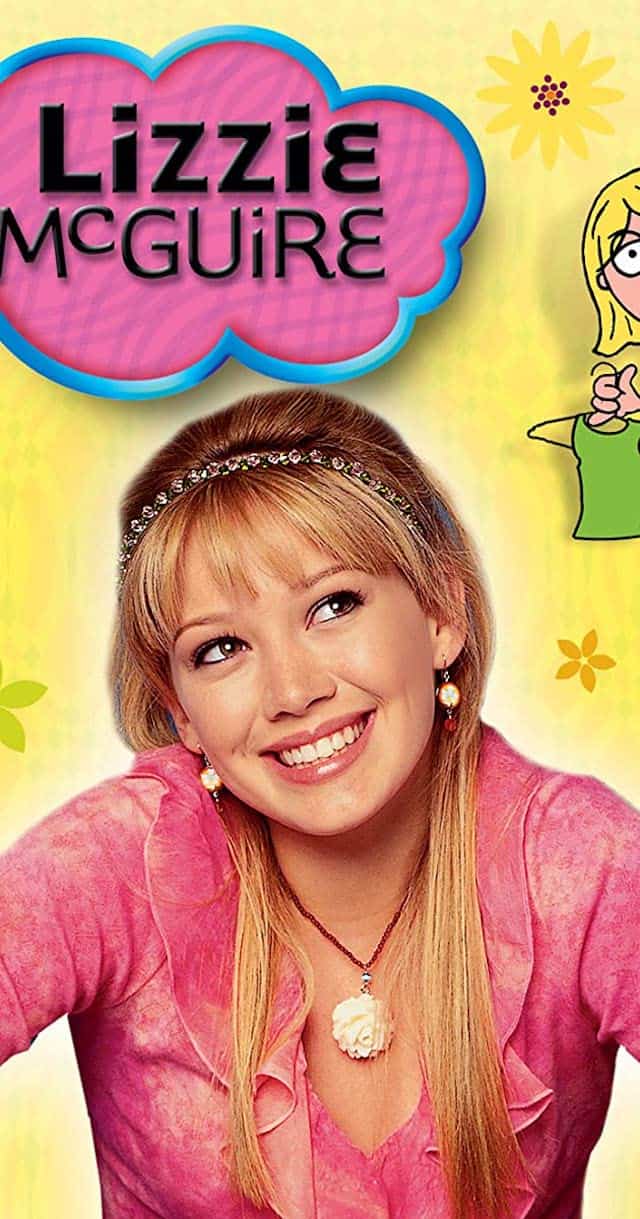 There was something about Lizzie that was so relatable. She was just an average girl searching to find her identity. She faced everyday middle schooler challenges such as dealing with popular mean girls and trying to impress the handsome football star.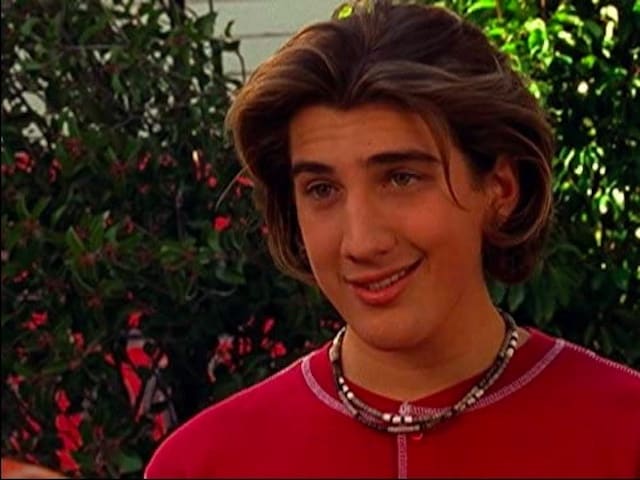 Through all her crazy twists and turns there was a lesson to be learned. She always had her two best friends, Miranda and Gordo, and her loving family by her side to pick her back up when she failed.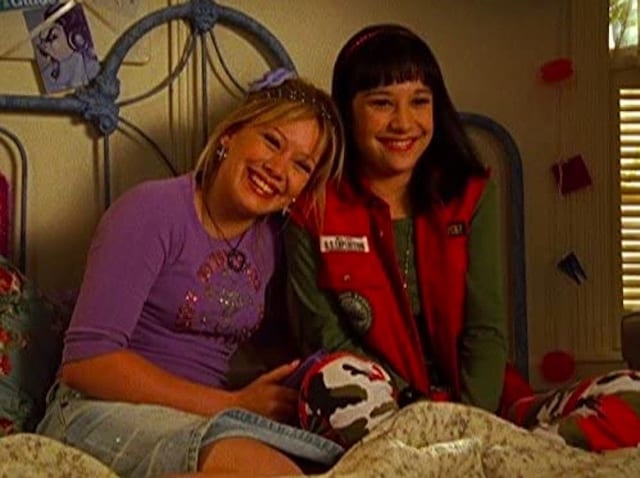 We can't forget about Lizzie's animated alter ego, either! Her alter ego expressed Lizzie's true inner thoughts and persona. She was the spunky and outgoing counterpart to real-life reserved Lizzie.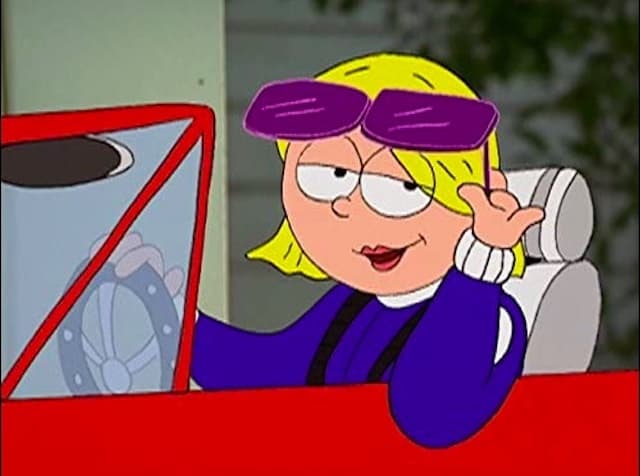 The Lizzie McGuire series ended way sooner than I wanted. Disney originally planned to follow her through her high school years too, but contract disagreements sadly couldn't be resolved.
Lizzie McGuire Movie
Our final goodbye to Lizzie and her friends was the Lizzie McGuire Movie that debuted in 2003. Lizzie and her classmates take a summer graduation trip to Italy. While there, she meets a handsome Italian pop star named Paolo who mistakes her for his singing partner, Isabella.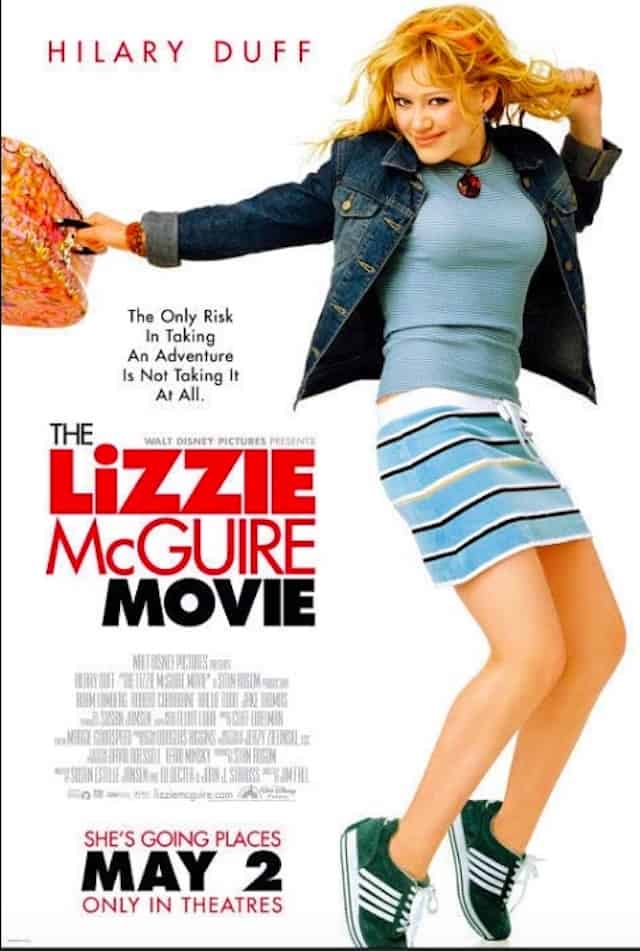 He convinces her to impersonate Isabella and take her place at the Italian Music Awards. Along the way, Lizzie finds herself, gains confidence and learns what matter most in her life.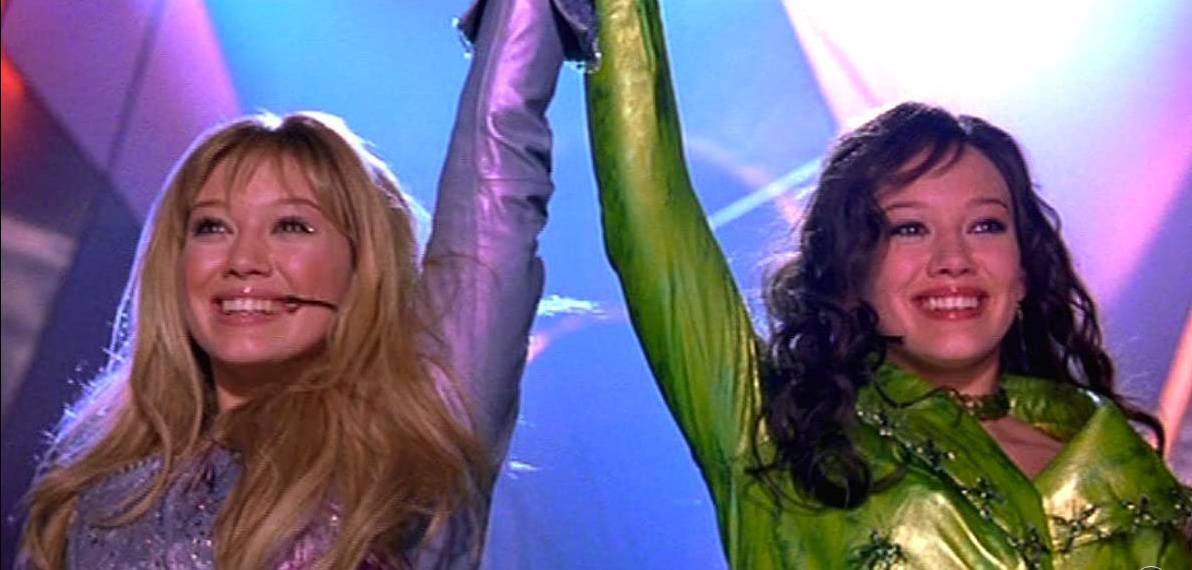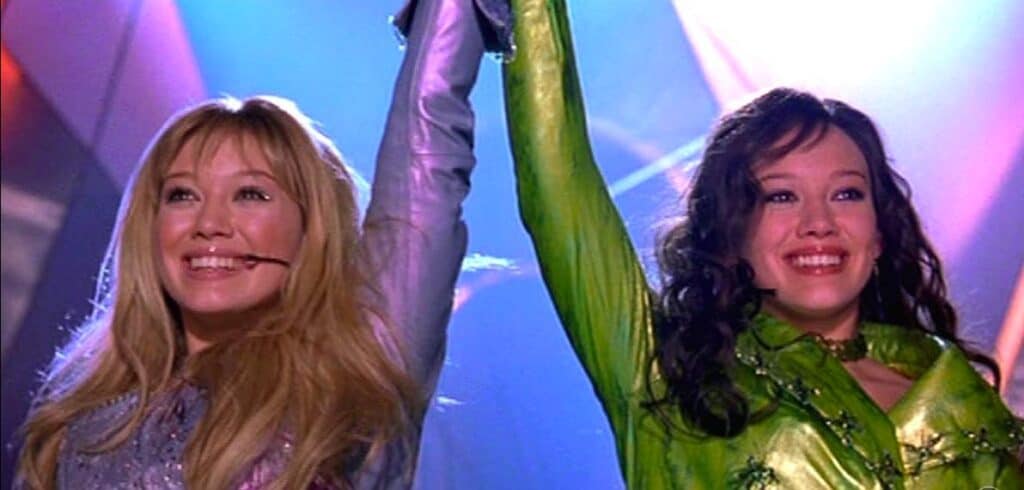 Series Reboot
In 2019, it was announced at the D23 convention that Lizzie would be gracing our television screens once again. Hilary Duff and various other cast mates from the show had signed on to do a revival of the tv series for Disney+.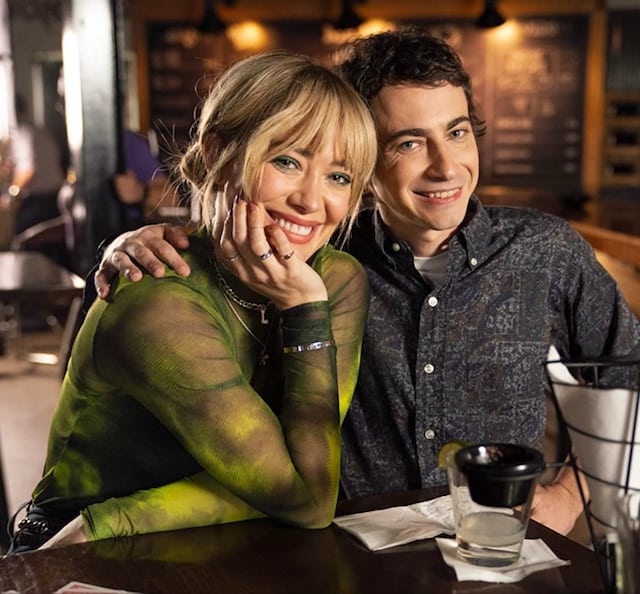 The show was to follow Lizzie as a thirty-year-old interior decorator navigating life in the big city, but sadly the show was scrapped in late 2020 due to creative differences between the show's writing team and Disney.
Makeup Collaborations
ColourPop has brought some amazing Disney collaborations to fans over the past few years. We've seen some awesome collections such as the Midnight Masquerade Collection, Frozen 2 Collection, the Hocus Pocus collection and the Live-Action Mulan Collection.
Don't forget about those Marvel collections at Ulta, too! We showed you the Black Widow collection release last year, and now Ulta has just dropped a special WandaVision collection, too!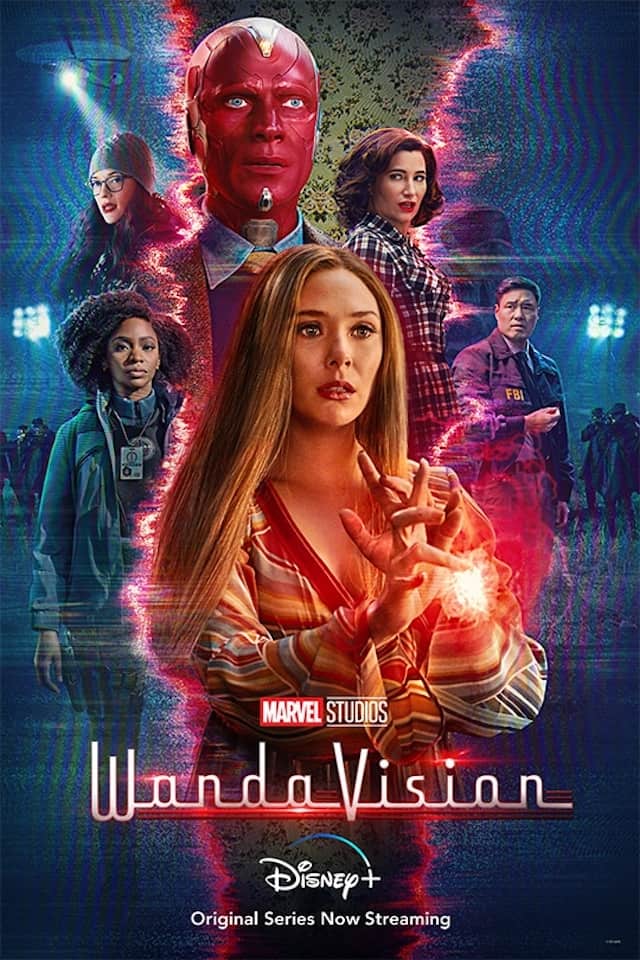 ColourPop Lizzie McGuire Collection
If you are like me and love ColourPop Cosmetics, then the new Lizzie McGuire makeup collaboration is "what dreams are made of"!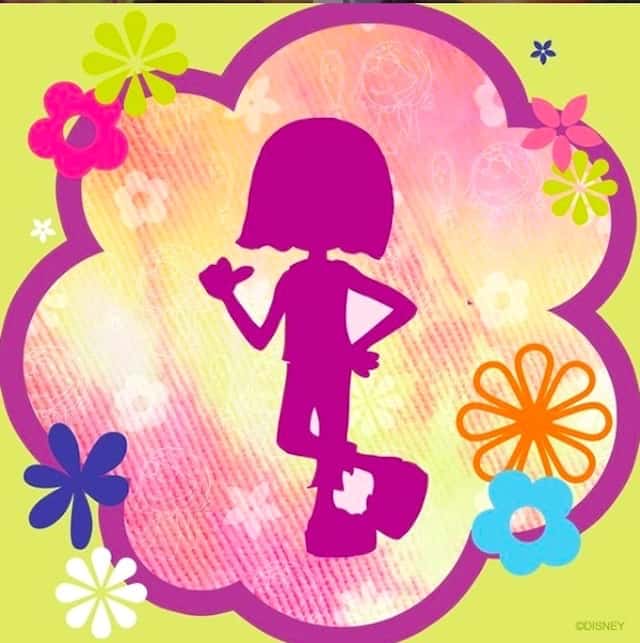 WITHOUT FURTHER ADO, LET'S TAKE A LOOK AT WHAT IS IN THIS COLLECTION!
Eye Shadow Palette
The "What Dreams are Made Of" palette is giving off some major Lizzie vibes! It contains a lot of bright colors such as hot pinks, corals, lime green and purples. This definitely brings me back to the early 2000s when bright makeup was all the rage.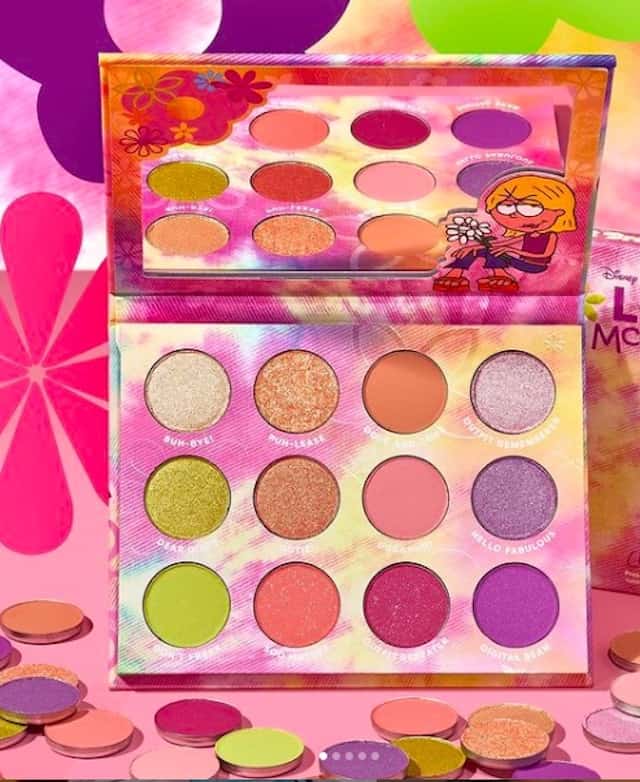 Eye Safety PSA
In my opinion, ColourPop does not do a great job with their warning labels. The only way eyeshadow colors are marked are with a tiny asterisk on the back of the palette that indicates: "not intended for use in the immediate eye area".
In the Lizzie McGuire palette, 6 out of the 12 shades are marked with an asterisk.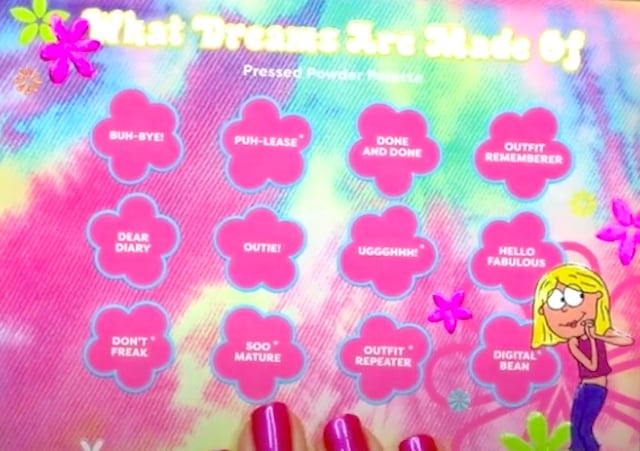 Besides glitter warnings, ColourPop will also often flag shades that contain red dye pigments or other pigments that may cause allergic reactions to the skin and can be an eye irritant for some people.
Out of these 6 flagged shades, only one is a pressed glitter.
The color "Puh-lease" should not be applied around the eye area under any circumstances.
The other 5 shades are flagged due to their pigments and can be applied on the eye if you know you do not have certain pigment reactions.
These shades include "Don't Freak", "So Mature", "Outfit Repeater", Digital Bean" and "UGGGHHH!"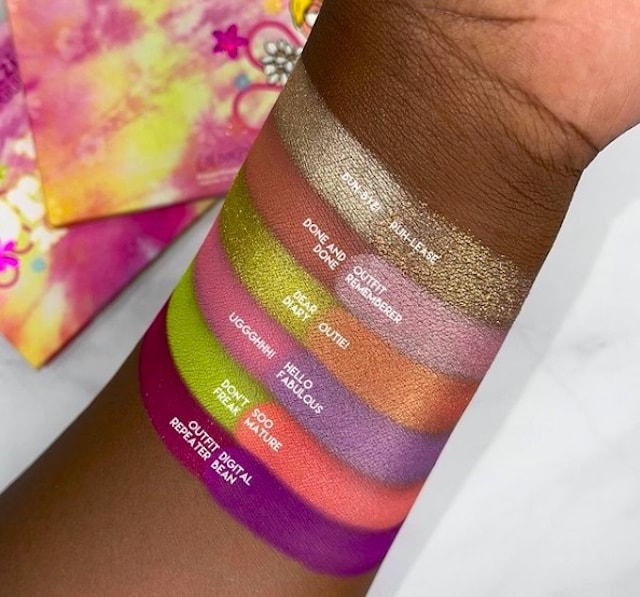 To find out if your skin can tolerate these shades simply swatch the color onto you forearm and let them sit for a half hour to make sure you don't have any allergic reaction to the pigment. After that, you should be safe to use on the eyelids.
So Juicy Plumping Gloss
Is there anything more iconic from the 90s/00s makeup trends than juicy lipgloss? I can remember they were all the rage when I was young. To this day, I'm still not a huge fan of the stickiness of lip gloss, but I do enjoy the sparkle!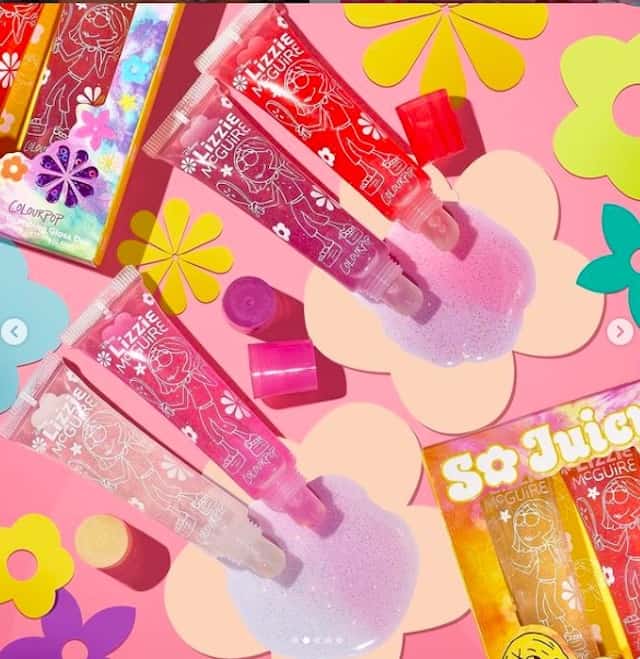 There are 4 lip gloss colors that appear to be part of a duo set. You can choose between "Lizzie" and "Miranda", which is a clear and and pink duo or "Ethan Craft" and "Gordo" which is a mauve and red gloss set.
All 4 shades have a strong minty-bubblegum flavor.
Glitterally Obsessed Glitter Gel
Would it really be a Lizzie McGuire collection without some glitter gel? I don't think so! Perhaps body glitter was even more iconic in my childhood than lipgloss, and I loved it!
There are two colors of glitter gel in this collection. "Sing to me Paolo" is an iridescent white glitter and "Get a Grip" is a bright pink glitter.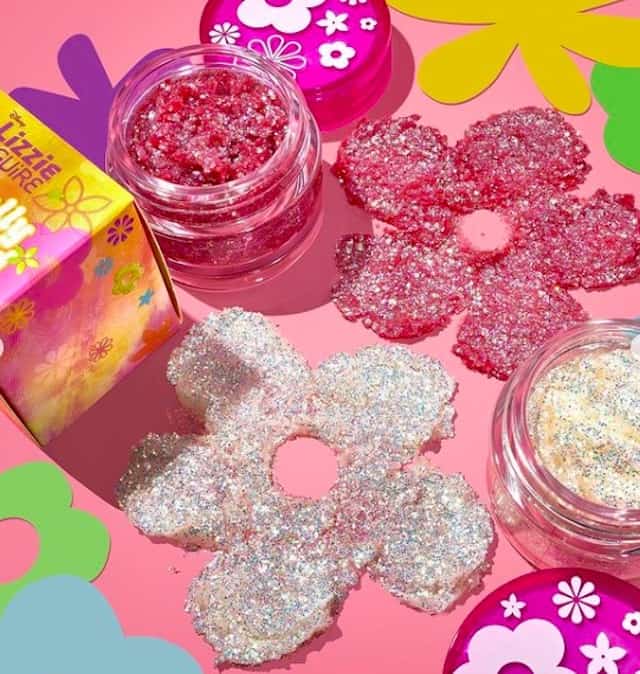 Because I can't say it too frequently…
PRESSED GLITTERS ARE NOT SAFE FOR USE ON THE EYE AREA.
Be sure to avoid eye contact with this glitter gel as the large glitter flakes could be very dangerous if they were to get inside the eye. Treat this more as a hair, face and body glitter – not as an eye shadow.
Lip Scrub
If you love lip scrubs, be sure to pick up this item from the collection. I have to say, in the winter I always regret not having a lip scrub around. My lips tend to get very dry and chapped all winter long so this could be the perfect remedy!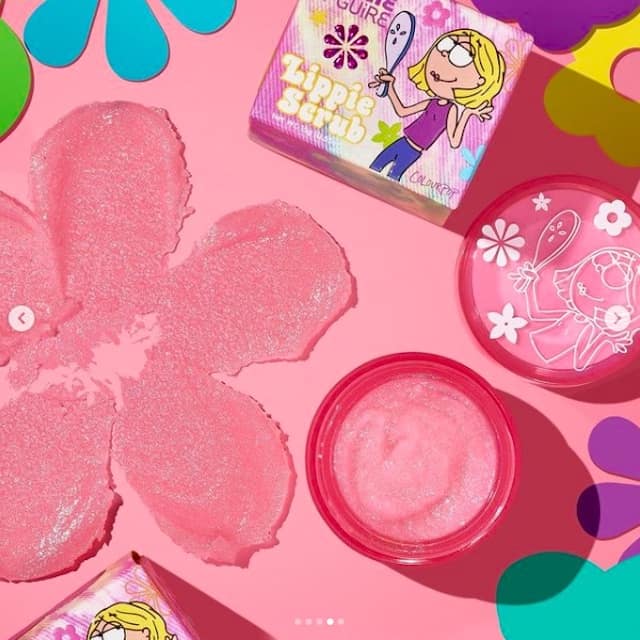 If you are wondering what flavor this lip scrub might be, it is bubblegum flavored. It seems like everything was bubblegum flavored in the early 2000s, right?
Pressed Powder Blush
The final product in this collection is a pressed powder blush. You'll be able to choose between "Dee-Lish" which is a light bubblegum pink or "You are Magnifico" which is a darker fuchsia.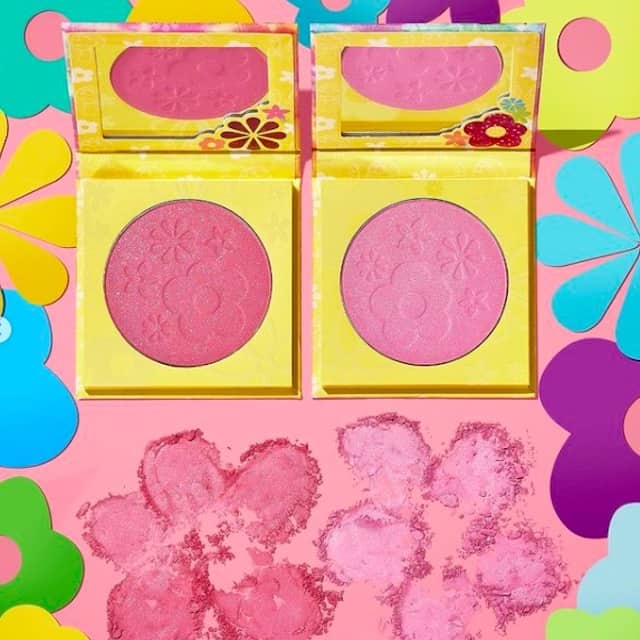 Both shades are a glittery matte base so you will see some shimmer on your face when you apply these, just a heads up!
I can't wait for release of this new ColourPop collection! So when exactly might we be able to grab these new items? Well, we don't have to wait too long as the collection launches this coming Friday, March 26th at 10am PST/1pm EST!
The ColourPop Lizzie McGuire Collection Launches March 26th at 10am PST/1pm EST!
Are you looking forward to the new ColourPop Lizzie McGuire Collection Let us know in the comments below or on Facebook!
-Christina