We interrupt this program to bring you some exciting collaboration news! Fans of the popular Disney+ series, WandaVision, will want to tune in and check out all the details of a fabulous new makeup collection coming their way. Don't touch that dial!
Disney/Marvel Makeup Collaborations
I get so excited every time there is a new makeup collaboration. In the past we have seen some amazing collections from ColourPop cosmetics such as the Midnight Masquerade Collection, Frozen 2 Collection, the Hocus Pocus collection and the Live-Action Mulan Collection.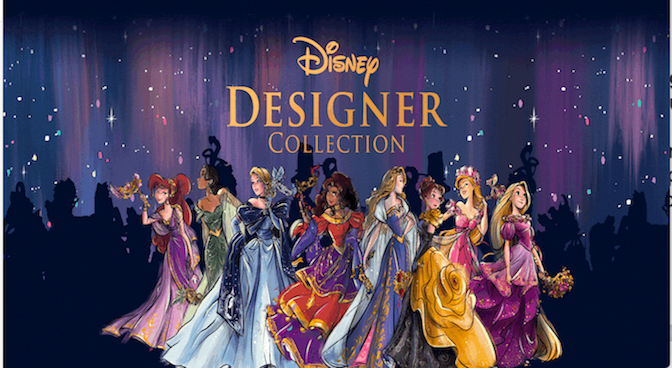 Marvel fans were also treated to a special Black Widow collection by Ulta Beauty last April.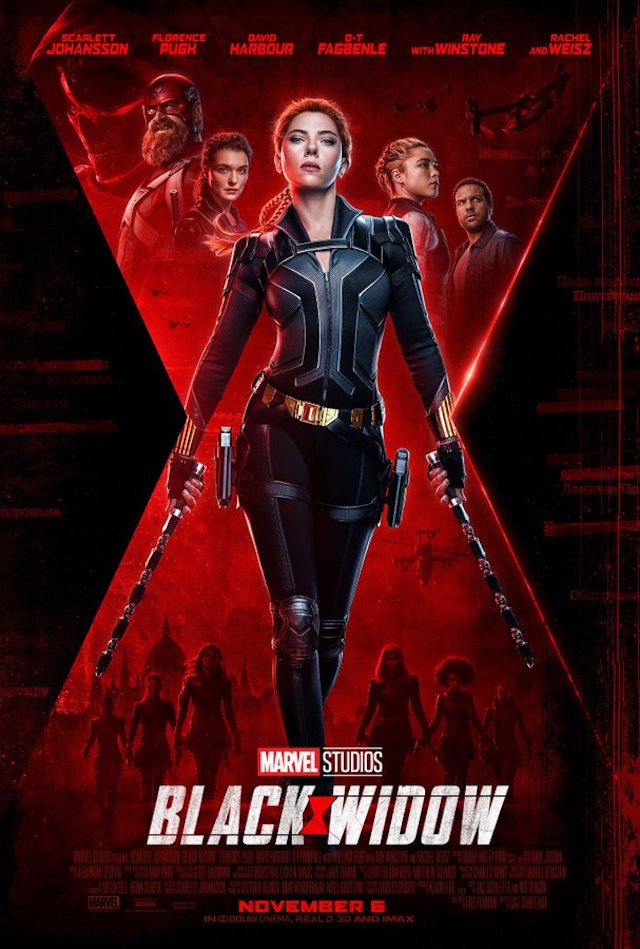 Now, Ulta Beauty has created another special Marvel collection based off of the hit series 'WandaVision' launching March 14th!
WandaVision
I recently just binge-watched the entire series of WandaVision with my mom in a single evening. It was such a good show, we just had to watch one more episode. Then, suddenly there were no more episodes!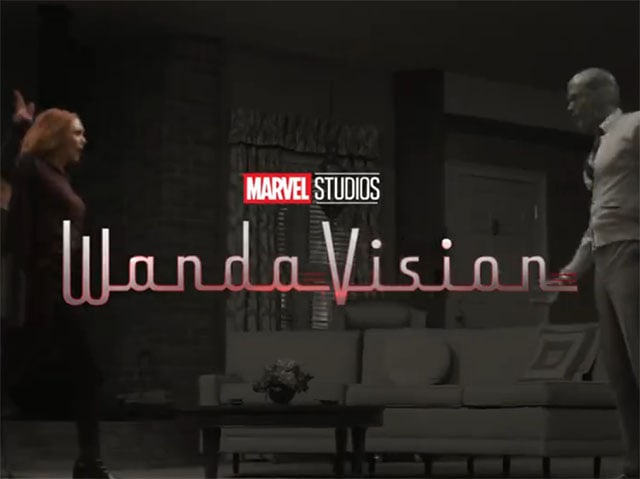 Without providing any major plot spoilers, I will simply say that the each episode takes place in a different decade, starting with the 50s, and draws direct connections to some of the biggest shows on television during that time such as 'I Love Lucy', 'Bewitched', 'The Brady Bunch' and 'Full House'.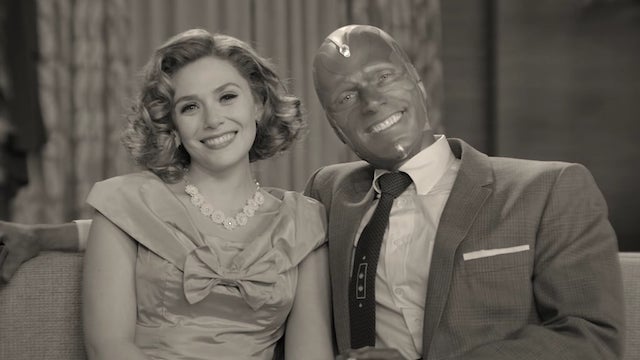 It was so amazing to see all of the hair and fashion styles being brought to life. According to makeup department head Tricia Sawyer and hair department head Karen Bartek, WandaVision was a costume and makeup artist's dream job.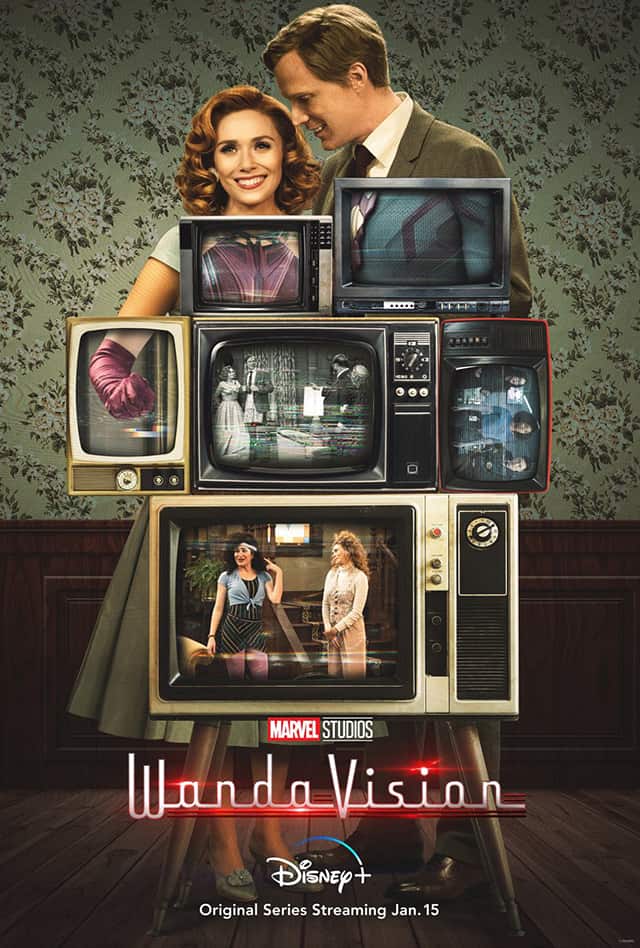 There is so much thought and detail that goes into creating a period's costume and makeup and the WandaVision team spent a lot of time researching the proper products and styles to bring each decade to life.
WandaVision Makeup Collection
This collection draws a ton of inspiration from the series. From the scarlet colored packaging and gold accents to the makeup shades, everything in this collection was chosen for a specific reason.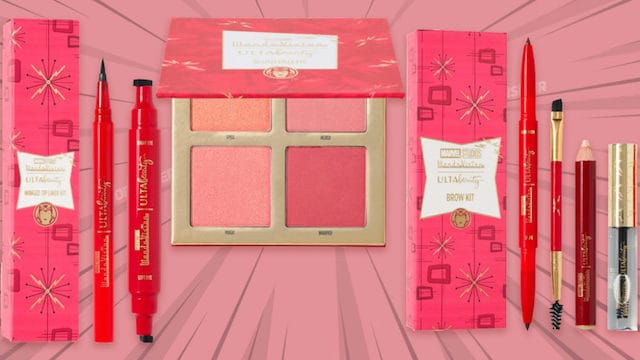 There are 7 different items or sets in this collection and they are expected to range in price from $10 to $28.
Eye Shadow Palette Vault
This WandaVision eye shadow Palette Vault comes with 3 mini shadows palettes that each contain 6 shades. There are a variety of fun colors in this palette such as blues, greens and purples but also some nice neutral shades, as well.

It appears as if this will be a mostly matte shadow palette with possibly one or two shimmer shades thrown in. If you don't like glitter shadows this would be a good palette to pick up.
5-Piece Brush Set
I love makeup brushes. Probably way too much as I have more than I can use at one time, but it is hard to pass up a good brush set.
These brushes are super elegant with shiny beveled gold handles and the Scarlet Witch's signature red helmet symbol on top. They also come in a striking red carrying case for easy transport.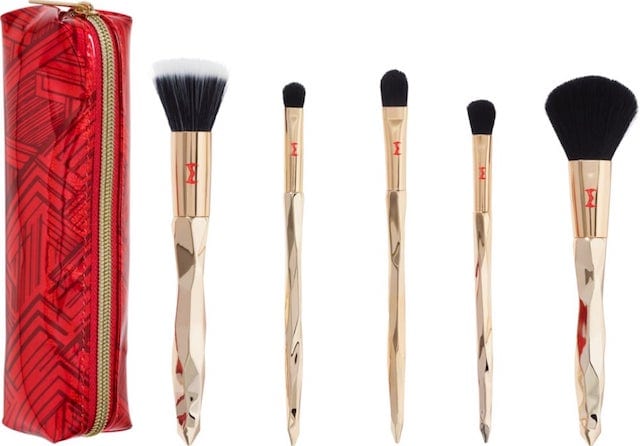 This is a really nice starter collection for those who don't have a lot of makeup brushes or are struggling to find what they need. The set comes with a blush brush, a powder brush for foundation or setting powders, a concealer brush, an eyeshadow brush and a blending brush.
Blush Palette
This blush palette features 4 shades ranging from light pink through deep fuchsia and mimic the shades used in Wanda's 60s episode.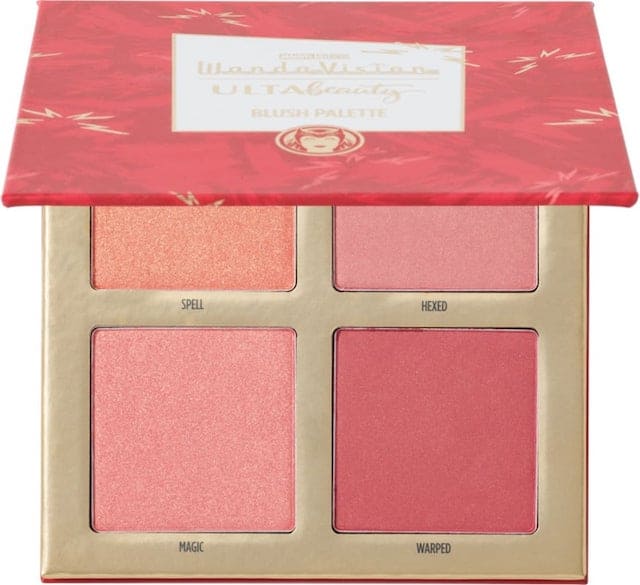 The episode starts out in black and white and although you can't tell, the makeup team focused on lighter pink blushes at the beginning which were more in keeping with the times. During the Technicolor transformation, however, they had to punch up her cheek color to a deep fuchsia so that it would pop.
Eyeliner Duo
If you struggle to get that perfect winged eyeliner look, you are not alone. This WandaVision eyeliner duo will help you perfect that gorgeous cat eye because it comes with a wing stamp!
in addition to the wing stamp, there is also a felt tip liquid liner which are my favorite kind. I find felt tip liners are so much easier to use than pencils, in my opinion.
Lipgloss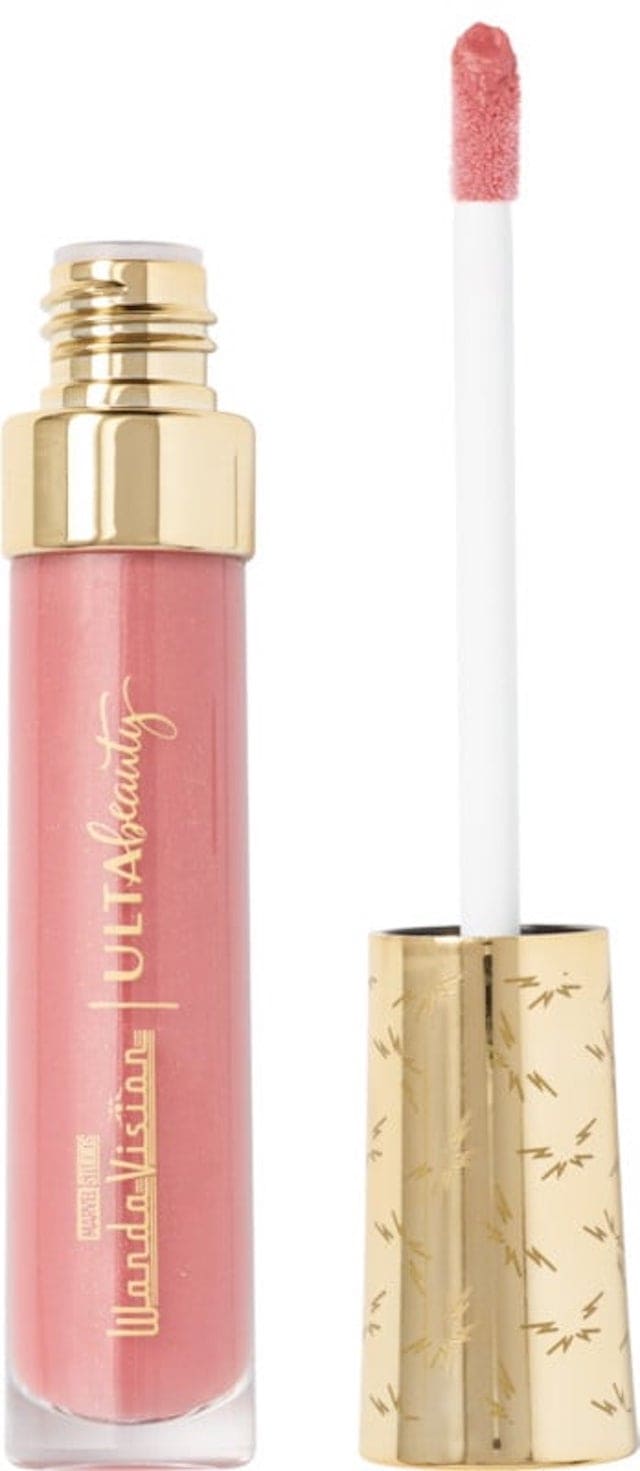 If you love lipglosses be sure to pick up this gorgeous light pink shade. I personally don't love the sticky feel of lipgloss, but this color is the perfect pink for any occasion!
Jelly Gloss and Lip Balm Set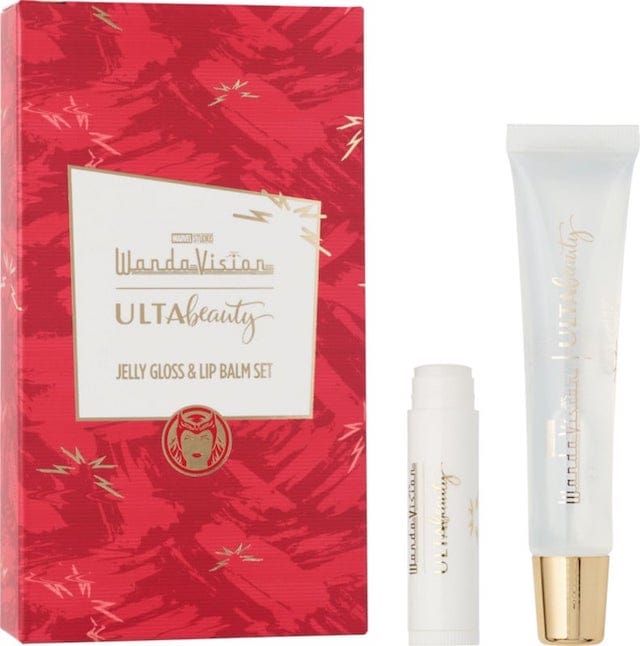 If you want to add a little shine and moisture to your lip color this is the set for you! The clear gloss is perfect to add a touch of shine to any matte lipstick, or just use the lip balm all by itself if your lips are drying out.
Eyebrow Kit
This kit has everything you need to keep those brows looking spiffy. The kit comes with a double ended brow crayon, a sculpting gel, a doubled ended brush and spoolie, and a highlight pencil.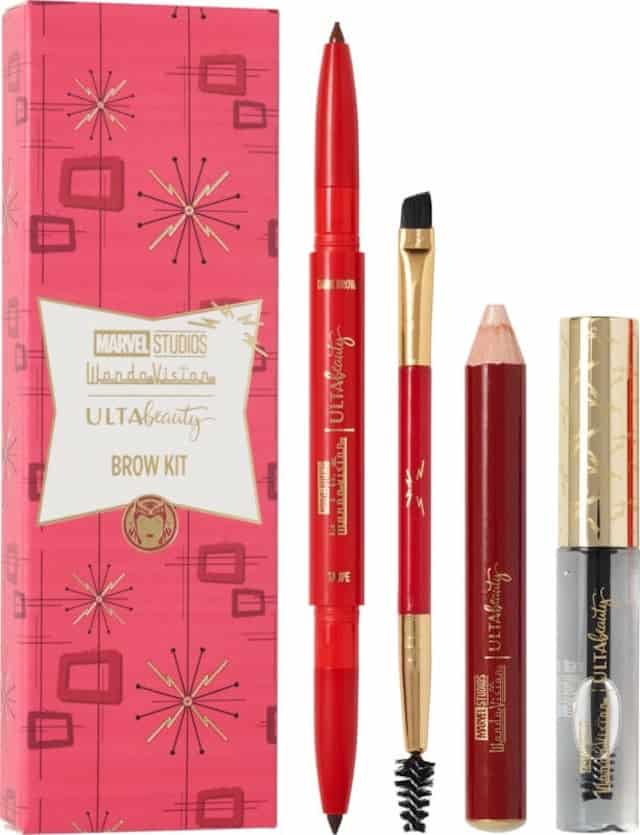 The only negative with this kit is the brow crayon colors will not be compatible for everyone (especially blondes).
The Wanda Vision Makeup Collection Launches at Ulta on March 14th!
Are you excited for this new collection? Do you plan on purchasing any of the products in this set? Let us know in the comments below or on Facebook!
-Christina