LATEST VIDEOS
Subscribe to my Youtube!
JUST MOUSING AROUND - LIVE!
Would you pay $18 for this? The strangest B mode attraction experience in a Disney park.
R2-D2 makes a surprise appearance in Star Wars Galaxy's Edge!
We've fallen in love with "Baby Yoda" since Disney+ first aired The Mandalorian. Check out the latest Baby Yoda merchandise available. Pre-orders sell out quickly so take advantage of these deals now.
Set after the fall of the Empire and before the emergence of the First Order, Star Wars: The Mandalorian on Disney+ follows the travails of a lone gunfighter – and his unlikely charge, Baby Yoda – in the outer reaches of the galaxy far from the authority of the New Republic.
Who could have imagined the following "Baby Yoda" would have? People that aren't even Star Wars fans swoon for him! I must admit, I'm one of the loyal fans to this adorable creature!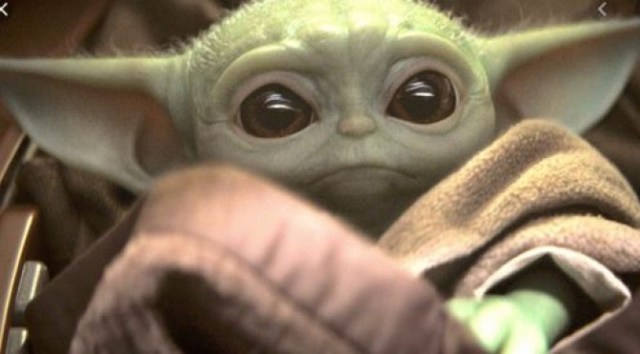 Recent Baby Yoda Merchandise
Fans of Baby Yoda are going crazy for this adorable creature. Retailers are scrambling to provide as many products as possible for our Baby Yoda fix. Target recently introduced a line of Baby Yoda merchandise.
This month alone, there have been several Baby Yoda items introduced. Loungefly has given Baby Yoda a new look in their mini-back pack, and Build-A Bear created a wildly popular Baby Yoda plush. The Build-A Bear was so hot it's currently sold out, but I'm sure they will restock as soon as possible.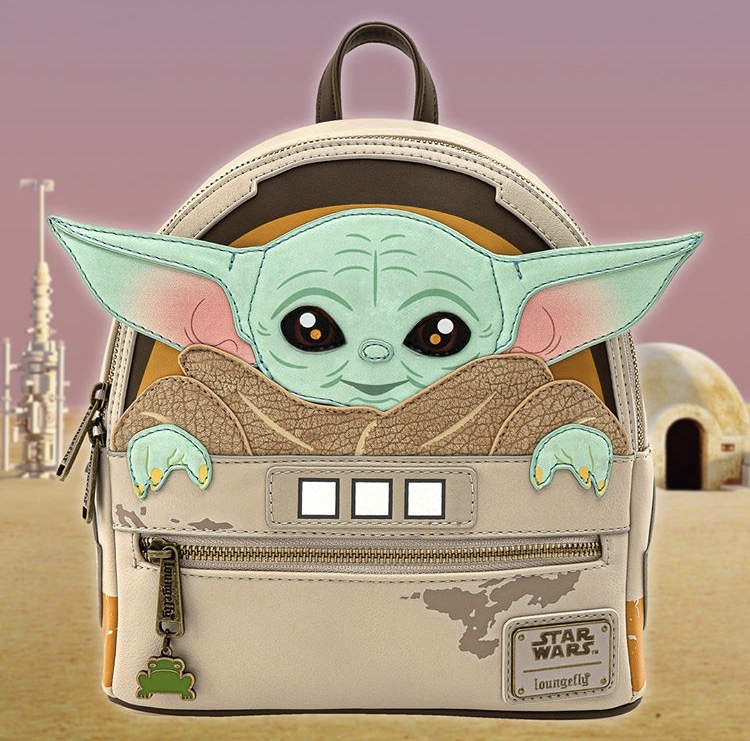 Tervis also offers a variety of Baby Yoda items. Check out details in my recent article.
Don't forget you need to search for "The Child" since that's Disney's official name for him. They seriously need to give into fans and just change his name to "Baby Yoda."
There's a wide variety of items and price ranges for Baby Yoda merchandise. Check out a few of the offerings below.
Poster Book
Shopdisney.com is adding all of the Baby Yoda merchandise they can! One of the more affordable items is a poster book that retails for $7.99.
The poster book features 16 double-sided pull-out posters, and contains colorful artwork of the Mandalorian, Baby Child, and more! The posters each measure 10 3/4" H x 7 3/4" W, and are printed in the United States.
This item is available for purchase now.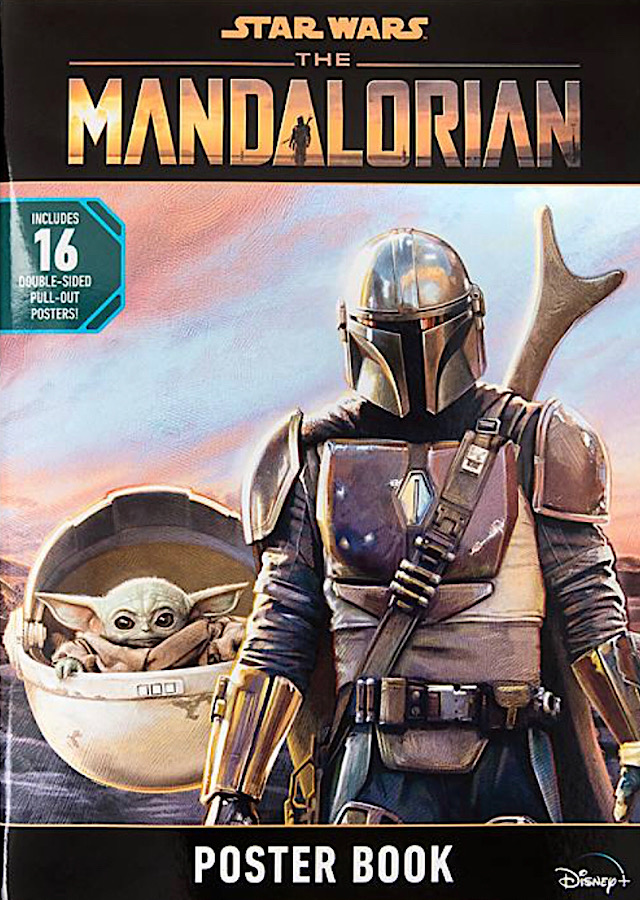 Baby Yoda Canvas
Shopdisney.com also offers a premium wrapped Canvas print of Baby Yoda. Made from an additive-free cotton-poly blend, and a special ink-receptive coating to protect printed surface from cracking, and add longevity to life of canvas.
The sizes range from 16.6″ x 11″ for $79.95 to 60″ x 40″ for $540. This canvas is available for purchase now on shopDisney.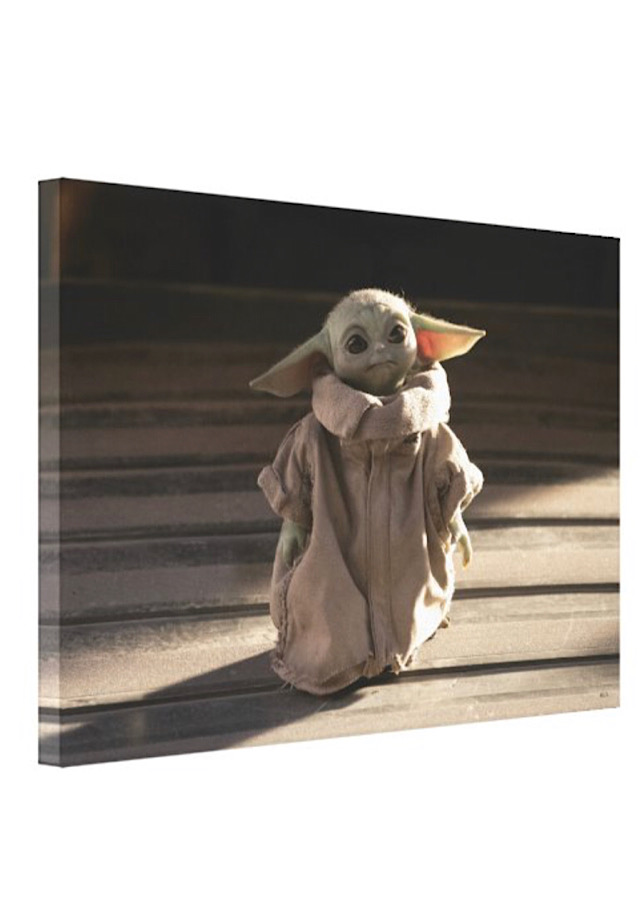 Paper Giclee: Reaching Out Pre-Order
The Mandalorian Reaching Out by Craig Skaggs Paper Giclee Art Print is available for pre-order on entertainmentearth.com. This unframed limited edition of 150 hand-numbered pieces measuring about 19-inches wide x 13-inches tall (image 14 7/10-inches x 11 1/2-inches) and including a certificate of authenticity.
This art print is available for pre-order now, and is expected to be available in May 2020. Reaching Out retails for $88.99, and will arrive rolled and packaged in cardboard tube. Website states giclee will be shipped free.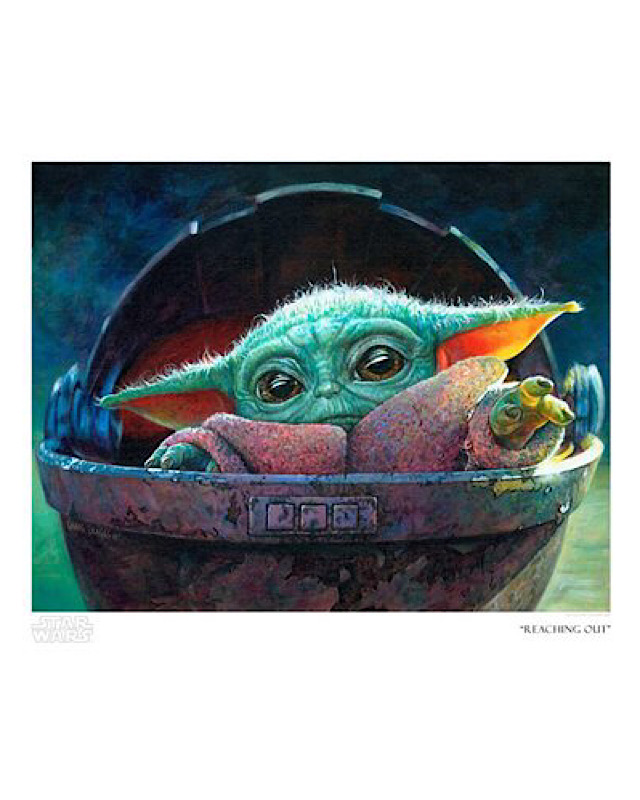 An Unlikely Friend Giclee Art Print Pre-Order
Also being offered for pre-order on entertainmentearth.com is the An Unlikely Friend by Christopher Clark Canvas Giclee Art Print. According to the website, this will be available in May 2020.
The print is hand-numbered with a limited edition of only 95. Each print also features the artist's authorized signature, and comes with a certificate of authenticity.
It measures approximately 22-inches wide by 16 1/2 inches tall, and retails for $249.99. Website states that print ships for free in a rolled cardboard tube.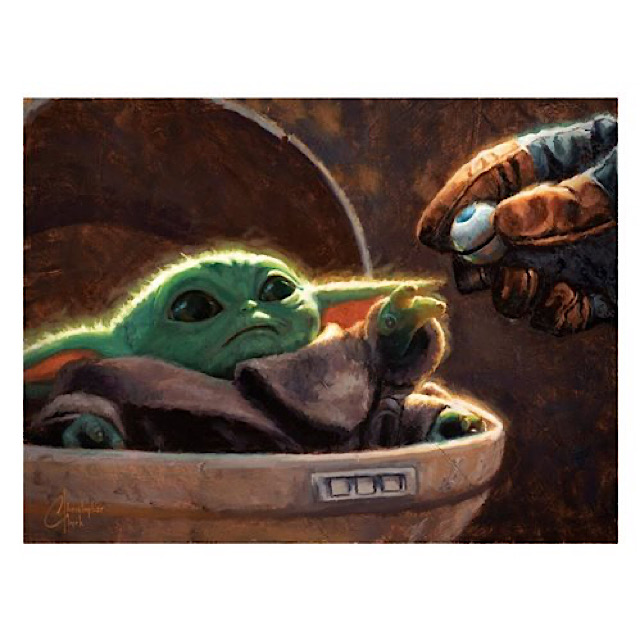 Baby Yoda Carriage Crossbody Purse Pre-Order
I love the carriage silver sparkly design on this crossbody purse. It resembles the floating pod where Baby Yoda spends his time. It features an adjustable grade strap, and includes a small keychain of Baby Yoda that can easily be attached and detached.
Per entertainmentearth.com, the crossbody purse is for sale now for pre-order now at $69.99, and will ship in September 2020. According to the website, you won't be charged until the purse ships.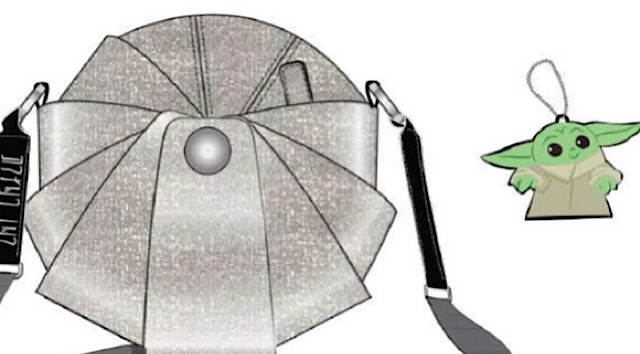 Baby Yoda Figural Backpack Pre-Order
This backpack from earthentertainment.com is available to pre-order now, and will also ship in September 2020. The varying textures of fleece and fabrics make this a unique item.
I especially love the glittery pink ears, and the tiny green hands that look like they could reach out to touch something at any moment. The figural backpack retails for $69.99.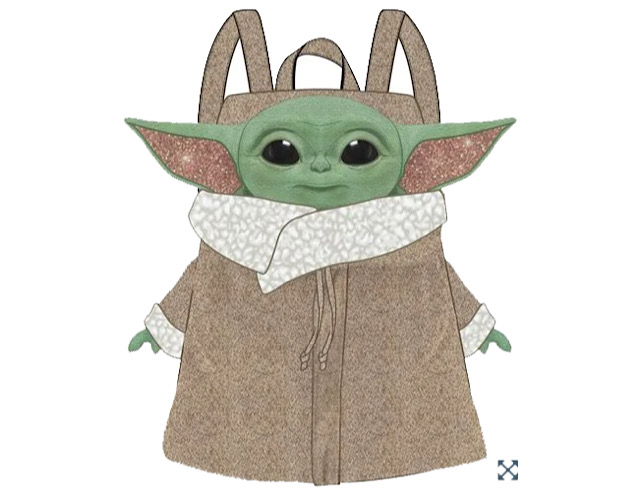 Baby Yoda Species Unknown Crossbody Purse Pre-Order
The Star Wars: The Mandalorian The Child Species Unknown from entertainmentearth.com features Baby Yoda. There is a small frog on the backside of its hand and has the saying "Species Unknown" on the backside of the backpack.
Danielle Nicole designed this crossbody, which is my favorite of the bunch. My favorite part of this person is the way Baby Yoda is peeking out ever so shyly!
The back of the bag features the printed words "species unknown" in a far away language, which is another cool feature. This bag retails for $59.99. It can be pre-ordered now for a September 2020 shipment.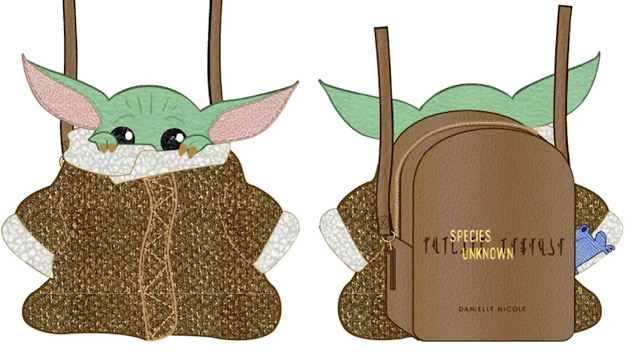 Other Items Available for Pre-Order
Entertainmentearth.com currently lists a large variety of Baby Yoda items in addition to the purses and artwork described above.
One of my favorites is the Stop Touching Flat Magnet which recalls a tender moment from the Disney+ TV series when Mando finds "Baby Yoda" toying with and removing a knob from the control console of his ship.
It also states the words "Stop Touching Things" and measures approximately 3 1/2-inches wide x 2 1/4-inches tall. At $3.99, I've gotta' get one of these for my collection!
This wonderful magnet will ship August 2020.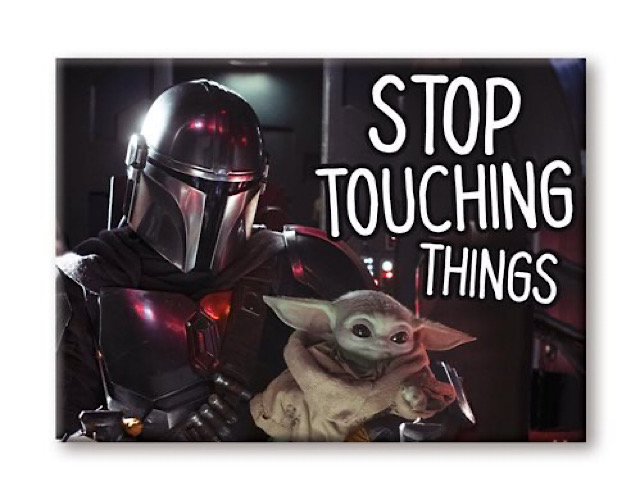 Another interesting item for sale at earthentertainment.com is Baby Yoda cufflinks. They are beyond adorable! These are sure to add whimsy to any outfit.
The cufflinks retail for $69.99, and are available for pre-order now. The website states they will ship in May 2020.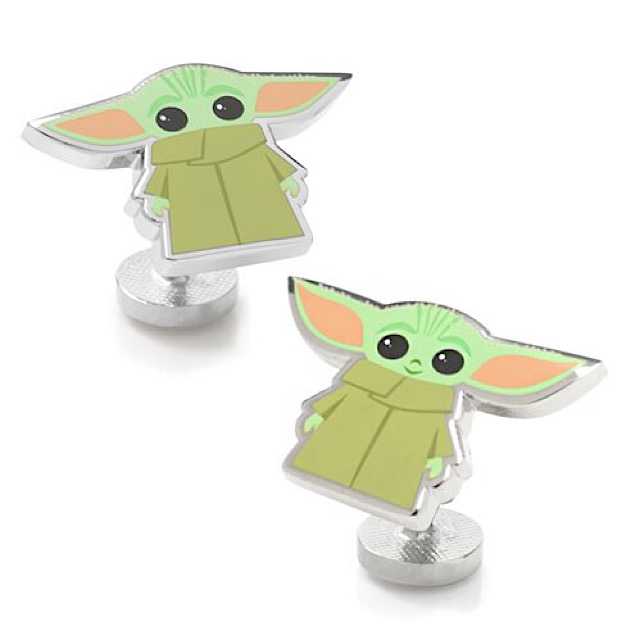 Which one of these is your favorite? Are you planning to purchase any of this new Baby Yoda merchandise? Comment and let us know your thoughts.
Are you planning a vacation? Reach out to our trusted travel agency sponsor Authorized Disney Vacation Planner
Mouse Class Travel
!