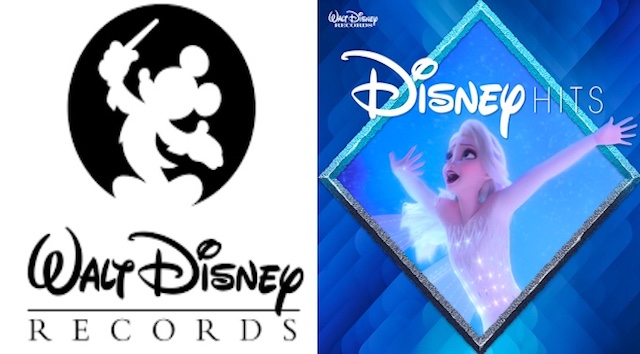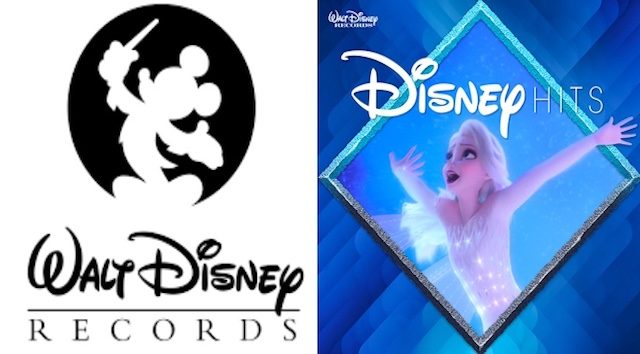 I am sure many of you at home are going a little bit stir-crazy right now. It is hard to stay at home all day and find fun things to do to keep the family occupied. Couple that with not being able to visit the Disney Theme Parks and things can go downhill pretty quickly. Luckily, Disney has been gifting us with lots of ways to bring the magic of Disney into our very own homes.
Whether your baking at home and trying out the Disney Parks Churro Recipe or Disney-fying your house, it is way more fun to "whistle while you work!" Many of our writers love to listen to the Sorcerer Radio app while they do work or play with their kids. I know it runs constantly on my phone throughout the day.
There is just something about Disney tunes that brightens the mood. I recently received an email from Walt Disney Records with more ways to listen to my favorite music and had to share!
There are 5 different playlists to choose from, and you can find them on a variety of streaming services such as Spotify, Apple Music, Amazon Music, Pandora, YouTube, and YouTube Music.
Disney Hits- The Happiest Playlist on Earth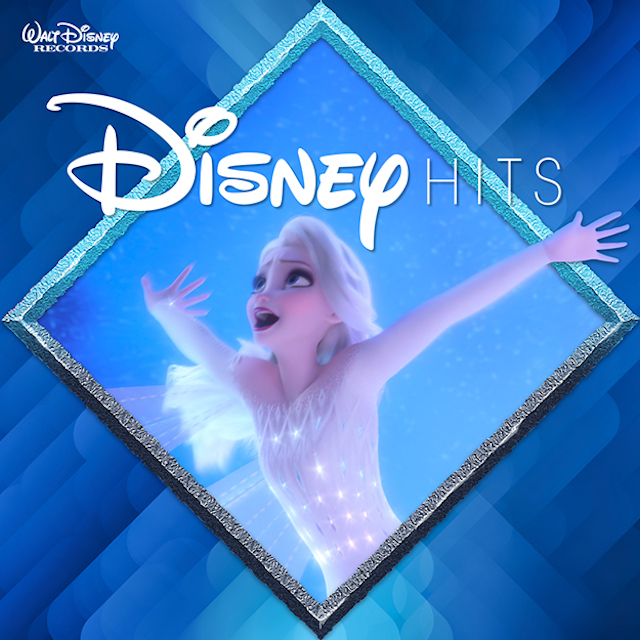 This channel has a variety of song selections from all of your favorite Disney films. You will find fan favorites such as "Part of Your World" from 'The Little Mermaid' and "How Far I'll Go" from 'Moana.'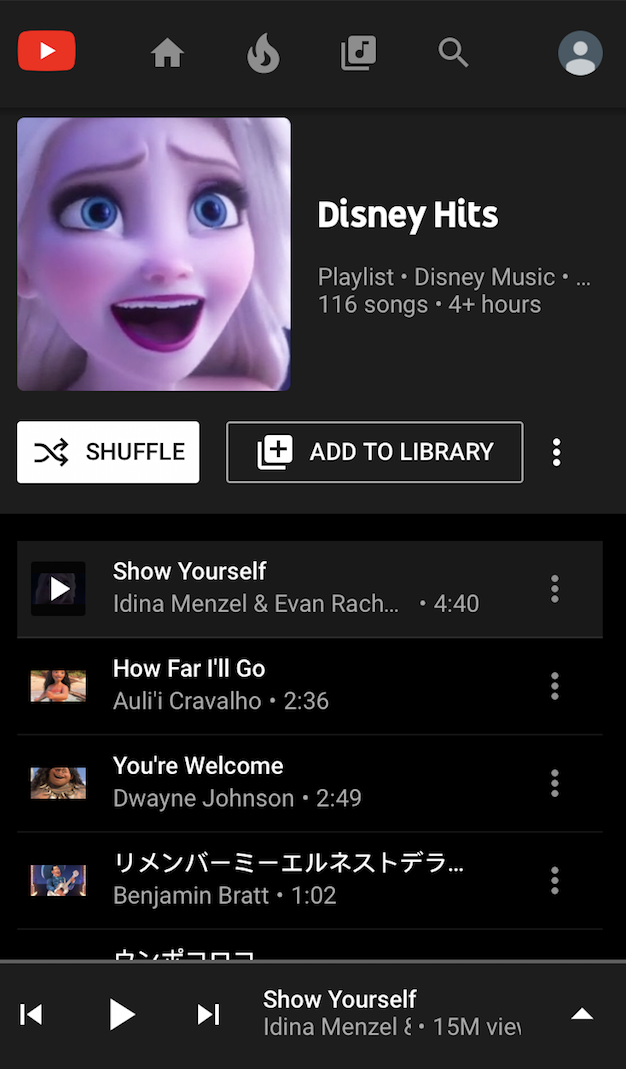 You'll also find pop songs that were featured in Disney Movies, such as "Life is a Highway" by Rascal Flatts, "Zero" by Imagine Dragons, and "Beauty and the Beast" performed by John Legend and Ariana Grande.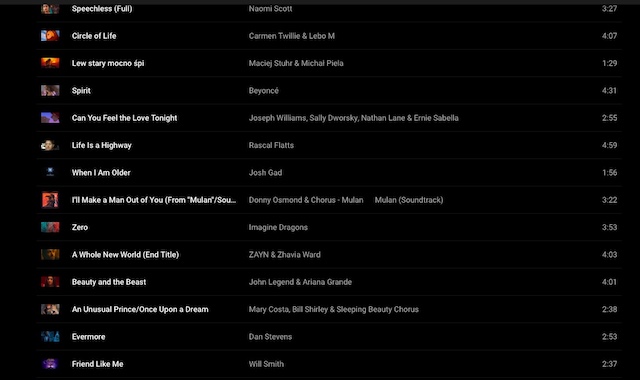 There is a great variety of songs to please the whole family on this playlist for sure!
Disney Sing-A-Longs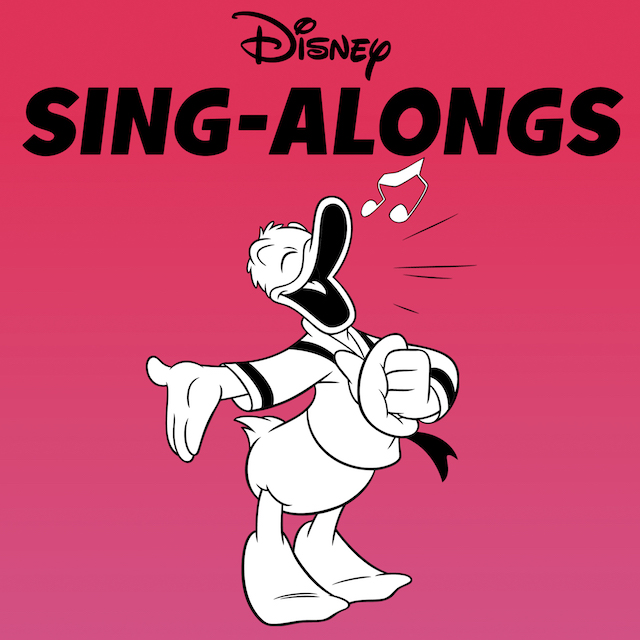 Who doesn't love Disney sing-a-longs? I mean, I probably turn every Disney song into a sing-a-long anyway (we all know the words by heart, admit it!).
If you are looking for something fun to do with the kids who are just beginning to commit these beloved tunes to memory though, look no further than this channel!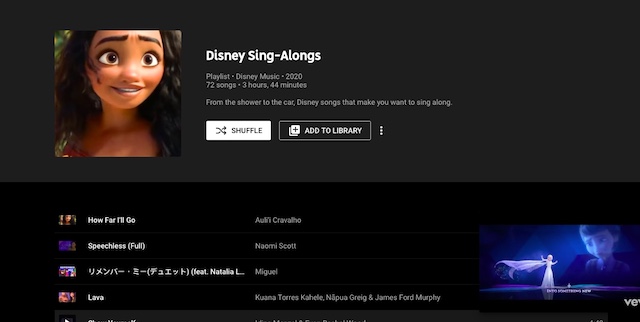 There are lots of great songs like the girl-power pop ballad "Speechless" from the Live-Action Aladdin movie, and of course "Show Yourself" from 'Frozen 2'!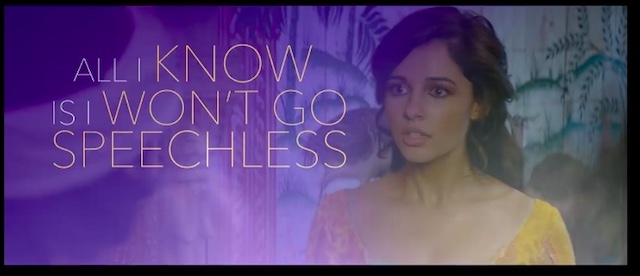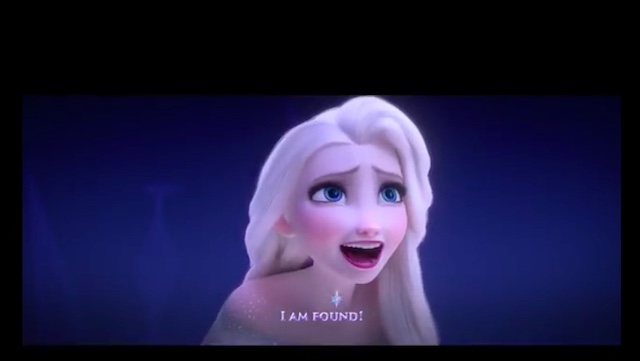 With such a great collection of hits, you can belt out all your favorite Disney songs for hours!
Disney Storytime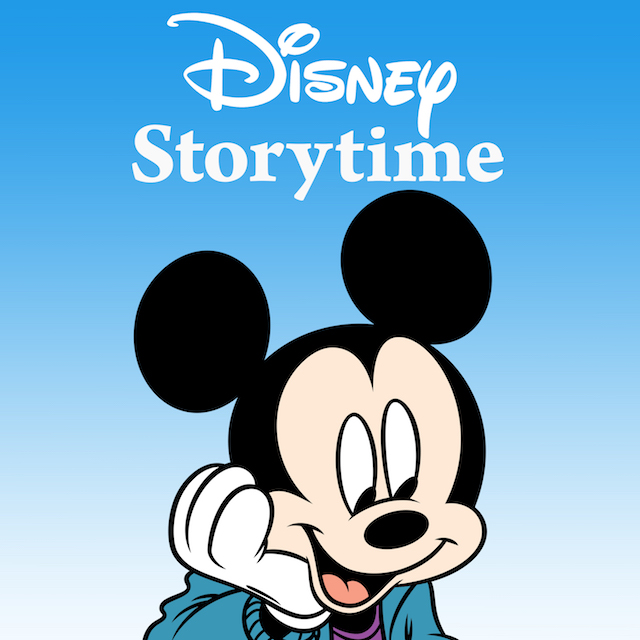 Disney has been giving us some awesome bedtime stories, read by some beloved celebrities like Josh Gad, John Stamos, and Ming-Na Wen. If you have watched all of these and are craving more, be sure to check out this playlist!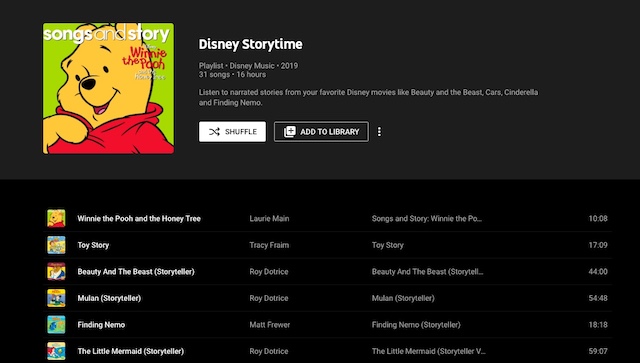 The Disney Storytime playlist has 31 stories from various Disney movies such as Mulan, Winnie the Pooh, Toy Story, The Hunchback of Notre Dame, Tangled, and much more! I noticed is that some of the stories are read by a celebrity who voiced a character in the movie.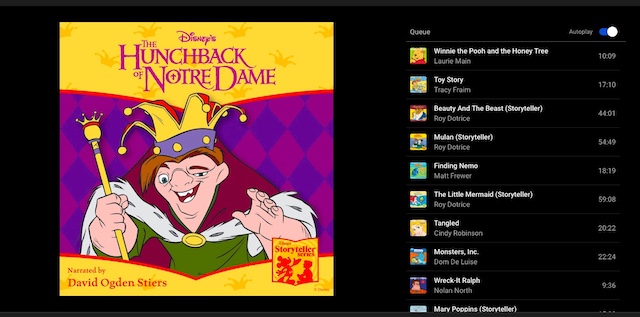 In the Lion King, for example, the story is read by the (now late) Robert Guillaume who voiced the character Rafiki. The Hunchback of Notre Dame is read by the late David Ogden Stiers who voiced the Archdeacon and also Cogsworth in Beauty and the Beast.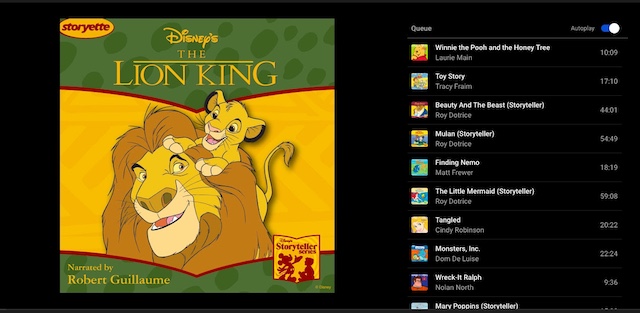 Another thing I love is that they also play some of the songs and sounds of the movie throughout the story. It truly is the full experience! Be sure to check out this playlist if your kids are looking for more stories.
Disney Piano Playlist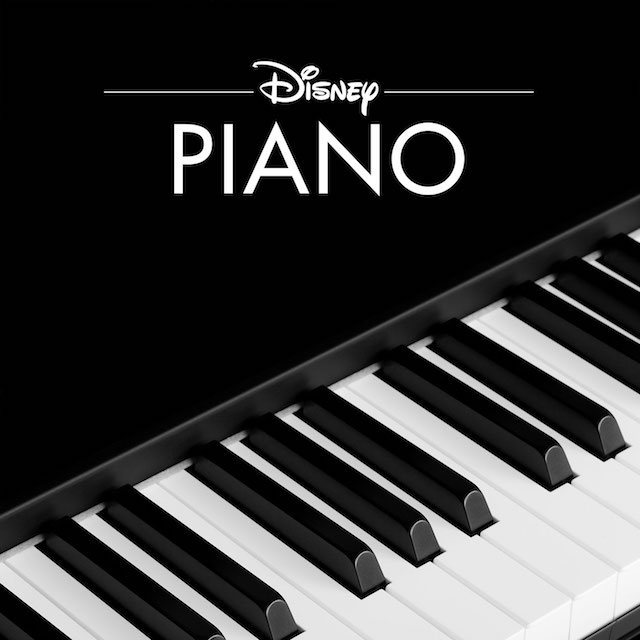 I think this one might be my favorite of all! There are tons of instrumental versions of your favorite Disney songs. I find the music to be very soothing. This would also make a pretty decent karaoke soundtrack.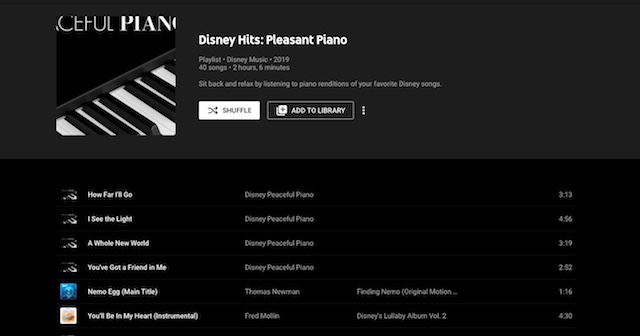 You can listen to songs such as "Let it Go" from 'Frozen', "I See the Light" from 'Tangled', "Can You Feel the Love Tonight" from the 'Lion King' and "You've Got a Friend In Me" from Toy Story.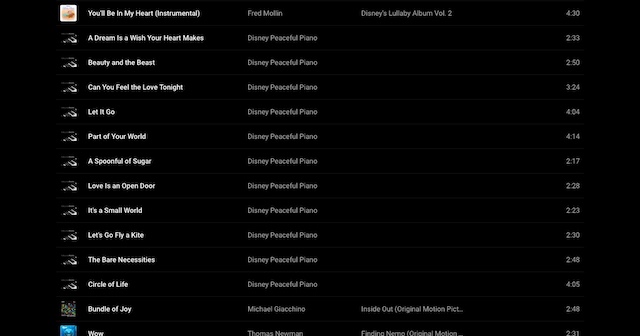 Turn this playlist on while you are working from home for some calming background music, or crank it up and have a karaoke party with your family!
Disney Score To Study To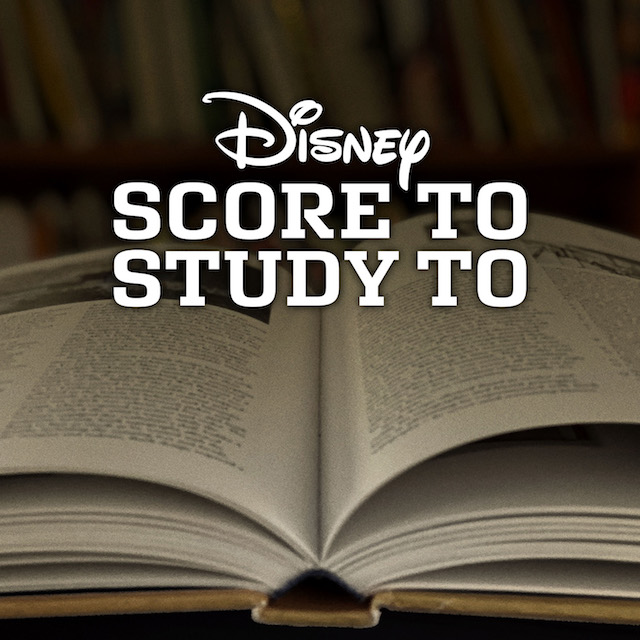 This playlist is great for those who need to work from home or for the kids doing online classes and just need some white noise to kill the silence.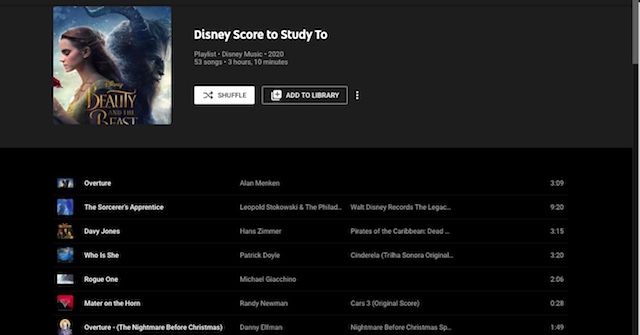 Songs with words can be distracting (especially when they are Disney songs we want to sing at the top of our lungs) so this playlist provides all instrumental arrangements from famous Disney movies. You'll find scores from Pirates of the Caribbean, the Live-Action Beauty and the Beast, Rogue One, and Zootopia to name a few.
I am so glad that I now know about these playlists! I can't wait to add them to my Disney music rotation. After all, isn't everything better with a little Disney magic? You can listen to all of the playlists HERE!
Did you know about these music playlists from Walt Disney Records? Do you plan to listen to them during your quarantine? Let us know on our KtP Planning Crew page and on our Facebook page.
-Christina