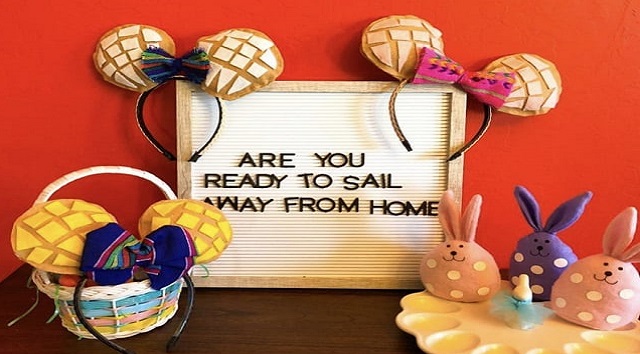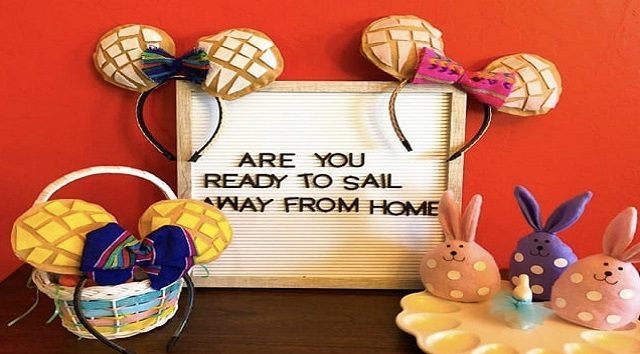 I have always loved to decorate, and as an avid Disney fan, it's not surprising to know that our home decor is "Disneyfied."
I often post pictures on my Instagram page of the latest and newest decor that I have put up in my home depending on the seasons of the year. Along the way, I have gotten creative at crafting.
Seasonal Decor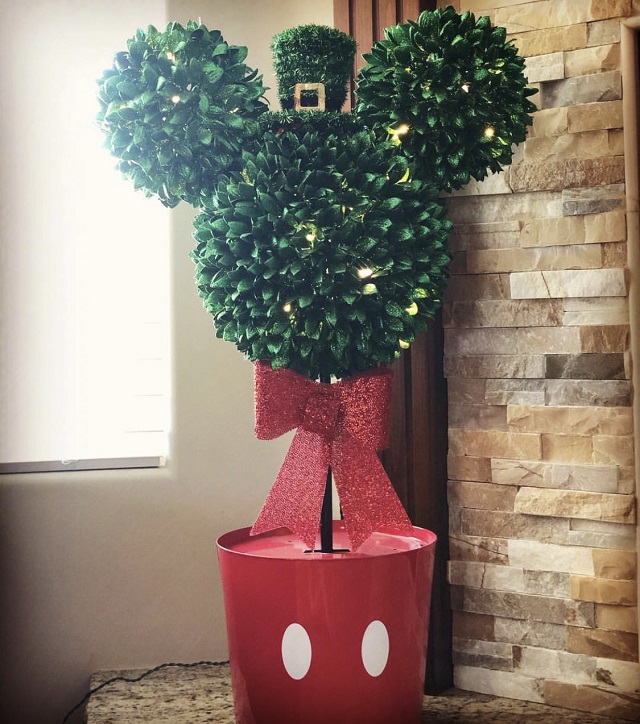 The topiary above is a great example of taking what you already have and just adding a focal point to making it look a little bit different. I added a leprechaun that I purchased at the Dollar Tree. Then, I added it to my Mickey Topiary that I purchased at Lowes during the holiday season!
Viola! You are ready for Saint Patrick's Day!
A while ago, I had posted a picture of my living room with my Disney decor inspired from our trips to Walt Disney World. A friend had posted, "instead of going to Disneyland, I'm going to go to your house."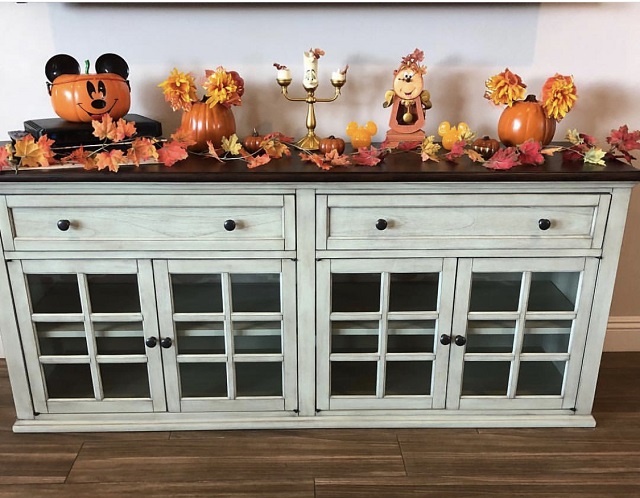 The pumpkins above were a craft that I made a couple years ago by purchasing a bigger sized pumpkin, two smaller pumpkins, and some fall flowers from Michaels.
I first took my glue gun and glued the flowers to the smaller pumpkins. Then I attached two toothpicks to the smaller pumpkins for the ears and pressed them into the bigger pumpkin on each side!
Interior Decorating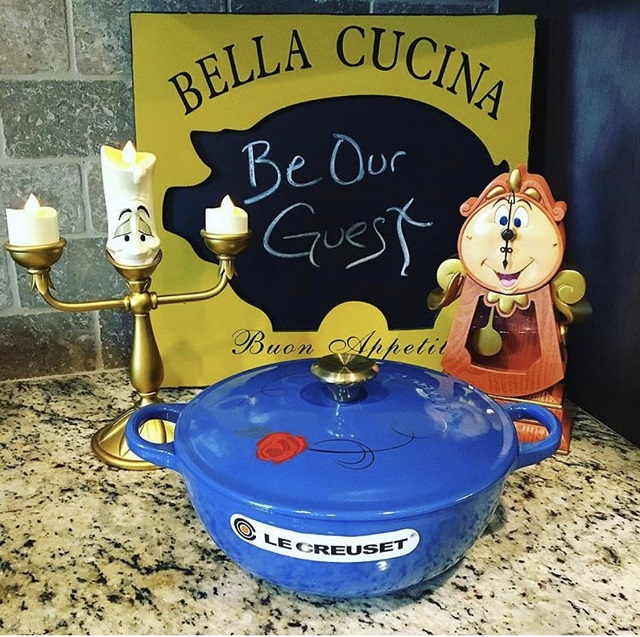 To be honest, my dream job at the Walt Disney Company would be an interior decorator on a ride. I always find myself more fixated on the details on rides than the ride itself because I secretly wish that it was my job!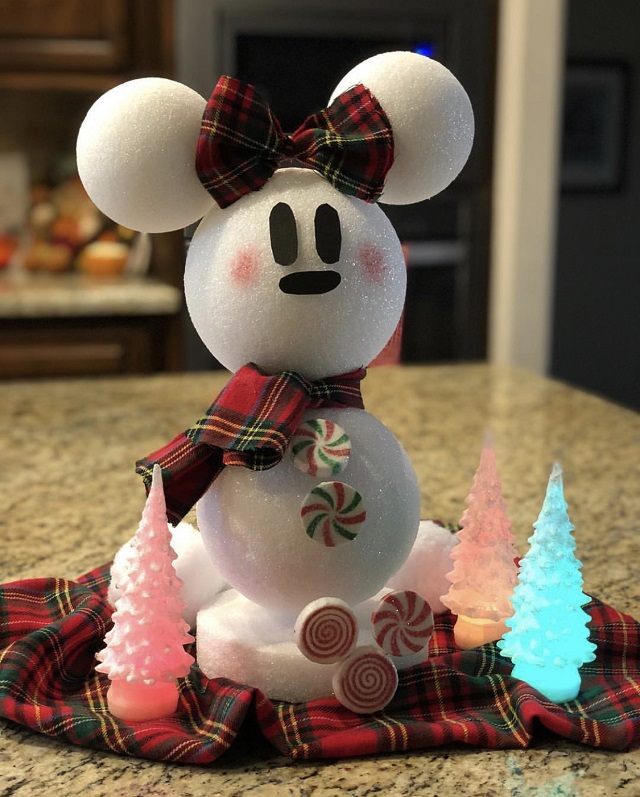 Therefore, I thought it would be fun to share some of the decorations around my home. I would also like to share some of the crafts that I have made along the way such as my Minnie Snowman, which was inspired by the adorable holiday merchandise at Tokyo Disneyland!
Dining Room
When I look around our dining room and entry room to our home, I am automatically reminded of Disney World. The two middle paintings on my red wall were purchased in Disney Springs at the Underground Gallery.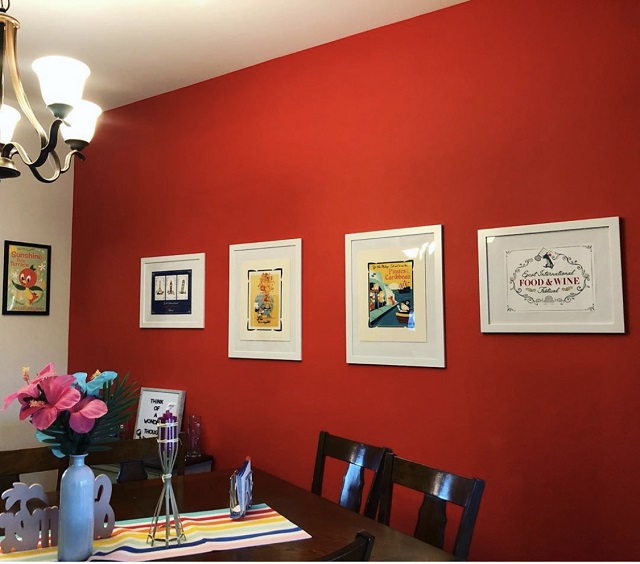 Believe it or not, but the two Food and Wine pictures that I framed are placemats that came in a pack from the Epcot International Food and Wine Festival. I purchased the pack at the Character Outlet Warehouse for $4.99.
If you want to learn more about the amazing Character Warehouses in Orlando Florida, make sure to check out this great article here!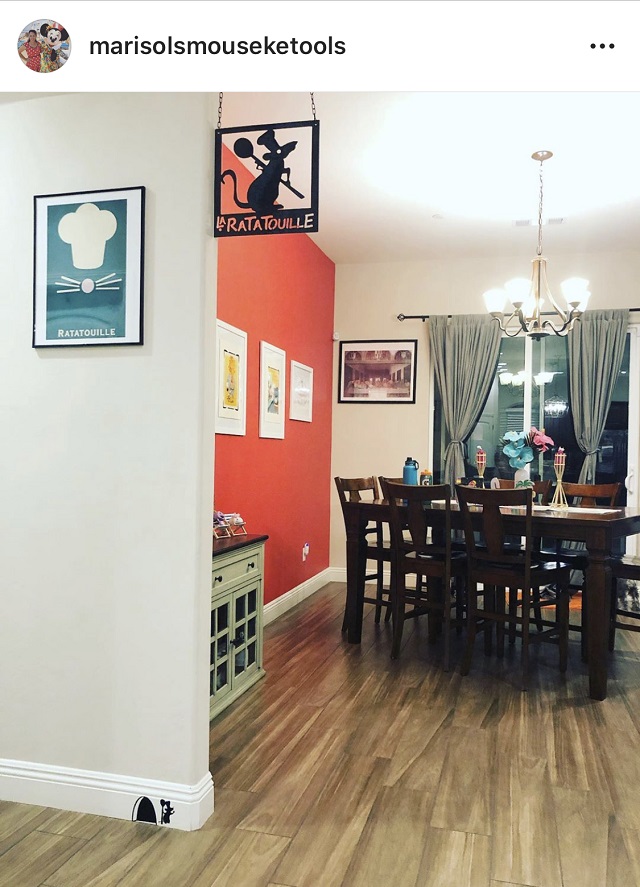 I can't say that I've always been a big Ratatouille fan since the movie first came out. However, within the last couple of years, that little rat has won its way into my heart. and I cannot get enough of him.
Isn't the keyhole of Remy holding his spoon just the cutest? I found this decal on Etsy for only a couple of dollars!
I came across the iron-made Ratatouille sign while browsing on Etsy one day, and I had it sitting in my cart until finally one day I clicked "purchased." The rest is history. The chains are from Home Depot and the bracket is from Hobby Lobby.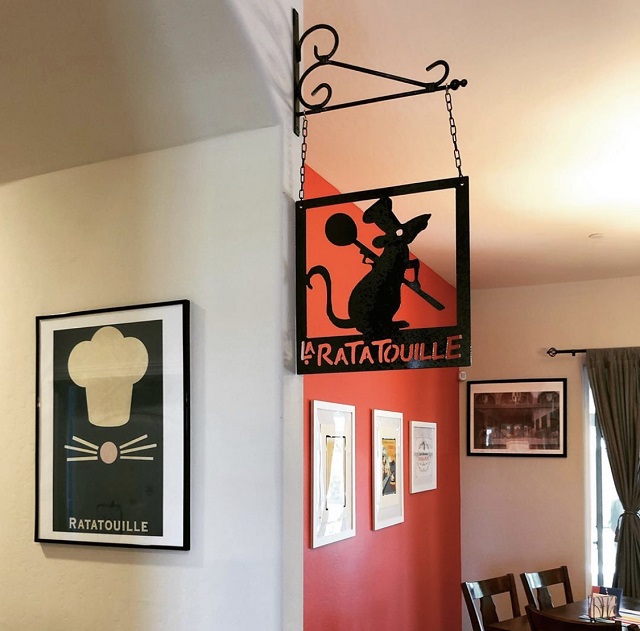 I LOVE how it came out! I call it my focal and conversational piece in my home. The framed Ratatouille print on the wall is simply a print that I found on the internet and had it printed out and placed in a frame.
However, my pièce de résistance was gifted to me by my husband this past Christmas.
During our trip to WDW in November, I came across the same poster that I had seen at D23's unveiling of the Epcot Overhaul Project, and I kept telling everyone (Cast Members and the Imagineers at D23) that they should sell the posters!
All 40 of "The Epcot Experience" attraction and pavilion posters are available to see at Epcot located in the Odyssey Events Pavilion. Click here to read more about this amazing experience!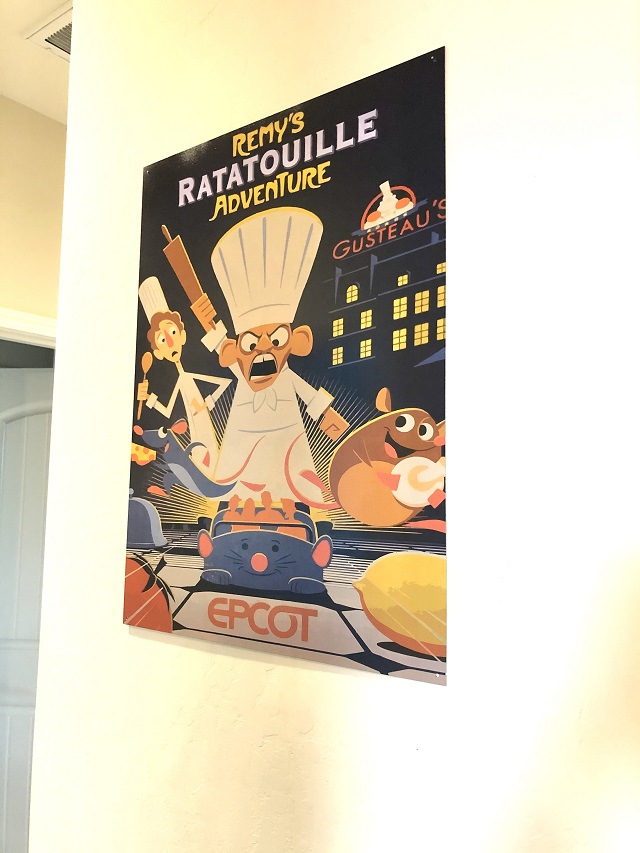 I noticed that my husband took a picture of the poster, but I did not think anything about it and low and behold on Christmas morning I awoke to this beauty! He had asked his friend if he would print the poster on metal.
Amazing, right?
The other area of our dining room would be where I tend to place seasonal decorations complete with a word board that I change on a monthly basis. During the winter it transforms into our hot cocoa station!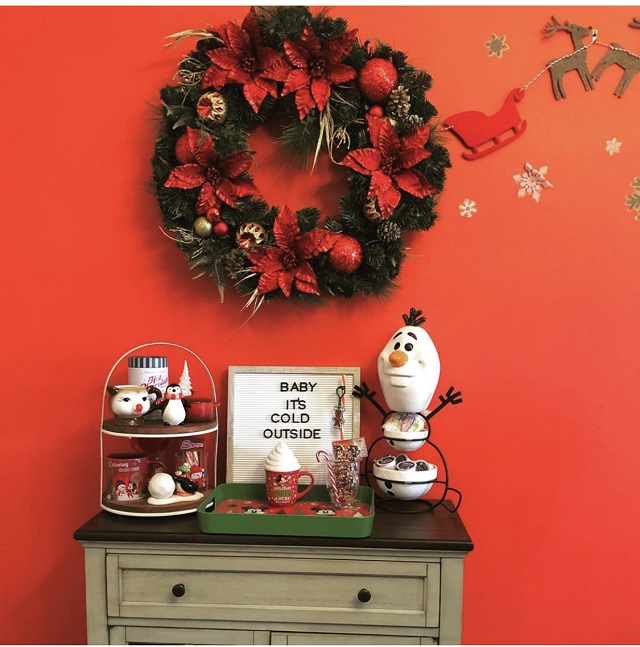 In the springtime, it tends to turn into a countdown to the last day of school – complete with decorations of where we will go for summer vacation. Notice the "concha" sweetbread Mickey ears that I made for our cruise… talk about a DIY craft!
Disney now sells them at Disneyland and at Epcot in the Mexico Pavilion!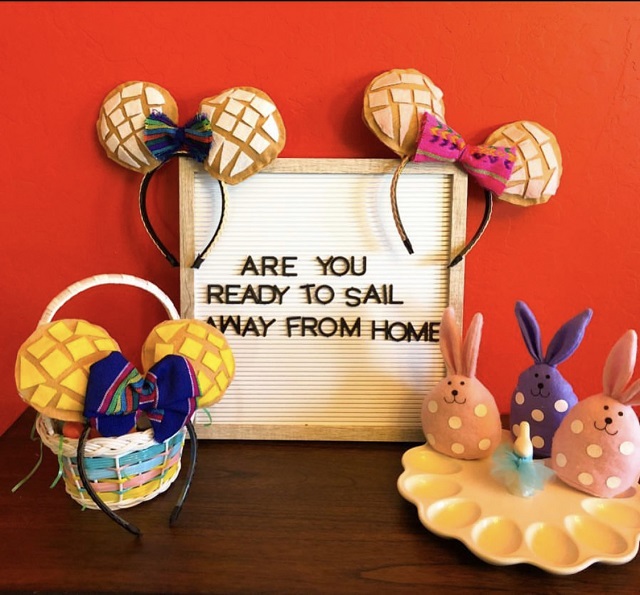 Entry Room and Kitchen
Upon entering our home, you are greeted with a big poster from Epcot's Flower and Garden Festival. I display this poster year-round, except during the Christmas season when I display a Mickey wreath in its place.
What I love about the entry way the most is how the rustic looking poster itself ties in perfectly with my bench that I won at our kid's auction during their Fall Harvest Festival. Isn't it incredible. A parent made it!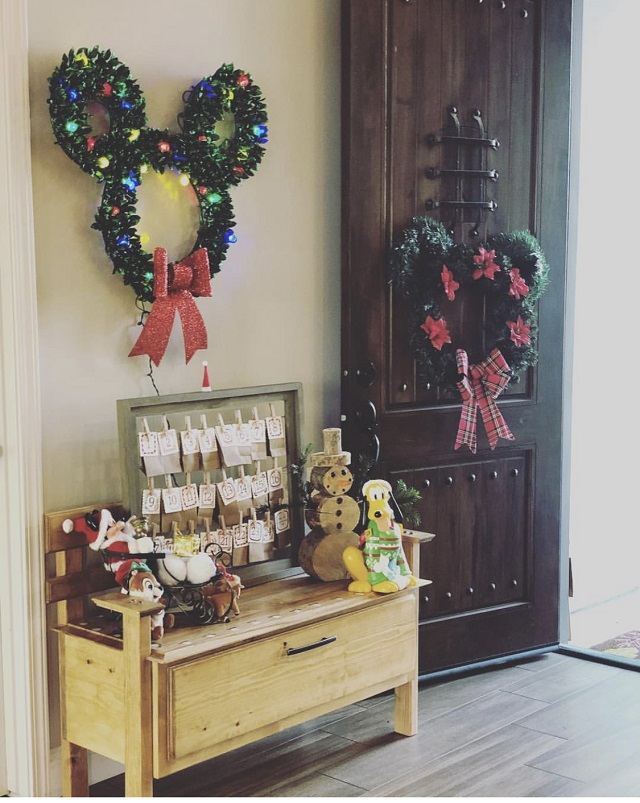 As far as our kitchen, I have kept with the Ratatouille theme right by the stove and oven as seen through this adorable print that I also found online and printed on my computer.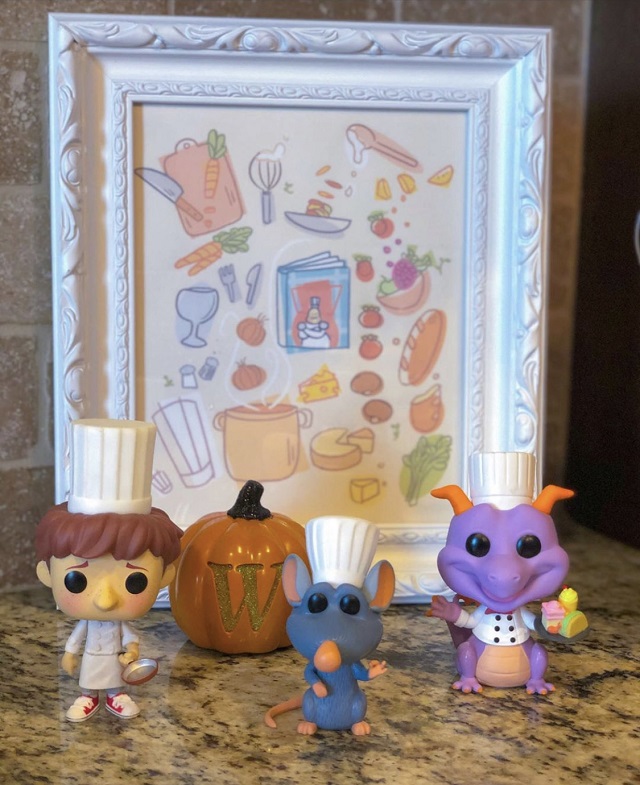 The Remy and Linguini Funko Pops were purchased online, whereas the Figment Funko Pop is from Epcot's Food and Wine Festival from 2019.
As far as decorations on my main kitchen counter, again, it varies with the time of year and the different seasons. For example, here is my set up from this past Halloween.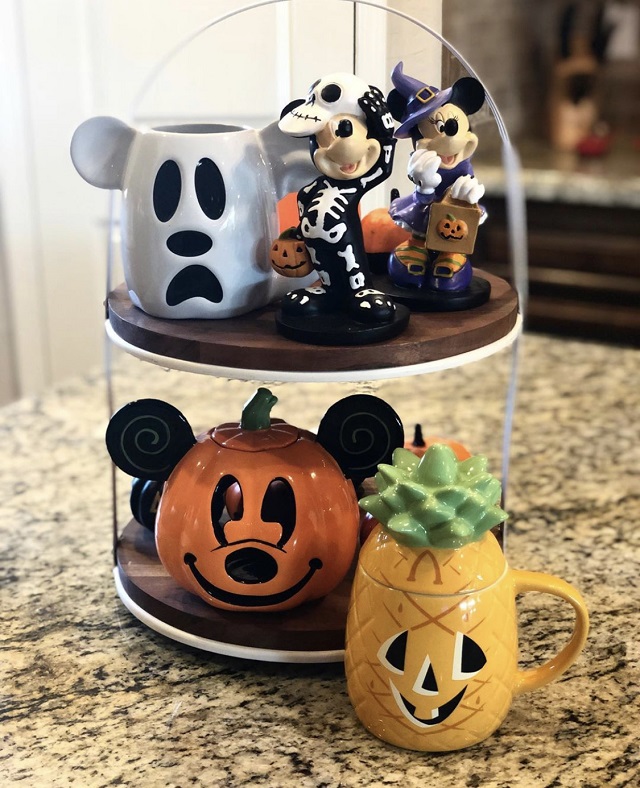 One of my favorite settings was when Hurricane Dorian canceled our plans of visiting Epcot's Food and Wine Festival in late August. I joked that I brought Food and Wine to us here in California!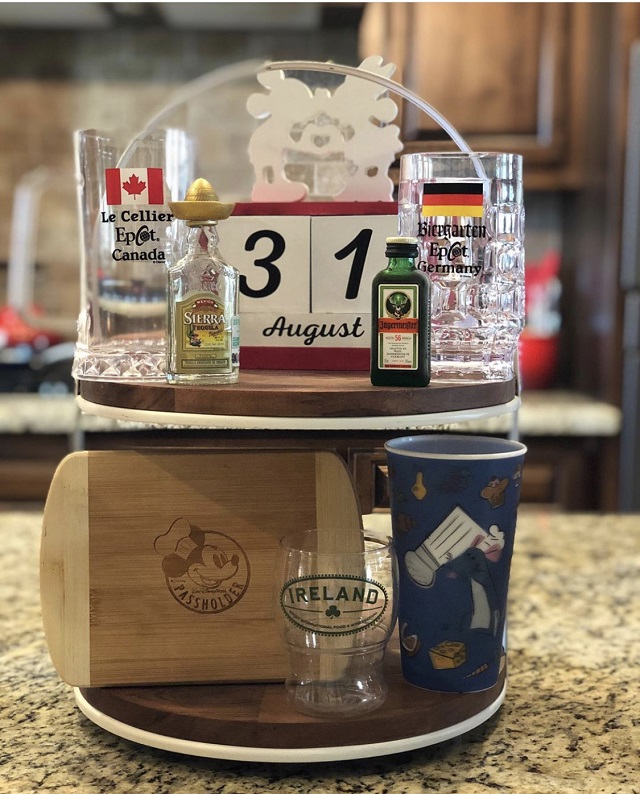 Bathroom
The theme inside my bathroom is sailing on the high seas with Captain Mickey himself! I love to display the various toiletries that we have collected throughout our voyages and stays at WDW.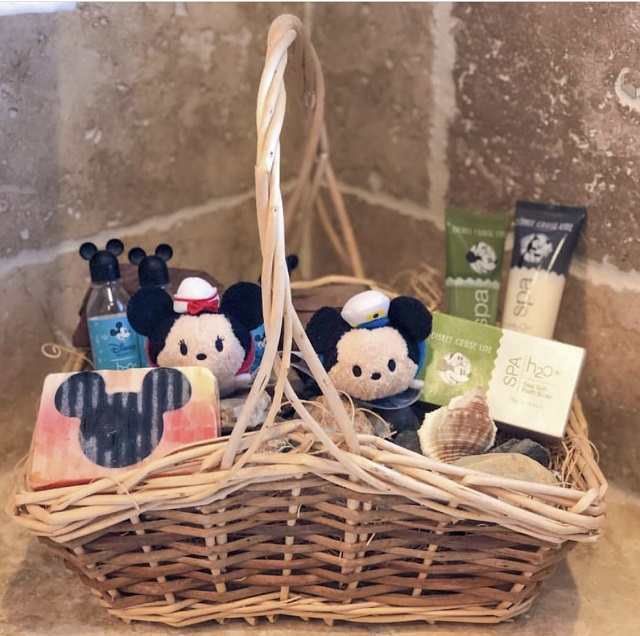 The rest of the decor in the bathroom includes the royal blue and white colors from the prints on the wall down to my bathroom floor mats!
I have quite a love for fresh flowers at home, both in my bathrooms and in the dining room. Of course, I have to incorporate a hidden Mickey decoration into them!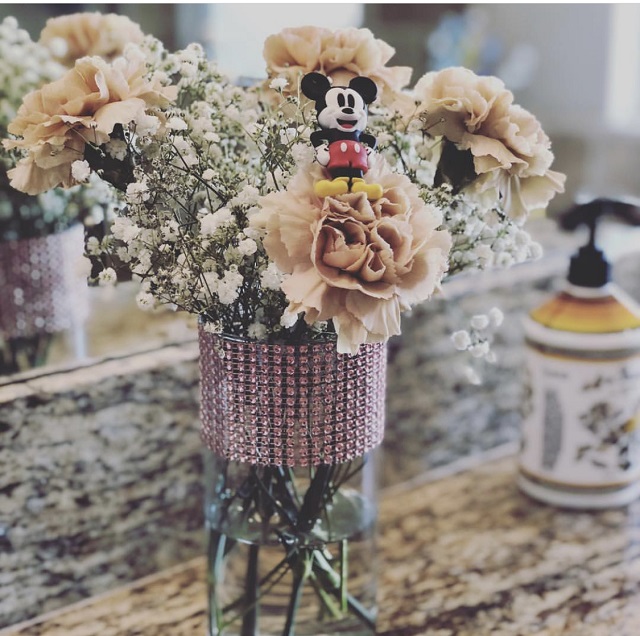 Office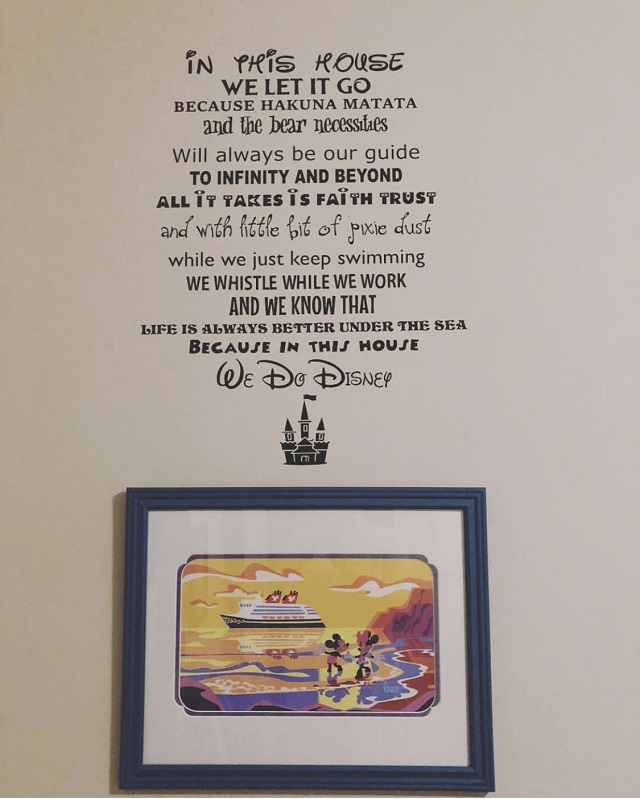 If there is one room in our house that I visit quite frequently throughout the day, it would be my office. Since I do not have an office space at the college I teach at, I thought, "Hey, why not spruce mine up at home!"
Isn't our "In this house…" pretty awesome? It was the first thing that went up when we first moved into our home almost four years ago! It was also one of few things that took HOURS to accomplish as each and every individual letter had to be individually added to the wall…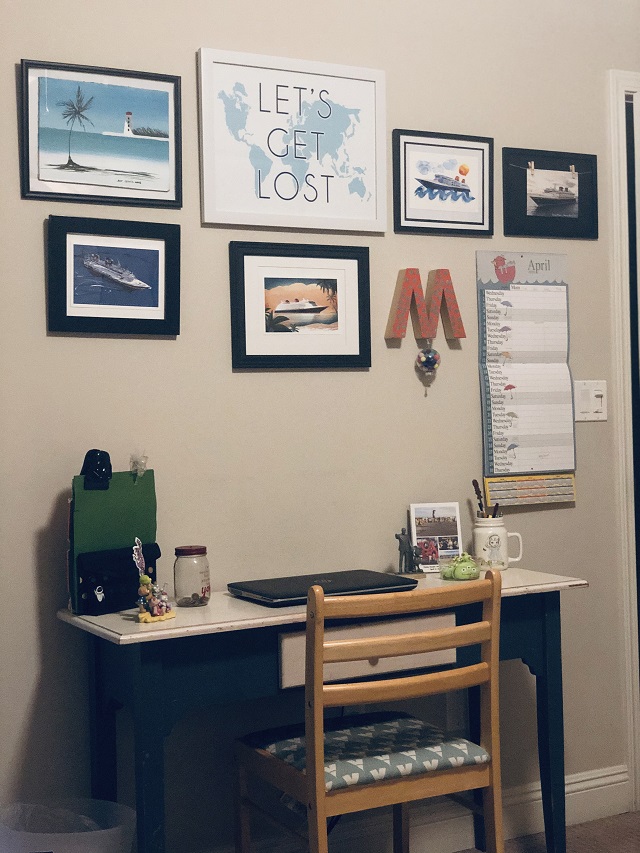 The prints that I have displaying the different Disney Cruise ships are prints that are mailed to guests after they have set sail on the high seas with Captain Mickey. These prints are right above my desk.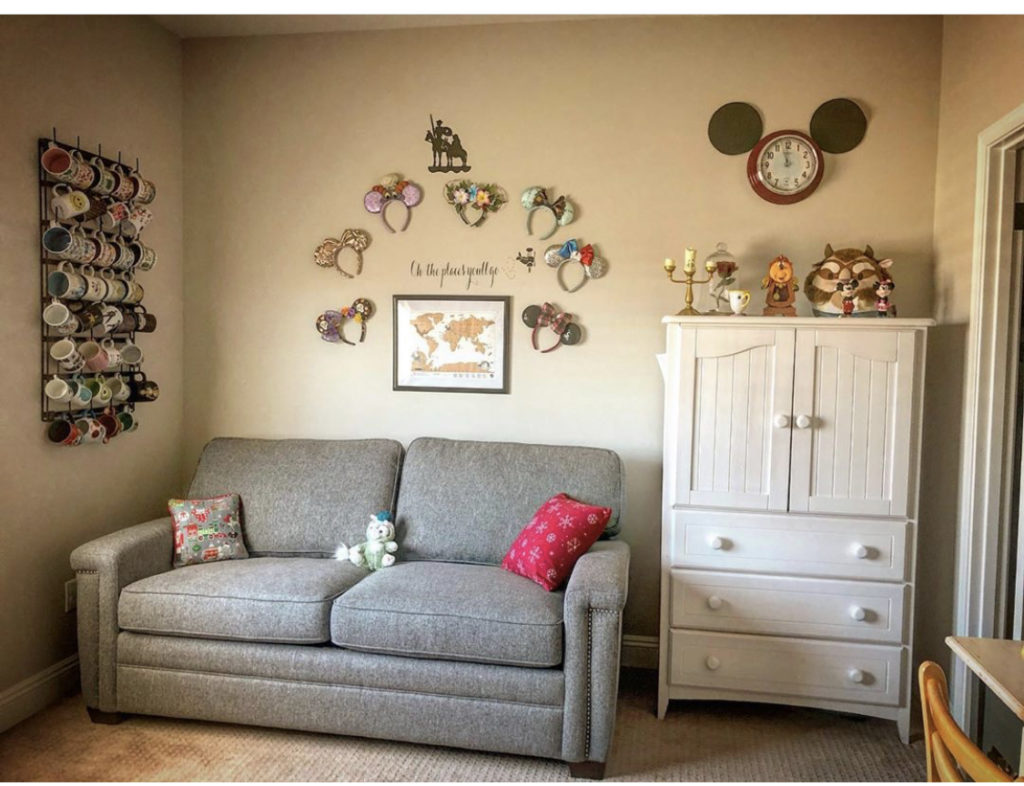 I recently came up with the idea to set up and display a couple of Mickey ears that I currently own. However, my favorite decor at the moment would have to be my mug display of the many mugs that I own. Many of them being Disney!
I'm sure you also noticed my Mickey-shaped clock! That is an easy craft as I just cut out two black circles and taped them to the wall alongside my clock! Easy peasy!
I bought the mug display at Costco.
To hold the assorted Mickey ears on the wall, I purchased small adhesive hooks at Target.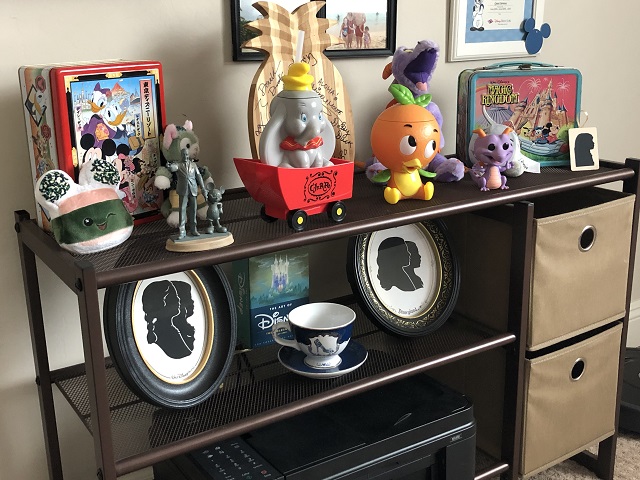 On the other side of my office, I have wall dedicated to our family pictures during the various Disney trips that we have taken. Underneath them, is another area that I love. Various trinkets that I have been gifted and purchased at the parks are displayed here.
A few of my favorite things on this shelf would be the vintage Magic Kingdom lunch box that my husband bought me for Christmas, the silhouette pictures of my girls, and the pineapple cutting board that we purchased at an ABC store across the street from Aulani in Hawaii.
It makes the perfect souvenir since we took it around to the various characters for signatures during our stay.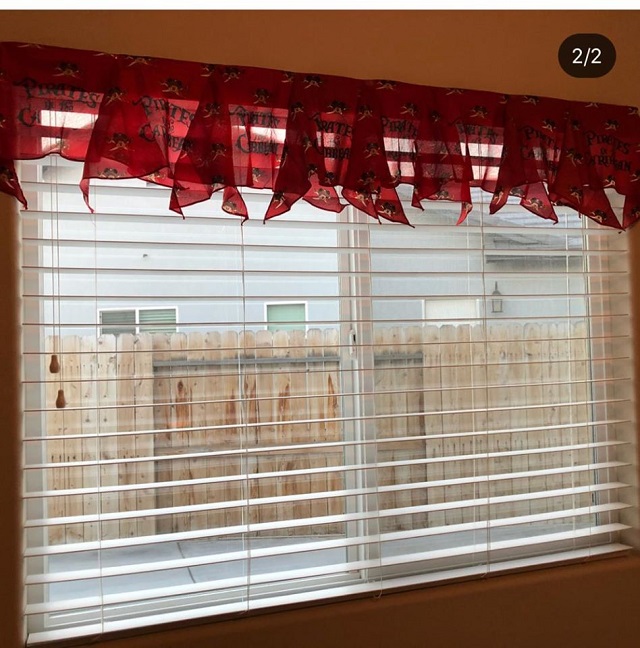 Another favorite DIY crafts that I have embarked on is by taking the bandanas that are given to you on Pirate Night on Disney Cruise sailings and making them into a valance for my window.
Well, there you have it folks…a trip around my home with my Disney inspired decorations and DIY crafts! I hope you have enjoyed the tour!
Do you have any great DIY crafts or decorations that you would like to share with the crew? If so, head over to Kenny the Pirate's facebook page and share your pictures!