The time has (almost) come, and Walt Disney World's newest attraction will be opening March 4, 2020. This attraction is sure to be a fun one, since anything can happen when "mouse rules" apply. Here's everything we know so far!
This attraction follows our favorite couple, Mickey and Minnie, as they set off on a "Perfect Picnic" date. Guests will follow along on a train ride with none other than Goofy as our conductor.
Goofy is the Runnamuck Railroad Employee of the Month. What could possibly go wrong?
The fun begins as you enter The Chinese Theater for the premiere of the newest short, Perfect Picnic. You'll even get to hear a new song composed exclusively for the attraction, called "Nothing Can Stop Us Now."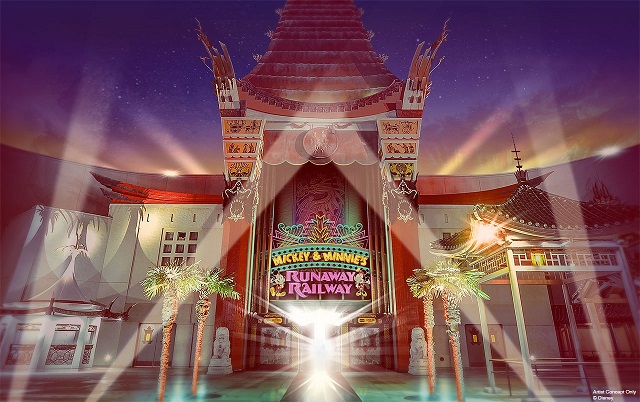 Disney has described the attraction as: "once you step into the cartoon world of Mickey and Minnie, you'll board a train with Goofy as the engineer. Then, one magical moment after the next leads you to a zany, out-of-control adventure filled with surprising twists and turns."
This dark ride is the first ride-through attraction based on Mickey Mouse. The ride and queue are said to feature more hidden mickeys than any existing ride in Disney theme parks. I wonder how many there are?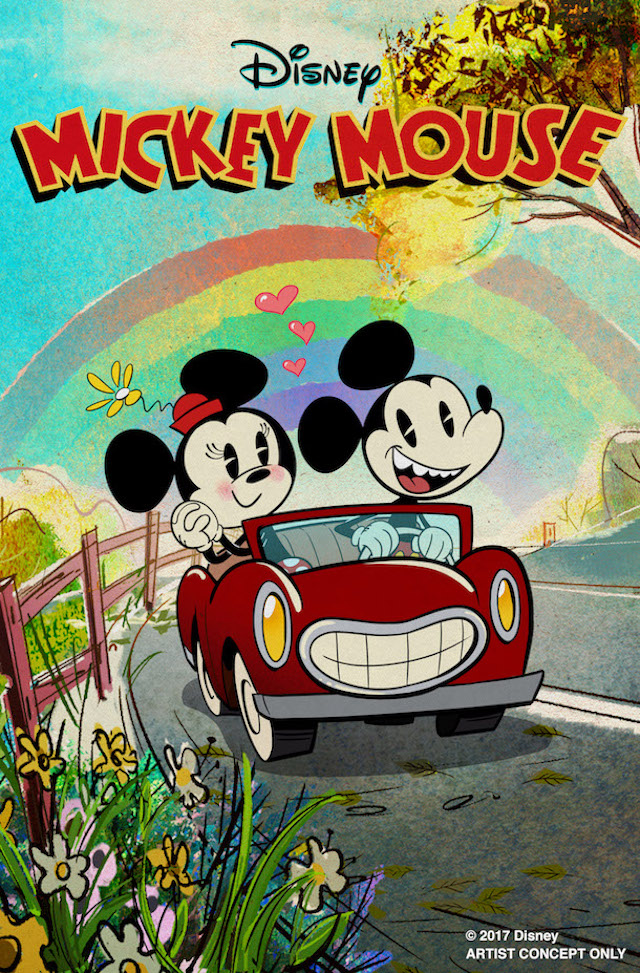 Mickey and Minnie's Runaway Railway features a new technology called 2 and 1/2D, which is 3D without the glasses. This special technology will give depth to 2D environments.
The entire journey will take you through both white light and black light scenes. There was even a special paint engineered to ensure Goofy's train maintains its "flat" cartoon look throughout the attraction and looks good in all light!
There is even a new character created for the attraction, Chuuby. I can't wait to learn more about Chuuby!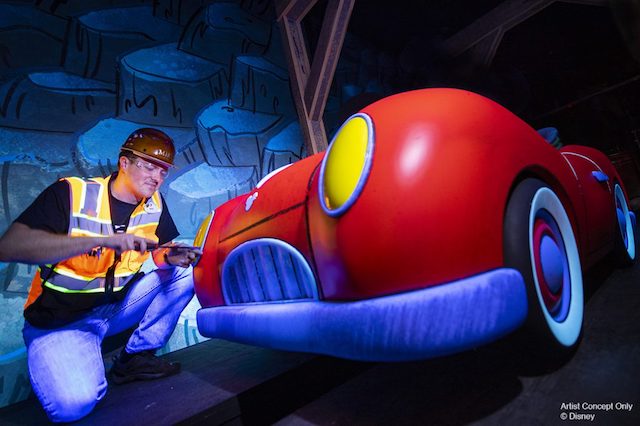 As we approach the opening date of March 4, 2020, fans are wondering just what to expect from this wacky attraction based on the new Mickey Mouse Cartoon Shorts.
Let's take a look back at what we've learned so far.
We first learned that Mickey and Minnie's Runaway Railway would be heading to Hollywood Studios during the summer of 2017 at the D23 expo. Guests were originally dismayed at the news that "The Great Movie Ride" would be closing in order to accommodate this new attraction.
In September of 2019, Cast Members got a special tour of the attraction in Disney World, and at that time, Disney provided us with a peek at the construction so far. What we noticed was at that time, the queue looked exactly the same as it had when it was The Great Movie Ride.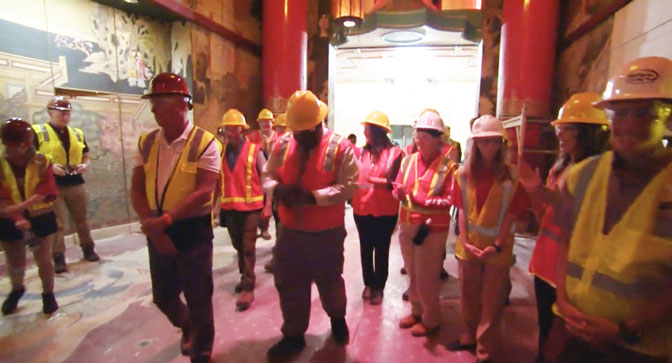 Progress was made quickly though, because now here we are, a week away from opening day, and the ride is almost complete! Our next sneak peek was an exciting one!
We got our first peek into what the ride will look like, and even learned a few exciting facts about the ride.
I think the fact that the tritone whistle used in the very first Mickey cartoon, Steamboat Willie, being incorporated into this attraction is a perfect nod to where Mickey all started. I love that this piece of history is included. It makes it even more special!
In February, the marquee was installed on the facade of the Chinese Theater. We received a look at the sign, which got us even more excited for the attraction to open!
Although the marquee won't be lit up until the attraction opens, we got a fun peek at what our conductor, Goofy, is up to at night when no one else is around…
Wow! That sign is Red Carpet worthy!
Worrying about the wait for this highly anticipated ride?
A Fastpass+ option is available! Mickey and Minnie's Runaway Railway is a tier 1 attraction.

While we are on the topic of long waits, don't worry. If you need to exit the line in order to use the restroom, a queue re-entry pass will be available to guests.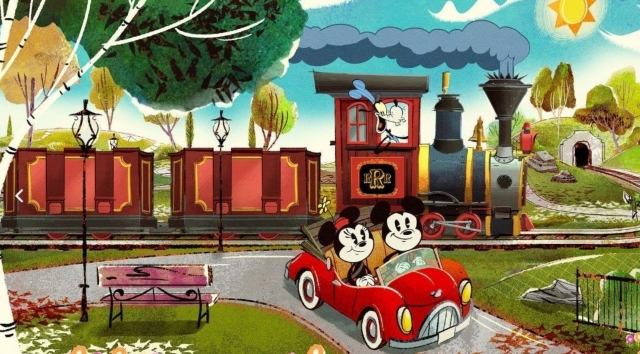 Josh D'Amaro shared an exciting update with us that Cast Members would get an exclusive preview of this attraction. Lucky Cast Members!
Disney Imagineer Anthony Capstick shared "as an Imagineer, we're always being challenged to do things that no one has ever done before. And for this attraction, you are going to be in the cartoon world and anything is possible."
This sneak peek allowed us a look at the ride vehicle, a train that can accommodate a large amount of guests through the ride at one time. I was able to count 15 Cast Members in just the small segment we were shown. I can't wait to see just how long this train is!
Cast Members say this ride is unique and like nothing they've ever ridden before. They also describe the excitement and energy from the ride, which makes for an unforgettable experience.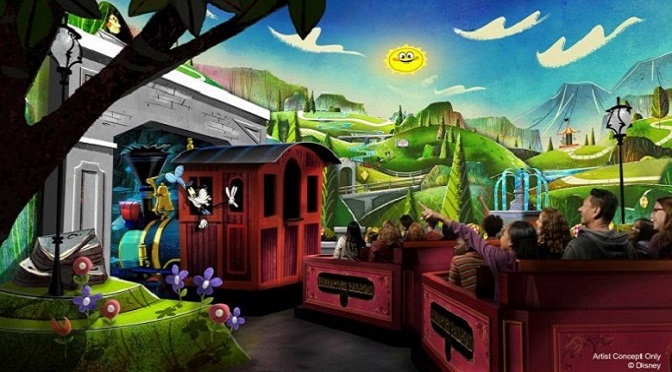 Storyline
The storyline for the attraction will combine two stories into one ride. Disney Imagineering had such a large story to tell, they decided to combine two storylines into one attraction!
Walt Disney Imagineering's Kevin Rafferty spoke about the team's decision to incorporate two storylines. "This attraction actually has a B story. First one ever that has a B story in addition to the A story. It's very clear and it's very fun."
Rafferty further shared that the attraction itself is filled with subtle references and nods to Mickey Mouse's 90-year-plus history. "As the show writer, I'm actually really proud to say that it has a beginning, middle, and end and a story sequence," Rafferty stated.
Cast Members started riding the attraction on Saturday, February 22nd, and of course, their reactions just got us even more excited!
There is a new trivia game on Play Disney Parks as well! Mickey and Minnie's Trivia Time-Mouse Rules Apply is a game with many trivia questions and will be coming soon. You can experience some of the trivia games from home, but most are unlocked after you experience this wacky new attraction. You can read more about the trivia game on the Play Disney Parks app here.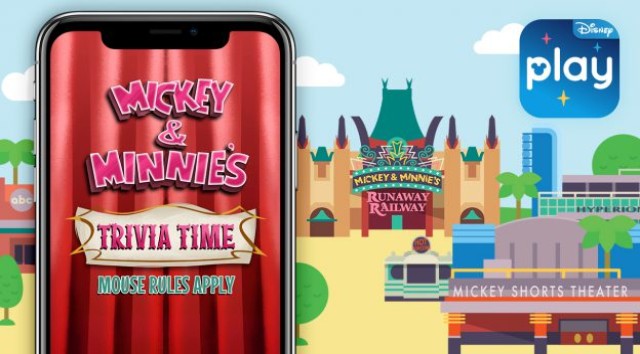 Also, Mickey Shorts Theater is coming March 4th, so you can check out some of the shorts that inspired this attraction before you ride!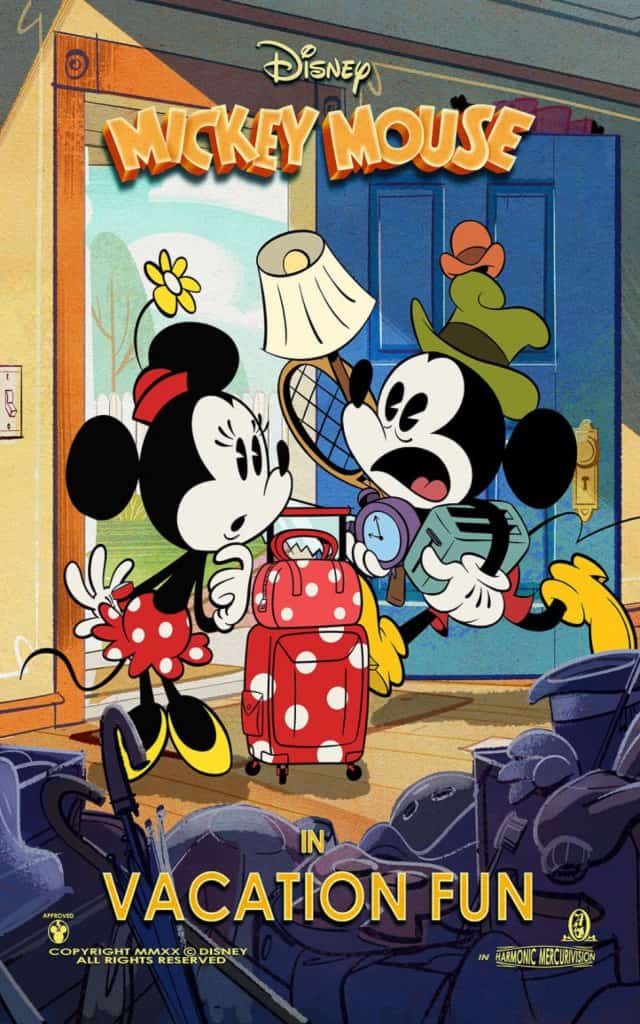 I personally can't wait for this new attraction! With all of the exciting changes at Hollywood Studios, I've decided I need to spend two days there on my upcoming trip just to be sure I get to experience it all!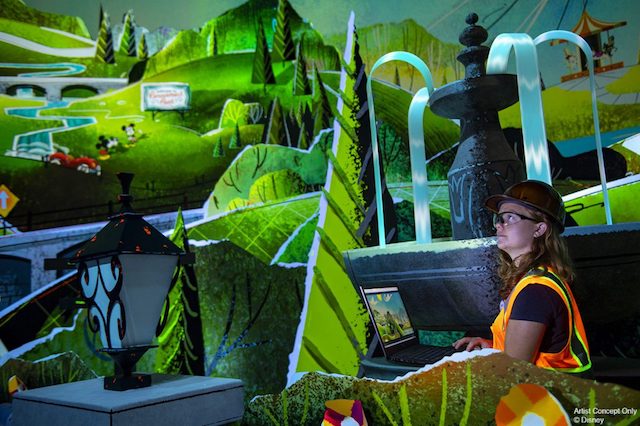 Will you be there on opening day for Mickey and Minnie's Runaway Railway? Are you as excited as we are for this unique attraction? Let us know on Kenny the Pirate's Facebook Page, or join our crew and continue the discussion.
Jamie Fonseca