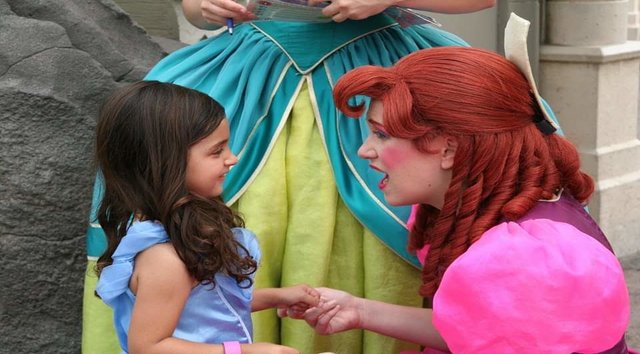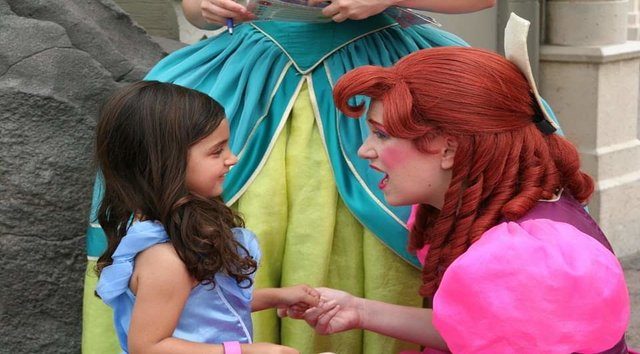 Part of the magic of Disney is getting the chance to interact with the many characters we have come to fall in love with through movies and television. This week our Kenny the Pirate writers were asked to share a few of their favorite character interactions. Read on to see which characters gave us some of our most memorable and magical Disney moments.
We all agreed it was tough to narrow it down to just a few when so many of our character experiences were unforgettable. Read on to find out which characters we felt left the biggest impression.
Tara
One of my most memorable character interactions was with Cinderella's stepsisters. My daughter was dressed up as Cinderella when we met them and had brought along a book and asked the stepsisters to sign on a page that featured Cinderella.
The stepsisters lamented how it was not fair that they had to sign on Cinderella's page and also how unfair it was that my little Cinderella had natural curly hair and they did not. It was such a fun exchange between princess and villains and will definitely always stand out among the most memorable.
Another favorite moment is when we met with Tinkerbell a few days before my daughter's birthday. We had mentioned that we would be back home by her birthday, and Tinkerbell said she would send some pixie dust to her on the morning of her birthday. It's a memory that stayed with my daughter, who on the day of her birthday asked if I thought Tinkerbell was really sending her pixie dust and I said of course she was!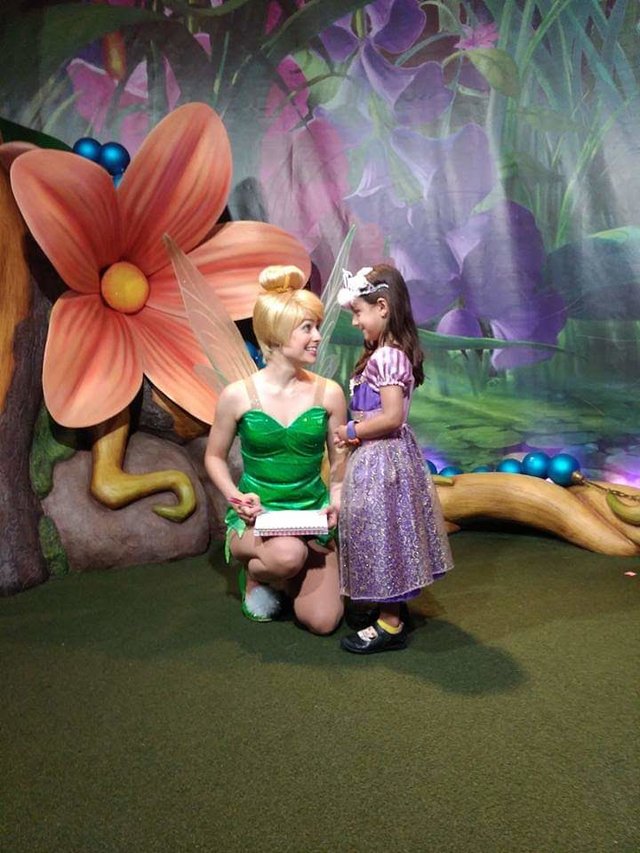 And another memorable moment was when we saw Talking Mickey. This was about two years ago before he lost his voice. Hearing Mickey ask to pose as her prince was just a priceless memory that I am so glad I caught on video.
Ashley
I have a couple! I wrote a magical memory about this one. When my son was so nervous to meet Peter Pan after Pirate and Pals and couldn't summon the courage to meet him. At the last minute as Peter was walking into the Contemporary, he changed his mind.
The Cast Members shouted ahead to hold Peter and he ran into his arms in the lobby of the hotel. They had a long private meet and greet and it is something that I will always remember!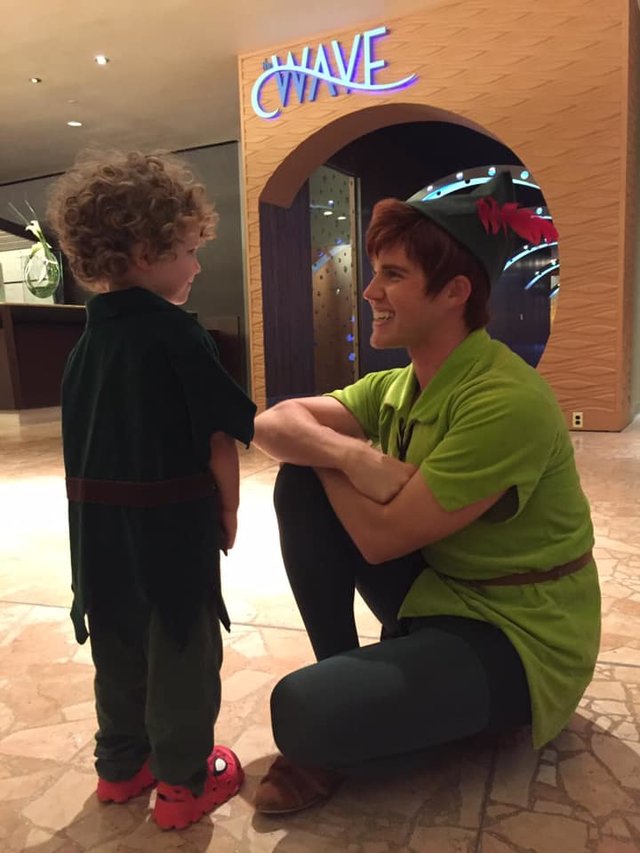 My son and I had a great time Disney bounding and meeting characters. It makes the interactions so much more fun! One day we dressed as Belle and the Beast. We met Gaston, did Enchanted Tales with Belle (where my son was chosen to play the Beast) and ate at Be our Guest restaurant.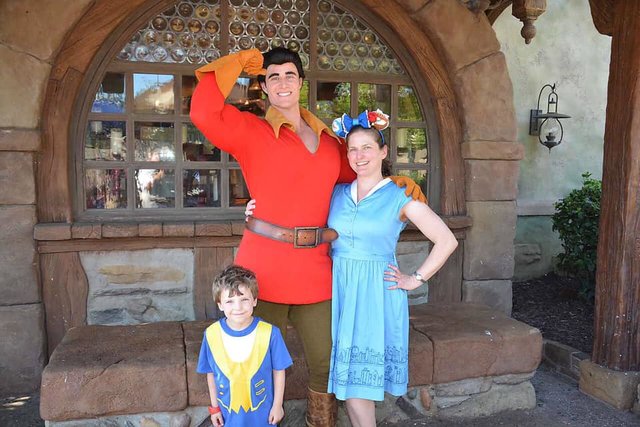 Another day we dressed as Cinderella (the maid) and Prince Charming. We used Character Locator to finally meet the elusive Fairy Godmother and then had a fun dinner at 1900 Park Fare. My son got a marriage proposal from Drizella and waltzed with Lady Tremaine.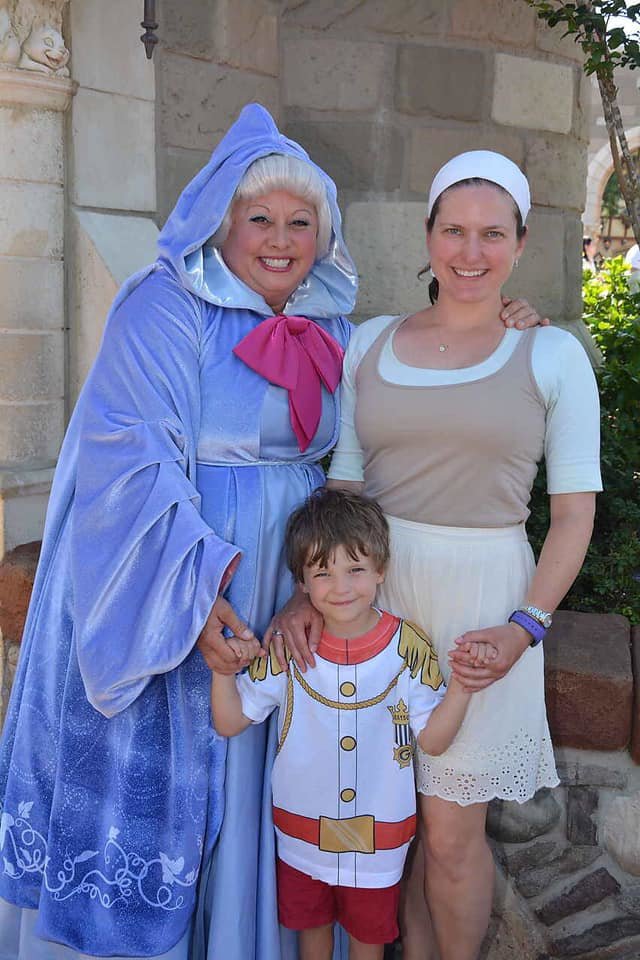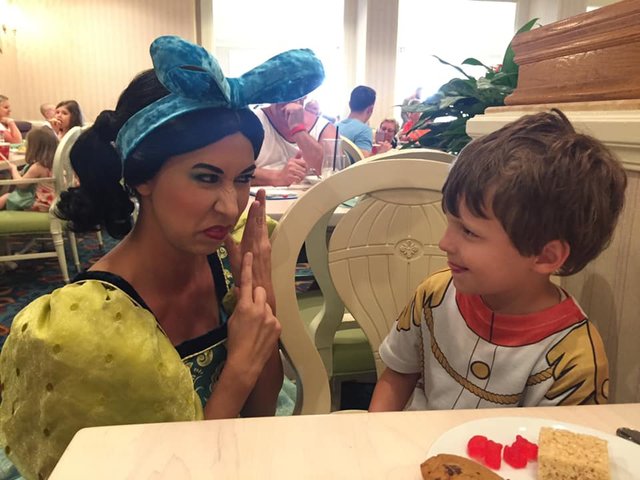 Christina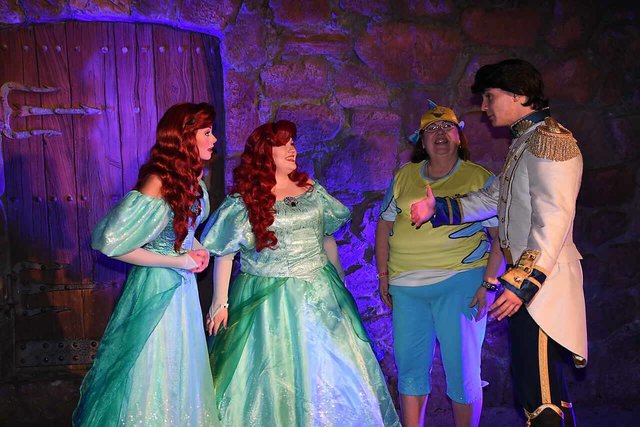 One of my favorite memories was this past November. We attended the last MNSSHP dressed as Ariel and Flounder. Of course, we had to meet Ariel while there, and she was so wonderful. I can't remember what we talked about, but that moment was simply perfect and the pictures were amazing!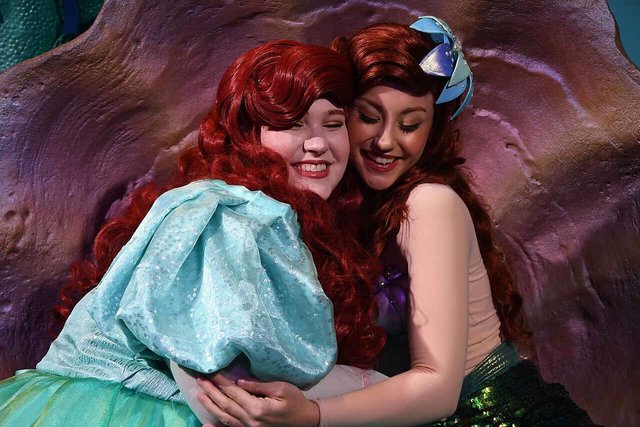 Susan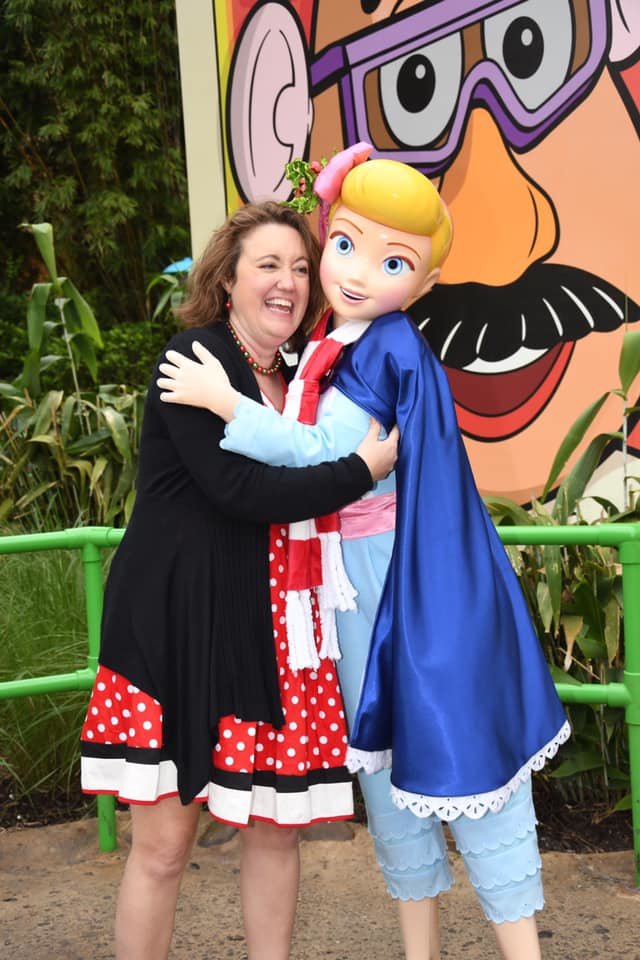 We have so many fun, whimsical interactions with characters it's hard to narrow it down. So I picked two of my favorites from our last trip. First, I met Bo with Woody. I was blown away with the personal level of interaction with two characters that can't talk. They had me laughing so hard I cried!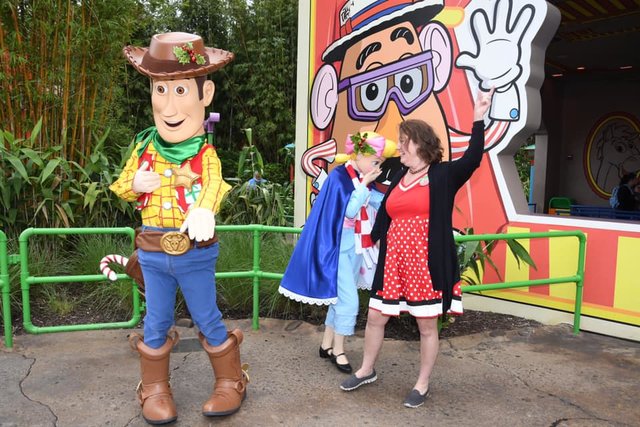 The second was meeting Darth Vader for the first time ever in a Disney park. When I was 15 (about 100 years ago lol), I met Darth at Six Flags. My entire adult life I've had meeting him again on my bucket list. We met him through the Disney Visa meet and greet. He walked out to us and scared us to death. Since there was literally no one in line, he spent several minutes trying to turn us to the dark side!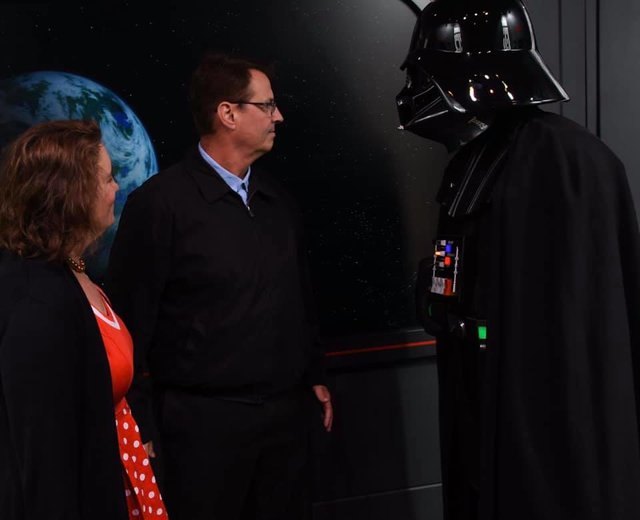 Marisol
One of my favorite memories was when we sailed on our first Disney Cruis. My daughter was walking down the stairs when Peter Pan grabbed her by the hand and they both started descending down the stairs together hand in hand.
He asked her who her favorite princess was as during this time in the atrium the princesses were gathering for a ticketed meet and greet. My daughter replied Tiana and off he took her to see Tiana. This is one of my many favorite character interactions.
Jessica
My husband and Stitch on our Disney Magic Cruise is one of my favorite interactions. All of the characters were amazing on the ship! So many times when meeting characters at the parks we feel rushed to take a photo and move on with a long line behind us, but Stitch was amazing and so interactive. I bet we spent at least 5 minutes having fun!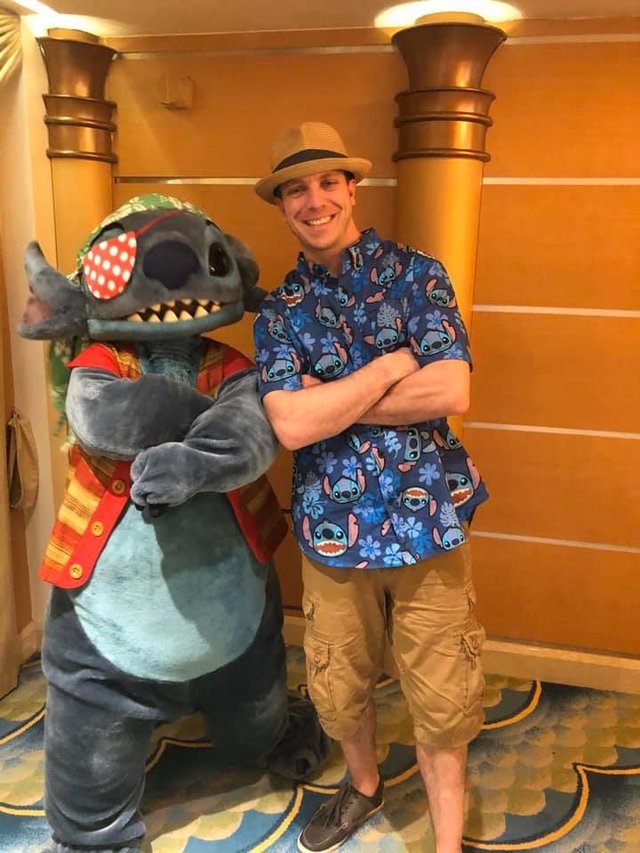 Tink with my niece is also a memory that stands out. They had a whole conversation hanging out on the floor.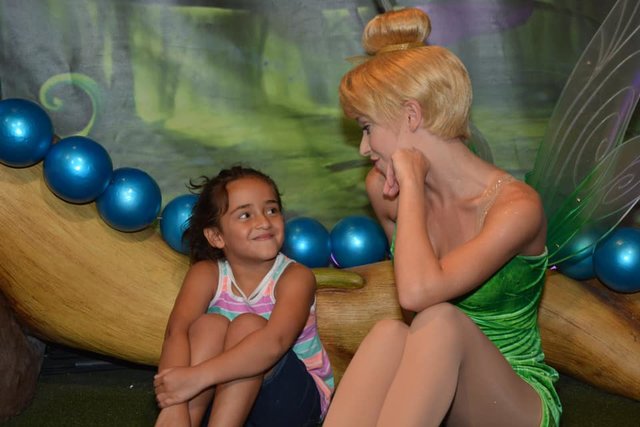 Another memory is when my Inside Out loving daughter met Joy and Sadness. She still talks about it being a core memory 2 years later.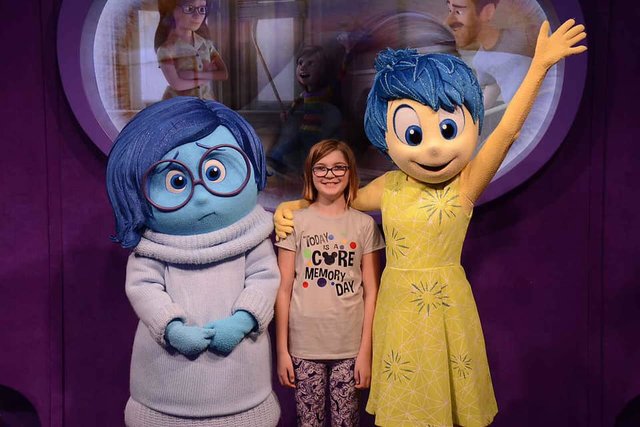 Last one… I think! My niece met Lilo at her birthday breakfast at 'Ohana. Lilo took her by the hand, and they led a parade around the restaurant.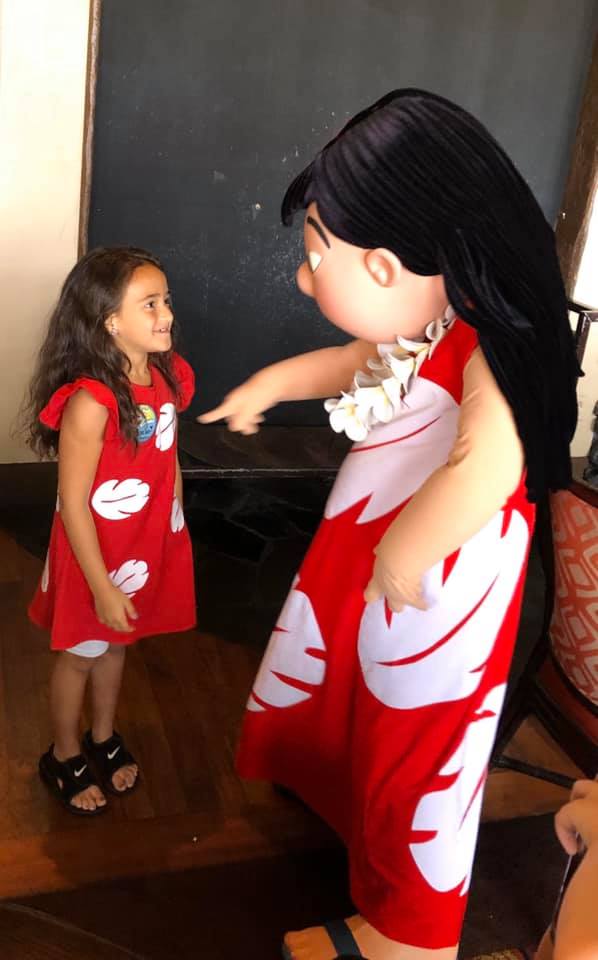 Donna
We were preparing for a magical day at Magic Kingdom, and my daughter wanted to bring her newest souvenir of Chip 'n' Dale plush toys. My husband questioned if this was really necessary, but along came our favorite chipmunks for our day in the park. During the Festival of Fantasy parade, my daughter sat on Main Street with Chip 'n' Dale sitting beside her.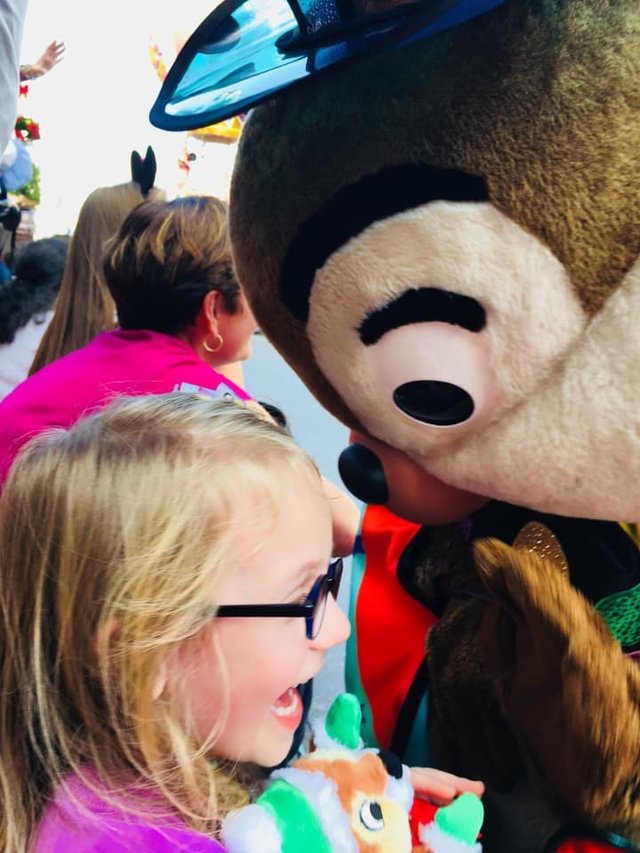 At the end of the parade Chip 'n' Dale made their way down the parade route. Chip saw his stuffed animal next to my daughter, and he came running over. My daughter was ecstatic to have this interaction with one of her favorite characters. I love to share this story with others who question if Disney is really worth the price. These priceless memories are what makes Disney World "The Most Magical Place on Earth."
Jamie
My most memorable character interaction was with Mary Poppins. Ever since I was a child, Mary Poppins has been my favorite movie. I always wished I had just a touch of magic in my life when I was young, and my love for the movie and her character only grew as I did.
Meeting Mary is a must-do for me every time I visit WDW, but I recently had the most beautiful experience meeting her. I explained to her that she was special to me because she reminded me of my childhood and the magic I had always hoped would come into my life.
I also explained that she helped me keep that magic alive for my own children. Mary said, "Well a nanny always comes back for her children. What is something you always wanted to do with me?"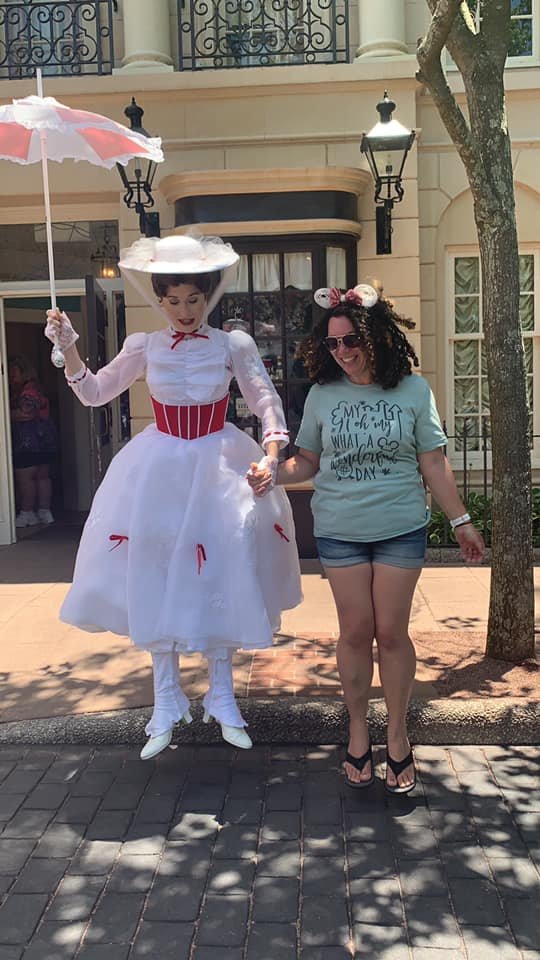 I tearfully told her I had always wished I could jump into a chalk painting with her to find a whole new world. She said she would do her best, took my hand, and led me over to the curb. She asked me to hold on tight, close my eyes and count to three.
We jumped, and just for that moment, I felt like a child again. Writing this story now brings me back to tears because it really was that special for me. I treasure this picture and love how it appears Mary is floating up with her umbrella. Best day ever!
Rebecca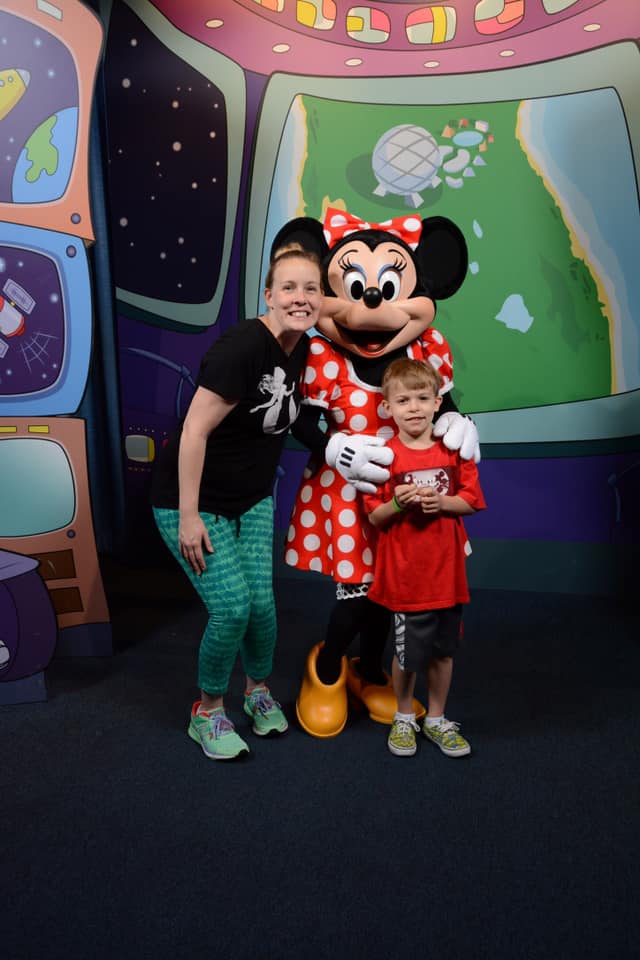 There will always be a special place in our hearts for meeting Minnie Mouse. When my son was little he would carry his stuffed Minnie everywhere. He loved Minnie and we met her so many times! He is getting to the age where he acts "too cool," but he still loves Minnie Mouse!
Maggie
It's hard to narrow down favorite meet and greets to just a couple! One of mine that will always stand out is when my sons met Talking Mickey for the very first time. They were only two and three at the time, and him talking just made it more magical seeing them in awe of Mickey. It's a great memory for me.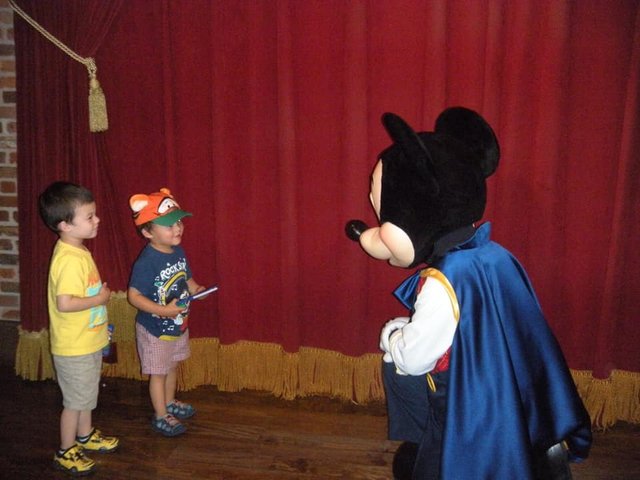 Another one is BB-8. My sons showed him their droids they made at Build-A-Droid and it was a great interaction! We saw him during a dessert party, so it seemed like he spent a lot more time with us than normal. My boys loved him!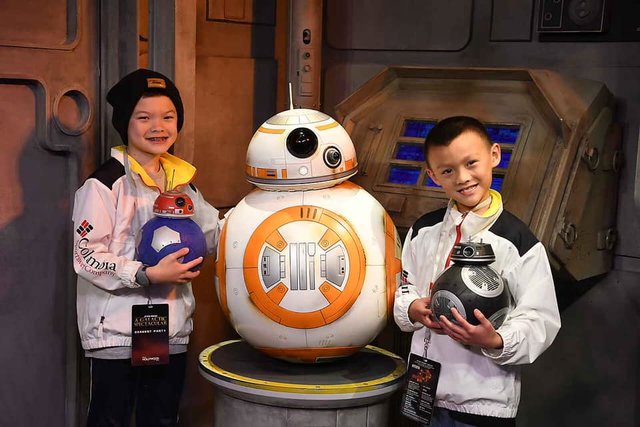 Heather
I have a couple of my favorite character interactions. We are just getting into meeting characters now that my son is almost four. He was so excited to meet Mickey this last trip! He gave Mickey a big hug and talked about it for the rest of our trip!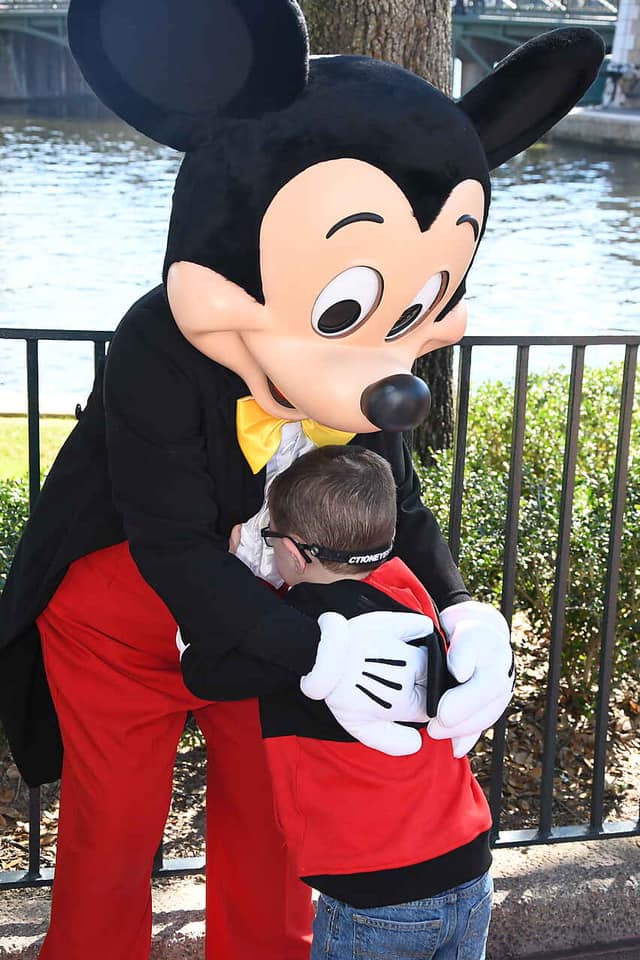 My other favorite would be when I met the evil queen! She wasn't an official character meet and greet so no PhotoPass was out, but it was so fun to meet her!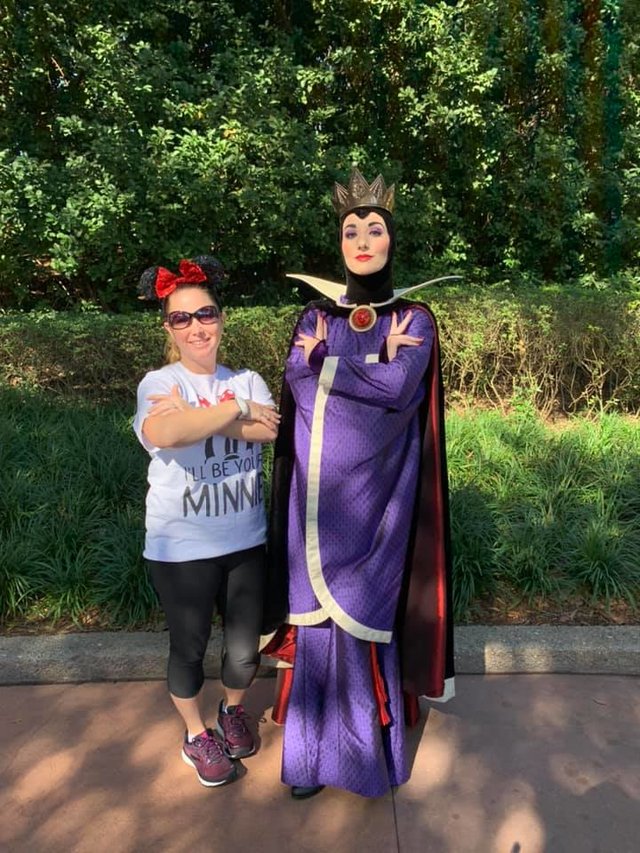 Amanda
We met Mickey Mouse in the Town Square Theater at the end of the night during a Magic Kingdom After Hours event, and he fell in love with our daughter so much that he attempted to "steal" her away! It was the most adorable thing! (Catch it around the 30 second mark in the video.)
Monica
My favorite character greet was in 2018 when my 2 year old son met Elena of Avalor. He fell in love I think! They sat there for several minutes just hugging. He had his head on his shoulder, and she just kept rubbing his back and stroking his head. It was precious! He wouldn't leave her. It makes all the planning and time and money worth it to see your children enjoy the magic of Disney.
I am so glad I got part of the several-minute-long interaction on video because I still watch it all the time!
Melody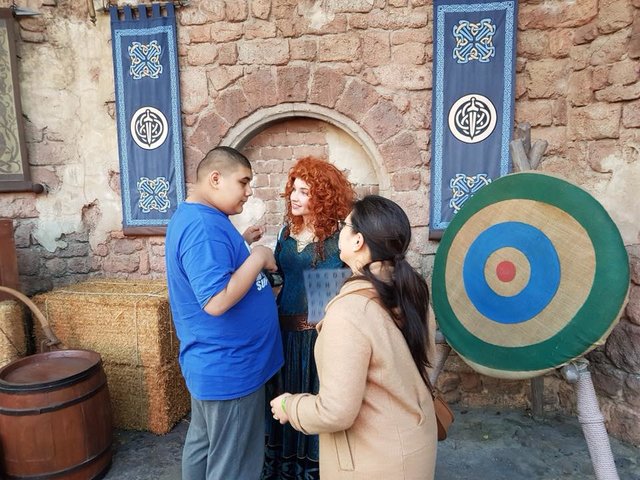 A couple of years ago after my son gained reliable communication, he asked to meet Merida. It was his first time to chat with a character, and even though Merida probably doesn't do too many greets with people who spell to communicate, she was amazing with him immediately grasping how he communicated. We all had so much fun enjoying their banter about their favorite horses to ride.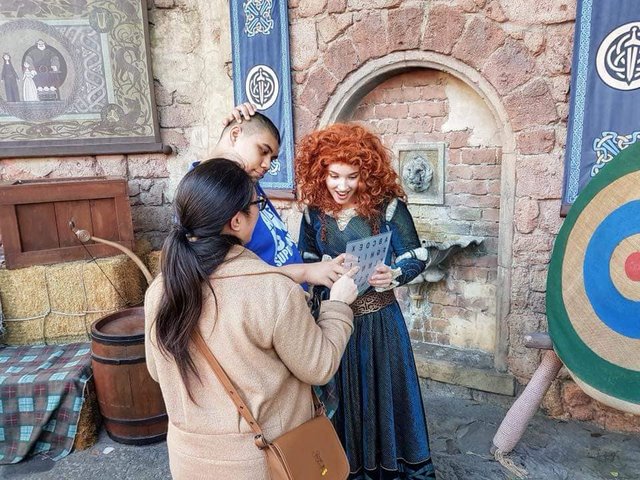 What was your favorite character interaction? Share your experiences with us on Kenny the Pirate's Facebook page. You can also share using the blue Facebook button below.
Tara Duarte