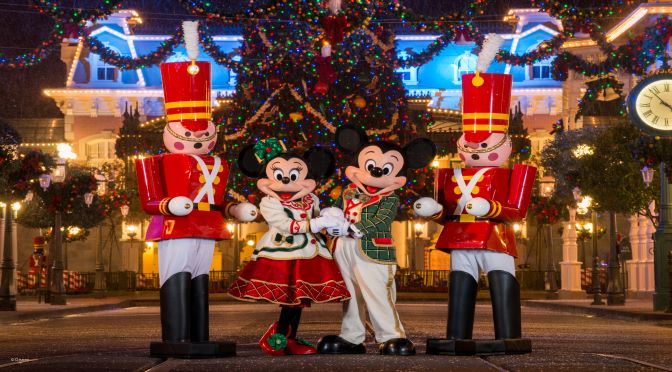 Feeling bummed because the date you had in mind to attend Mickey's Very Merry Christmas Party is already sold out?  You can still have a "Jolly Holiday" because I've got a list of 7 joyful activities you can enjoy instead. Plus, I've got a bonus for DVC members!
As we enter the Christmas season, Mickey's Very Merry Christmas Party is high on the must-do list for many guests.  This event is extremely popular, and has a tendency to sell out in advance! If you don't get the chance to attend, consider these other options.
Candlelight Processional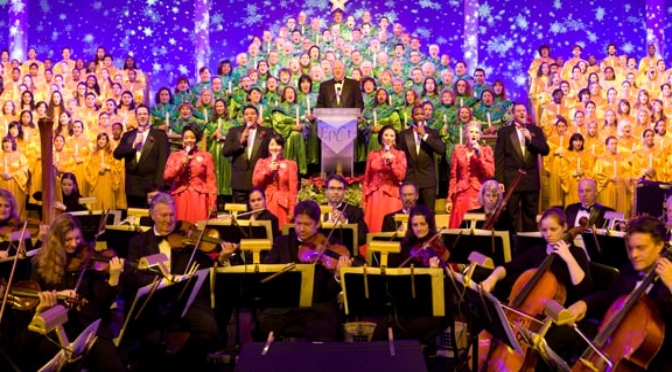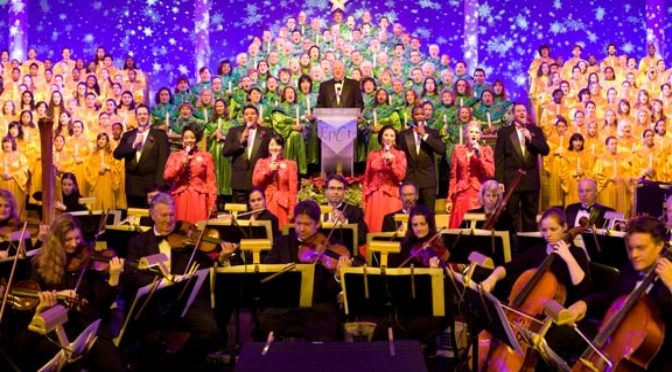 Candlelight Processional is a popular event that is possibly one of the most beautiful shows Disney has to offer.  This retelling of the Nativity story features a 50 piece orchestra, full choir, and celebrity narrator. 
Each night three 40 minute shows take place (5:00, 6:45, and 8:15).  You can catch this moving event in the American Gardens Theater in the America pavilion, and it is free with Epcot admission.  A Candlelight Processional dining package is also offered for an additional price.
For a list of celebrity narrators, read more here.
Set sail on a Pirates & Pals cruise on a party night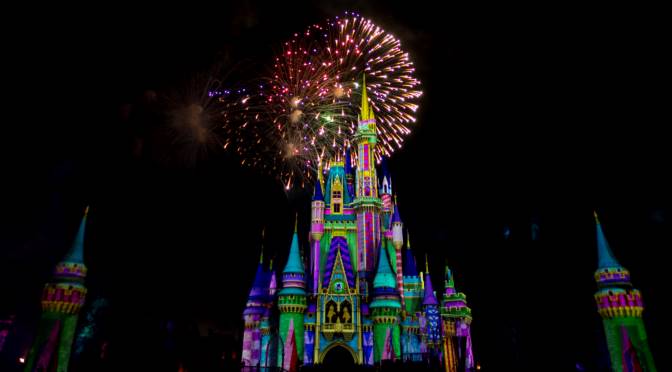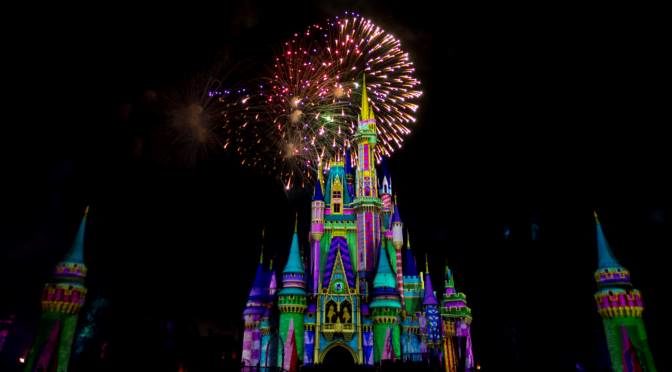 Embarking from the Contemporary Resort, the Pirates & Pals Fireworks Dessert Voyage is a great way to experience Minnie's Wonderful Christmastime Fireworks show without actually attending MVMCP! 
During this fun cruise, you are presented with snacks and drinks before meeting Captain Hook and Mr. Smee.  Then, you 'll embark on a voyage around the Seven Seas Lagoon and experience the nightly fireworks show. 
If you happen to book your cruise on a party night, you'll be treated to a jolly fireworks display! Once you disembark, be on the lookout for one last surprise!  All you need to know about the Pirates and Pals Fireworks Voyage in Walt Disney World
Pricing:
$76.44 per adult (ages 10 and up); $45.66 per child (ages 3 to 9), tax and gratuity included.
Resort hop
Many of the Disney resorts go all out for holiday decor, and you can spend an evening checking them all out to put you in a festive mood!
A fun way to check out some of the best decorations around Disney property is hopping on the monorail to stop at Disney's Grand Floridian Resort, Disney's Contemporary Resort, and Disney's Polynesian Resort. 
Both the Grand Floridian and the Contemporary have stunning gingerbread displays that are not to be missed. The Grand Floridian even has a  life-sized Gingerbread house!  The Polynesian has beautiful small trees with tropical color schemes. 
You can also head over to  Animal Kingdom Lodge, Yacht Club, and Beach Club to check out the Christmas decor there, although these Resorts are not on the Monorail. Almost every Resort has some type of jolly decorations displayed, but the Deluxe Resorts are the most elaborate.
The best part is the Resorts are free to visit! Consider making it an evening by eating dinner at O'hana or checking out the new Enchanted Rose lounge.
Visit Wilderness Lodge and Ft. Wilderness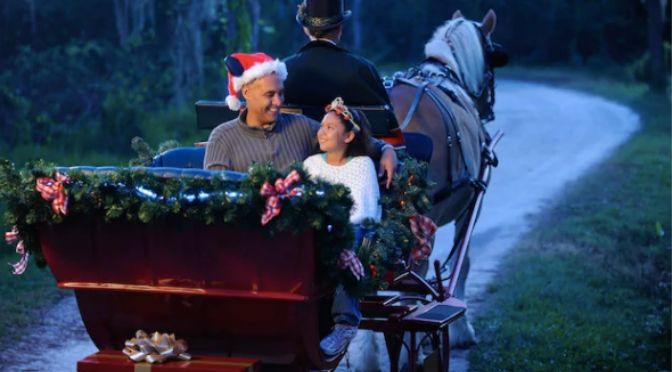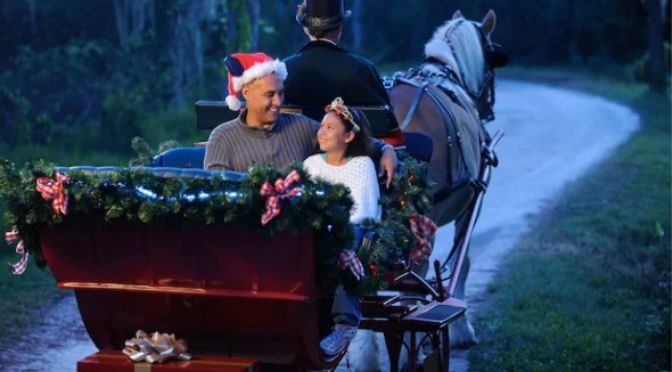 Wilderness Lodge and Ft. Wilderness deserve a trip all on their own because there are so many fun ways to experience some Christmas magic here!  Wilderness Lodge is decorated beautifully and features a 60 foot Christmas tree.  Between the tree and stunning decor, it is a must-see!
Then, hop on a boat over to Ft. Wilderness Campground.  The campground itself does have some decorations, but the real draw is the decorating done by the campers!  These campers go all out for some serious holiday fun, and this is not to be missed!
Also at Ft. Wilderness, you can experience a magical sleigh ride decorated with lights and garlands.  This 25-minute ride will take you through secluded trails in a beautiful forest. Carriages fit up to 4 adults, or 2 adults and 3 small children. Each horse-drawn holiday sleigh ride costs $84.
You can reach Ft. Wilderness using Disney Transportation by taking the bus to Magic Kingdom and then taking the resort boat or bus to Wilderness Lodge.   It is a bit of work to get there, but it is worth it!
Visit Disney Springs for some festive fun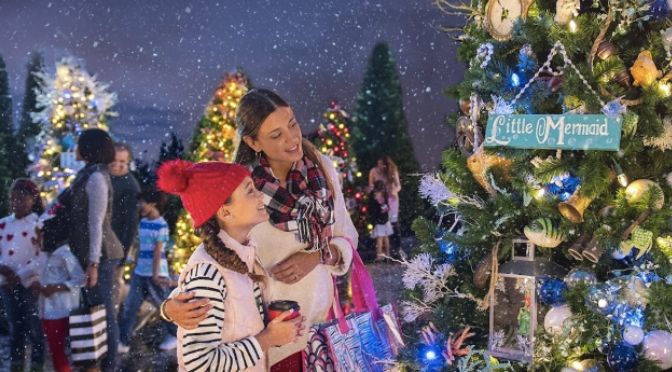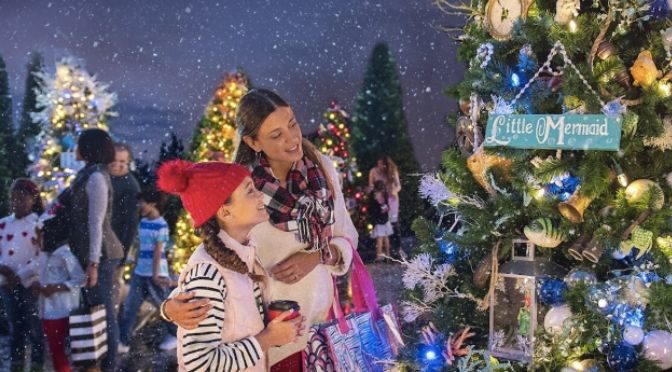 Disney Springs has plenty of fun to be had!  Check out the Christmas Tree trail, where you can view the 23 different Disney themed trees as you listen to holiday music, enjoy holiday treats, and even experience a little bit of "snow!"  While on the tree trail, you can even visit with Santa Claus!
Kids will enjoy Stitch's Holiday Gift Hunt, a holiday scavenger hunt with 12 different spots to find Stitch. When you've completed the hunt, you can turn it in for a special surprise!
There are also many restaurants and retail stores so you can really make an evening of it by getting dinner and then doing some holiday shopping. Many times Disney Springs gets overlooked, but this is a great way to spend an evening if you can't attend a party.
Jingle Bell, Jingle Bam Holiday Dessert Party!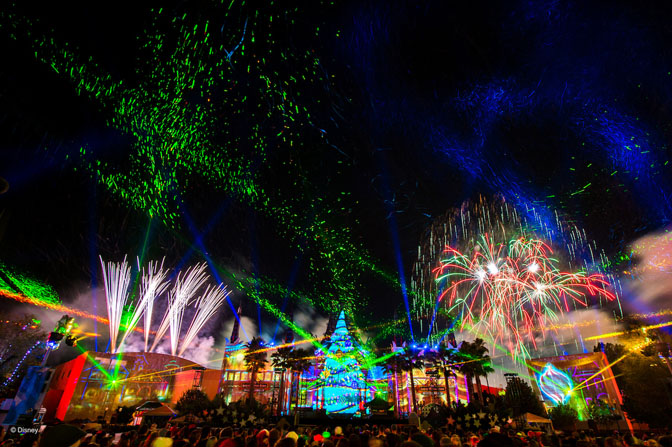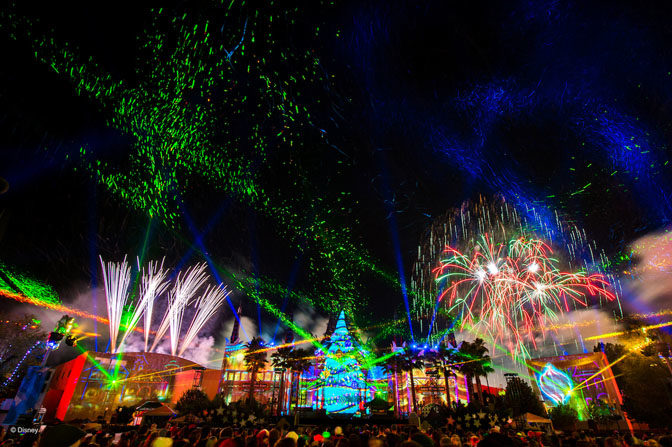 Join the fun at Hollywood Studios as ABC's Prep & Landing search for Santa and save Christmas!  You'll be delighted each evening as laser effects, projections, fireworks, holiday music bring beloved stories to life.  You may even experience some "snow!" 
This show is free with Hollywood Studios admission and occurs nightly.  If you had your heart set on attending one of the dessert parties at MVMCP, Jingle Bell, Jingle Bam! Holiday Dessert Party may help cure you of your holiday blues because for about the same price as admission to MVMCP, you can eat tons of yummy holiday treats and have reserved seating for the show.
General admission to Hollywood Studios is required, and tickets to Jingle Bell, Jingle Bam! Holiday Dessert Party range from $53 to $99 (tax and gratuity are included).
Take a backstage tour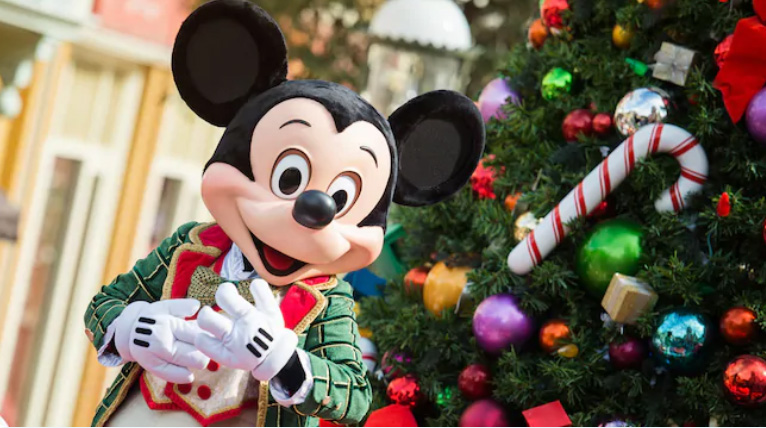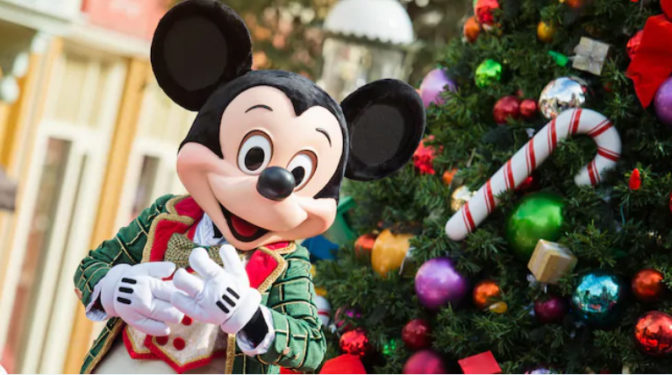 Not many guests know there are holiday tours! There are two different options offered during the holiday season for guests to go behind-the-scenes and learn all about how Disney World is decorated for the holidays. If you weren't able to get your hands on MVMCP tickets consider one of these tours!
First, Disney's Holiday D-Lights takes you on a special evening learning all about the secrets of holiday traditions at Magic Kingdom and Epcot. Start with dinner at Whispering Canyon and then head to both parks to meet with the teams who design the decor and put these festive events together. Witness both the lighting ceremony of Cinderella Castle and Epcot Forever fireworks show.
Or get tickets for Disney's Yuletide Fantasy. During this festive and fun-filled 3-hour tour, you'll see firsthand the incredible artistry and logistics that make Walt Disney World Resort even merrier and brighter at this time of year. Meet with the designers who decorate the Resorts, visit the Floral Department that provides the flowers for all of Disney World, and join a Disney Springs culinary artist to whip up your own seasonal treat!
DVC Holiday Events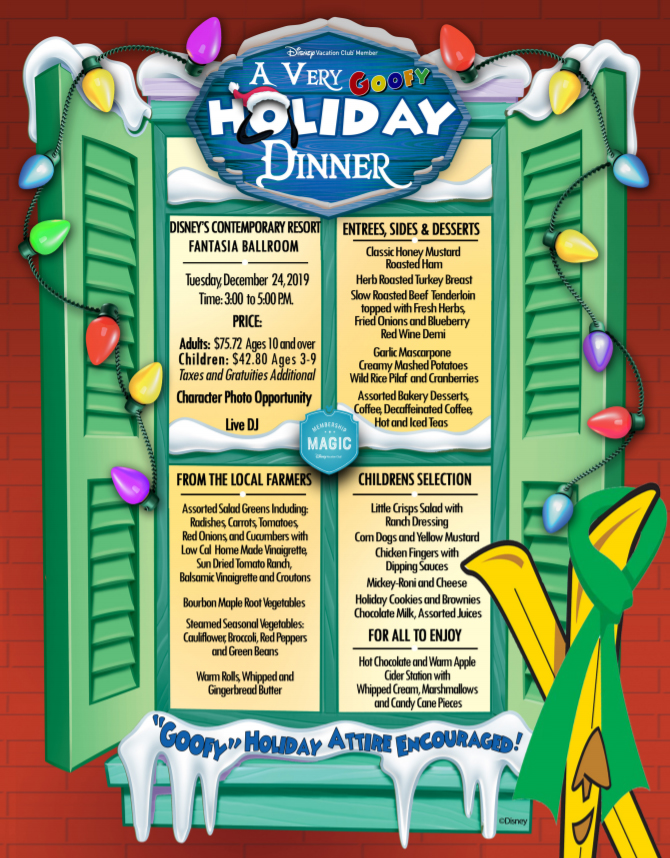 There are many special ticketed celebrations exclusively for DVC members! We've got a whole post dedicated to them HERE. Enjoy special parties on Christmas Eve or New Year's Eve Eve!
Are you going to miss out on MVMCP this year? Which of these activities will you do instead?
Jamie Fonseca
"All our dreams can come true, if we have the courage to pursue them."-Walt Disney