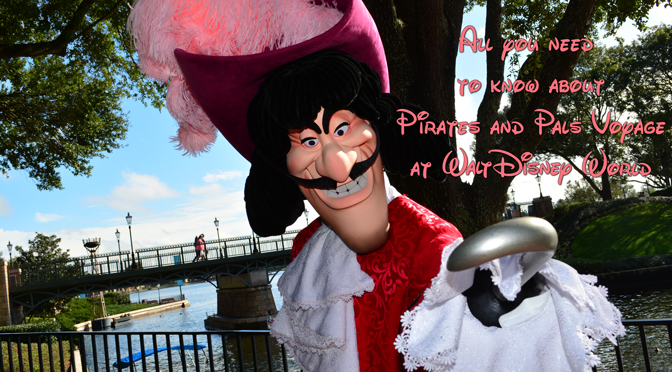 Pirates and Pals Fireworks Voyage is one of the few character based experiences in which my family and I had never taken part.  I was curious to learn about the actual experience and I was travelling alone, so it wouldn't cost me as much as sailing with the family.  However, sailing alone with a giant pointing hand on your shirt makes parents think you may be stalking or something.  The night I sailed, we were asked to meet in the Convention Center attached to the Contemporary Resort.  I just stopped by the front desk and asked where the meeting location would be.  When you find your destination you'll see this sign.
Cost as of July 27, 2017 is $72 adult and $43 child (3-9)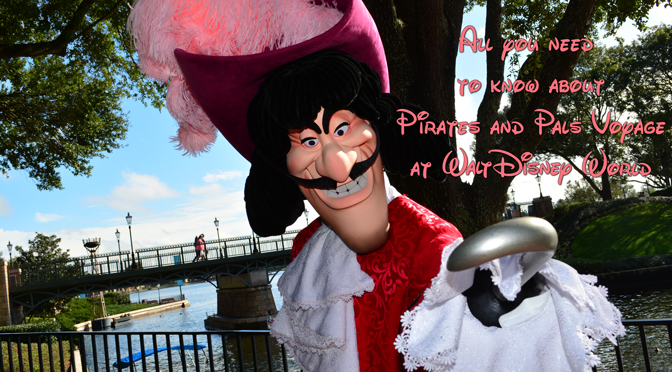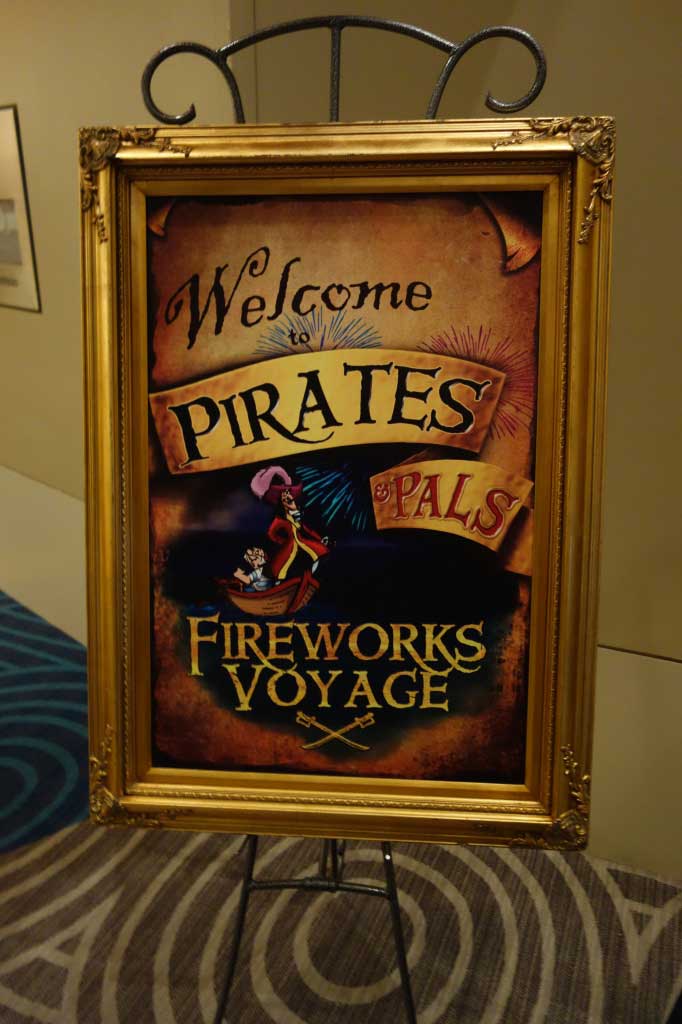 I made my way down this hallway to the check in location.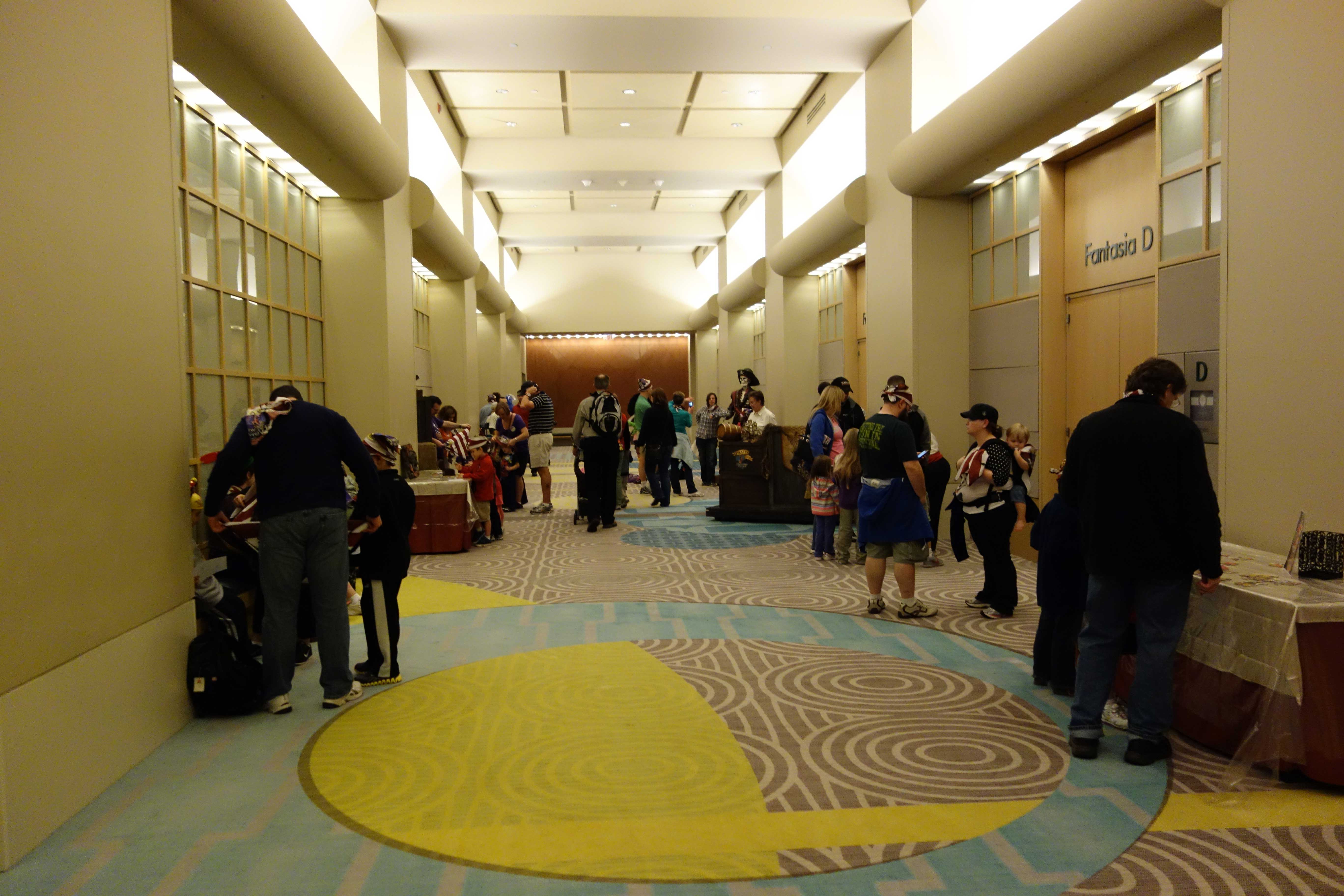 As I arrived at the check-in desk, I found that there was a security guard there.  Had he been told that an avid character hunter was going to be on board?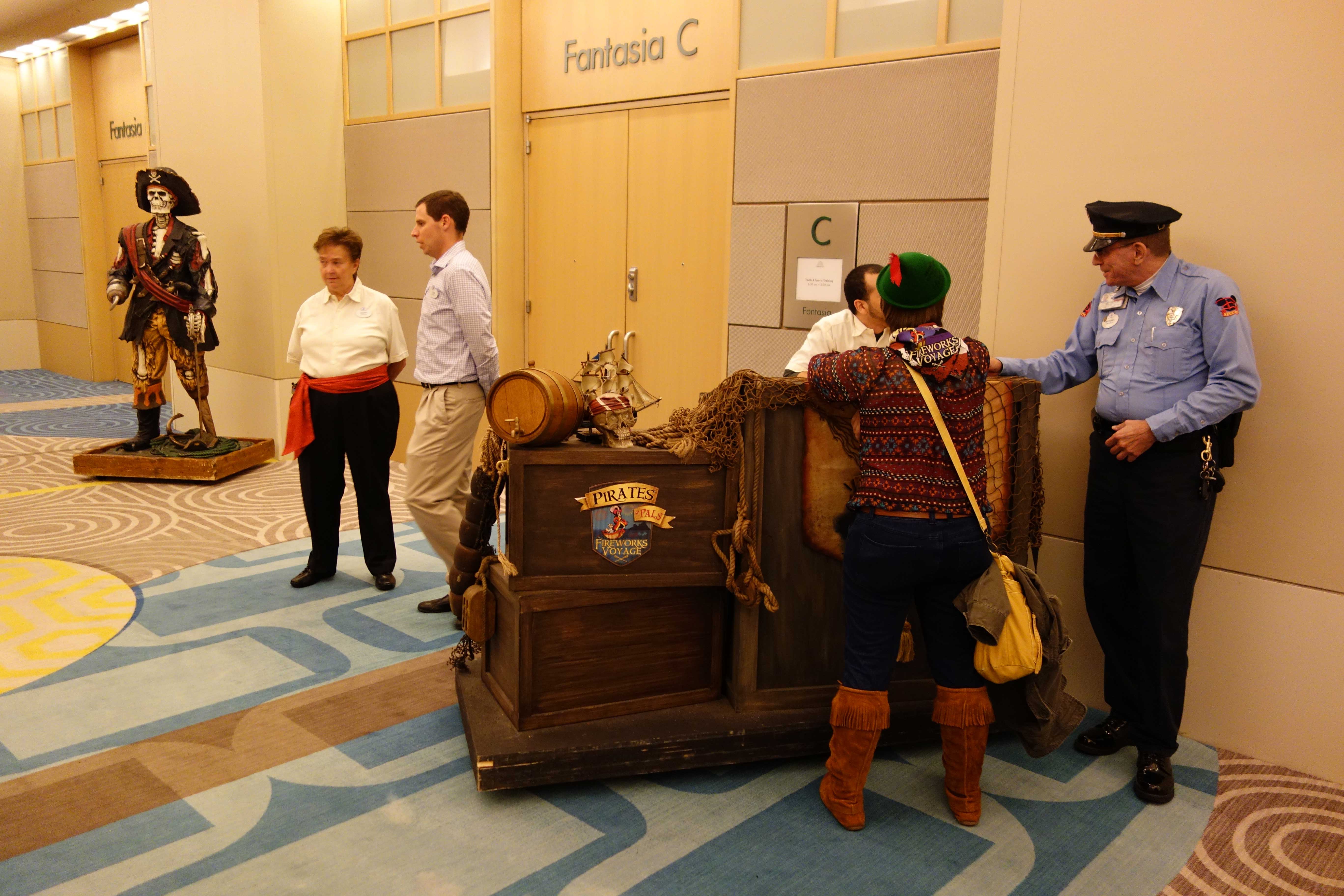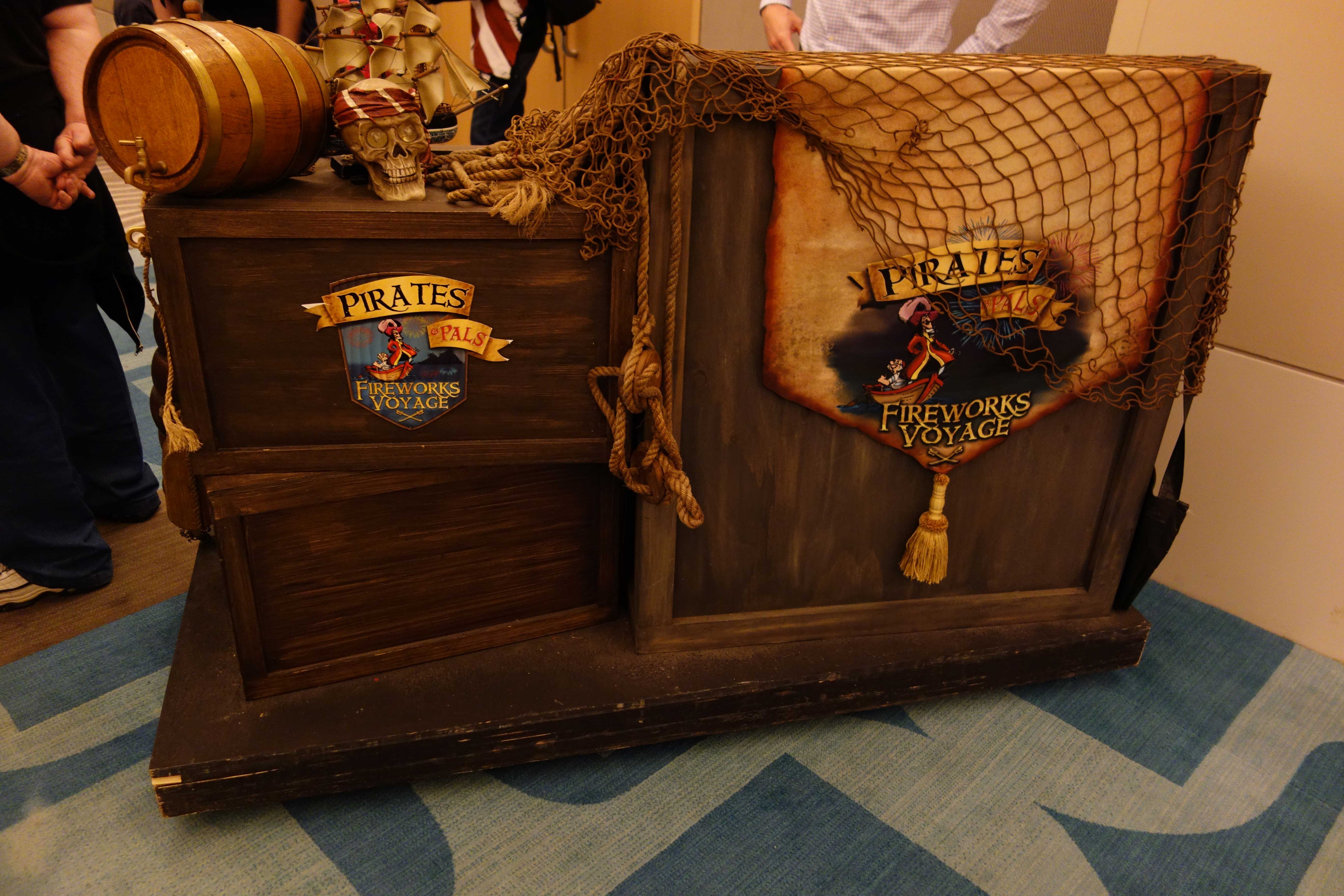 After checking in at the desk, you are instructed that you must wear this bandana on your arm, head, leg or around your neck. I was thankful and relieved that I wasn't asked to wear a banana on my head.  Any good pirate wears a bandana we were told.  These landlubbers must be friends with some pirates?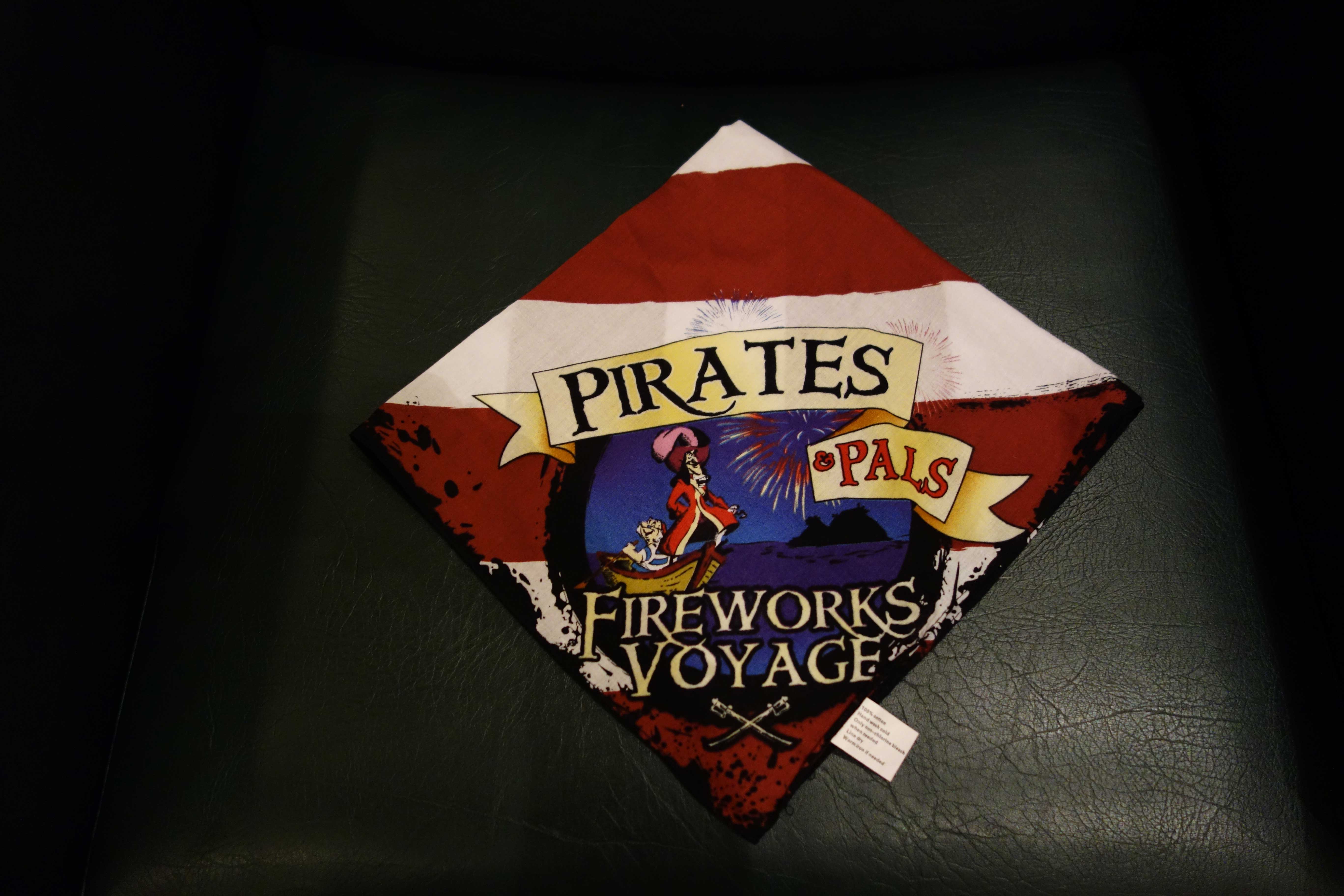 In addition to the attractive and large sized bandana, you're given this highly collectible card that I may list on Ebay later today for $139.99 but accept the highest bid.  Don't be a hater…a pirate has to find a way to pay for all this quality first hand reporting.  I was given the Row 8s.  The lady didn't have a clue what the s was for.  I said "single," she replied, "I've never seen that!"  Yes!  Another first.  I'm the first solo pirate she had met on the cruise.  I was assigned to the SMEE boat.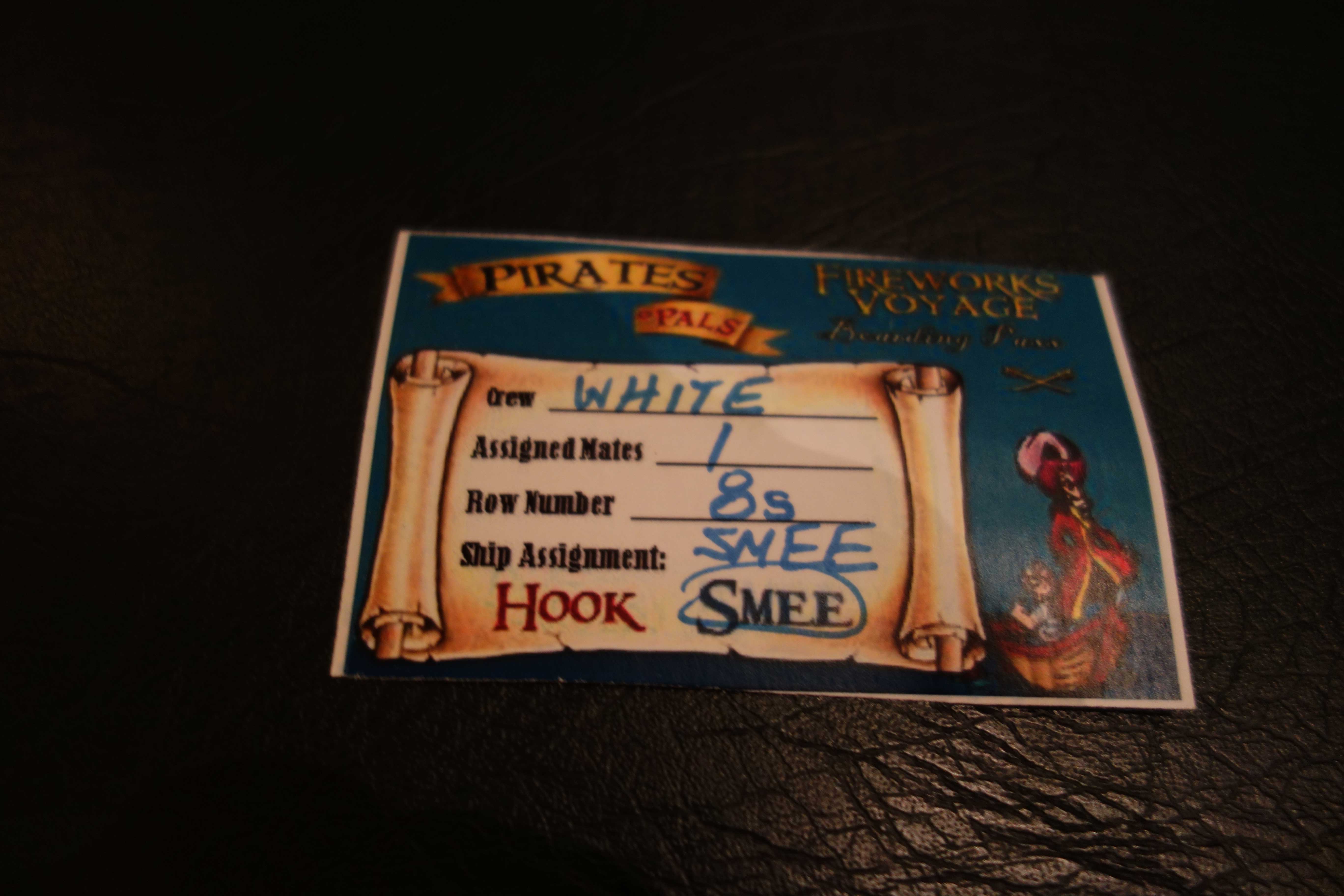 The hallway had a few nice pirate themed statues and props to add to the pirate feel.  This guy below really needs to eat some more of the goodies that they offer inside.  He's looking very anorexic and a bit ashey.  He needs a good tailor too!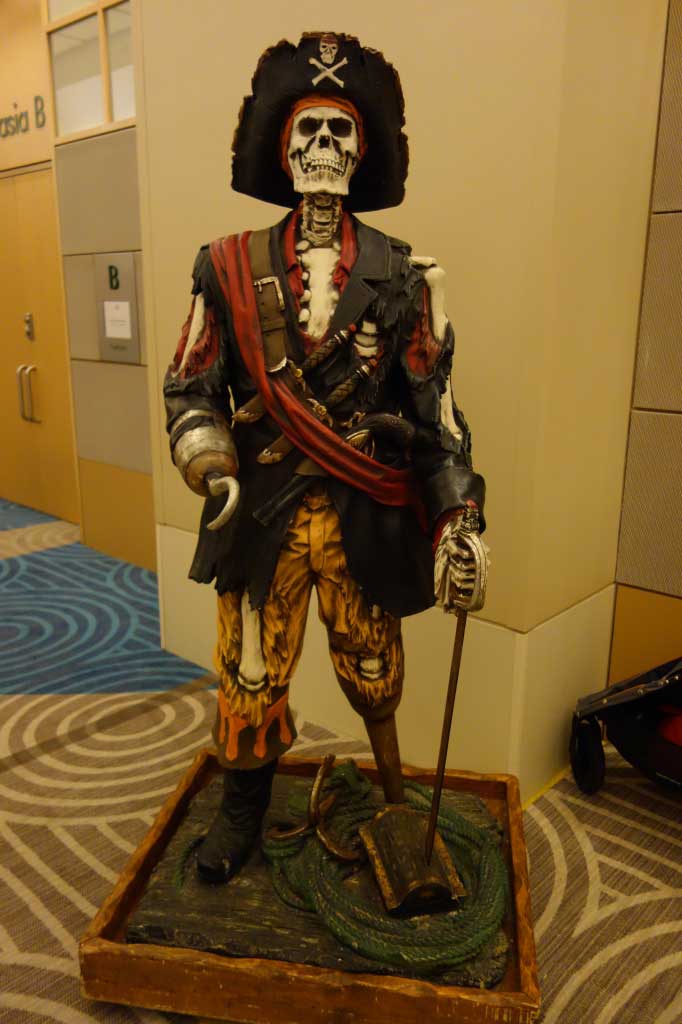 When the cop wasn't looking, a certain pirate took some treasure.  Okay, it was just the gold foil chocolate coins that everyone left behind.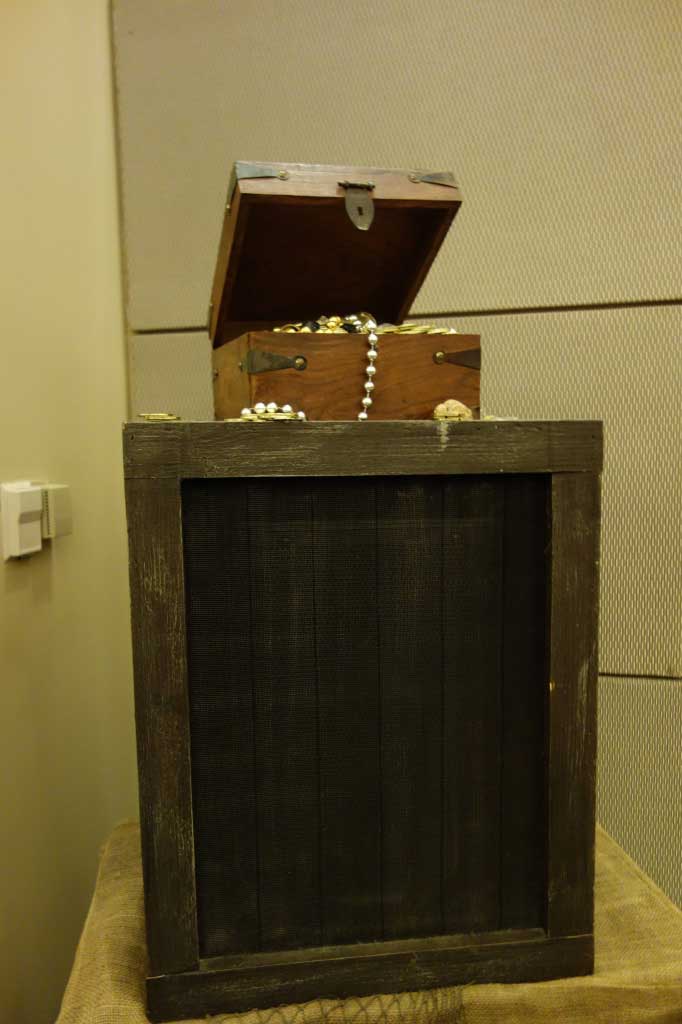 There were a couple of little tables with activities available for the kiddies, um junior pirates in training.  Nothing teaches a young one to pirate like crayons and 20 piece puzzles.  I took a piece and pocketed it for a few minutes and waited until the kids needed one more piece and swooped in as the conquering hero.  But I gave it to the Dad nearby so he won't think I was stalking again.
After a few minutes of pirates arts and crafts, the hosts for the evening arrived.  Their name is Patch.  Well, the guy on the left is Patch and the guy on the right is actually named Patch.  Patch is a great comic, but Patch is a great singer.  Patch has a quick wit and Patch has a high pirate knowledge.  Just remember, their name is Patch.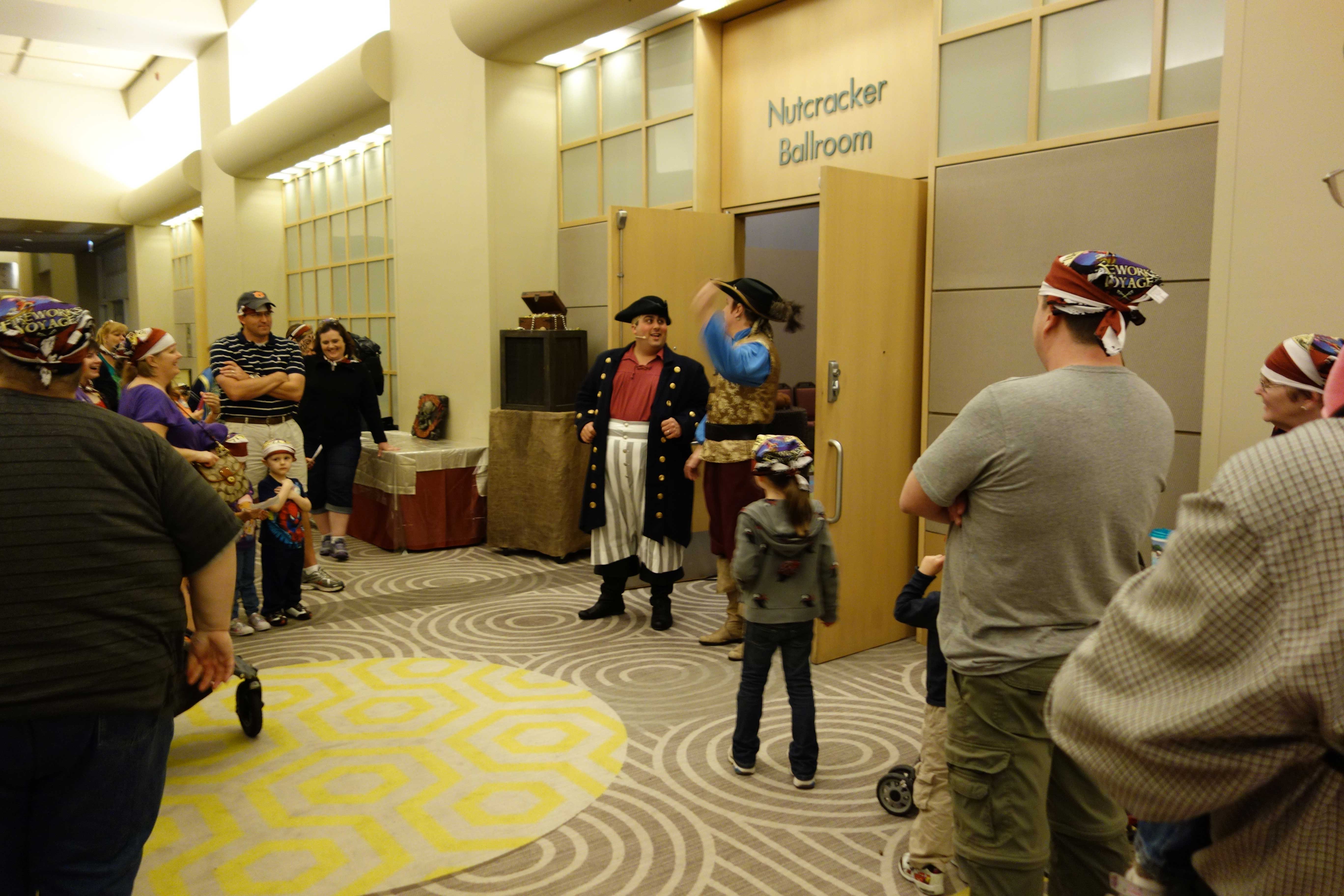 The Mr. Smee boat was led by Patch.  He's the guy on the left.  Please don't confuse him with Patch on the right.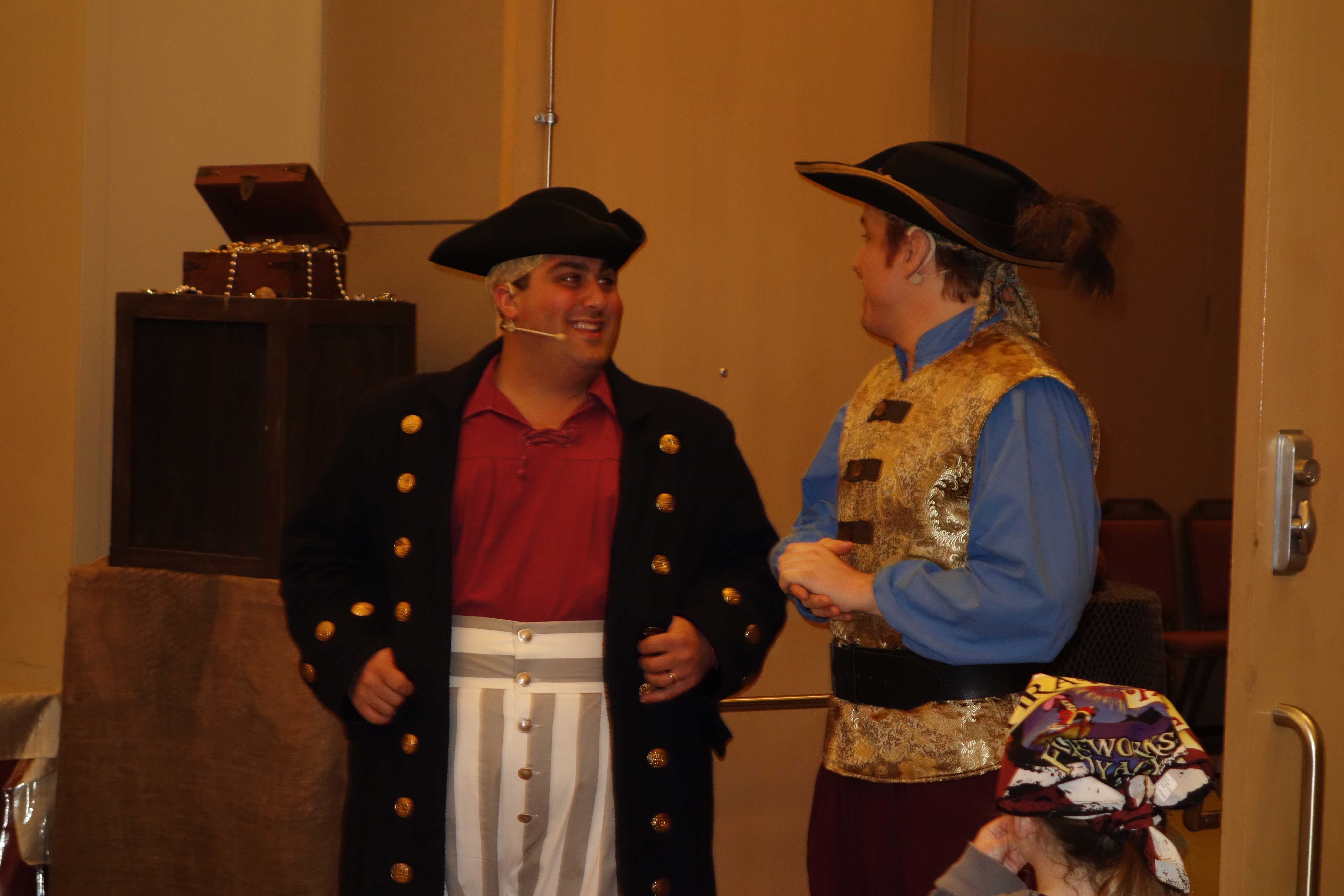 As you enter the room you find a variety of drinks and snacks that include:  water, lemonade, tea and coffee.  There's no rum allowed on board this vessel as Captain Sparrow has already confiscated it for his personal consumption.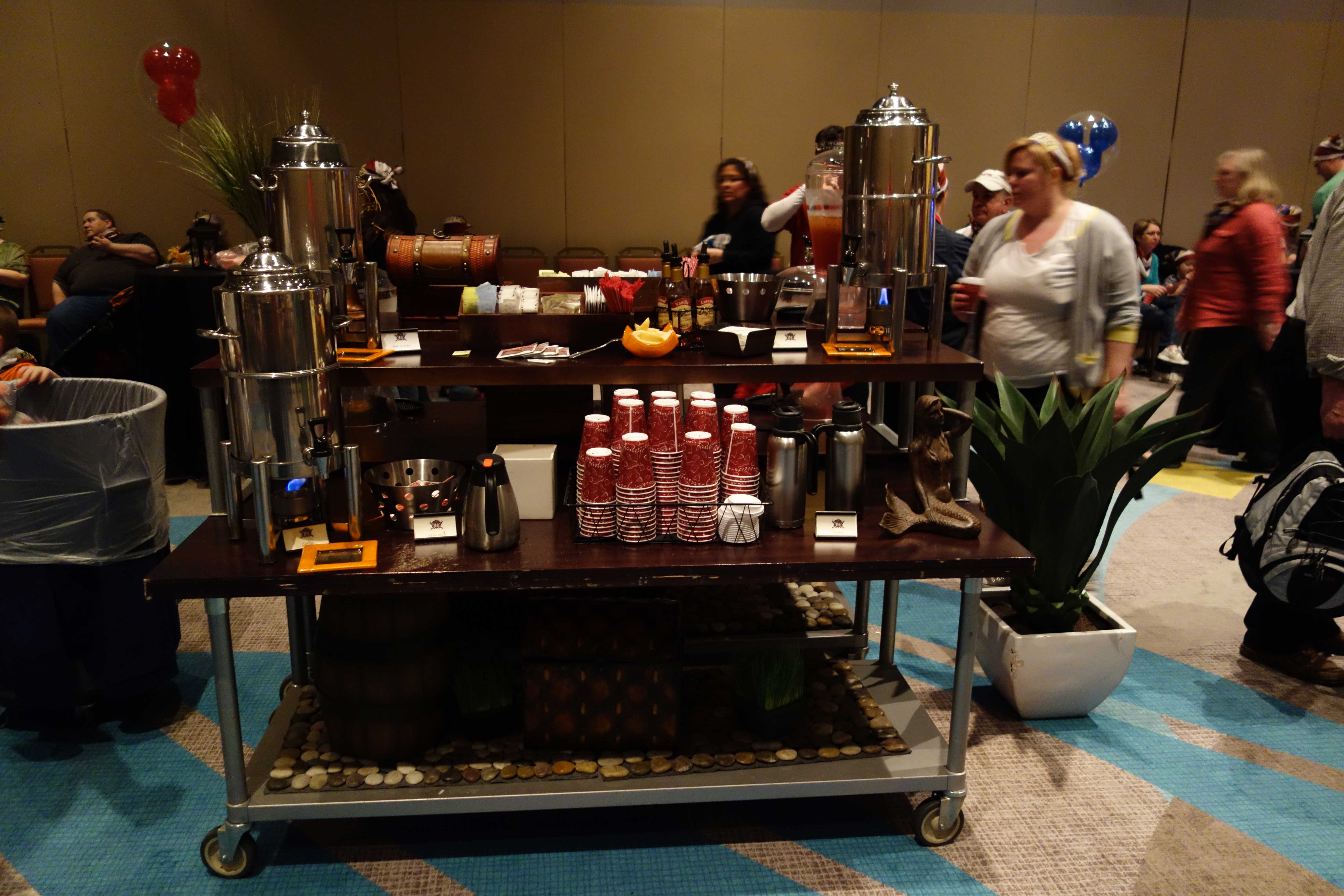 In the back of the room were a couple of tables.  The one on the left had two cakes that were devoured faster than a Labrador  eats her dog food.  Patch had promised that he would help get the kids full of sugar and junk food before asking them to be seated on the boat next to their parents.  Patch didn't think it was a good idea though.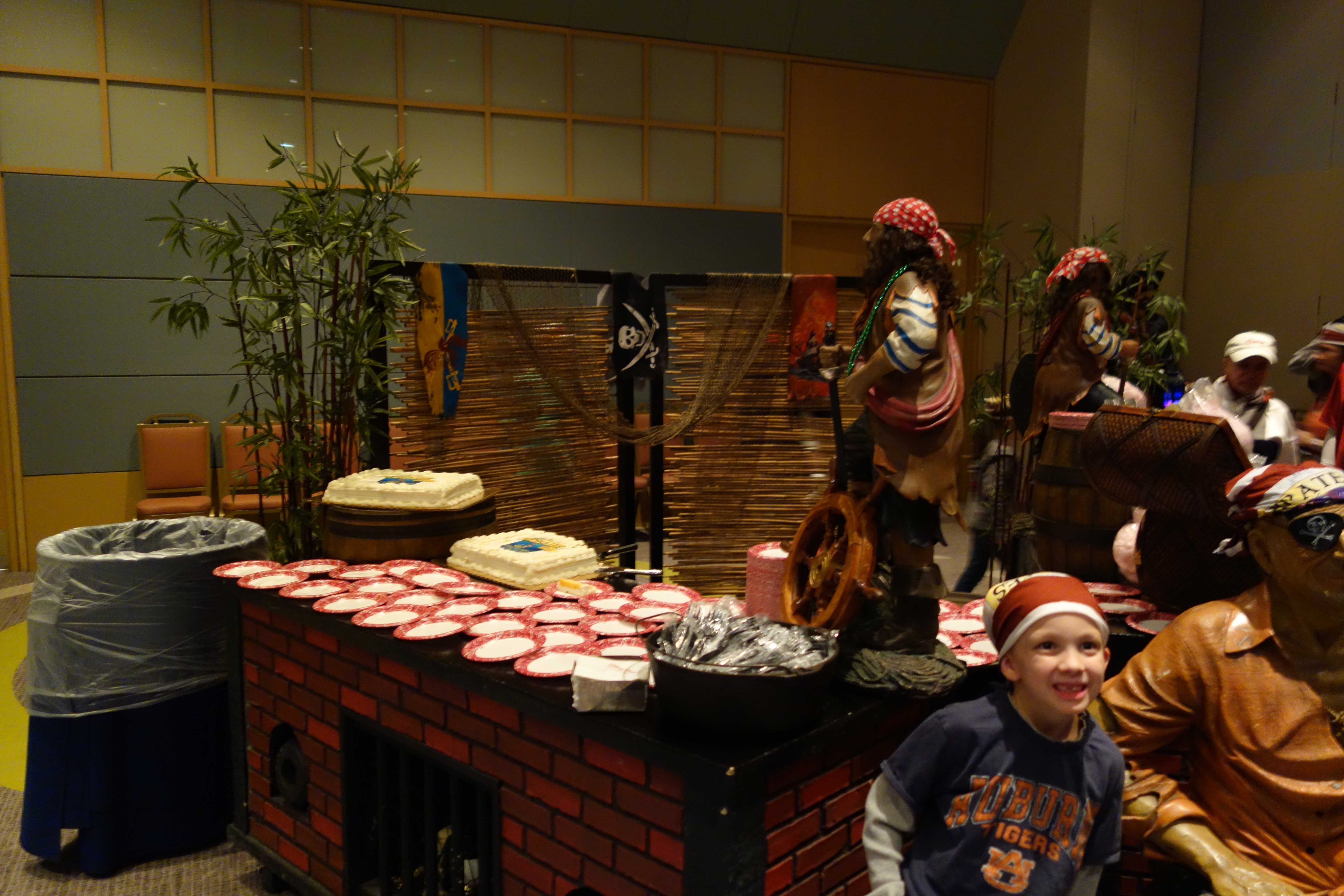 Looks like someone at Disney must read this blog.  There's an exact model of me!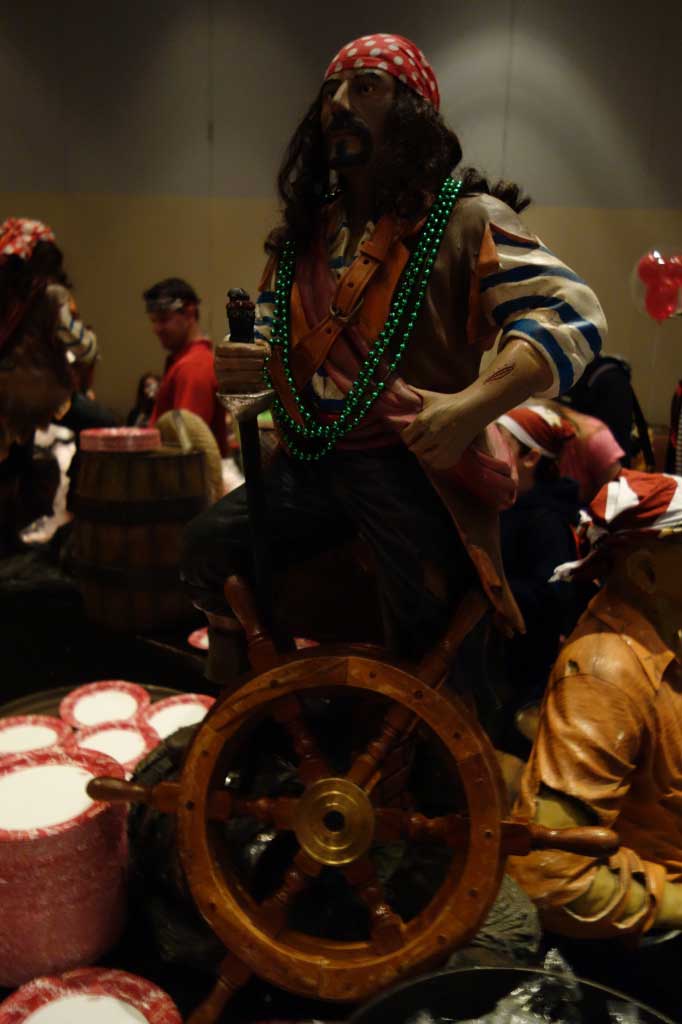 There's even an exact likeness of my older brother.
The treasure chests were filled with pretzels and cheese popcorn, there was fruit and a bunch of those chocolate dubloons.  There were a bunch of bags of cotton candy, but all the little snickerdoodles took them,  PIRATES!  The dubloons were there until I stopped by at the end :)  I grabbed a couple bags of popcorn and some pretzels to take on the boat.  You may take food and drink on the boat as long as the drink has a top or lid.  You just paid $170 for a your family of four, don't be shy about taking snacks on the ship.
As if the cake, popcorn, pretzels, chocolate and sugar drinks weren't enough, there's a freezer in the front of the room full of ICE CREAM!  Those little munchkins ate all that cake AND all the Mickey Premium Bars.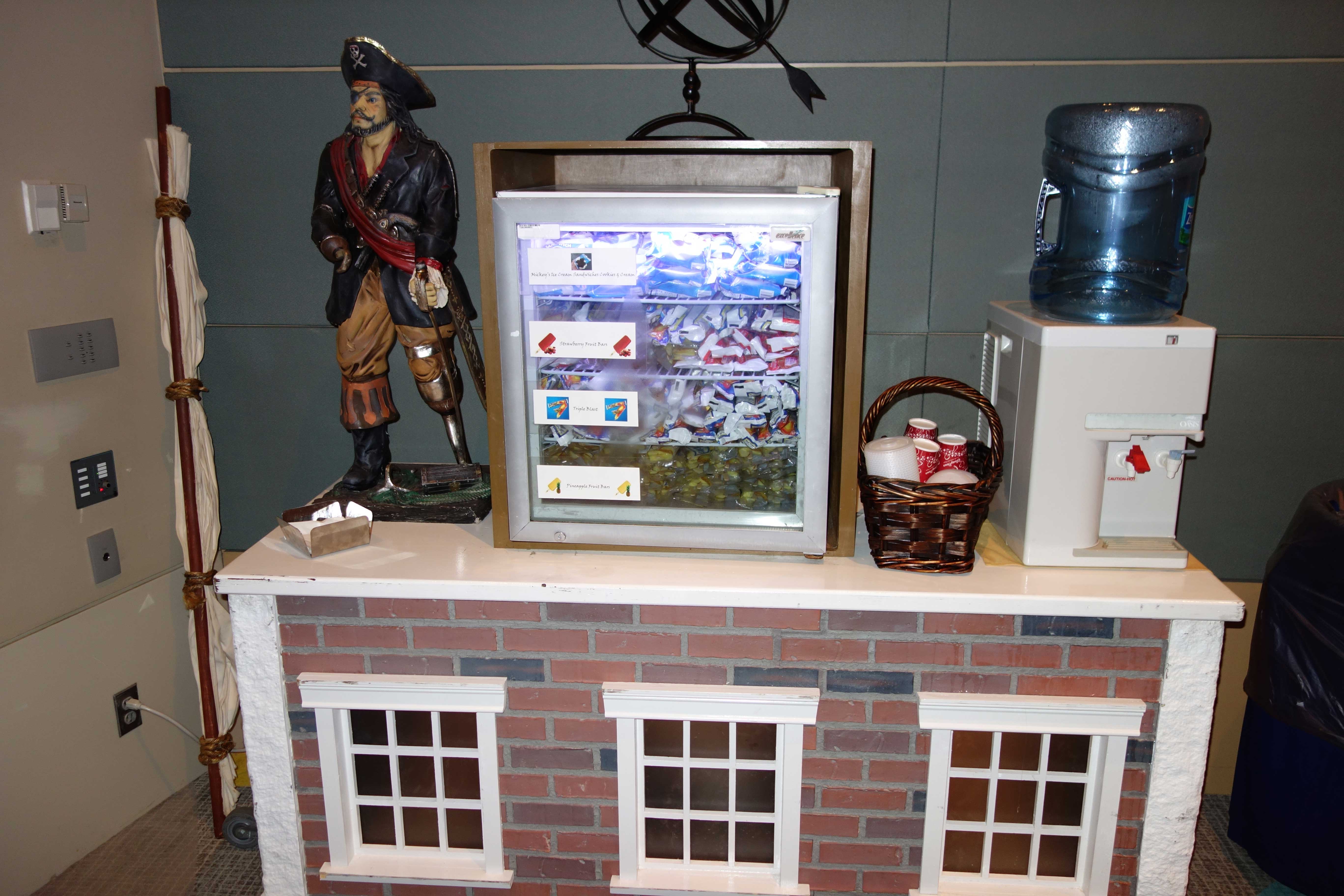 While the kids are filling themselves with sugary treats, Captain Hook and Smee appear to take photos with the guests.  I, of course, was first in line :)  Captain Hook really liked my shirt and wanted the hand pointing toward him.  After a brief scuffle with Smee, the good Captain won.
Lots of guests dressed the part as pirates for the evening.  There was even one female Peter Pan along for the cruise.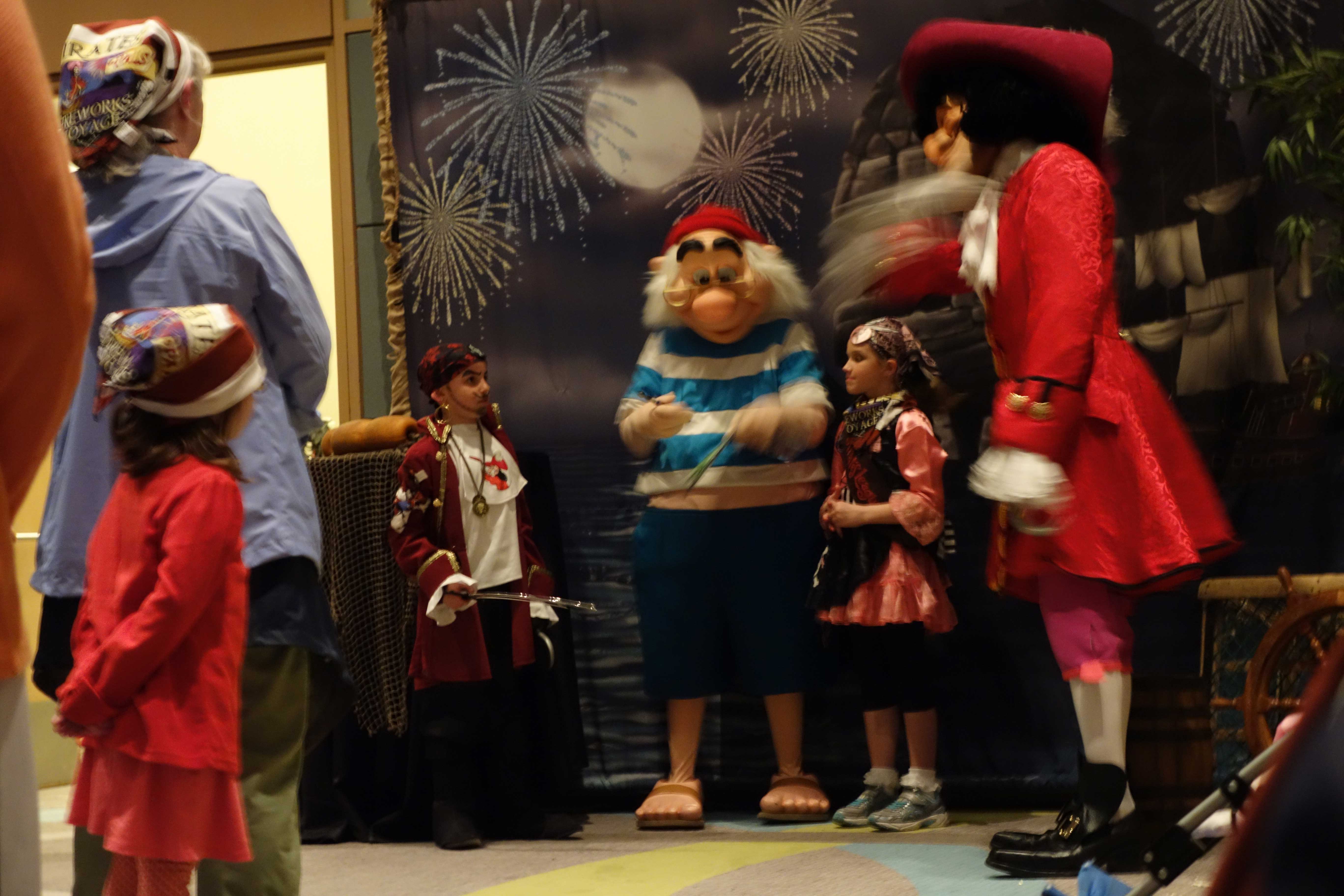 What's a good pirate cruise without a game of Limbo?  It's actually a stretching exercise designed to limber you up so you can paddle better later on.
After a short time of consuming goodies, taking pictures with Hook and Smee and doing the limbo, Patch returns with Patch.  They ask us to segregate ourselves according to the highly collectible card (Ebay listing later) that we were given earlier.  The Hooks are on the right and the Smees are on the left.  The Smees had the better crew and Patch was hilarious.  Patch didn't sing much on our cruise, but Patch didn't tell many jokes on the other vessel.  Patch chooses a pre-determined first mate and hands him or her the appropriate flag.
Patch stopped for a quick photo of the kiddies and their flag.  He made a funny wise crack about me taking pictures of the kids.  He thinks I'm stalking too???  These parents didn't mind me using the shot here but all rights are reserved for whoever they are from Arizona or Connecticut or something.  blah, blah, blah.  Either way it's a cool flag and perhaps your little one will be chosen.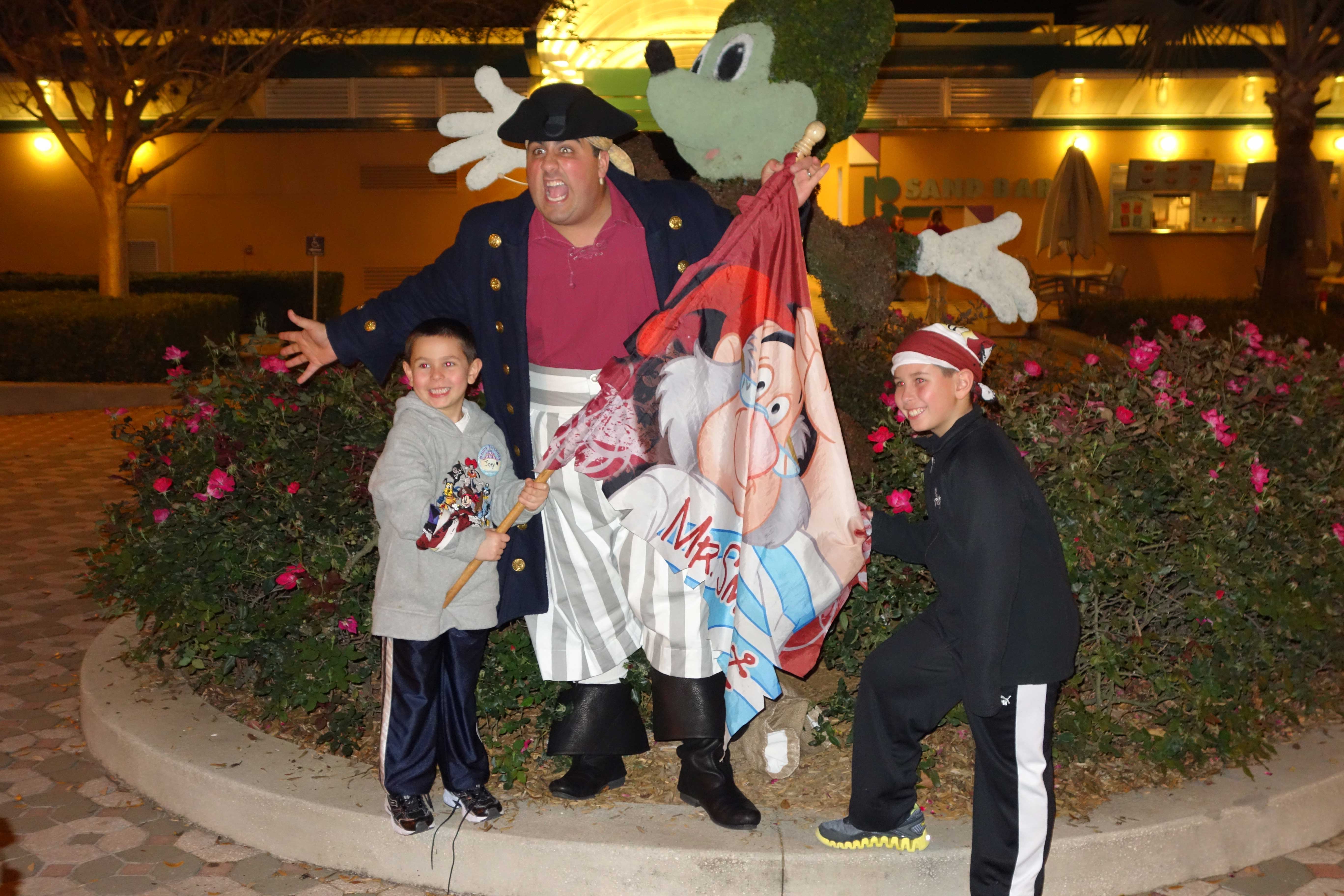 We made out way from the Convention Center out to the boat docks located near the pool area.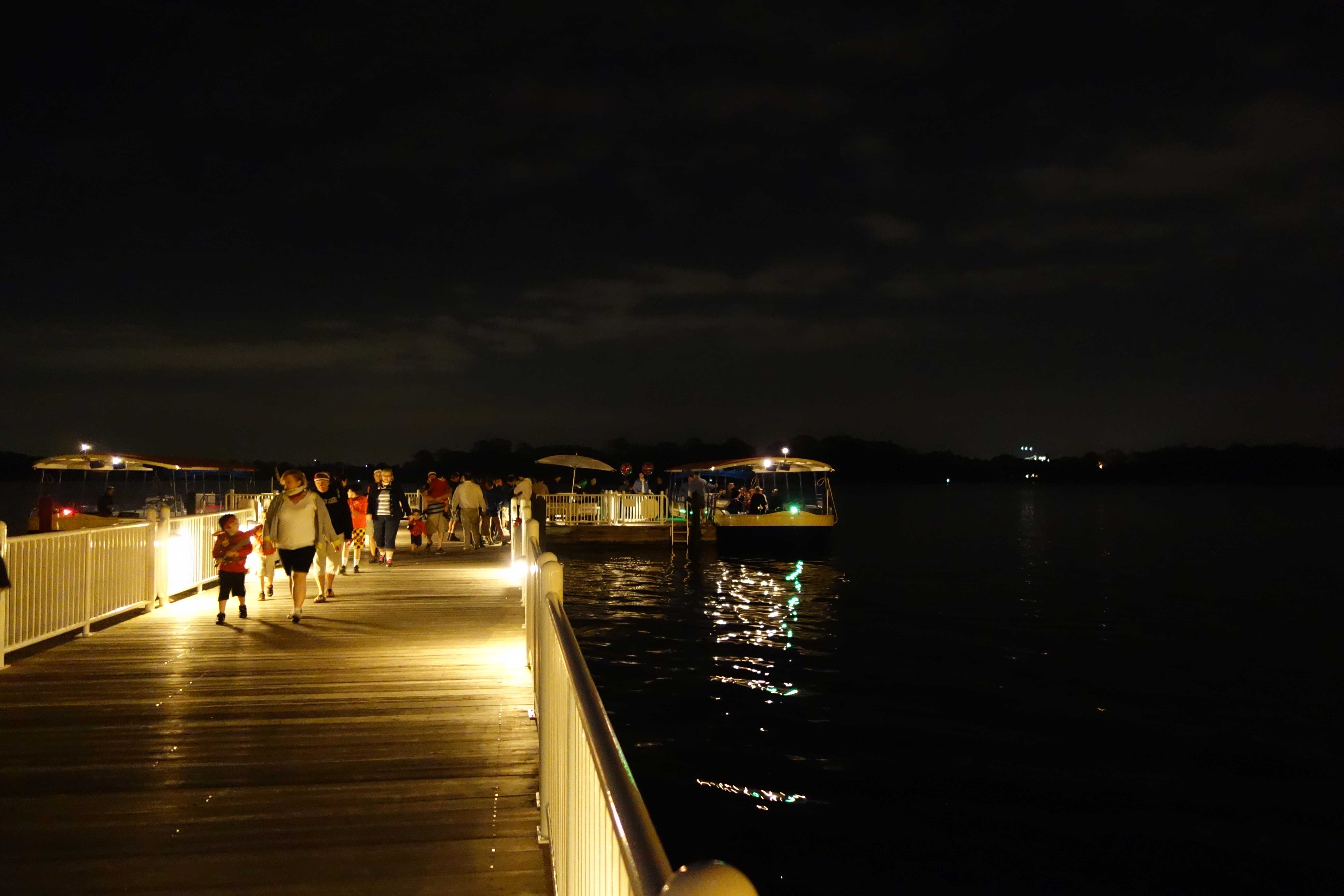 We boarded these pontoon boats that reminded me of the ones from the old Jaws attraction at Universal.  Did they get these for a discount?  Will there be sharks and loud guns?  Patch assured us that the Fireworks scare them away and they prefer people staying at Fort Wilderness who don't read the NO SWIMMING signs.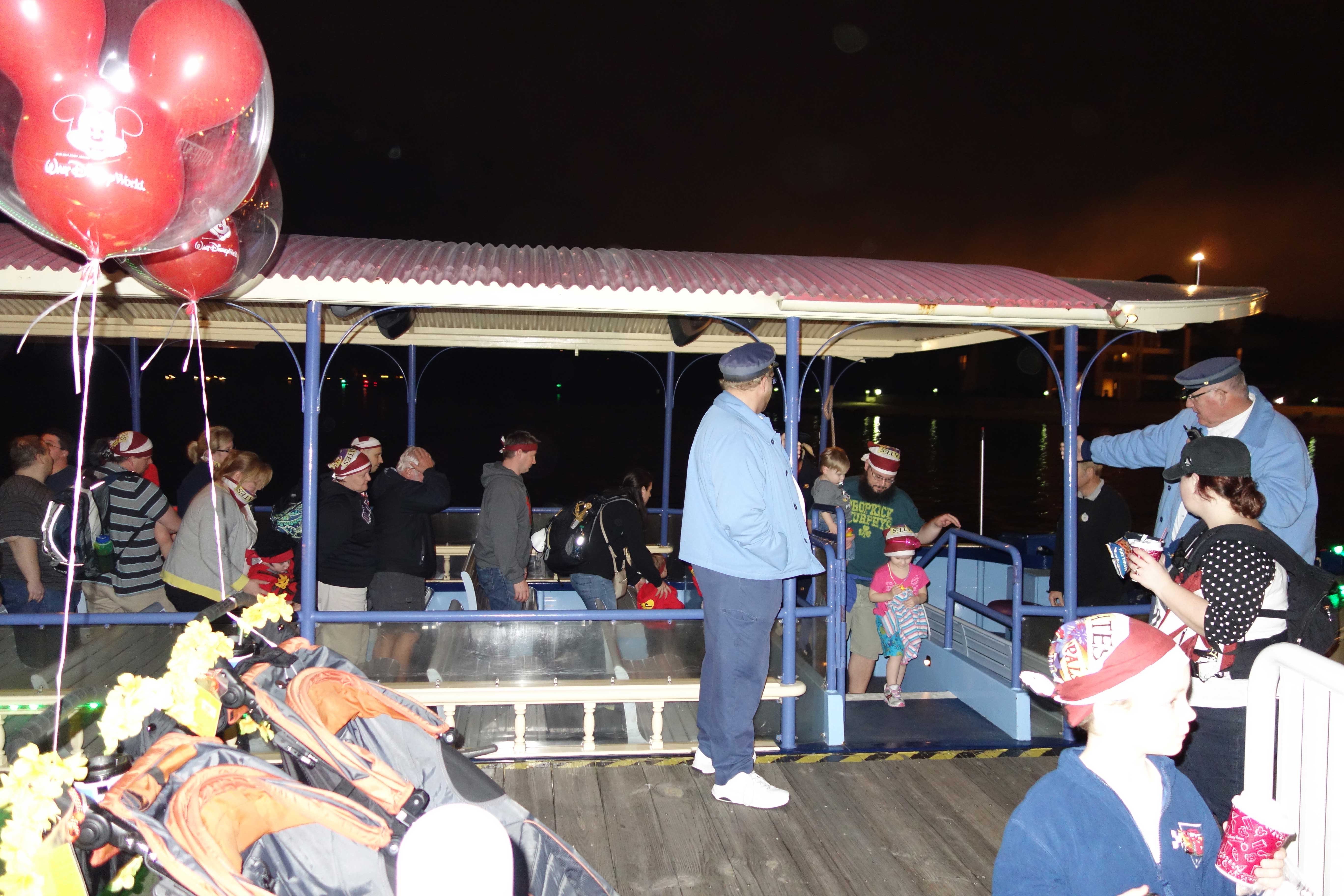 Patch greets all the guests and asks where they are from and cracks jokes about each family.  He then asks what you're celebrating.  It wouldn't be very Disney not to.  I think every child on the boat was having a birthday that night.  Neither Captain Hook nor Mr Smee actually ride the ship with you, they merely appeared before for a photo op.  Celebrities!
You'll get a great view of the Magic Kingdom on the boat.  You're parked right in front of the place.  It's the only parking area where you know where your vehicle is at.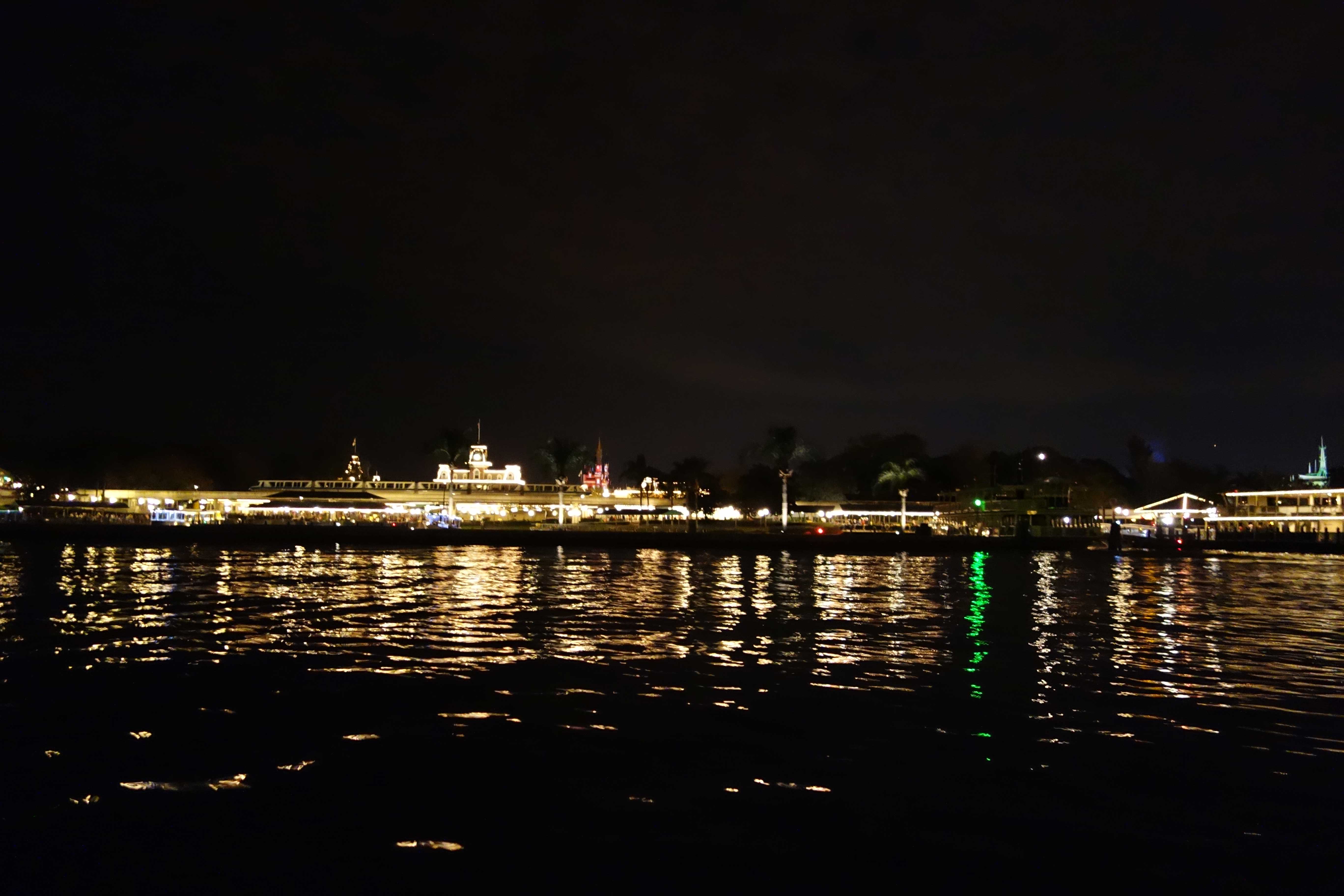 Patch saw this Black-eyed Jack Sparrow wannabe on board and proceeded to bring him forward for about 10 minutes of embarrass the guest that paid $50 to see fireworks.  We followed up this time with some Disney Trivia.  Patch didn't like it that I was going to take toys from the kiddies.  After winning an inflatable sword, I gave it to the parents in front of me to give to their young son.  Don't tell Patch that I snuck a few answers to other kids.  Don't worry though, Patch gives every child a toy upon disembarking.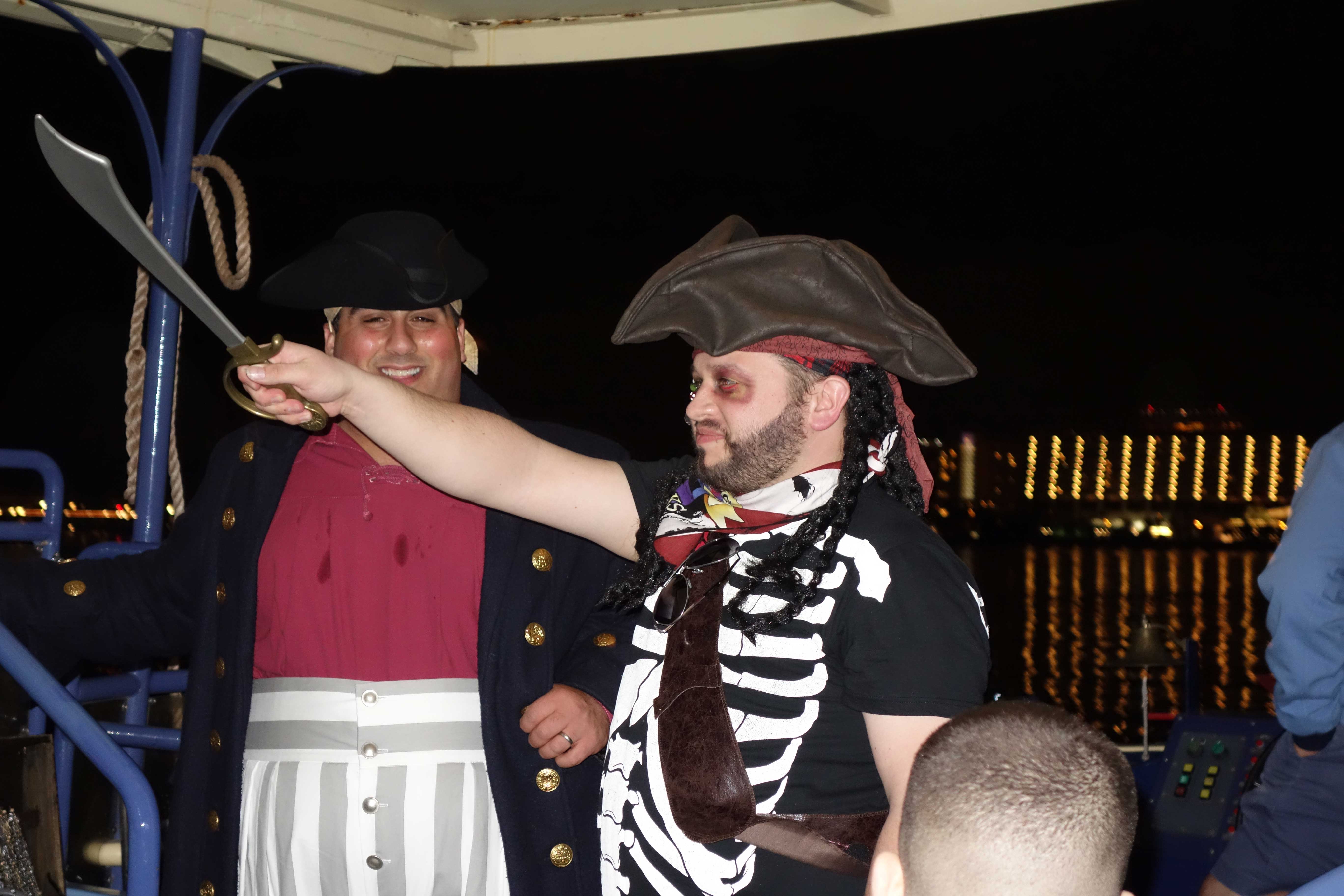 INSIDER TIP:  Ask for an ODD numbered row on one of the vessels.  They are the ones that actually face the water.  Either way, you won't get good fireworks photos.  This is about the best that I could do.  It looks like a pirate who was doing acid or something.
After viewing the fireworks we are taken back to the Contemporary Resort to meet a special guest.
I intentionally went to the back of the line for the meet and greet to see how long it would take.  It took me 29 minutes.  When it was my turn I crowed like the lost boys and Peter crowed back, but said my crow was a little weak.  I belted out a better crow and joined him for a photo.  The Cast Member said she has been working there for quite some time and hadn't heard Peter crow in years.  Leave to me to be the one, huh?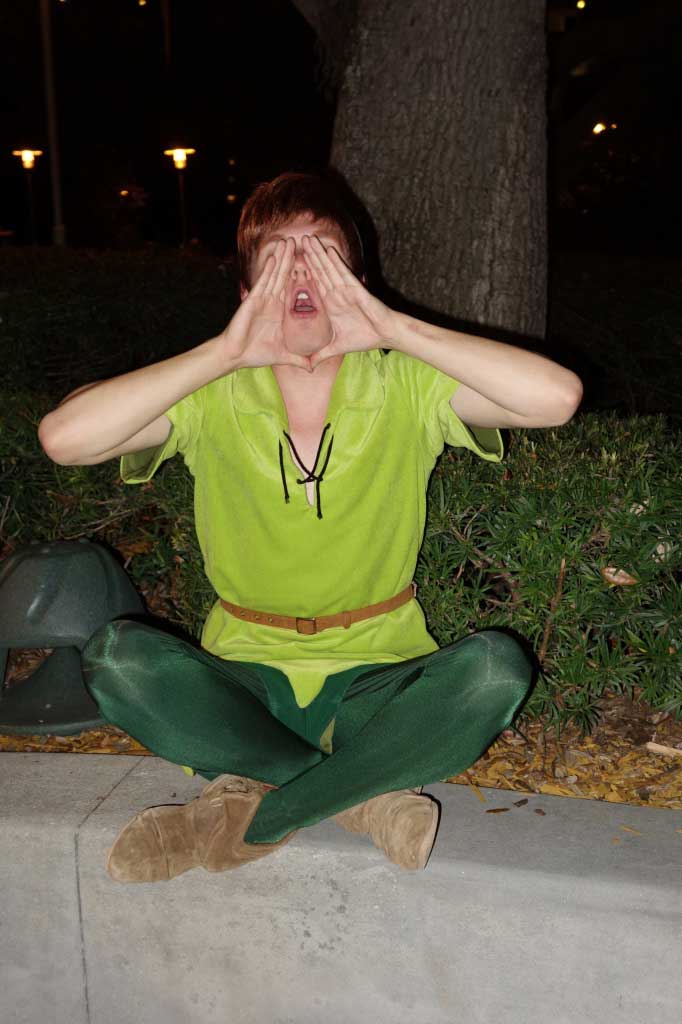 The only thing that disappointed me in the experience is that the photo below is the only one the Cast Member took with my camera.  I would have to pay $15 to get a decent photo of me and Pan.  No need, I've met him a dozen times.   It was a fun experience and Patch was an excellent host.  Not sure how Patch did, but Patch was great.  Food, character meets, comedy and fireworks.  It's worth the price to experience with your young children.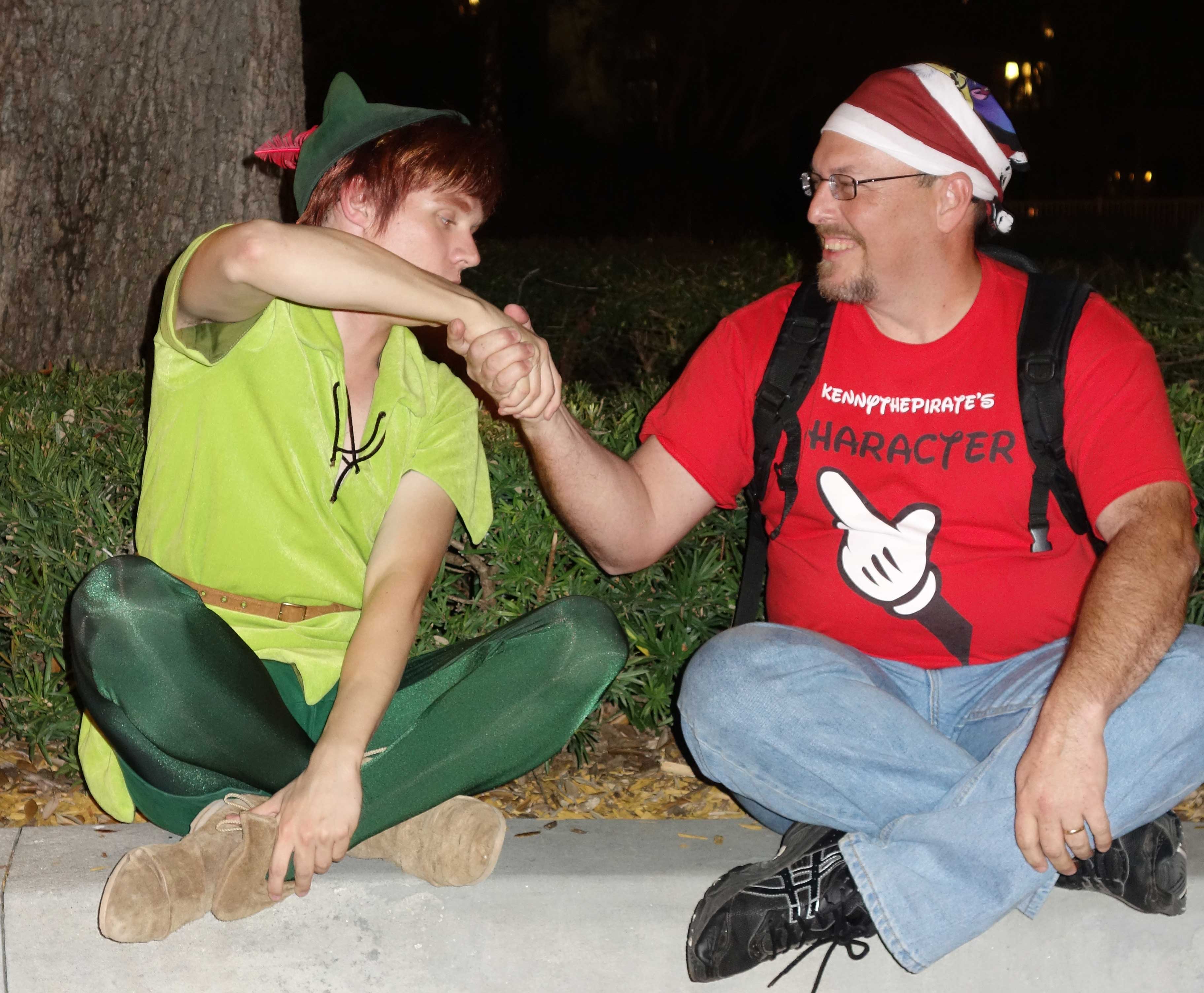 Cost:  Price: $72 (ages 10 and up) $43 (ages 3 – 9)
When should I arrive:  at least 1.5 hours before Wishes begins that evening.
Reservations: Can be made up to 180 days in advance.  Call 407-WDW-PLAY or visit this link.
Requirements: Credit card charged when making the reservation.
Cancellation Policy:  48-hour cancellation policy or you forfeit the entire cost of the experience
Meeting location: Disney's Contemporary Resort – be sure to check the events board for the exact location
What time does it end:  The cruise will return immediately following wishes and you'll be given time to meet with Peter Pan at the dock or inside the Contemporary depending upon weather.
Cruises may be cancelled due to inclement weather but cruises DO sail in rain and cold. Same-day bookings are allowed, if available, up to one hour prior to the experience.
Guests under 16 years of age must be accompanied by a paying adult (18 years of age or older).
Each boat accommodates up to 60 Guests. If your party has 13 or more people, please be aware that you may be separated into 2 boats.
Character appearances are subject to change without notice.