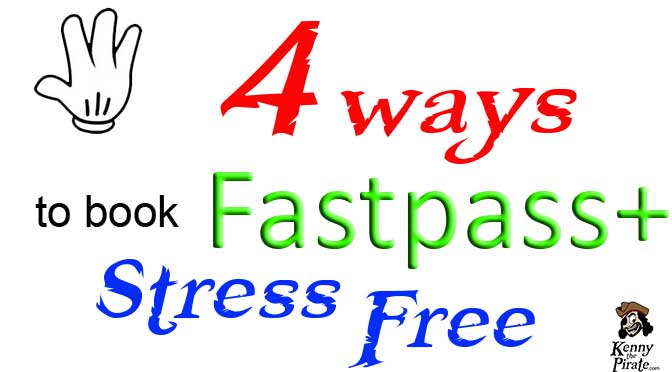 Booking the most desirable Fastpass+ experiences can seem like a daunting task. It requires a good deal of planning and organization under the current system. You have to choose the right dates up to a year in advance, choose the right place to stay at least 180 days in advance, choose where you're going to eat up to 180 days in advance and choose what attractions you plan to take part in from 60 to 30 days before you ever arrive. To some people it can see frustrating, but if you use these simple tips, you can make booking those Fastpasses a real breeze.
1.  Book in advance
If you are planning to stay at a Walt Disney World Resort, you can book your Fastpass+ 60 days in advance of your trip.  This is a huge advantage to reserve the most difficult Fastpasses including Anna and Elsa (Usually close to full at 60 days), Seven Dwarfs Mine Train (Usually close to full at 30 days), Disney Festival of Fantasy Parade, Wishes Fireworks Spectacular, Toy Story Midway Mania, Meet Mickey and Minnie at Animal Kingdom.
Start by booking the last day of your trip at the Magic Kingdom for Anna and Elsa!
Onsite guests can book at midnight Eastern Time 60 days in advance (except nights when the Magic Kingdom closes at 1am), so it does require an evening of willing exhaustion, but it's worth it to snag those Fastpasses listed above.  You can book Fastpasses for the entire length of your Disney World vacation, up to 10 days.  If you're unsure what your Fastpass+ booking date is, take a look at my Crowd Calendar for your month of stay.
Choose 1 really difficult Fastpass and 2 that are easier to find, then change the easy ones to something else later.
If you are staying off Walt Disney World property AND you have tickets linked to your My Disney Experience, you can book your Fastpasses 30 days in advance at midnight.  You should begin by trying for Seven Dwarfs Mine Train for the full group.  Anna and Elsa will likely not be available for group bookings, but there's a trick coming to to help you!
2.  Try booking the hard to find Fastpass+ one at a time and line up the times closely
Book the really difficult Fastpass reservations for ONE PERSON AT A TIME until you get the ones you want, regardless of the return time.  You could then play with the times a bit.
 It's easier to adjust the times on a computer than on a phone.
You might need to move a person's return time up or down a bit to find a range that a group could use for entry.
For example, you might get 4 single Fastpasses for the Meet Anna and Elsa experience at the Magic Kingdom with the following times:
10:05-11:05
12:10-1:10
5:30-6:30
7:45-8:45
Don't stress!  If you can't get Anna and Elsa or Seven Dwarfs Mine Train Fastpasses, just go be among the first to meet them at the beginning of the day or among the last to meet them at the end of the day for the shortest wait.  Parade times, and fireworks times may decrease the times a bit too.
Just spend some time adjusting the available time until you get them to overlap, even by 5 minutes.  The Fastpass+ system is coded to allow guests to return 5 minutes early or 15 minutes late, so you'll have plenty of time.  You may have to keep trying to get these Fastpasses and you'll likely have to keep trying to get the times in a similar time frame.  If you don't succeed at first, don't worry.  If you keep trying, you may find them.
3.  Try again when the park opens
Disney World may hold Fastpass+ inventory for some of its most popular attractions for park opening because some guests wait until the last minute to try.  Honesty, it's not a great strategy, but it works occasionally.  If you haven't found one yet, give it a shot.
If one of the Disney World parks announces that the hours have been extended for one of your dates, immediately try to reserve a Fasptass+!
If you wish to know when the park hours are updated, you should follow me here via email (LEFT HAND BAR) and follow me on Facebook.  Be sure to turn on Facebook Notifications on your computer!
4.  Try again in the park at a kiosk
Occasionally, we've stumbled across a really difficult Fastpass like Anna and Elsa or Seven Dwarfs Mine Train at the in park Kiosks with our 4th or subsequent Fastpasses or we've booked a Fastpass+ at a Kiosk and played around with the phone app and found these experiences available.  It could be because people canceled their plans and did something else at the last minute.
Other important Fastpass+ information:
Share with your friends on Pinterest and Facebook!